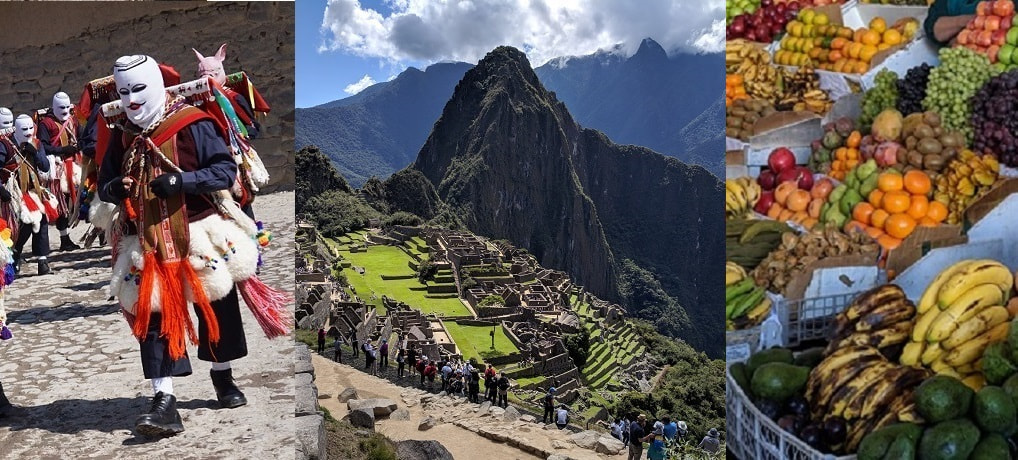 We went to the Sacred Valley, experienced a local festival, hiked the mountains, explored the streets and markets of Cusco, took an amazing trek to Machu Picchu, toured the citadel, and spent a couple days in the capital.
Day by Day Schedule
---
Flight to Lima
Flew from NY to Lima via Ft. Lauderdale, Florida, about 12 hours.
---
Day 1 – Flight to Cusco and Bus to Ollantaytambo
Flew to Cusco, dropped our luggage at our hotel storage so we could travel light, and caught a bus to Ollantaytamblo (slightly lower elevation to adjust more gradually to the altitude and enjoy their festival). Explored town and watched some of the festival.
---
Hiked out of town into the countryside over the Musqa Pukyo Terraces to the Pumamarka Ruins. Experienced some more of the festival, tried some street food and watched the fireworks.
15.4 miles walked, 232 flights of stairs
---
Went to the pyramid at opening and had it to ourselves. Hiked Watana in the pyramid ruins and hiked the Pinkuylluna Graneries on the mountain on the other side of town.
10.4 miles walked, 228 flights of stairs
---
Took a taxi back to Cusco, stopping at the Salineras de Maras salt pans on the way. Took a walking tour of Cusco and had a delicious farm to table meal.
8.6 miles walked, 100 flights of stairs
---
Walked around several markets, tried street food, and explored the city.
13.5 miles walked, 98 flights of stairs
---
Packed up, explored more of Cusco and took the long bus ride to the first campsite for our trek.
10.5 miles walked, 129 flights of stairs
---
Day 7 – Salkantay Trek Day 1 - Salkantay Pass
Climbed to the top of Salkantay Pass, over 15000 feet (over 4600 meters).
13.9 miles walked, 367 flights of stairs
---
Day 8 – Salkantay Trek Day 2 - Glaciers to Jungle
Hiked along a glacial river down to warmer temperatures.
16.3 miles walked, 114 flights of stairs
---
Hiking through the jungle.
10.2 miles walked, 270 flights of stairs
---
Day 10- Salkantay Trek Day 4 - Hiking to Aguas Calientes
Had our first view of Machu Picchu from Llactapata and completed our hike in Aguas Calientes.
15.6 miles walked, 349 flights of stairs
---
Day 11- Salkantay Trek Day 5 - Machu Picchu
Toured the citadel, climbed Machu Picchu Mountain, and returned to Cusco.
9.3 miles walked, 396 flights of stairs
---
Day 12- Cusco to Lima
Said goodbye to Cusco and flew to Lima.
9.6 miles walked, 33 flights of stairs
---
Day 13 - Explore Miraflores & Barranco
Walked the coast and explored the area. (See Time Saving Tip at bottom)
15.1 miles walked, 51 flights of stairs
---
Day 14 - Explore Historic Lima and Flight Home
Took a walking tour of the Historic District, had a nice dinner, and flew home. (See Time Saving Tip at bottom)
14.5 miles walked, 35 flights of stairs
---
Budget
Approx $3600 total for two
Flight NY to Lima Roundtrip: $1230
Flight Lima to Cusco Roundtrip: $310
Airport B&B (1 night): $45
Ollantaytambo Lodging (3 nights): $190
Cusco Lodging (3 nights): $165
Trek Gear Rental (6 day for sleeping bags, air mats, & hiking poles): $100
5.5 Day Salkantay Trek to Machu Picchu: $1190
Machu Picchu Mountain Hike: $70
Lima Lodging (2 nights): $130
Travel Sports Adventure Health Insurance: $40
Tours & Site Entry: $80
Transportation: $50
Tips (for trek) and food not included, but you can easily eat for less than home if you live in the states. See Peru Tips for tips on getting around, flying, and more.
Budget Tips:
If you are on a budget, maybe with the exception of Miraflores - Lima, you could find comfortable lodging for about 75% of what we paid. We saw the flights to Cusco going for about half what we paid a month later so you may be able to find better deals on that. The air mats might not really have been necessary for the trek since they already provided regular mats, and of course the Machu Picchu Mountain Hike is something else that could easily have been cut.
Time Saving Tip:
In my opinion Lima was a nice city but I could have skipped it or spent more time in Cusco and probably would have saved a little money too.
---
More on Peru, Machu Picchu, & the Incas
For the story of how Machu Picchu has faded in and out of the jungle over the centuries and how it was discovered and rediscovered I recommend Turn Right at Machu Picchu by Mark Adams. He artfully combines history and his own midlife crisis adventure retracing Bingham's steps. It is a great narrative with a nice mix of culture and humor. I feel that it adds to the experience when you have a better understanding of what transpired in a place and how.