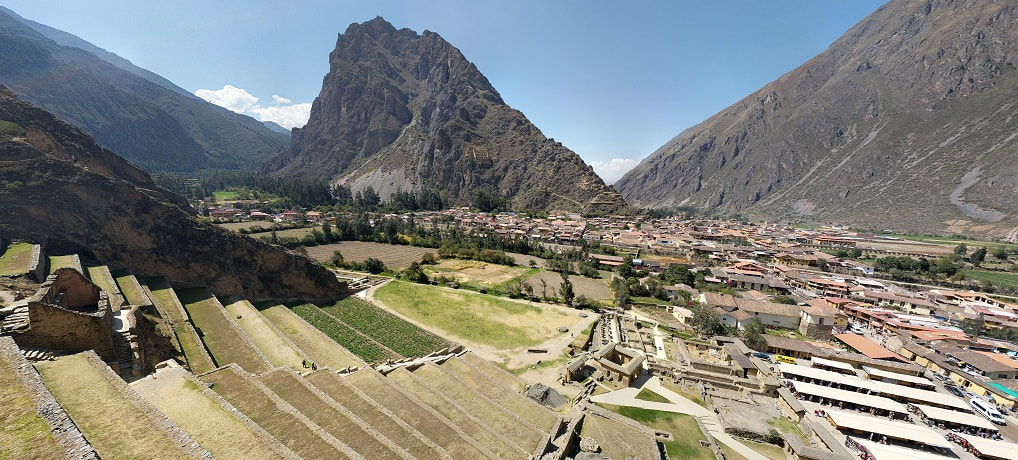 A historic town in the Sacred Valley with lots of character, dazzling festivals, sites, and many hiking options. The elevation is higher than Machu Picchu, but lower than Cusco, so this is a nice gentle place to acclimatize. Many people stay here for a night or two and then take the train from here to Machu Picchu and back. We did a trek to Machu Picchu so we used this as step one, before dealing with the higher altitude in Cusco and the much higher altitude on our trek.
The town is very picturesque. It has lots of original Incan architecture including water channels running down most streets that used to deliver clean water to the occupants doorsteps. Situated between the mountains with ruins all around there are panoramic views everywhere. Just wandering the town's cobblestone lanes is a pleasant way to spend an afternoon.
Pentecost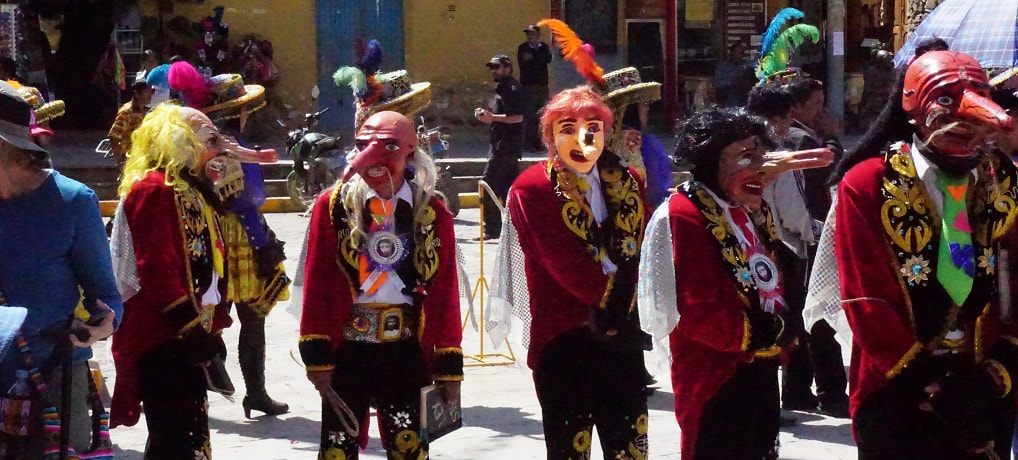 We planned our trip around their annual Pentecost festival and it was spectacular. This festival is unlike any Christian holiday we have ever seen. Read more about it
here
.
---
Getting There and Back
The drive is about two hours and there are a range of choices:
Colectivo Bus: We took a colectivo bus from (-13.523449818863737,-71.97778701782227) for 10 soles each. The bus had bucket style seating and a very small overhead area for small bags. This would not be suitable for people with luggage. We left bags at our Cusco hotel and just had small backpacks for a couple days. These buses leave whenever they fill up.
Colectivo Car: They are at the same area as the busses. You can bring a slightly larger bag because most of the cars have trunk space. They put four people in each car charge about 15 soles per person. Three adults in the back seat of a small sedan was too tight for us.
Taxi: You get to try out your Spanish and negotiating skills for this one, but you can hire a driver to stop anywhere you want. Or you can have your hotel set one up to meet you. For us this would have been $45 for them meet us at the airport and take us directly to the hotel. We heard that you can hire a Spanish speaking driver for half a day to take you anywhere for close to this amount so we passed on this option. On the way back we had a driver take us to Salineras de Maras, wait for us to look around, then take us to Cusco for 100 soles.
Uber: No negotiating the rate and no Spanish skills required (although it always helps), but these are much easier to find in Cusco than in the Sacred Valley. All of our experiences in Cusco and Lima were positive, but we had one driver in the Sacred Valley that accepted the call, but then tried to renegotiate the rate when he showed up to pick us up.
Train: This only works if you go to Machu Picchu. You have the option of taking the train to Machu Picchu from Ollantaytambo or Poroy (a town about 30 minutes from Cusco). Doing this you have the option of leaving from Ollantaytambo and returning to Poroy, or vise versa if you choose not to do a roundtrip ticket. These tickets must be reserved ahead of time.
For a general idea of rates and options this site is a good resource: https://www.rome2rio.com/
---
Hiking Options and Sites
There are many others, but here are a few that we enjoyed:
Ollantaytambo Pyramid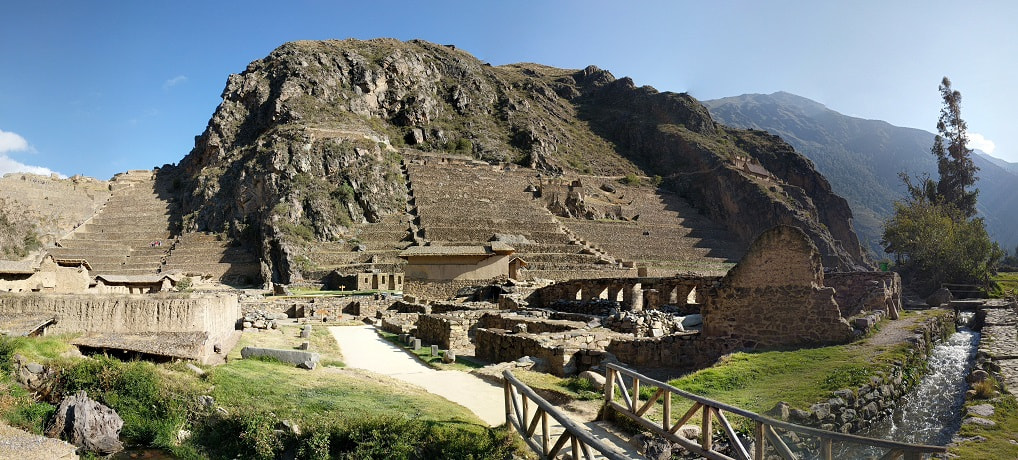 This place is fascinating and you could spend anywhere from one hour to an entire day here. You will need either the 10 day Tourist Pass or the 2 day Sacred Valley Pass to enter; no more single entries. Read the full article
here.
Pinkuylluna Graneries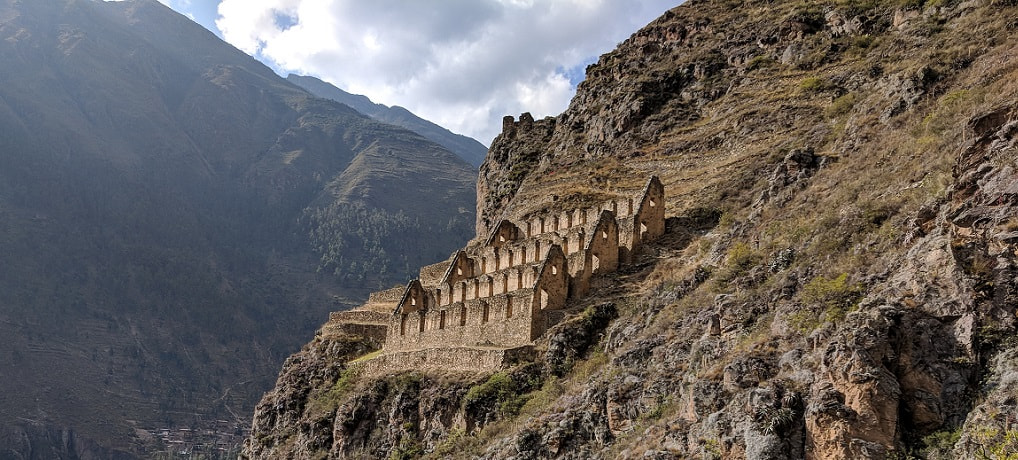 This sits just on the other side of town facing the pyramid and is completely free, but may not be suitable for those with a fear of heights. Read the full article
here.
Pumamarka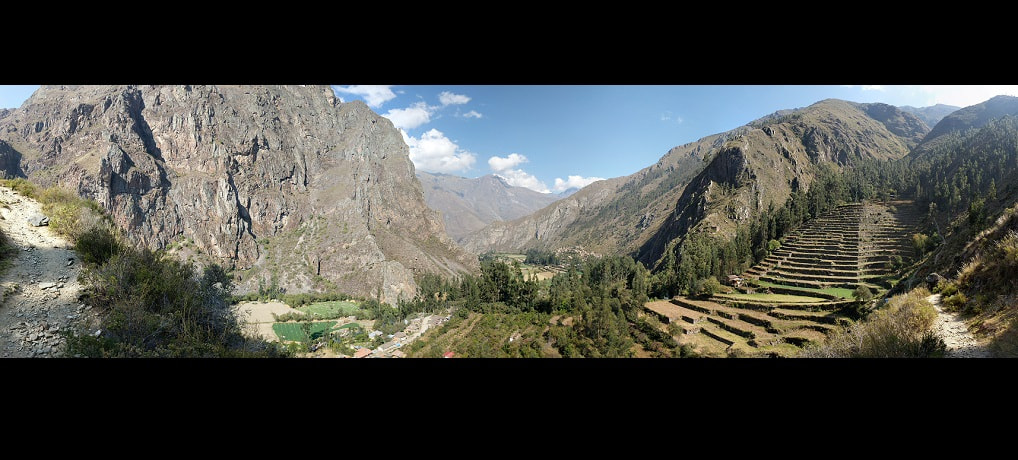 This is a nice half-day adventure just out of town and costs about 10 soles per person if you enter the site. Read the full article
here.
---
Eating & Sleeping
There are dozens of food options from local cuisine, American style, Italian, overpriced touristy places, street vendors, to cheap sit down family run restaurants, and they are all mixed up together. Most places have menus outside, so be sure to take a look at a few before you settle for one. Many have pricier menus with set meal options advertised outside that don't appear on the menus inside. We typically would take a picture of the set menu with a phone and bring that up when we got inside. For good value options with a view we enjoyed Apu Veronica (overlooking the river) and Gusteau Restaurante (overlooking the main square).
The town is full of reasonable little B&Bs, but I would recommend reserving ahead of time, as they do fill up. $50-80 will get you a nice room in town, but you can find places for more and less. Hot water pressure seems to be little weak in this town (and country) so even in really nice places the shower may not live up to your expectations. If you are staying during a festival, like Pentecost, it is still nice to be in town to be in the center of all the action, but it will be loud day and night, so take that into account.
Money Tip
Many places take Visa or MasterCard now, but don't count on it. Bring cash and try to bring small bills. BCP and Scotiabank in the Plaza De Armas in Cusco will each break a couple bills per person per day at the desk. The ATMs in Ollantaytambo, Cusco and the airports gave out mostly 100 sole notes. Many vendors in Ollantaytambo and Cusco won't accept large bills because they simply don't have change.
We had two experiences with this in Ollantaytambo. At one restaurant we paid for a 40 sole meal with a 100 sole note and the owner went all over town looking for change. We kept seeing him darting in and out of shops farther and farther away. It took quite a while. At another restaurant they had signs everywhere saying that they took both Visa and MasterCard, but when we took out our card at the end of the meal that changed. We handed them a Visa and they said only Mastercard (probably hoping we would just use cash), then when we pulled out a MasterCard they stared at the machine and made a couple phone calls, obviously not knowing how it worked, then told us the machine was broken. Then we handed them a 100 sole note and they had a kid run off looking for change.
---
More on Peru, Machu Picchu, & the Incas
For the story of how Machu Picchu has faded in and out of the jungle over the centuries and how it was discovered and rediscovered I recommend Turn Right at Machu Picchu by Mark Adams. He artfully combines history and his own midlife crisis adventure retracing Bingham's steps. It is a great narrative with a nice mix of culture and humor. I feel that it adds to the experience when you have a better understanding of what transpired in a place and how.
---
More?
Check out our full Peru Trip Itinerary.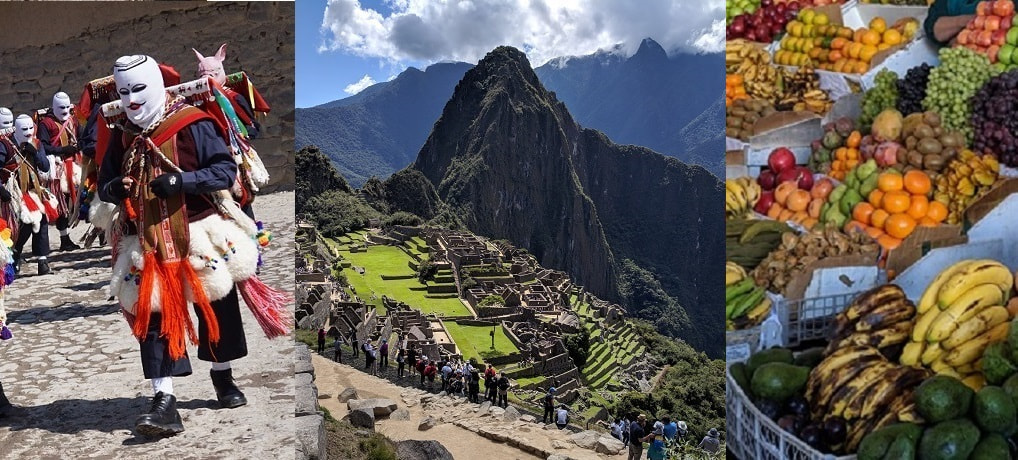 Explore the city and food of Historic Cusco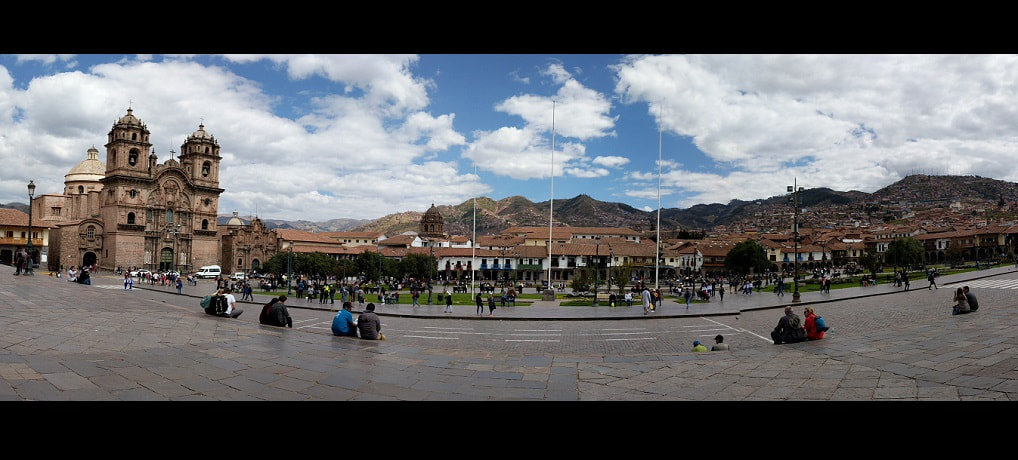 Everyone goes to Machu Picchu but getting there can be just as epic. We had an amazing experience on the Salkantay Trek