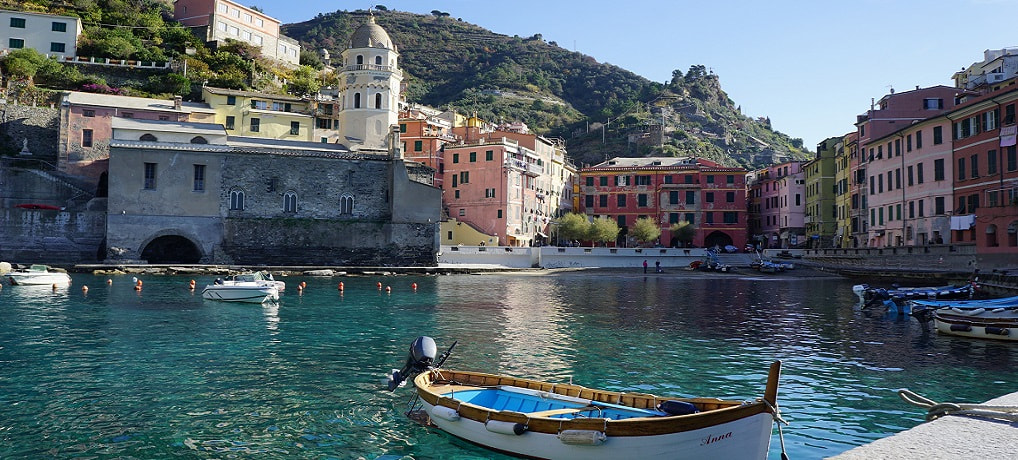 Cinque Terre is at once a serene oasis, a seething tourist destination, a pocket of communities on the edge, a place with a sometimes violent and tragic but rich history, and a place where you never know what you will find next.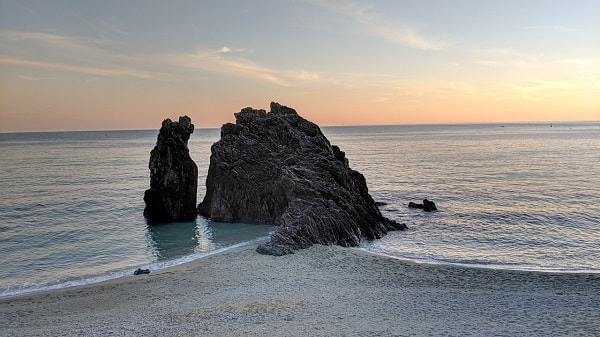 ---
Planning & Things to Know
Visiting Cinque Terre November 15-18th, 2017 gave us the place practically to ourselves. It was absolutely gorgeous and the weather was perfect for hiking. During the high season it can be shoulder to shoulder people. The only downside to less people, is many places close for the season and you probably won't be swimming this time of year. I would suggest a couple weeks earlier, when the boats are still running.
You could stay nearby and take the train in for a day trip but I would recommend staying in one of the towns. We picked Corniglia, since it is in the middle, so we could hike one way on one day and one way the other. If you want to hike to all the towns it really doesn't matter which town you pick. They are all connected by train, so you can start and stop at any you like. Our big mistake was driving (more on that below). We have driven around the Ring of Kerry and on the back roads in Ireland, but this made those look tame. You can leave your car at the train station in Levanto or La Spezia and I would highly recommend it, even if you like driving. Levanto may have free parking in the off-season.
If you intend to hike, make sure you check with one of the offices by the train station or a knowledgeable host to be sure you know what trails are open. Being Italy, there are some that are technically closed and some that are actually closed. There is some info on the main trails and a map on the Cinque Terre Website. Also see here for another map and trail closures. You must purchase a Cinque Terre Cards (unless you go in the off-season) to be allowed trail entrance and train passes are available as well. Train tickets are only a couple euros, so if you are only taking the train a couple times a day, it is not worth it.
I would recommend either Rick Steves Italy Guidebook or Rick Steves Pocket Italy's Cinque Terre. The full guide will probably serve you better if you are visiting the whole country, as the Cinque Terre Guide is essentially an excerpt in a smaller form factor. Both give nice walking tours to each of the towns, some nice insight into their history, and places not to miss. You may also find the Italian Phrase Book & Dictionary useful as English speakers can be hard to come by. For some more free info there are a number of resources including videos on Rick Steves website.
---
Off Season or Peak?
It will depend on when you can take the time and what you want to do, but I prefer less people, especially for a place like this.
Off Season
Pay less for lodging
Hiking may be free (you usually need a National Park permit)
Far far less people
Better photo ops without people in the background
Hike the trails at your pace, not in a train
Comfortable temperatures (50-70 in Nov)
Peak
More dinning options
Trains will run more often (off-season they are about hourly)
More people to take your picture for you
Swimming
Boating
Heat (mid 80s in the summer)
---
Our Experience
Driving from Milan to Corniglia, with a stop in Sestri Levante
8.04 miles walked, 74 flights of stairs
We left Milan and headed out towards the Italian Riviera. Our plan was to hike a little in Levanto, the northern gateway to Cinque Terre, before heading into the park. There is a nice hike or bike from Levanto to Bonassola we wanted to try. The roads were fairly dull, mostly bare fields from harvested agriculture until we got into the Italian Riviera. These roads were fast and twisty, zipping in and out of tunnels, with random towns along the sides perched on cliffs. There were signs with warnings, but some of the tunnels would unpredictably dump you out onto high bridges with crazy winds that batted the car around. I can't imagine anyone making that trip in the winter.
When we stopped at our exit we decided to take the fork to use their service area right there. Once we got in the service area we realized that you couldn't get off the exit from the service area, you could only get back on the highway. We were debating trying to sneak out the entrance when some cops rolled in, so on we continued on to the next exit. At that exit, we made a U-turn and somehow ended up back on the highway going the wrong way again. At the second exit, we got off and made yet another U-turn, finally headed back in the right direction.
Pulling into town we were supposed to park across from the hospital just off the exit but something wasn't right. We found an open lot, checked the map and found that we were in the wrong town. Somehow, in the chaos, I had navigated us to Levante instead of Levanto, a couple towns over. This was not the town I had chosen, but it was one I'd considered, so we figured as long as we were here to make the best of it and explore.
Sestri Levante is a peninsula with beaches on both sides and it was a beautiful day. We got there in the time between lunch and dinner, when most shops close, so finding food was a bit of a challenge. We got some takeout and ate by the sea, watching a lone wind surfer splash around in the waves.

We checked out the water on the other side of the peninsula. This side had a completely different character. It was sheltered and perfectly calm, with the sun glistening off the surface and pastel homes along the waterfront.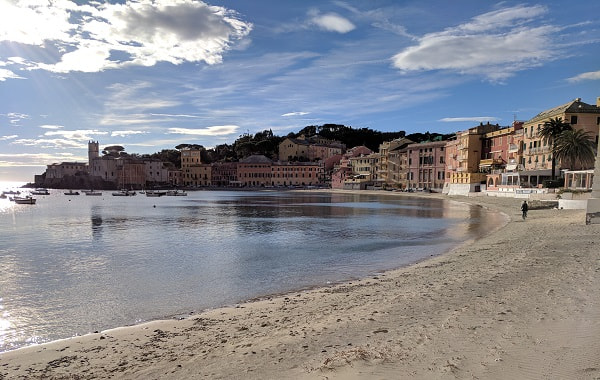 We walked back to our car for the final leg into the national park, stopping for some groceries since we weren't sure what we'd find in the park. We were warned that there would be no diesel or petrol.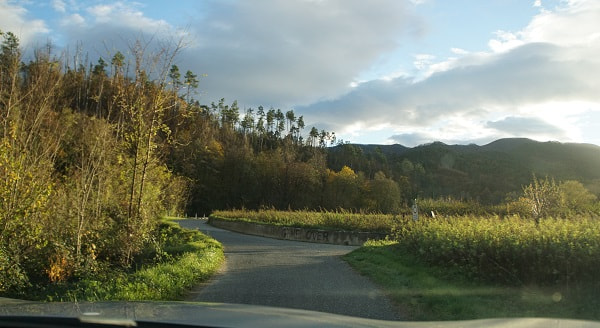 I had plotted out a course from Levanto but now that we were coming from Levante my plan was off a little and we ended up on some narrow roads that were crumbling around the edges and seemed more like paths, one of which had a sharp turn with "game over" in graffiti on the wall. Some sections had wire nets to catch rocks falling from above, but one section actually had a concrete roof. The roads were narrow and winding with innumerable blind corners and plunged down without any guardrails. My husband is a phenomenal driver but I found my limit as a passenger, and when on one of the turns another car popped up coming the other way and we both slammed on our brakes I lost it. Somehow, we made it down to Corniglia and parked the car in a spot that it thankfully would stay for several days. I could not record the really bad parts but below is one little taste. Most everything comes into the towns via train.
Our host was super sweet and she gave us a little tour of the town as she brought us to our apartment. She offered us a free upgrade since it was off-season and the place wasn't full, so we got a big apartment with a balcony instead of a basement studio. She went over the maps and trails with us, then walked us to the end of town for the view before saying goodbye.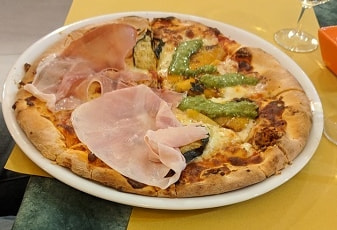 We got a delicious "world" pizza and some local wine at Caffe Matteo, across from our B&B. The pizza didn't looks fancy but it was perfect. It was topped with prosciutto, ham, pesto (local specialty), grilled eggplant, and roasted peppers, each in their own section. A little taste of everything, almost like a charcuterie board on a pizza! We explored the town some more and found the stairs going down to the water but they were mostly unlit, uneven, and had no railings so we chose to save that for the light. While we were out we saw a tow truck hooking up to a vehicle, but didn't think much of it until we saw it take off up the mountain road in the pitch dark, the same one we had come down earlier. Completely insane! We finished off the night with a piece of lemon custard on the roof.
---
Corniglia Hiking South to Manarola & Riomaggiore
12.84 miles walked, 294 flights of stairs
All of the coastal trails to the south were closed due to a combination of rock falls and unstable ground below or above them like this: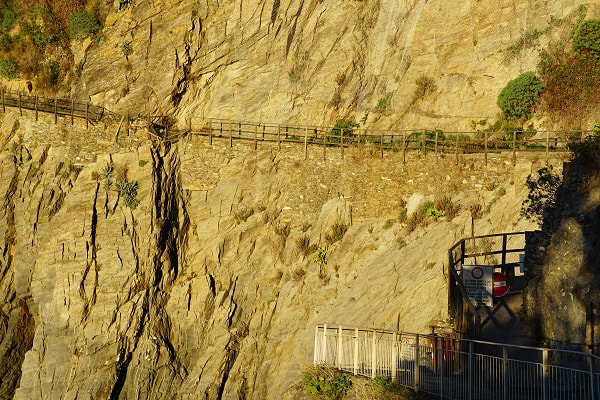 So we took the alternate rim trails. This trail started out in the woods, with brief glimpses of the sea, went up to Volastra, down through some olive orchards, and then opened into the vineyards.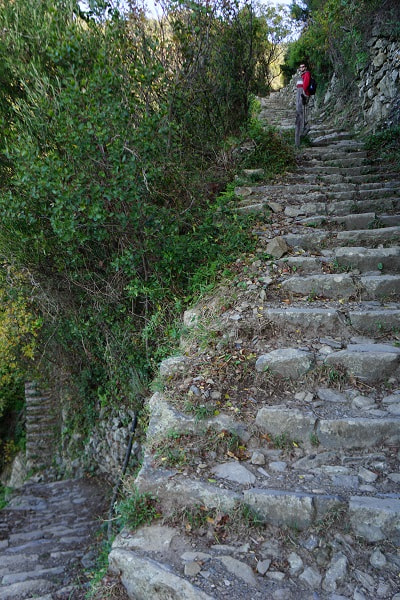 Looking down at Corniglia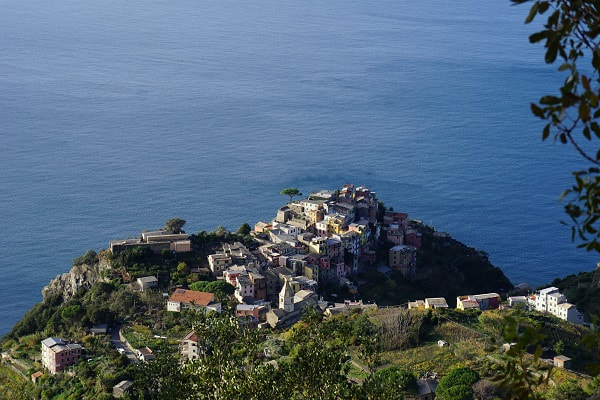 In Volastra, we took the extended scenic route since we missed the sign, and ended up going around town twice but, seeing as there are less than 200 residents, it was not a very long detour.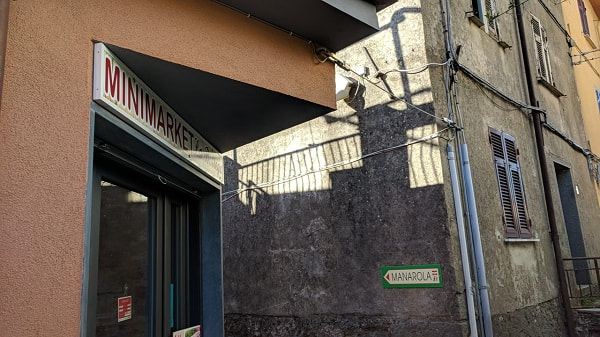 Hiking towards Manarola the trails were completely empty and we didn't see another hiker until we were about halfway. The trails through the terraced vineyards were amazing. The steps in the terraces vary, but most were taller than me, all built and maintained for centuries. Pictures really don't do this justice.

There was a fork in the trail to enter Manarola and we opted for the Panorama Sea Trail. It was breathtaking, but not for anyone with unsteady footing or a fear of heights. It descended steeply with shear drops to the sea at some points. Climbing down into town, it veered away from the sea and back through the vineyards and a life-sized nativity set on the hillside.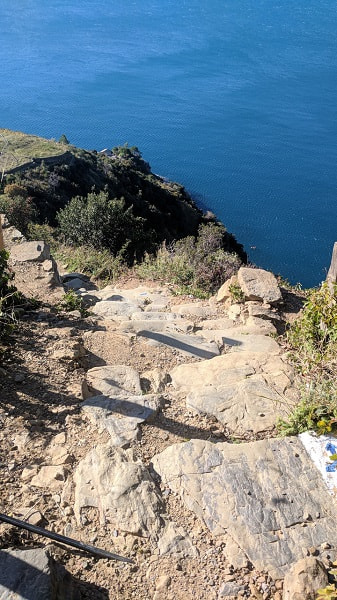 Our lunch spot was in the next town, Riomaggiore, so arriving in Manarola we decided to take the train and get lunch now and explore later. Most of the toilets were pay so I decided to use the free one on the train, which was a little nerve wracking since the whole ride takes less than three minutes.
In Riomaggiore, as in many towns, many of the restaurants were closed, contrary to the internet, the guidebooks, and, in many cases, even their signs. Being on the sea and remote, the winters are bitter and many people work only until they have enough money for the winter and then leave. We found a spot and had a tasty lunch at Veciu Muin, a place with a very strange ambience. There was no music, just dead silence, and only a couple other diners, so it was a little uncomfortable. The food was ok but not memorable, except for the gnocchi. The gnocchi was a trio with a meat ragu, a pesto and an olive oil with finely shaved cheese and was excellent. The freshness and depth of all the flavors left us unable to pick a favorite or the three.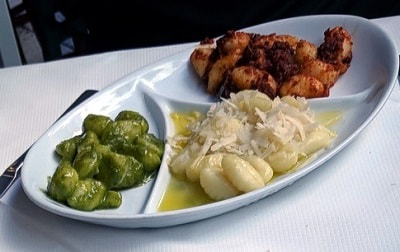 We wandered the picturesque town and went bouldering along the breakwater before catching the train back to Manarola. Turns out, this town is so picturesque that it appeared as the TV screen of a front page advertisement on my boss's desk when I returned to work and I was able to show him a nearly identical picture on my phone.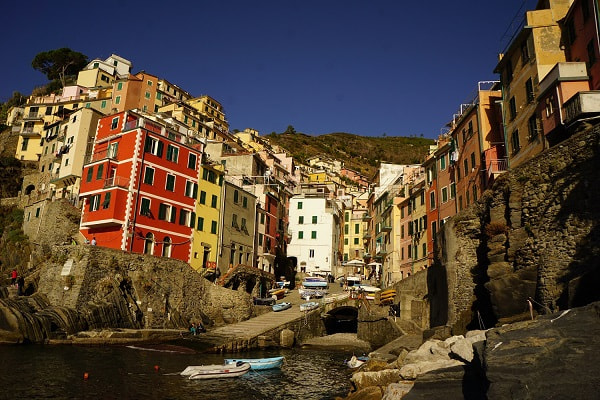 Our plan was to hike back but the trail was closed. Some locals advised us that the walk along the road was nice as well, but after our driving experience on the previous day we opted not to. While waiting for the train I noticed a little path off the side of the platform. We took it and it was a beautiful surprise walkway along the sea, with people basking in the sun on the black rocks, other perching to fish off them, and some stairs to a lookout. In Italy anyone can walk on the platform, you only need a ticket to be on the train. Tickets are stamped with a time code and generally not checked, but if you are caught without one there is a large fine, with zero tolerance.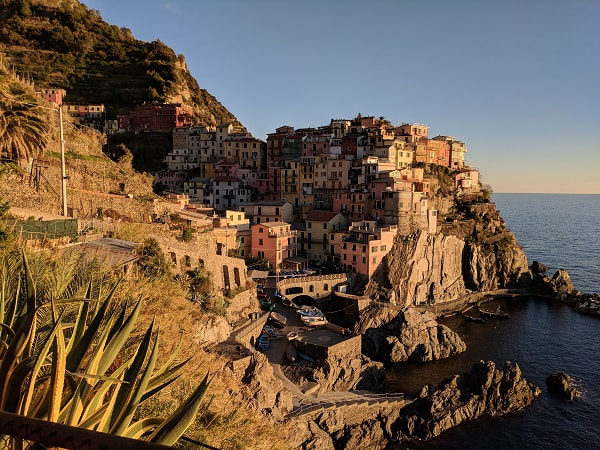 Back in Manarola we walked down to the boat launch and I met some women from British Columbia emerging from a swim. We had a laugh together about our shared appreciation of the sunny, 65 degree day, compared to the locals (most of whom were bundled up for winter). This town was also very striking from the water, and when we were showing my in-laws the pictures, they brought out a puzzle he had done of an unidentified town that turned out to be a photo of Manarola. We watched the sky turn burgundy from the train platform overlooking the ocean and caught the train back to Corniglia.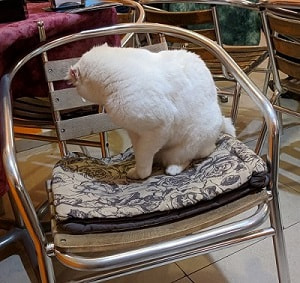 For dinner, we went back to the café across from our B&B and chose a seat in the corner. While we were waiting for our food, we noticed a one-eared cat moseying through the table legs. As I pulled out my camera to take a picture of this rough looking cat hanging out in an indoor restaurant, the cat jumped up onto my lap. I was shocked and a little apprehensive of touching the cat in fear of being bitten or scratched, so I called over the waiter. He removed the cat and explained that I had taken the cat's seat. I moved over one chair and noticed that the chair I had been in was the only one with a cushion.
Corniglia Hiking North to Vernazza & Monterosso
13.02 miles walked, 274 flights of stairs
Hiking north, we were finally able to take the coastal trail.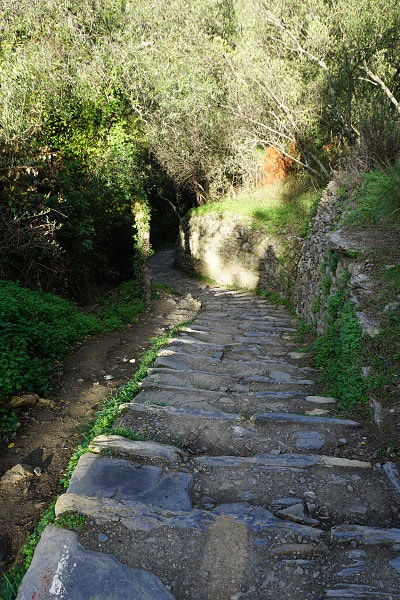 Olive Harvest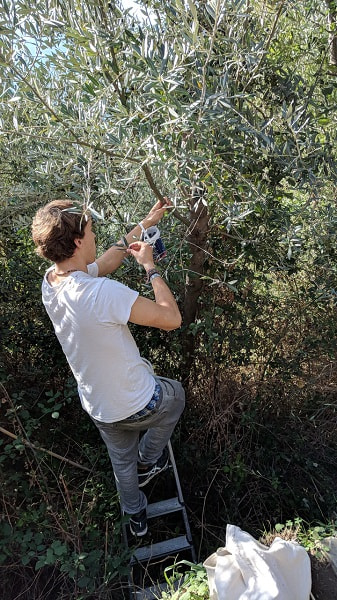 The trail from Corniglia to Vernazza was partially wooded and bobbed up and down along the coast, with occasional olive groves and glimpses of the sea.
Looking down at Vernazza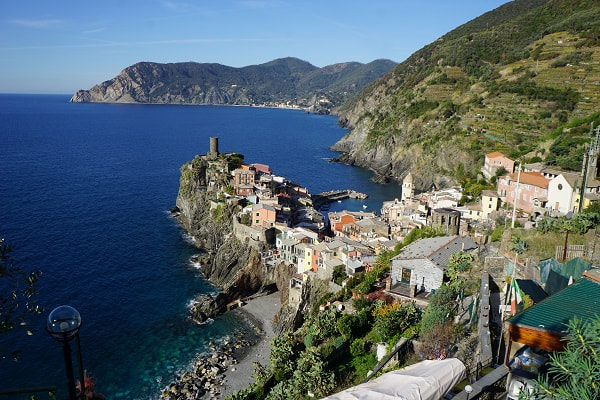 Vernazza was my favorite one of the five towns. It is perched precariously on a ridge spilling down both sides. It is quaint, but large enough to truly explore and get lost in the back streets. We wandered the town, chased the fish in the harbor, and climbed the old watchtower(1.50 euro pp).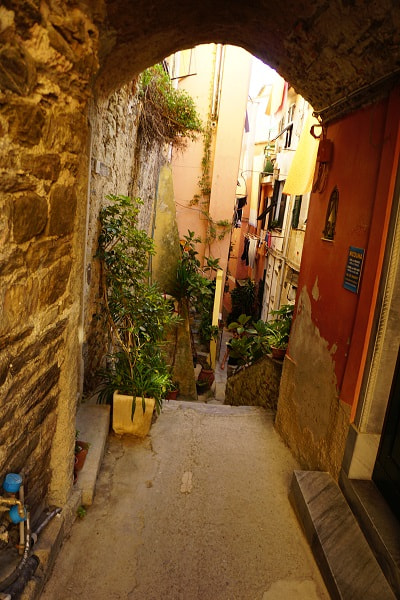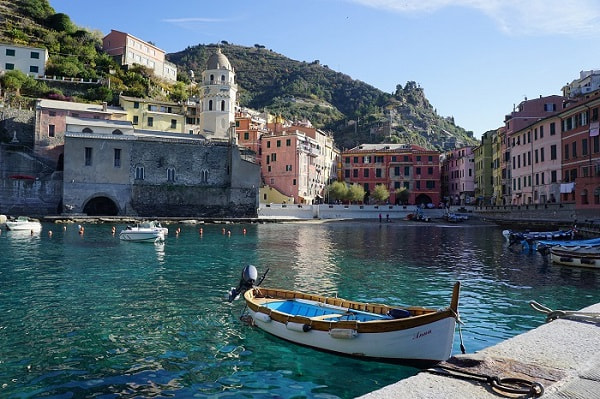 For lunch, we had fun sampling some local wines and food at Vineria Santa Marta, including an anchovy casserole, tegame alla vernazzana. The anchovies are fresh and very different from anything in the states, but this was not one of my favorite dishes.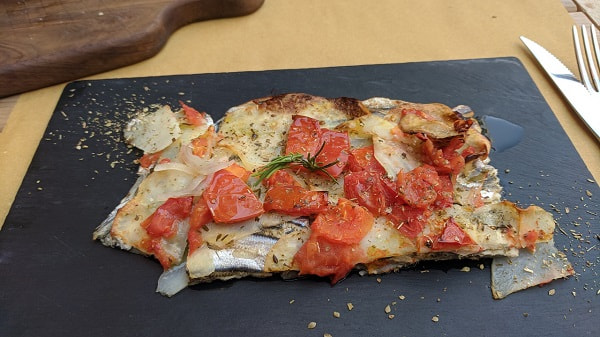 In 2011 there was a mudslide and this town was covered in up to 11 feet of mud. People's basement drains turned into geysers and the main street exploded from the force of the water below it.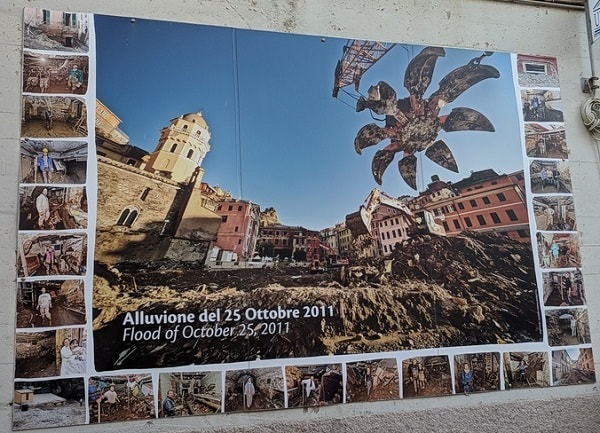 While most of the buildings survived almost everything in them had to be replaced. The river still runs below the main street but the channel has been totally rebuilt and re-engineered. You can see scars around the town if you look closely, but it is hard to imagine on a day like this one.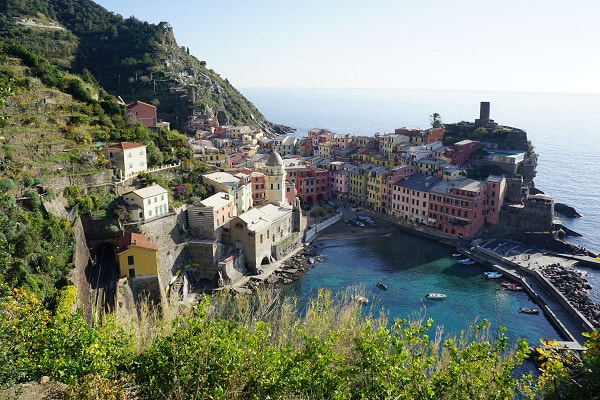 Continuing our hike towards Monterosso, the trail clung more tightly to the water and was much more exposed. Many sections were very narrow, some to the point where I'm not sure how some people fit through, but they finally had occasional railings. Above us there were often nets holding the rocks back. The mortar-free walls were not as beautiful as those in Ireland, but more impressive since they functioned to hold the mountain together.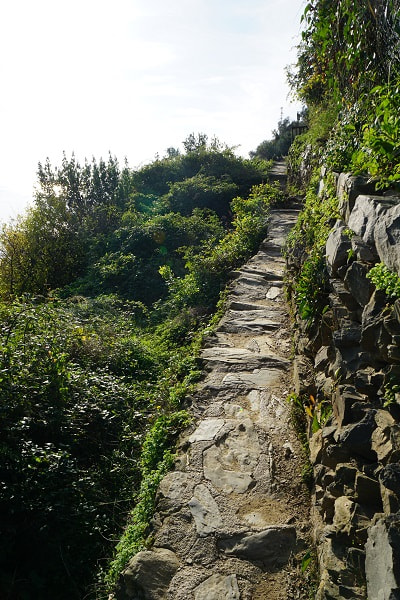 Monterosso has a new and an old side to the town and is the largest of the five. Unlike the others, it is mostly on flat ground but does have a mountain in the middle dividing the old and new side. There is an art lined tunnel connecting the two sides or a promenade walk around along the sea.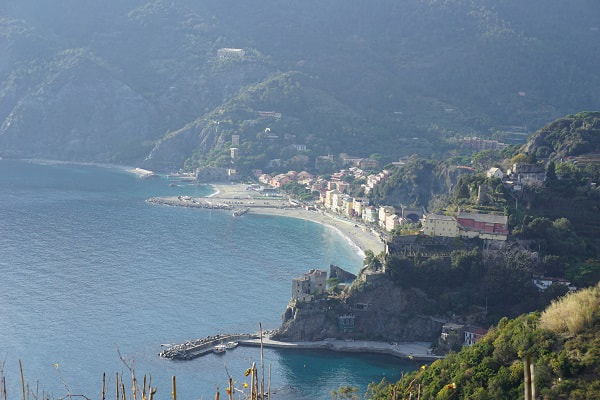 In Monterosso we explored some of the remnants of WWII and their elaborate hill top cemetery. There were a couple German pill boxes that you could walk into (if you can stand the smell of old beer and urine). I'm not big on cemeteries, but it was interesting how much personality and individuality each of the crypts had. The town was beautiful but a little too resorty for us. We missed the early train back to Corniglia, so we ended up eating a light dinner on the beach while the light faded.
Inside a Monterosso Pill Box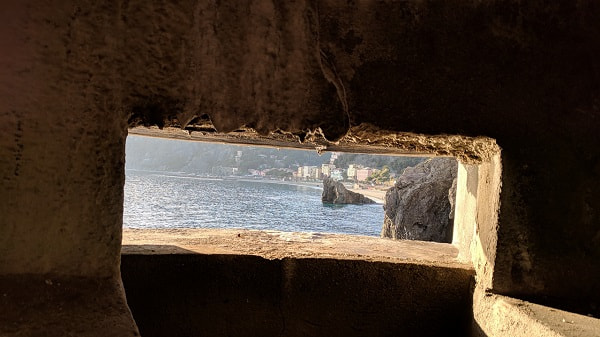 Monterosso Cemetery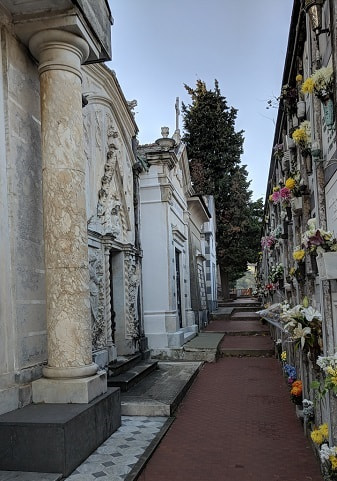 Back in Corniglia our café was closed but another place was open. It almost felt like they took turns, ensuring that one was always open. Apparently, they took turns with the cat too, because once again it jumped up on my lap and made itself at home. This place was outdoors, and it was chilly out, so I let the cat stay and be a lap warmer. We ordered a veal dish that tasted ok. Most restaurants that we went to served bread and charged a table charge and the bread tended to be stale. At this place went a step farther, the table bread could have passed for croutons.
---
Product Links: I am not sponsored by any of the products I link to. If you choose to make a purchase from one of the links of a product I listed or any other item a small percentage will go back to me to fund this website, at no additional cost to you. The products I link to are either ones I have used or similar if those are not available. Thank you for your support.
---
More?
For more of Italy here is my full Italy Itinerary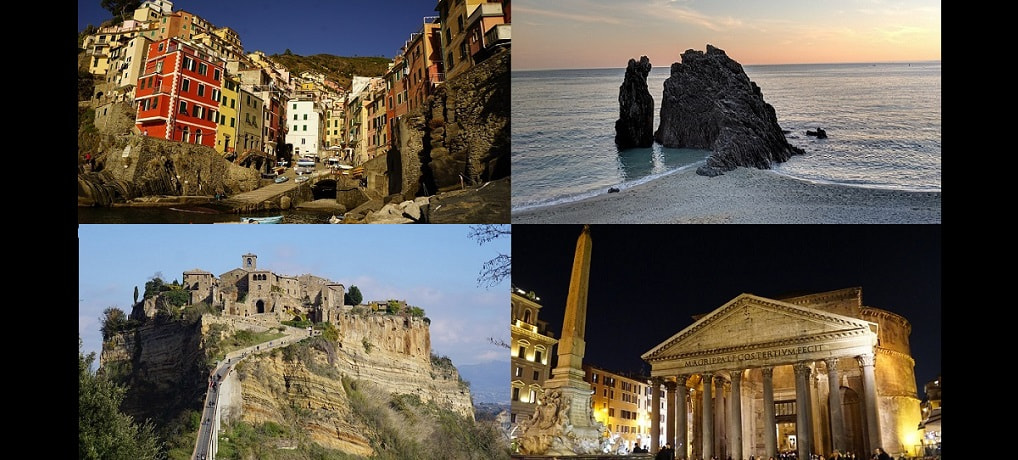 Check out my Iceland Trip Itinerary & Travel Budget.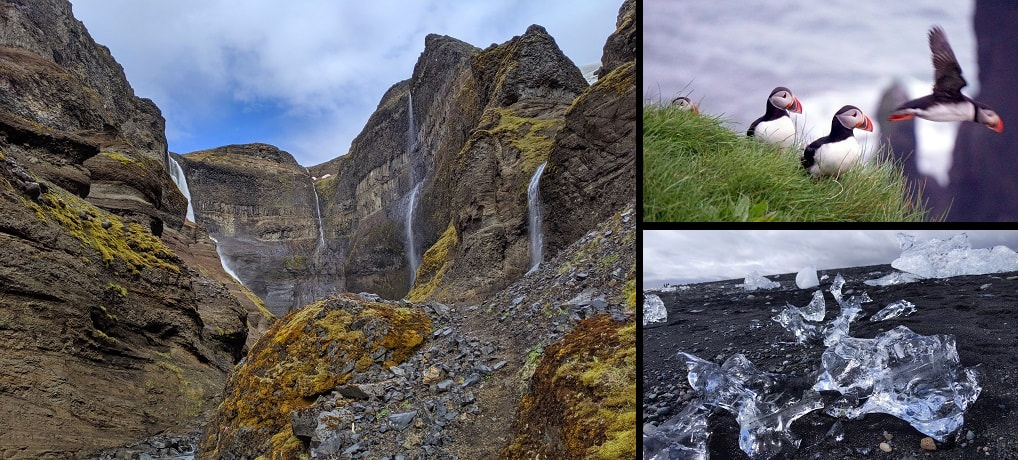 Tips for visiting the Colosseum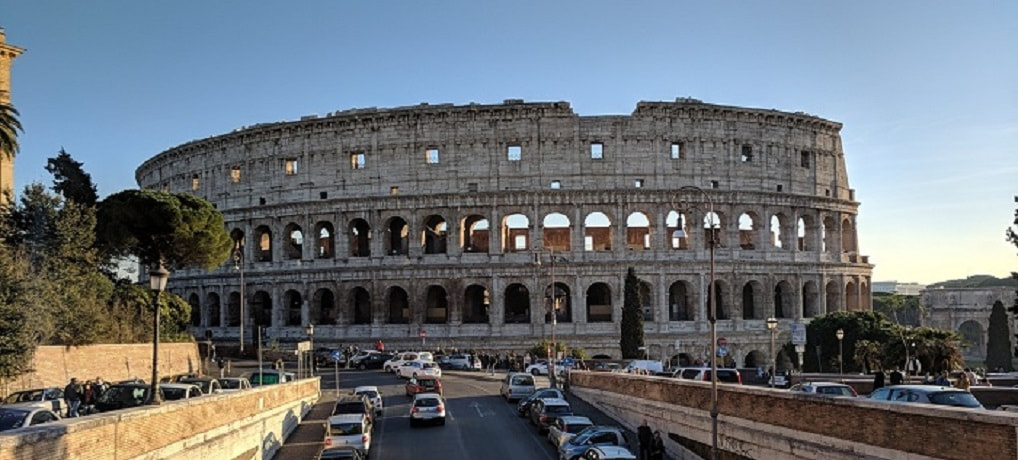 Hiking off the beaten path in Northern Ireland at Kinbane Castle