Some of the costumes may looks a little dark, but the tone is anything but. This festival may have a Christian name, but it has lots of Incan character. This video should give you a pretty good idea of the general feel of the festival.
This festival is put on by the community for the community, not tourists. If you do go please please be respectful of that. I feel torn writing this because, on one hand I feel like this is a well kept secret that tourists could ruin, but on the other hand I had so much trouble learning about it that I feel like the information should be out there somewhere for others wishing to experience it. While they don't seem to mind tourists observing, it is not a spectacle put on entertain them.
See the article on Ollantaytambo for more information on the town, things to do, and how to get there.
---
Alternate Festival
For something a little different but a bit more accessible you could try the Corpus Christi Festival in Cusco. They have colorful displays, music, dancing, and tables piled high with food (including deep fried cuy - guinea pig). Many roads will be closed so be sure to budget a little more time for getting around. We flew out the day it started, so we only caught the very beginning.
---
Pentecost Festival In Ollantaytambo
What does it all mean?
The Inca's won very few battles when fighting the Spanish Conquistadors, but they did have a crushing victory in Ollantaytambo. They won by a combination of a careful strategy and the element of surprise, so knowing they wouldn't succeed twice they fled before the Spanish could regroup. The victory may have been fleeting, but it was humiliating to the Spanish. According to our host, many of the costumes and skits are to poke fun at the Colonial Spanish, but also assured us that Peru and Spain are good friends now. There were many "white man" costumes with ridiculous noses and expressions, portraying them as ugly, silly, and drunk. There are also matador costumes with silly faces and mock bull fights. There is a Facebook page for the festival which explains a few of the costumes here.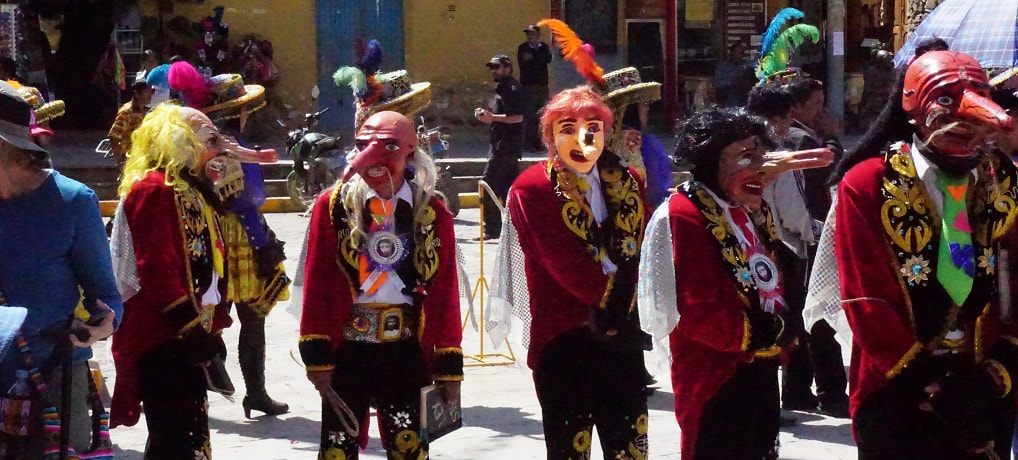 When is it?
The festival takes place over the course of several days and there is something going on nearly around the clock. It generally goes the entire weekend of Pentecost, with Sunday being the biggest day and continued Monday and Tuesday when we were there. There was a schedule posted in the main square with official events starting at 4AM. While most of the times are pretty rough, fireworks do start with a few going off at 4AM every morning, but I'm not sure they ever truly end. The busiest time and biggest crowds are at night in the square, but you can find people parading around town at just about any hour of the day.
What happens?
Most of the main performances take place in the main square but troops parade all over town and a few times a day they parade up and down the main street from the church by the pyramid, Iglesia de Santiago Apostol, to the one in the square. The variety of costumes and colors are dazzling. If you look close every costume is different and even the comical ones generally have at least a Jesus patch on a shoulder if not the entire back. There are bleachers and a few church pews for watching, but these fill up fast so be ready to stand.
In the evenings and on the weekend there was lots of food in the mains square, mostly school fundraisers during the day and food carts at night. We got some delicious pork with Peruvian green sauce and giant corn for a couple dollars, but be warned that most things don't come with utensils. If you don't feel your hands are clean enough wash them first or bring your own fork. We also had a delicious choripan sandwich from the Burger House street vendor and plenty of kabobs (make sure to get it with green sauce if you don't mind a little spice). There were also churros, popcorn, roasted corn, 5 sole personal pizzas and other snacks for sale.
There are many restaurants for a safer option. For a restaurant with a view we enjoyed Apu Veronica (overlooking the river and main street) and Gusteau Restaurante (overlooking the main square, but not the stage area).
Alcohol flows steadily and beer is sold by the bottle. If you get a bottle of beer, be sure to return the bottle to the vendor you got it from when you are done. Our B&B was next to an empty lot which the men frequented to relieve themselves, so just about any time we looked out our window someone would be urinating facing our direction.
In addition to the main venue, troops set up camps all over town where they eat and party (and maybe sleep). On the far side of town there was a carnival set up with a disco for the adults and inflatables for the kids. There was a noticeable lack of tourist in any of these areas and I would assume this is not a place they would be welcome. For the most part people were very warm and at one point we even saw a tourist get invited to dance in the square. `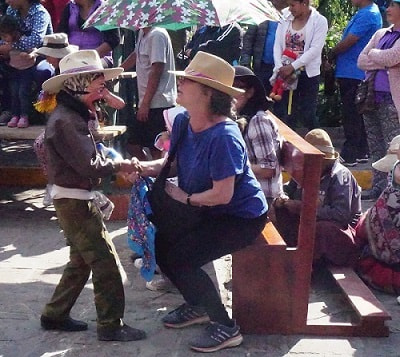 Where do you stay?
Although people come from all around the county for this festival, most of them camp out in retreats set up for their groups, but I would still recommend reserving early. The town is full of little B&Bs and you can generally find a nice one from $50-$80 per night. If you stay in town be aware that sleeping may be difficult. Even sleepy corners of town may turn into all night party houses for this once a year occasion and there will be fireworks. Also pack light, as most of the day the roads around town are closed and you will need to walk with your bag a little ways on rough dirt and cobblestone roads. Remember that this is festival time for the B&B owners as well and you may need to cut them a little slack.
Safety
There are no major concerns but like anywhere you want to keep an eye on your valuables. Some of the crowds are tight and you will find yourself shoulder to shoulder with people. This in combination with your attention being on the performers makes you less likely to notice a stray hand, so be careful. We never felt uncomfortable except for one brief interaction with a lady. While we were watching the dancers she came up and tacked a Jesus sticker on each of our chests and started demanding a donation. We were a bit putoff by the unwanted gift and touching but tried to be polite by offering her a couple small coins. She was unhappy with the donation and took her stickers back, muttered something and stomped off.
---
Our time here was a major highlight of our trip and unlike anything we have ever experienced in our travels.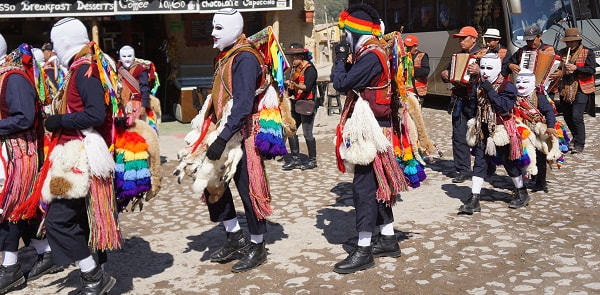 ---
More?
Read about other things to do in the area in my guide to visiting Ollantaytambo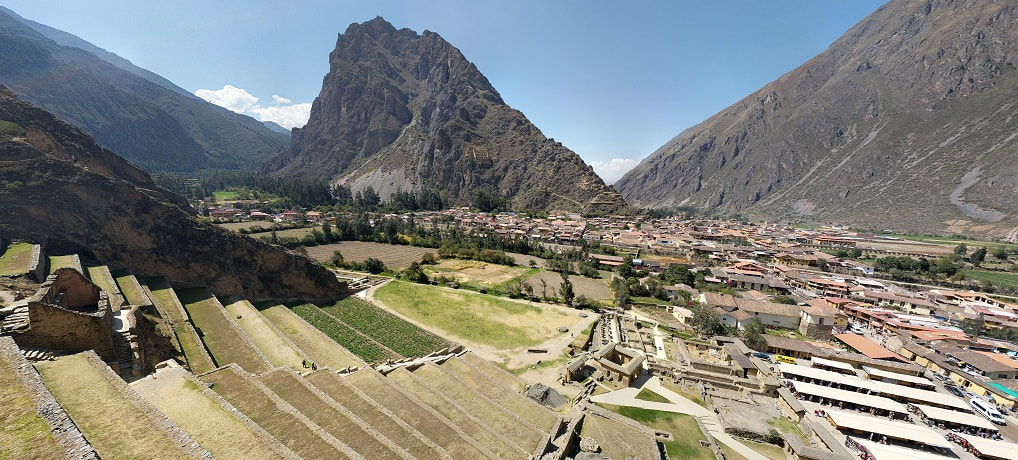 Explore the city and food of historic Cusco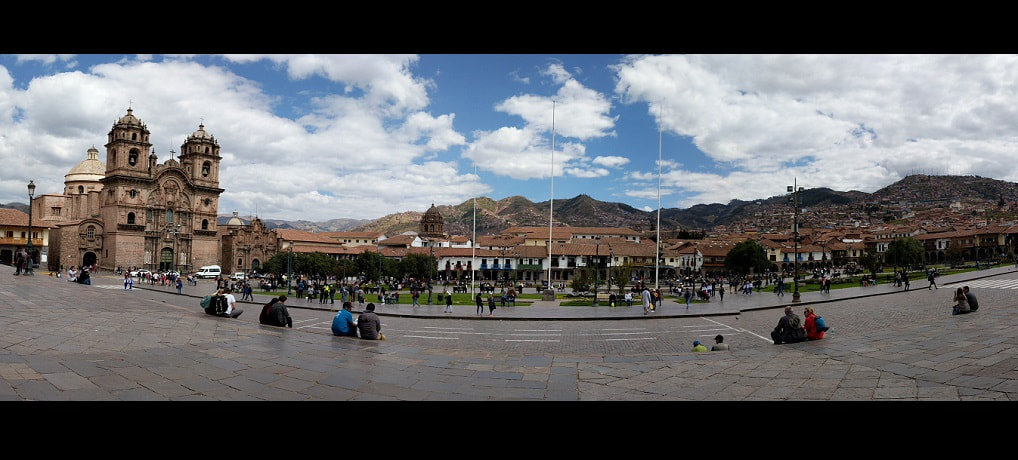 Everyone goes to Machu Picchu but getting there can be just as epic. We had an amazing experience on the Salkantay Trek