Exploring local markets is always one of my favorite things to do and Peru was no exception. The San Pedro Market in Cusco was by far my favorite. The markets in Peru are some of the most colorful I've seen and have wonderful aromas of fruit, herbs and bubbling soups. Many are very welcoming, but not all. We found the San Pedro Market in Cusco to be the most warm and inviting, packed with locals and backpackers, but when we walked into the food markets in Lima we got cold stares.
---
Other Food
See Peru - Street Food for more on grab an go street specialties and varieties of fruit.
See Peru - Restaurant Food for specific restaurants that we tried and a bit about the cuisine.
---
San Pedro Market - Cusco's Main Market
About a flat one kilometer walk from Plaza de Armas - GPS: -13.521802, -71.9823414
This market is a thrill for all the senses! You will hear Quechua, Spanish and English, and other languages all muddled together with occasional construction equipment. You will smell the perfume of fresh fruit, the earthiness of produce, herbs and breads, the tanginess of cheeses, and the countless aromas of food cooking. Each has it's own section of the market and I feel that you could find each with your eyes closed. You will see food and trinkets of every color and a sea of diverse people. You will feel the press of people around you and the uneven, sometimes slick, floor beneath your feet. And you will taste anything you dare to.
I loved how invisible I felt in this market. Even as a glow in the dark white tourist, with my well over six foot husband, we barely got a second look in most areas unless we looked like we wanted to buy something. We were free to walk around and take pictures without any issues. I would say that the customers were about 70% local and 30% tourists.
The construction added to the the rustic feel and character of the place. Some areas had planks, occasionally complete with nails or acting as teeter totters if you stepped on the wrong end. In other spots there were old doors, roped off areas, or loose paving stones. Don't be confused by the flags in these pictures. It is the Cusco city flag and has one more color than the gay pride flag.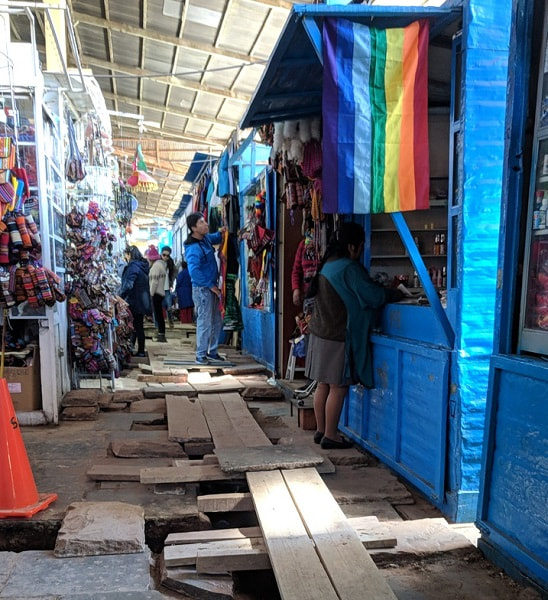 Juice Laddies
The one exception to feeling invisible was the Juice Ladies. No one was invisible to them and they are impossible to ignore, but why would you want to when you can get a couple glasses of juice for as little as 3 soles (about $1)! As you walk by these women will call out to you, call you my love, handsome, beautiful, and promise you the world. It is a bit of an experience, but as soon as you make your choice they go quiet.
These women have a good reputation and only use boiled water. Our guide assured us that their juice is safe for tourists. All of them have an identical menu, but they say that if you don't pick the pretties woman you see and you don't pick one on the end, you may get more. We chose the standard mixed fruit juice which was delicious and we got more than three glasses for our 3 soles. The full menu is at the end of the youtube video above.
Meat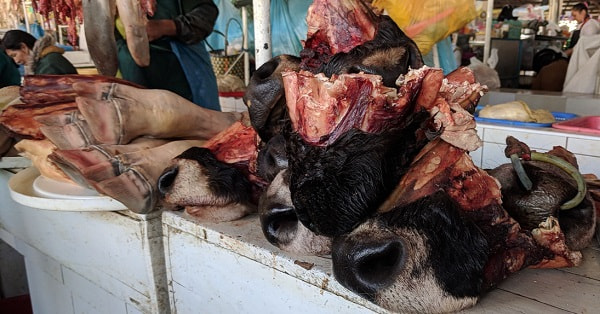 If you are squeamish you may want to avoid the meat section. They believe in nothing going to waste and they sell and use everything. We were pretty sure we saw mule noses. Most of the meat is in the back corner of the market except for the sausage adn cured meat section, which is near the middle. Here they make fresh sausage right in front of you and have several cured meat products that we were not brave enough to try. By one of the entrances we even saw a dried alpaca fetus, which our guide explained is saved to be used as a sacrifice to the Incan Gods if the animal doesn't make it.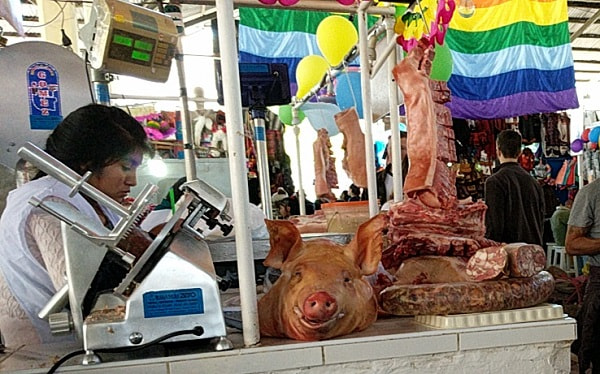 Cheese
There is an entire row of vendors with stacks of cheese. They all appear about the same but some of the vendors will offer samples which should be fairly safe. I would recommend visiting in the morning, when the cheese hasn't been sitting out all day. The cheeses we tried were very good and very reasonable. We got a good size wedge of a fresh farm style cheese for about a dollar. They ranged from about $1-5 for about ¼ of a small wheel. The only downside was they were not willing to cut the wheels any smaller than that and we didn't have any way to keep it cold.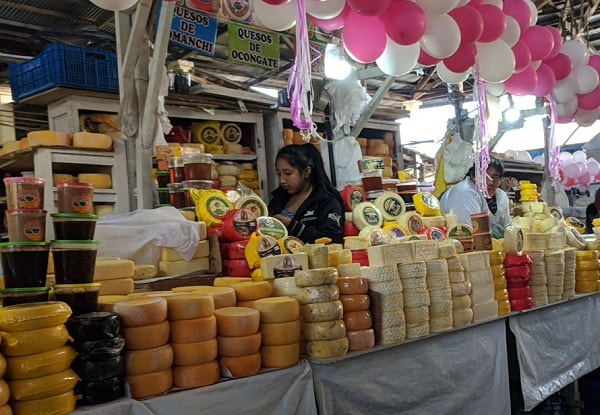 Bread and Dry Goods
There were a couple rows of dry good, dry spices, herbs, tea, breads, and grains. Vendors sold little bags of dried herbs, nuts, dried fruits, trail mix, and more. One row had huge bags of all different kinds of flour. The breads we had were plain and rather flat, probably because of the altitude. A couple unique herbs you might want to look for are huacatay and muna. Both are in the mint family. Huacatay is common in Andean soups and sauces and tastes like a blend of mint, lime, and basil. Muna is sold as loose leaf tea that is said to be good for digestion (also travelers stomach) and tastes like a mild earthy mint.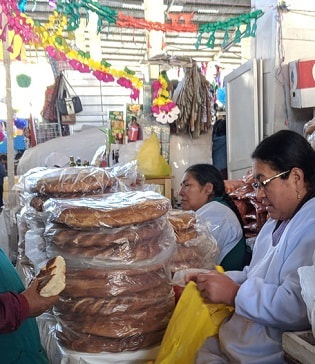 Fruits
The fruit rows simply smell amazing. See the fruit section of my Street Food Post for my fruit recommendations. The ladies were wonderful at helping us pick ripe fruit. A few offer samples but I would be cautious about trying these as people generally just pinch pieces off.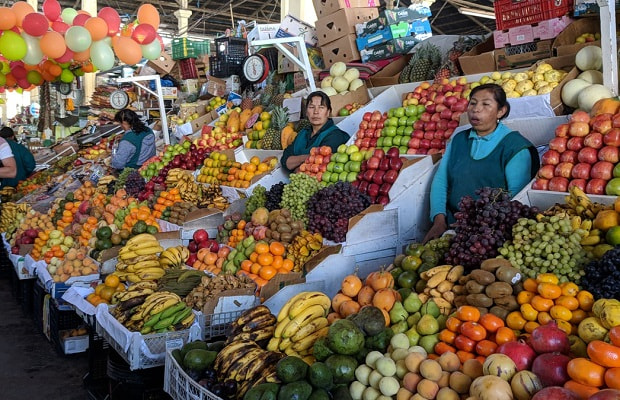 Food Stalls
In the back, opposite the meats, there are rows of food stalls with different specialties. We didn't have a chance to eat here but saw many backpackers sitting with the locals. It looks like a fun place to mingle with the locals for a very cheep meal, but the food will be heavy so make sure you have acclimated to the altitude.
Trinkets & Souvenirs
The front of the building has about two rows of vendors selling everything from t-shits to hand crafts. Down the center there are many end caps with wooden spoons and kitchen goods. About halfway there is a row devoted to nothing but local chocolate. Supposedly the prices are good here, but we didn't compare. If you are buying chocolate here be aware that much of it is unsweetened or very lightly sweetened compared to what most people are used to. There are many varieties of miniature bars that are fun to try. Our favorite was sesame, which has a strong toasty flavor and crunchy seeds, but was different from brand to brand.
Behind the Market
On the roads around to and behind the market small markets get setup frequently. On Cascaparo we saw a couple people with bags of guinea pigs, one raw and one deep fried. Trinitarias is definitely worth going down. The smells are wonderful. Women lay out blankets with all manner of fresh herbs.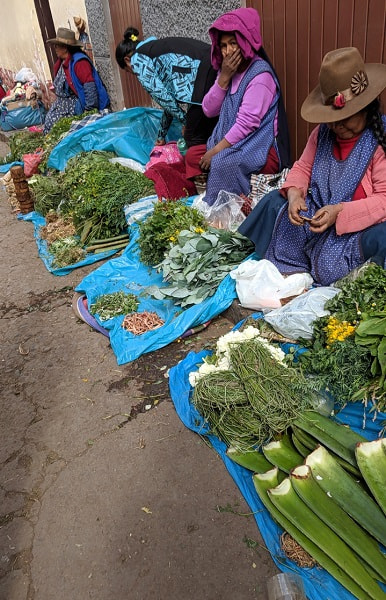 In the market things felt fairly clean, other than the flies, and the meat section, but outside the market things were a bit different. We were standing just outside on the backside of the market next to a woman selling homemade sauces. A man came up and asked how spicy one was. In reply she held the container out to him and said "try it." He appeared to be some kind of mechanic with grease stained fingers and very dirty nails. He dipped one finger in and stuck it in his mouth.
We went down Trinitarias and kept going, wandering the streets somewhat at random, on our way to Artesanias Llancaqmaki and saw all manner of shops selling all kinds of stuff semi-flea market style. This area is a good place to see the culture completely unfiltered.
---
Cusco's Artisan Markets
Artesanias Llancaqmaki - Less than one km from the Plaza de Arms, about a 10 minute walk - GPS: -13.5246,-71.9722
This is the largest of several artisan markets. We found the atmosphere here to be very laid back (at least on a Wednesday morning) compared to a couple others that we visited. Many of the vendors were sleeping or watching things on tvs or their phones. There was very little hassling as we walked around, but people were very willing to haggle on prices, especially when we wanted to buy more than one thing. Most of the stalls weren't unique. It felt like most of them had a different selections of the same things, but most do appear to be handmade. This market is geared completely towards tourists and you are more likely to find someone who speaks some English here then most other places. There are public restrooms and a small food court. We bought a fleet of tiny toritos, the good luck bulls that are on the roof of almost every building, and the vendor carefully wrapped each one for us.
Other Artisan Markets
We found several other smaller artisan markets in the area around Artesanias Llancaqmaki, but most of them seemed a little more desperate for a sale. It was nothing like the markets in the Caribbean; people weren't aggressive, but it wasn't as laid back.
Alpaca Courtyard - GPS: -13.51795, -71.9779
We stopped here on our walking tour and I don't know the real name of the place, but it was a cute spot to wander through with all kinds of woven goods for sale. For a photo sphere of this courtyard go here. We didn't actually shop here so I don't know what the quality or prices are like. There were a couple alpaca and a lama that you could pose for pictures with, for a suggested 1 sole donation, and shops ringing the courtyard.
Asunta - 7AM-11PM - woven goods shop about a 5 minute walk uphill from Plaza de Armas - GPS: -13.5160,-71.9758
This was not a market, but supposedly where some of the market vendors come to buy. The prices were very good and the shop owners were supper friendly. They call themselves a wholesaler, but when I picture a wholesale shop I would expect everything to be the same. These good all looked to be handmade with almost no two alike. We purchased two alpaca scarves for $2.50 each and the lady was very grateful and thanked us repeatedly. They had a huge selection of everything. This also happens to be on the street with all the animal formations in the walls, so you can do some sightseeing while you're there.
---
Ollantaytambo's Food Market
Ollantaytambo has a small market near the main square that sells produce, meat and cheese. It doesn't have a huge selection and is small but cute. There are often street food vendors outside.
---
Lima's Food Markets
Miraflores
Mercado de Surquillo - In Miraflores, near Kennedy Park - GPS: -12.1180,-77.0255
This is the larger of the markets in the Miraflores area. It had similar products and was a bit rustic like San Pedro, but was much smaller and had a different feel. The market is a bit of a maze of circles with most of the meat and prepared food in the middle and the produce on the outer rings. It was fun to look around, but we didn't feel especially welcome here. No one said anything, but we were noticeably the only tourist and we had a lot of people stop what they were doing and watch us. If you went to San Pedro in Cusco I would skip this, but if this is your only chance to see a market you should check it out.
Mercado Cooperativa de Servicios Generales La Unión - In Miraflores - GPS: -12.1156,-77.0447
This was a small neighborhood market that our driver recommended to us for quality. It was very small and had the feel of a place where everyone knew each other. Again, no one said anything, but the looks felt cold, like we were interrupting.
Chinatown - Located by Lima's Historic District - GPS: -12.1180,-77.0255
This is a neighborhood that covers a couple blocks and passing through the columns that mark one entrance is like entering another country. There are shops full of pots and pans, shops with cheep toys, all the fakes you would expect in any Chinatown, and lots of Chinese food. The streets have plenty of tourist milling about and shopping. In the middle there is a fresh food market that was quite different. It was an interesting place to walk around, but some of the look we got were very cold and we had a lady come out and ask us in English what we wanted in a not so friendly tone, so we left.

---
More?
Check out our full Peru Trip Itinerary.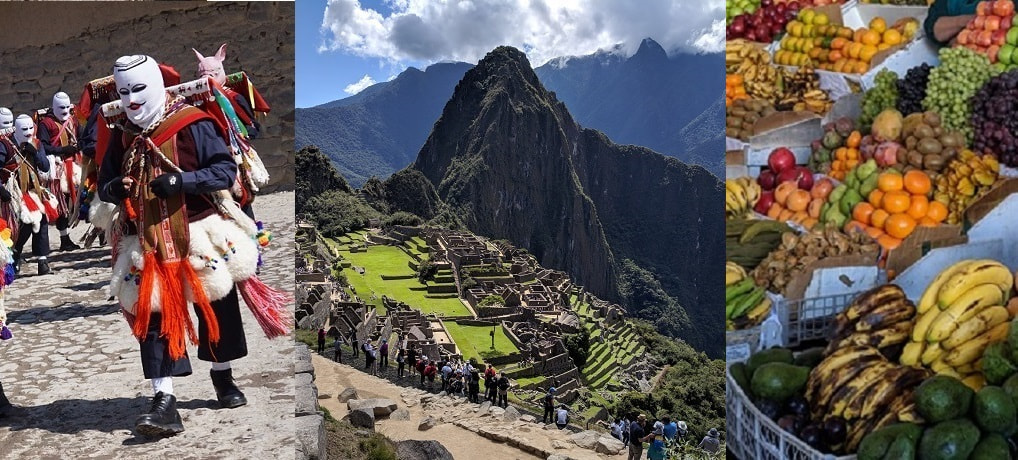 Read about the delicious Food of Malaysia,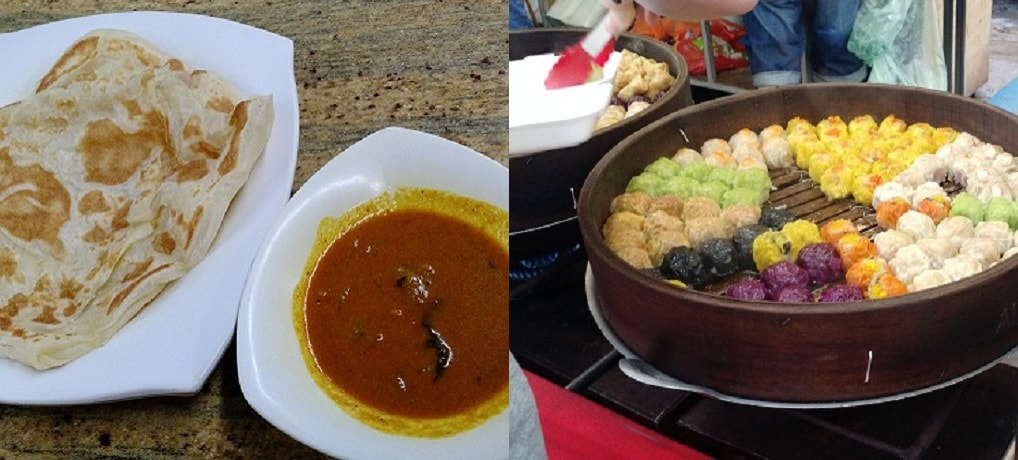 Or the melting pot of Hong Kong Food