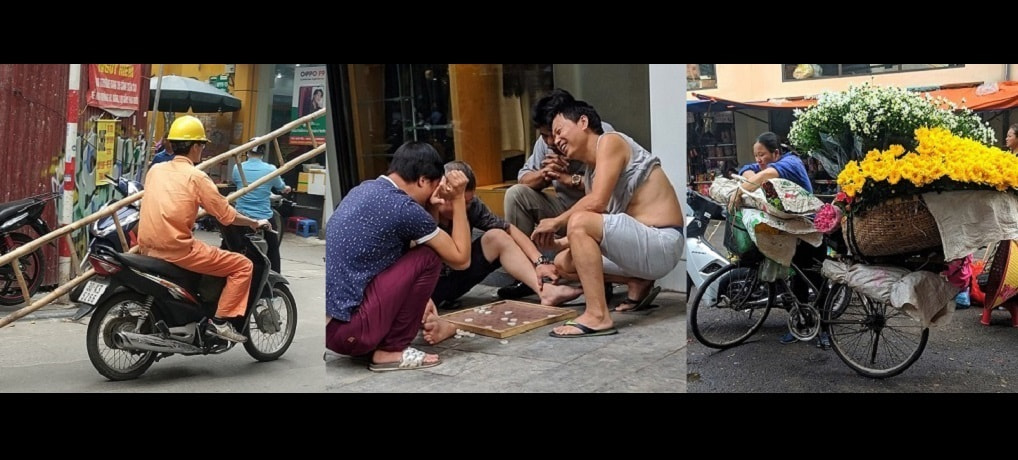 Hanoi has an incredible energy to it. I was only there for a couple days so I'm sure I barely scratched the surface of this place and may have a few misconceptions, but this is the way I saw it. It is tradition unapologetically melded with city life and flowing chaos. Outdoor markets and street food vendors co-exist alongside hotels and fancy restaurants. There where people of very different means going about their business side by side, but I did not sense any animosity between them; just people living their lives. It seemed like a place where nothing matched, but it all just fit somehow.
We stayed in the Old Town area, about .5km North of Hoàn Kiếm Lake. In this area, and in much of Vietnam, scooter, bicycles, cars, buses, and people move about the streets with no rules or pattern, but it all magically seams to work. I think this area might be a bit of sensory overload after a long flight, especially for someone visiting Asia for the first time. It takes a little getting used to, but it was a great experience. I loved the entropy of it all and can think of little better than taking a step back out of harms way and grabbing a stool on a street corner for a good meal while watching it all go by.
This city felt safe, but laws seemed to exist from moment to moment. This was especially evident on Tạ Hiện Street, where restaurants would setup chairs and tables in the street until the police showed up. When the police came by there would be a mad scramble to pull everything inside, but only for a minute or two. Many places would be setting everything back up before the police where even out of sight. We were there on a week night and within an hour this happened three times. When the street is all set up there is barely enough room to walk down it between the folding tables and plastic stools.
This was the most dramatic example, but similar things would happen in other areas with street food vendors. Many of vendors actually cooked hot meals out of vessels on shoulder poles, so they were very mobile, and could simply stand up and walk away with their entire shop at a moment's notice.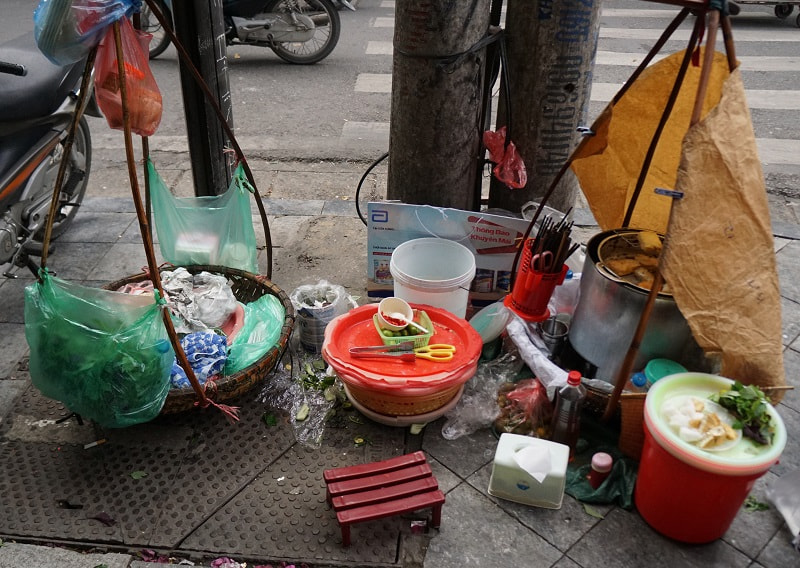 Tourism definitely existed, but did not seem define the city. If the tourist disappeared some people would loose their livelihood, several restaurants and hotels would close, but life would go on. The city culture would have holes in it, but would not be that much different. This city holds a special place for me, along with Cusco, Peru, as being one of the most different and authentic feeling major cities I have visited.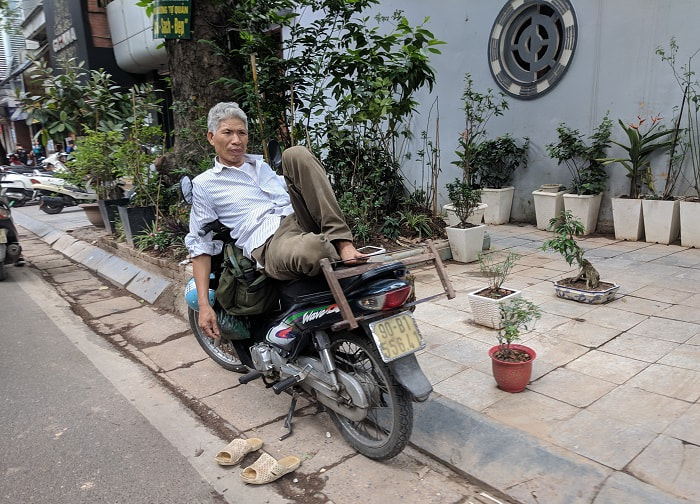 ---
The Motorbikes and People


This is a place where shoulder poles are almost more prevalent than backpacks, military caps and conical hats are very much in vogue, and the scooter is the only pickup truck. The honking never stops, but most people seemed good natured. It is more of just a way to let people know that you are there. Vietnam's version of loud exhaust pipes.
English is not widely spoken, but people find ways to communicate. One lady was selling something that looked like a fruit, but I wasn't sure. I handed her my phone open to Google and pointed. She typed in a word and it came right up with a Wikipedia description.
---
Understanding the People
For a bit of context on the culture I highly recommend When Heaven and Earth Changed Places, by Le Ly Hayslip. This is a memoir that reads like an suspense novel. The author was a child during the French War, a teenager during the American War (Vietnam War), and now lives in America. She skillfully weaves the culture into her novel and talks about her journey from Viet Cong agent to American. Her second book Child of War, Woman of Peace isn't as suspenseful, but gives a good view into what life was like transitioning to America and also returning to Vietnam in the mid-80s and 90s.
---
What to do?
We did not visit any of the big historical sites, history, or art museums, but we don't feel like we missed anything either. I feel like every museum is different, but I can visit enough of them closer to home. I travel halfway around the world to experience the place and the people.
Just Walk - Download maps ahead of time and just get lost. Every street is different and you never know what you will find. If you are looking for something a bit more structured and with a bit of context there are a number of free self-guided walking tours including Local Insider.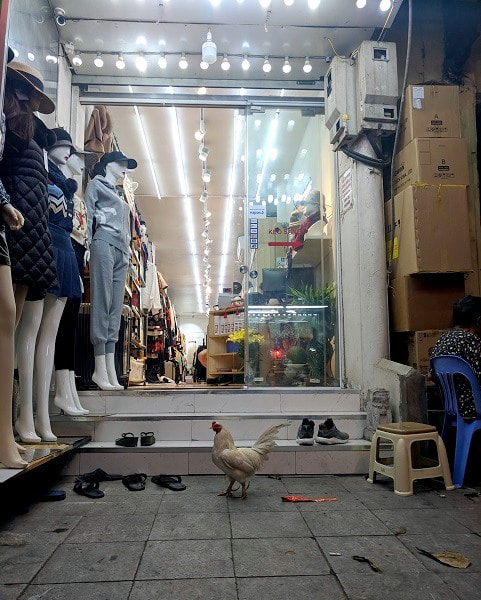 Markets & Shopping - If you Google "Market" you will find something like the map below. There are literally markets in every direction selling just about everything. They range from beautiful fruit, vegetable, and flower markets, to meat markets selling live turtles, fish in buckets or by the chunk, and unrefrigerated meats, to wholesale home goods. They have dried good like rice and spices, along with baskets of dried prawns and other dehydrated seafood. Most of the clothing and homes good we saw here were inexpensive but low quality and mass produced.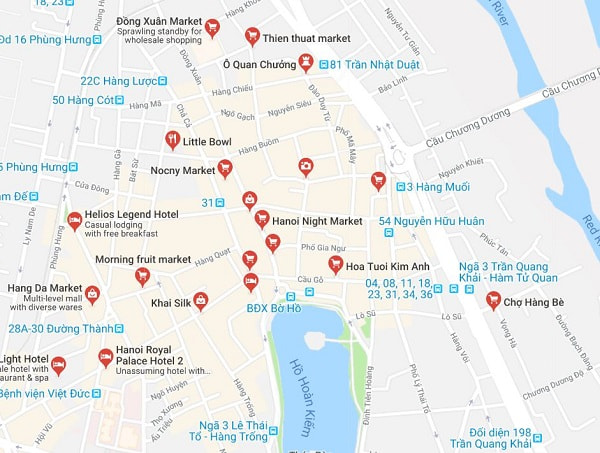 Temples - There are a number of beautiful temples that can be interesting to visit. Please be respectful to the worshipers and wear something that covers at least your knees and shoulders if you visit one. Some allow cameras and some do not.

Hoàn Kiếm Lake (Lake of the Returned Sword) - This lake is pretty during the day, but especially nice at night when everything is lit up. During the day, for a small fee, you can cross the bridge to the temple in the middle. We were told it was nothing special so we didn't go, but we did visit the lake during the day and night. This is one of the more touristy areas, so there may be a number of trinket vendors.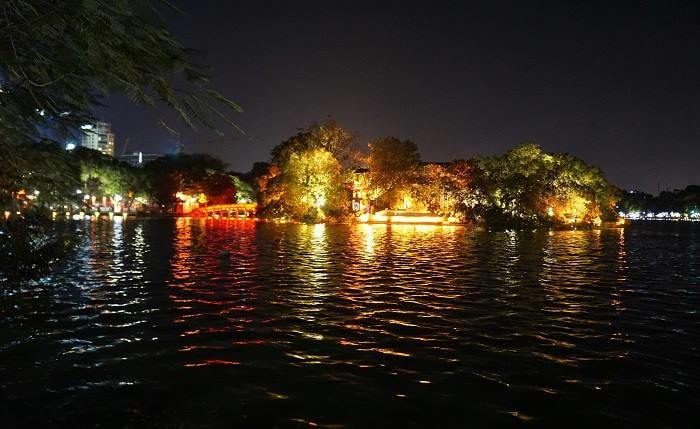 Train Tracks - This is a neat little community that lives right on the edge of the tracks. We missed the train, but a couple times a day a train comes rushing through this area. The rest of the day the tracks function as a mostly vehicle free street through a neighborhood. This area is mostly residential but there area a few cafes and shops. This can be a nice area for a walk and a bit of a break from the traffic. Green Eyed Traveler have a good guide to this area.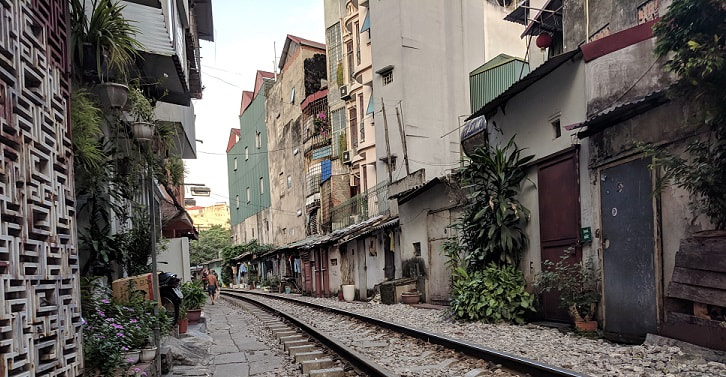 Food - Eating is a great part of the experience in Hanoi. See my Vietnam Food Article for more on the food. The food in Hanoi is excellent and don't worry if your journey to find it takes you down a narrow hallway, and occasionally even up some stairs. That is normal and just part of the Vietnam experience.
Looking for more specific recommendations? Check out Your RV Lifestyle's list of the 16 Best Things to do in Hanoi, Vietnam.
---
Our Experience
We flew into Hanoi later afternoon on a Tuesday and picked up a SIM card on our way out of the airport ($8-15). The tour driver picked us up at the airport and it took about an hour to get to the hostel (a taxi into the city is about $25). We checked in and went out for a celebratory bowl of soup. We stopped at one of the first places we saw and they handed us a menu, which among the options listed "crap" soup instead fo crab.
Later we met our group and went out for a semi-fancy lantern lit dinner with pillows for seats. After our meal we walked down Tạ Hiện Street (a night-time bar street) and were a bit puzzled by the number of vendors trying to sell brightly colored character balloons. Why do drunk tourist want balloons with pokemon and minions on them? Later we learned that they fill the balloons with nitrous oxide (laughing gas) in place of helium and it made a lot more sense.
We woke early and went for a morning walk. In contrast to the bustle of the previous night, the city was still just waking up. We were the only tourist on the streets. Many shops are only the size of office cubicles and have to pack everything up each night, so they were unpacking and setting up their displays for the day. Property taxes are calculated based on the width of the building, and therefore define the architecture. Most buildings are narrow, deep and tall. This also carries over in to many of the types of businesses they house. Most shops sell variations of a single product. Every shop specializes in something, be it chain, wheels, stainless pots, paper, or something else.
After breakfast we met up with the group and went on a walking tour of the area. We explored many of the market streets, tried different fruits, had some strong iced green tea, played đá lông (kind of like hacky sack with a feathered shuttlecock), and went for a cyclo ride. There were two people per cyclo and even though we both have athletic builds we did not fit in the seat. After the ride we went to try the egg coffee, a local specialty. The cafe had a balcony with a great view, but to get to it we had to go down a narrow corridor, into a courtyard, around a laundry machine, and up a couple flights of stairs.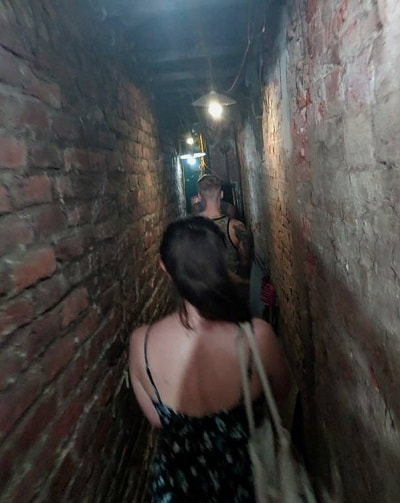 In our free time before dinner we walked the train tracks, explored the city a bit more, and tried a couple snacks on the street. This was a great city and while we were excited to go to Ha Long Bay, we were sad to leave it.
---
Product Links: I am not sponsored by any of the products I link to. If you choose to make a purchase from one of the links of a product I listed or any other item a small percentage will go back to me to fund this website, at no additional cost to you. The products I link to are either ones I have used or similar if those are not available. Thank you for your support.
---
More?
Ha Long Bay and Ninh Binh are both nearby and have good tourism infrastructure. They both have a mixture of rural life (one fishing and one farming), stunning natural beauty, and tourist luxuries.
Ninh Binh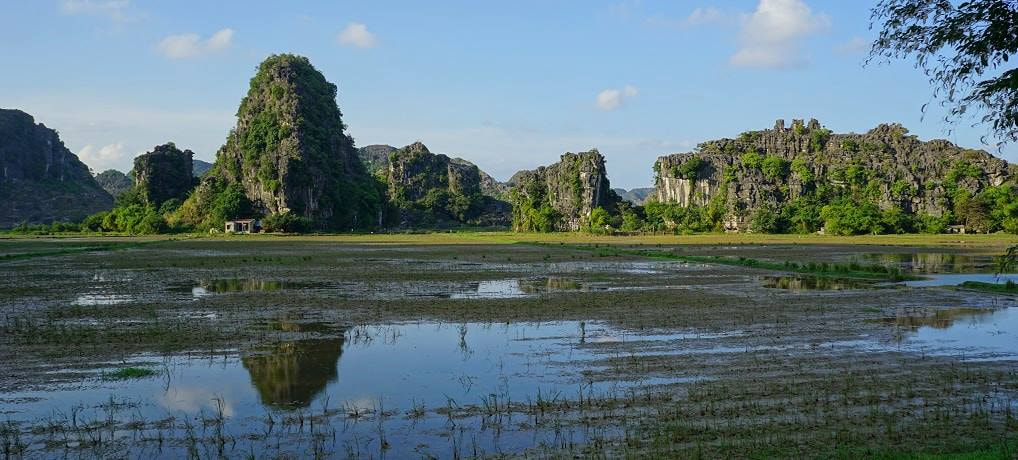 Ha Long Bay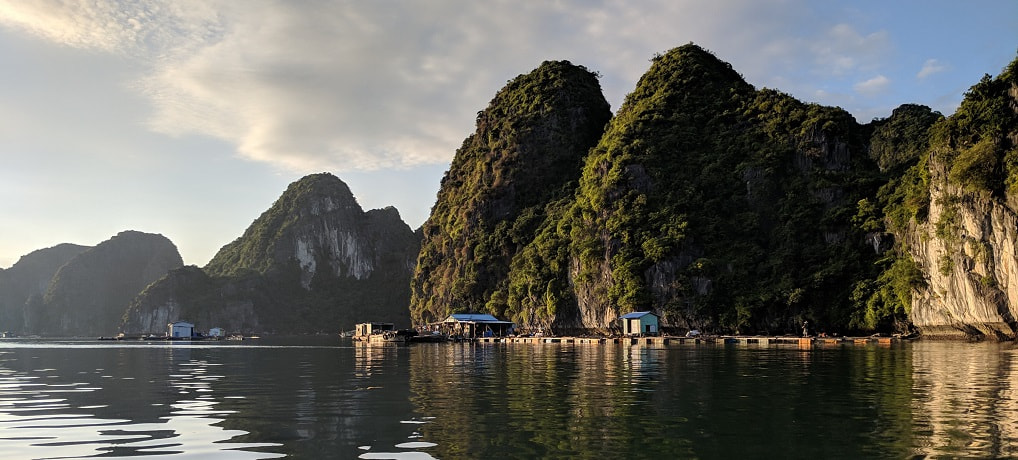 Check out our full Hong Kong & Vietnam Trip Itinerary.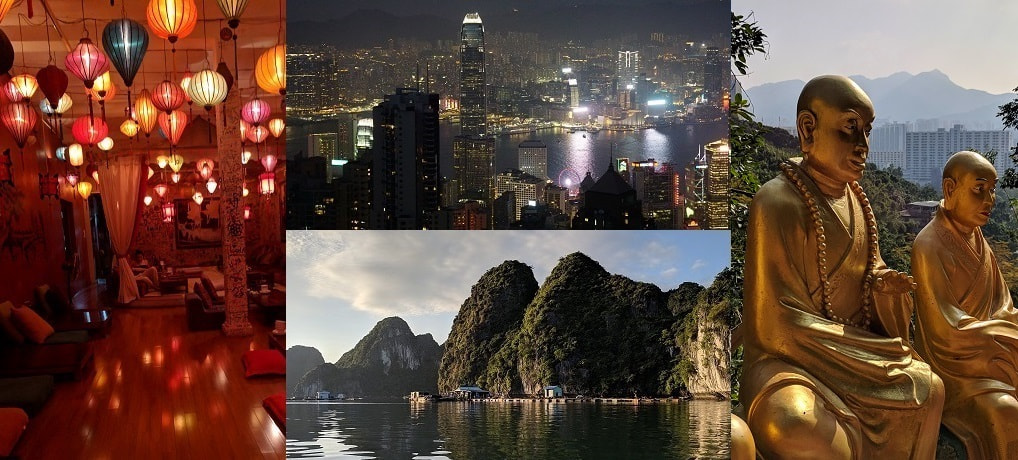 If you love Hanoi, you may also appreciate Cusco, Peru, one of my other favorite cities.