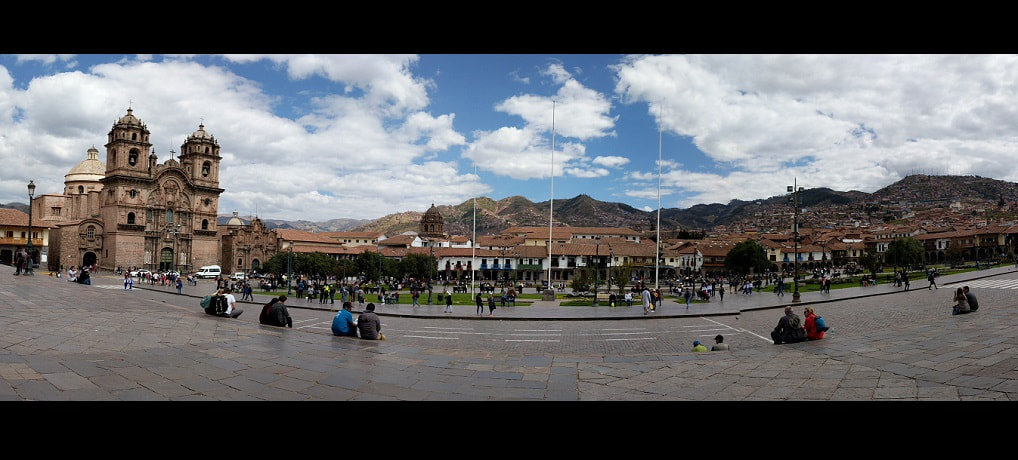 Cusco is a colorful city with lots of culture and history. It was once the capital on the Incan Empire and today is a huge tourist hub and backpacker haven. Cusco is one of those places where you can find a bed for the night for anywhere from $5 to $300 and a meal to match. Cradled in the mountains, its winding cobblestone streets have a new surprise around every turn, and often a view.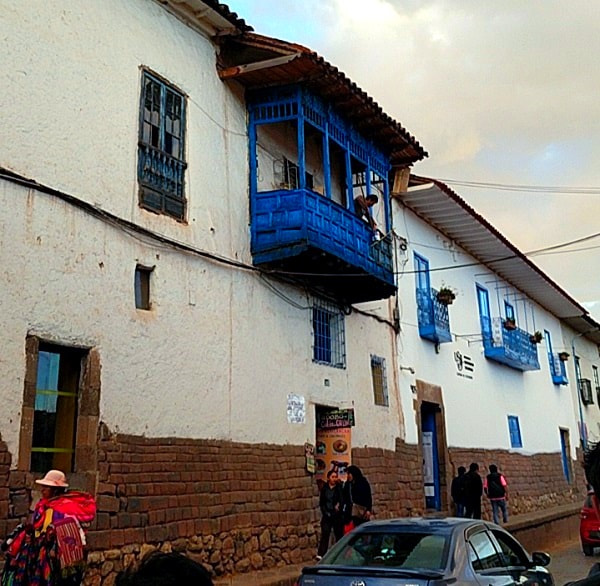 A man re-painting his balcony
Cusco is known for its blue windows and door, Incan walls, layers of history, and archeological sites, which are fantastic, but it also has a unpolished rustic side that we loved. In some ways this city feels like Rome, with ancient history in every square and beautiful hidden courtyards, but a bit less refined, in a quirky good way. In Rome people live very similar lives to people in most other modern cities. In Cusco people have internet and cell phone service, but life appears very different. It's not like they are frozen in time, just moving a little slower and ok with it. This is a culture that still has very strong roots and was far from assimilated by the European colonizers. Most of the people we saw in traditional garb were middle aged or older, so it will be interesting to see if the next generation retains this culture, or if Cusco slowly fades into another homogenous metropolis.
---
Getting Around
For getting to Ollantaytambo from Cusco see my Ollantaytambo Post. We took an Uber to and from the airport to the San Blas neighborhood for about $5. Other than getting to and from the airport we walked everywhere. San Blas (just north of the Plaza de Armas) and the central city area is very safe and pedestrian friendly, but know what to expect.
Walking - You will want a decent pair of shoes and will need to watch your step. The sidewalks and roads are all cobblestone, often with exposed tracks to catch the rain, that can easily catch a foot if you are looking up instead of down. Many of the streets are barley wide enough for cars to pass and the sidewalks may make you reminiscent of being a child walking on the curb. Roller bag luggage is useless here. Take it slow (you are at altitude after all) and these streets can be great fun to explore.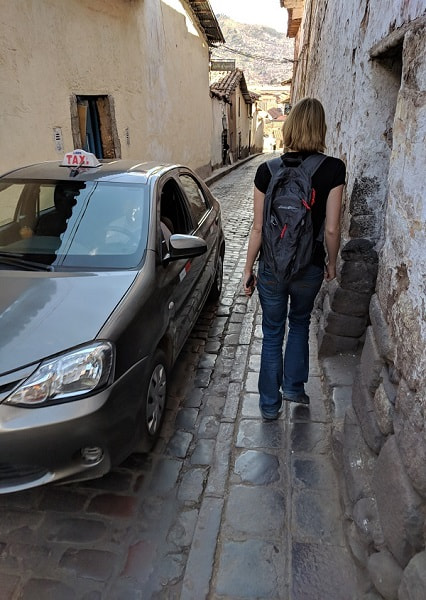 Driving - Cusco is not a place to drive. The taxi drivers must have incredible skill and patience. The roads are incredibly narrow, steep, and unforgiving. All the cars we saw were manual and it was amusing to watch them all roll back, then pull forward together in unison as they resumed going uphill. In place of traffic lights there were often traffic police and some places they were absolutely essential. Many roads are only wide enough for a single vehicle, but still have two way traffic. The road by our hotel was on was a dead end with several turns, and the only way to get in and out was to drive in and reverse back the way you came. If another vehicle entered when someone was trying to leave they would all have to back up to make way for the trapped vehicle.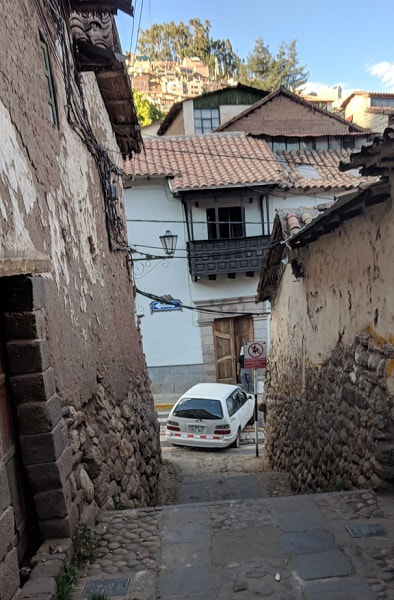 A car making a hundred point turn
Buses - There is a bus system in the city, but it is generally considered confusing and not tourist friendly.
---
Things to do
A couple of our favorites included walking the streets, checking out the markets, taking a walking tour, and eating everything. I've included a bit of info on each of these, as well as the typical tourist attractions and options.
---
Food & Markets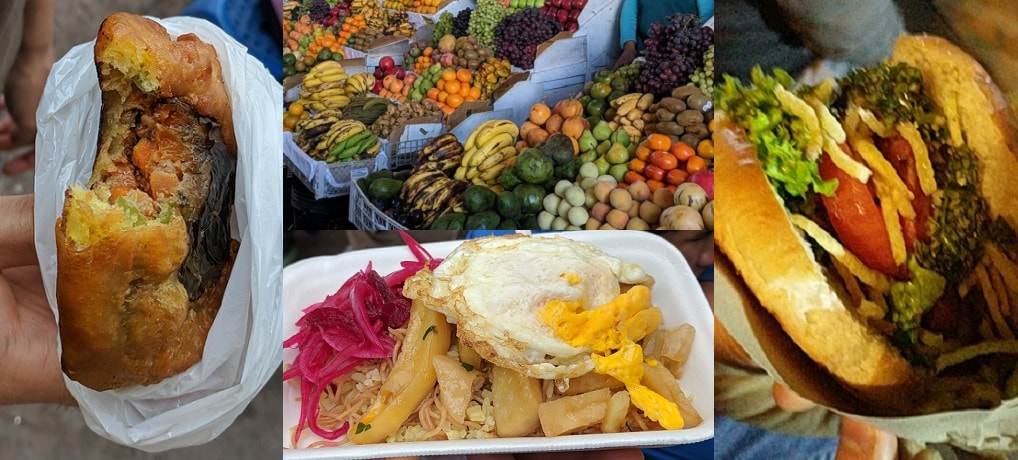 San Pedro was out favorite place in Cusco. Read more about it and other markets, including places to shop in my Peru - Markets Post.
Trying street food is fun and inexpensive, and I don't think a visit is complete without trying rocoto relleno, one of Cusco's specialties (pictured above on the left). See Peru - Street Food for more on this and other grab and go street specialties.
See Peru - Restaurant Food for specific restaurants that we tried and a bit about the cuisine.
---
Walking Tour - We find that walking tours are one of the best ways to get oriented to a place, pick up some helpful tips from a local guide, and help you decide what you want to do. I know there is an argument both ways, but we like the philosophy of "free" walking tour. The idea is that the guide is working solely for tips, so the better the quality of their tour, the better money they make. Some of these companies supplement this by making money on selling other tours or making commission by bringing people to shops (and a few are more shopping tours than anything else). The quality of these tours vary drastically depending on the guide, but it is in their best interest to make it good. We did a 3:30 historical walk with Inkan Milky Way and it was one of the best we have ever done.
Our guide took us around and explained the typical historical sites in an entertaining way with lots of interesting facts, with some culture and a bit of folk lore mixed in. He took us to San Pedro to explain some of the produce and taught us how to make chicha morada (purple corn drink). He explained the difference between vicuna, alpaca, and lama, and showed us the kissing alpaca here.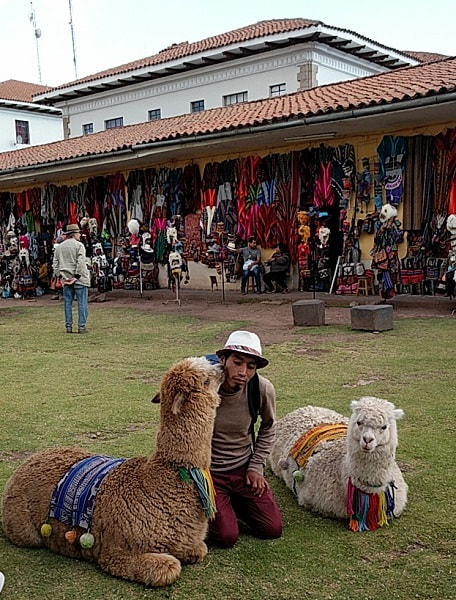 Outside Qorikancha (aka Coricancha or Koricancha) he explained the layers of architecture and history, with a colonial church built on top of an Incan temple. He also told us that, as an Incan temple, part of the job of Qorikancha was to house the Gods of conquered people to exercise control over them. If the tribe misbehaved, the Incas could threaten their deity as if it were a hostage. We also briefly visited Kusicancha, a free Inca site just behind Qorikancha.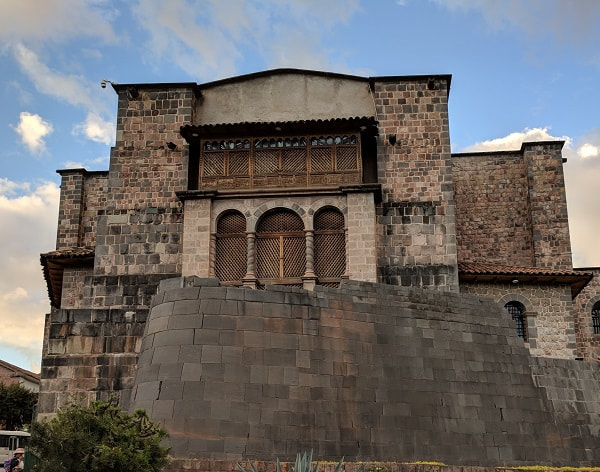 Qorikancha
---
Tours & Sites - Any of the Incan sites can be visited on your own or with a group tour, but either way you will need a ticket for most (see options below). Transportation with tours is generally less expensive and sometimes the guides will provide info on the sites, but the downside is you will be in a big group and on a schedule. While Inca Trail Treks have to be procured well in advance, most day tours can be booked right in Cusco, often for a fraction of the price that you would pay online ahead of time. The three most popular are:
Rainbow Mountain - A high altitude day hike (or can be a couple day trek)

Sacred Valley Tour - Many varieties, but usually stops in Pisac, Ollantaytambo, and Moray. You need the Sacred Valley Ticket or the Tourist Ticket to visit the sites.

Cusco Incan Sites Tour - Many varieties, but usually stops at Sacsayhuaman and some other sites near the city. You need a partial ticket or the Tourist Ticket to visit these sites.

Humantay Lagoon - A high altitude hike to a stunning glacial lake. If this is done as a day trip most of your time will be spent driving there and back, and the lake will be quite crowded, beautiful but far from the pristine pictures. We did this at dawn on our first day of the Salkantay Trek to Machu Picchu and we had the place to ourselves.
Tourist Tickets - As of 2018 you need either the 10 day Tourist Pass (~$50 per person) or a partial pass (~$25 per person) to enter the sites in the Cusco area and the Sacred Valley. No more single entries. You can purchase a pass at any of the sites, so don't worry about getting one ahead of time. You will need to show your original passport to enter. The Tourist Ticket (Boleto Turistico) is 130 soles for entrance to most of the museums in Cusco and the archeological sites in the surrounding area for 10 days. The Sacred Valley Ticket is 70 soles for access to Pisac, Moray, Chinchero and Ollantaytambo for 2 days. There is also a 1 day pass for 70 soles for the archeological sites around Cusco and a 2 day pass for 70 soles for most of the museums in Cusco. All of these tickets will let you come and go as often as you want, but are very inconvenient if you only want to see one thing. There are discounted rates available for students with valid IDs.
---
Plaza de Armas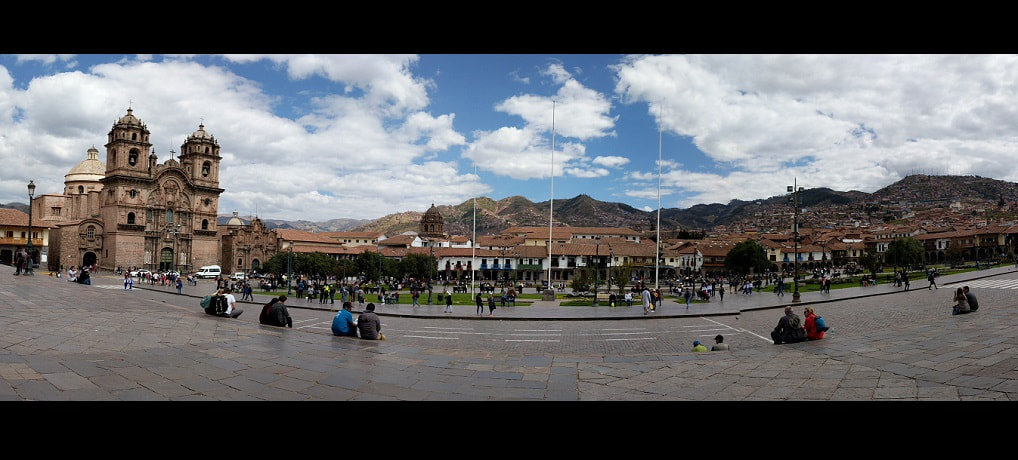 This area was touted as a great place to sit and relax and people watch. That may be the case, but only if you don't mind constantly being approached by shoe shiners, beggars, and sales people. Walking through this area was like running the gauntlet every time, with dozens of restaurants, tour companies, and massage sales people trying to get our business.
The only time I would recommend going here is at night, when things quiet down a bit. The square looks pretty all lit up.
There are also tourist branches of Scotia and BCP bank here that will break large bills for you during the day.
---
Festivals - There are several festivals throughout the year, but one of the biggest is Corpus Christi. You may think of this as a boring church service, but Cusco adds a whole lot of Peruvian flare and brings this holy day out of the church and onto the streets. Unfortunately, we were only here until noon so we missed most of it, but this festival includes lots of dancing in the streets, parades, costumes, deep fried cuy, and plentiful alcohol.
---
Eating & Sleeping
Eating in Cusco can be fun whether in a restaurant or on the street and there is a meal out there for every budget. See Peru - Street Food & Peru - Restaurant Food for some tips, info on the cuisine, and places we tried.
Sleeping in Cusco is very reasonable and I would recommend staying in San Blas or the city center. San Blas was our pick because it is quieter, but be careful because the farther out, the more of a hill you will find yourself climbing every time you need to stop at your room, and the altitude makes this more challenging than it looks. Regardless of where your stay be mindful that not all roads are accessible by car, and many of the plazas get closed off from time to time for events. Your best bet is to travel light and make sure you are comfortable carrying your luggage.
You can see my Itinerary Post for details on our full trip, a budget, and how many miles/flights of stairs my FitBit said I did each day.
---
More on Peru, Machu Picchu, & the Incas
For the story of how Machu Picchu has faded in and out of the jungle over the centuries and how it was discovered and rediscovered I recommend Turn Right at Machu Picchu by Mark Adams. He artfully combines history and his own midlife crisis adventure retracing Bingham's steps. It is a great narrative with a nice mix of culture and humor. I feel that it adds to the experience when you have a better understanding of what transpired in a place and how.