Miraflores is an affluent area of Lima. This is the place to go for city surfing, paragliding, people-watching on the beautiful cliff top promenade, and friendly police. It has the feel of a well manicured modern city that could easily belong somewhere in California. Every food cart, street vendor, and fruit stand is registered with the city and branded with "Miraflores en tu corazón." (Miraflores in your heart.) The streets are safe to walk at any time of day and well equipped with sidewalks, cross walks and pedestrian zones, making it easy to get around by foot.
Miraflores is more expensive than the Cusco area, but still reasonable by USA standards, and there are still inexpensive options. After epic views, ancient ruins, festivals, and trekking in the Cusco region we were a bit jaded and didn't appreciate the area as much as we might have. Being surrounded by carefully manicured parks and perfectly groomed dogs wearing clothing and on leashes was a bit of culture shock.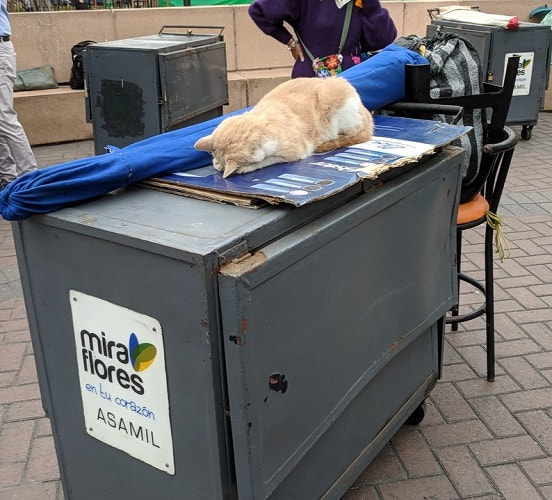 Kennedy Park & Central Park (GPS: -12.12143,-77.03008)
These parks are a central meeting place where events are often held. Kennedy is famous for their cat sanctuary, dog free. These cats come and go and nap as they please all around the park (see the picture above). We saw one sleeping on the roof of the church. There was a sports card collectors event going on when we were there. The park is surrounded by restaurants and usually has a few food carts set up inside as well (a bit pricey). We grabbed some picarones, Lima's famous sweet potato doughnut with syrup (not a big fan), and found a bench.
While we were munching, a police officer walking nearby made eye contact and started walking in our direction. We both glanced around nervously, wondering what we had done. Was eating on the benches not allowed? He stopped in front of us, smiled, asked if we were enjoying our snack, and wished us a nice visit. This was the first of many such encounters with these police, all branded with "Miraflores en tu corazón." Most of the Miraflores police would greet everyone who walked by. Very different then anywhere I've ever been, including other areas of Lima.
---
Food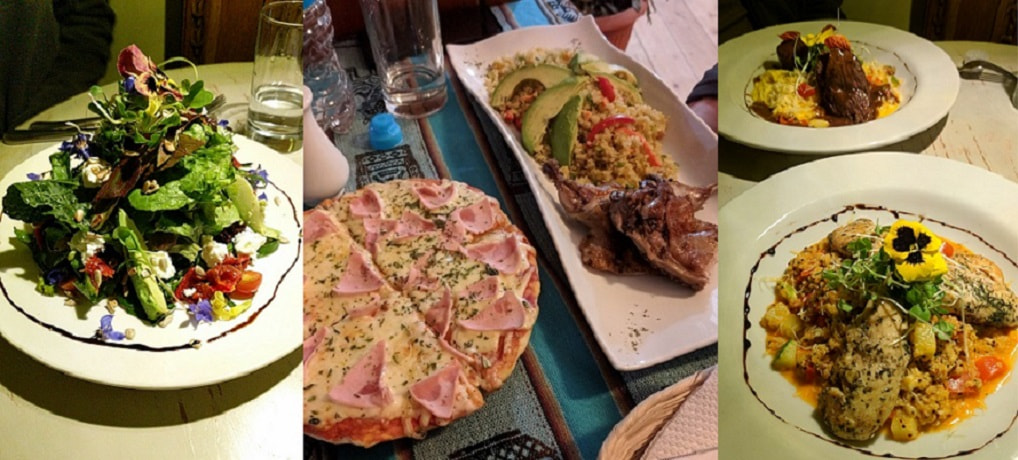 Peru is a great place for food and in Miraflores, in addition to local specialties, you can find food from just about anywhere in the world.
See Peru - Street Food for more on grab and go street specialties and varieties of fruit.
See Peru - Restaurant Food for specific restaurants that we tried and a bit about the cuisine. We particularly enjoyed out meal at Terra Cuina, a Catalan restaurant (click the link and scroll all the way to the bottom).
See Peru - Markets for a few of the markets we checked out.
---
The Coastal Walk - El Malecon & The Boardwalk
This was the area that I enjoyed most. El Malecon is a string of parks connected by sidewalks that crown the cliff tops. Each park has its own theme and personality. From bizarre sculptures, to ocean front tennis courts, to Parque del Amor with its lovers locked in an eternal passionate embrace, there is plenty to break up the coastline. Larcomar, Miraflores oceanside mall, is also built into the cliff on this walkway.
There are a couple stairways down, for those who want to walk right along the ocean, instead of looking down from above, and I think the views of the cliffs are even more dramatic from below. You can walk out on the breakwaters to watch the surfers and see the colorful crabs scuttle about, just mind the waves. The beaches are not sand, but made up of millions of small pebbles that roar as the waves come in and tinkle as they recede. There are public bathrooms with showers and occasional snack vendors down by the water. The coast is tied together with well used sidewalks along the beach and a long stretch of elevated walkway stretching to the south end, where instructors teach surfing in an isolated cove.
Surfing - There were dozens of surf instructors competing for business and the rates were very reasonable. The prices where fixed, so the instructors relied on their services and social skills to compete. Many of the instructors spoke English and about half had photographers and included digital copies of any photos they took in the price. All of them provided wet suits and boards with the lesson. Some had changing tents, others didn't. It seemed like you should be able to just show up and get a lesson most days as long as the weather is good. A couple did say that reservations were available online, but at a much higher price. The price of a 90 minute lesson was about $20 when we were there and a couple offered 60 minute options. Some of the venders were a bit pushy, but most were very polite, and a few just wanted to chat and get a chance to practice their English.
Paragliding - The wind was not very good the day were were there so the most we saw of the famous paragliders at Parque del Amor was a couple halfhearted attempts by one of the instructors to stay aloft for a couple minutes. They say this is quite common depending on the time of year. Aeroxtreme Lima and a couple other companies offer a fan powered cart version of paragliding that can be done any time the weather is decent, since it produces its own wind. This will require a ride farther down the coast for a takeoff zone just outside the city. If you have your heart set on taking to the sky this might be another option to consider. All of the options cost about $85 when we were there, and theses prices are now fixed and set by an association.
---
More?
See Peru Itinerary for our full trip and Peru for all my articles on the country.
Check out Historic Lima for more on this city and transportation between the two areas.
See Peru Tips for tips on getting around, flying, and more.