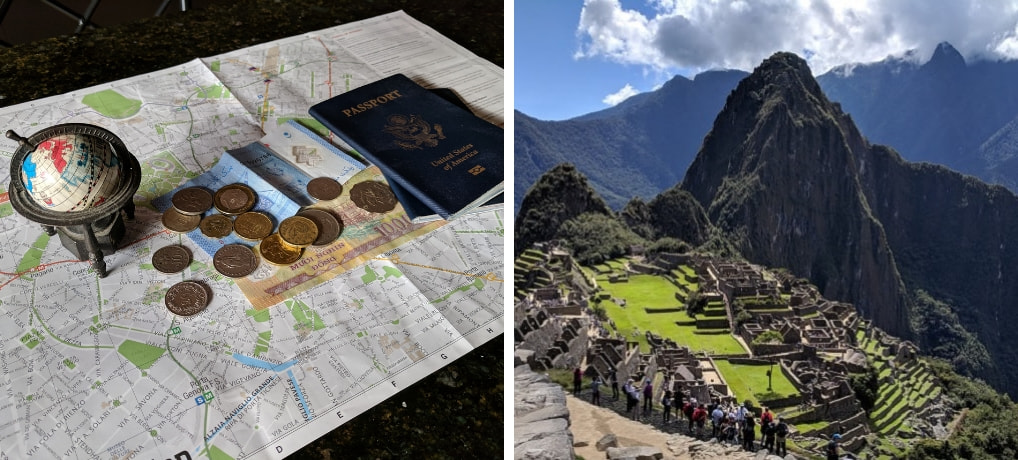 This is some general information on traveling to Peru, particularly the Lima and Cusco regions. Some of this we knew before we got there and some we learned along the way. I cover:
---
Water
Water in Peru is considered "nearly safe" which in some ways is a good thing and in others makes it more dangerous for tourists. It is fairly clean but still has enough bacteria and parasites to make tourists sick. Most locals can drink it without issue. The general guidelines for tourists are that you should be fine brushing your teeth with it, but drinking it is likely to make you sick. Boiling the water kills the bacteria so tea is fine and you can boil, cool, and drink it if you need to. This is what will be dispensed on treks and some tours.
Cost - Generally, you should just be purchasing bottled water, which is available everywhere. The larger a container the less per liter you generally pay and we found water to be the least expensive at the grocery stores. At Orion in Cusco you could get 1 L of water from the fridge for 2.20 soles (less than 1 USD) and at Vivanda in Lima we paid 3 soles (about $1) for a 2.5 L bottle. A popular brand is San Luis. You should be drinking at least 2 liters per day at altitude.
If you are looking to save some money don't buy water at restaurants. Especially in Cusco, it can be very expensive, and they often don't advertise the prices or volume. We paid 3 soles for a 6 oz (~.18L) bottle at one place. Some drug and convenience stores in Cusco have jugs that they allow customers to fill their water bottles from for free. I assume this is boiled water, but I'm not sure.
For hydration, altitude, and safety you should always have water with you. You can bring a water purification system, but in most cases this really isn't necessary. Water bottles and/or a hydration pack that you refill should suffice. We generally bring Nalgene bottles, but they are bulky and for this trip we decided to try a collapsible water bottle. We did some research and got this 2 liter collapsible Platypus for about $12: Platypus DuoLock. Many of the others are good, but the clip on this one was perfect for clipping onto bags, the back of seats, etc, and the removable top made it easier to clean than most. The removable cap also made it much easier to fill, and happened to be exactly the size of a standard water bottle, so you could put it over the mouth and fill the Platypus without spilling a drop (see image below). I also appreciated that it is easy to drink from at altitude when you are huffing and puffing and doesn't pressurize, because it is flexible.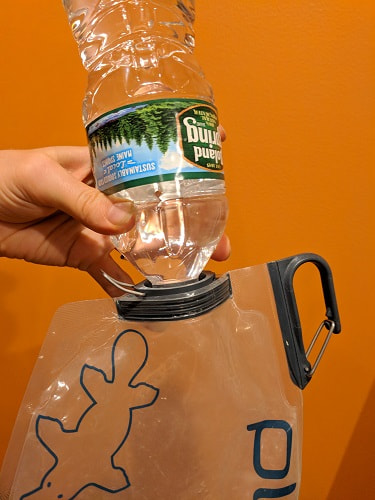 Hydration Pack - We also used two hydration packs for our trek and day hikes. We bought our 2L Mubasel Pack for about $20 a year ago and use it for all kinds of hiking. The bladder is for 2L, but will actually fit closer to 2.5L if you fill it to the top. It is a nice small bag that is not terribly useful for carrying much other than water, but does have some nice pockets. There is one secure pocket in direct contact with your back that can be used for small things like cash and passports. It has a loop at the top that I have a carabiner on so I can attach small items, like a hat or a packable jacket if I get hot, and it has a mesh pocket large enough for a snack and a tube of sunscreen. The biggest thing I like is the dust cover on the mouth piece. Regardless of what pack you use, this is important in Peru and many places. I don't like to be worried about what the mouthpiece is touching every time I put it down. The hose has a quick disconnect from the bag, but be careful, the o-ring popped off on us once when we disconnected it. It fits a bit tight on people with a larger frame, but is perfect for me. I had a lot of trouble sucking through the straw at altitude and breathing at the same time, until I discovered a trick. A plus to being a small bag is that you can pull your shoulders forward, pulling on the straps and squeezing the water bladder, pushing the water out, instead of sucking. Overall, this is just an average pack, but affordable, and has served us well.
Hydration Day Pack - We also brought our EMS Hydration Day Pack(discontinued) which we found on sale for about $45. This pack has a 2L water reservoir and is under the 20L limit for Machu Picchu, but also has expandable storage. It has a nice magnetic clip to keep the mouthpiece up by your mouth, but does not have a dust cover, so after this trip we found one for it. This pack had a slightly higher flow rate than the Mubasel one, but was still difficult at altitude. It was a great size for us to carry clothes for a couple days, or food, water and all the layers we were shedding on our trek. We added a couple mini carabiners on each side for attaching more gear if needed.
---
Airport
We flew through the Lima and Cusco airports. Both had clear English signs and pretty user friendly. Security was also much more laid back for domestic flights than in the states. They had the normal signs for limited liquids, but we saw lots of bottled water going through. You also didn't have to take things out of your bag or take your shoes off. The line moved very quickly and in the Cusco airport there was a guard yelling "keep you clothes on and your shit in your bag; this isn't the states." I would say it was practical, not lax. We saw bins of confiscated items, which in contrast to the ones in the US, which hold a few razor blades and liquids that are deemed too dangerous to keep based on size, this one had things like machetes, an angle grinder and other assorted tools. Hard to imagine that conversation: "no sir, I'm sorry but you really can't take that with you."
International Security - They do extra checks at the gate for flights returning to the states. They took our waters that we bought from the kiosk at the gate and opened everyone's bags in these checks.
Customs - Checking in through customs was a simple process, but took a while because of the long lines. On the plane they give you a customs form with some interesting restrictions such as only 1 calculator, 1 radio, no more than 2 hair electronics (hair dryer, straightener, curler), 4 memory cards, and no car parts.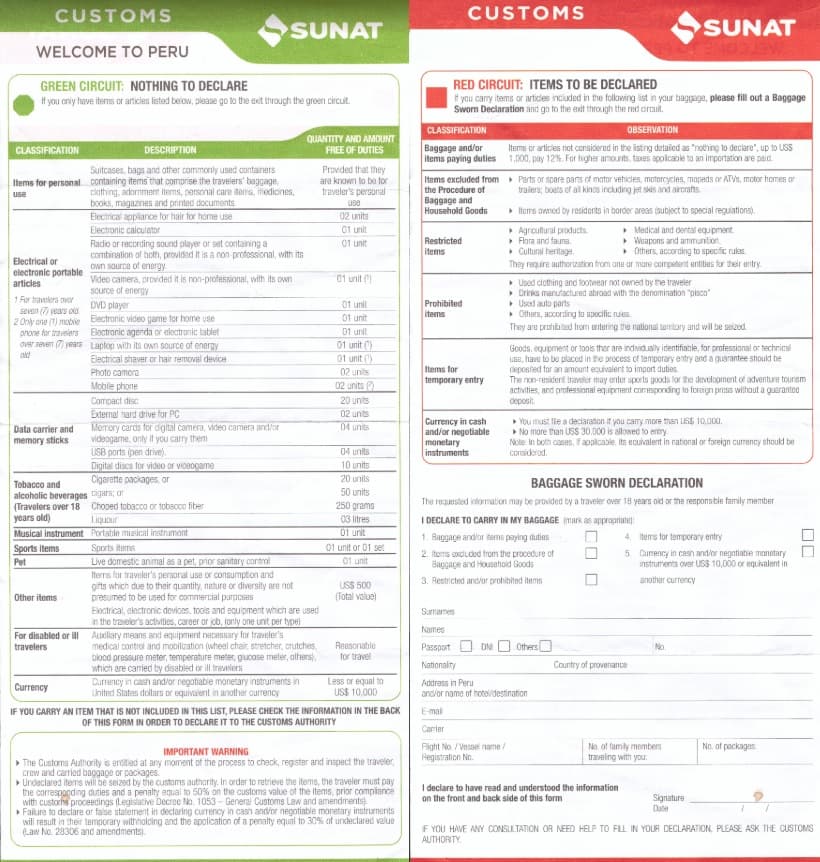 Transportation - I would recommend Uber for getting to and from the airports. We got swarmed by drivers outside the Lima airport and tried to negotiate with them, but they were quoting many times the Uber rates. Especially if your Spanish isn't strong it is much easier to just get an Uber as long as you have phone service. The traffic outside the Lima airport is insane, so a drawback is you might have to wait some time for a driver. In Cusco it was much easier. The Uber app does not allow tipping in Peru, so you may want to have some change on you. Some drivers just drive, but others act as informal guides, which we really appreciated, and feel they should be compensated accordingly.
An Uber to or from the Cusco airport to San Blas took about 30 minutes and cost less than $5. Our Uber to our airport hotel in Lima (only a couple miles from the airport) cost about $7 and took 30 minutes, most of that time getting in and out of the airport. Our Uber trip from Miraflores to the Lima airport took 1.5 hours and cost 40 soles (about $14). If you are going to Miraflores there are often options from your hotel for transfer. There is also a bus available for 25 soles per person each way. All of these are subject to traffic, and while the trip usually takes about and hour, it can take much longer.
Time - About 30 minutes from San Blas to the Cusco airport, and at least an hour from Miraflores to the Lima airport. See above for details, and be sure to read the section below on strikes. You need some time for security, but it is generally pretty quick. There are no outgoing immigrations but the check-in lines for flights can be long and slow. They are fairly strict about arriving 90 minutes ahead of time for international flights so make sure you have plenty of time. We got to the Lima airport 80 minutes before boarding and at check-in they said we were too late, but made a call and let us go.
Food - Both Lima and Cusco have a variety of food vendors before security, which are just ok and pricey by Peru standards, but much less than food after security. We did enjoy La Sangucheria Del Peru at the Lima airport. I highly recommend that you bring your own snacks. After security on the domestic side they were charging about $3 per bottle of water. On the international side they were charging about the same, but food was outrageous even by airport standards. They had packaged muffins for $6.50 and mini snack size bags of doritos for $3.50.
Delays - Due to the unpredictable weather and visibility, flights in and out of Cusco are often delayed, and sometimes canceled, so make sure you leave enough time in your schedule.
Sleeping in Lima - There are a few airport hotels near the airport, but the area is not great. Most international flights get in late and connecting flights to areas like Cusco depart the next morning. You will see many backpackers sleeping in the airport, and there was an entire hallway that looked like a makeshift camp-out.
---
Staying Connected
Wifi - Most hotels have free wifi and when you are out trekking some places will sell you their wifi password for a few soles. The wifi isn't particularly fast, but it works.
Phones - We use Google's Project Fi (click for a promo code) for phone service, which allows us service as soon as we get off the plane in most countries, with a data rate of $10 per GB. We had decent service in most places, including Ollantaytambo and Aguas Calientes with this plan. We also picked up a movistar sim card for our other phone at a convenience store in Cusco. It was a pain to setup (the lady at the store did it for us, but had to try repeatedly and took a while) and sent spam text messages a couple times per day, but worked. I think the chip and the plan was $10-15 for 1 GB, for 2 weeks of service. I did have a little better service on the phone with Movistar, than the one with Google. We did not shop around so I'm not sure how this compares. We asked at the airport and they either do not sell SIMs or were out of them.
---
GPS & Maps
Even if you don't have phone service you should always be able to access GPS outside. I download the maps ahead of time using Google Maps offline and/or Here Maps (see instruction for how in my Tips/Planning - GPS & Maps Post). Both will allow you to navigate with no service as long as you have the maps. You can search for an address or GPS points, but general search queries like restaurants generally won't work. I like to make a list of the GPS coordinates for each hotel I am staying at and other places of interest ahead of time so I can just enter the coordinates. https://www.gps-coordinates.net/ is a good site to use for this.
---
Strikes
Yes they happen. They are not anything to be concerned about from a safely perspective, but they can cause some major issues with your trip. They are most common in Cusco and typically happen a couple times per year for a day or two. While they are very inconvenient, this is the main power the people have to get things changed and it often works.
One happened the day we left for our trek. The strike in May 2018 was over the cost of fuel (controlled by the government) and lasted just under one day. Like most strikes, the demonstrators, friends, and families closed down every road in the region. They peacefully protested in front of the capital buildings and at each of the roadblocks. Police were present in riot gear, but had a very laid back attitude, like it was just for show. Our understanding was that as long as you weren't driving or trying to disrupt a blockade there was no danger. If they did catch anyone trying to drive they were likely to slash the tires and possibly damage the vehicle. Strikes that disrupt the roads are technically illegal in Peru, and don't usually happen near Lima, but do happen from time to time in other areas. It is illegal for tourists to participate in any way and the police are within their rights to apprehend any tourist who does.
Our Experience - We learned of the strike the night before, at our pre-trek briefing, and if it wasn't for that, we probably wouldn't have known what was going on. Waking up that morning everything was eerily quiet. Walking around town, instead of squeezing past people and cars on the narrow sidewalk ledges, we were able to walk right down the middle of the streets. When we got to the Plaza de Armas the police were assembled with riot gear, but they all seemed relaxed. We were a bit nervous up to this point, but their attitude made us relax a bit. We moved to the side of the plaza to observe and assess the situation. Soon a wave of protestors rounded the corner and marched around the square. The protestors were shouting, blowing whistles, and tooting air horns, but not in a threatening way. The police appeared unconcerned. The video below should give you a pretty good feel for the atmosphere.
We saw a woman knitting as she marched and a couple tourists taking selfies from the middle of the crowd (not a good idea and disrespectful). There were no sales people out on the square today and a good number of the shops were closed. We noticed that some of the shops would close their doors as protestors marched by and street vendors would move their carts. When we went to the banks on the square they were only changing limited amounts of money until the strike was over. I assume they had no way to get more currency if they ran out. San Pedro Market and many stores were also closed, whether for lack of employees or goods I don't know. We stumbled across a volleyball game in one street, where a string had been tied across between light poles. We watched for a little while until a police car drove through and the string snapped. Ambulances and police were the only vehicles permitted by the strike.
Finally it was time for our trek to leave and the strike was starting to break up. We were late getting out of the city, but lucky considering that the tours that were supposed to leave that morning had been postponed to the evening. On our way out of town we saw the remains of burnt tires, mattresses, trees and stones that had been used to blockade the road. Several groups of protestors were just dispersing from the major blockades as we passed and it was slow going. Here, for the first time today, we saw people who really looked angry and hostile.
---
Money
We generally carry some backup cash in USD and have some of it split into small bills at the bank before we leave, but we almost never use this. We get most of our money from ATMs. Our bank allows 10 free withdraws per month and uses the current exchange rate so the only fee we pay is whatever the ATM charges. Some places this is nothing, but in Peru there is a fee which as of May 2018 were as follows:
Scotiabank - 20 soles
BCP - 13 soles
The limit on how much you can take out varies from machine to machine, but we usually take the limit as long as it is not towards the end of the trip to avoid more fees.
Credit Cards - We travel with a MasterCard and a Visa card. Both give us a percent back, have no annual fees, and no international fees. As long as we pay with the card in the local currency (never opt for USD), we get the current exchange rate. In Peru cards are being accepted more and more places, but are still not taken everywhere, so you will need some cash. Make sure you have some cash or ask ahead about cards (don't trust the signs) because in some places the networks can be finicky. The growth and marketing of credit card companies is evident everywhere. Many places have Visa and MasterCard branded napkin holders, pens, bill booklets, etc. They are still using the magnet strip swipe method; chip and pin was not required anywhere.
Change - ATMs typically dispense 50 and 100 sole notes. While these are not a lot in USD, they are hard to get change for in most areas of Peru. Restaurants will get you change, but often it is a struggle for them. Most vendors will just shrug and shake their head. We found that some of the bank branches will give you change for a couple bills per person per day. The tourist branches in Cusco Plaza de Armas were particularly good about this.
Exchange Rate - The exchange rate fluctuates constantly, but when we were there was about 3 soles to 1 dollar. If you have a hard time doing the math in your head I recommend making up a little card to keep in your pocket or wallet with an exchange chart to help. I like $1-10, then I go up in $5 increments. In Peru the prices seemed to be right around what I would expect to pay in the states in dollars except in soles. For example, a fancy meal might be 40 soles, which is cheap if you convert it, but if it were dollars that would be about what you might expect.
---
Altitude
We are in our early thirties and consider ourselves in very good shape; however, altitude is serious no matter who you are. We live just above sea level, so Cusco (11,000 ft) was a bit of a shock to our systems. 8,000 ft is the point where altitude starts having an adverse effect on people. We had only been above 8,000 ft once and only for a few hours, so we were careful to take some precautions. The highest point on our trek was a little over 15,000 ft. The main keys to avoiding altitude sickness are:
Stay hydrated (especially in this arid climate)

Ascend slowly

Avoid alcohol

Eat small meals while acclimating

Medication is available as a precaution (optional)
Altitude sickness can cause nausea, headaches, shortness of breath, disorientation, and in severe cases death from swelling of the brain, so it is not a joke. It generally takes a few hours at altitude before it affects people, but can last days once someone has it. The remedy is going down to a lower altitude, but this will not immediately relieve symptoms. The air is thinner at high altitude, so no matter what kind of shape you are in you will find hiking more strenuous than normal.
Most people can completely avoid getting sick if they stay hydrated and ascend slowly, which is what we focused on. We flew into Cusco, but left immediately for Ollantaytambo (~9,000 ft) to spend a few days adjusting. We did moderate hikes there and felt a little difficulty in breathing when hiking uphill, but no other issues. After a few days we went back to Cusco (~11,000 ft) to spend a few days there before our trek.
Before we returned to Cusco we started taking prescription Diamox (Acetazolamide - about $30 for 10 days), a diuretic medication that prevents fluid retention that is a cause of altitude sickness. We also took potassium (prescription - about $5 for 10 days) and magnesium (over the counter) supplements to compensate for the electrolytes being flushed from our systems by the diuretic properties of the Diamox. We generally don't like taking medication unless we have to, but didn't want to risk an incident on the trek. We and a couple other people taking Diamox all experienced tingling in our feet and fingers, which we learned later is a common side effect.
The first night of our trek was over 13,000 ft and the climb on the second day was to just over 15,000 ft. We definitely felt that the hiking was much harder than usual for us, and we found ourselves gasping for air on the steep climbs, but overall felt alright. Sleeping was a little uncomfortable wrapped up in a mummy bag, which made the breathing feel a little more difficult. We did very well, and the only people who had significant trouble with the altitude were people who had only arrived in Cusco a day to two before the trek.
If you are looking for a little more info UK National Health Services has some great guidelines and Rick Curtis of Princeton University wrote a good paper on it.
Coca - If you are in a high altitude area of Peru you will see coca. It is the plant that is refined to make cocaine, but is most commonly used in teas or chewed as a natural remedy against altitude. It is completely legal in Peru, but not in most other countries and supposedly can show up in drug testing. The claims on altitude are mostly unstudied, but it is true that it is a strong stimulant. Our hotel had a basket of leaves on the counter when we got there, coca tea was available everywhere we went, and coca leaves and tea were offered throughout our trek. Locals swear by it. Whether it truly works, or just turns you into an energizer bunny, it does help you get up that hill. We saw it available in three different forms:
Dried leaves that you chew a bit, then stuff in your cheek like tobacco and suck on from time to time. It has an earthy flavor and some people say it makes their mouth tingly or numb but I didn't experience this.

Tea either made with dry leaves or commercial teabags (earthy flavor, slightly minty)

Extract in a bottle (about 1 sol for a tiny one) that you don't consume, but can rub on your temples for headache or under your nose and on your neck to help with breathing. A bit like vapor rub.
Like the Diamox, you have to decide for yourself, but we wanted every advantage we could get and this seemed fairly low risk.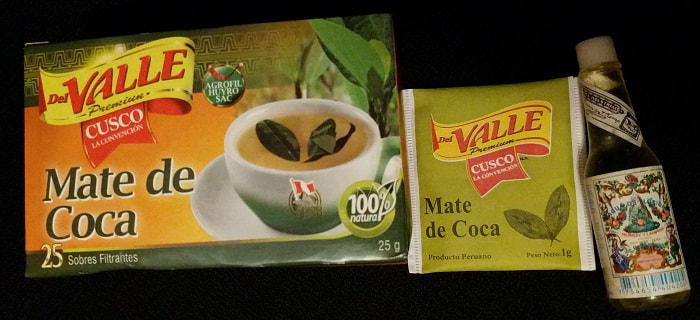 ---
Transportation
There are many options for transit, including taxis, busses, colectivos, and Uber. Taxis don't have set rates and it is expected that you will negotiate a rate. Always do this before you get in the car. We found it easier to skip this step (partially because of the language barrier) and use Uber. See the Airport section above for info on getting to and from the airport. I like to use Google Maps and Rome2Rio for an idea of what options are available for getting around and what the approximate cost will be.
Sacred Valley - See Ollantaytambo for a bit on colectivos, often the least expensive way to get around, and options in the Sacred Valley.
Cusco - In Cusco we mostly just walked, except to and from the airport. They have bus lines but they are privately owned and a bit confusing to work out. Mostly just locals take these.
Lima - In Lima there is a Metropolitano bus route that takes you to and from downtown that bypasses all the traffic by taking special roads just for the busses. The drawback is that the busses are very crowded and you will have to sacrifice all of your personal space and then some. You will need to pay 4 soles for a card to use the bus, or pay someone to swipe their card for you. Trips are 2 soles regardless of where you stop on the line and busses come every few minutes.
---
Temperature/Weather
We were here the end of May and had to bring clothing for every season, sometimes in the same day.
Cusco & Sacred Valley - Cusco is in the mountains so the weather changes quickly and unpredictably. The forecast and sky can be clear, but you can have a sudden 30 second downpour out of nowhere. In this area it is generally crisp in the morning, the sun quickly warms things up, and as soon as it sets things cool off quickly again. We generally layered a fleece and light rain jacket in the morning, shed them for a t-shirt and jeans by mid-day, but carried them through the day just in case of a sudden storm.
Trek - We did the Salkantay Trek and experienced every temperature from below freezing to tropical. When it was cold I wore a cheap light down jacket, over a medium weight full zip fleece, sometimes with my rain jacket over top and my rain pants. Sometimes I still could have used another layer. When we were in the mid-day heat close to Machu Picchu I had hiking pants and an athletic shirt and was dripping sweat.
Lima - Lima was humid and overcast the few days we were there. It did get chilly at night, but a fleece would suffice. The temperature went up a little in the day but never got really hot. Jeans and a t-shirt were comfortable.
I like https://weatherspark.com/ for year round weather data including temperature, daylight, cloud cover, and precipitation.
---
Culture & Language
Language - In the tourism industry most people have excellent English, but in the general population most people do not. Knowing a bit of Spanish will help a lot and enhance your experience. We both have a rough handle on basic Spanish and found younger people much easier to understand than older people. Many people in the country speak the native language, Quechua, and some don't speak Spanish at all. This language sounds very different and was actually used in one of the Star Wars films as one of the alien languages. There are also some other tribal languages spoken in remote areas.
Culture - People in Peru we generally very friendly and eager to please. Sometimes this eagerness to please extends to giving directions even if they don't know or the answer they think you want to hear, so watch out. Time is also a much looser concept. You should always be on time for tours and appointments, but don't expect them to be. This is just a cultural norm, not disrespect. Take opening times on stores or sites with a grain of salt. When speaking eye contact is important and they generally stand a bit closer together than people from the US may be used to. Haggling is also expected, sometimes even in shops.
Places like Lima run and feel mostly like a modern city, but in places like Cusco you will feel and see a completely different culture. It is still normal for people in the country to wear traditional brightly woven clothes, hats, ponchos, and big skirts. In Cusco these are often just costumes, but in the country this is part of everyday attire. Family is very important, as is religion.
Religion - Many people practice a blend of Christianity with Incan customs. The Incans worshiped the earth (Pachamama), the sun (Inti), the moon (Mama Quilla), the sky (Viracocha), and the spirits of the mountains (Apus, where they believe the rivers and weather comes from). It is common to see small offerings of fruit and other food and most homes leave alcohol and corn on the roof for the Gods.
The offerings on the roof are typically with bulls that adorn most roofs. These are good luck charms for prosperity, but as bulls weren't introduced until the Spanish brought them, this is a relatively new practice. People are very devoted Christians and take their religion seriously, but it is not uncommon for them to leave an offering for the Apus as well, after mass on Sunday.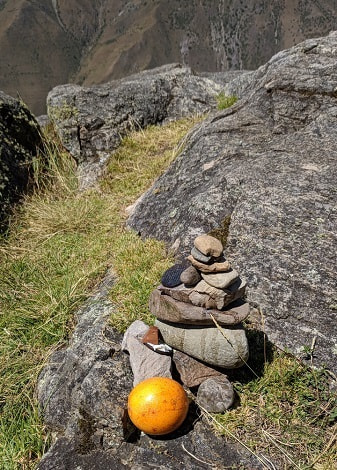 ---
Bathrooms
Rules
Toilet paper doesn't get flushed ever (Peru, like much of South America, has a very old sewage systems that can't handle paper. I admit I forgot a few times and nothing happened, but if you flush it you risk causing serious problems down the line in the system, even in the cities.)

Bring your own toilet paper, it is commonly not provided

Carry change, many restrooms charge 1-2 soles
Other things to know is that seeing people defecating outside is not terribly unusual. This is mostly older people, but it is not uncommon to see women in their big skirts squatting on the side of the road. Toilet seats also were somewhat uncommon in public facilities. This isn't really something you can do anything about but you should know. I think women are much more use to "hovering" than men, but regardless of who you are it can be difficult after a long day of hiking.
---
Good luck everyone and feel free to leave any questions you may have in the comments below.
---
Product Links: I am not sponsored by any of the products I link to. If you choose to make a purchase from one of the links of a product I listed or any other item a small percentage will go back to me to fund this website, at no additional cost to you. The products I link to are either ones I have used or similar if those are not available. Thank you for your support.
---
More?
Check out our full Peru Trip Itinerary.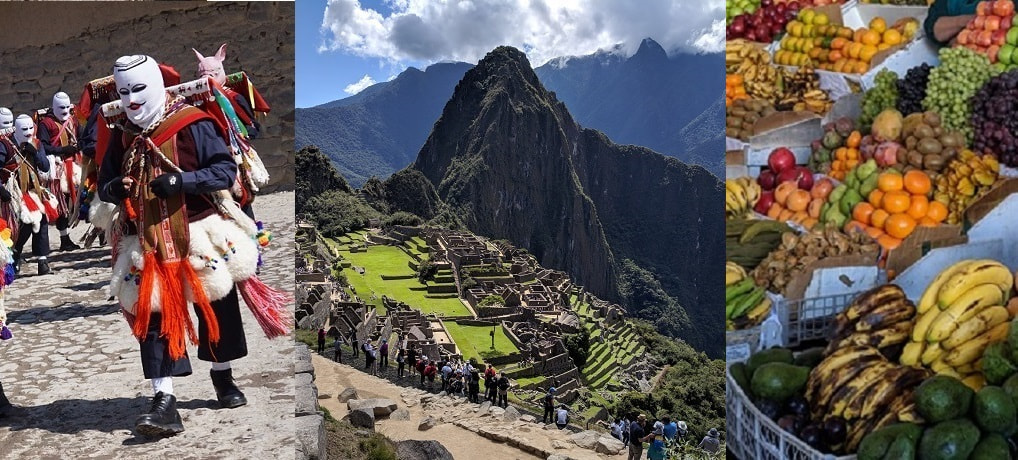 Explore the city and food of Historic Cusco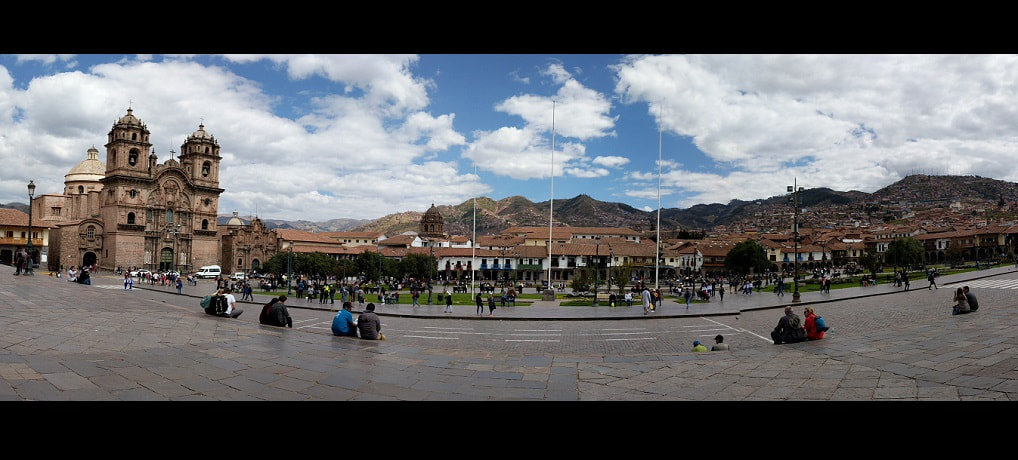 Everyone goes to Machu Picchu but getting there can be just as epic. We had an amazing experience on the Salkantay Trek