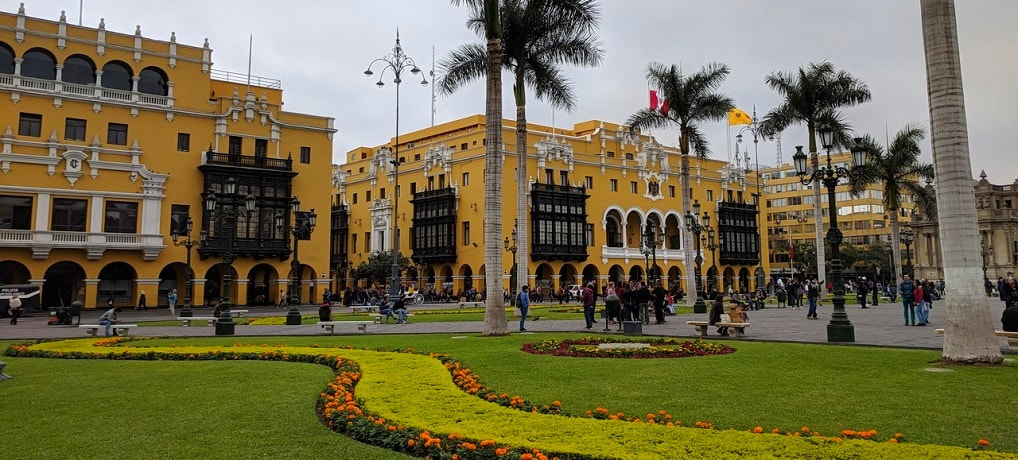 A capital city with colonial architecture and history. This picture is taken in the Plaza Mayor (GPS:-12.04596,-77.03057), where the government palace is located. This area is full of architecture, museums, food, and history. A few things we did were:
---
Walking Tour of the Historic District
We did a free tip based walking tour with Inkan Milky Way, the same company we had used in Cusco. The company offered the option of meeting in the Historic District or meeting in Miraflores and taking the bus with them to the Historic District, an excellent way to learn about and how to use the efficient but crowded transit system. The guide was very knowledgeable but the tour was very name/date history heavy. Probably partially the nature of the area, but we did not enjoy this one nearly as much as Cusco.
Transit from Miraflores to Historic Lima - We met our group in Miraflores and were whisked off to a nearby Metropolitano bus station. The group was enormous, but they split us into smaller groups once we were in the Historic District. We each paid the guide for our bus fare and he swiped his metro card for each of us to pass the gate. He explained that we would have the option of purchasing a metro card or paying someone to swipe theirs for us for the return trip. The buses had their own designated roads, so while the traffic inched along the buses flew back and forth between districts freely. The buses came every few minutes. While this was definitely the fastest mode of transit, it was far from the most comfortable. We were stuffed in very tight. It is a very short ride, but if you are not comfortable with full contact with strangers on all sides this may not be for you. I was very thankful to be above average height for this country, so my head was just barely above the sea of people and I was spared being armpit height. Getting off was a squeeze, but people made way.
The Tour - Once we got to the city center our group split up into several smaller groups. We arrived in the Plaza Mayor, in front of the government palace, just as the changing of the guard was taking place. They paraded in and out accompanied by a marching band. Be careful getting too close to the gate. There are no signs but there are apparently rules about how close you can stand and they are enforced. Our guide said that protesting is not allowed in this square because the palace has been burnt down too many times.
Behind the palace we saw the Pan American Highway, which stretches most of the way across the continent. I was struck by the view just beyond the highway, Cerro San Cristobal. This hill rises up from the fairly flat surroundings with rainbow colored houses, like a small army of ants attempting to climb to the top. It almost looks like someone tossed a rainbow colored ribbon from the top to give them some help. I found this splash of color on the otherwise barren hill somewhat melancholy and beautiful at the same time. There are tour that will take you to the top of Cerro San Cristobal, but we did not have time.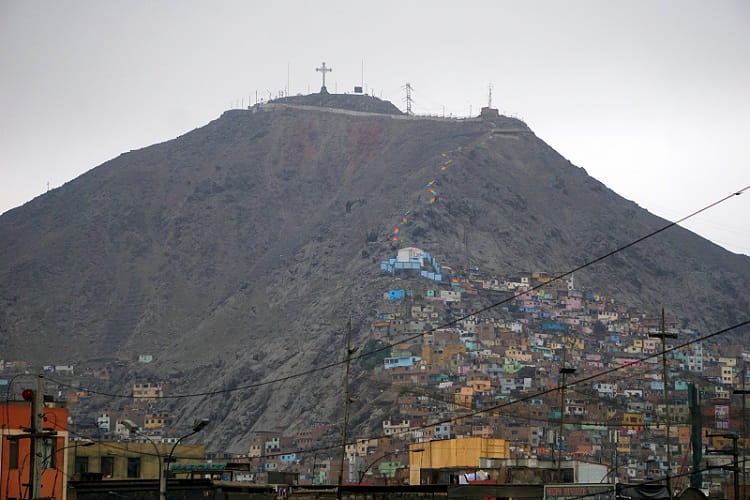 We ducked into the Peruvian Literature Library (GPS:-12.0445,-77.0288), for a look at its architecture, displays, and to use its free public bathroom. Then we went to the Basilica of Santo Domingo (GPS: -12.0441,-77.0319). Many of the churches charge for entrance during non-mass times, but this one is free. The basilica has dim lighting, but lavish adornment. It includes a display of the remains of several saints, including St. Rose of Lima's skull crowned with roses, in an ornate golden shrine.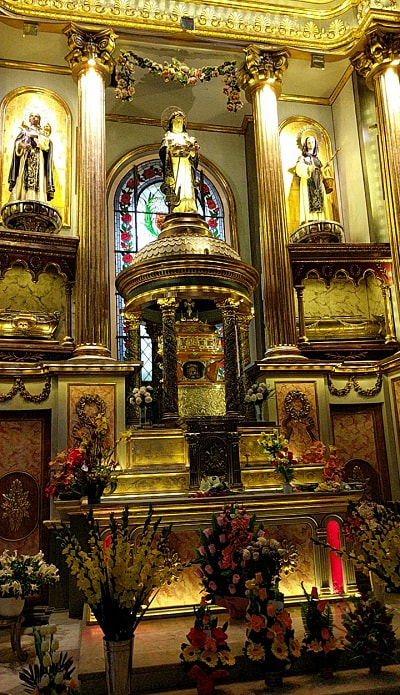 ---
Chinatown
Located by Lima's Historic District - GPS: -12.1180,-77.0255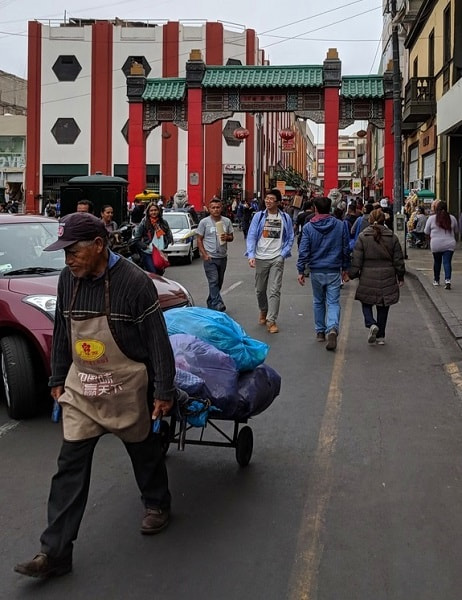 This is a neighborhood that covers a couple blocks and passing through the columns that mark one entrance is like entering another country. There are shops full of pots and pans, shops with cheap toys, all the fakes you would expect in any Chinatown, and lots of Chinese food. The streets have plenty of tourist milling about and shopping.
In the middle there is a fresh food market that was quite different. There were full animal carcases on display, including a stack of what I assumed to be split goats on ice. The signage was a mix of Chinese characters and Spanish. It was an interesting place to walk around, but some of the look we got were very cold and we had a lady come out and ask us in English what we wanted in a not so friendly tone, so we left.

---
Walking From the Historic District to Miraflores
First of all I do not in any way recommend this. Second, no we did not walk the entire way, only from China Town to Canada Station and took a bus from there.
Some of the people from the trek talked about doing this walk (except they did the entire thing) and they said it was a little sketchy but interesting. I completely agree with that assessment of the area. It is probably not something I would do again for safety reasons, but it was fascinating and is one of those memories that will stay with me. I did not ever feel threatened on this walk, just a glaringly out of place. We certainly attracted some curious looks, but only one "gringo," muttered by a passing teenager. We went just the two of us on a weekday afternoon, a petite woman and tall man with an athletic build. We kept our phones away so I only have my memories to share.
Between Historical Central Lima and Canada Station the area seemed to decline quickly and then slowly improve. As we left China Town we passed some military like police vehicles. I'm sure they were for protecting the capital, but they made us a little nervous. The streets were bustling with street vendors selling all kinds of food and people going to and from work. All locals here.
A bit farther on we started seeing all kinds of repair shops, mostly for shoes. There were bins of everything you could want to fix any kind of shoe, or make a new one, and not just dress shoes. One bin was full of pieces of soles for athletic shoes and hiking boots. A young boy was sitting outside one shop painting the blue back on a pair of faded Converse shoes. On the next block people were fixing small appliances, things like blenders and mixers that we would toss. Nothing went to waste here.
A few blocks later the crowds and traffic had quieted down and the area had transitioned to a slightly run down looking industrial area, with just a few stray dogs and families on the streets. The hum of machines echoed off the buildings and smell of oil permeated the air. We passed some engine repair shops. They were completely rebuilding engines. Not just replacing gaskets and seals, but actually welding pieces and machining or filing them back to the shape they should be. There were piles of parts near the door of some of the shops and it seemed like they were prepared to fix anything. It made me think back to the customs form that required the declaration of any auto parts; and I wonder if they have to fix some things because they can not get replacement parts or if this is just an issue of cost. Just like in Cusco, there was never just one shop. There was always a row of shops doing seemingly identical work.
As we got closer to Canada Station the area became more residential with fenced apartment buildings. Very few people were outside except an occasional group of students being released from school. At Canada Station we didn't have a metro card and didn't want to purchase one for a single trip so we got on the end of the line, used Google Translate to type a message in Spanish, and showed it the the man next to us in line. We asked him if we could pay him our fare and use his card to pass through the gate (as we had been instructed to do by our tour guide). He was friendly and said no problem. He swiped us through the gate with no issue and was gracious when I handed him a tip for his help.
---
More?
See Peru Itinerary for our full trip and Peru for all my articles on the country.
Check out Miraflores District of Lima for an affluent coastal district.
See Peru Tips for tips on getting around, flying, and more.