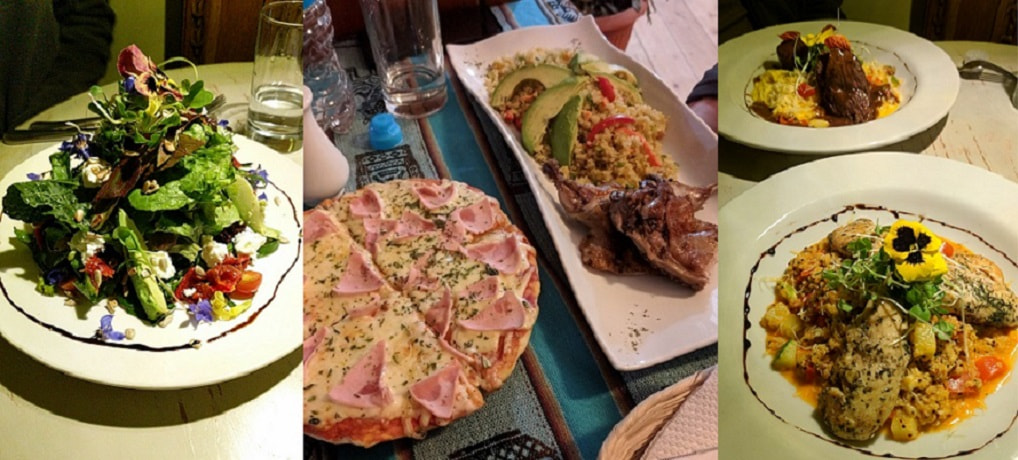 When you think of food Peruvian cuisine doesn't come to mind for most people, but maybe it should. Peru has recently won several culinary awards for being a top world food destination. Where Lima may fall short on street food, compared to Cusco, they do have a great food culture and world class cuisine.
Prices are generally very reasonable, so you can easily find a multi-course filling meal for $5-$10 or a fancy meal for a fraction of what you would pay in the states. Price does not necessarily dictate quality, so you can often find a place a block away with better food for half the price, or sometimes right nextdoor. Many places will charge similar prices to what tourists would see at home just because they can and they know many tourists will pay it. Buying water with your meal can quickly inflate the bill so be careful. We found Cusco to be very bad about this with tiny 6 oz bottles of water.
The trick to finding good food is a bit of luck combined with checking reviews, checking the menus, and looking for the crowds. You also will generally get better quality and prices if you try to eat the local food. I'm not saying that you can't find a great plate of pasta, but that place will most likely be catering just to tourists. If you see a line of locals the food is probably good.
I included restaurants from Ollantaytambo, Cusco, and Lima here. For several I mention that they take credit cards. This doesn't mean that none of the others do, just that we didn't try. We had trouble with a couple places not taking credit cards even though they advertised that they did, so I thought it was worth mentioning. I also bolded a couple traditional dishes the first time each was mentioned and included a brief description. If you are looking for full menus I include links to TripAdvisor for most of these places and have menus posted there.
---
Other Food
See Peru - Street Food for more on grab an go street specialties and varieties of fruit.
See Peru - Markets for Cusco's San Pedro Market and other markets.
---
Cheep Eats
Inka Travel - Ollantaytambo just off the main road, near the square - GPS:-13.258,-72.264
We tried to have dinner here the night we arrived in town, but other than the people already eating, there was no one there. They were raving about their meal so we hung out with them and waited a little but no one ever showed up, so eventually they left money on the table and we all left.
At lunch the next day the place was bustling. We sat outside and each ordered a 20 sole (about $7) lunch set, which included an appetizer, a soup, main course, and dessert. The food came quickly and wasn't special but was filling and tasty. The stuffed avocado is a classic and the one here was one of the best of the trip, but be warned that the nachos are just chips, nothing else. They were fresh and went perfect with the avocado, but know what to expect. Our soups were tasty, the main course was a bit bland. Overall, lots of food, ok quality and flavor, filling and great energy after a hike.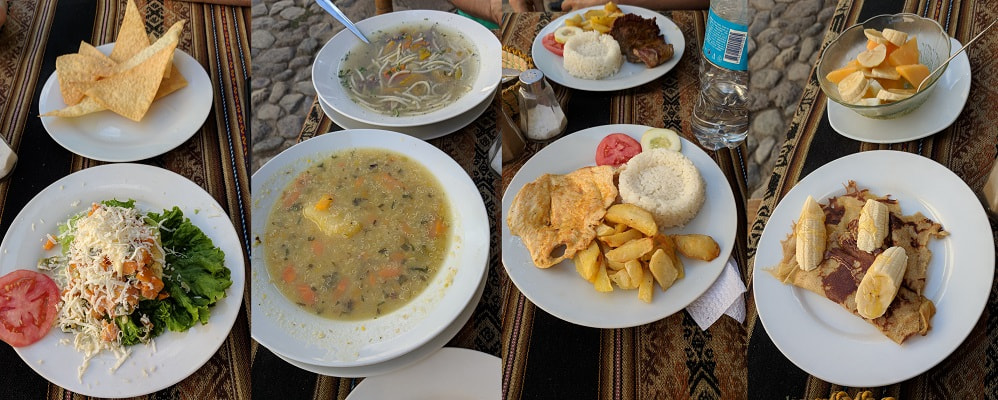 Apu Veronica & Gusteau's in Ollantaytambo could also be in this category. They have some pricier food on their menus, but their set meals are very reasonable. See their descriptions in Mid-range Dinning below.
La Paccha - Cafe Snack - Cusco in San Blas - GPS: -13.513,-71.975
We each got the lunch set here for 15 soles (about $5). It came with a starter, a main, and a dessert. As is typical in Peru, there was no salad dressing for the salad, just lime. The soup was a bit bland. The mixed veggies were delicious and the falafel was different but very good. Not sure what to bread was for, other than filling up the plate. The lomo saltado was just ok, as was the dessert.
We ate out on the patio which was cute, but we wonder what happens when it rain, because the house above had a gutter shoot pointing down at us. They take credit cards without issue.
Chalca - Cusco near the main square - GPS: -13.516,-71.981
Super cheep, but just ok food. We were here for a late dinner and paid 10 soles (about $3.50) for an appetizer, soup, entre, juice and dessert. Their soup was bland, juice tasted like water, chicken was ok, rice was seasoned nicely (a nice change from plain white rice served most places), and dessert was jello. They do give you a lot of food so it is hard to complain for the money. The service was good and the restaurant was beautiful, huge with multiple rooms and an interior balcony over a courtyard.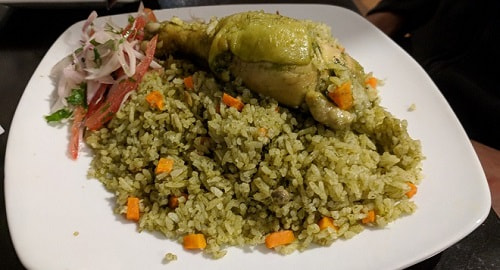 El Pisonay in the San Blas area of Cusco. They also has specials that would qualify for this category, but please see the description under Mid-range Dinning below.
Sakana - Lima in Miraflores - GPS: -12.1200,-77.0352
There are a number of reasonable restaurants all grouped together on this road and they all appeared to be full of locals. This wasn't our best meal, but it was decent. The lunch special was 15 soles (about $5) for an appetizer, entre, and a drink. I thought the appetizer was excellent. The chips were crispy on the outside and slightly chewy on the inside, which was weird, but I enjoyed the contrast and the soup was tasty. The chicken entre was very good and the sauce went well with the plain rice, but I didn't care for the potato salad, too oily. The pork was a bit bland and tough. The staff were very friendly.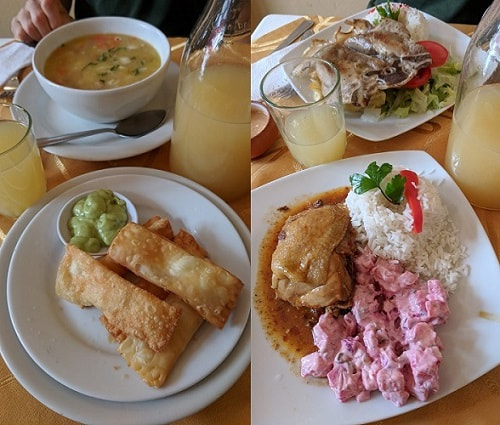 Cordon Blue - Lima in the Historic District - GPS: -12.0470,-77.0312
This meal and restaurant had its high and low points. When we were looking over the menu outside the manager came by and offered us free pisco sours with any meal (drinks that we never ended up getting). Their set lunch menu was 12 soles (about $4) for juice, roasted corn snack, appetizer, entre, and dessert. When we tried to order the server said that they didn't have any of the entrees on the menu and listed off some other things that we couldn't barely hear in the noisy room and couldn't understand. Eventually we ordered something, but we didn't really know what. The restaurant is a big open room and some outdoor tables. While we were eating a lady was going table to table begging for money. Not sure what the rules on that are, but no one asked her to leave and she made rounds for the entire time we were there.
Four our appetizers we got two classic dishes, causa and ceviche. We have no basis for comparison since we've never had them before, but they were excellent. I was a bit nervous about the ceviche (raw marinated fish), but it was limey, slightly spicy and delicious. I'm not a big fish person, but this wasn't fishy at all. The onions were a bit strong, but the slice of sweet potato balanced it nicely. I was a bit nervous about raw fish this cheep but our guide assured us that this place was clean. Causa is a cold salad of seasoned mashed potatoes stuffed with just about anything from veggies to meats.
The main course was ok, but I'm really not sure what we ate. We were presented with some kind of beef and a fritter thing, both accompanied by a puree (probably lorco de zapallo, a traditional pumpkin stew), and white rice. The puree was pretty tasty but everything else was just ok. Dessert was some kind of jello.

---
Take-out
Manzana Restaurante - Lima in Miraflores - GPS: -12.1185,-77.0431
We had a pork egg tortilla (omelet) here for a hearty snack. It was 23 soles (about $8) so definitely on the pricy side. This restaurant served an extensive menu of chinese food, also know as chifa. Chifa is chinese cuisine with a Peruvian twist since Peru has a large Asian immigrant population in Lima. We didn't have long in Lima, so this was the only chifa we had a chance to try. It was pricy but a large portion and lots of protein (no rice or potatoes for once). The pork has a slightly smokey salty flavor as if it had been barbecued first, then diced and added to the egg. This restaurant had a full fancy looking dinning room and was packed, mostly with Asians.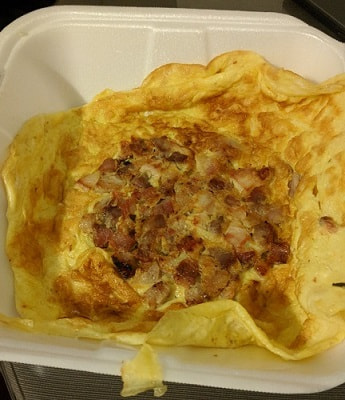 La Sangucheria Del Peru - Lima International Airport in the upstairs food court before security
We got a ham and egg sandwich at the airport as our first meal in the country and it was absolutely delicious. It was 15.90 soles (about $5.50) so pricey for Peru, but cheep for the airport. The roll had a nice soft flaky texture, the eggs were cheesy and buttery, and the ham was more of a European variety than American deli ham. It came with some optional sauces and one had a little kick to it.
If you need to get food in the airport I would highly recommend getting it before you go through security. After security they were charging over $5 for muffins on the international side and we had the several dollar bottle of water we purchased at the terminal confiscated by the "enhanced security" team as we boarded the plane back to the states.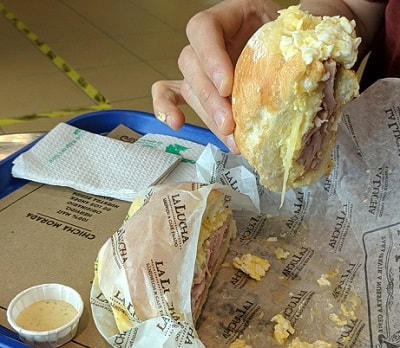 ---
Mid-range Dinning
Blue Magic - Ollantaytambo just off the main road, near the square - GPS:-13.258,-72.264
This was our first meal in Ollantaytambo and we weren't very impressed. We felt the food was overpriced, aimed at tourist, and the quality was just ok. We ordered aji de gallina (35 soles - about $12) and alpaca con quinoa (35 soles). These did not include any beverage or appetizer. Aji de gallina is a classic chicken dish served with a spicy yellow sauce made from peru's yellow chilies. The menu advertized it as spicy but it was bland without a hint of spice. The alpaca steak was nothing special, but fun to try. It was a little tough and tasted like something between pork and chicken. The quinoa salad was excellent, the best of the trip and mixed very well with the avocado. The service was friendly but a little slow. They took credit card with no issues.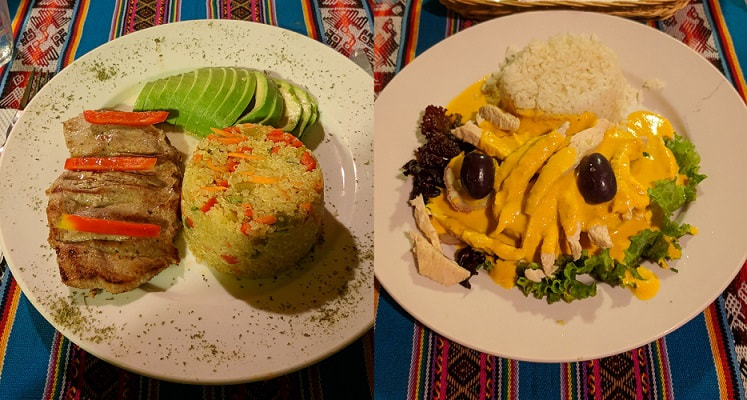 Apu Veronica - Ollantaytambo second floor overlooking the river - GPS: -13.2581, -72.2648
This restaurant was very cute, had nice touches, a friendly English speaking waiter, and a great view. They had a 17 sole (about $6) set menu which included an appetizer, entre, and juice. We split a meal (to save room for more street food) and an Andean hummus appetizer 16 soles (about $5.50). The kitchen was open and family run, complete with a mini daycare in the corner, with some of the quietest, best behaved small children I've ever seen. From our table by the window we were able to see the beautiful mountains and watch all the commotion on the main street through town.
The hummus was served on bread with grilled zucchini underneath and was good but nothing special. The quinoa soup was full of herbs and veggies, different from any of the others that we had in Peru, and very good. The juice was chicha morada, a classic sweet purple corn drink, seasoned with spices like cinnamon. I don't particularly care for it, but this was the only one we had that wasn't watery. The grilled chicken was tasty and everything on the plate was nicely seasoned. They took credit cards with no problems.

The View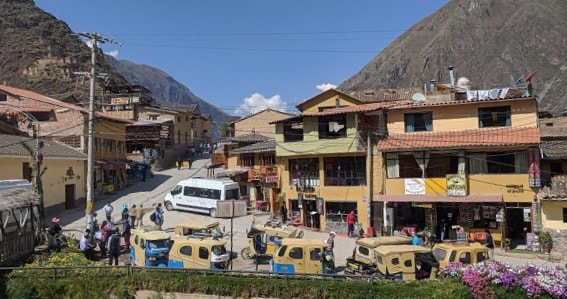 Gusteaus - Ollantaytambo second floor on the square - GPS:-13.2585,-72.2639
For our last dinner in town we found this place on the square with a view of the festival and we decided to try cuy and pizza. Adventurous and safe! Their set meal included an appetizer, a small pizza, and chicha morada for 15 soles (about $5) and half a grilled cuy with a quinoa salad was 35 soles (about $17).
Cuy is guinea pig, a Peruvian delicacy, marinated and grilled or deep fried and served whole. They often have heads on and are served looking at you. They can often be found whole on the street during festivals for a more reasonable prices, but are always a luxury item. Most of their meat is in the back legs, which is what we were served. It tasted a bit like chicken thighs and was delicious. The half cuy price seemed pretty standard across town. If you get one on the street it will come whole with no utensils but you really need your hands to eat this anyways.
The quinoa salad was just ok, a bit bland. The nachos and guac were fresh and tasty. The pizza was very different then any pizza I have ever had but very good. It had a corn crust that was slightly sweet. The tomato sauce was excellent and the ham and cheese toppings were tasty but not very greasy. I would definitely recommend it.
The restaurant was nicely decorated, mostly empty, and we got one of just a couple seats with a balcony window looking down on the square. We couldn't see the main "stage" but we could see everyone parading in and out of the square. The stairs to the restaurant are just around the corner from the square off the main road. This place had signs all over for credit cards but when we went to pay they first claimed that the Visa machine was broken, then when we offered a MasterCard they looked at the machine, made a phone call and said that the MasterCard machine was broken too. It looked like they just didn't know how to use the machine. My guess is whoever did was at the festival. We gave them cash and they had to have a kid run somewhere in town to get change.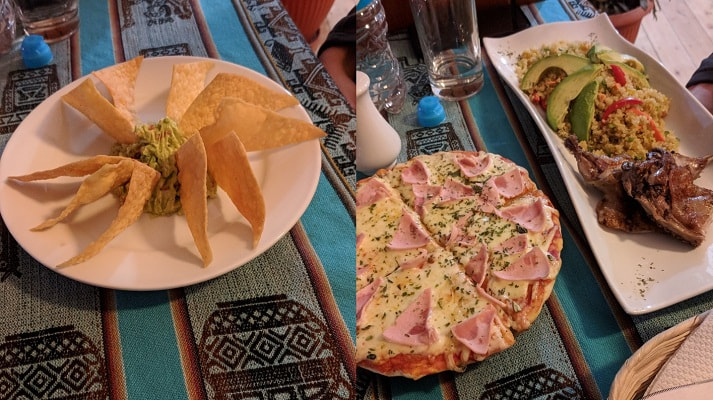 El Pisonay - Cusco in San Blas - GPS: -13.5136,-71.9755
This was our first meal and one of the best of our trip. We asked our hotel for a recommendation and they pointed us across the street. It was after 2PM. We stuck our head in the door and the place was almost dark so we turned to leave but the owner asked us to stay and started running around and turning the lights on. We ordered the house soup for 12 soles (about $4) and rolled chicken for 28 soles (about $9).
He disappeared and we heard some clatter in the kitchen and pretty soon wonderful aromas started wafting out. It took a while, but it is nice to know that everything is fresh and made just for you. The soup was perfect, hearty and delicious, with a few different kinds of meat, veggies, and potato. The rolled chicken was tender, moist and delicious and the sauce with it was great. The veggies were cooked nicely. The dinning room was small, but cozy, with cute decor, and they took credit card without issue.
Tupana Wasi - Aguas Calientes - GPS: -13.5136,-71.9755
We ordered aji de gallina for 38 soles (about $13). Everything in the area is a bit expensive, being at the foot of Machu Picchu and I would say this place was about mid-range for the area. It was the meeting place for our group before we took the train back so several of us ordered. The place was packed and there was not enough staff. It took over an hour to get our food, which was cutting it close with the train. Several in our group asked for bills and never got them so they ended up leaving money and leaving. The food was decent and had a little kick to it.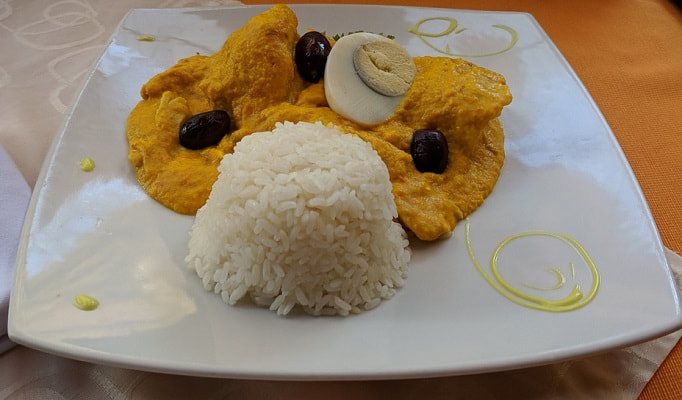 La Casa de los Anticuchos - Lima in Miraflores - GPS: -13.5136,-71.9755
This is supposedly the original restaurant that was derived from a street vendor who made beef hearts popular in this area. Whether that si true or not the place was pretty good. We got a trio of heart, pork, and chicken with corn for 25 soles (about $8) and a veggie plate for 18 soles (about $6).
The heart was definitely the best, followed by the chicken. The pork was a little dry. The veggies had great flavor, but still a good bite to them, perfectly cooked. The corn was just corn, the normal Peruvian starchy corn that I found very bland. If your not sure about anticuchos, marinated grilled beef heart, you should give it a try. It honestly just tasted like tender marinated beef, with a strong beefy flavor. If I hadn't been told that it was heart I wouldn't know. This place also has a full selection of other organ meat if you are feeling bold.
The restaurant was having some electrical issues when we were there and the lights kept going out, but I don't think that was normal. The waiter spoke great English and they had cute cutting board menus. There is indoor and outdoor seating, but the door was open so it was quite cold inside.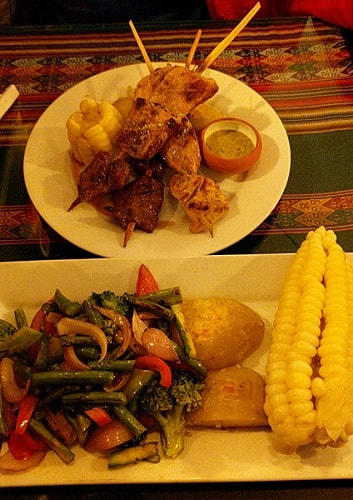 ---
Fancy Meals
Rucula - Cusco a couple blocks from Plaza de Armas- GPS: -13.5148,-71.9786
We felt this was a bargain for the quality and flavor. This restaurant is Organika's new sister. We were told that it is under the same management and has the same sources for ingredients as a local farm to table restaurant. We heard the raving reviews about Organika, but when we showed up there was a considerable wait, the the hostess showed us Rucula's menu (almost identical), gave us a coupon, and walked us over there. While Organika had a tiny dinning room, Rucula had several floors and was a bit more intimate. We were told that they are a bit more laid back about taking your time dinning and sitting around afterwards, whereas Organika tries to free up tables as quickly as they can due to the wait and lack of space. All this made sense and appeared to be true.
We shared a goat cheese salad for 18 soles (about $6), had beef tenderloin with risotto for 38 soles (about $13), and grilled chicken with quinoa for 35 soles (about $12). Everything was phenomenal and the portions were huge! The salad was a meal in itself and was beautifully dressed with a great balance of flavors and textures, zippy sweet balsamic and tangy velvety goat cheese. The steak came out a bit more raw than medium but they were quick to correct it, and it ended up perfectly cooked and seasoned. The risotto was probably our least favorite, but still good. The chicken and quinoa were so good that even though we were both stuffed we found it very difficult to stop eating it. I know it is just chicken, but it was probably the best I've ever had.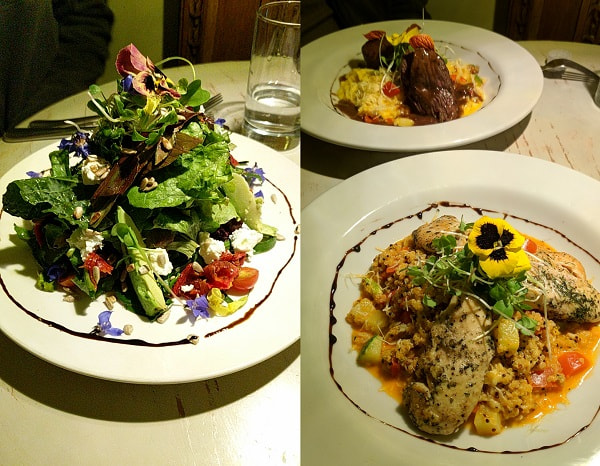 Terra Cuina - Lima in Miraflores - GPS: -13.5148,-71.9786
The was a fantastic 3 course Catalan meal for less than $20. We shared an early last meal in Peru here before our flight home. The place had been busy when we passed it the night before, but since it was early it was empty. We were trying interpret the menu and having a lot of trouble since it use a lot of fancy food words that we weren't familiar with in our basic Spanish skills. The waitress had her mother come out and they graciously fully explained every item on the menu, including details of where the dishes comes from that weren't on paper. The waitress was excellent throughout the meal, giving us space, but timing each dish to come out just as the other was cleared away.
We ordered a three course meal for 40 soles (about $14) and a glass of wine of 16 soles (about $5). They also had a two course option for 35 soles. The menu changes daily. We had an egg dish with smoked salmon adn capers for a starter. It was good but not special. Our main was pork cutlet and roasted potatoes with a white wine and pepper sauce. This looks simple, but the flavors were incredible. We couldn't get enough to the spicy, creamy sauce. The cheese cake for dessert was a perfect crescendo to the meal. The cheese cake was very rich and the berry compote was just berries, nothing artificially sweet. The acidity and tanginess of the berries was perfect. I'm a big cheesecake fan and this was the best I've had in my life.
They accepted credit card without issue and we left a nice tip on our card, but were very sad to see that it was never added to the bill. We wish we could go back and give it to them since everyone there was wonderful.

---
More?
Check out our full Peru Trip Itinerary.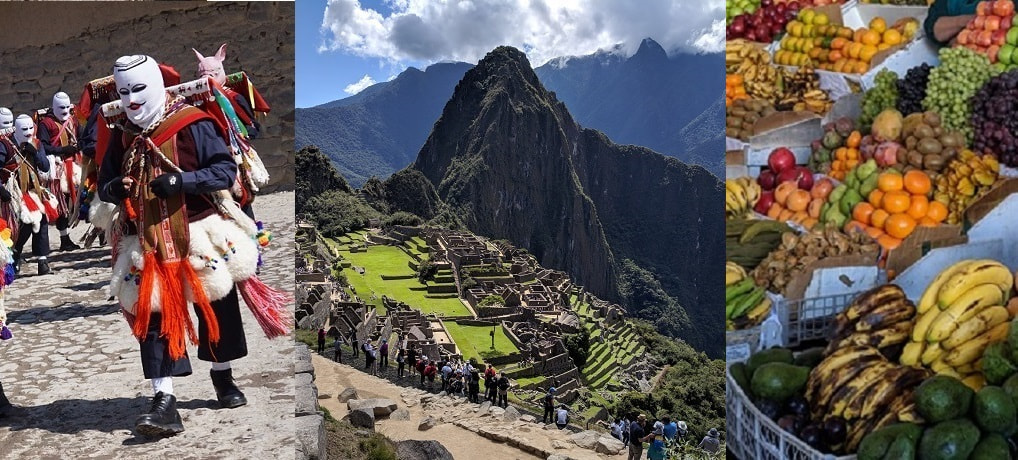 Read about the delicious Food of Malaysia,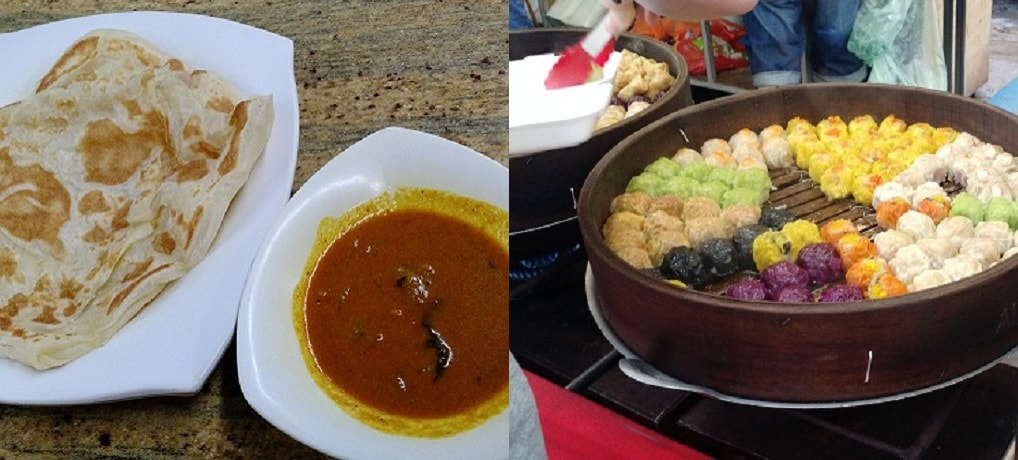 Or the melting pot of Hong Kong Food