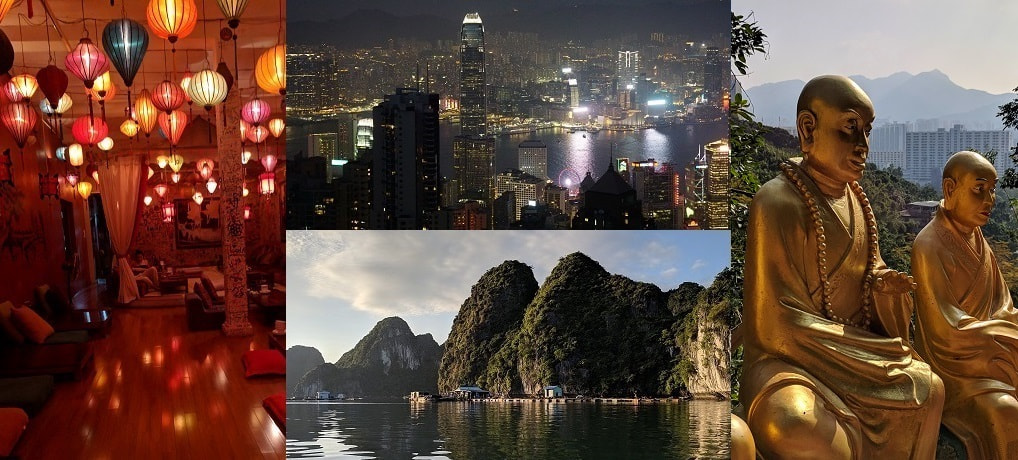 We spent a couple days in Hong Kong, then went on a tour of Vietnam from North to South. We saw the country on foot, by train, bicycle, boat, kayak, bus, and plane.
Day by Day Schedule
---
Flight to Hong Kong
Flew from NY to Hong Kong via Shanghai, 20+ hours with the longest leg being just over 14. Our flight path took us up over the North Pole and back down the other side over Siberia. Due to the time change we flew out Friday afternoon and landed in Hong Kong early Sunday morning.
---
Day 1 – Hong Kong Central Island and Victoria Peak
We walked through the Kowloon Park, rode the Star Ferry, grabbed some Michelin Star food for under $10 each, took a walking tour, grabbed some more Michelin Star food, took a scenic bus ride up to Victoria Peak, walked back down (very hard), rode the Ding Ding for a bit, and checked out the Kowloon Night Market for some street food snacks.
15.6 miles walked, 61 flights of stairs
---
We climbed Suicide Cliff (highlight of the trip for me), then got lunch in Mong Kok and explored our way back to Victoria Harbour for the light show (nothing special).
13.0 miles walked, 165 flights of stairs
---
Day 3 – Ten Thousand Buddhas Monastery and flew to Hanoi, Vietnam
We climbed the stairs to the monastery, got one last amazing meal, and went to the airport. In Hanoi we grabbed our inaugural bowl of pho on a street corner and met up with our tour group (Intro Travels).
9.2 miles walked, 40 flights of stairs
---
Explored the Old Town area of Hanoi. This city has a chaotic crazy energy that I loved, but may be over-stimulating straight off a long flight.
10.3 miles walked, 34 flights of stairs
---
Day 5 - Took a cruise on Ha Long Bay
Took a bus to Ha Long Bay for a 3 day, 2 night cruise. In the afternoon we kayaked through a cave into a lagoon.
4.0 miles walked, 21 flights of stairs
---
We were transferred to Freedom Island where we spent the day swimming, kayaking, playing volleyball, and relaxing.
4.2 miles walked, 34 flights of stairs
---
Day 7 – Returned to Port and went to Ninh Binh
We said goodbye to Ha Long Bay after lunch and took a bus to Ninh Binh, for a homestay.
2.0 miles walked, 22 flights of stairs
---
Day 8 – Cycled Ninh Binh, boat ride, and Dragon Viewpoint (Hang Mua)
We cycled around the town and the rice paddies, took a foot powered boat ride down a peaceful river through caves, and climbed to Dragon Viewpoint to take in the views. After a shower, we boarded the overnight train to Da Nang.
6.9 miles walked, 67 flights of stairs
---
Day 9 – Explored Hoi An
We explored Hoi An and went to the taylor for measurements for custom made clothing.
5.8 miles walked, 35 flights of stairs
---
Day 10 - Hoi An Crab Fishing, Basket Boats, Cooking Class, & Lantern Boat Ride
We explored Hoi An some more, tired out crab fishing from a traditional boat, and learned how to make several classic Vietnamese dishes.
10.0 miles walked, 36 flights of stairs
---
Day 11- Flew to Ho Chi Minh City
Negotiated Ho Chi Minh City's busy streets, explored the city, and tried some great street food. Then headed to the airport for our late night flight home via Shanghai.
11.4 miles walked, 33 flights of stairs
---
Budget
Approx $3100 total for two
Flight NY to Asia Roundtrip: $995
Hong Kong Hotel (3 nights): $199
Flight Hong Kong to Hanoi: $177
9 Day Intro Travel Tour: $1647
Travel Sports Adventure Health Insurance: $30
Vietnam Visa: $52
Transportation: $30
Food in not included, but you can easily eat for less than home if you live in the states and some meals were included with the tour. Read about food cost and Vietnamese Food here and general Vietnam Tips & Things to Know. Read about food cost and Hong Kong Food here and general Hong Kong Tips & Things to Know.
Budget Tips:
Hong Kong can be expensive by Asian standards, but you can save a lot by staying on Kowloon instead of Central Hong Kong Island. As long as you stay near a red line metro station (all along Nathan Road), you can get to and from Central in less than 30 minutes.

The tour was a major expense of this trip. We did a tour because we were traveling with three people and had a limited amount of time. If you have more time, and some patience, many people travel Vietnam on their own for a fraction of the price. Just be mindful of fake tours and the language barrier.
More Time?
If we had a few more days we would have loved to spend some time in Sapa in the north or the Mekong Delta in the south. Also just slowing this trip down a little and spending a bit more time in each place would be nice. Remember to budget a little more time to figure out transportation arrangements anyways if you are traveling on your own.
Less Time?
If I had to cut this down to 6-7 days I would essentially do day 3-9 of this itinerary, but on the last day return to Hanoi and fly from there.
---
More about Vietnam?
For a bit of context on the culture I highly recommend When Heaven and Earth Changed Places, by Le Ly Hayslip. This is a memoir that reads like a suspense novel. The author was a farm girl in the rice paddies near Da Nang (not far from Hoi An). She was a child during the French War, a teenager during the American War (Vietnam War), and now lives in America. She skillfully weaves the culture into her novel and talks about her journey from Viet Cong agent to American. Her second book Child of War, Woman of Peace isn't as suspenseful, but gives a good view into what life was like transitioning to America and also returning to Vietnam in the mid-80s and 90s.
---
Product Links: I am not sponsored by any of the products I link to. If you choose to make a purchase from one of the links of a product I listed or any other item a small percentage will go back to me to fund this website, at no additional cost to you. The products I link to are either ones I have used or similar if those are not available. Thank you for your support.
---
More?
For more of Asia here is my South East Asia Trip Itinerary.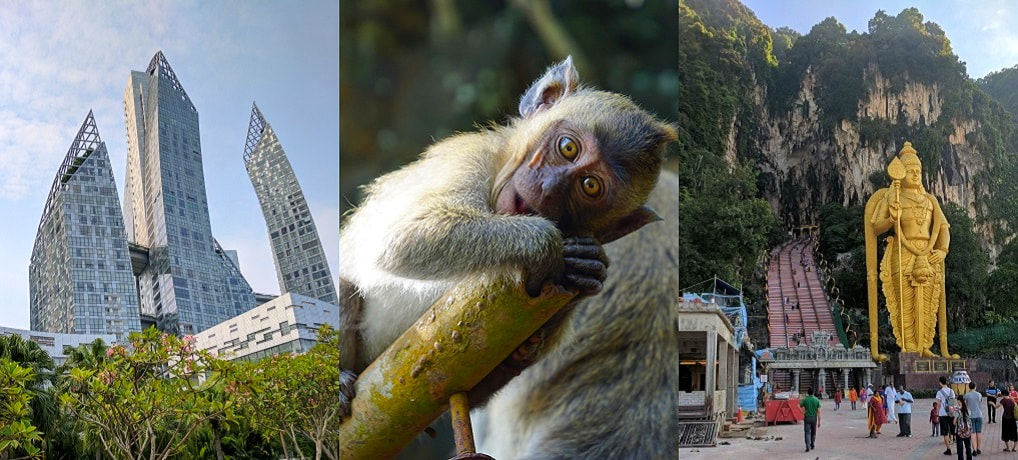 Check out our full Peru Trip Itinerary.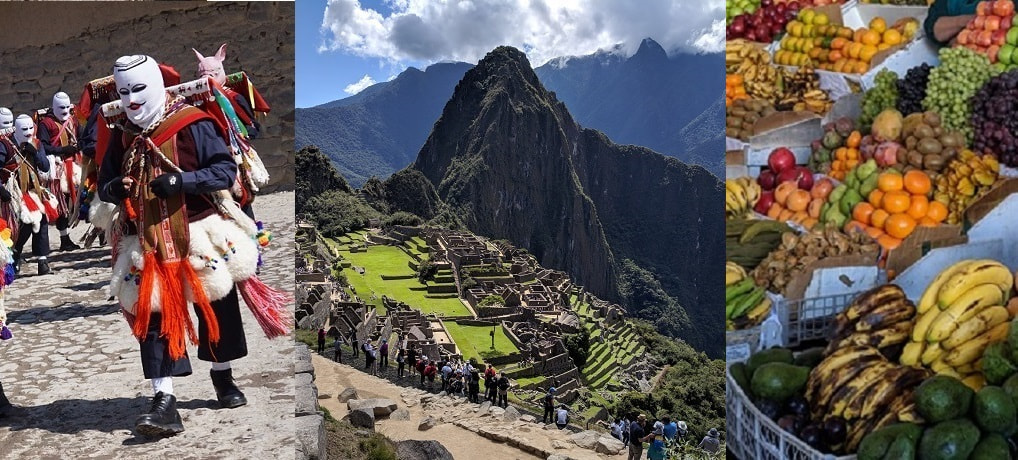 See my Iceland see my full Trip Itinerary & Travel Budget.