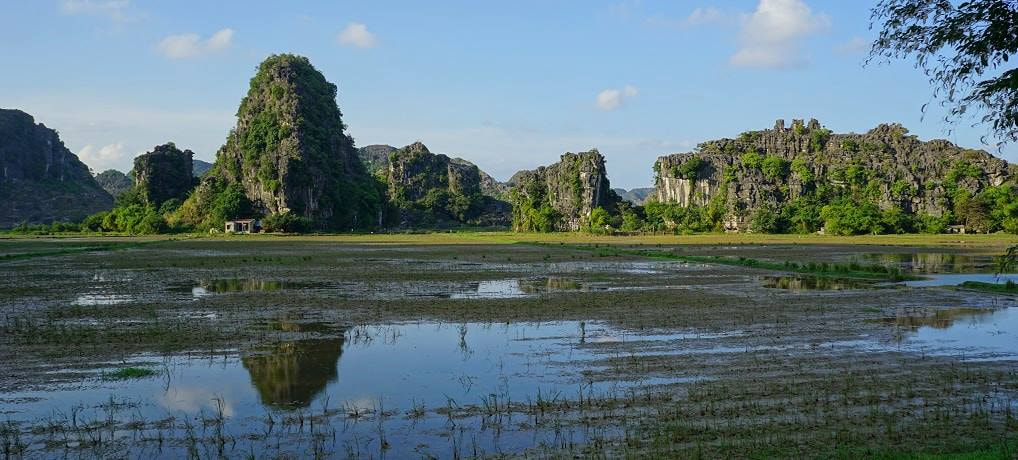 Our day in Ninh Binh was my favorite day of the trip. This area was like Ha Long Bay on land, but without the pollution and a fraction of the tourists. Ninh Binh is a blends agriculture and tourism in a beautiful setting. The area we were in felt like it was on the edge of civilization, with a strip of rice paddies between the city and the mountains. The land is mostly flat rice paddies, dotted with jagged limestone mountains. Before the harvests the rice turns the fields brilliant green and yellow. When we were there, in mid-November, the rice had already been harvested so paddies were brown, but they contrasted nicely with the green mountains spires.
This area is a bit less well known, but definitely not off the map. There are plenty of tourist services and a few creative business ventures. We saw a couple people taking our picture with nice cameras. About 15 minutes later someone approached us with laminated copies asking $1 per photo. We were amazed at how efficient they were, and some of the pictures were very good so we were happy to buy them.
Our introduction to this area, before we even saw the landscape, was the goat vendors with their carts on the side of the road. Our bus pulled off the main road so we could transfer to smaller vehicles, since the bus was too large, and as we slowed we saw a cute little goat sitting upright on a cart with it's head attached to a pole with a blue ribbon. We passed a few more similar carts without bows, most with attendants fanning the flies away. While this looked interesting, it didn't seem very hygienic. Our guide said it was smoked, not that different from a pig roast I suppose. We did get a little of the local goat the next day, but off of a sizzling plate, not a cart. For pictures and a little more about this see dtinews.
---
Getting There
There is a train and several busses that travel between Hanoi and Ninh Binh daily. Once you are in Ninh Binh there isn't much public transit so you will need to rent a motorbike or pay a taxi to take you to your accommodations. If you stay in an area central to what you want to see you can get around pretty easily by bicycle. Otherwise you may want to arrange for a taxi because there aren't tons of them.
---
Things to do
Homestay - This is a nice way to stay somewhere, support the local economy, and make it part of the experience. No, this is not staying in someone's home. These are family owned accommodation build on their land. They vary, but many are little cabanas. They are typically inexpensive, beautiful, and have a bit of character. Like much of Vietnam, power and wifi can be a bit unpredictable. We stayed at Ninh Binh Valley Homestay (GPS: 20.239797, 105.92315), which was tucked away in the mountains, at the end of a gravel road, on the edge of a pond. The owner had a few bizarre pipes fashioned out of wood. They also had a fleet of free bicycles and an unwieldy boat that you could take for a spin around the lotus pond. The ginger chicken and fish dishes here where excellent!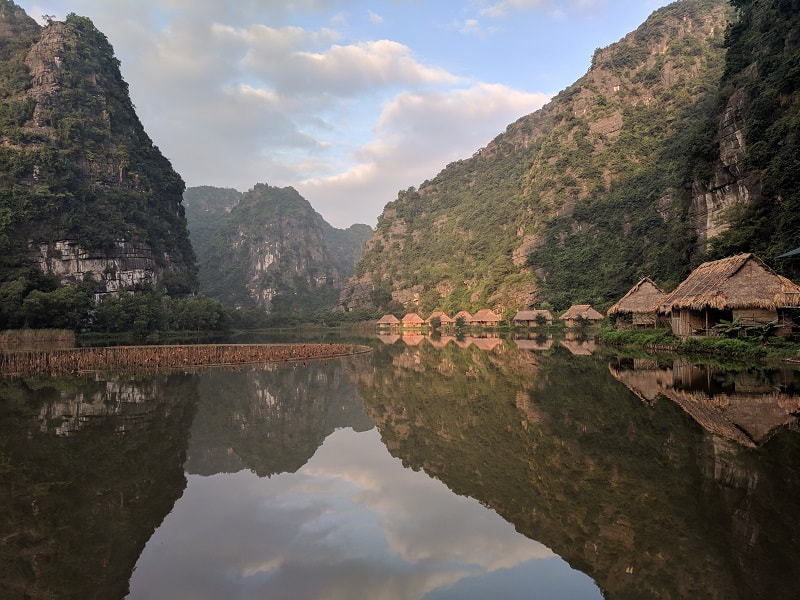 Bike - Renting a motorbike or bicycle is a great way to get around and see the area. The traffic is manageable here (compared to the cities) and most of the roads are decent, but a few are dirt or gravel with water on both sides, so be sure that you feel comfortable before taking on a motorbike. If not, bicycles can be a better option anyway because they afford you the luxury of slowing down enough to take it all in.
We borrowed the bicycles provided by our homestay and riding around was one of the highlights of this day. The bikes were all single gear with hybrid tires and looked a bit rough, but actually handled surprisingly well on some rough terrain. Out of our group of 19 no one got a flat tire. The roads vary between gravel, dirt, and pavement. Do yourself a favor and check the brakes before you set off with a bicycle.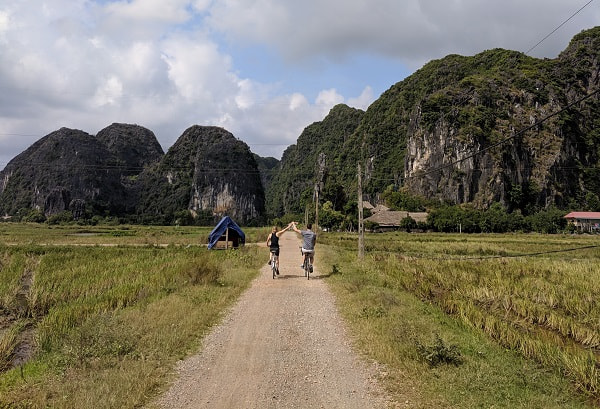 Boat - This was neat but we felt it was a skippable attraction. There are a couple different rowboat boat cave tours. We did Tam Coc (GPS: 20.21650, 105.93746), which was scenic, but a bit too long (although we read that the other one is longer). As of 2018 it cost 200,000 VND (US$8.80) per person for a 1.5 hour long rowboat ride with 3 people per boat (they do have lower rates for locals). This ride takes you through a couple caves, down to the end of the river, then turns around and comes back the way you came. The novelty of these rides is that they expertly paddle these boats with their feet (which is technically against the rules if you read the signs, but they all do it). Most of the rower were women.
Somewhere along the river there are photographers taking photos that they print and laminate by the time you get back and at the turnaround point there are vendors selling snacks. They weren't too pushy and the pineapple was great ($.50-$1). We were told that the vendors usually ask you to buy something for your driver too and they usually just return it to be resold. We noticed that while they offered us fruit, they offered packaged snacks for the driver. We politely declined and gave him a small tip at the end. If you go the sun is brutal, so bring water and consider an umbrella. We ended up holding our life jackets up to shade ourselves by the end. The seats are also wood planks, so they aren't comfortable for long. My preference would have been to go to one of the viewpoints along the river, or even just the bridge across from the start to look, and then spend more time exploring.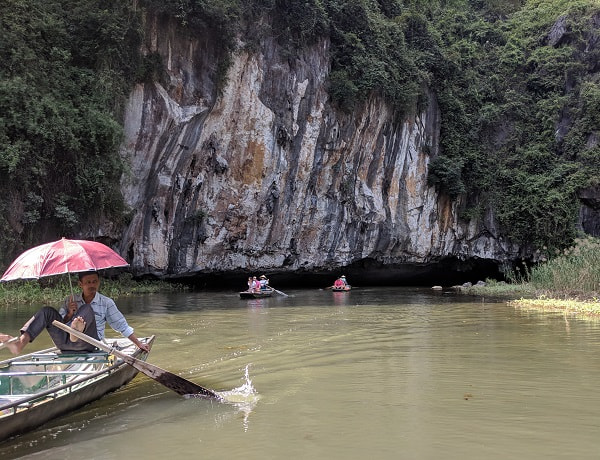 Hike - Dragon Viewpoint - Hang Múa (GPS: 20.23060,105.93684) is one of those places that is touristy and can be a little crowded, but is 100% worth it. From the top you can see the entire area in every direction and the upside of all the people is everyone wants to get a picture taken and they are generally happy to take yours in exchange. As of 2018 it cost 100,000 VND ($4.50) + 10,000 ($.50) for bike parking. When you enter you walk through a park with little shops, a waterfall, some artificial lily pads, stepping stones, and other props for taking pictures. It is a little cheesy, but has some pretty spots. For lighting the best time to go is evening, but this is also the most crowded time. We were at the top around 4:20PM and the gazebo at the top was packed. If you climb out on the dragon's tail the crowd thins out and you might be able to get a moment alone. This involves a little climbing and some heights, but the rock is easy to climb and not very sharp.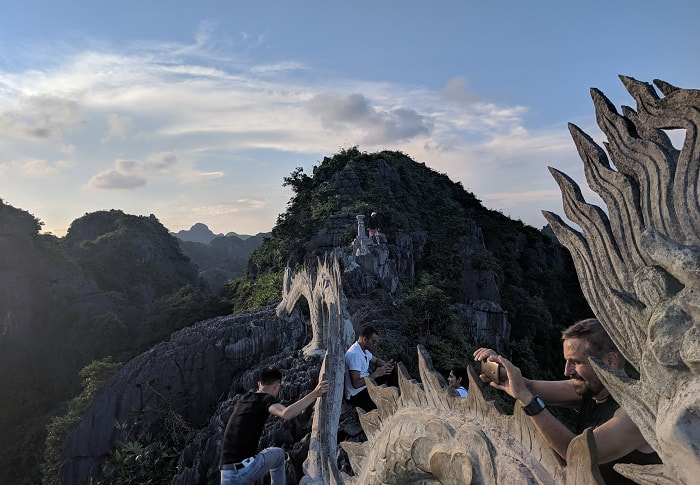 There are two lookout points. The dragon one is the left fork part way up and is the higher of the two with a view of both sides. The other one is the right fork and is also pretty, less crowded, and lower, but doesn't have the 360 degree view. You can see the trail for it in the photo below. Both ways involve lots of steep stairs with no hand rails. Make sure you allow enough time to get down before the light fades.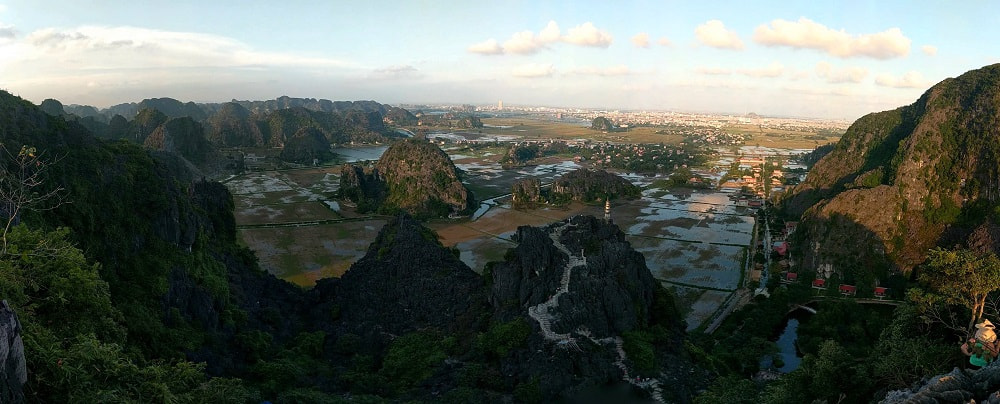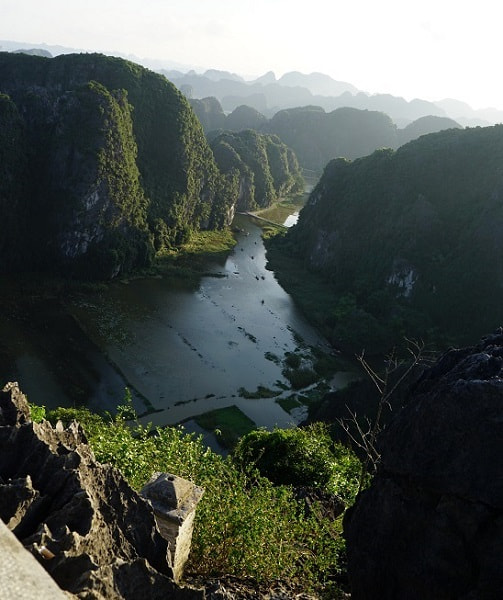 Caves - There are many caves in this area, but we didn't have time to visit any.
More -Geeky Explorer has a pretty comprehensive guide to this area.
---
Understanding the People
For a bit of context on the culture I highly recommend When Heaven and Earth Changed Places, by Le Ly Hayslip. This is a memoir that reads like an suspense novel. The author was a farm girl in the rice paddies near Da Nang. She was a child during the French War, a teenager during the American War (Vietnam War), and now lives in America. She skillfully weaves the culture into her novel and talks about her journey from Viet Cong agent to American. Her second book Child of War, Woman of Peace isn't as suspenseful, but gives a good view into what life was like transitioning to America and also returning to Vietnam in the mid-80s and 90s.
---
Product Links: I am not sponsored by any of the products I link to. If you choose to make a purchase from one of the links of a product I listed or any other item a small percentage will go back to me to fund this website, at no additional cost to you. The products I link to are either ones I have used or similar if those are not available. Thank you for your support.
---
More?
Hanoi and Ha LongBay are both nearby.
Ha Long Bay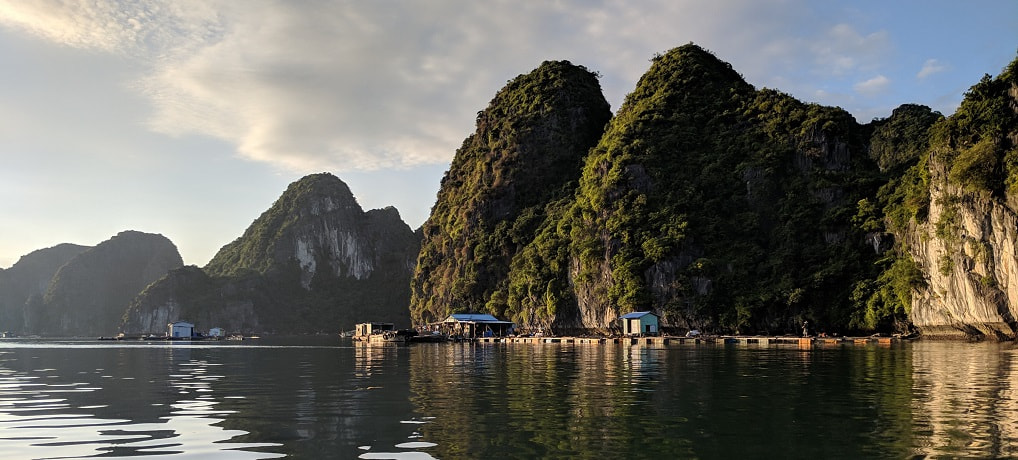 Hanoi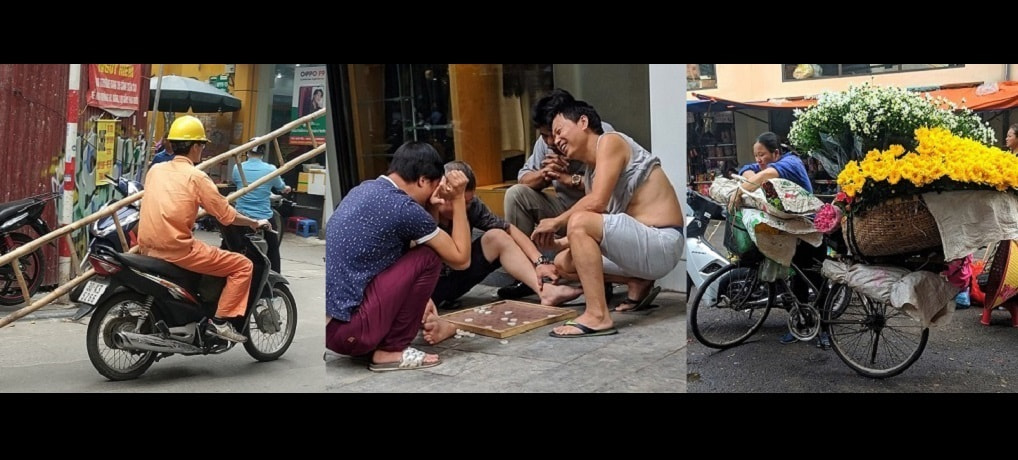 Check out our full Hong Kong & Vietnam Trip Itinerary.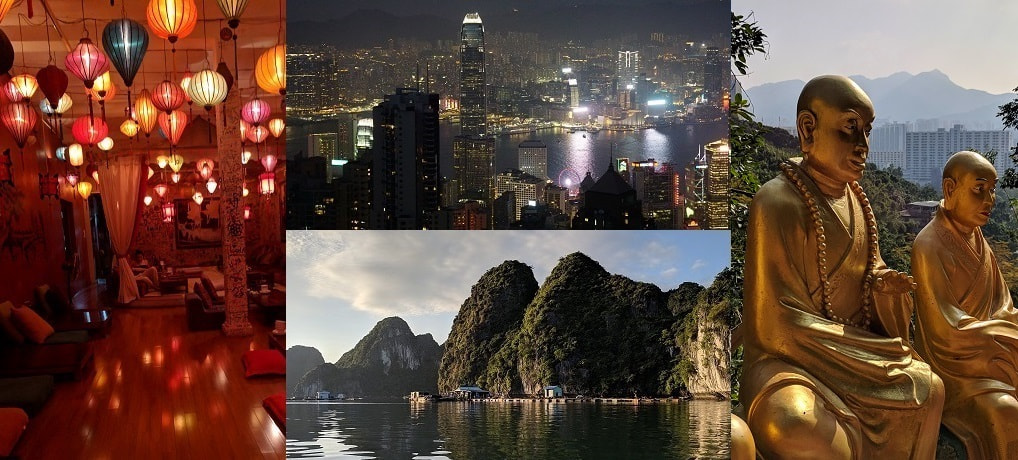 If you like small towns with tourist accommodations and stunning natural beauty you may also like Ollantaytambo, Peru and the Cinque Terra Region of Italy.