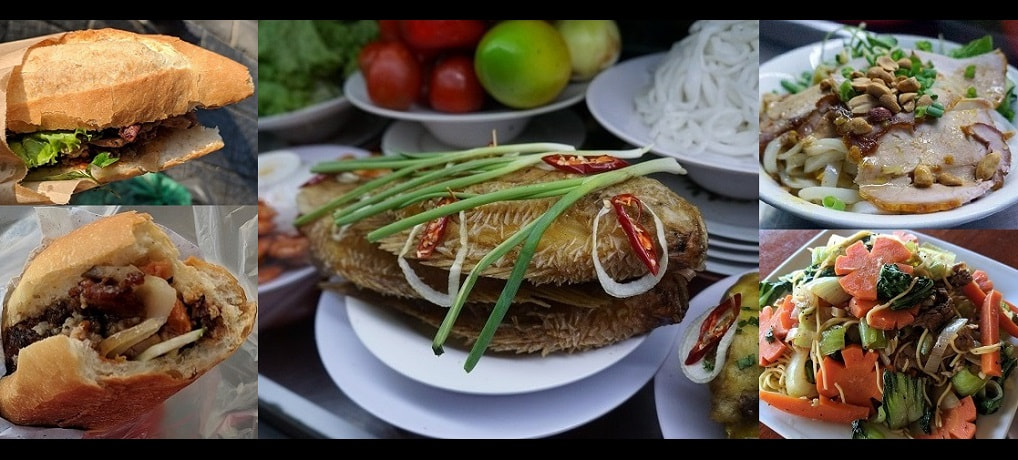 Vietnam has some great food and many unique dishes. Balance is important. Vietnamese dishes often have a variety of textures and heavy or fried food is generally accompanied by something light and fresh (ex. fried crepe in a lettuce wrap). They use tons of fresh herbs and a variety of meat and vegetables. Generally food is not spicy to only mildly spicy, so most people can handle it. Salt and pepper is usually non-existent and replaced by soy sauce (or fish sauce in some areas) and chili sauce. Food varies greatly in price and quality (and quality is often not dictated by price).
We love to try everything, but since the water is not safe to drink in Vietnam, we tried to be a little extra cautious to keep from getting sick, while still enjoying the food. Many people will advise you to only eat in tourist restaurants, but this is not our style. We stuck primarily to hot foods and fruits with skin. We did have the fresh herbs, but usually after plunging them into a hot broth. Before the trip we made sure we were up to date on all of our routine shots. It was not required for this trip, but we both were vaccinated against Typhoid from our last trip. Maybe we lucked out, but we never got sick.
I found that Vietna Menu's Downloadable Food Dictionary was very helpful and easy to use for reading signs and the occasional menu. Be careful, accents often completely change the meaning of a word; for example Bò is beef and Bơ is avocado or Phở is soup and Phò is slang for prostitute.
---
Fruit
We tried different fruits all along our trip. One of the fruit ladies in Hoi An was a great sales person and offered us lots of samples of fruits we had never seen before and showed us how to open them. We paid about $4 for a star apple, a mangosteen, a persimmon, a bunch of longan berries, and a handful of langsat (not sure whether this was a good price or not). Some interesting ones were:
Lychee - Vải Thiều - Very sweet jelly like fruit, slightly floral. Peel the outside skin, suck out the fruit, and don't forget to spit out the seed.

Rambutan - Chôm Chôm - A close relative of the lychee and tastes about the same. Also has a seed in the middle.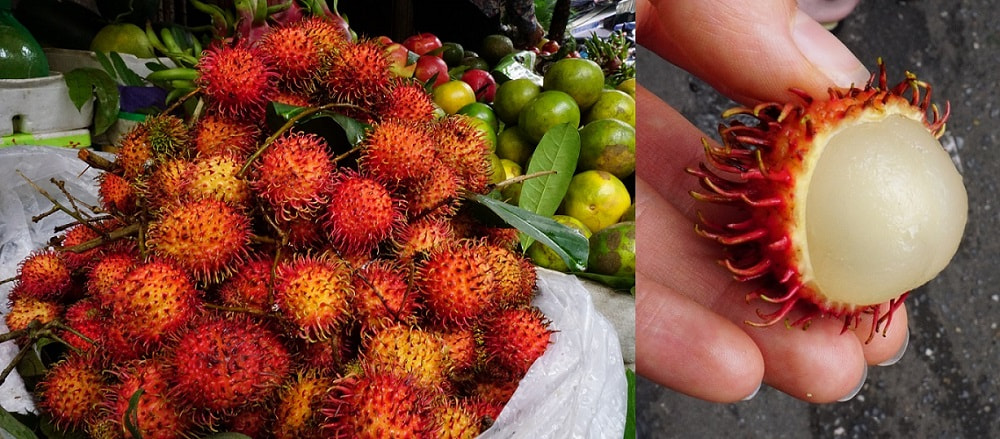 Longan Berry - Nhãn - Another fruit that is similar to the lychee, but a touch milder. We enjoyed eating these chilled in the fridge when it was hot out. They has a round seed in the middle.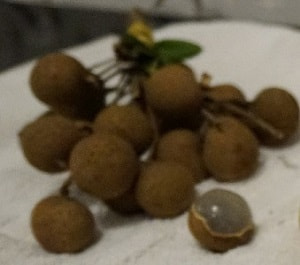 Mangosteen - Măng Cụt - My all time favorite fruit! Tastes something like a mix of a mango and a strawberry, sweet but tart and tangy. The skin permanently stains most anything it comes in contact with (often banned from hotels) and is used in dyes. Inside are several bright white orbs that are about the texture of grapes without skin. The largest has a seed.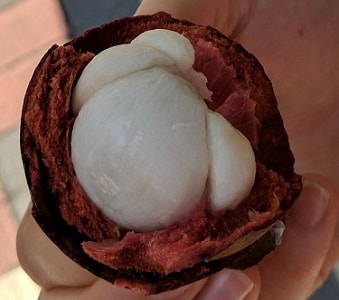 Langsat - One of my new favorite fruits! The flavor is a little milder, but very similar to a mangosteen. The shape is also very similar, but smaller, with soft skin. Peel away the skin and enjoy the lobes, but be careful the seeds are not toxic, but quite bitter if you bite into one.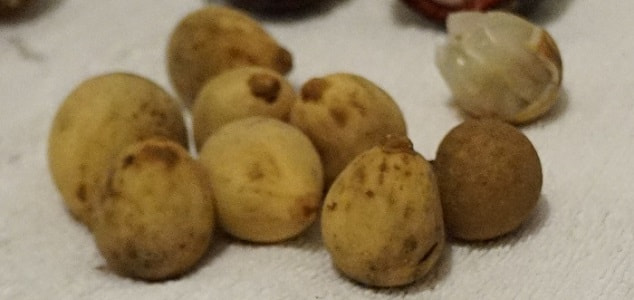 Persimmon - This fruit has a lightly sweet flavor and a pear like texture. Not overly exciting. They can be yellow to orange.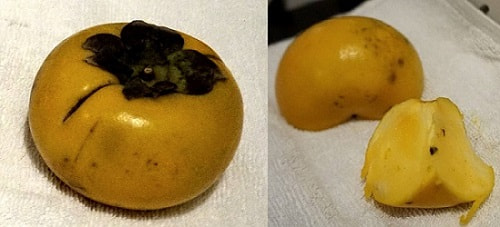 Passion Fruit – Chanh Leo - They have wrinkled purple ones here with yellow and green seeds. They are delightfully tangy. The skin is not edible, but the white membrane inside is, but doesn't have any flavor. Most people just suck out the crunchy seeds and jelly.

Star Apple - Vú sữa - This strange fruit comes in a couple different colors and is prized for its claimed medicinal properties. If you cut it cross wise instead of end to end you will see the signature star pattern. It is also nick named milk fruit because of its unique texture/flavor. The flavor is mildly sweet and somewhat milky. Do not eat the skin or seeds. The milky juice is sticky and forms a film on your lips that I found unpleasant and left my mouth slightly dry.

Dragon Fruit - Thanh Long - While this fruit looks fantastic I found it pretty anticlimactic. The flavor is very mild and bland. They come in a pink version and a bumpy yellow version without the leaves. Do not eat the skin.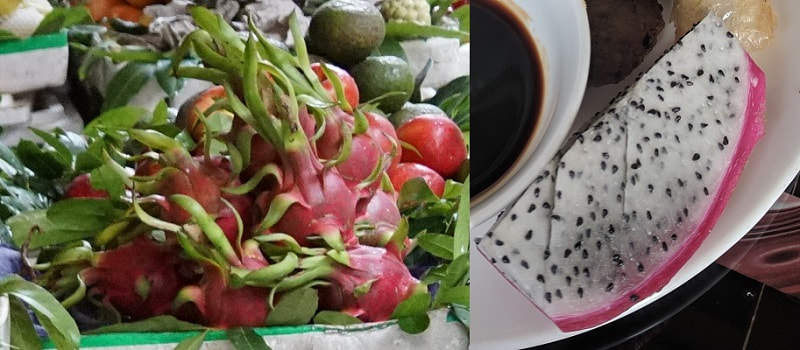 Mango - Xoài - The mangos varied between very sweet, tangy, and sour, with not obvious way of guessing what you will get. If you like them all great, otherwise it is mango roulette! Or you could try asking.

Oranges - These tasted like normal oranges. Some ripened with green skin. Most had lots of seeds.

Jack fruit - Mít - Similar to mango in texture, sweet with a hint of banana, but a little bland. This fruit is enormous (10-100 lbs), but usually sold in chunks. Don't eat the seeds.

Water apple - Crisp skin with a foamy flesh, floral but a little bland.

Banana - Chuối - Not particularly special, but they were very good and come in many varieties.

Coconut - Dừa - Used in many dishes like chè (see desserts) and sold fresh with a straw.

Avocado - Bơ - They have different varieties, but they are very nice, similar to Hass avocados.
---
Breakfast
All of our breakfasts were provided by our hotels. They generally consisted of fruit and either eggs with bread, noodles, or occasionally pho. In the morning the street vendors seemed to offer mostly noodle dishes. My favorite breakfast of the trip was the noodle dish (not special, but lots of veggies and good flavor) in the first picture, served at Cocoon Inn Hostel in Hanoi.

---
Snacks - Just a few of many
Pork Toast -Banh Mi Cha Chien - Tried in Hoi An. This is a baguette spread with a bit of seasoned ground pork, grilled, and topped with mayo and hot sauce. I didn't feel that this was anything special, but it is an easy snack to get on the go. This is a common snack to find on street corners in Hoi An and should cost less than $1.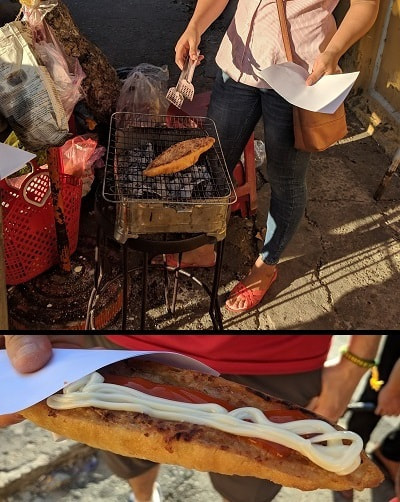 Sesame Cracker - We picked these up at a convenience store and they were pretty bland. Somehow they didn't have much sesame or peanut flavor, just crunchy cardboard.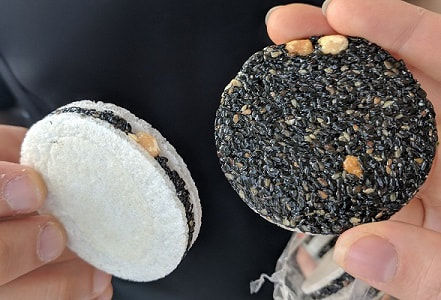 Rice Cracker - We saw these "crackers" for sale several places. At the train station they were asking 5k VND (~$0.25) per cracker (last image) the size of a small pizza and we picked some multigrain ones up at a bus stop for 20k VND (~$0.90) for a 2-pack. When I looked them up I saw that people generally dip them, but we enjoyed them plain. The multigrain one reminded us of a thin crispy cracker. The one from the train station was also crispy, but more like a puffed rice texture.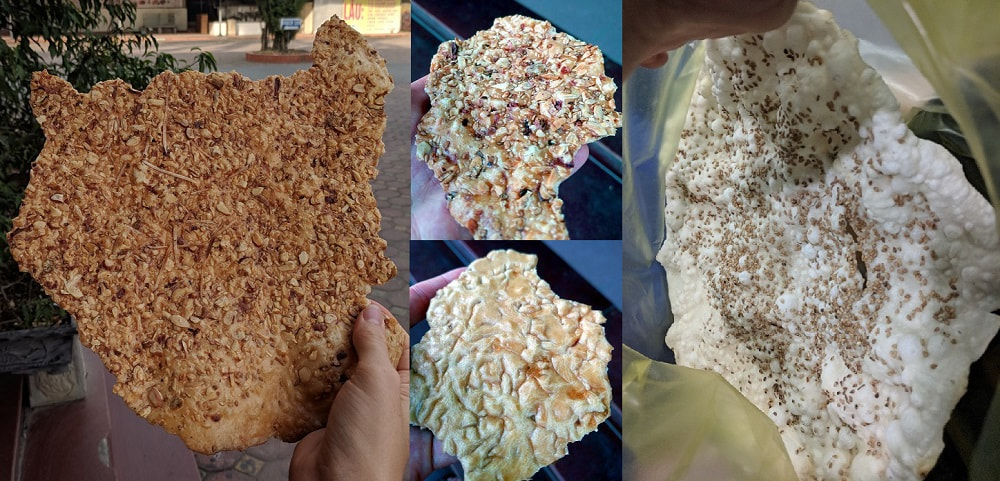 Steamed Buns - You can find steamed buns all over the country with a variety of fillings. Some have sweet bean paste, but most have savory fillings, like barbecue pork. This one has quail eggs and minced pork. In many places you pick a bun then they put it in a steamer to heat it for you. I love the light fluffy, but slightly sticky texture of the bun.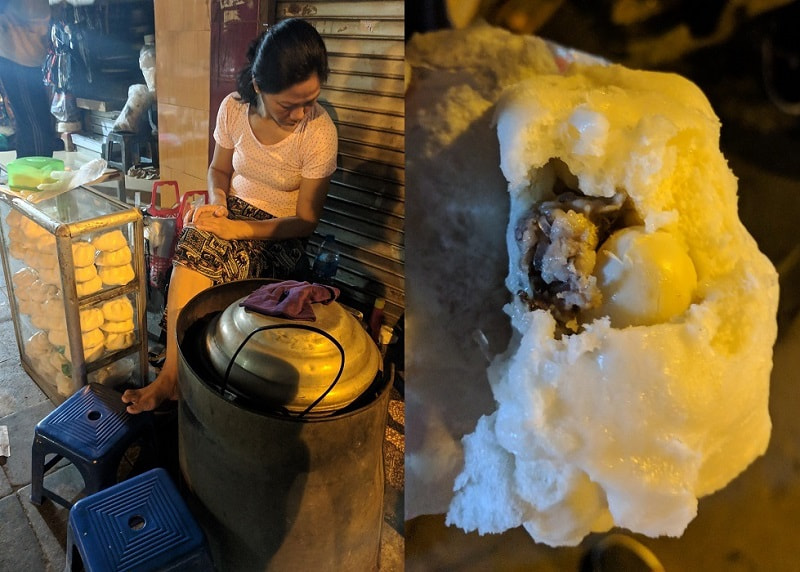 Nuts - While Vietnam may be one of the top world producers of cashews we found them to be comparable in price to home, if not more. The flavor was good some places, but we found vacuum packed ones that were stale. Many places sell the nuts with the skins still on and they are perfectly safe to eat. Most other nuts were also expensive by Vietnamese terms, with the exception of peanuts.

Peanuts - đậu phụng - (yes, not truly a nut) are plentiful. We purchased a bag of roasted peanuts and were perplexed to find that they had a "shell." This shell is made up of rice flour, sugar, and salt. It add a nice extra crunch to the nuts and makes them taste almost like crunchy peanut butter. We loved them and brought some home as a gift to share. Definitely worth a try.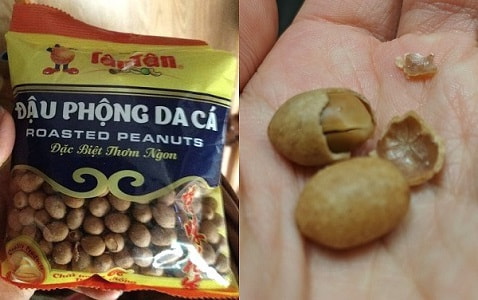 Dough Balls - All different varieties of these are sold by street vendors. Most are nothing special, just dough that is fried up in the morning and sold all day long. When we went for a morning walk we stumbled across a woman making them and fresh they are quite nice. They were warm, crispy on the outside and slightly chewy on the inside. These ones had a mild toasty flavor and were lightly sweet.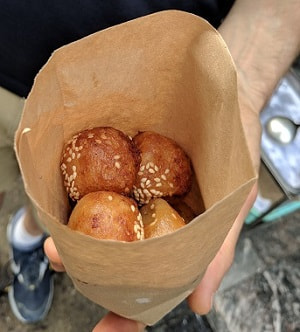 ---
Appetizers/Sides
Spring Rolls - Spring rolls are the appetizer of Vietnam. They area available at nearly every restaurant and come in many varieties paired with different dipping sauces. Most of the ones we saw were fried and had seasoned minced pork by itself or with vegetables. The dark ones in the second picture are rolled in betel leaves instead of rice paper and have a very earthy flavor. We did see some fresh spring rolls, but most contained shrimp and I'm allergic so we stayed away from them, except in our cooking class.

Vegetables - While most Vietnamese dishes have herbs and lettuce, not all do. Morning glory salad (pictured below) and other vegetables are often offered as starters or sides. The morning glory salad is a leafy green served with lots of garlic and fish sauce. If you are a fan of greens and garlic you will love this.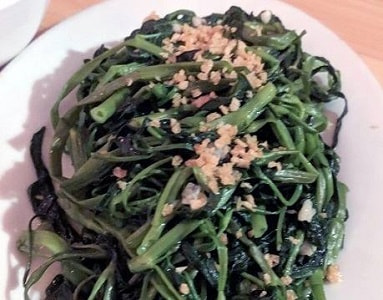 Crepe - Bánh xèo - These crispy rice based crepes are a fun treat and a perfect example of balance. The ones we made in cooking class were fried, stuffed with bean sprouts and greens and wrapped in rice paper. Others we saw were wrapped in lettuce. Either way you have the hot crispy rice crepe, with cool greens, and a salty citrus sauce. They are often filled with shrimp, but can use any protein or none at all.

Pumpkin Soup - This pureed soup was a somewhat unexpected, but a common appetizer.

Rice - Plain rice comes with almost everything and extra orders are often available. This is typically a short grain rice that is fluffy, but sticky (all the better for eating with chop sticks), and while it is just plain rice, I find something very satisfying about it.

Seafood of every kind
---
Meals
Bun Cha - Hanoi Specialty - This is a noodle dish with savory pork meatballs in a slightly sweet broth, served with fresh herbs, bean sprouts, and noodles. You can find this all over the city. We tried it at Noodle & Roll and paid 45k VND (~$2).
Bun - This term can apply to just about any vermicelli (very fine rice noodle) dish. They are generally served with a dipping sauce or broth, a protein, herbs, and often pickled vegetables. The one below is topped with vegetables, peanuts, and grilled pork. We got this one in the HCMC Ben Thanh Street Food Market (a collection of vendors known for tourist safe average quality food for higher prices) for 60k VND (~$2.60). It was fine but nothing special.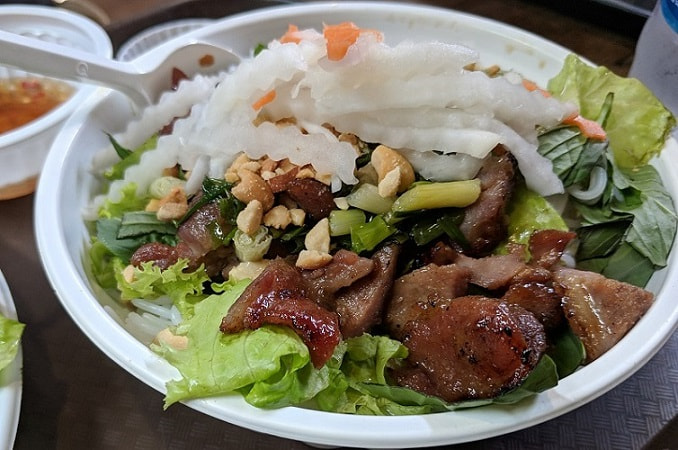 Cao Lầu - Hoi An Specialty, but can be found around Da Nang - These noodles have a nice chewy bite to them and a unique flavor that comes from the combination of ash and the water from a "special well." The pork is nicely slow cooked and the broth is rich and savory. It is usually served with greens, lime wedges, and topped with crispy pork skin. We tried an amazing dish of this at a stall in the Central Market for 30k VND (~$1.30) and a mediocre bowl of this at In Flames Club for 60k VND (~$2.60), with inedible cardboard pork skin (the other dish we had there was also just ok).

Pho - This classic noodle soup is delicious, but had so much variety that we felt that it could hardly be classified as the same soup. The first one pictured below was at HCMC airport ($5.50) and was pretty good, stock with lots of rice noodles, beef, onion, fresh herbs, and bean sprouts. The second was on a street corner in Hanoi (56 Hàng Chiếu) and was a tasty broth with rice noodles, chicken, lime, and some herbs in the broth for 30k VND (~$1.30). The third was served for breakfast at Ninh Binh Valley Homestay and was a big portion, but a little bland. This one was broth with noodles, tomato, onion, and meat. The last one was our favorite. This one was from a street cart in HCMC for 20k VND (~$0.90) and was a rich broth with noodles, onion, fresh herbs, and bean sprouts.

We make a version similar to the street cart one at home. I usually make the bone broth with roasted beef bones, roasted onion, ginger, cloves, cardamom, star anise, a cinnamon stick, and fish sauce (You can use this recipe for the basic process and ratios). If you are missing some of the spices you can find them at most Asian or Indian stores or only use some of them. I think the most important is the cardamom and the fish sauce. I put all this in the Instant Pot Pressure Cooker on high pressure for about 2 hours, then strain it, and add noodles and whatever meat and veggies I want. As long as the meat is sliced thinly it will cook in just a minute or two in the hot broth.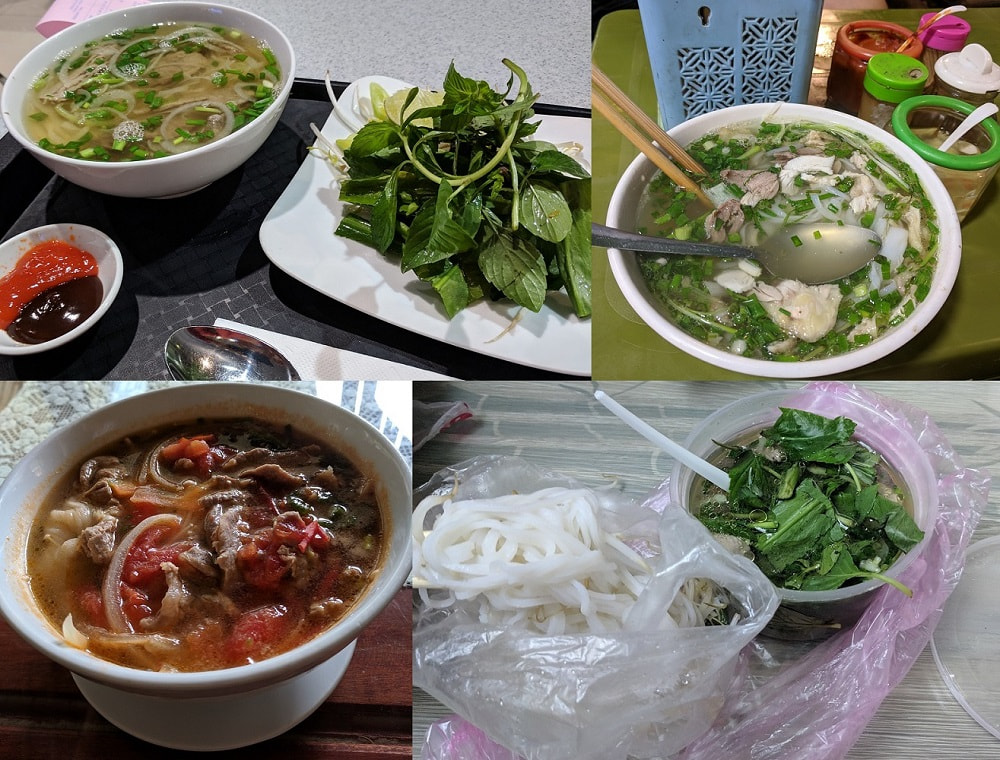 Bánh mì - Everywhere - Bánh mì varies across the country and even from shop to shop. This is a sandwich where just about the only standard thing is the French bread. There are some common fillings, but really no rules. In Hanoi we saw that the bread was often heated in a frying pan with some oil, whereas in Hoi An and HCMC the bread was set over hot coals. For me, a good bánh mì balances the crispy/soft bread with crunchy sweet/sour veggies and savory meat. These sandwiches vary from 15-60k VND (~$0.55-2.60). The best one we tried was from a street vendor in HCMC and had delicious grilled sausage as the protein.

Some others we tried in Hoi An were (same order as the pictures):

Bánh My Phượng - Barbecue pork with veggies for 25k VND (~$1.10). Some inside seating, great bread, tasty meat.

Bánh Mì Queen - Mixed - Veggies, pork, ham, egg, pate, egg sauce, papaya, and cucumber for 20k VND (~$0.90). Friendly staff, good sandwiches, lots of seating, many fresh juice, smoothie, and shake options.

Bánh Mì Sum marinated pork 20k VND (~$0.90). No seating, really flavorful meat and veggies, and good bread. My favorite of the ones in Hoi An.

Phi Bánh Mì - Phi Special - Cheese, egg, pork, pate, avocado, cucumber, papaya, carrot, and herbs for 35k VND (~$1.50). This was a good sandwich and the avocado was a great addition. Avocado lovers definitely need to stop here. Limited seating.

Mi Quang - Hoi An Specialty, can be found around Da Nang - This dish has wide rice noodles, a savory broth, and herbs topped with meat and peanuts. It was a great combination of textures. We enjoyed this but it wasn't quite as good as cao lầu. We tried this at the Hoi An Central Market for 20k VND (~$0.90).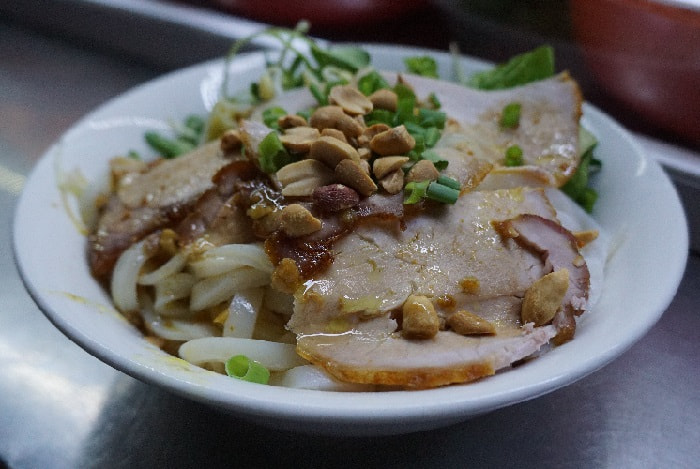 Ginger Chicken - Ninh Binh - This chicken may not look fancy, it was served how you see it, just a huge pile of chicken and rice, but it had amazing flavor! If you like ginger, this is a great dish. We had this at the Ninh Binh Valley Homestay for 90k (~$4). We saw similar dishes in the area, but generally made with pork.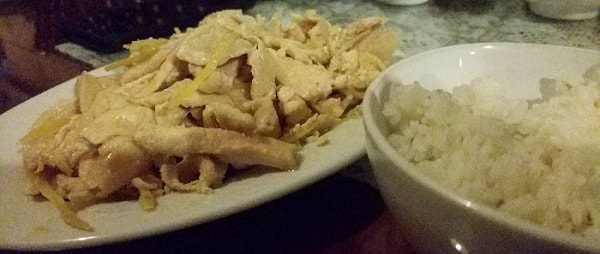 Fish - Fresh seafood and fish was available everywhere in many preparations. Fried fish pieces or whole fish were common, as well as whole fish marinated and cooked in a leaf.

Fried Catfish - Chả Cá Lã Vọng - Hanoi Signature - This fried catfish (pictured top right) is seasoned with turmeric and served with dill and scallions. We tried it at Little Hanoi for 80k VND (~$3.50). It was a little fishy and I felt like it was missing a sauce. Not bad, but not my favorite.

Basa with Tamarind Sauce - Ninh Binh - I had basa (catfish) with tamarind sauce (pictured lower left) one night and it was so good that I ordered basa with tamarind and tomato the next night. This is one of those dishes I have to learn how to make! The fish was perfectly cooked and the tangy sauce was amazing. We had this at the Ninh Binh Valley Homestay for 90k (~4). If you order this watch out for the tamarind seeds.

Red Snapper in Banana Leaf - Tried in Hoi An but available in the south - This was a whole fish with a marinade sauce of turmeric, lemongrass, garlic, sesame, onion, and other things, grilled in a banana leaf (pictured lower right). We tried this at Low Land Restaurant for 209k VND (~$9). The flavor was good but heavy. This was my first time eating a whole fish and it is a bit of an experience. The sauce on this one was thick enough to cover its face, but getting the meat off the million bones was tricky.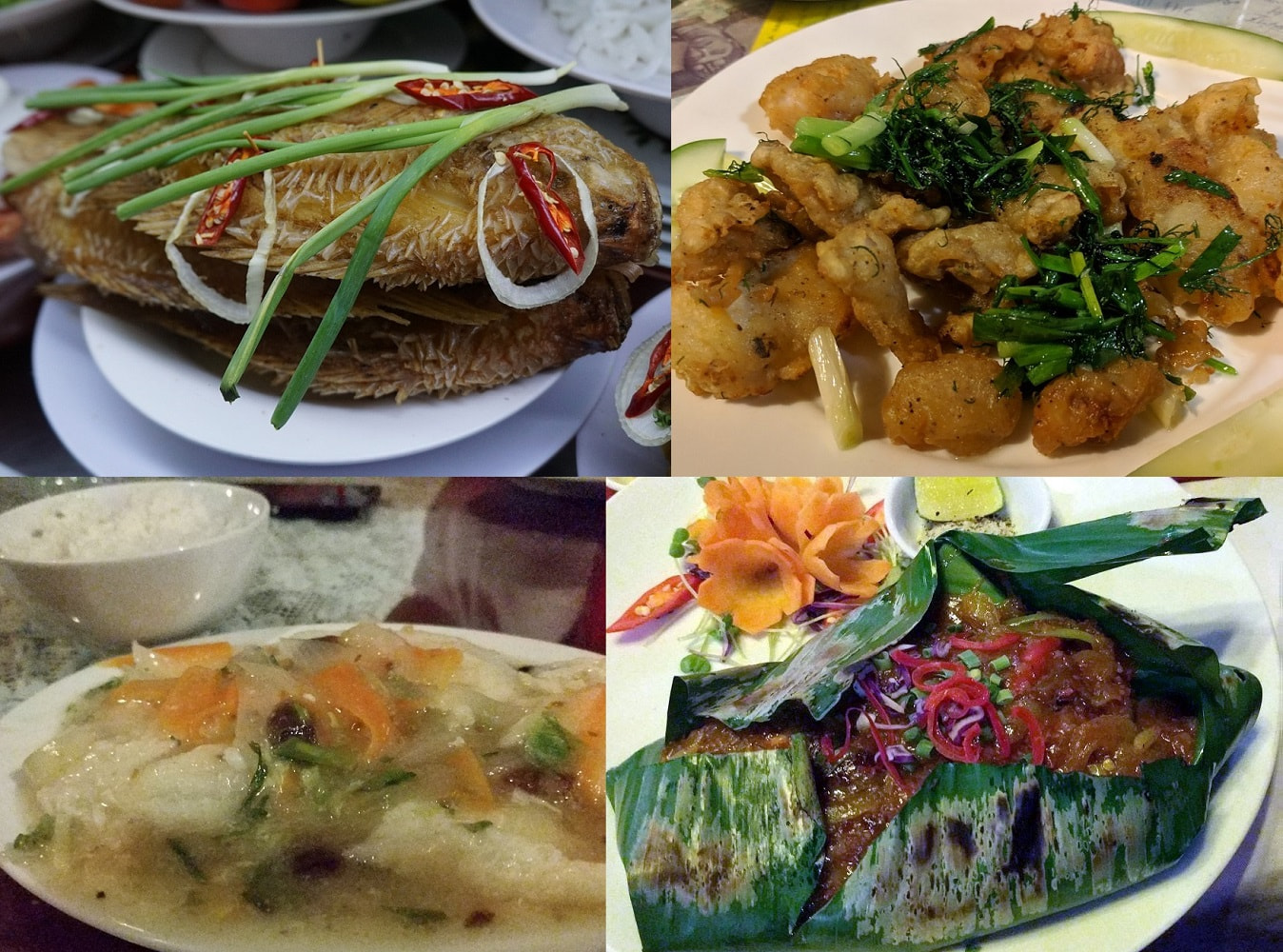 Goat - Ninh Binh Specialty - We tried this by the water at Tam Cốc River View HomeStay for 135k VND (~$5.80). This dish was a lot of fun to eat, making your own little rolls. The meat was tasty but a little tough. Some of the onions were raw, but others were caramelized. The dipping sauce had a great gingery flavor and the pineapple and cucumber were an unusual, but great pairing.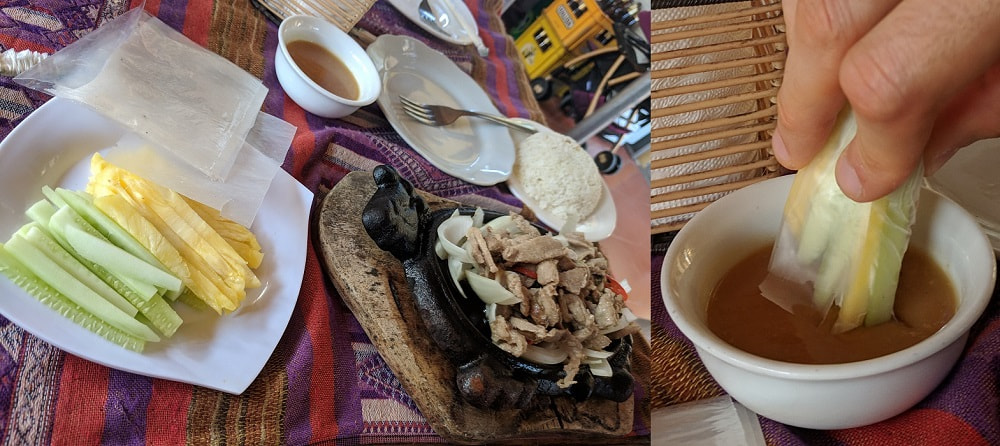 Broken Rice - HCMC specialty but can be found in most of the country - This can be topped with just about anything, but pork and pickled vegetables are most popular. We got this one in the HCMC Ben Thanh Street Food Market (a collection of vendors known for tourist safe average quality food for higher prices) for 60k VND (~$2.60). The meat had good flavor but was a bit chewy. Everything was pretty good all mixed up with the sauce, but not the best dish we had.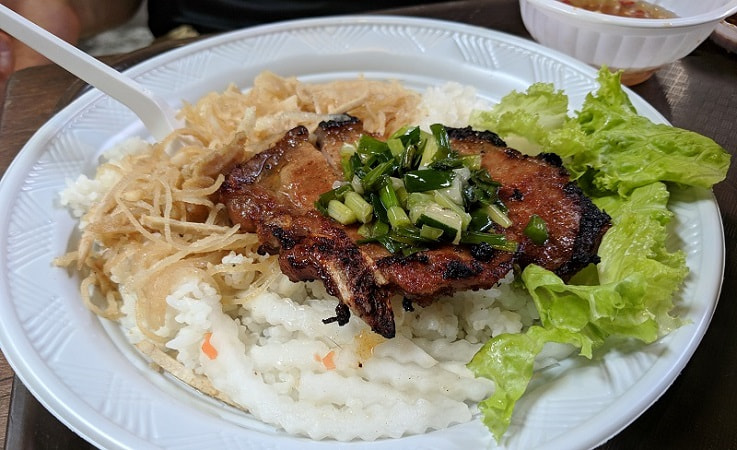 ---
Beverages
Fresh Fruit Juices - Fresh fruit juices, smoothies, and shakes are plentiful and inexpensive. Some places offer sweetened or unsweetened.

Tea - Plain black lea or Lipton was served with breakfast most places. Iced green tea is a common drink, but typically very strong and bitter.

Coffee - Coffee is a popular morning drink and is often served with sweetened condensed milk.

Egg Coffee - Cà Phê Trung - Hanoi Specialty - This is coffee topped with a mixture of whipped egg yokes and sweetened condensed milk. Sometimes this will be served in a bowl of hot water to keep it warm. Some places also offer a hot chocolate version for non-coffee drinkers which is extremely rich.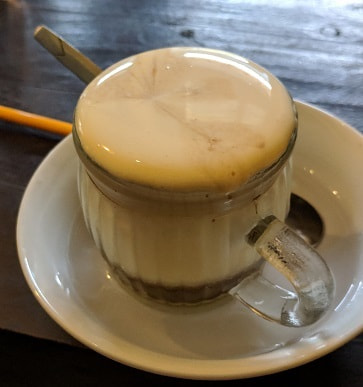 ---
Sweets
Fruit - Fruit is often served as a dessert.

Yogurt - Due to availability, most yogurt is made with sweetened condensed milk instead of fresh. This makes it thick and sweet. I found it to be fairly similar to vanilla Greek yogurt.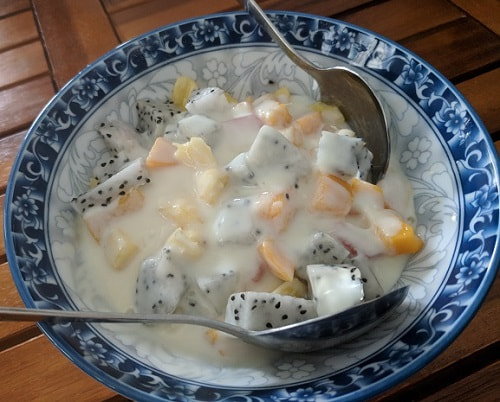 Che - This is one of the most popular dessert treats. It is usually made up of your choice of cold jellies, flavored crushed ice, beans, peanuts, coconut, tapioca pearls, and more layered in a bowl. It is nice and cool on a hot day but I am not particularly fond of this flavor/texture combo.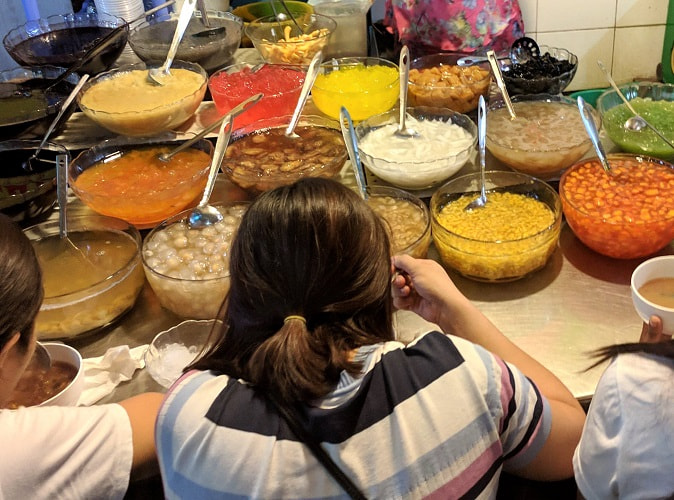 Hoi An Market Pastries - We sampled several of these for 5k VND (~$.20) each. They all were nice and mild, not too sweet. The jelly ones were not bad, but kind of weird and one had a filling (maybe crushed nuts). The muffin was just a semi-sweet cake. My favorite was the yellow square with the design on the top. It was a soft mung bean cake and the flavor had a touch of honey. We tried to get some at the airport to bring back, but they were rocks and the flavor was nothing like it. Hoi An Tourism talks a bit about some of the sweets specific to this region.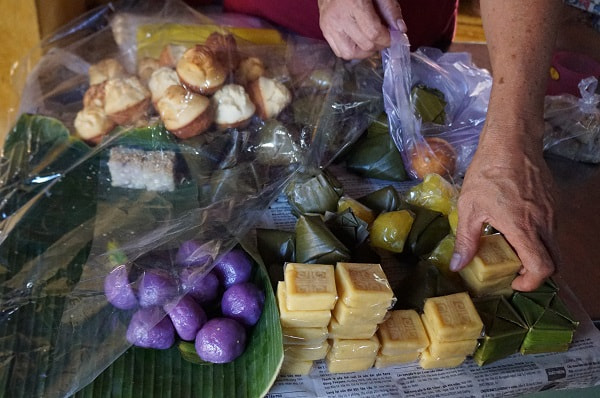 Mango Cake - Bánh Xoài - We only saw these in Hoi An - This is a rice dough filled with sweet peanuts (no mango, perhaps it is the shape). It is doughy, chewy, sweet, and crunchy all at the same time. Someone said it reminded them of a peanut butter and jelly sandwich. Not sure about that, but they were good. We saw them for 5k-20k VND (~$0.20-0.90) each. We tried to haggle with one of the vendors asking 20k each, since we were told that this was very high, and got 2 for 20k instead, but she cursed at us in Vietnamese as we walked away. This was a very quick exchange and none of the people with us were not sure why she was so upset, but this was the only negative experience we had haggling with anyone.

Coconut Cake - Tried in Hoi An - These round yellow cakes (pictured above) had very little coconut flavor and very little flavor in general, other than a light toasty flavor. They were soft and warm, with a dense dough.

Black Sesame Soup - Xi Ma - Tried in Hoi An - I really enjoyed this odd dessert soup. The primary ingredients are ground black sesame seeds and sugar. It is usually served warm in little bowls. We enjoyed ours on the little blue stools. I found it to have very little sesame flavor and it reminded me of the sweet bean filling used in buns. It was creamy, slightly earthy, had a light amount of sweetness, and some subtle floral notes. It looks weird, but I recommend giving it a shot. You can find it for 5k-20k VND (~$0.20-0.90).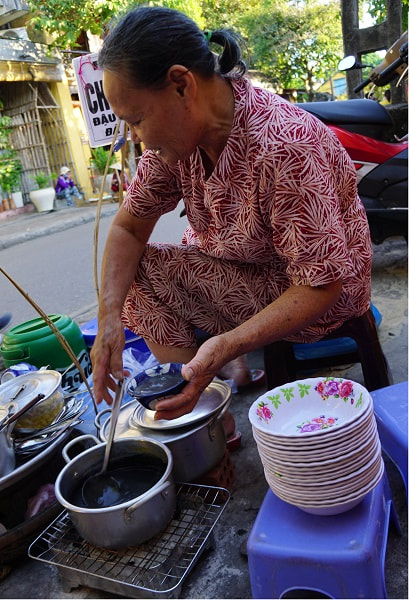 Peanut Brittle - This seemed to be a popular sweet. Many places sold individually wrapped sticks of brittle. The one pictured below has soft peanut brittle/toffee sandwiched between sheets of rice cracker. Convenient for keeping your fingers clean I suppose. We found this one at a bus stop shop. All of the brittles were very sweet.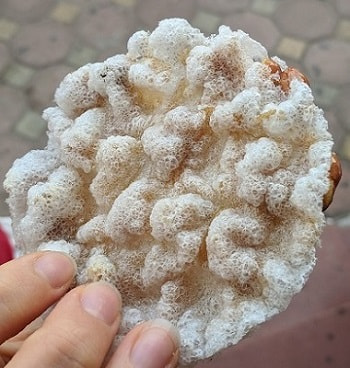 Ice cream - Most of the ice cream we saw was of the packaged variety but there were a few places advertizing ice cream or gelato. Most places it was about 30k-40k (~$1.30-1.75) for a scoop. In the coolers with the packaged ice cream they often also sold ice in fun flavors like passion fruit and coconut. This was perfect for a hot day.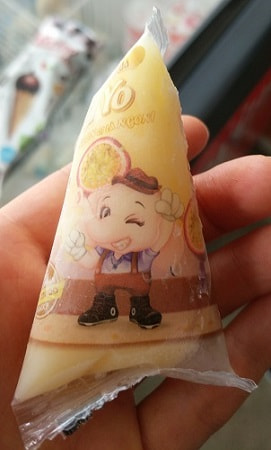 ---
Product Links: I am not sponsored by any of the products I link to. If you choose to make a purchase from one of the links of a product I listed or any other item a small percentage will go back to me to fund this website, at no additional cost to you. The products I link to are either ones I have used or similar if those are not available. Thank you for your support.
---
More?
Read about the delicious Food of Malaysia,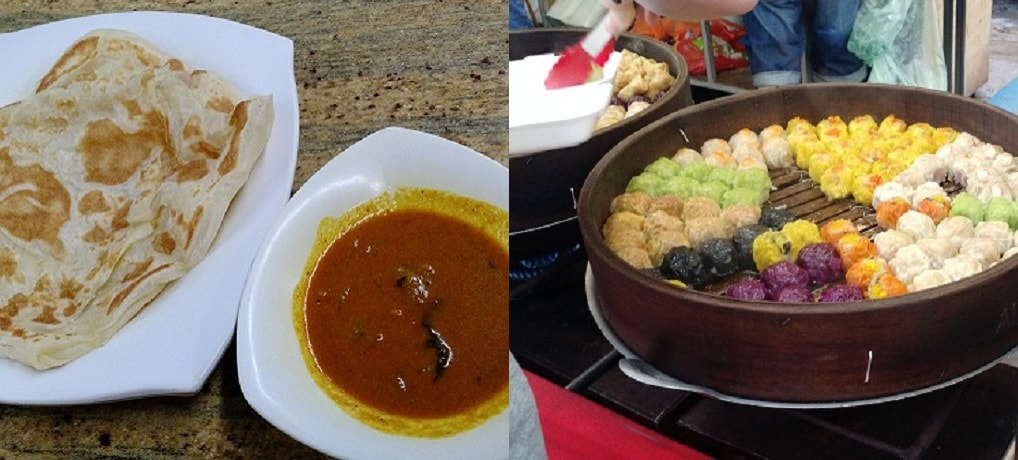 Or the amazing Peruvian Food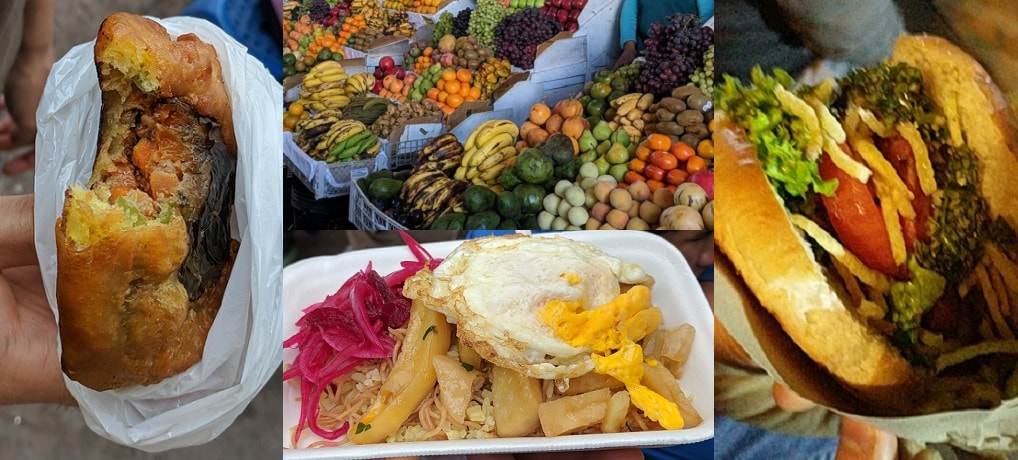 And the melting pot of Hong Kong Food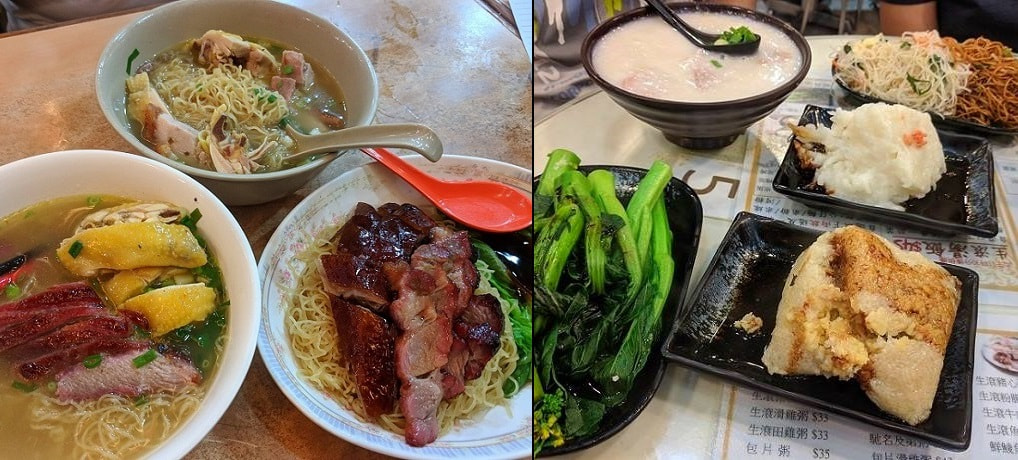 Check out our full Vietnam Trip Itinerary.