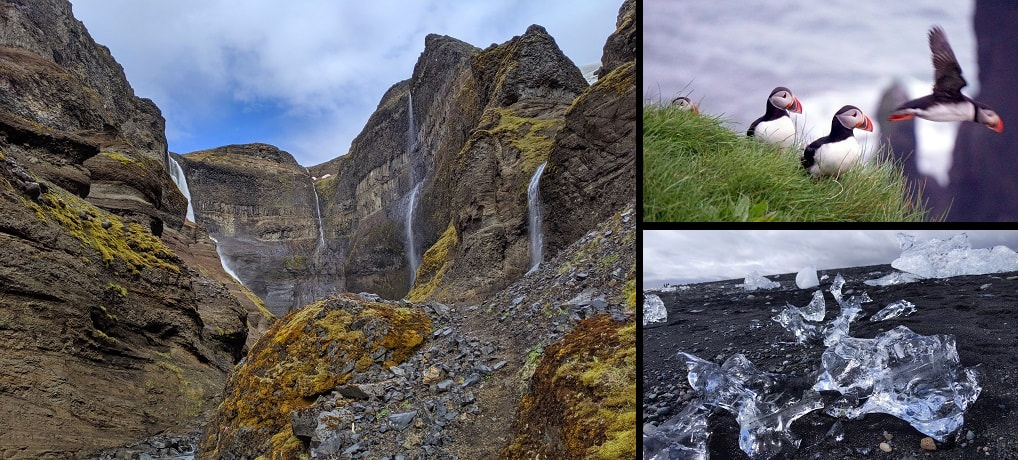 We took a lap around the country, starting in the lush green south, zigzagging through the fjords of the east, passing through the otherworldly volcanic areas in the north, and topped it off with rounding the Snæfellsnes Peninsula in the west. On this late May trip we generally had pleasant weather, but we encountered rain, fog, snow, wind, and sunshine. We saw tons of wildlife, waterfalls, geothermal hot spots, lava fields, and glaciers. It was an incredible experience!
The map shows our approximate route, most of the places we stopped, and a few we didn't have time for:
Day by Day Schedule
We did this in a campervan so we could have the flexibility to do whatever we felt like (and the weather allowed) each day and go at our own pace, but this itinerary could easily work with a car and prearranged accommodations.
---
Took an overnight flight from NY to Iceland. We picked up our campervan and headed into Reykjavík for some local food and a walking tour to help introduce us to Iceland. After the tour we went for a moderate hike to the Reykjadalur hot spring for a late night dip, taking advantage of the nearly 24 hours of light. We camped at Reykjamörk Hveragerði Campsite.
12.4 miles walked, 130 flights of stairs
---
Day 2 – Geysers, Secluded and Not So Secluded Waterfalls
We stopped at Geysir to see Strokkur Geysir (Geysir no longer erupts) and the geothermal area around it. Our next stop was Haifoss Waterfall, which was fantastic, but required some very rough driving to get to. We camped at Hamragarðar Campsite, within walking distance of Gljúfrabúi and Seljalandsfoss, and got to check them out after dinner, when the tourist busses had left.
8.9 miles walked, 151 flights of stairs
---
Day 3 – Waterfalls, a Glacier Hike, Sightseeing, and Puffins
The drive was stunning every day, but this day was one of the most striking. Our first hike above Skógafoss Waterfall was cut short by a trail closure, but was still nice. We checked out nearby Kvernufoss Waterfall, then went to Sólheimajökull Glacier for our guided glacier hike. We explored the area around Vik and managed to spot some puffins! We camped at Vik Campsite.
17.3 miles walked, 234 flights of stairs
---
We woke to a flat tire, but made the most of it exploring the town while it was mended. Back on the road we kept finding one beautiful spot after another to stop and see the countless beautiful waterfalls cascading off the cliffs. We stopped and checked out Fjaðrárgljúfur Canyon and went into Vatnajökull National Park to visit Svartifoss Waterfall with its unique backdrop of black hexagon basalt columns. We camped at Svinafell Campground.
10.0 miles walked, 116 flights of stairs
---
First we hiked part way around one edge of the Svínafellsjökull Glacier, then visited the serene west side of the Jökulsárlón Glacier Lagoon. We played with the ice on Diamond Beach (Breiðamerkursandur), then set off into the fjords. Each of the fjords had its own unique personality and we felt that it started out slow, but that each successive one got more beautiful as we headed north. We camped at Reyðarfjörður Campsite.
8.3 miles walked, 61 flights of stairs
---
We hiked through the snow at Bjólfur to the lookout point over the stunning Seyðisfjörður town and fjord. Along the highway we stopped for a couple roadside attractions like the turf buildings and Rjúkandafoss (Rjukandi Waterfall). We had a bit of a hunt to find Studlagil Canyon, but we found it and its clear blue water and steep walls of hexagonal columns were incredible. We made one last stop at Hverir Geothermal Park before driving down into the Myvatn Lake area to stay at Vogar Campground.
10.3 miles walked, 168 flights of stairs
---
Day 7 – Explored the Hot Springs and Volcanic Formations around Lake Myvatn
We checked out Grjótagjá and Stóragjá Cave Hot Springs first thing in the morning. Then we hiked the Hverfjall volcanic crater (aka. Hverfell) and strolled through the volcanic formations of Dimmuborgir. We stopped a couple other places to snap a quick picture along the way and headed for Goðafoss Waterfall, which was cold but incredible. On the road to Akureyri we took the scenic (and free) route along the fjord, grabbed a late lunch, and saw a bit of the city. We went for a chilly evening dip at Fosslaug Hot Spring, and another dip at Steinsstaðir Campsite.
11.1 miles walked, 145 flights of stairs
---
We tried to stop at Víðimýrarkirkja Turf Church, but it was closed, so we moved on to hike around Kolugljúfur Canyon for more waterfalls. We headed up the Trollaskagi Peninsula to see the stone dragon Hvítserkur (or troll depending on who you ask), and stopped a few places to watch the seals. We explored a bit of Stykkishólmur and stayed there at Stykkishólmur Campsite, just off the golf course.
7.0 miles walked, 97 flights of stairs
---
We took a bumpy but other worldly drive through the Berserkjahraun lava fields. Then we saw the picturesque Kirkjufell Mountain and its famous (but not so impressive) companion Kirkjufellsfoss Waterfall. Our attempt to climb Kirkjufell ended unsuccessfully (due to the crumbling trail) with our ego a bit bruised, but our bodies intact. We stopped at Grundarfoss, Bæjarfoss, and Svödufoss Waterfalls, which lacked the backdrop of Kirkjufell, but also the crowds. Our last stop of the night was Skarðsvík white sand beach surrounded by lava fields, before backtracking to Hellissandur Campsite for the night. The town of Hellissandur was decorated in a variety of murals and street art, which was a nice surprise, and made a great evening stroll.
10.4 miles walked, 153 flights of stairs
---
We hiked up the Saxhóll Crater, then headed to Djúpalónssandur, a unique volcanic black stone beach with lava formations, a shipwreck, and lifting stones where you can test your strength. Our last stop in Snæfellsjökull National Park was Gestastofa Visitor Center, which is one option for hiking to Londrangar with some interesting playground features along the way. One of my favorite walks of this trip was between Hellnar and Arnarstapi. The trail passes through a lava field, hugging the cliffs of the coast on one side and framed by mountains with Snæfellsjökull Glacier in the distance on the other. The sea arches, including Gatklettur, are remarkable, but the entire walk is nice. Rauðfeldsgjá Gorge was our next stop and it was nice but a little crowded. Ytri Tunga (Seal Beach) was a fun experience. There were a bunch of seals splashing around in the water, slapping their tails, and we managed to spot one on shore. After a very full day we picked Snorrastaðir Farm Campsite as our stop for the night and since it had its own volcanic crater we were obliged to check it out, so we had one last hike to Eldborg.
16.2 miles walked, 178 flights of stairs
---
Day 11- Hiked to Glymur, Visited Reykjavík, and Flew Home
We got an early start to hike Glymur before the crowds and were mostly successful at crossing the rivers. We stopped on Reykjavík for one last bowl of lamb stew and some more sightseeing, dropped off the campervan, and flew home.
11.5 miles walked, 147 flights of stairs
---
Budget
Approx $3225 total for two
Flight NY to Reykjavík Roundtrip: $990
Campervan (11 days off season): $1490
Diesel: $270
Camping Fees: $260
Tours: $200
Sim Card (5 GB + talk/text): $15
Flight can often be found for much less, but we were caught in the scramble when WOW Air went under and had to change airports, dates, and pay a little more to get replacement tickets.
Check out my Iceland Tips Article for a few things you should know about traveling in Iceland, and my Iceland Camping Article if you are considering camping.
Food: I don't include food on my budgets, but keep in mind that Iceland is an expensive country so you may want to budget a little extra. If you cook for yourself it might not be that much more than normal, but eating out at $30 per burger adds up in a hurry. Meat and fresh vegetables are expensive, but frozen Icelandic fish and frozen vegetables are reasonable, and of course, an Icelandic staple, hot dogs are always plentiful.
We spent about $190 on groceries, which included things like smoked salmon, a few prepared heat and serve meals, and lots of things just to try. We had 4 meals out, a couple ice creams, a hot dog, and a sandwich at the airport which came to about $140 total. Check out my Iceland Food Article for some meal inspiration, general pricing, and foods you should try.
Budget Tips:
There are many pre-made meals and refrigerated soups in the grocery store which are high quality and can be a tasty and quick budget meal option. About $9-15 for 1 kg of hearty soup.

Some Kronan grocery stores, like the one in Vik have "ugly" product discount bins and mark down their bakery items towards the end of the day. We found things like a damaged cake, a bag of apples (with one or two bad), and a box of peaches (with one bad) for less than $1 each in these areas.

Bulk candy was 50% off at Olís on Saturdays.

You don't have to go through the toll tunnel by Akureyri, and the free detour around the fjord is very pretty.

A battery pack (for charging on the go and at night) and a travel inverter (for charging our electronics in the car/van) were less to buy than the cost of renting and were very useful to have.
More Time?
The possibilities are endless! If we had a few more days and came a couple weeks later we would have loved to go into the highlands (by bus, not campervan, due to the river crossings and F-Roads). Due to time we also skipped taking the ferry to the Westman Islands and driving up to Húsavík and Ásbyrgi Canyon through the "Diamond Circle." The West Fjords are also supposed to be an isolated gem worth exploring.
Less Time?
You could probably cut a day out of the itinerary and still do it but if you need to cut more you would have to modify it a bit.
8-9 Days: Cut out the Snæfellsnes Peninsula or cut out the North. If you eliminate the North you would drive just to the Diamond Beach (like most tourists), then turn around and come back the way you came and go up the Snæfellsnes Peninsula, or do it first.
5-7 Days: Pick two (or pick one and take your time): the South, the Golden Circle, the highlands, the Westman Islands, or the Snæfellsnes Peninsula.
2-4 Days: Pick one of the options above.
---
Want to Learn about Icelandic Cluture and History?
I like to have a little context and usually read at least a book or two before I go. Burial Rites by Hannah Kent is a great historical drama based on true evens that takes you deep into the curlture and life of the past while slowly revealing the truth behind a murder.
For a bit more of a modern take on Iceland I loved The Little Book of the Icelanders by Alda Sigmundsdottir which explains some quirks such as the laws around approved names and much more with a humorous voice. Alda Sigmundsdottir also has some great books on the sagas, culture, lifestyle of the past, and more. The Little Book of the Icelanders in the Old Days and on the sagas The Little Book of Hidden People are two more I recommend if you want to learn a little more. Here books are all short easy reads and come from a native Icelander who spent her teenage years abroad, gifting her with an outside prospective.
---
Product Links: I am not sponsored by any of the products I link to. If you choose to make a purchase from one of the links of a product I listed or any other item a small percentage will go back to me to fund this website, at no additional cost to you. The products I link to are either ones I have used or similar if those are not available. Thank you for your support.
---
More?
Info and Tips on Campsites around the Ring Road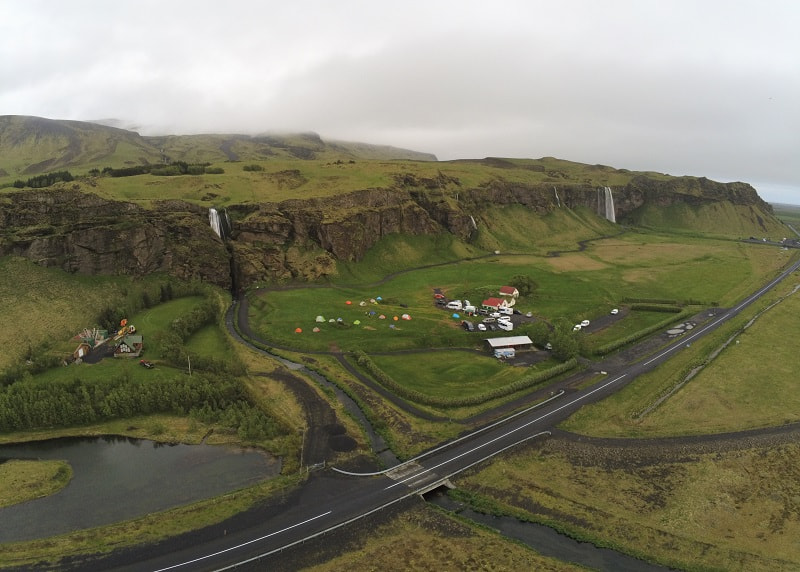 See our full Italy Trip Itinerary.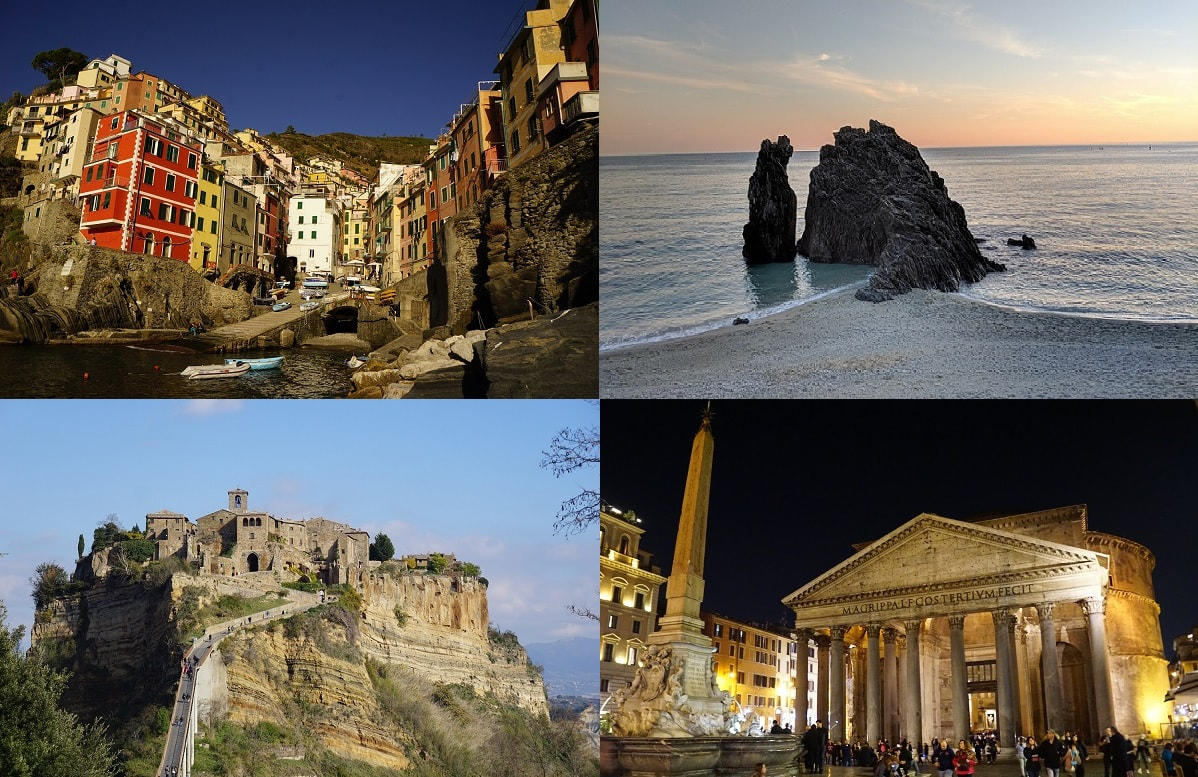 Check out our full Peru Trip Itinerary.