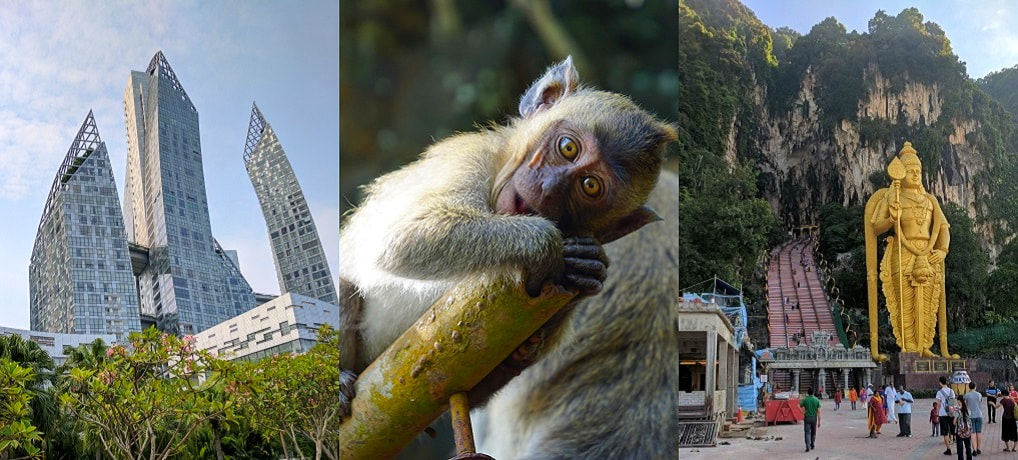 We got an invitation for a global meetup in Singapore with several of my husbands colleges from around the world for a conference. We have been interested in going to Asia and figured this was a one time chance to share some of the experience with this group so we went for it. We started in Singapore, flew to Krabi, Thailand for a tropical adventure, and finished in Malaysia with a tour of Taman Negara National Park and explored the capital city of Kuala Lumpur.
Day by Day Schedule
---
Day 1 – Flight to Singapore
Flew from NY to Singapore via Taipei, Taiwan, about 24 hours.
---
Day 2 – Singapore
Arrive in Singapore and stayed in Chinatown. Ate dinner at Lau Pa Sat Market
---
Day 3 – Singapore - Walkways and Universal Studios
Walked from Southern Ridges to Henderson Waves Walkway, to Mt Faber, ate at Food Republic food court in Vivo City, walked Across the Sentosa Gateway Boardwalk to Universal Studios, and ate in the Clarke Quay canal district.
---
Day 4 – Singapore - Walking Tour, Coast Walk, and the Light Show
Took a tip based Free Walking Tour of the Chinatown area, tried Michelin Star street food soya chicken, walked the coastal boardwalks to Keppel Bay and the Harbor Front area, had amazing roti at Makansutra Glutton's Bay, walked across the Helix Bridge at night, and watched the light show at Marina Bay Sands.
---
Day 5 – Singapore - Gardens by the Bay and flight to Krabi, Thailand
We saw a little of Gardens by the Bay, said good bye to our friends, and flew to Krabi, Thailand.
---
Day 6 – Krabi, Thailand - Rented a scooter, hiked Tab Kak Hang Nak National Park, and dinner on Noppharat Beach.
We found a scooter rental, grabbed some lunch in Ao Nang and booked a tour for the next day, rode to Tab Kak Hang Nak National Park, hiked to the top, and had a relaxing dinner on Nappharat Beach while watching the sunset.
---
Day 7 – Krabi, Thailand - Took the Phi Phi Island Boat Tour
Went snorkeling at Hin Pae, did a drive by of Viking Cave, went swimming in Pi Leh Bay Lagoon, stopped at Monkey Bay, stopped for picture on the beach at Maya Bay, had a buffet lunch at Phi Phi Don, snorkeled and watched naughty monkeys on Bamboo Island. Finally had another dinner on Nappharat Beach.
---
Day 8 – Krabi, Thailand - Climbed Tiger Cave Temple and took a long tail boat to Railey Beach
Climbed the 1000 stairs with monkey obstacles to the mountain top Tiger Cave Temple and took a long tail boat to Railey Beach and caves.
---
Day 9 – Thailand to Kaula Lumpur Malaysia - Explored some street markets in Kuala Lumpur
Explored the Central Market and Jalan Alor markets.
---
Day 10 – Malaysia - Visited the deer and elephants on our way to Taman Negara National Park
We started out tour of Taman Negara. On the way to the park we stopped at an animal sanctuary and feed the deer and elephants.
---
Day 11- Malaysia - Taman Negara National Park
Did a jungle hike and learned about survival in the jungle, then did a rope bridge canopy walk. In the afternoon we visited an indigenous village, learned how to start a fire and use a blow dart. Played in the rapids in the power boat and took a night jungle tour.
---
Day 12- Malaysia - Travel to Kuala Lumpur
Saw old city hall, walked around the city, and had dinner with a view at the Hemisphere Restaurant.
---
Visited Batu Caves, the Petronas Towers, and KL Park.
---
Day 14 - Going Home
Flew back to NY, again stopping in Taipei, Taiwan.
---
Budget
Approx $2870 total for two
NY Flight Roundtrip: $1400
Singapore Lodging (3 nights): $250
Universal Studios: $70
Singapore -> Thailand Flight: $115
Thailand Lodging (3 nights): $245
Scooter Rental (1 week): $45
Phi Phi Islands Boat Tour: $70
Thailand -> Malaysia Flight: $125
Malaysia Lodging (3 nights): $130
Taman Negara Tour: $370
Transportation: $40
If you are on a budget, with the exception of Singapore, you could find comfortable lodging for about half what we paid.
---
More?
Check out our full Hong Kong & Vietnam Trip Itinerary.