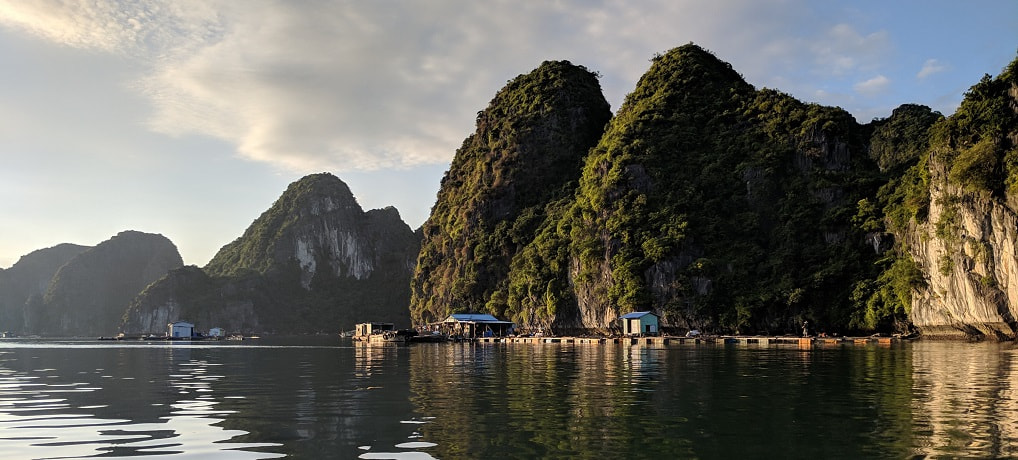 For me, Ha Long Bay has been one of those dreamy mystical places I have wanted to visit for years. It inspires images of tropical beauty, ethereal mountains shrouded in mist, and people living simple lives. It is all this and more, but I also found it to have a dirty side that I did not anticipate. Of course Ha Long Bay is far from a secret destination, so I expected it to be touristy and I wasn't surprised that the boats weren't eco-friendly, but the amount of pollution was shocking. That said, this place is still absolutely breathtaking, you just might want to temper your expectations accordingly and plan to spend more time out of the water.
We spent two nights on Ha Long Bay, one on a boat and one on Freedom Island. This was all arranged as part of our Intro Travel tour with Oasis Bay Party Cruise.
---
Ha Long Bay
The People
As you can see from the video above, the beauty of the place and people is epic. What really struck me about this place was how much of the culture seems untouched. Other than some modern building materials and the occasional solar panel, most of the villages had very little evidence of any outside influence. These people appeared to be going about their lives as if the tourists didn't exist, using some of the same fishing techniques that they have been using for generations.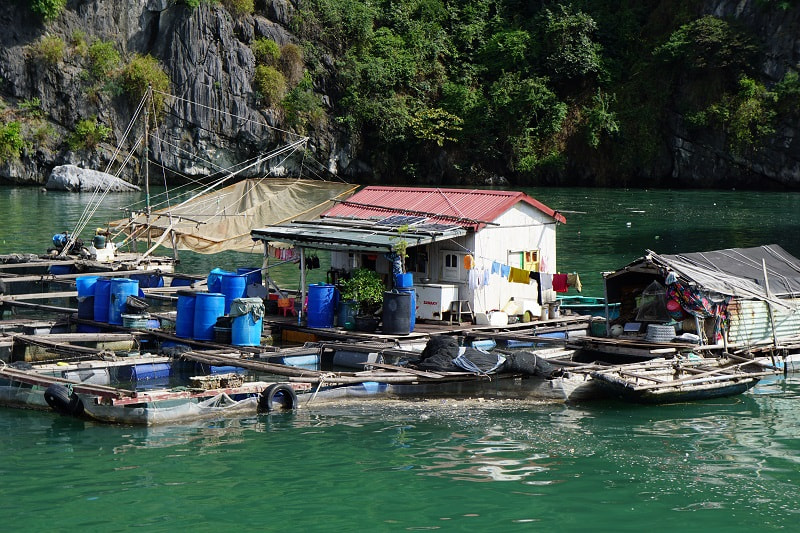 We saw people fishing with nets, traps, lines, and giant lighted nets. We saw many bottles that appeared to be trash, but on closer inspecting had lines attached to them. If you see these please leave them alone. They are someone's livelihood. The lighted nets seemed to be very popular. Many people sleep during the day and come out at night to fish. They lower their nets and use huge light bulbs to illuminate the area and draw the fish. Some of these were bright enough to light up entire bays.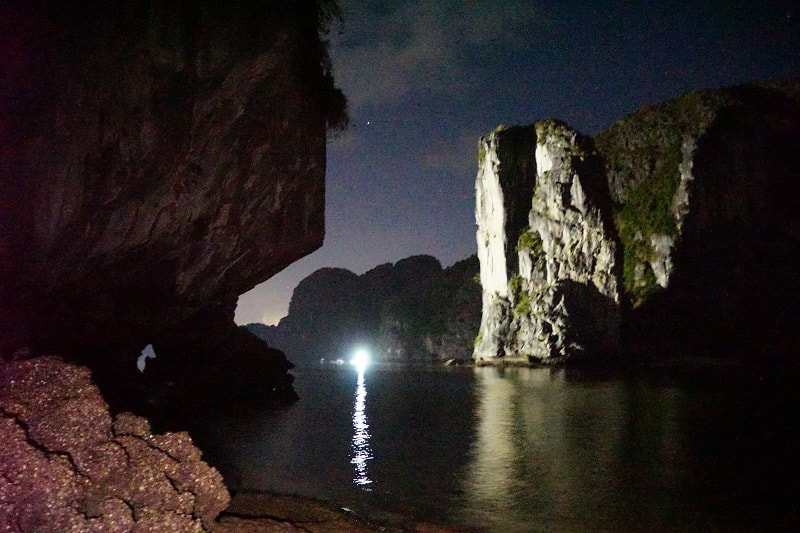 Most people we passed on the boat didn't even look up, immune to the daily drone of tourists; but a few acknowledged our presence. When we were on the party ship one boy raced around us while playing imaginary drums with a piece of wood on the bow of his boat. While it was easy to photograph the people without awkward stares since they rarely looked up, I felt kind of guilty. I wonder what it is like to have your life on display every day and to be in hundreds of tourist's scrap books.
For a bit more on the history of the area and the people see the World Monument Fund Site.
Swimming
While the water quality varied from place to place, and we did have one clean looking beach, in general it was abysmal. The water shimmered with oil in both the port and the spot we stopped at to kayak through the caves. Tourist ships and fishing boats alike would belch thick black smoke every time they started. Once underway this would dissipate to a light haze in their wakes. Swimming from the ship was also complicated by large jelly fish that were attracted by the heat of the vessel. Plenty of people did go in and enjoyed it, but not me.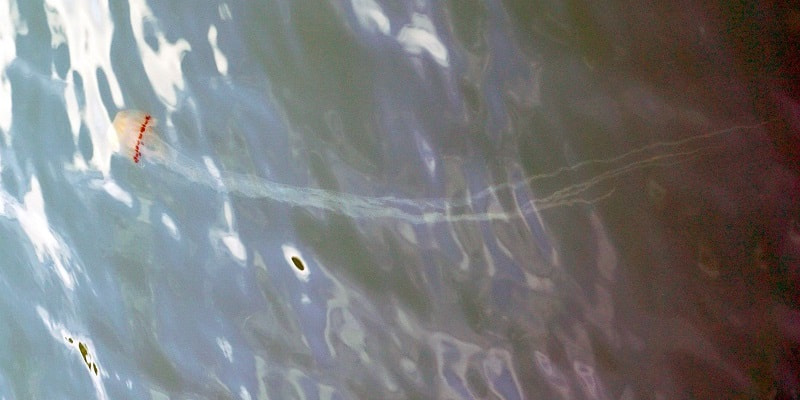 Kayaking
The waters were perfectly calm and perfect for kayaking. We had a couple outings and each was very different.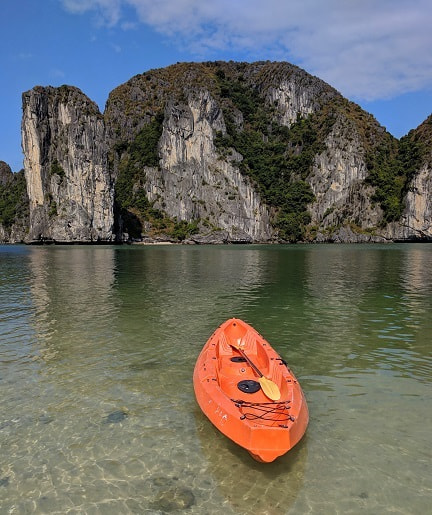 The first was a group kayaking outing from the boat, through some caves, to hidden lagoons. This area was beautiful but crowded. On the way back through the main cave there was a bit of a traffic jam, complete with a frustrated guide trying to direct people to go one at a time and stay to one side to avoid the current and low hanging rocks. One two-person kayak actually got stuck with a rock over the kayak between the two occupants. This excursion was pretty, safe, and humorous, but crowded and polluted.
Freedom Island Kayak Routes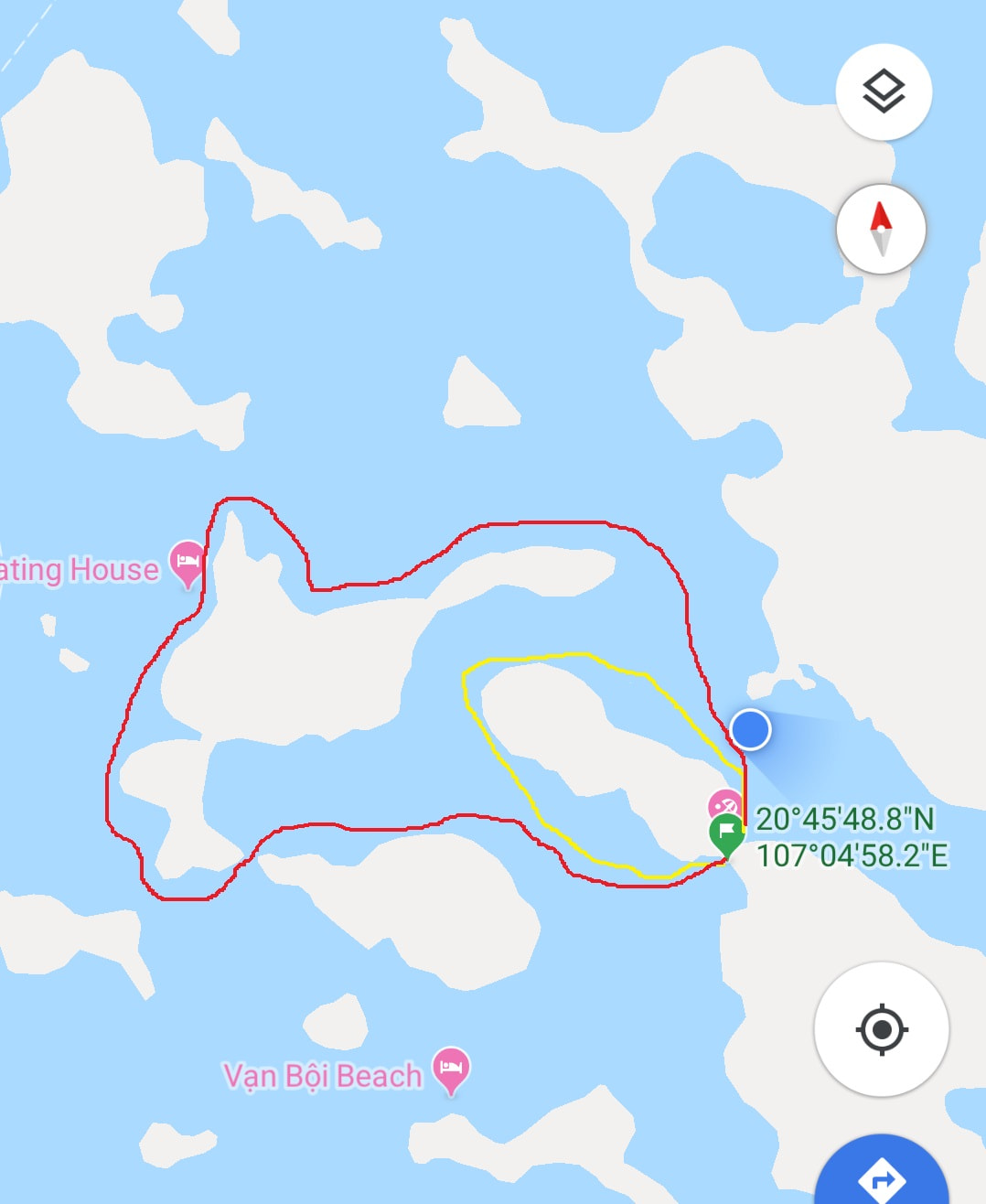 The others were from the beach of Freedom Island. The map above shows a yellow short path and a red longer path. The yellow was the way we were told to go (not the other way because that lead to open sea and shipping lanes) and was a nice casual 15 minute kayak trip around the tip of the island. There were a couple isolated beaches, the wreckage of a broken concrete boat, and a cute little floating house.
The yellow path was nice but we decided to venture out exploring. Cell signal is very weak out here so we didn't have a map to follow. We figured that if we stuck to the land we would either come around it eventually or turn around and go back. We started from the North side and as we turned the corner we realized an entire village had been hiding just around the bend. It was fascinating and stunning. Most of the people were inside resting up for a night of fishing, so we were able to paddle around without feeling intrusive. As we continued the sun started to set and we started to wonder just how big this island was. At this point we wouldn't make it back in time if we had to turn back. Just as we started to get really nervous we found a break and we were back on the other side with time to spare. The red loop took us less than an hour with lots of site-seeing, picture taking and just floating around. It could probably easily be done in half that.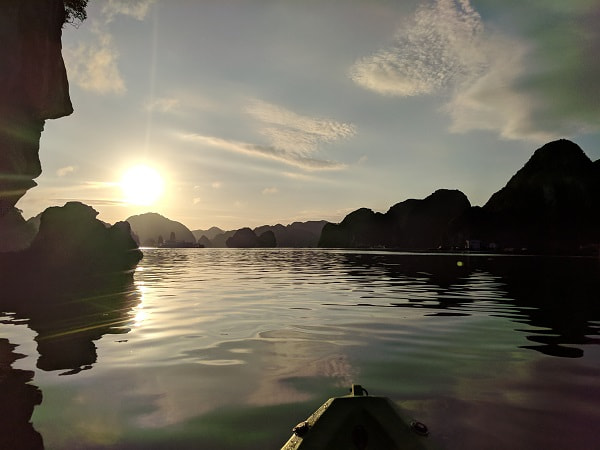 There are many other small islands that were easily close enough to paddle around; so, if kayaking is your thing I recommend you download a map ahead of time and explore.
Rock Climbing
The rocks here are jagged, porous, and easy to free climb, but razor sharp. After climbing one boulder, I found myself bleeding from a number of cuts I never even felt.
The City
I would not recommend staying in the city/town of Ha Long. While it does have many accommodations, it is extremely touristy, a bit dirty, and there is really nothing to see there. The sites are out on the water. We took a bus in from Hanoi, and many tours include this in their price.
---
The Cruise
Picking a Tour - I was not overly impressed with Oasis Bay Party Cruise, but I will say that everything felt safe and well organized. That is not something that can be said for all of these tours, so be careful when selecting one. This is one of the things that it would be worth spending a little extra time to research, instead of just booking whatever you stumble across. There are some real nightmare stories out there.
Oasis Bay Party Cruise
Staff - friendly
Rooms - clean, large, pretty, hard beds
Bathroom - large and functional but no hot water and the shower makes the entire floor wet
Food - poor, bland but edible, lots of prawns and seafood
Beverages - pricey, water was expensive so bring some with you ($1 per small bottle). A Platypus doesn't take much space, is inexpensive, and a convenient way to carry some.
Jacuzzi's - slightly dirty water but worked
Atmosphere - party boat with music
Island - great location, but basic accommodations
Activities - several and all included
Boat - old but clean
One of the big bragging rights of this company is that they follow a different route than most of the other boats. This was true. While we weren't alone, there were only a few other boats with us once we got out of port. Having so many boats together can obstruct the view, degrade the air quality from all the exhaust fumes, and occasionally be dangerous with boats in close quarters (especially when kayaking or swimming).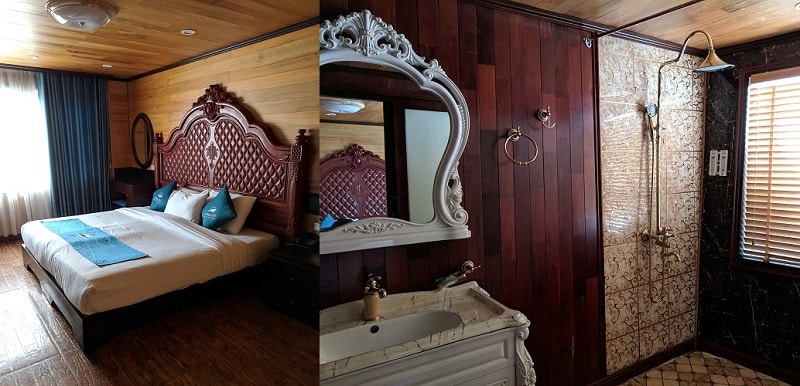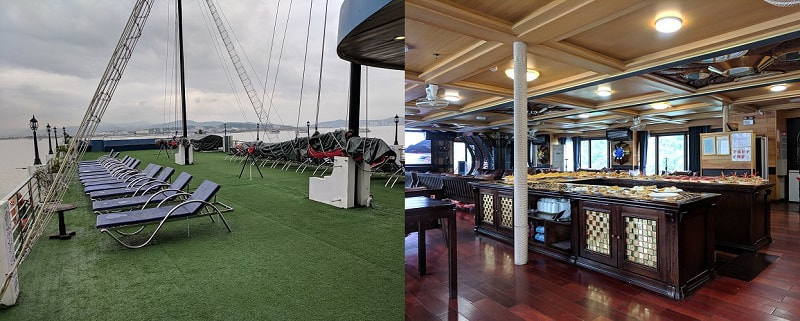 Itinerary - They had options for tours with or without a night on the island.
Island Option:
Day 1 - A bus picked us up in Hanoi in the morning, took us out to a tender, which took us to the boat. On the boat we had lunch, then went cave/lagoon kayaking at a set time, and had some free time. After dinner they had silly yoga (with or without a drink), a short crew song and dance show, then a night of star gazing or partying.
Day 2 - After breakfast on the boat a smaller boat took us to the island (about 1 hour ride). There we had lunch and a free afternoon to sleep, swim, kayak, or play volleyball. After dark we had dinner, then a chill night of relaxing and playing games.
Day 3 - In the morning we took a rickety tender to a small boat, and took that back to the big boat. On the boat we got showers, learned to make spring rolls, and had lunch on the way back to port.
Other Notes
Their website has a list of all their tours with pricing (probably less if you book in Hanoi, like nearly half the people onboard did, many just a day or two before) and a full menu with prices of the things you can purchase on-board. They use a tab system that you pay off in the morning, so things can add up in a hurry if you are not careful. Make sure you have enough cash.
The boat is a bit too bright for star gazing, but there is a semi-quiet upper deck if you want to get away from the party or just have a conversation. They play loud music late into the night, so sleeping may be a challenge.
A couple of the staff members on the island and the boat were eager to talk with us to work on their English. Both of them said they were working this job to improve their English so they could improve their lives. They were all very nice.
Overall, I wouldn't recommend this particular boat tour but I wouldn't recommend against it either. It was nice and I'm glad I did it.
---
Freedom Island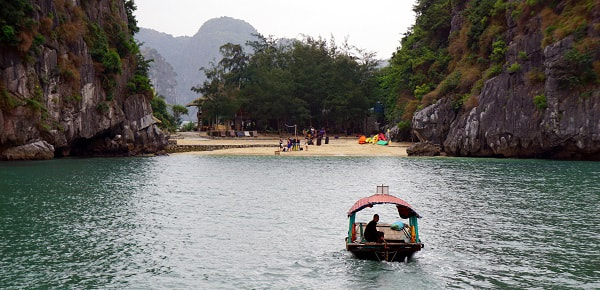 This island is special because the camp section is a narrow strip of land between two beaches and two mountains. It was a really pretty spot. One of the beaches was much cleaner than the other, a victim of the current. The setting was stunning. There was a small raft that you could swim out to and jump off of on the clean beach and a volleyball net on the other. The volleyball was missing when we were there so we played with a rugby ball. A little silly, but it worked. The clean beach had lots of shells and tiny nearly invisible crabs that would scuttle away at impossible speeds when anything came close to them.
Unlike the boat, this place had a very relaxed vibe. There was no loud music and there were hammocks everywhere. Some people even braved the bugs and slept in them overnight. There were kayaks on the beach that you were welcome to take any time you wanted, and mats for chilling in the water. Their website advertised cliff jumping, but this was not mentioned by the staff, so it may or may not be an option.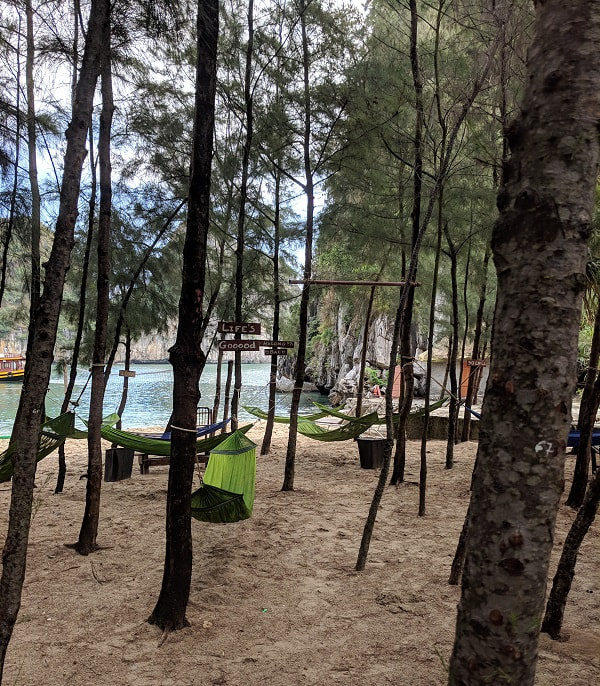 Accommodations - The main building has an open air dinning/gathering area on the first level and bunk rooms on the second. The bunk rooms have 8-16 beds per room, a/c, fans, and a bathroom/shower. Power is provided by a generator, so it was only on at night. There were some additional cabanas with more bunks. The mattresses were softer than the ones on the boat. There is a separate building with two more bathrooms/shower. The showers are a luke warm mist. Pleasant, but not quite enough to wash the sand and salt out of your hair. They have little foot pools to rinse your feet when coming off of the beach to try to limit the sand in the rooms.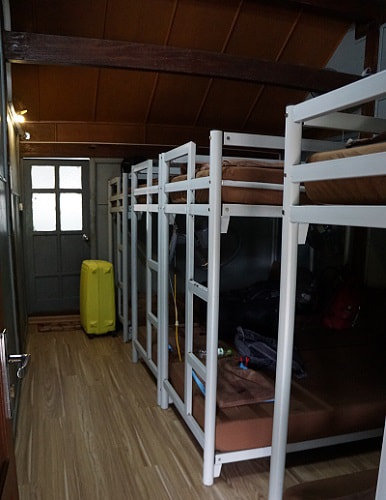 Overall - The island is basic but a very nice location. I would highly recommend it. Especially when traveling on the go, it is nice to have a low key day to relax and explore at your own pace. The kayaking through the fishing village was a magical experience for me.
---
Product Links: I am not sponsored by any of the products I link to. If you choose to make a purchase from one of the links of a product I listed or any other item a small percentage will go back to me to fund this website, at no additional cost to you. The products I link to are either ones I have used or similar if those are not available. Thank you for your support.
---
More?
Hanoi and Ninh Binh are both nearby and have good tourism infrastructure. These areas may not be far apart, but they might as well be different worlds with the contrast between rural and city life.
Ninh Binh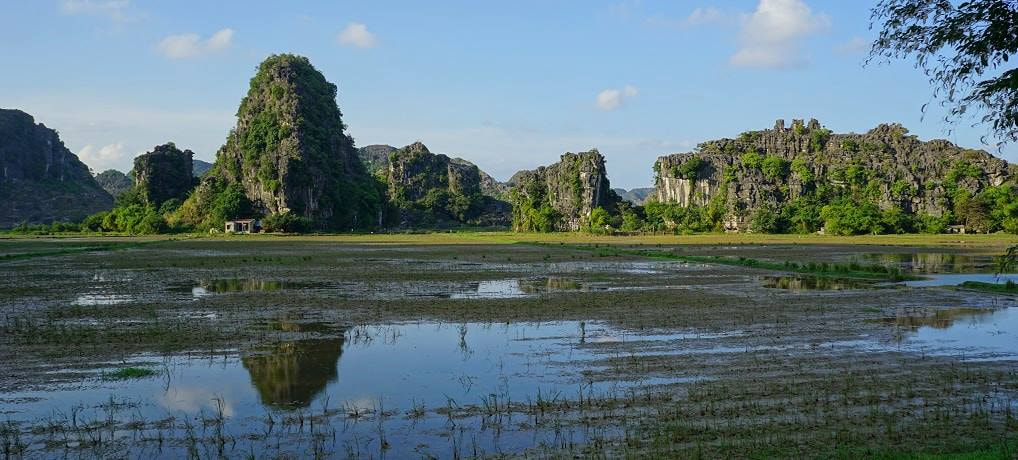 Hanoi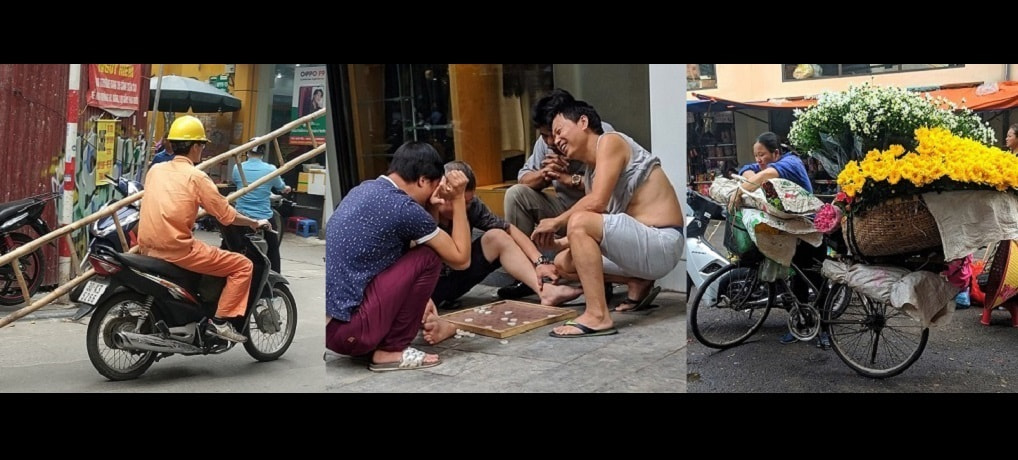 Check out our full Hong Kong & Vietnam Trip Itinerary.