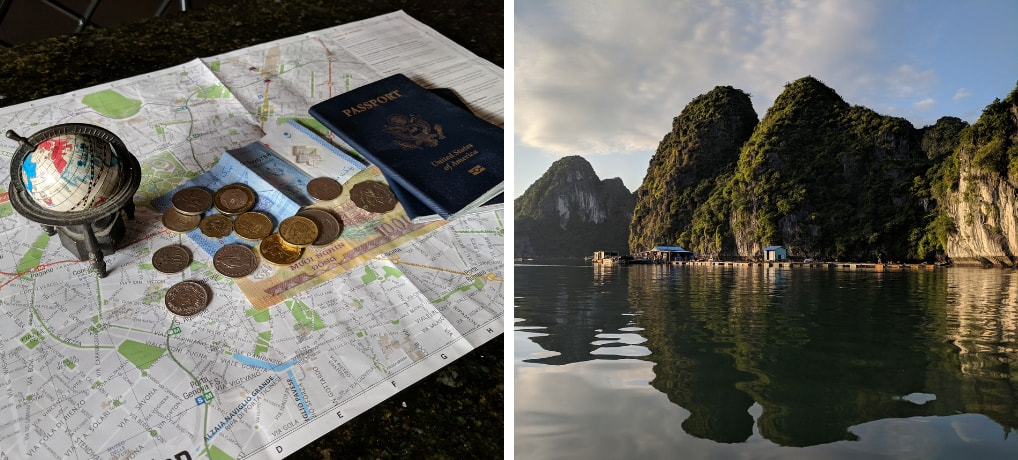 This is some general information on traveling to Vietnam. Some of this we knew before we got there and some we learned along the way. I cover:
---
Water
Water in Vietnam is not safe to drink unless it is boiled first. Generally locals do not drink it either, without filtering or boiling it. This actually makes it a little safer for you because, unlike some countries, they will probably be treating the water regardless of who it is intended for. It is still good to be careful, but generally things like ice are perfectly safe, but always use your judgment. Some people advise against brushing your teeth with tap water. We did, we just didn't swallow it, but I'm not saying it is recommended. Boiling the water kills the bacteria so tea is fine and you can boil, cool, and drink it if you need to. Many hotels had a complementary water jug out for us to refill our bottles and we took advantage of that.
Cost - Bottled water is available everywhere. We have heard stories of people refilling and resealing them so we stuck to official shops (Circle K is their 7/11 equivalent). It varied but about 10k VND (~$0.45) per liter is reasonable. Restaurants generally charge quite a bit more for water (we saw at least one place where it was more than beer) so we usually just stocked up on large bottles at the store and carried water with us.
You can bring a water purification system, but in most cases this really isn't necessary. Water bottles and/or a hydration pack that you refill should suffice. We really like this 2L collapsible water bottle by Platypus for about $12: Platypus DuoLock. Many of the others are good, but the clip on this one was perfect for clipping onto bags, the back of seats, etc, and the removable top made it easier to clean than most. The removable cap also made it much easier to fill, and happened to be exactly the size of a standard water bottle, so you could put it over the mouth and fill the Platypus without spilling a drop (see image below).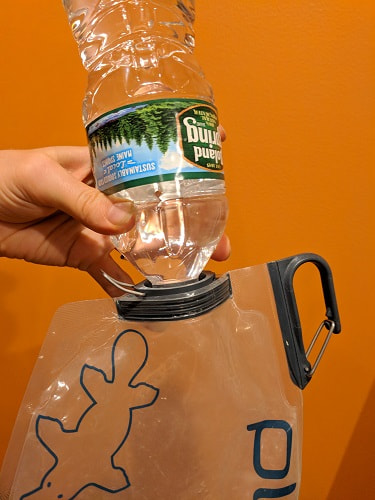 ---
Staying Connected
Wifi - Most hotels and some restaurants have free wifi, but it is not always reliable. In general the country has world class internet service, but outages happen. The night we arrived in Hanoi there was a notice at out hostel saying that all of Hanoi was having internet problems. We had better luck in most areas just using the phone data plan, which provided very fast speeds.
Phones - We usually use Google's Project Fi (click for a promo code) for phone service, but it is not available in Vietnam yet. We picked up SIM cards in the Hanoi Airport. Check prices at a couple places. Usually the one closest to the door is the most expensive so don't let them bully you. We picked one up in Hanoi at the doors right after baggage claim for $9 for data for 30 days. They popped it in my phone and it worked right away. Don't forget to ask for a pin or paperclip to get it back out again (if you don't have one) so you can put yours back in on the way home.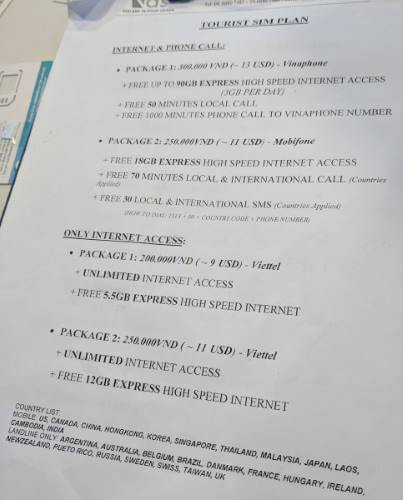 Too Many Adapters has a good article on the different options. We used Vittel and had service everywhere we went except out on the ocean.
---
Electricity
Vietnam plugs varied a bit, so make sure you bring a universal adapter. In many places the outlet accepted American style (type A) and European style (type C) plugs, but not everywhere. The power is 220 Volt at 50Hz, but most electronics are compatible with this. I've never had a problem, but you should check the label on your chargers to see what voltages and frequencies it supports.
Outages - One thing I was not expecting was the frequency of power outages. Many places in Vietnam were powered by generator. On our trip we lost power for a little over an hour at our Ninh Binh Homestay while they were fixing the generator. Our hotel in Hoi An had no power for a few hours, and the power in the Hoi An market went out suddenly for about 10 minutes at night. After we left there was a heavy rain storm and most of Ho Chi Minh City lost power for a few hours. These were all just minor inconveniences but something to be aware of. You may want to pack a small flash light and a battery pack.
---
GPS & Maps
Even if you don't have phone service you should always be able to access GPS outside. I download the maps ahead of time using Google Maps offline and/or Here Maps (see instructions for how in my Tips/Planning - GPS & Maps Post). Both will allow you to navigate with no service as long as you have the maps. You can search for an address or GPS points, but general search queries like restaurants generally won't work. I like to make a list of the GPS coordinates for each hotel I am staying at and other places of interest ahead of time so I can just enter the coordinates. https://www.gps-coordinates.net/ is a good site to use for this.
---
Money
We generally carry some backup cash in USD and have some of it split into small bills at the bank before we leave, but we generally keep this as a reserve and get most of our money from ATMs. Our bank allows 10 free withdraws per month and uses the current exchange rate so the only fee we pay is whatever the ATM charges. Some places this is nothing, but in Vietnam there is small fee of about $1-$2 per transaction. This fee varied from place to place even when using the same banks. Also in some places, like Vietnam, the bank you withdraw from does its own conversion and uses its own exchange rate. We would have gotten a better rate exchanging cash, but I still feel like using the ATM was the safer option since I don't feel good about carrying a large amount of cash around.
We also found that our ATM card only worked in some of the machines. We had a MasterCard and it worked in the BIDV and HSBC machines but not others, while some of the other people had Visa cards that did not work in BIDV and HSBC yet worked in the other machines that rejected ours. When it doesn't work it just says invalid and you are not charged.
The limit on how much you can take out varies from machine to machine, but the limit is generally 2-4 million VND (~$86-$172). The more transactions you make the more fees you have to pay.
Generally the exchange rate was pretty good and many tourist locations will accept USD, but it is always best to have the local currency.
Credit Cards - Mostly useless. As of 2018 this is still a cash society. The airport is about the only place you can use credit cards.
Exchange Rate - The exchange rate fluctuates constantly, but when we were there was about 23k VND to 1 dollar. If you have a hard time doing the math in your head I recommend getting an app and/or making up a little card to keep in your pocket or wallet with an exchange chart to help. I laminated mine with a couple pieces of packing tape. I like to have $1-10, then I go up in $5 increments. Most prices in Vietnam were a fraction of what you would expect to pay in the US. I would say about ¼ US prices is about what you should expect, but this varies greatly (see Vietnam Food for a better idea).
---
Transportation & Flying
There are many options for transit, including overnight trains, taxis, busses, scooters, boats, flying, and Grab, and we used most of them. We flew into Hanoi, from Da Nang to Ho Chi Minh City, and out of Ho Chi Minh City, so we saw all of the major airports. See my Vietnam Transit Article for our experiences and tips. I like to use Google Maps and Rome2Rio for an idea of what options are available for getting around and what the approximate cost will be.
---
Temperature/Weather
We toured the country from Hanoi to Ho Chi Minh City in mid-November and it was hot. We lucked out and only saw a little rain, but right after we left they got a serious storm that flooded the roads, so be prepared. The wet and dry seasons vary depending on what part of the country you are in and this is a tropical climate, so it is likely to be wet somewhere. I would recommend a light weight rain jacket, packable would be preferred, a pair of sandals, and a pair of either waterproof or quick drying shoes. I can't stand wet feet so I prefer waterproof shoes, but some people argue that waterproof shoes are not the way to go because they dry slower if they do get wet and opt for fast drying trail runners. Either way it is important to have sandals as a backup.
Keeping Dry and Comfortable - I went with Teva sandals (see men's or woman's) because they are relatively light and compact, but have better grip and support than a flip flop. For our everyday I had Salomon X Ultra Prime Cs Waterproof Hiking Shoes and my husband had Mizuno Wave Rider 21 GTX Running Shoes. We both really liked our shoes. My hiking shoes may have been a little bit overkill for walking around the city, but we didn't have room for extra shoes and they were great for hiking. I tested my shoes out in the water and I could step in and fully submerge the laces without a drop of water getting inside. We both had regular rain jacket which were nice, but, since they didn't get much use, I would have preferred something meant to be packable.
Protecting your Gear - We brought a variety of ziploc bags and our waterproof phone cases. The ziploc bags were good, the phones cases were great for keeping our phones safe and bringing them out on the kayaks, but this case and all the others we saw were useless for taking pictures in the hot humid air without taking the phone out. They fogged up almost instantly. After being on a few of the unstable boats we wished that we had brought our dry bag for some peace of mind. The straps on this one work, but are not particularly comfortable.
---
Culture & Language
Language - In the tourism industry we found that some people had excellent English, but not all, and in the general population most people do not. While communication may be somewhat difficult, we found merchants and other people to be adept at negotiating around this barrier. Most merchants would use fingers, calculators, phones, or even just hold up money to convey a price, and we would often hand the calculator back and forth to haggle over the price. People are good at getting along with sign language. One woman was selling a food that I did not recognize so I handed her my phone open to google and she typed in what it was so I could look it up. Most Vietnamese acknowledge that their language is hard and don't expect tourists to speak it, but really appreciate when you make an effort. Easy Languages as a simple but great YouTube video of how to say a couple useful words here.
Culture - The culture in Vietnam is very much alive. I am amazed at how resilient these people are after decades of colonialism, oppression, and war. Everywhere we went we saw people proudly dressing in the traditional ways and blending new and old technology to do things in the way they find is best. The resourceful ways that people use their motorbikes is astounding. We did not see this as a depressed country, but rather as a determined people trying to do the best with what they have. Plenty of poverty exists, but they aren't waiting for a savior.
For a bit of context on the culture I highly recommend When Heaven and Earth Changed Places, by Le Ly Hayslip. This is a memoir that reads like a suspense novel. The author was a farm girl in the rice paddies near Da Nang (not far from Hoi An). She was a child during the French War, a teenager during the American War (Vietnam War), and now lives in America. She skillfully weaves the culture into her novel and talks about her journey from Viet Cong agent to American. Her second book Child of War, Woman of Peace isn't as suspenseful, but gives a good view into what life was like transitioning to America and also returning to this area of Vietnam in the mid-80s and 90s.
Religion - The two main religions are Buddhism and Catholicism; however, the vast majority of Vietnamese people declare themselves as non-believers. While the people supposedly aren't religious, you would never guess. Most people practice some form of ancestor worship or folk religion that may be more tradition than faith. Shrines with offerings can be found in many homes and businesses. Hoi An has a monthly festival devoted to honoring the dead.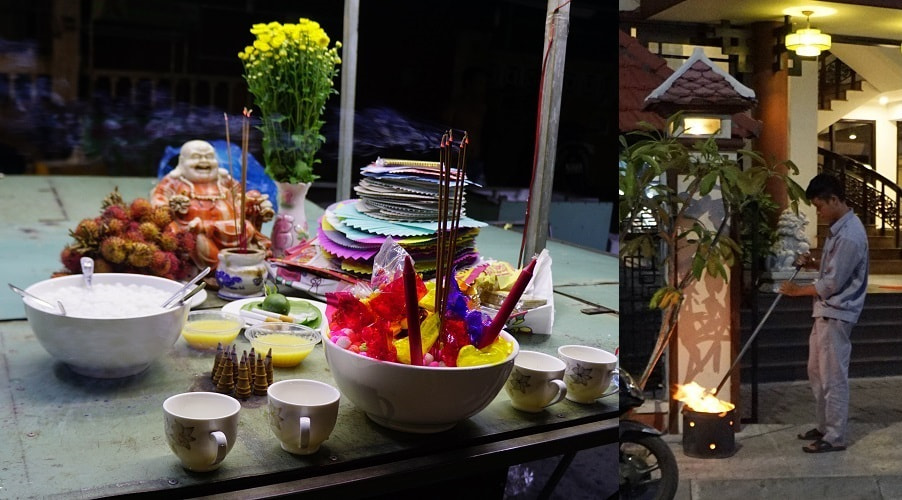 Do they hate Americans? - Absolutely not! Yes the US fought a long bloody war over there and many civilians were unfortunate casualties on both sides. However, Vietnam has mostly put what they call the "American War" behind them and are eager for US dollars. If you are still concerned, you should know that unless you wear a US flag most people won't even be able to tell where you are from. The majority of the tourists we met were European or Australian. The last episode of The Vietnam War Series: The Weight of Memory shows pretty clearly how the war ended and how the US and Vietnam mended their relationship. There may be a few people that don't love Americans, but that is just as likely to be related to interactions with disrespectful tourists as being related to the war.
---
Bathrooms
Bring your own toilet paper, it is commonly not provided
You are traveling so you can't always expect the bathroom to be quite like yours at home. The good news is that some of them are quite good, European style toilets were fairly common, and some were even clean. However, there was a huge range. I used a couple bathrooms that opened into public spaces with lightly frosted glass windows. There were the bathrooms with the creepy crawlies on the floor, the one with about half an inch of standing water (so thankful for waterproof shoes), and the ones with no doors (luckily one stall did).
At some point in your trip you probably will be confronted with the style of toilet that we affectionately refer to as a "squatty potty." This is a toilet with water that is below the ground level and has grippy spots for your feet on either side. You put your feet on the foot spots and simply squat to do your business, which really isn't too bad, but takes a little getting used to. In Malaysia I saw muddy foot prints on a European style toilet seat, where someone was apparently doing some risky acrobatics to use it in this way.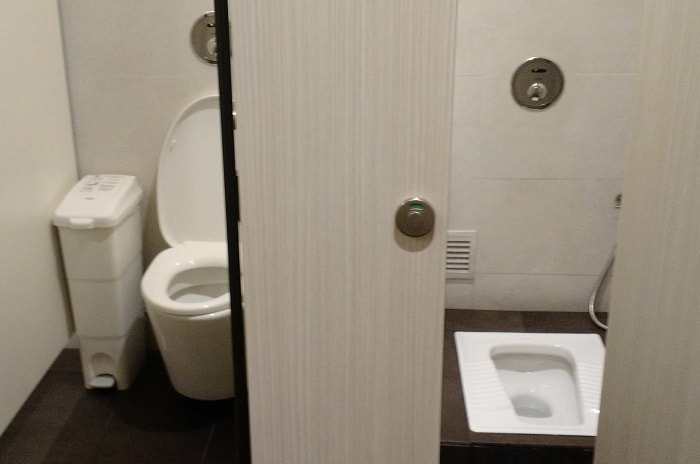 Popular tourist destinations have public restrooms and they are generally free but they do occasionally charge or ask for a donation. Off the tourist circuits they may be harder to find, but most sit-down restaurants will have restrooms that you can use with a purchase. Many rest stops on major roads are setup with shops that you have to walk through to use the facilities.
---
Passport & Visas
Passport - Your passport must be valid for at least 6 months from your departure date (pretty standard for most countries). I usually scan my passport and any other important paperwork, like my visa, and e-mail them to myself before I leave so I can access them in emergency. I also make a laminated copy of my passport. This was particularly useful in Vietnam because by law hotels are supposed to hold the passports of all guests for the duration of their stay. The only place that we experience this actually being done was in Hanoi, but it is good to have a backup. Some vehicle rental companies also require a passport as collateral (although we have always negotiated out of doing that and left cash instead).
Visa - For many lucky countries they are not required, but make sure you check what the restrictions are. Most restrict how many days you can stay and only let you enter once in a certain amount of time. Visas are required for all US citizens, but it easy to get and mostly just a formality.
E-Visa - The least expensive and easiest way to get one is though Vietnam's E-Visa system. You fill out an application online, pay about $26, and you get a visa in a week or two. You print this visa and it allows you to arrive in the country, get in the regular visitor immigration line, and get a passport stamp, and go straight through. This is what we used and it worked great.
Pre-Approval Letter for Visa on Arrival - Another popular method is getting a pre-approval letter, but with this you have to go to Visa Processing and get your visa on arrival, which can be time consuming and more costly.
E-Visa Application - The process was very simple but their website can be very slow. Be patient. One Mile at a Time has an excellent article on the application process. A few things to note:
They ask for religion and "none" is a perfectly safe option to pick

You will need a scan of your passport

You will need a 2"x3" head shot photo (more on that below)

You don't need to have tickets purchased, but you do need to know what airport you will be arriving at and leaving through

The e-mail may go to your junk or spam folder so make sure to check and record your confirmation number

I used the tour company as our "Intended temporary residential address"
The Photo - The photo should be a regular head shot, not smiling, taken on a white background, with good lighting (face should not be shadowed). We took the photos with our phones, standing a few feet away and holding the phone at eye level.
Resizing The Photo - There are a tons of ways to resize the photo but this is one. Paint is free, easy, and on most Windows computers. First open the image in paint and crop it height wise so your shoulders are showing and there is some blank space above your head. Then click "Resize" in the menu and change the vertical pixels to 300, as shown below. The goal is the make the photo 200 x 300 pixels. The one in this example is now 225 x 300 so we will need to trim a little more off the sides. You can do this if you are careful using crop or by dragging the slider circled in red in the middle image. As you slide it the size will be shown on the scale above and in the pixel box at the bottom of Paint. Your head needs to stay centered in the image. I find one easy way to do this is by flipping the image back and forth (using the rotate dropdown from the the third illustration) and trimming a little off each side.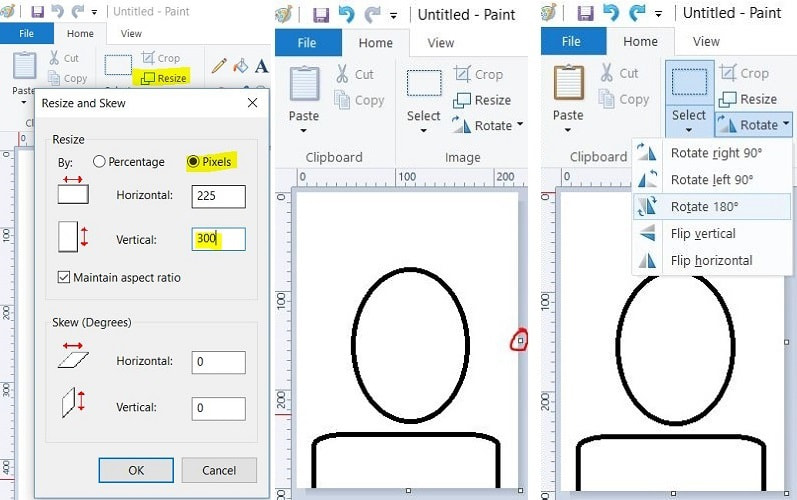 ---
Good luck everyone and feel free to leave any questions (or share your own tips) in the comments below.
---
Product Links: I am not sponsored by any of the products I link to. If you choose to make a purchase from one of the links of a product I listed or any other item a small percentage will go back to me to fund this website, at no additional cost to you. The products I link to are either ones I have used or similar if those are not available. Thank you for your support.
---
More?
Check out our full Hong Kong & Vietnam Trip Itinerary.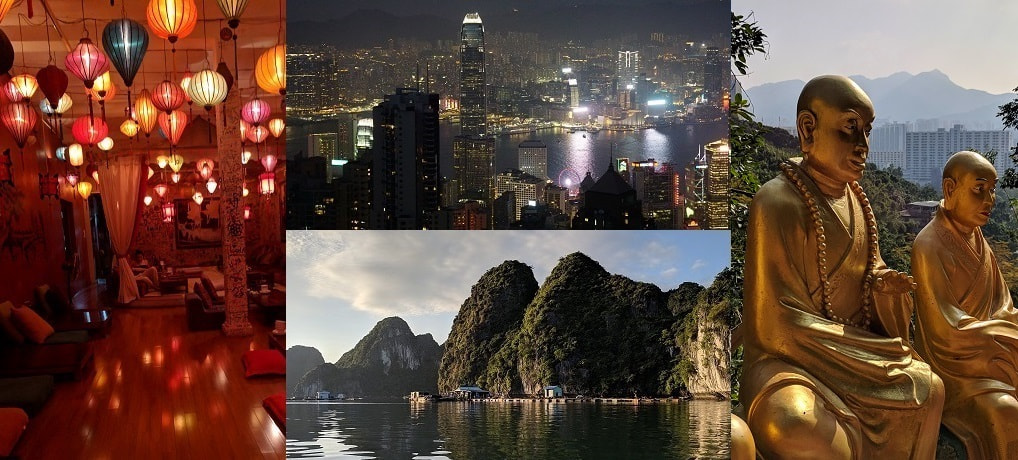 Or our full South East Asia Trip Itinerary.