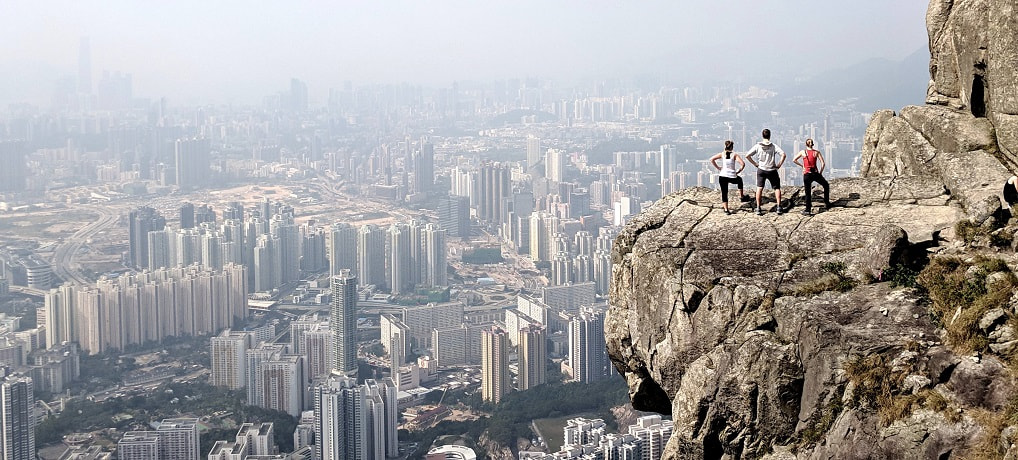 This was one of those hikes that I knew I had to do as soon as I saw the pictures. It is a moderate hike that gives you stunning views of nature and the city at the same time, and has some epic photo ops. I love city hikes, but this one was really special because of how wild it was. Almost no people, but right on the edge of this enormous city. It is exhilarating to be right on the edge, alone, with millions of people below you.
We did Victoria Peak as well (via bus up, walked down) and this is a completely different view. Both are worthwhile, but to me this was better, and I didn't have to share it with thousands of other people.
---
What to Expect
While this isn't a particularly long or technical hike it is somewhat strenuous and the trail is a bit rough in sections. Most of the trail that we took up is sand or gravel and there is one rock scramble near the end. The way down is dirt and wooded stairs (some were loose). Do not attempt this hike without decent shoes. I also wouldn't recommend it in the rain.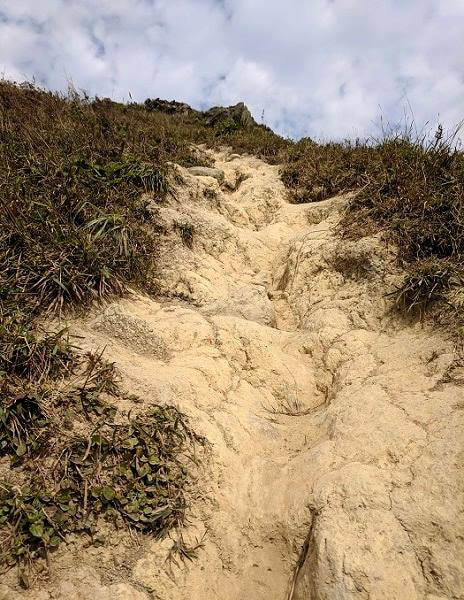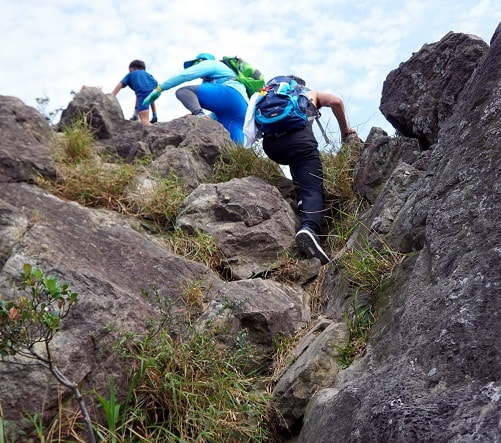 The views are spectacular and there were very few other people on the trail. We did this on a Monday and saw three couples, one solo hiker, and one family with a ten year old child. The trail is steep, but the areas with big drop-offs are optional viewpoints. Still may not the best trail for people with a strong fear of heights, but manageable for most.
How Long - We did this hike with a group of three, two experienced hikers and one novice. With lots of breaks and tons of pictures we completed it in 3.5 hours. Approximate times below:
9:30 AM - Got off the bus
9:50 AM - Arrived at the trailhead
10:10 AM - Got to the trail split with the rope
10:15 AM - First clear view of the city
11:00 AM - Arrived at Suicide Cliff
12:00 PM - Walked down to the helipad
12:30 PM - Made it back down to Fei Ngo Shan Road
1:00 PM - Arrived at the bus stop
Distance/Altitude - Not sure it was right, but Google said 5.2 km (3.2 miles), 480 m (1570 ft) elevation change each way.
---
Options
Map Link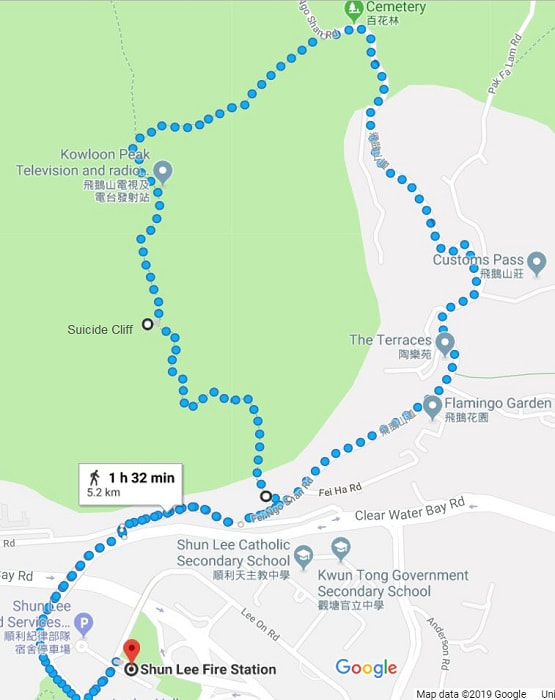 This is the loop we did, but there are many other ways to go and several options for this one. For this loop you could:
Go up and down the trail from Fei Ngo Shan Road if you just want to see Kowloon Peak and Suicide Cliff. This will make Kowloon Peak very dramatic because that will be your first view of the city, instead of looking over your shoulder the whole way up, but you will miss all the other lookout spots.

Take a taxi right to the trailhead instead fo taking the bus and possibly even back down from Fei Ngo Shan Road (one way road). I say possibly because that is what we tried on the way back and although there were a bunch of Ubers nearby, none of them responded.

There are also several small local bus stops before the main city bus stop at Shun Lee Fire Station, so you could try to catch a bus at one of these instead. We tried this and were eventually successful, but the first couple places we tried the busses kept passing us because they were full. Eventually we found one with the exact number of seats, but it probably would have taken less time to just walk back to the main station.
HK outdoor adventures has a great map with many of the other different hiking routes and trail maps.
---
When to go
Morning on a clear day would be best. Over half of the trail is in the direct sun and it can get quite hot, so the earlier the better. I was a bit warm, but my companions were dripping.
Visibility varies greatly from day to day. When we were there we could see most of Kowloon. Some days you can see all the way to Hong Kong Central, and on other days you can't even see the buildings below.
I've seen pictures here with the city lights and sunset/sunrise. It is stunning, but I suggest you look up the pictures for that, rather than try it yourself. This is the kind of trail that you need to watch your footing carefully on. I can't imagine it in the dark.
---
What to Bring
Water - Two of us shared 2 liters and we drank all of it

Snacks

Sunscreen and/or a hat

Good shoes - Trail runners or hiking shoes. I don't think tennis shoes would cut it. I had Salomon X Ultra Prime Cs Waterproof Hiking Shoes and my husband had Mizuno Wave Rider 21 GTX Running Shoes. They both performed well on this terrain.

Camera! - Make sure you get those epic pictures for you and for bragging rights. This would be a great place for a drone. Unfortunately we didn't get our drone until after this trip. I don't know the legality of flying in this area, but as long as you're not rude I doubt you would have a problem. There was only very light wind when we were there and we saw some awesome drone footage and photos online.

Bug spray - We didn't have any issue with bugs, but I'm sure that is not always the case. We saw dozens of dragonflies and I am sure they are eating something.

Hiking poles - Optional and we didn't have ours. They might be more of a pain than a help in the wooded section where the brush is close enough to easily snag, but I felt that they would have been really nice on the downhill.
---
The Hike
Getting There
From Kowloon - We were staying in Kowloon on Nathan Road and according to Google the 26 Shun Tin Bus (getting off at Shun Lee Fire Station GPS Coordinates: 22.3318, 114.2225) was our best option (this may be different for you depending on where you start from). We found a 26 bus sign and made sure that our stop was on the list, then got in line. We lucked out and got front seats on the upper level. We kept an eye on the GPS on our phone to make sure we got off at the right spot, but you can also look out for the buildings below, which are pretty hard to miss. The ride was scenic and we got to see a bit more of the city.

From Central - The metro also has a stop near here at Choi Hung Station and you can catch the local bus 1A Sai Kung Pier from there to Good Hope School (GPS Coordinates: 22.3338, 114.2212).
From either of these it is a short walk to the trailhead (GPS Coordinates: 22.3348, 114.2256) mostly along a main road (see the image above, and yes that is the mountain) with a sidewalk or you could take a taxi.
The Beginning - GPS Coordinates: 22.3348, 114.2256
The trailhead is just a little way up this road on the right side. It isn't well marked, just a couple ribbons, but it is well traveled.

You will see a warning sign near the beginning and in several places along the trail. Most of the signs say "Danger - This path leads to an area where fatal/serious accidents have occurred. Please do not proceed further." Please use your own judgment, but this trail is well used and there were no physical barriers.
The trail weaves its way quickly up through dense vegetation and soon you will get an occasional glimpse of the city. Be careful - we didn't see any, but there can be snakes and spiders.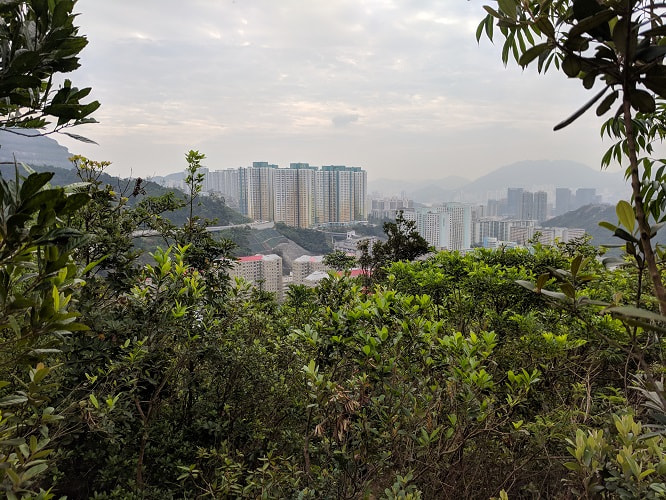 A little ways up there is a fork in the trail. You want the left fork. When we were there it was marked with ribbons and had a rope.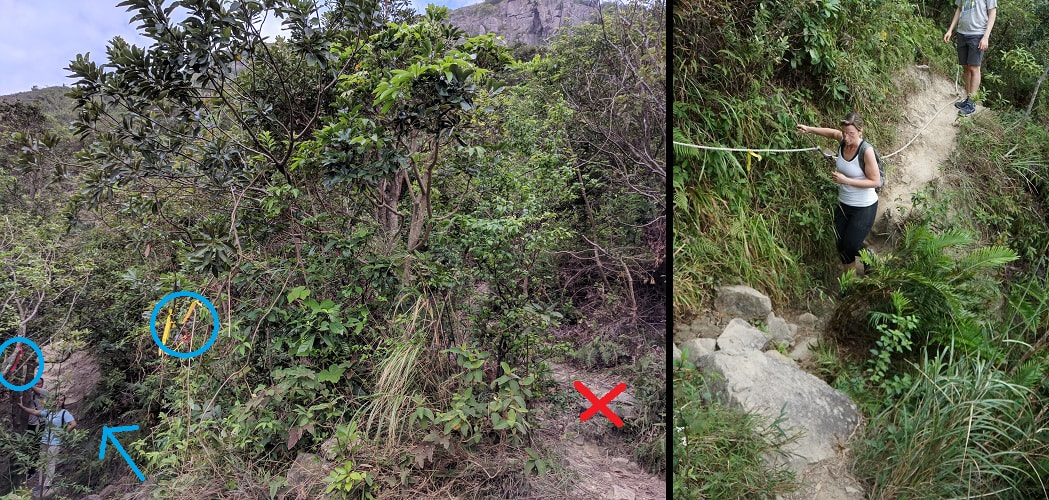 Rising Above the Treeline
A little bit farther on the trail you will break above the treeline and have spectacular views in every direction.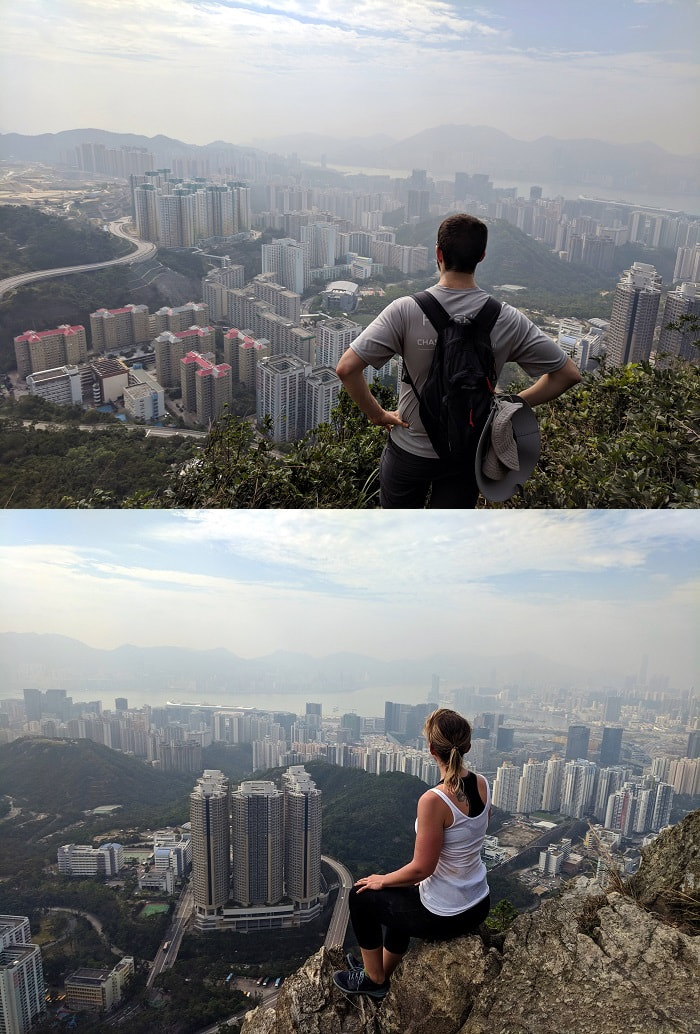 Make sure to keep your eyes to the ground, it is easy to get distracted here. With no more trees to hold onto you will need a little extra concentration to keep your footing.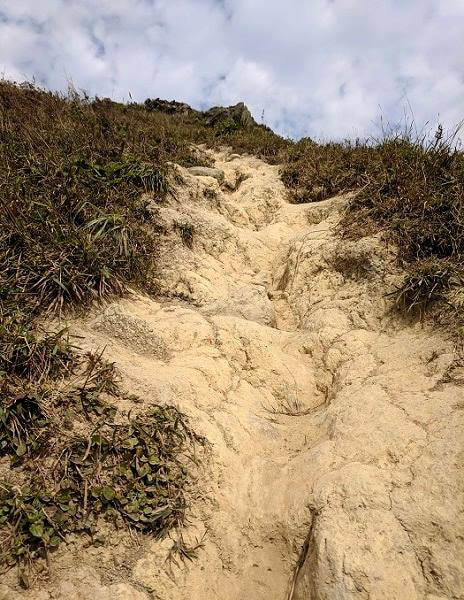 The view is great, but the downside of no more trees is no more shelter from the intense heat of the sun beating down on you. This is the area where you will thank yourself for getting out early. Every once in an while a pleasant breeze would swing by, but most of the time the air was hot and thick.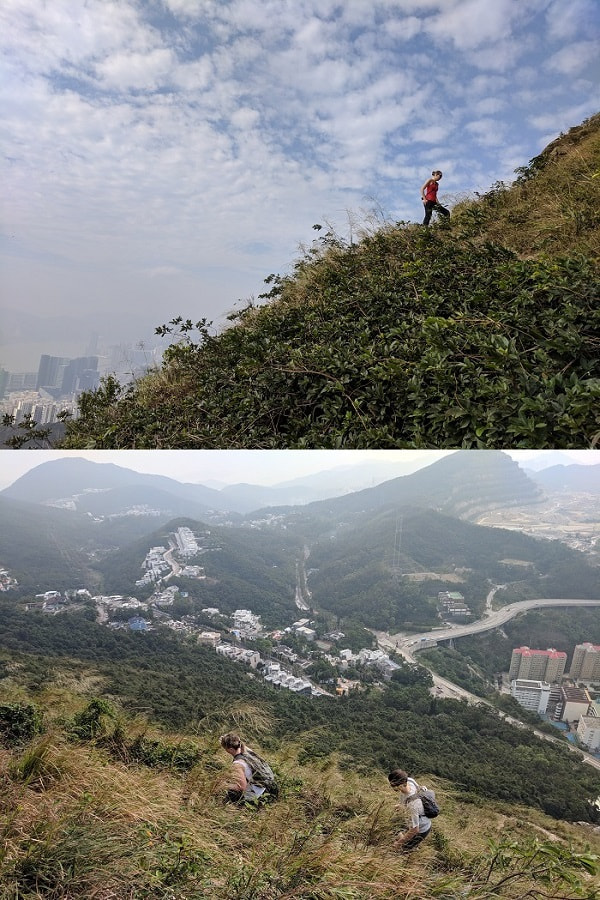 However, the sweat was absolutely worth it! I have never been anywhere quite like this. The lookouts and photo ops were endless! No lines, no crowds, and hardly any other people until we got to the cliff.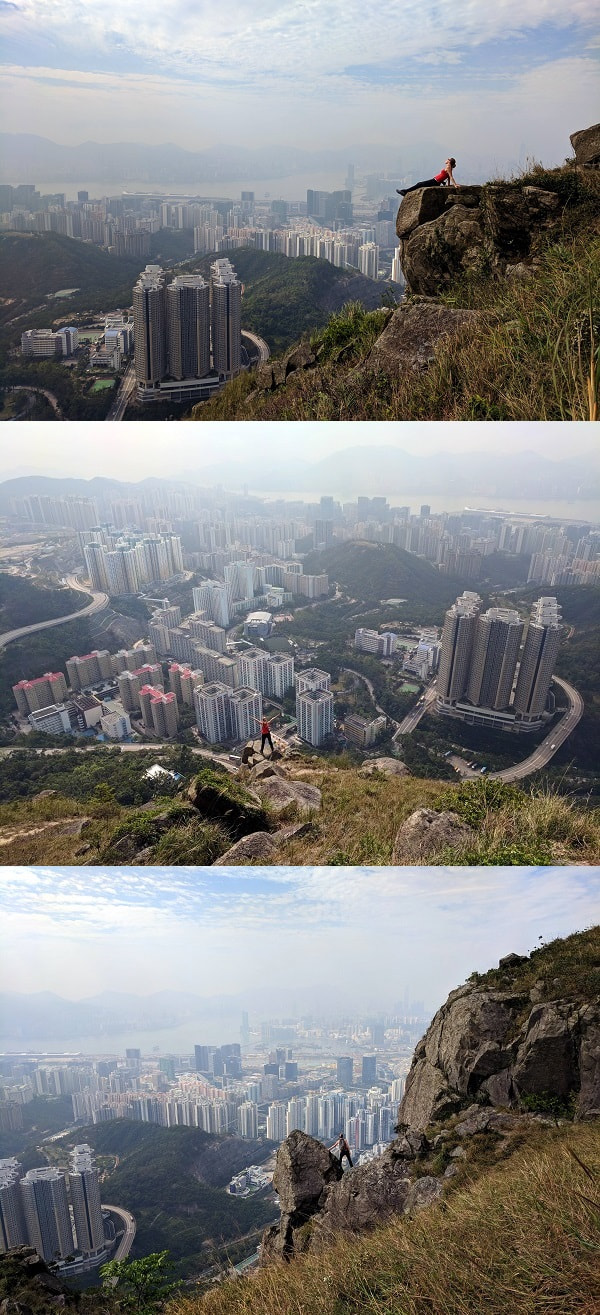 If you are mostly fearless around cliffs and like climbing around on the rocks this is a great area, but if not there is also plenty of room between you and the edge to let you safely enjoy the view.
The Cliff
And finally Suicide Cliff! Pictures don't fully do it justice, but this spot is incredible! It is one of those places that make you feel small and vulnerable, but also strong and powerful at the same time.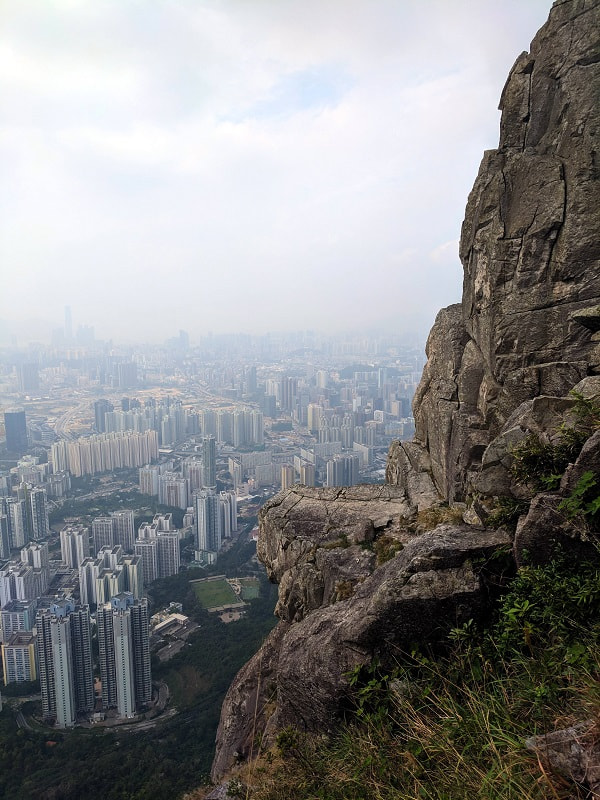 The cliff is dramatic, but wide/flat enough to be reasonably safe (at least for an undercut cliff over 1000 feet up); however, the path to get over to it is a bit narrow.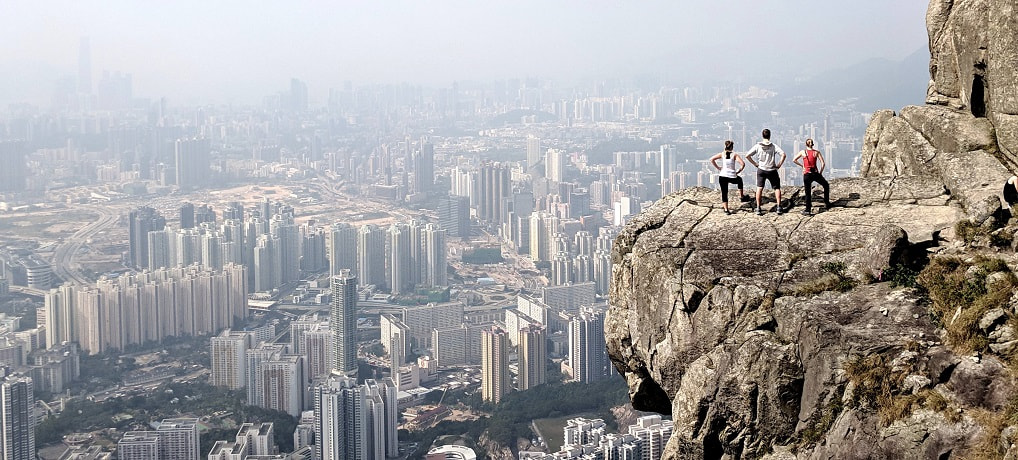 When we got there it was us, a man taking photos, and a local family bringing their ten year old son here for the first time. We chatted with the family for a little bit and the mother offered to take some pictures for us.
Kowloon Peak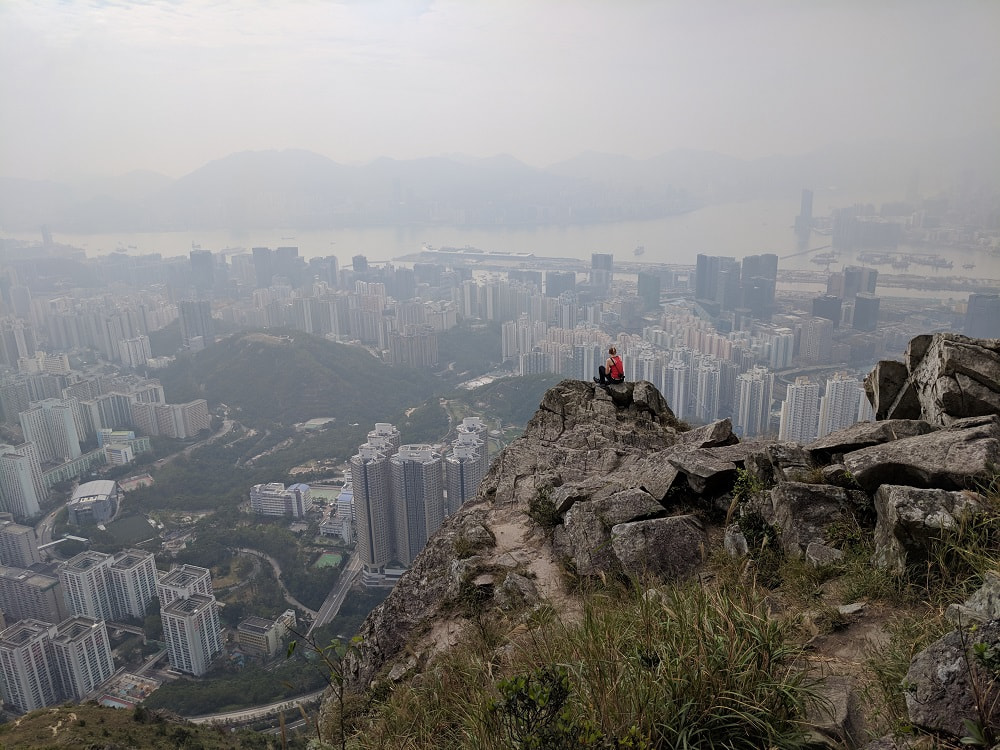 The cliff is most of the way up, but there is a little farther to go to reach the top and more stunning views along the way.

This bit of the trail isn't too bad, but it is the most technical. There is a small rock scramble where you will need to use all of your limbs to get up. After this you are clear.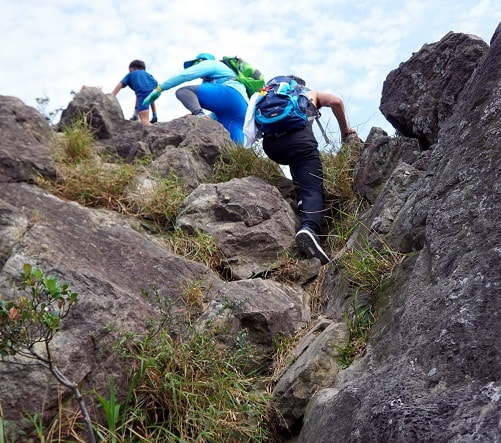 This area was alive with the humming of dragonflies and a couple even landed on us momentarily (pretty sure that is good luck). They feed on insects and there were over a hundred flitting around. Many people mentioned bugs on this trail but we didn't have any issues and I assume we had the dragonflies at least in part to thank for that.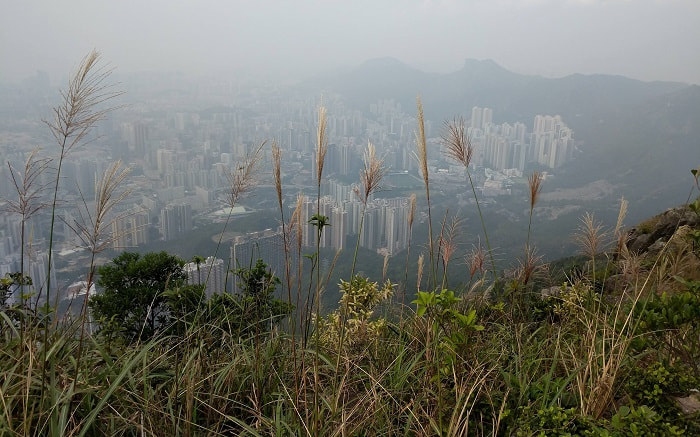 You will now be able to see the Kowloon Peak Towers, and will be rewarded (or punished depending on your preference) with real stairs and a railing leading up and down from the towers. Be careful going around the razor wire. The path is cut very close to the fence and this was the part of the trail that made me feel the most uncomfortable.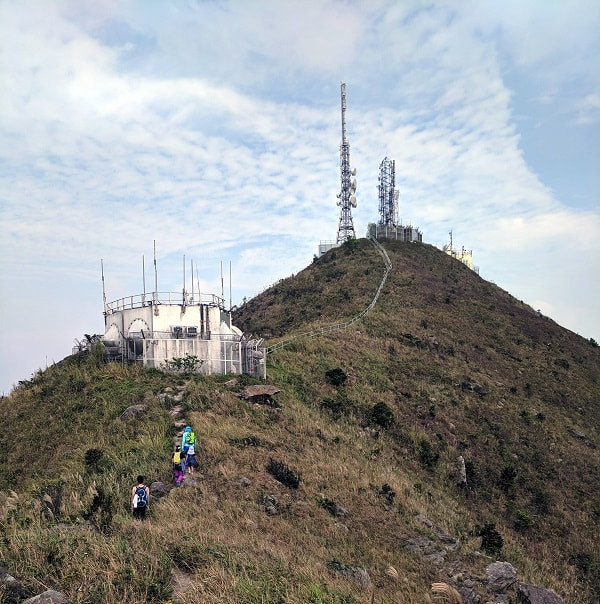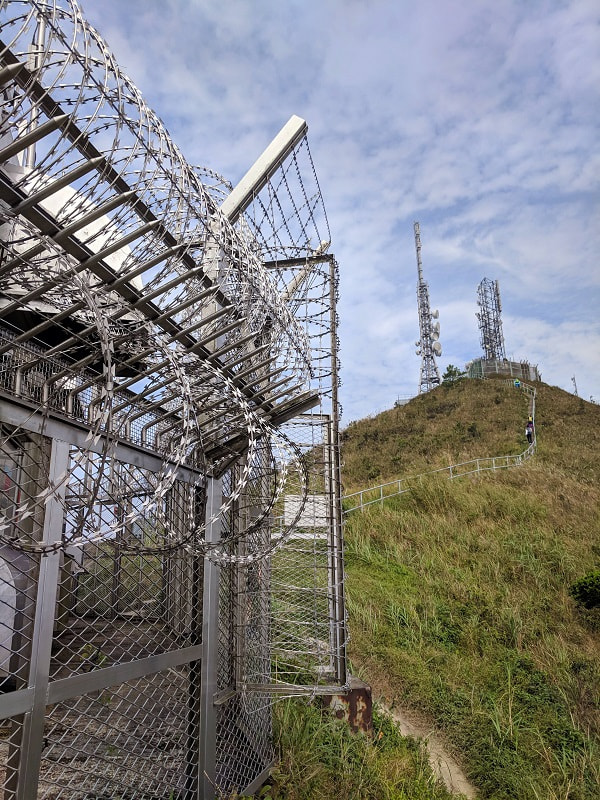 As you walk down the stairs to the helicopter pad you are now on your way down. When we were there a random ladle was padlocked to the fence by the helicopter landing zone. I'm sure there is a story to go along with it and I wonder what it is.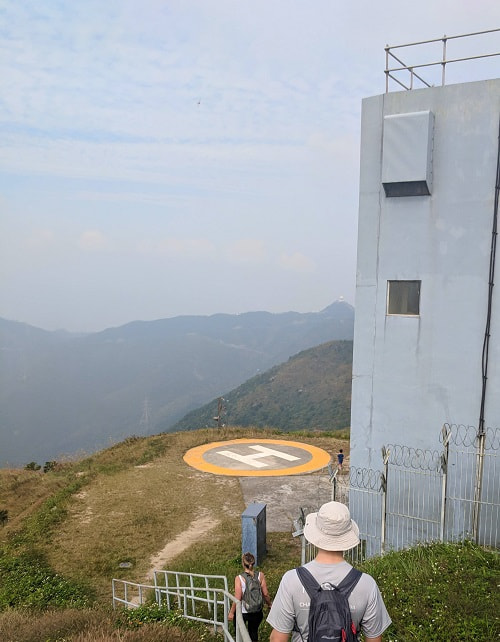 The Descent
I had seen the pictures, but this area blew my mind as to how much wild land there is in Hong Kong. It is hard to imagine that there are areas like this in one of the most densely populated places on the planet. As we walked down a little, the mountain hid the city behind us, and other than the towers and power lines, the only hint of civilization was a harbor that we could just make out.
You have the option of going down the way we went towards Fei Ngo Shan Road or the other way towards Jat's Incline (but I don't remember seeing a split for this trail). To go towards Fei Ngo Shan Road take the path with the stairs down to the right instead of continuing straight across the peaks.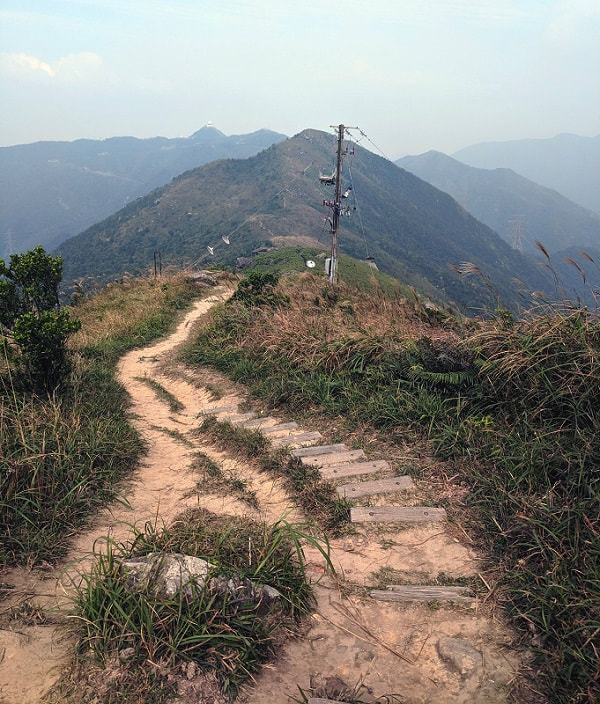 This trail down quickly plunges into a bamboo forest, which is replaced part way down by similar plants from the way up. The trail is fairly wide and most of it has wood stairs, but tread carefully. We found several stairs to be loose.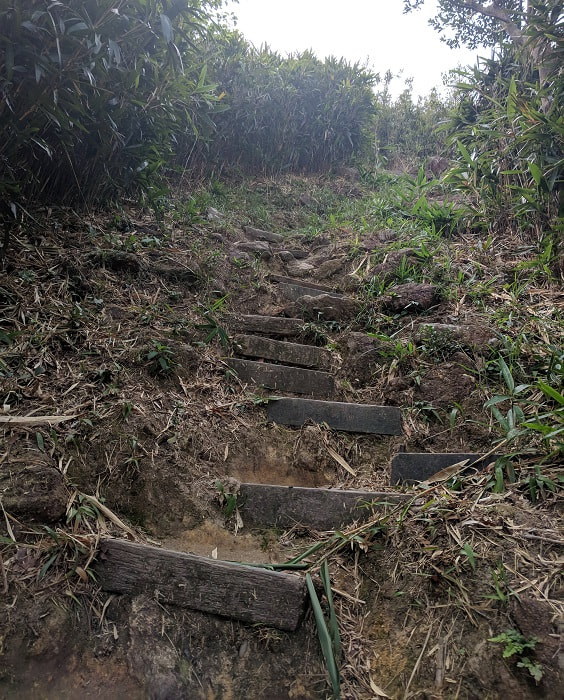 Towards the bottom you will pass through a small old cemetary. There are several forks in the trail, but don't worry, they are just to go around the graves. Wander off to take a look or stick to the main trail.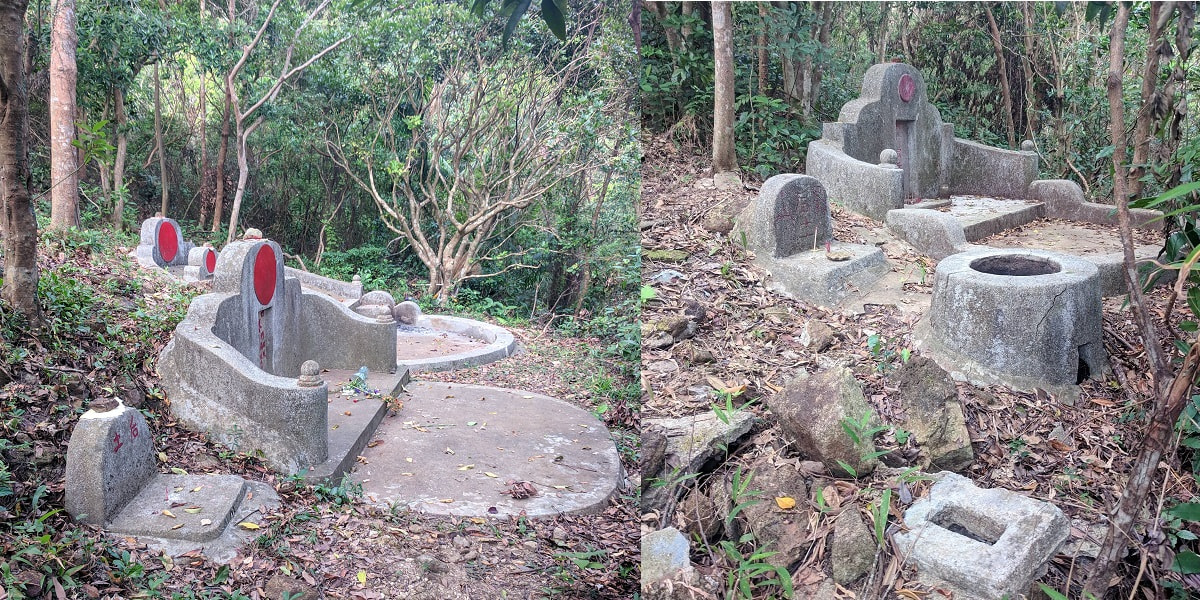 The Road Back to the Road
Just as we reached the road we heard a noise and looked up to see a group of wild pigs moving through the brush, just above the road. Hogs can be temperamental and territorial so it would be best to keep your distance if you encounter any.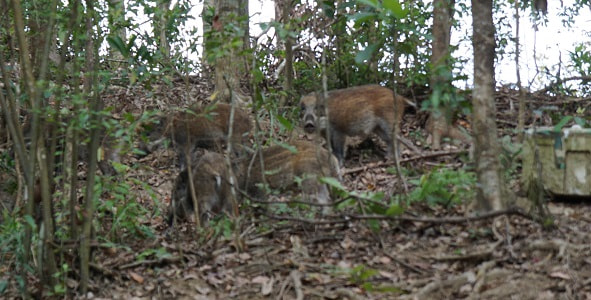 From the road we tried to hail an Uber, but didn't have any luck even though there were several nearby (we tried the standard and premium option). This is a small one-way road so they don't like to come up here.
While we were waiting and eating a snack my husband noticed something in the tree above us. It was a massive spider as big as my hand. This is the giant wood spider (nephila pilipes spider), which the internet says is not venemous, but I'm sure a bite from that one would be painful. On our walk back we spotted another one and wondered how many we had passed on the trail. While I was trying to get this picture our friend decided it would be fun to give its web a gentile tap with a stick. I don't terribly mind spiders, but I squeaked and jumped fast when this one moved.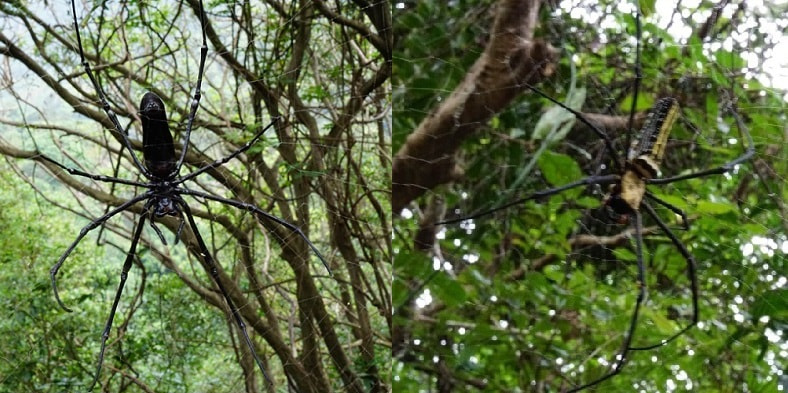 The road is a pleasant walk, but pay attention because it is narrow with lots of blind corners and we saw a couple people enjoying their sporty cars on it.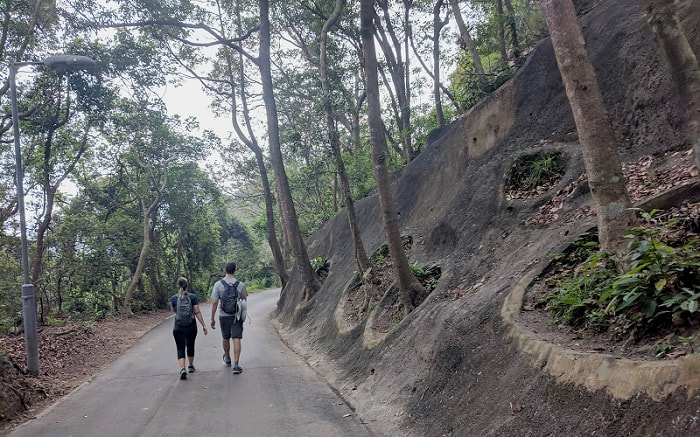 The road widens a bit as it leaves the park and goes through a wealthy area. We noticed a common theme of places with British names like "Windsor." There were plenty of mansions to look at on the road back.
We had a little trouble catching the local bus back because most of the ones that passed were full, but eventually we found one. This might be normal, but the family had mentioned that it was some kind of school holiday, so that could have been why. I don't think this would be an issue if you go back to Shun Lee Fire Station for the regular city bus.
---
Thank You!
For the inspirations, great tips, and answering my questions to help me prepare for this hike, thank you so much to:
Iurgi from HK outdoor adventures
Jo from Wander with Jo
---
Product Links: I am not sponsored by any of the products I link to. If you choose to make a purchase from one of the links of a product I listed or any other item a small percentage will go back to me to fund this website, at no additional cost to you. The products I link to are either ones I have used or similar if those are not available. Thank you for your support.
---
More?
Check out our full Hong Kong & Vietnam Trip Itinerary.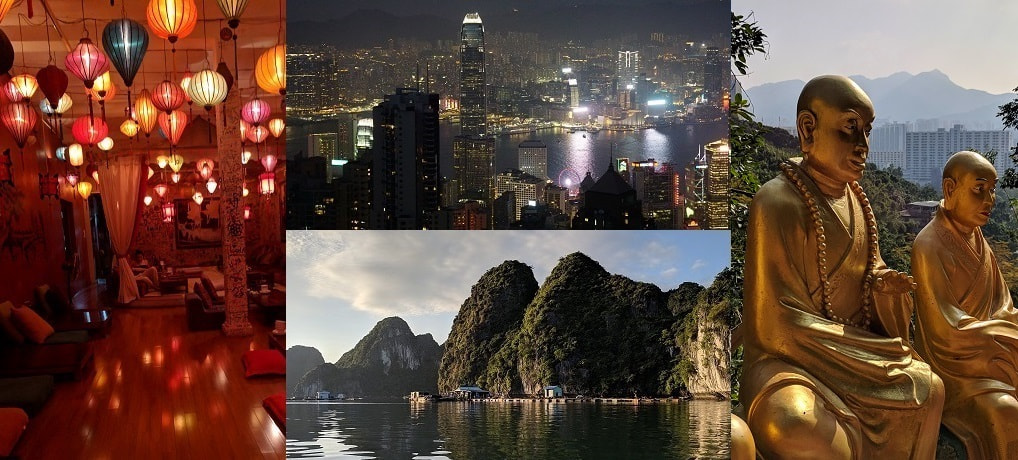 Hungry after the hike? Check out Hong Kong Food,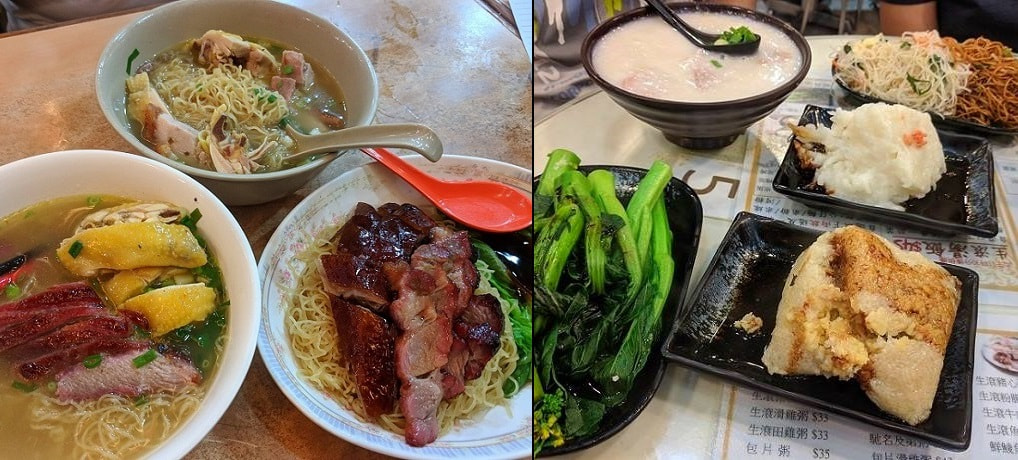 For more epic hiking see my Iceland Trip Itinerary & Travel Budget.