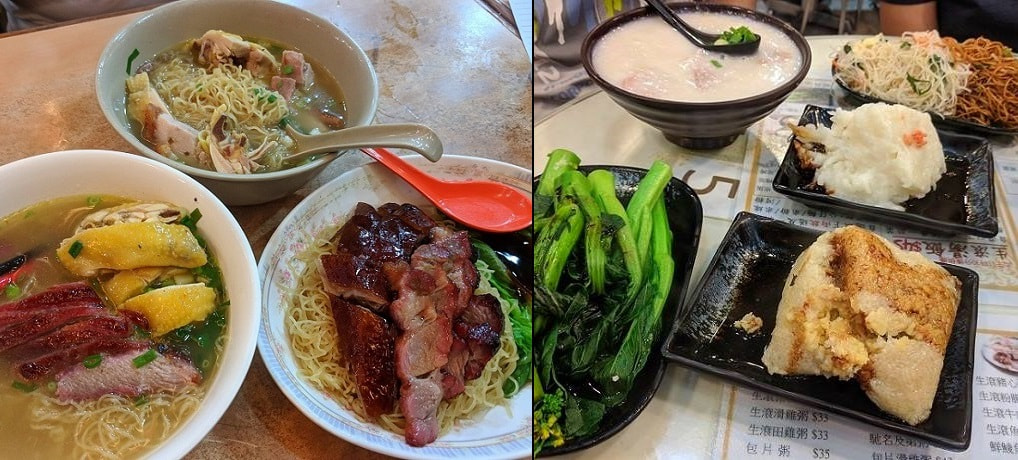 Hong Kong has long been part of the global market and the food reflects that. The city's mosaic comes through in the food as a melting pot of all different cuisines. Authentic Chinese, British, Indian, Thai, European, and other cuisine can be found on their own, or with a Hong Kong twist. You will have no limit to choices, but Cantonese seemed to be the most prevalent and is definitely worth trying while you're there.
We were only here for a couple days so this is just a brief sampling of the endless food this city has to offer. My perfect meal in Hong Kong would be Shanghai dumplings at Cheung Hing Kee for a starter, roasted goose with noodles at Yat Lok for an entree, and a fresh egg waffle for dessert. If you are limited on time don't miss out on these.
---
Fruit
You can get just about any kind of fruit in Hong Kong, but all of it, like all other food, has to be imported. It is still a fun place to try different exotic fruits, but we didn't bother since we were going to other areas where it is actually grown.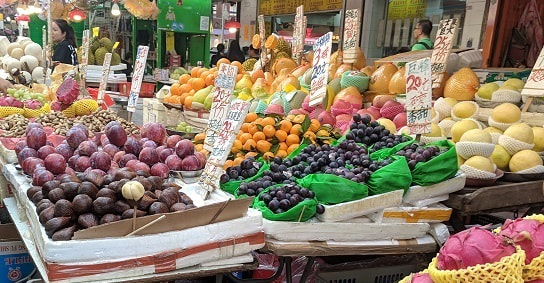 ---
Breakfast
Breakfast is typically simple and light. Tea or coffee with toast is common, sometimes an egg or congee (rice porridge). A couple interesting dishes that are widely available are Hong Kong's supper fluffy scrambled eggs and chicken noodle soup with ham.
Australian Dairy Company - We ate breakfast here twice and at another restaurant once. While I didn't feel that the Australian Dairy Company was anything special, they were much better than the other place we tried. They are known for their long wait and poor service, but we got there right at opening time and were able to walk right in. The service was business-like and fast, which I appreciate in the morning. They served a glass of mellow cold tea to every customer, which I found pleasant. You can find a full menu by searching Google Images for an English menu. I felt that they had a few tasty items but overall it was moderately priced mediocre quality food. We ordered:

Corned beef and egg sandwich for 20 HKD (~$2.55). This was by far the best thing we had here. The bread was thick and super soft, the eggs were amazingly fluffy and creamy, and the corned beef may well have come from a can but it paired well.

Breakfast set for 32 HKD (~$4.10) which included macaroni soup with ham, tea or coffee, and scrambled or fried eggs with toast. The soup is basically Campbell's chicken soup with elbow macaroni and lunch meat. Filling and hydrating, but not impressive. The scrambled eggs are incredible; however we received fried by mistake and there is only one way they serve them, very runny. Overall, a decent value but not special.

French toast for 20 HKD (~$2.55). This was the least filling and least impressive thing we had here. It was literally one slice of fried bread and didn't really have any flavor on its own.

Porridge with an egg in it for 28 HKD (~$3.60). This was hearty but not a ton of flavor.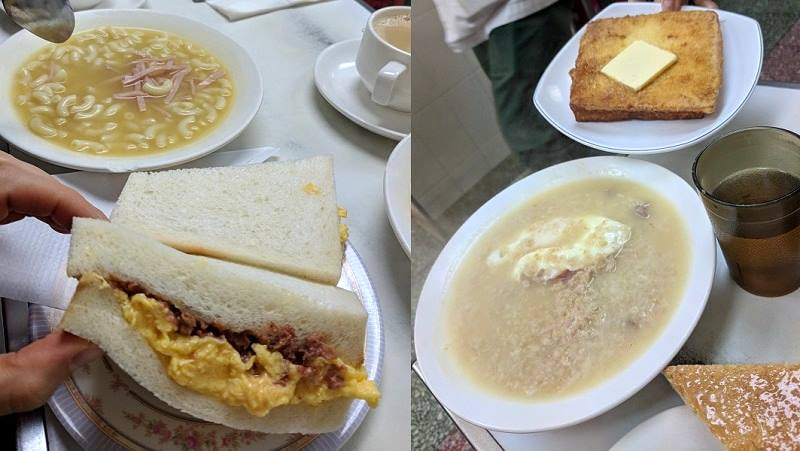 ---
Snacks - Just a few of many
Fried Pig Intestine - We tried this at a stand in the Kowloon Temple Street Night Market and it was…interesting. The outside was crispy and tasted like bacon so the first flavor and sensation I got was the crunch of that crispy outside layer with a softer middle layer. However, it went downhill from there. After a couple seconds that bacon flavor and texture was replaced by a stringy blob that I couldn't chew very well and what I can only describe as the flavor of a farm. The combination was repulsive and I got one of the strings stuck between my back teeth. All three of us managed to swallow ours, but unanimously agreed that it was one of the worst things any of us had ever tried. The "farm" flavor may have meant that it wasn't properly cleaned, so this may not be normal. If you are brave you can try this for around 15 HKD (~$2).

Curry Fish Balls - These had an interesting texture, kind of spongy/springy. The flavor was a mixture of yellow curry and fish, with a decent amount of heat to them. A little too fishy for me, but interesting. At the Kowloon Temple Street Night Market they were about 8 HKD (~$1).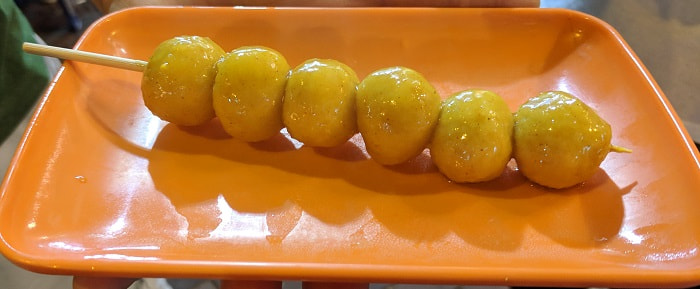 Meatballs - These were just meatballs on a stick. Nothing special, but you could put some of the sauces on them if you wanted. They were about 15 HKD (~$2) at the Kowloon Temple Street Night Market.

Buns - Buns are available all over the city and can be sweet or savory and filled with just about anything. Many places sell packaged buns that we tried to avoid. Pork bun with seasoned or bbq pork were very common and tasty.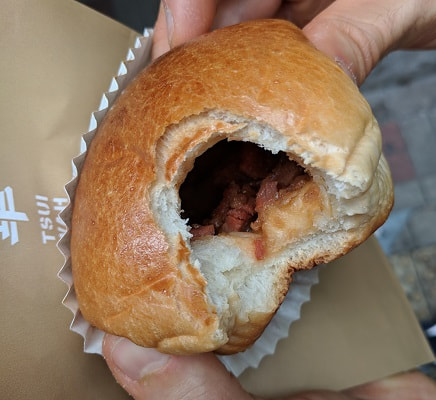 Meat on a Stick - This city seems to love the convenience of putting just about everything on a stick. You can get hot dogs, satay (grilled) meats, chicken wings, octopus, and much more. A meat stick is usually $1-$2.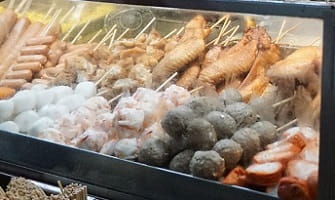 Other Street Snacks - In Kowloon vendors selling fresh roasted peanuts, quail eggs, and roasted sweet potatoes are common.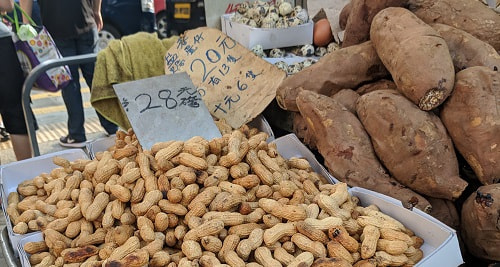 ---
Dim Sum
Shanghai Dumplings (Soup Dumpings) - We had these at Cheung Hing Kee, a Michelin Star recommended spot, and wow! These were probably the best thing we tried on this trip. The combination of textures and great flavor was incredible! These dumplings are cooked close together in a pan so the bottom gets crispy, while the top steams. This gives the top the usual soft chewy flavor, while the bottom has a nice crunch. Inside each dumpling is a meatball or shrimp and a delicious broth.

Now if you haven't had these before you may be wondering how do you bite a dumpling full of hot soup. These are a bit too big to put the whole thing in your mouth, so you really have to bite this somehow; hopefully without squirting soup all over yourself or your neighbor or worse yet, letting the delicious liquid dribble away. No matter what, as hard as it is, I recommend waiting for these to cool down a bit. It is hard to taste when your mouth is scorched. I suggest either pinching a small hole, carefully poking one with a chop stick, or carefully biting one and sucking most of the soup out first, then biting in. This is definitely not fool-proof, but seemed to be the least messy.

This shop is very basic, just a window and a small stainless counter where you can eat. We got the signature pork buns, 4 for 32 HKD (~$4), and the black truffle buns, 2 for 16 HKD (~$2). They both were excellent, but I preferred the signature. We didn't get any soup here, but assuming it is the same broth they put in the buns, I bet it is great.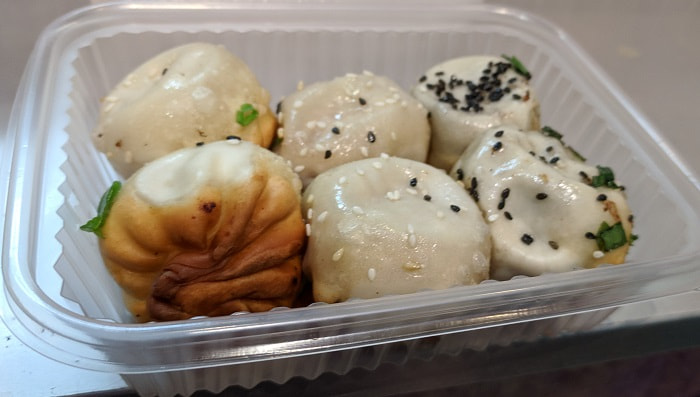 Tim Ho Wan - This Michelin Star recommended dim sum place (multiple locations around the city) has a nice easy system where you get an order slip (in English and Chinese) and put a number in the boxes of the ones that you want. Every meal comes with tea, with a 3 HKD (~$0.40) per person cover charge. There was a line when we got there but it moved very quickly. The dishes we tried are all pictured and described below in the same order as the pictures.

Spare Ribs with Black Bean Sauce - These were not at all what I expected, but very tasty. There wasn't much to them, but the meat just melted. The sauce was great, savory, a bit of salt, a bit of garlic, and a hint of spice. 18 HKD (~$2.30) for a dish

Lotus Cake - This was a combination of minced pork and lotus root pan fried. It was very greasy, a little chewy, and didn't have much flavor. 25 HKD (~$3.20) for 3

BBQ Pork Bun - This one had nice flavorful pork in a warm soft bun with a crispy top. The top was coated with a light crust of sugar that gave it a nice crunch, but also a lot of sweetness. 23 HKD (~$3.00) for 3

Rice Rolls - This one was stuffed with bbq pork, but didn't have a ton of flavor and the slimy texture was a bit off putting. 26 HKD (~$3.31) for 3

Wang Fu - Beijing Dumpling - This is yet another Michelin Star recommended restaurant that specializes in dumplings. These are hand-made steamed wheat flour dumplings filled with meat. This place was nicely decorated and as you walk in you can see right into the kitchen where a lady was making dumplings with the kind of skill that makes it look easy. We had pork and chive dumplings and they were good, but nothing special. It was 58 HKD (~$7.40) for 10 dumplings with dipping sauce.
---
Meals
With only a couple days, we knew we wanted to hit some "regular" places as well as at lest a couple of the affordable Michelin Star recommended restaurants on Stanley and Wellington Street. These are a group of famously budget friendly restaurants where you can get a "top quality" meal for under $10. We fit three in (Yat Lok, Tsim Chai Kee, and Wang Fu) and they were all quite good, but, other than Yat Lok, not miles ahead of other things we tried.
Veggie lovers - In Hong Kong some dishes come with vegetables, but it is common for entrees to just be a protein and starch and a vegetable to be ordered as a side dish. The sides are often Gai Lan (Chinese broccoli) or another similar green, sometimes smothered in oyster sauce. Not a lot of variety, but I find these greens to be delicious just lightly seasoned.
Yat Lok - This was our first proper meal of the trip and the best one we had in Hong Kong. We got a few different dishes so we could try everything. The roasted meats were phenomenal! We tried the chicken, goose, roast pork, and bbq pork. Goose was my favorite, but roasted pork was a close second. The noodles were not quite as good as Tsim Chai Kee, but still very nice, and the savory scallion broth had nice deep flavor. We got one plate with dry noodles and the others with noodle soup. The dry noodles (dry just means no broth) were nice because they didn't affect the crispy skin on the meat, but they were lacking the amazing flavor of the broth. The meat is served in the traditional way (on the bone, chopped into pieces), so be careful. The soup dishes were 60 HKD (~$7.70) each with your choice of two meats and the dry noodle dish with two meats was 79 HKD (~$10.10).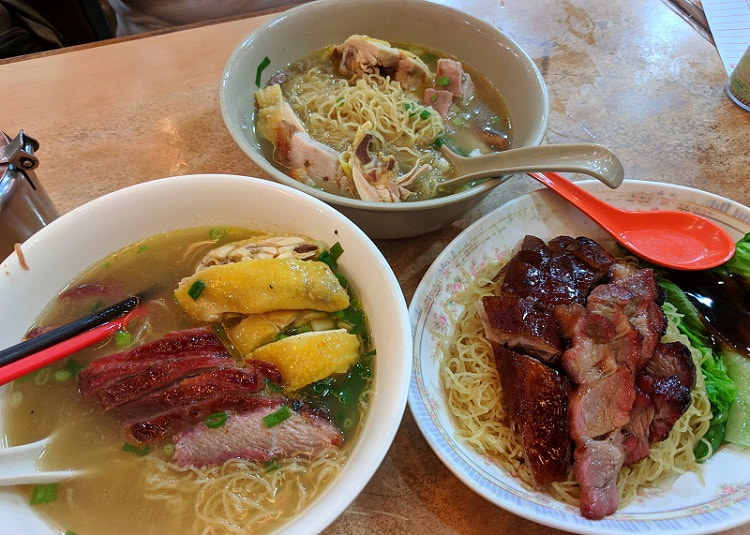 Tsim Chai Kee - This is a noodle shop specializing in hand pulled noodle soup with shrimp wontons, beef, and fish balls. I didn't find the fish ball or beef to be particularly flavorful, but the noodles were perfect. It was amazing how consistent in size they were able to make them. The texture was nice and soft but al dente in the middle. They had a little dish of very spicy oil on the table and we joked that it was so spicy that it ate the spoon. The menu choices were 31 HKD (~$4.00) for one meat, 37 HKD (~$4.75) for two meats, or 41 HKD (~$5.25) for three.
Tsui Wah - This was our most expensive meal in Hong Kong and we got all this and a big bowl of rice for 256 HKD (~$33). Our hotel recommended this place and while every dish wasn't amazing, overall it was quite good. The entrees were all around 65 HKD (~$8.25) and the soup was 36 HKD (~$4.50). The short rib soup had great flavor and the meat melted in your mouth. The noodle dishes were just ok. The veggies were excellent quality and perfectly cooked, but I found the sauce a little too sweet and the noodles were crunchy. The Malaysian curry was amazing, and I would go here just for that. It had a ton of flavor and some heat to it, was velvety and filling. As good as the best ones we had in Malaysia.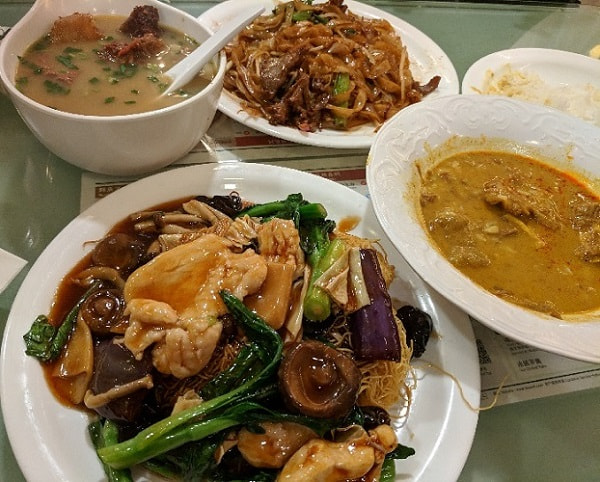 Sai Kee - This was a random shop that we picked based on it being busy with what looked like locals and had an English menu. We had a bowl of congee (23-35 HKD ~3.00-$4.50), turnip cake/paddy (14 HKD ~$1.80), fried noodles (15 HKD ~$1.95), glutinous rice (17 HKD ~$2.20), and greens (18 HKD ~$2.30). The greens were lightly seasoned, perfectly cooked, and delicious, no bitterness. They were hard to eat with chopsticks and no knife, so I probably made a fool out of myself, but I managed. The texture and flavor of the turnip cake was very similar to mashed potatoes. The congee (rice porridge) had a nice texture but not a lot of flavor, but they provided several sauces to customize it to your taste, including soy, chili, and a peanut sauces. We got mixed fried noodles, half rice and half wheat. They were both good, but I thought the wheat ones have better flavor. The glutinous rice was filled with egg and pork and was great. The sticky rice had a comforting texture, and eating it was fun because each bite was a little different. This place offered all different congee and soup dishes, from fish belly, to frog, to chicken, and felt like a local weekday lunch crowd.
Chungking Mansion - This building holds budget appartments on the upper floors and shops for goods and food on the lower floors. Most of the food is Indian or Middle Eastern and, from what we read and experienced, very hit or miss. We got a samosa (6 HKD ~$0.75) and chicken biryani (35 HKD ~$4.50) at Dewan-E-Khass. The samosa was a mushy microwaved blob. The chicken and rice was tasty and fairly moist; overall, nothing special, but not bad.
---
Beverages
Fresh Fruit Juices - Fresh fruit juices, smoothies, and shakes are plentiful. Some places offer sweetened or unsweetened. Street stalls generally range from 15-25 HKD (~$2.00-$3.20).

Soda/Pop - Most standard brands were available, but diet coke was called coke lite. In most restaurants they cost 5-15 HKD (~$.60-$2.00).

Milk Tea - Tea is often served with milk which makes it slightly creamy.

Coffee - Widely available.
---
Sweets
Fruit - Fresh fruit is sometimes served as a dessert.

Buns - Hong Kong has a tons of different sweet dessert buns. One popular kind is the pineapple bun which has a sweet crunchy top. This bun may have gotten its name from its appearance, as there is no pineapple in this bun. They can be filled with just about anything, but warm sweet bean paste is my favorite filling.

Egg Tart - Delicate flaky dough and warm rich custard. These were nice, a bit different than Portuguese ones. For me something is just a bit off putting about warm custard, but I seem to be the only person who feels this way, so make sure you try one. They vary, but are usually about $1.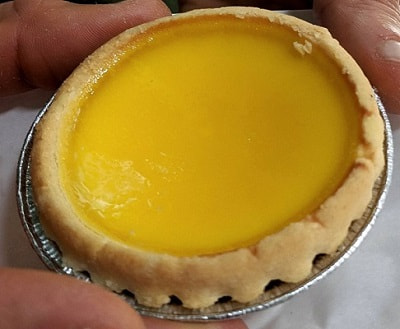 Egg Waffle - Delicious! This is something you must try here. They come in all different flavors and can even be used as an ice cream cone. They have to be fresh and are nice and crunchy on the outside of each bubble and soft on the inside, lightly sweet and buttery. We tried purple sweet potato at Mammy Pancake, another Mitchelin Star recommended place, and it was good, but my favorite was a plain one from a random stand. They typically range from 10-30 HKD (~$1.30-$3.90). Also sometimes known as egg puffs and eggettes.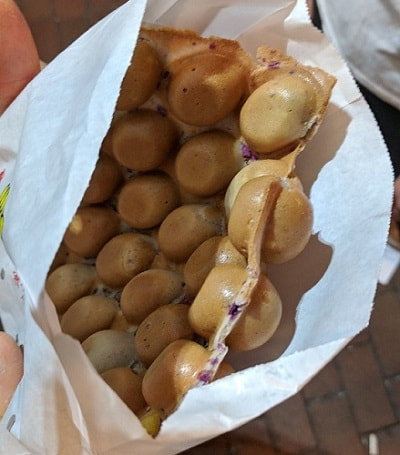 Kei Tsui Cake Shop - We stumbled across this shop by accident when we were walking through a market in Mong Kok. We noticed a shop surrounded by so many people we could hardly see past them. We stopped a random person and asked what it was. They graciously explained that it is a famous Michelin recommended pastry shop and recommended a few of their favorites. Make sure you now what you want when it is your turn because they have a lot of people to serve and not a lot of patience. Most people come here and purchase enough for their families and they can be rude if you try to buy just one. We got a mixed bag of 1-2 of several different things and they didn't give us any issues. For a little more on this place see their YouTube interview. We tried:

Wife Cake - This is a Hong Kong specialty that is worth trying. The story is that a man invented this to buy his wife back from a wealthy man who he had borrowed money from. They are little pastries with sweetened melon as the filling. The ones we had were very dense and the filling reminded me of a fig newton.

Chicken Cookie - We got a handful of these on the suggestion of the local we asked without any idea what they were. They were crunchy, hard shortbread like, with a hint of garlic and a very weird flavor that we couldn't quite place. It turned out to be chicken. Who would ever thing to put chicken in a cookie? Very interesting.

Red Bean Pancake - This is a flat sticky rice cake with red bean paste. It was gooey, sticky, and sweet. Definitely a little weird, but good.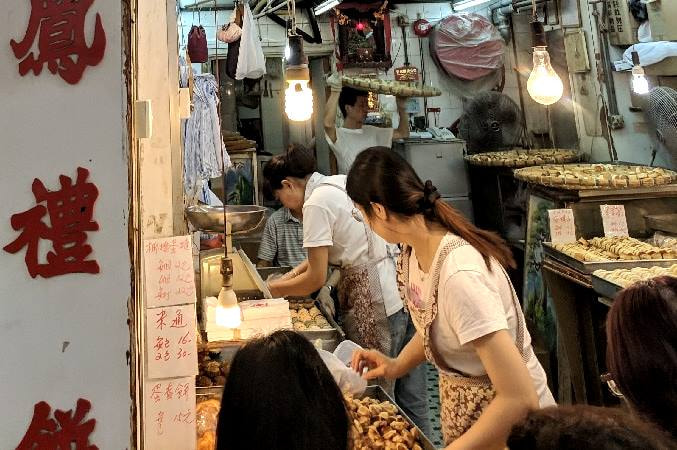 ---
More?
Explore the flavors of Vietnamese Food,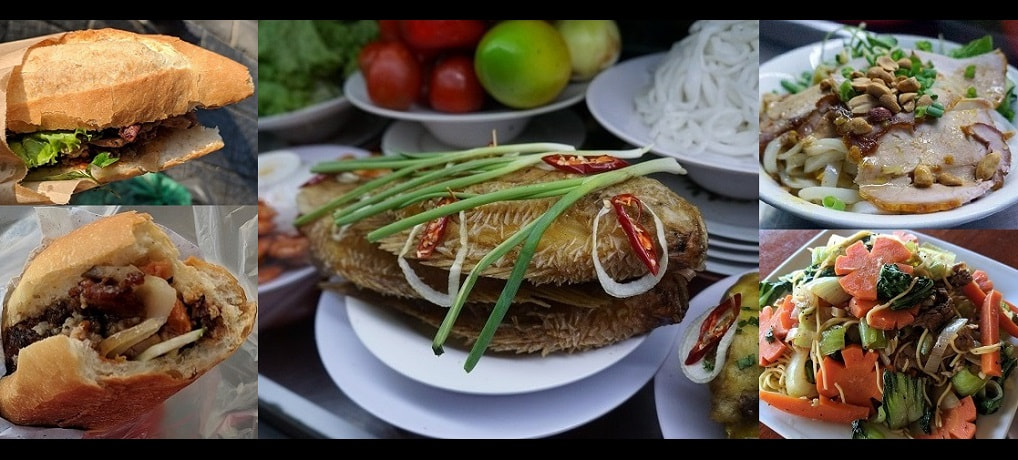 Read about the delicious Food of Malaysia,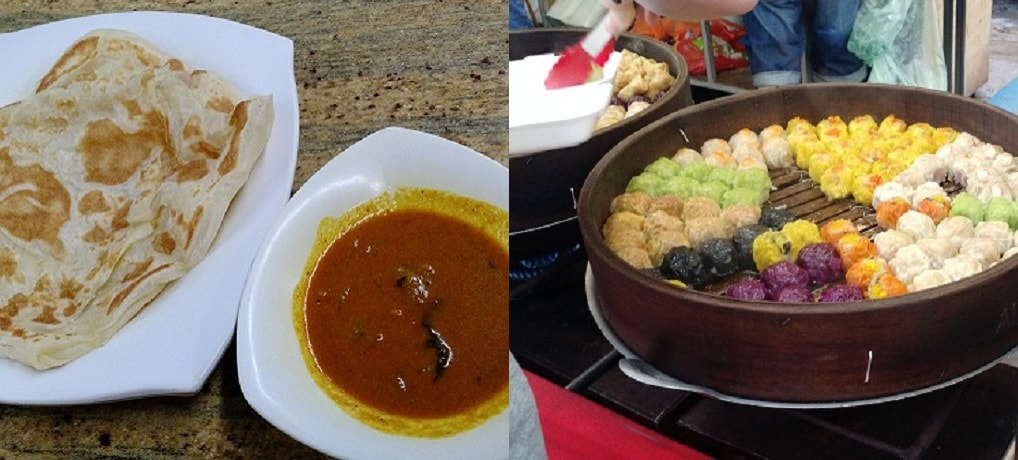 Or the amazing Peruvian Food!