While you don't always have the luxury of picking which airport you fly through, you can at least be prepared. I find that having a general idea of what to expect for the layover can make the trip a bit less stressful. Shanghai Pudong International Airport (PVG) was not my favorite airport, but it wasn't a bad experience either, just a surprise. When you get off a 15 hour flight it is nice to know what to expect.
Shanghai Pudong International Airport (PVG) is a common airport to fly through when traveling to Asia. It is a basic airport with some rigorous security that catches many people off guard. Make sure to budget a little extra time.
---
Overall
Wifi: Free but restricted, must register

Ease of Navigating: Simple layout, good signage

Food: Multiple choices, meals for $5-$10 USD available

Security: Rigorous, multi stage process

Other Amenities: Sparse
---
Security Process
Many airports have their own security protocol for incoming flights, but Shanghai takes this to the next level. This is what we experienced in November 2018.
Fingerprinting - The first step is fingerprint scanning, which might as well be hand scanning since it requires every finger and thumb from both hands. You scan your passport, all your digits and get a ticket to go to the next area.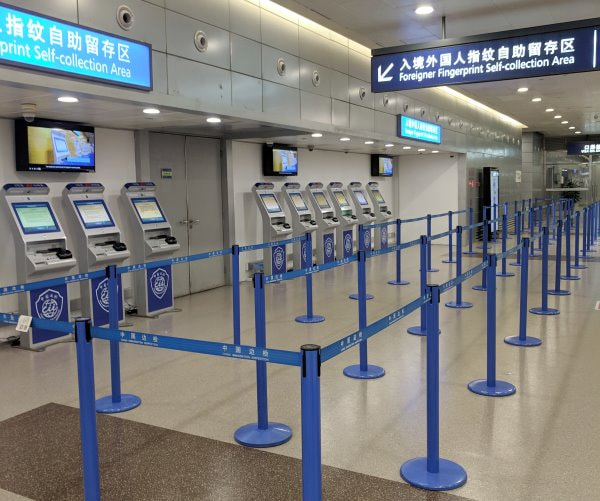 It was a little unclear if this is absolutely required for people just passing through, as the ticket was never collected, but both times we passed through this airport we were herded this way. To get through the rest of the stations there are nice clear signs. Yes, Hong Kong, Macau, and Taiwan are considered International.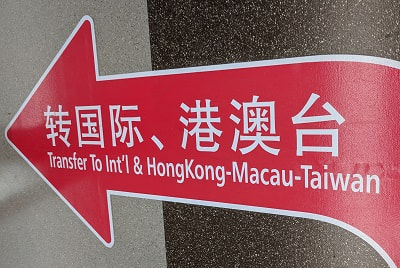 Health Check - This one is pretty painless and after having your fingerprints taken to enter an airport should be barely noticeable. All you have to do is walk through an infrared scanner that checks your temperature. If you aren't paying attention and just following the arrows you may not even notice. This has been standard in many large airports since the SARS virus.
Passport Check - The next step is around the corner, at the passport check station. Here there is a kiosk to scan your boarding pass and passport and take your picture. Smile!
Physical Check - The last step is a TSA style bag scan and body check. You will have to dump your water, but don't worry, as long as you hang onto the bottle you can refill it for free on the other side. Like standard checks, your bag goes up on a conveyor and you may have to take some electronics out. We all had to walk through a metal detector and submit to a light pat down.
Now you are Free! - This process took us under 30 minutes both times and the lines were minimal; however, I could see it taking much longer on a busy day so I would advise against a short layover. Once you are released to the terminal it is a pretty straight forward straight line with sequential numbers. There are a couple lower level gates, but they are clearly marked.
---
International Terminal Amenities
Water - There were hot/cold water machines scattered around the airport. I saw people making hot tea and cup noodles with them, which seems like a nice option.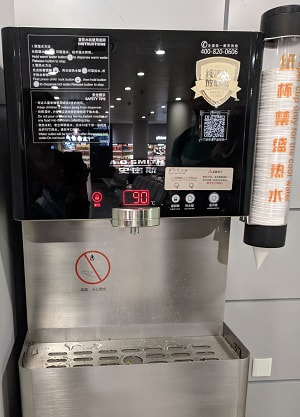 Food - If you didn't bring your own cup of noodles you can always get one from one of the vending machines. If you are not into that there are several other food options around the terminal.
*Prices are all as of November 2018
There was a wide range of food available and credit cards are accepted. There were fast food counters, restaurants, and a convenience store. The convenience store had a decent selection of packaged buns, pastries, and breads starting at 5 yen (~1 USD). They also had some yogurts, drinks, candy, and dried meats. We grabbed a couple snacks for the flight.
For a general idea of options and prices: Tsui Wah had breakfast sets of a drink, eggs, bread, and a noodle soup starting at 33 yen (~5 USD) and fish soup starting at 36 yen (~5.40 USD). A couple places offered things like a ham or chicken and cheese sandwich with chips for 49 yen (~7.30 USD) or pasta with meat sauce for 59 yen (~8.80 USD). Noodle dishes with meat started around 69 yen (~10.30 USD) most places. There was a Korean place with bibimbap with meat starting at 48 yen (~7.20 USD). Dunkin Donuts had donuts for 12 yen (~1.80) and bagels with cream cheese for 20 yen (~3 USD).
We ate at Sunrise Restaurant (part of the menu is shown below). The ordering process was nice and simple, point to what you want on the menu, but somehow they brought our friend the wrong thing. We had a beef brisket noodle dish which was nothing special, but tasted fine and was relatively filling. If you are really on a budget they had a 3 yen (~.50 USD) bowl of rice.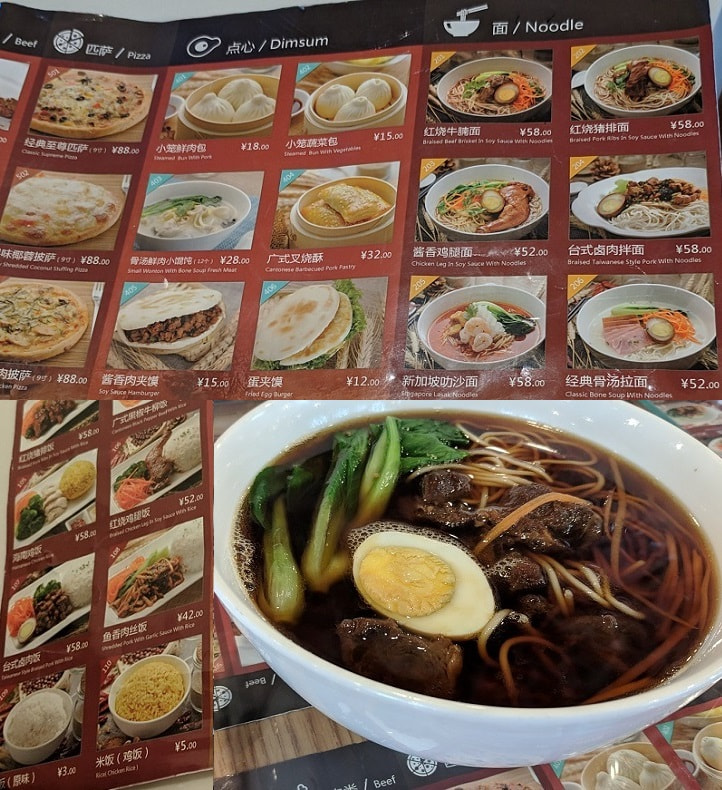 *Prices are all as of November 2018
Wifi - The wifi is free, but you have to scan your passport at a kiosk for a code. The kiosks are a little hard to find but if you try to sign into the wifi it will tell you where to look. We had some trouble getting it to recognize our passports. Once you get a code you can sign in and use the internet as usual…well not quite, but kind of.
You are in China and behind the "Great Firewall of China" so you can only use websites that are allowed by the Chinese government. As of 2018 that did not include any google services, so I couldn't check my Gmail account and couldn't use Google search. Plenty of other things were blocked as well, but it is free and better than nothing.
Entertainment - We made a few laps of the international terminal and there wasn't a lot to do. There are a few shops if you are interested in shopping, but most are not open 24 hours so it depends upon the time of day you are there. A couple sell fashion brands and others sell souvenirs. One had live crabs in a cooler.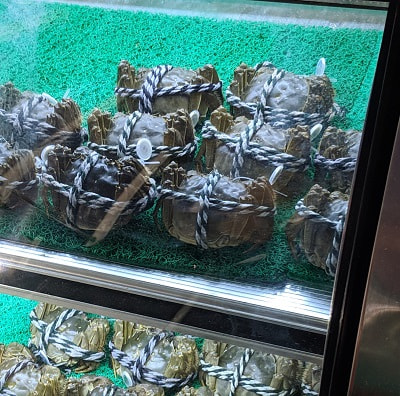 If you have a very long layover there is a program that may allow you to leave the airport and visit Shanghai without a visa for a limited amount of time. You can find more about it on Travel China Guide.
Charging - There are charging stations scattered about, but they are all positioned next to advertisements (for products that you probably can't even get in your country) that loop continuously. Headphones will be your savior.
---
Tips for Flights
These area a few things I like to have with me to make flying a little more comfortable:
Comfort Items - Consider bringing a blanket (travel towels work well), neck pillow, eye mask, or anything else that might make you more comfortable. I always bring a small bottle of lotion and chap stick because my skin gets really dry on long flights.

Water - Especially on long haul flights the tiny cups of water just don't cut it. I like to bring a reusable water bottle and fill it at the airport. I also find that drinking during take off and landing helps me a lot with the pressure changes. If you do run out of water, on most long hauls they have bottles or cups of water in the kitchen area that you can help yourself to.

Headphones - Not all flights provide them and the free ones tend to be very poor quality. I recommend noise canceling as the flights can be quite loud.

Battery Pack - And charging cables. I like to have a small battery pack as just in case. I've been on a couple flights where the in-seat power didn't work and this saves you the choice of powering off you phone to make sure you have enough juice when you land.

Entertainment - Some flights have enough movies to keep you going for days, but having options is nice. I usually make sure to download a few hours of podcasts and load up my Kindle with plenty to read.

Sleep Aids - Pills can help, but sometimes work differently at altitude. I sometimes get a hypnosis recording or use the free Binaural Beats App (not affiliated) to help me relax.
---
Product Links: I am not sponsored by any of the products I link to. If you choose to make a purchase from one of the links of a product I listed or any other item a small percentage will go back to me to fund this website, at no additional cost to you. The products I link to are either ones I have used or similar if those are not available. Thank you for your support.
---
More?
Check out our full Hong Kong & Vietnam Trip Itinerary.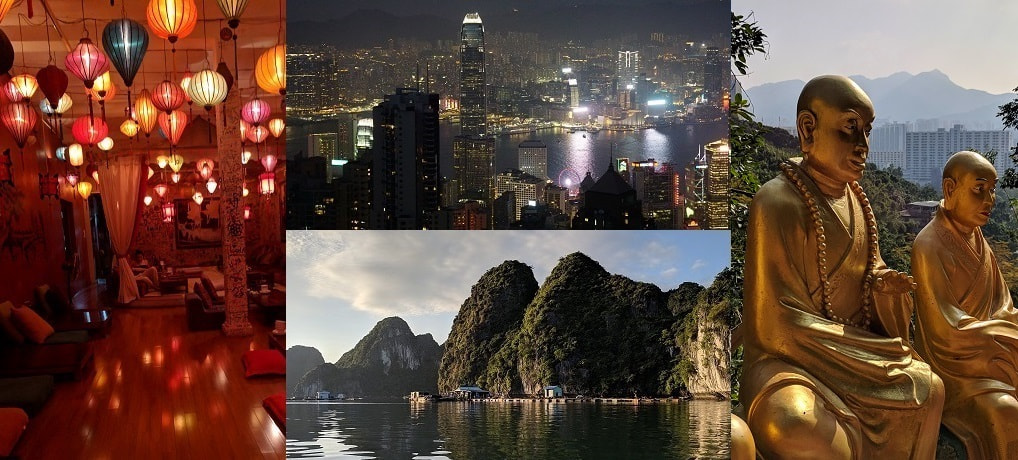 Or our full South East Asia Trip Itinerary.