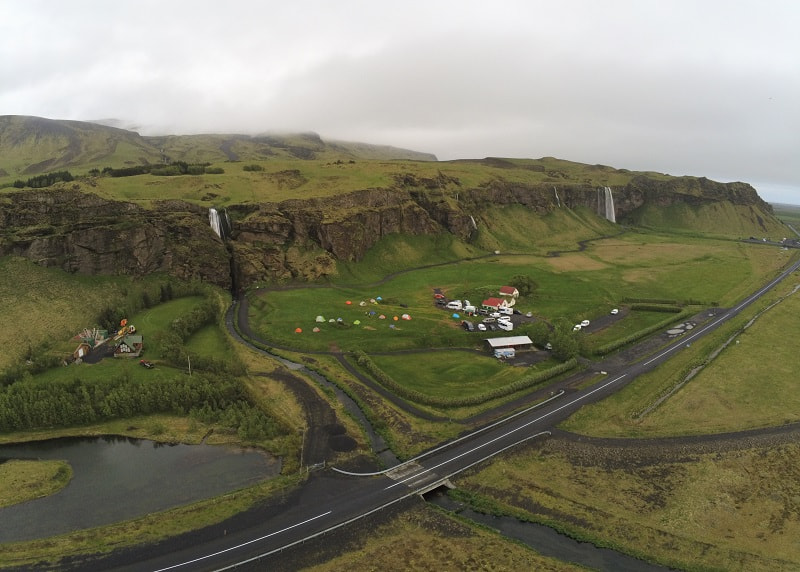 We found campgrounds in Iceland to be similar in some ways but quite different in others from the State Park and Federal campgrounds in the US. You won't find any campfires or roasting marshmallows here. Many campgrounds are actually located right on the edge of or even in a town instead of in a park. All of our "camping" was done in a small campervan.
Check out out full playlist of Iceland Highlights Videos on Youtube. You can also find these videos and other useful info embedded in these pages: Southern Iceland, Western Iceland,Northern Iceland, & Eastern Iceland.
---
Things to Know About Camping in Iceland:
Laws on Camping: As of 2019 you legally can only camp (including vans and RVs) in a campground, with only a few exceptions.
Fees: Most campgrounds charge a nightly rate per person, usually paid by credit card or cash (most accepted USD and Euros). Some facilities are open year round, some close, and a few are unattended and free in the winter. To pay the camping fees some places have an office, others have an attendant who comes around a couple times a day to collect, and a few have an honesty box to leave money in. We found many of the fees were more than the camping websites reported since the prices had not yet been adjusted for 2019. I show the fees below for the ones we stayed at as of May 2019. There is a Camping Card that can be purchased but it only covers a handful of campgrounds so we didn't bother. The Camping Card can save you money, but only if you stay long enough and in the right places.
Reservations: Like many US Federal run National Parks, all campsites are available on a first come basis. If it is high season you may find yourself being turned away from some popular ones.
Space: Unlike any campground we have ever stayed at, most campgrounds don't have specific "sites." Most are some combination of fields and parking lots where you park or pitch your tent wherever you find a spot. This means you may have someone else right next to you, as in tent walls or vehicle doors almost touching. In general, especially with the wind drowning out everything else, this generally isn't an issue, just unexpected.
Please be cognizant of how/where you park. We saw a couple vehicles that positioned themselves for the perfect view, and in doing so parked at an odd angle that made it difficult for everyone else that came after them quickly propagating through the lot.
Amenities: Amenities vary greatly from place to place, but most campgrounds have amenities more akin to hostels than US campgrounds. Be careful when you read the listing because many list the amenities of the area, not the campground itself and are not specific about what is actually included in the camping fee. Many campgrounds have things like kitchens/common areas that range from covered cooking areas to full kitchens with cutlery. Sometimes they have a "free area" for people to leave extra supplies and sometimes find a little of something you need.
Most have wifi in limited areas and at least one or two outlets. It is nice to have a small extension cord with multiple outlets and a universal adapter. I highly recommend bringing at least one battery pack so you can keep your electronics charged when power isn't available. Depending upon your vehicle you may also want an inverter so you can charge while driving. Many companies rent them, but we found it less expensive to buy one that we can use in the future.
Showers: Not to say they all are, but every shower we had was nice and warm. A couple smelled a little funny due to the geothermal water source, but most didn't have a detectable odor. Showers also vary from private bathrooms, to stalls, to stalls without doors, to open community showers. Some campgrounds include showers and others charge extra or have coin machines to purchase a set amount of minutes. The pay showers were the only time in Iceland (other than one campground that we paid in USD) that we needed cash and they only took specific coins.
Money Tip - Getting Change: We found that at some campsites with full offices you can add the price of a couple showers or laundry to your camping fee and charge it to your credit card. This is a convenient way to get a little cash in the small change required for showers without paying ATM fees.
Food: I have some info on grocery prices, Icelandic specialties, and a list of the meals we made in my Iceland Food Article.
We brought a few things from home since we weren't sure what we would be able to find and some things like alcohol are particularly pricey. You can find the official regulations on Iceland's Customs Website. Anything you bring must be sealed and have a manufacturer's list of ingredients. If you are coming from a non-EU country you may not bring any animal products. We brought some nut trail mixes, some vegetarian dal packets, red curry paste (although we found this was readily available), spices, vegetarian taco mix, rice packet, RiteRice, tea, dried blueberries, and a couple bottles of wine.
---
Campsites we stayed at:
All prices, facilities, and rules were as of May 2019 and may change over time.
Campsites are listed in the order we visited them on our counterclockwise road trip around the island. There are many other places out there to stay, these are just the ones that we chose based on our schedule and the amenities each offered. None of these places knew that I was a blogger and I am not receiving any compensation so my experience is unbiased. This is written based on my experience in May 2019. Feel free to share any updates on these or any other campsites in the comments below.
A map with all the campsites can be found on my Itinerary Page.
---

Location: GPS Coordinates: 63.999037, -21.181892 Map
Just off of Route 1, on the edge of town. The campground is not very scenic but it is protected by trees. It is about 40 minutes from Reykjavík and a convenient place to stay if you are seeing sights on the Golden Circle. We went to Reykjadalur Hot Springs late to avoid the crowds and this was just a few minutes away.
The campground was not very busy (mid-May weekday) and a little bigger than most of the ones we visited so we had a little space and privacy.
Fees: 1750 ISK per adult and 1000 ISK per child age 10-15, includes showers
Electric Hookup - 1000 ISK, Washer - 800 ISK, Dryer - 800 ISK
Camping fees paid in the office by credit card, cash was probably also accepted
Kitchen: Shelter with 3.5 walls, two burner propane stove, sink with hot water, soap, picnic benches inside and outside, and free supplies area. Electric tea kettle inside.
Bathrooms: Clean, heated, and connected to the office. One toilet and one shower stall per gender. Lovely hot shower included with camping fee.
Wifi/Power: Wifi in kitchen and office/bathroom. A charging station was available in the office with lots of outlets.
Other: Pets allowed, no alcohol, quiet hours 12AM-8AM, clothesline, outdoor kid play area, dump station, and some recycling.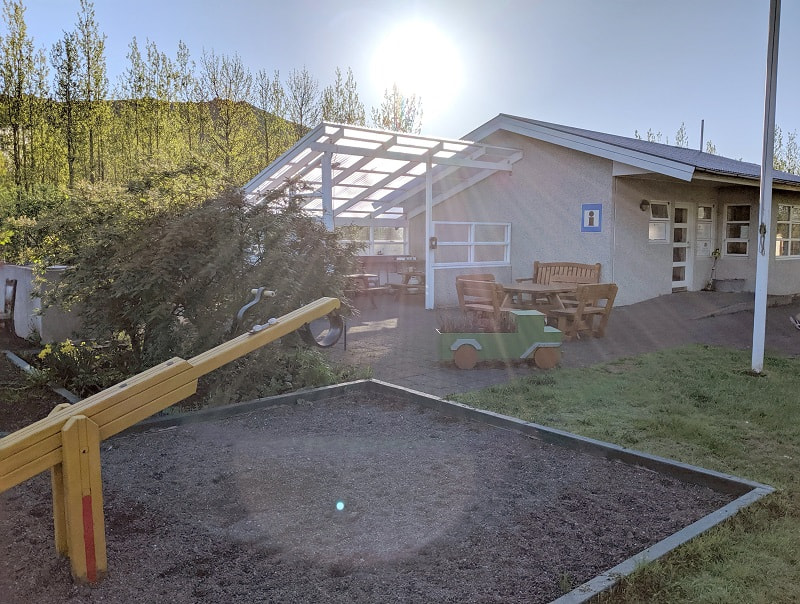 ---
Hamragarðar Campsite, next to Seljalandsfoss - Closed
Closed as of 2022 - hopefully will reopen because this location was hard to top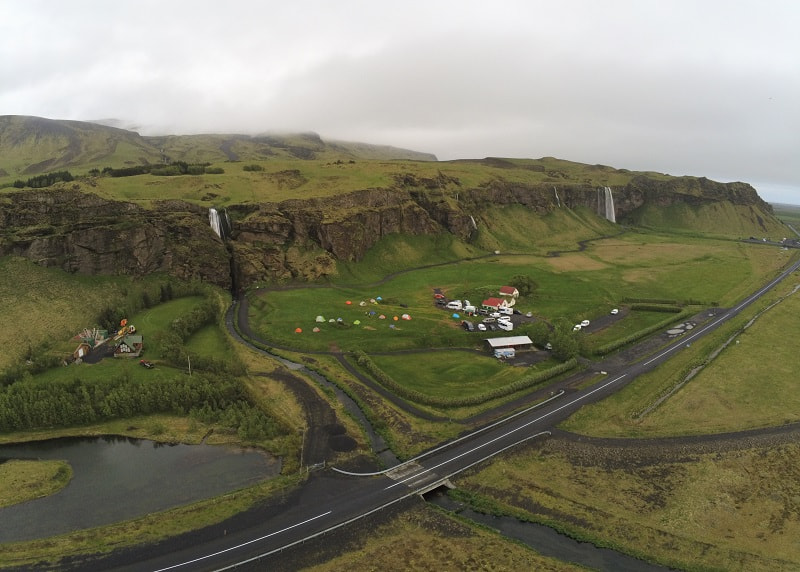 Location: GPS Coordinates: 63.621090, -19.989771 Map
Just off of Route 1, between Gljúfrabúi and Seljalandsfoss. The towering green cliffs and waterfalls make a magnificent backdrop for this campsite, although your view may be blocked by other campers. The lot and tent area were relatively crowded, even in mid-May, and I could see this being one of those places that fills up quickly.
Fees: 1500 ISK per adult and 1000 ISK per senior, children under 12 are free
Electric Hookup - 1000 ISK, Washer - 500 ISK, Shower - 300 ISK for 3 minutes
Camping fees paid in the South Coast Adventure office by credit card or cash and they had change available for showers
Kitchen: Indoors across from South Coast Adventure office. Two 4-burner electric stoves, two sinks, an assortment of pots, plates, some cutlery, dish towels, an electric tea kettle, cutting boards, free supplies area, and tables with chairs for about 12.
Bathrooms: Showers open 6PM-11AM. The shower building is a bit distressed and many of the doors did not latch properly when we were there. The bathroom in the office/kitchen building is much nicer. There are a couple shower stalls for each gender. We did not use them, but other people complained that by the time they figured out the water and got it to the right temperature they only have about 90 seconds of their three minutes left.
Wifi/Power: Wifi was available in the kitchen area as well as a couple outlets.
Other: Pets allowed, quiet hours 12AM-8AM, clothesline, dump station, and some recycling.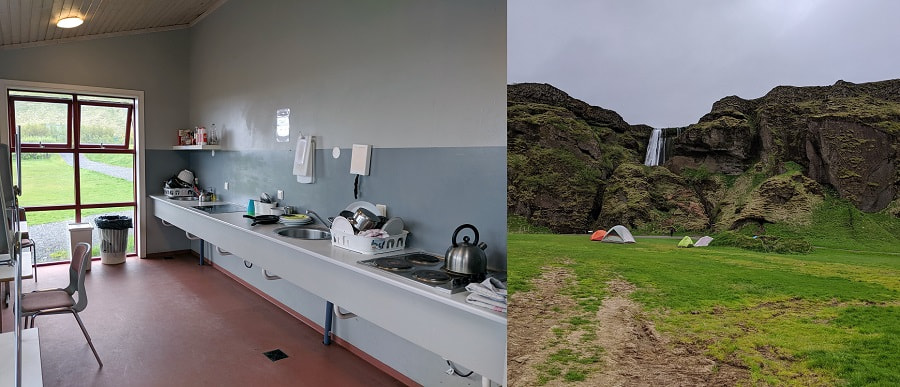 ---
Vik Campsite, in the town of Vik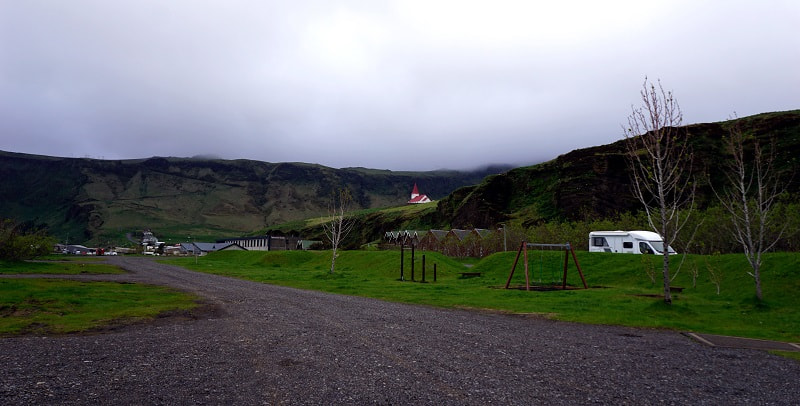 Location: GPS Coordinates: 63.419309, -18.995447 Map
Just off of Route 1, in the town of Vik. This is a massive campground in a pretty area with lots to do and see nearby. They also offer a couple cabins for rent and more info can be found on their website. The campsite is just across the road from Kronan (a large grocery store which has a microwave) and easy walking distance to the town. There are a couple boards behind the campsite with trail maps and info on the area.
When we were there the road and several of the buildings were under construction. The kitchen and common areas were closed for renovations and there were tractors banging around for a good part of the day. When we checked in they told us that the kitchen would be open the next day but it was not. We were a bit annoyed at having to pay full price when half of the facilities weren't even available. That said, it looks like it will be very nice once they finish it.
Fees: 1750 ISK per adult, children under 13 are free
Electric Hookup - 800 ISK, Shower - 300 ISK for 5 minutes shared shower
Camping fees paid in the office by credit card or cash
Kitchen: Large and looked like it will be nice, but closed for renovation when we were there.
Bathrooms: Large, looked brand new, clean, and heated. About 6 stalls per gender. There is one shower room per gender which is a community room with four showers that are coin operated. Easy to use and lots of nice hot water, but no privacy.
Wifi/Power: Wifi was available in the kitchen/community area.
Other: Pets allowed, quiet hours 12AM-8AM, dump station, and some recycling.
---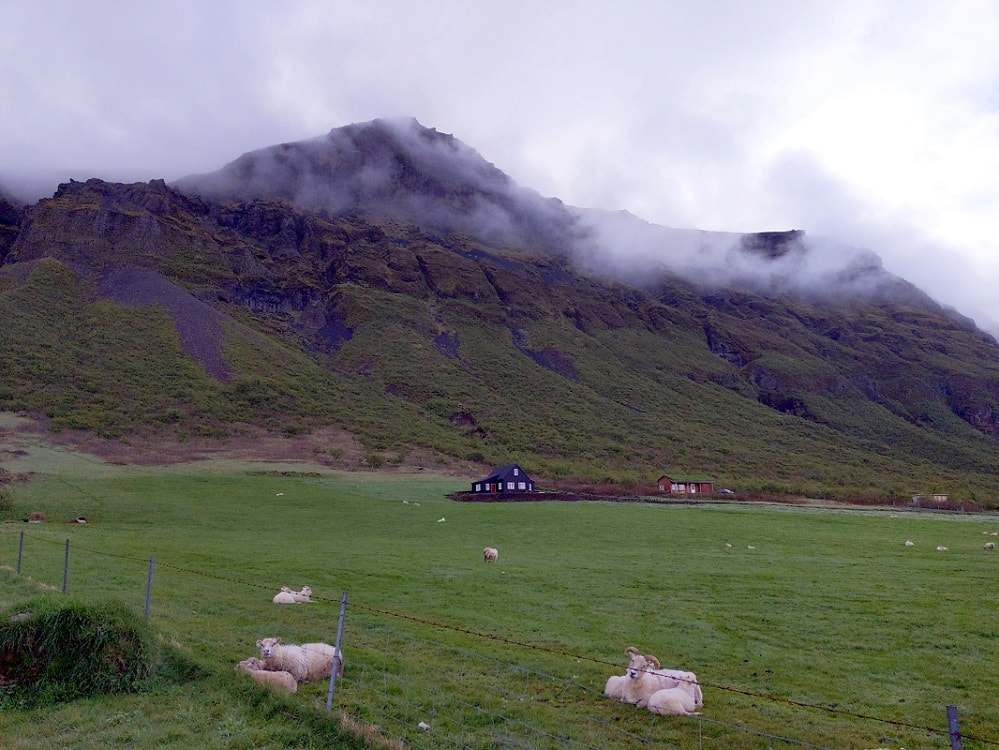 Location: GPS Coordinates: 63.979062, -16.853207 Map
Beautiful location close to Route 1 and within an hour drive of Diamond Beach and Jökulsárlón Glacier Lagoon. On one side we had mountains disappearing up into the fog and on the other fields of sheep. This site had a kitchen with a huge common area. There was lots of tent space but somewhat limited parking/camper space. Only a few other groups were staying there at the time so it wasn't an issue for us.
They also have cabins and bunk accommodations that you can find more about on their website.
Fees: 1700 ISK per adult, children under 13 are free, includes showers
Washer - 450 ISK
Camping fees paid in the office above the campground by credit card or cash
Kitchen: Nice indoor heated facility. Lots of tables (they claim enough for 80-90 people). Community fridges, 2 electric two burner stoves, 2 toasters, 2 electric tea kettles, outdoor grill, 1 sink, large selection of pots, and a free supplies area.
Bathrooms: 4 unisex shower rooms, plus one additional stall shower per gender in the wash room. Nice warm water but you need to keep pushing the button to keep it on and consistent temperature because as the timer starts to run out it fluctuates. A couple toilets for each gender.
Wifi/Power: Wifi in the office area but does not reach the kitchen/common area. Outlets for charging in the common area building.
Other: Clothesline inside, bottle recycling, and trash. No camper power hookups.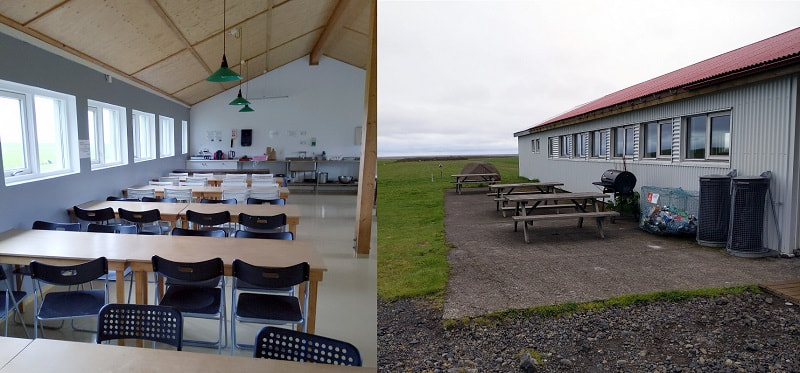 ---
Reyðarfjörður Campsite, in the East Fjords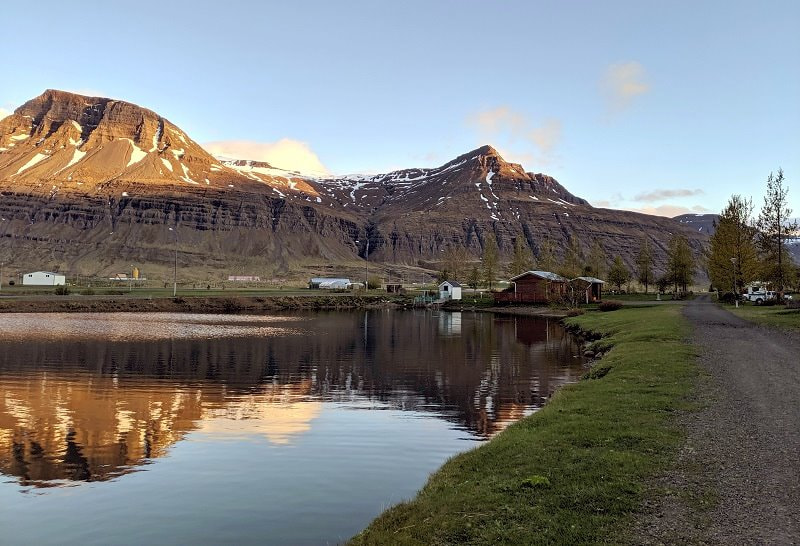 Location: GPS Coordinates: 65.033968, -14.239683 Map
Just a few minutes off Route 1 on a pond surrounded by mountains. This is a very pretty area just outside town with decent wind protection. This campground is quite large, with lots of parking and tent room. There is a little pond with ducks and some walking trails nearby.
We asked the lady who collected the camping fee and she told us where to find a trail that goes around the town and ends back at the campground for a nice walking loop. The Búðará hiking trail starts about here: 65.032717, -14.217300 Map, follows a canyon with a few waterfalls, then crosses the river and circles back around the town with a nice view of the mountains and ends in a neighborhood just above the campground.
Fees: 1400 ISK per adult, children under 18 are free, includes shower
Electric Hookup - 800 ISK, Washer - 800 ISK, Dryer - 800 ISK
Camping fees paid to attendant (friendly lady with tips on the area) who stops by to collect. Credit, cash, or camping card accepted.
Kitchen: Small heated room with a sink, table, and a couple chairs.
Bathrooms: 2 nice unisex shower rooms with nice hot water and 2 water closets. It looked like they have more water closets available in the summer in a second building but we did not verify this.
Wifi/Power: Wifi was available in the kitchen as well as an outlet for charging.
Other: Pets allowed, trash receptacles.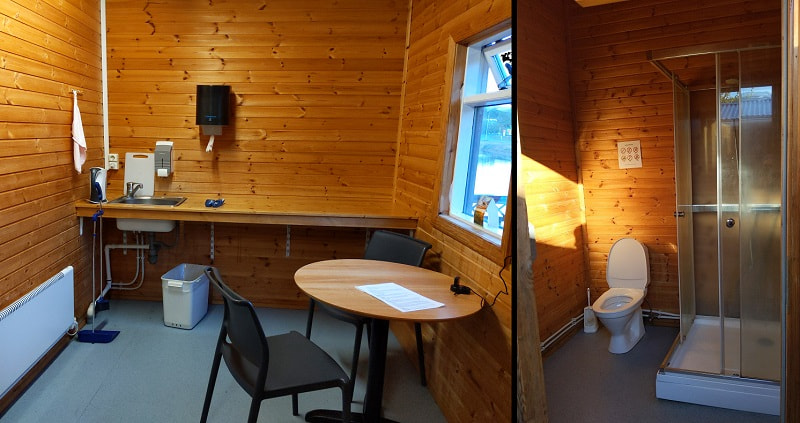 ---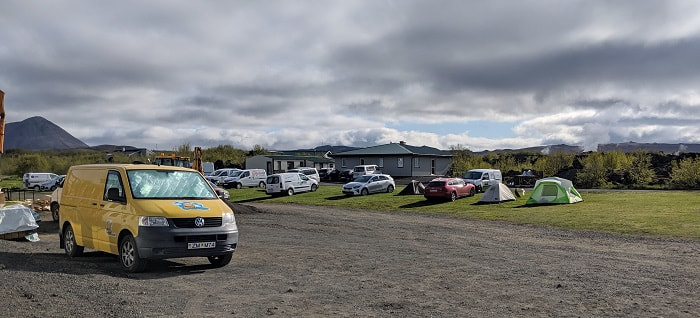 Location: GPS Coordinates: 65.623733, -16.918637 Map
Just a few minutes off Route 1 near the lake but with no view. Average for the area but by far our most expensive campsite. The place had lots of construction going on and looked like a bit of a mess when we were there but did have excellent kitchen facilities. The camping area felt cramped and it seems that they may be replacing some of what used to be camping with guesthouses. They also offer info about several types of accommodations on their website.
There is a pizzeria on site that offer all kinds of pizza including lamb. We felt it was nothing special but decent. Pizzeria Menu
The hot water here is geothermal. This is pretty cool and since it is so close to the Myvatn Baths it may even be the same water as the spa with its acclaimed special properties. However, it also shares the sulfur smell of many of the geothermal areas. The cold water doesn't smell.
Fees: 2000 ISK per person + 500 per tent/car/small campervan or 1500 per motorhome (electric included), children under 14 free, includes shower
Electric Hookup - 500 ISK
Discount available for multiple nights
Camping fees paid at office or pizza shop by credit or cash. When we were there they were giving out 15% off pizza coupons.
Kitchen: Two full kitchens. Each kitchen had a fridge, full four burner stove with oven, toaster, coffee maker, electric tea kettle, microwave, sink, cutting boards, pots, utensils, cheese cutters, graters, strainers, a bit of everything. Off the kitchen is a long common room with a bunch of tables and chairs. The walls were all painted to look like the lava formations of the area. There may be more to this building but some of it was under construction.
Bathrooms: Two shower stalls per gender inside and one water closet. Two more restrooms outside and more may be being built but we couldn't tell for sure.
Wifi/Power: Wifi was available in the pizza restaurant only and did not work in the kitchen even though there were signs everywhere with the password (although this may have been due to the construction). There were a few outlets in the kitchen but none in the common areas.
Other: Pets allowed, trash receptacles, lots of recycling including things like paper, outdoor seating, protected outdoor porch with seating on the side of the kitchen.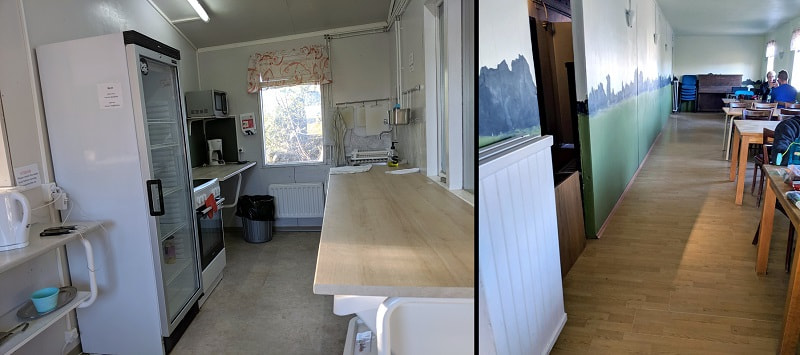 ---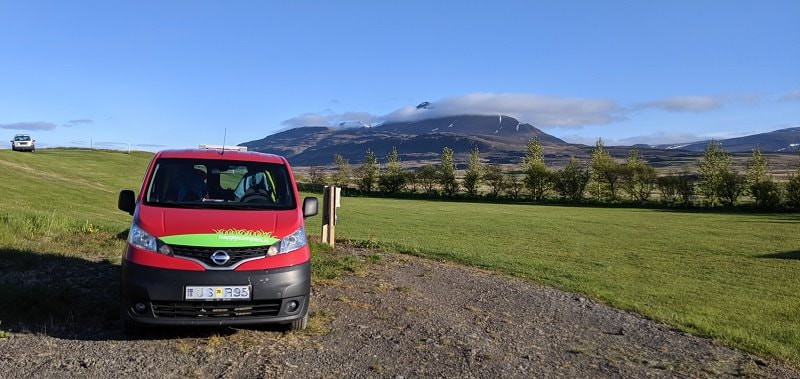 Location: Great place but a little confusing and tricky to find. GPS Coordinates of where we actually stayed: 65.462290, -19.341328, but please read below.
We stopped where the map we received from the rental company said to go, which was GPS Coordinates: 65.467805, -19.354878 Map and Google shows camping there but calls it Steinsstaðalaug Camping, not Steinsstaðir. We didn't find anyone there so we went back up the hill to the building and found a sign in the window with an arrow pointing back down the hill and the same phone number as we had for the campsite. We called the number and a friendly man said he would be right there. Sure enough about five minutes later a van showed up and asked us to follow. We did and he lead us to the camp.
Phone Number: 899-8762
The campsite is about 15 minutes off Route 1. The setting was nice with mountains, a stream, and a greenhouse nearby. There were a few cabins and a pool house with a geothermaly fed pool that the owner was very proud of. This one had nice naturally soft water and didn't smell. The best part was that we had the entire campground to ourselves! There was another campground nearby, Bátafjör Bakkaflöt, that we passed on our way to this one. When we passed there were two busses full of students getting off, so we were very happy with our find and grateful for the peace and quiet.
Fees: 1500 ISK per adult, children unknown, includes shower
Camping fee was paid by cash only, to the owner who lived right above the site. I don't know if this is an off season thing or normal, but you could always call and ask. He was fine with us paying in USD.
Kitchen: Two burner electric stove, fridge, a couple tables with chairs, and a tv (although we never check if it worked).
Bathrooms: Two huge but odd bathrooms on the back side of the kitchen building with a curtain to pull across between the sink and toilet. There was another bathroom for each gender in the pool house. A stall shower was also in the pool house, one for each gender in the bathroom. The shower is private, but had no door or curtain.
Wifi/Power: There were some outlets in the kitchen but the wifi wasn't working.
Other: Trash receptacles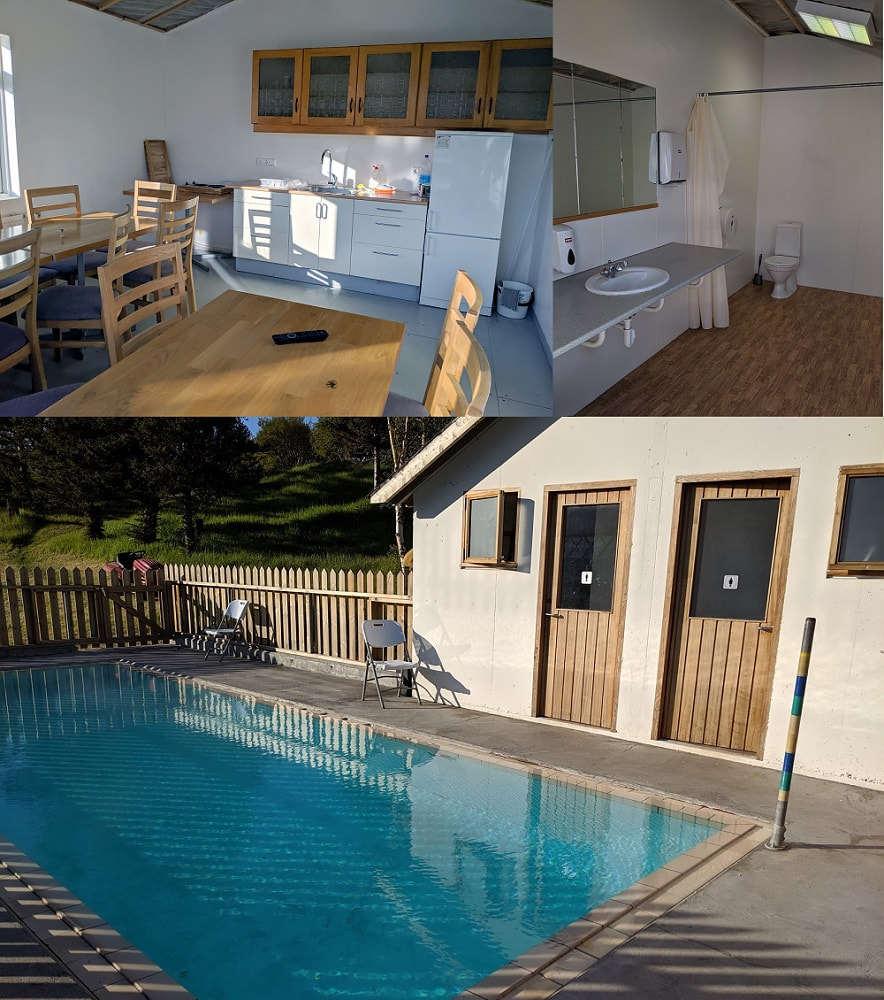 ---
Stykkishólmur Campsite, Northern Town on the Snæfellsnes Peninsula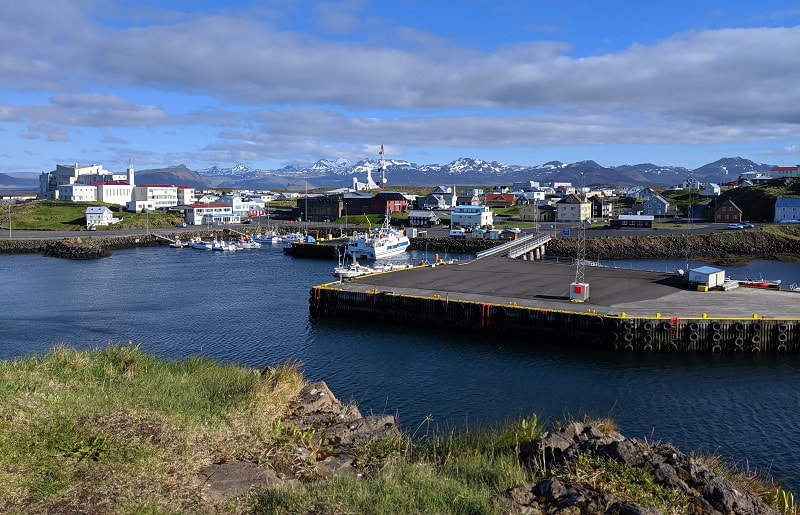 Location: GPS Coordinates: 65.070478, -22.731577 Map
About 10 minutes off Route 54. This campground is right on the edge of the picturesque town and a golf course. Stykkishólmur is easily within walking distance and had an interesting church, a pretty harbour with a light house, some restaurants, and a Bonus grocery store. The campground is pretty big. Some areas have a bit of shelter from the wind, but it is located on a hill above town so be prepared for it to be a bit brisk.
Fees: 1500 ISK per adult + 500 per tent/van/RV, seniors 1000 ISK, children under 15 free, includes outdoor shower
Electric Hookup - 850 ISK, Laundry - price unknown
Camping fees paid at the golf club by credit or cash. Multiple day discounts available.
Kitchen: A small room in the club with a microwave, electric kettle, and a couple tables and chairs. The sinks for dish washing were outside. They had soap, hot water, and a wall to block some of the wind.
Bathrooms: A couple stalls for each gender in the golf club. There is another large building but it was closed until June except for the shower. The showers were on the outside of this building. They were stall style with a big heavy door, walls to the ground on two sides, the third one had a hand size gap at the bottom, and no roof. Supposedly the water was hot, but it was very cold when we were there so we skipped the experience.
Wifi/Power: There was decent wifi in the golf club and a couple outlets in the kitchen.
Other: Trash receptacles and some recycling.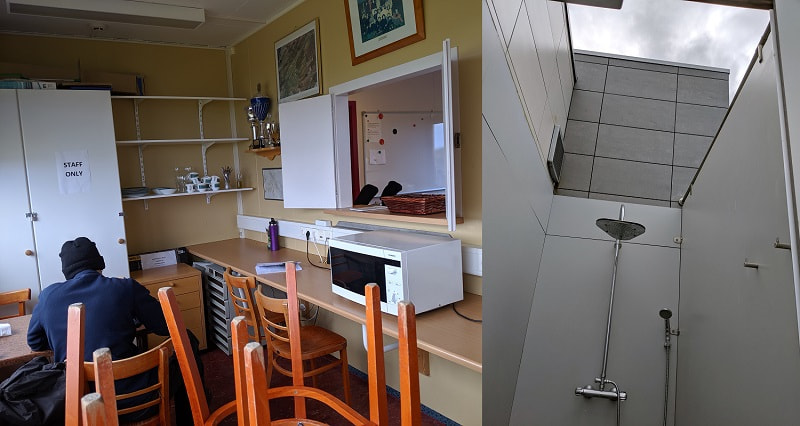 ---
Hellissandur Campsite, Snæfellsnes Peninsula just north of Snæfellsjökull National Park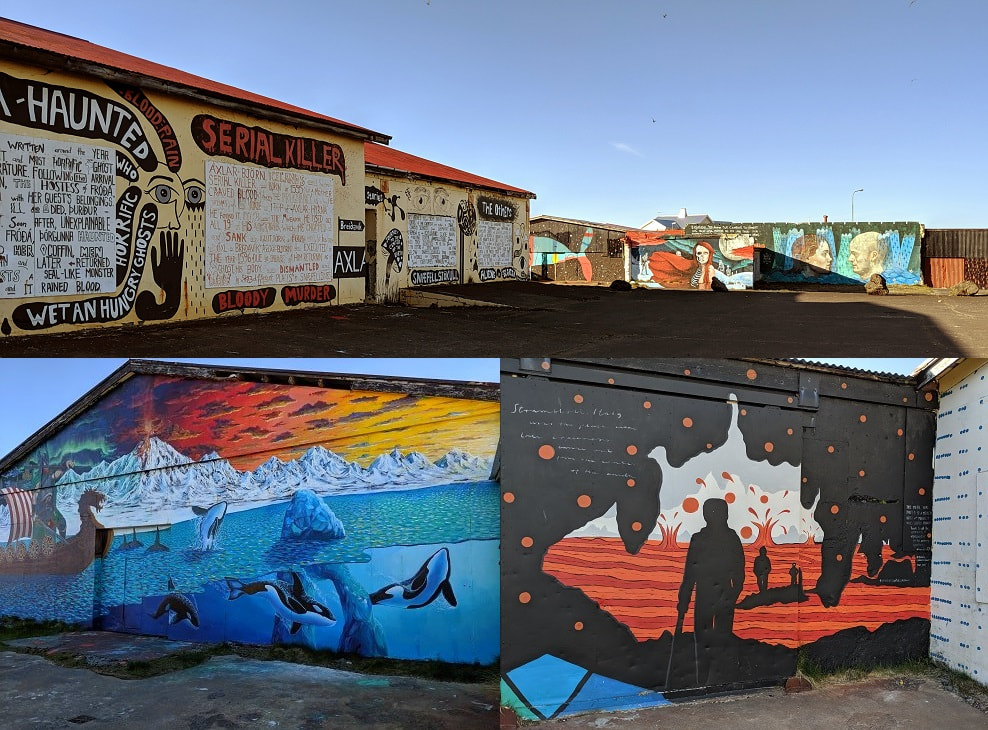 Location: GPS Coordinates: 64.912361, -23.889304 Map
This campground is located at the North East edge of Snæfellsjökull National Park, right off the main road next to the town of Hellissandur. The campground was basic but the town was a pleasant surprise. Hellissandur was decorated in a variety of murals and street art and made a great evening stroll. It advertises itself as the "Street Art Capital of Iceland" and at least on density I think it wins. The campground had a good amount of space that could be used for tents or camper.
Fees: 1500 ISK per adult, seniors 1000 ISK, children 14-16 500 ISK, children under 13 free, includes shower
Electric Hookup - 700 ISK
Camping fees paid by credit or cash to attendant who stops by a couple times a day.
Kitchen: Very basic but indoors. Two sinks, a counter, and a box with a few free supplies.
Bathrooms: Women's had two toilet stalls and one shower stall with a sign requesting that people limit their showers to 5 minutes. Men's had a urinal, a toilet stall, and one shower stall. The water was nice and warm.
Wifi/Power: Wifi in the kitchen and one outlet near the ceiling.
Other: Clothesline, trash receptacles and some recycling. Nice playground.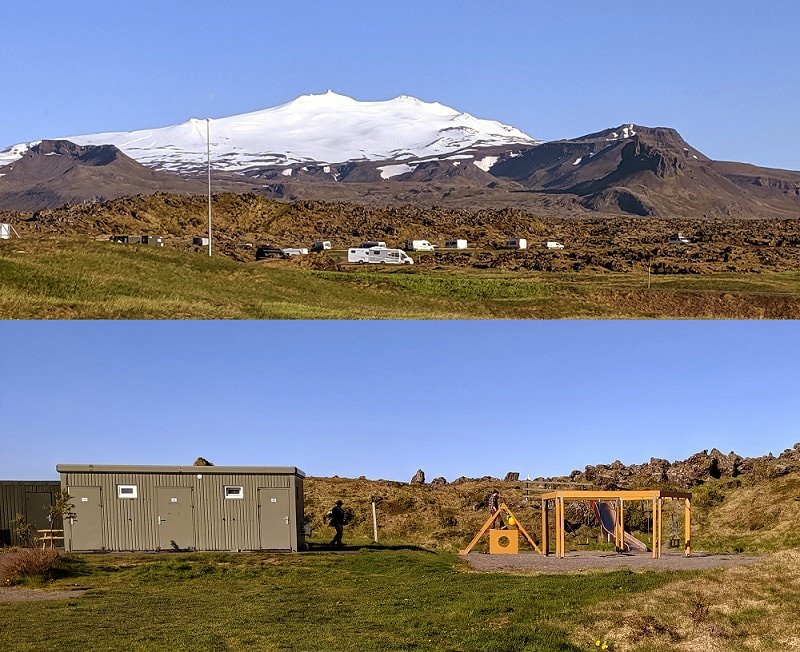 ---
Snorrastaðir Farm Campsite, Between Reykjavík and the Snæfellsnes Peninsula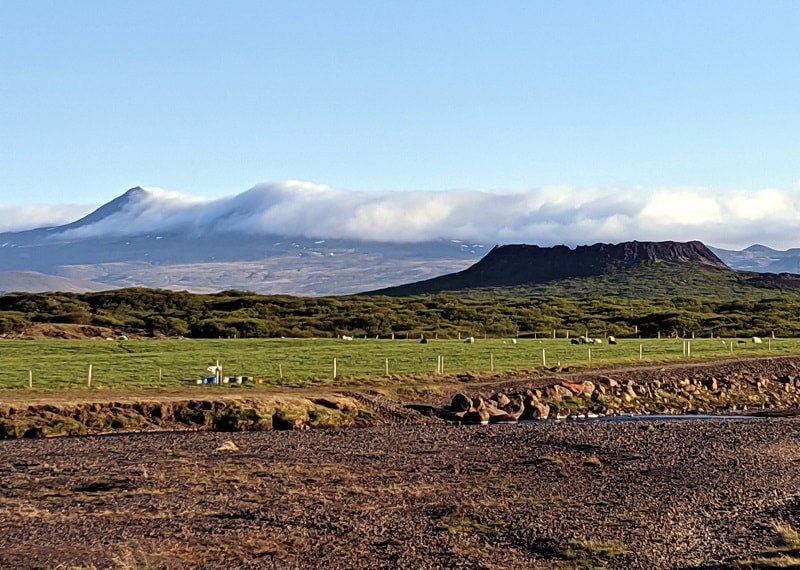 Location: GPS Coordinates: 64.773208, -22.304712 Map
This campground is located right off Route 54 but the road/driveway was not on the map (starts at GPS: 64.782277, -22.267029). We had very little information about it and were pleasantly surprised. When we arrived the family was busy with farm duties so one of the kids checked us in. The campsite was a basic lot by a stream with a nice backdrop. The kitchen was excellent. They also offer other accommodations and services that you can find on their website.
The farm has horses and sheep. We got to see the dog herding the sheep into the barn and the children going for a tractor bucket ride at the end of the day. There is a nice walking trail to Eldborg crater which was well maintained and had ropes to assist in climbing the crater.
Fees: 2500 ISK per vehicle
Electric Hookup - 500 ISK
Camping fees paid at the farmhouse by credit or cash.
Kitchen: Large kitchen/common room with tables and chairs. Full stove with oven, electric tea kettle, coffee maker, toaster, microwave, fridge, sink, tons of pots, lots of silverware and utensils, plates, bowls, glasses, fully stocked with just about anything you need.
Bathrooms: Two toilet stalls for each gender but the women's bathroom smelled a bit like sewer gas. Two unisex shower rooms.
Wifi/Power: There was wifi and several outlets in the kitchen.
Other: Nice trails and lots of birds.

---
Resources:
You can find maps and info on the campgrounds at camping.info and Tjalda.is, but I found many sites to be missing from their list. I primarily used the map below from Happy Campers and Google by searching the specific site or just "Iceland campsite." Many of the listings were not completely accurate, but it at least gave me a starting point and a contact number.
Does free camping still exist? Some campgrounds are free in the winter, but with limited facilities. There are many places that you probably could stay in a van, at least in the summer, without drawing attention, but that doesn't necessarily make it a good idea. Beer and Croissants had an interesting article on a couple of free spots they stayed in their camper. We did not try any of these out. Some campsites felt commercial and crowded but others were small family run places that made me feel good to support.
---
Product Links: I am not sponsored by any of the products I link to. If you choose to make a purchase from one of the links of a product I listed or any other item a small percentage will go back to me to fund this website, at no additional cost to you. The products I link to are either ones I have used or similar if those are not available. Thank you for your support.
---
More?
For more of Iceland see my full Trip Itinerary & Travel Budget.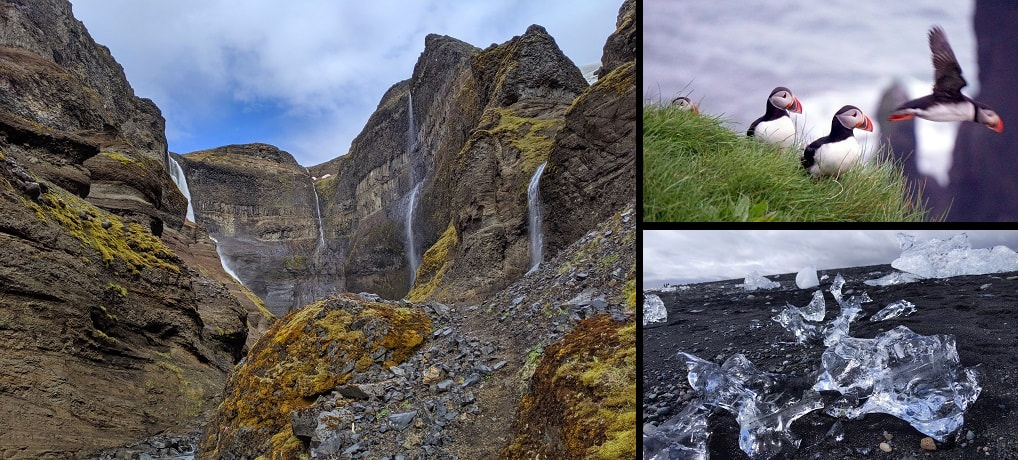 See our full Italy Trip Itinerary.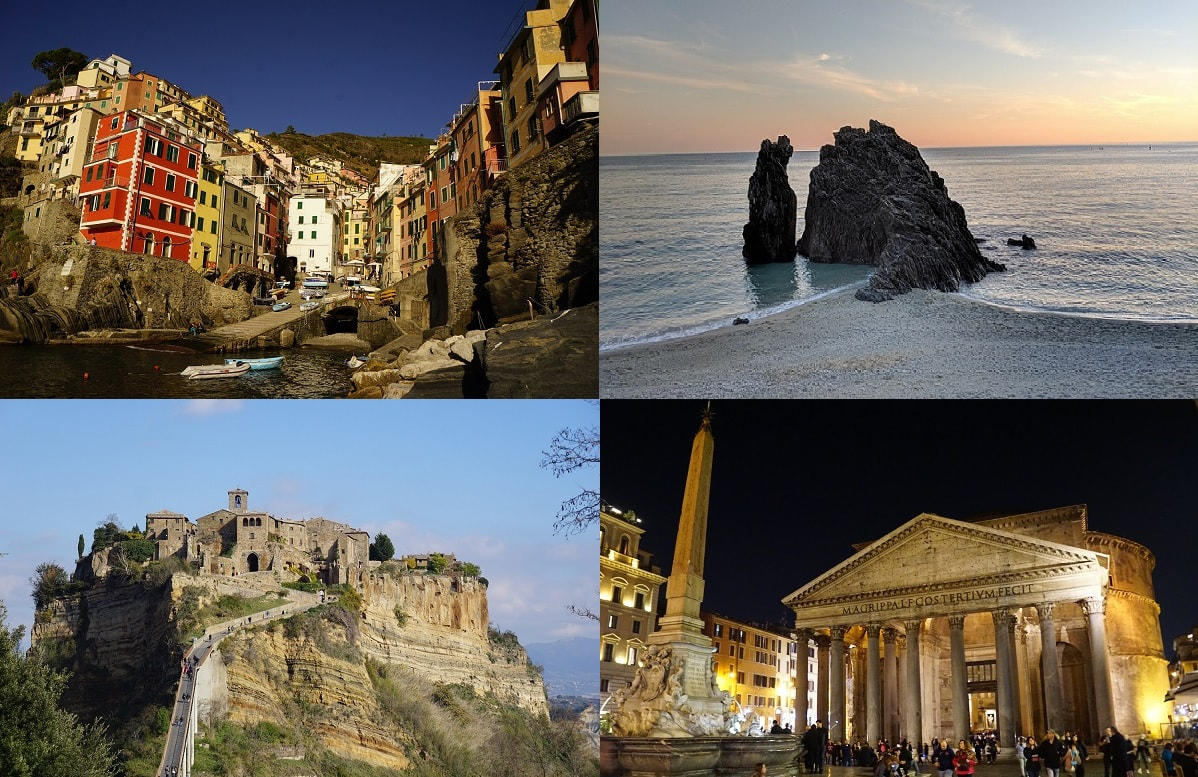 Check out our full Peru Trip Itinerary.