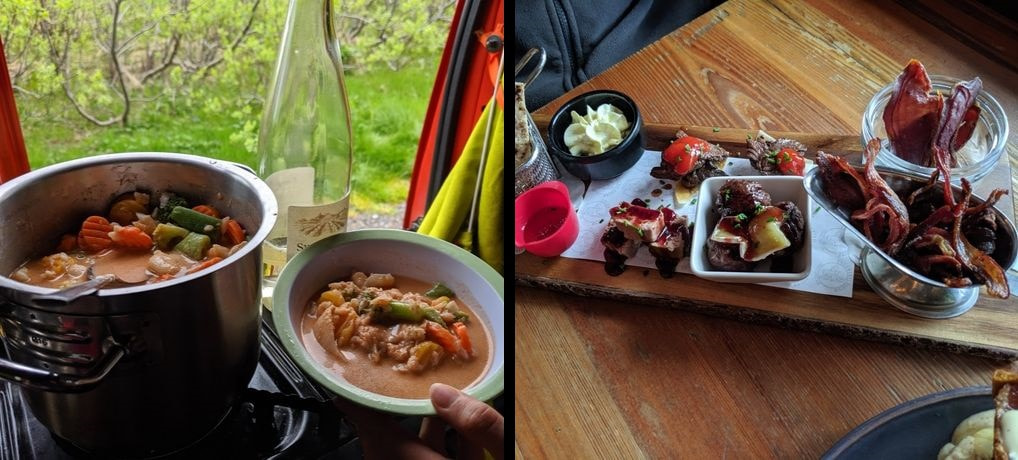 When you see the Icelandic landscape and think about the weather it is hard to imagine anything growing there. They do import a lot of food, but not quite as much as you might think. Sheep do well there and their waters are rich with fish. The unique geography also provides an unusual heat source for green houses. Many are heated by geothermal, which is virtually free once it is tapped into. One of the campgrounds we stayed at had a greenhouse full of ripe strawberries and tomatoes. If you see the Icelandic flag on the packaging you are supporting Icelandic grown products.
On this road trip we mostly cooked for ourselves, but did try out some local specialties, and treated ourselves now and then.
All prices here are based on what we saw in May 2019.
---
Icelandic Specialties
This is a list of some more mainstream items that we sampled while we were in the country. Most you can get at the grocery store or fuel station convenience store.
Snacks and Breads

Skyr - Of course you can't visit Iceland without at least trying Skyr. It is a cheese with a yogurt consistency and is served in a little cup, just like yogurt, generally with a little plastic spoon. It comes in all different fruit flavors and is available with different sweeteners (ex. stevia is popular). Coconut by KEA was pretty nice and not overly sweet. Honestly, I can't say I would be able to tell the difference if you swapped this with my normal Greek yogurt, but if you like yogurt you will probably like this.
Kleinur - This is a twisted doughnut. The dough is lightly sweet, crisp on the outside and chewy in the middle. We got nice ones at Kronan Grocery (190 ISK ~ 1.50 USD each). The ones in the bags are much less (369 ISK ~ 3 USD for 10), but were not very good. I wouldn't say these are a special must try item, but they are easy to find and tasty.
Rúgbrauð - (Left Image Above) This is a must try sweet rye bread, especially if you are a fan of molasses. Look for the full loaves that should resemble a dark brown brick (299 ISK ~ 2.40 USD). It often comes sliced, but that is not as moist. This is a lightly sweet dense, almost fudgy, bread with no crust. I really enjoyed its flavor and texture.
Flatkaka (Middle Image Above) - Flat rye bread that looks almost like pita. These are common and often sold split in half. We had some fresh at a restaurant and some from the store and it was ok, but definitely has a bit of that rye sharpness that I am not a fan of.
Crisp Bread (Hrökkbrauð) - (Right Image Above) These seemed to be popular and fell somewhere between cracker and granola bar. We liked them because they were so versatile. You could have them for a snack on the trail, spread peanut butter on them, or have them with cheese. They are generally fairly bland, but packed with birdseed energy (198 ISK ~ 1.60 USD).
Meats & Entrees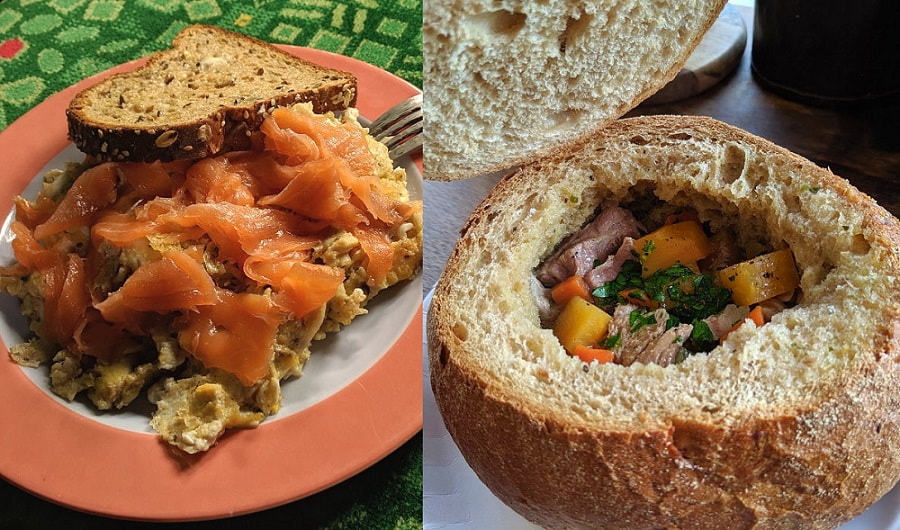 Smoked Salmon (Reyktur Lax) - (Left Image Above) I enjoy smoked salmon but am fairly picky about it. I prefer it mild and very thinly sliced. Most of what we saw was either in blocks or thickly sliced, but I found one small package in Vik's Kronan (589 ISK ~ 4.75 USD). It was Icelandic Salmon cut thin and had a lovely buttery, slightly sweet quality. We enjoyed it on our eggs and toast with breakfast for several days.
Lamb - Iceland is very proud of its lamb and boasts that the flavor is unique because of the different kinds of grass and plants that they eat. Most of the roast lamb we saw at restaurants was in the 40 USD and up range, which was a bit pricy for us, but we tried a couple other preparations which were all quite tasty. Lamb soup (below) was our favorite. We sampled some smoked dried lamb, which was essentially lamb jerky, and some lamb bacon. Both were nice and had a mild hint of that lamb flavor. We also had a prepared 1944 lamb meal (1045 ISK ~ 8.40 USD). The roast lamb was tender, juicy, and flavorful, but the gravy was a bit overwhelming and I felt got in the way of tasting the flavor of the meat. The sides were sweetened roast potatoes and peas.
Lamb Soup (Íslensk Kjötsúpa) - (Right Image Above) This is another must try item. We loved the lamb soup and sampled it on three occasions. We had it at Icelandic Street Food Restaurant in Reykjavík (in a bread bowl 2190 ISK ~ 17.75 USD), pre-made by Bonus (1598 ISK ~ 12.94 USD for 1 kg), and pre-made by 1944 (1268 ISK ~ 10.30 USD for 1 kg). 1944's version was our favorite, with Icelandic Street Food as a close second. Both had lots of nice tender lamb, a rich complex broth, and a variety of veggies. I wrote a copycat recipe for the 1944 Lamb Soup below.
Special Smoked Lamb (Taðreykt Hangikjöt) - There are a couple kinds of smoked lamb in Iceland and supposedly this is the better one because of the more complex flavor. This flavor comes from the special kind of fire they smoke it with, a dung fire. Iceland doesn't have a lot of trees for fuel to burn, so like many places they used what they had, and in this case it is supposed to be an improvement over wood smoke. We tried a package of Bonus sliced deli style meat (598 ISK ~ 4.80 USD for 143 grams), which is common in sandwiches, and the flavor was fine but the texture was a little off putting to me. The meat we had was cut with bits of cartilage and fat running through it, so some bites were chewy or slightly crunchy.
Hot Dog (Pylsa) - Hot dogs are another dish that Iceland likes to use to incorporate their lamb. There are several varieties available, but Pylsa is the most popular at stands and service stations. They are a mix of lamb, beef, and pork. While I wouldn't say that you can pick out the unique lamb flavor, they are nice and reasonably priced by Icelandic standards. We found a five pack for 420 ISK (~ 3.40 USD) at Netto, and a loaded hot dog at a service station for 369 ISK (~3 USD). They usually come on a bun with raw and/or crispy onion flakes as optional, then you get to put whatever sauces you want on them. Usually you have a couple mustard options, a mayo sauce, and ketchup. We really liked the crispy onions.
Desserts & Sweets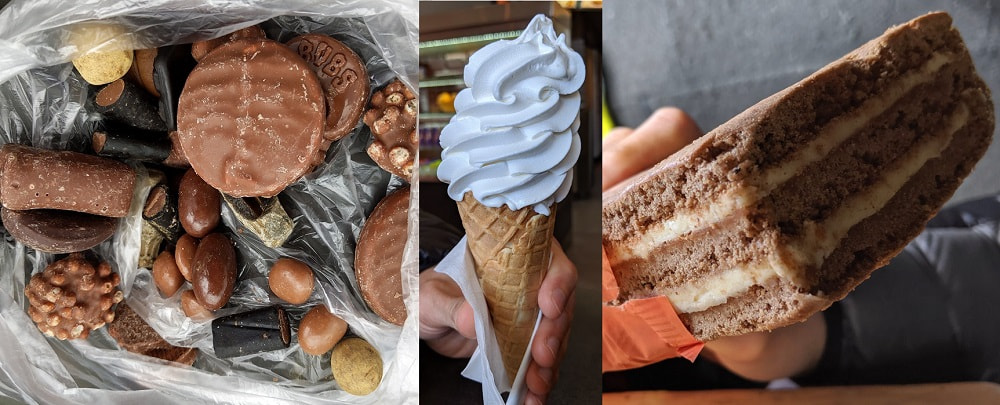 Candy - Licorice is an Icelandic favorite and comes in all kinds of varieties. You can get string, nuggets, hard candy, sweet, salty, chocolate coated, with marzipan, chocolate filled, and more. You can find most of these in bags at the store or self serve bulk candy bins sold by the kilo (2649 ISK per kg ~ 9.75 USD/lb) at some convenience stores. They often have 50% off sales on the weekends. If you are new to licorice or aren't a big fan the Appolo marzipan ones or the ones with chocolate are a reserved mix that are more agreeable to most palates than others like the salty licorice. We found both salty licorice gummies and hard candy in a bulk candy bin, along with a selection of regular gummies, chocolates, coated marshmallow candies, and some butterscotch type sweets. If you want an authentic experience at home then Appolo, Sambo, and Lakkrís Spyrnur were all ones we saw on the shelves in Iceland.
Ice Cream - It seems like every rest stop had soft serve ice cream, which felt odd for a country where it never gets particularly warm. We tried some from Ísbúðin Akureyri (supposedly one of the best shops) and from Oli's Service Center. They both tasted like soft serve and we felt they were pretty much the same, but Oli's was definitely the better deal.
Brúnn Biti - (Right Image Above) I am a big gingerbread fan and this was my favorite dessert. It tasted like gingerbread layered with a mild lightly spiced frosting. The gingerbread layers were crumbly and the frosting was moist and creamy, balancing out the dry cake. We saw these cakes a few places, but they were usually quite large. (579 ISK for 400 g at Bonus ~ 4.65 USD)
Chocolate-covered Cake Square (Gæðab Hrískubbur) - If you are a chocolate lover this is for you. This is a white cake with creamy caramel or dulce de leche adhering some crispy rice to the top, all dipped in chocolate. The combination makes of all those textures makes an indulgent dessert (and after all that hiking why not?). Watch out, these get messy in a hurry.
Other Specialties
Icelandic Salt - Icelandic salt is harvested and handcrafted in a few areas, but most famously in the Westfjords. Saltverk makes jars of some unique flavors that are beautiful gifts and fun to bring home. A few include Licorice, Birch Smoked, Arctic Thyme, Seaweed, Lava, and regular. You can find semi-pricey gift sets at the airport and souvenir shops, or single jars at some grocery stores that are generally much less (624 ISK for 125 g at Bonus ~ 5.05 USD).
Other Oddities for the Brave and Curious - Many other Icelandic specialties are along the lines of things that once were eaten to survive. Of those, some (like fermented shark) are more of just a novelty item now, while others like the dried fish with butter are still readily available at the grocery store or as a side on some restaurant menus. You can find out more about those on Guide to Iceland.
---
Lamb Soup Recipe
Serves: 6-10 people
Cook Time: 90 minutes stove top or 45 minutes pressure cooker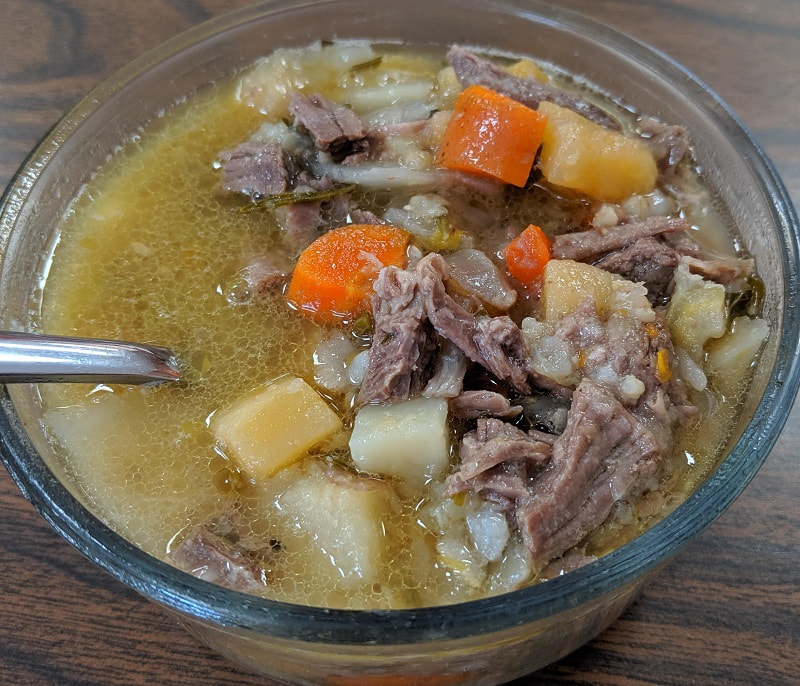 This is my copycat recipe of the 1944 Íslensk Kjötsúpa (Traditional Lamb Soup). I got most of the ingredients off the container and I would say this is a fairly close version, except a bit heartier. I am sure some of these ingredients were not available in traditional cooking so I would call this more of a modern Icelandic Lamb Soup. You can make this on the stove or in an Instant Pot Pressure Cooker (directions for both methods below).
Ingredients:
Stock:
1.5 tablespoon olive oil
4 cloves garlic, minced
2-3 pounds *lamb, cut in large chunks
1 **small bone, roasted
1 onion, chopped
1/3 cup brown rice
6 cups of water
2 teaspoon beef Better Than Bullion (or substitute beef broth for some of the water)
½ teaspoon dried thyme or 1 t fresh
½ teaspoon dried oregano or 1 t fresh
½ teaspoon dried crushed rosemary or 1 t fresh
Salt and pepper to taste
Soup:
½ small cabbage, chopped to 1 inch pieces
3 stalks celery, chopped
3 medium carrots, chopped to ½ inch pieces
½ rutabaga, chopped to ½ inch pieces
1 cup cauliflower, chopped (optional, fresh or frozen)
4 medium potatoes, chopped in ½ inch pieces
1 tablespoon steel cut oats
fresh parsley (optional)
Notes:
*This can be stew meat, leg, shoulder, whatever is cheapest. I used 2.5 lbs from a whole leg roast (about the only thing other than chops that most stores near me carry) and froze the rest of the leg. Don't cut the meat too small because they will overcook during the browning process and it has to be scooped out at the end and large pieces make that easier to do.
**Preferably lamb but if you can't get it a beef bone will work. Salt and roast for 30-60 minutes at 400F. I have made this without the bone but it doesn't have the same richness and depth of flavor. The first time I made this I used a bone I had saved in the freezer from a leg of lamb. If you don't use the bone, add some extra bullion.
Instant Pot Pressure Cooker Directions Cook time - 45 minutes
Turn the Instant Pot (this just barely fits in a 6 quart pot) to high saute and add oil. Brown the lamb pieces. Add onion and garlic and saute (about 1-2 minutes), then add the hot water.

Add remaining Stock ingredients. Seal the pot, and set on high pressure for 15 minutes.

Release pressure and add the rest of the ingredients except the parsley. Seal and set for high pressure for 8 minutes.

Release pressure and pull out the meat chunks and bone. Discard the bone, cut meat into bite size pieces, and return to the pot. Add parsley, check for seasoning, and serve.
Stove Top Directions Cook time - 90 minutes
Turn large dutch oven (8 quart or larger) to medium high and add oil. Brown the lamb pieces. Add onion and garlic and saute (about 1-2 minutes), then add the hot water.

Add remaining Stock ingredients, cover, and bring to a boil. Reduce heat and simmer for 45 minutes. Optional: You can skim any froth away for a clearer broth, but it won't change the flavor.

Add the rest of the ingredients except the parsley. Cover and simmer for 20 minutes or until veggies are cooked.

Pull out the meat chunks and bone. Discard the bone, cut meat into bite size pieces, and return to the pot. Add parsley, check for seasoning, and serve.
---
Grocery Prices & Tips
We shopped at Bónus (generally the least expensive), Krónan, Nettó, and Kjörbúdin. Here are a few tips:
Icelandic grocery stores charge for bags to cut down on the amount of plastic so you might want to bring your own. I brought a cooler bag that folds flat.

Krónan and Nettó usually had microwaves and sometimes a seating area.

The Krónan in Vik had discounted bakery items in the evening and ugly food bins. In the ugly food bin we saw things like a 6-pack of peaches (one bad one), a bag of apples (several bad ones), and a broken chocolate rice square, for 99 ISK each.

If you are starting a road trip from the airport area I would recommend doing your shopping at GPS Coordinates: 63.973258, -22.544709 Map because it has both a Kronan and a Bonus in the same plaza. They are both large and have long hours.

Check the hours. Most grocery stores open late and close early.

Proteins like chicken, beef, and eggs generally have to be imported and have a short shelf life, so they are more expensive, while things like fish can be found for very reasonable prices.

Most of the labels were in Icelandic only (particularly in Bonus), but you can usually figure it out well enough from the pictures.
Prices of Some Common Items as of May 2019
| Item | ISK | unit | ~USD | ~USD per unit |
| --- | --- | --- | --- | --- |
| Milk | 180 | 1 liter | 1.46 | 5.52/gallon |
| Butter | 480 | 500 grams | 3.89 | 3.53/lb |
| Cheerios | 670 | 518 grams | 5.43 | 4.75/lb |
| Eggs | 525 | 12 eggs | 4.25 | 0.35/egg |
| Rice | 249 | 500 grams | 2.02 | 1.83/lb |
| Oats | 189 | 1000 grams | 1.53 | 0.69/lb |
| Salmon, frozen | 1999 | 1000 grams | 16.19 | 7.34/lb |
| Chicken Thigh, boneless | 2379 | 1000 grams | 1927 | 8.74/lb |
| Tuna, canned | 470 | 830 grams | 3.81 | 2.08/lb |
| Jam | 199 | 400 grams | 1.61 | 1.83/lb |
| Peanut Butter | 398 | 510 grams | 3.22 | 2.87/lb |
| Bread | 239 | loaf | 1.94 | |
| Pasta | 898 | 1000 grams | 7.27 | 3.30/lb |
| Pasta Sauce | 159 | 520 grams | 1.29 | 1.12/lb |
| Kidney Beans, canned | 129 | 400 grams | 1.04 | 1.18/lb |
| Frozen Mixed Veggies | 339 | | 2.75 | |
| Peas, jar | 98 | 330 grams | 0.79 | 1.09/lb |
| Peaches, canned | 379 | 825 grams | 3.07 | 1.69/lb |
| Ramen packet | 49 | | 0.40 | |
My Iceland Food Prices Spreadsheet has many more and specifies which store. You can also change the conversion rate to match the current rate or your preferred currency.
---
Meal Ideas & Cooking on Road
Cooking isn't for everyone, but it is an option that will save you a lot if you do it intelligently. Whether you are camping or renting a room, cooking facilities are often available. Simple cooking kits for camping (stove, pot, utensils, etc) are available to rent by several companies in Reykjavík.
We camped and cooked the majority of our own food on this trip, but that didn't mean ramen every day or actually at all. We had the luxury of a small fridge and stove in our camper van, so we could make quick meals anywhere we stopped regardless of the weather. A few times we cooked a quick meal while waiting for the the weather to let up and sometimes it worked.
We brought a simple set of spices with us (herb mix, chili powder, onion powder, garlic powder, cinnamon, salt, and pepper) in little jars. Most cooking sets don't have measuring cups so if you think you might need them a teaspoon and a ¼ cup scoop should work. Also remember some sturdy zip top bags for leftover food and ingredients. We made a big pot of fish curry that we cooled on the roof, poured in a freezer bag, put in the cooler, and had as an easy meal the next day.
For some inspiration here are some of the meals we had:
Breakfast

Oatmeal - Milk, oats, cinnamon, dried blueberries
Eggs - Eggs, butter, salt, pepper
Eggy bread - A piece of bread pressed onto an egg as soon as the egg is cracked in the pan, then flipped to toast the other side once the egg is cooked.
Toast with butter
Toast with brie
Eggs with smoked salmon
Breakfast Burrito - tortilla, eggs, cheese, salsa
Skyr
Lunch or Dinner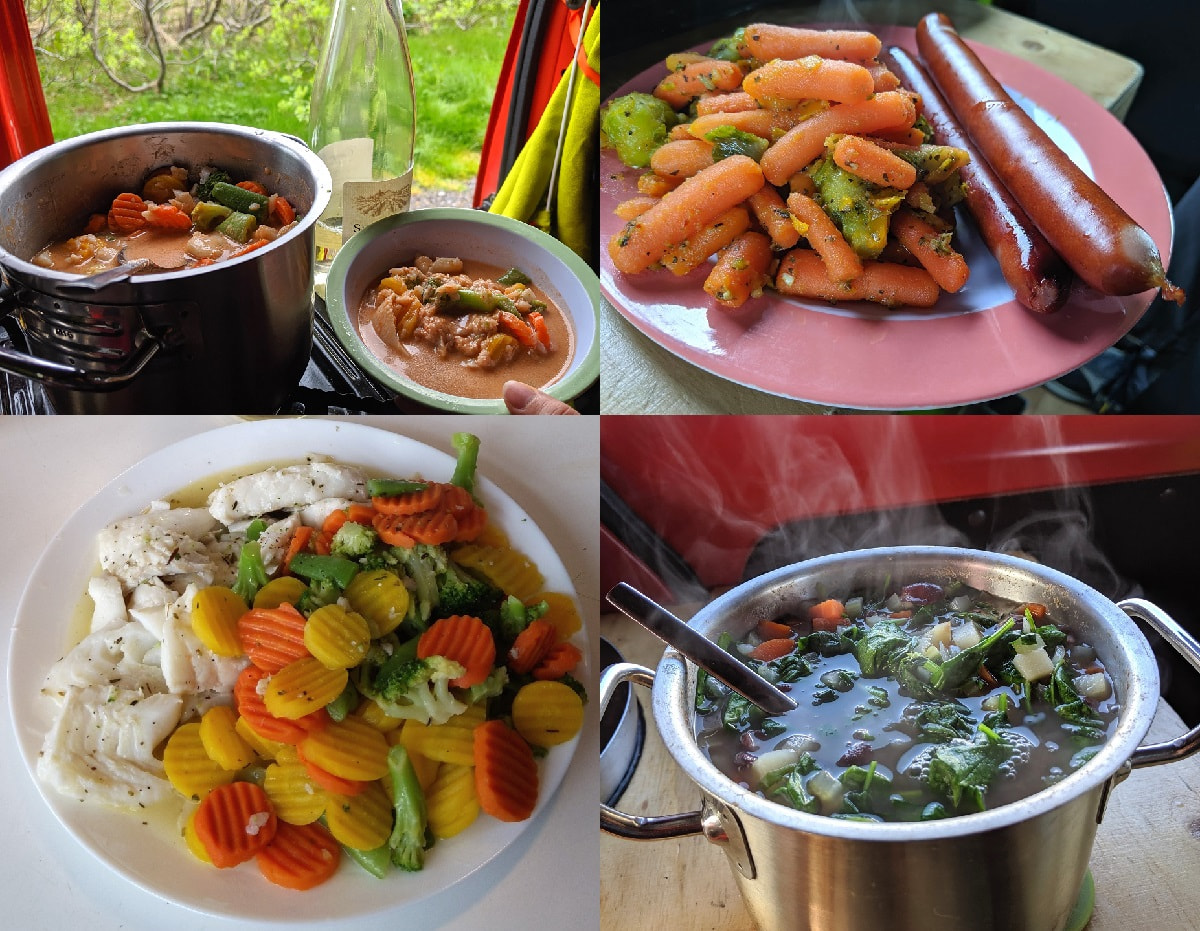 Dal (Indian lentil curry) - Several varieties of packaged dal with rice. For less dishes and fuss you can cook the rice then mix in the dal until everything is heated through.
Veggie Soup - potato, celery, carrot, onion, chick peas & kidney beans (1 can each with liquid), chicken bullion cube, spinach, herb seasoning, salt, pepper, garlic powder, onion powder
Fish with white wine butter sauce or lemon butter sauce and veggies - white fish, butter, wine or lemon juice, salt, pepper, herb seasoning, bag of mixed veggies
Quesadilla - tortilla, cheese, salsa
Fish Curry - white fish, red curry paste, coconut milk, rice, bag of mixed veggies
Hot Dog with veggies - hot dog, mustard or ketchup, mixed veggies
Tuna - canned tuna, mayonnaise or olive oil or plain skyr or yogurt, salt, pepper, celery (optional), bread or tortilla
Burrito - tortilla, salsa, rice, refried beans or vegetarian taco filling
Smoked lamb sandwich - bread, cheese, smoked lamb
Prepared Foods: Lamb Soup, Lamb Meal, and many other options
Bringing Food and Drink to Iceland - We brought a few things from home since we weren't sure what we would be able to find and some things like alcohol are particularly pricey. You can find the official regulations on Iceland's Customs Website. Anything you bring must be sealed and have a manufacturer's list of ingredients. If you are coming from a non-EU country you may not bring any animal products. We brought some nut trail mixes, some vegetarian dal packets, red curry paste (although we found this was readily available), spices, vegetarian taco mix, rice packet, RiteRice, tea, dried blueberries, and a couple bottles of wine.
---
Restaurant Food
We sampled a few restaurants along our trip. Most towns had a place serving soup, fish n chips, and some kind of burger. Pizza, Italian, and curry houses were also popular. In Reykjavik you will see places aimed at tourists advertizing puffin, whale, reindeer, shark, and horse. The ethics of some of these choices is debatable and you will have to make that decision for yourself. Reindeer is one that might sound weird, but is actually a normal replacement for beef in much of Scandinavia since they are naturally adapted to live in harsh environments. Whale on the other hand, is part of Iceland's heritage, but is very controversial as many whale species are endangered or threatened and Iceland is one of the only countries in the world that still hunts them.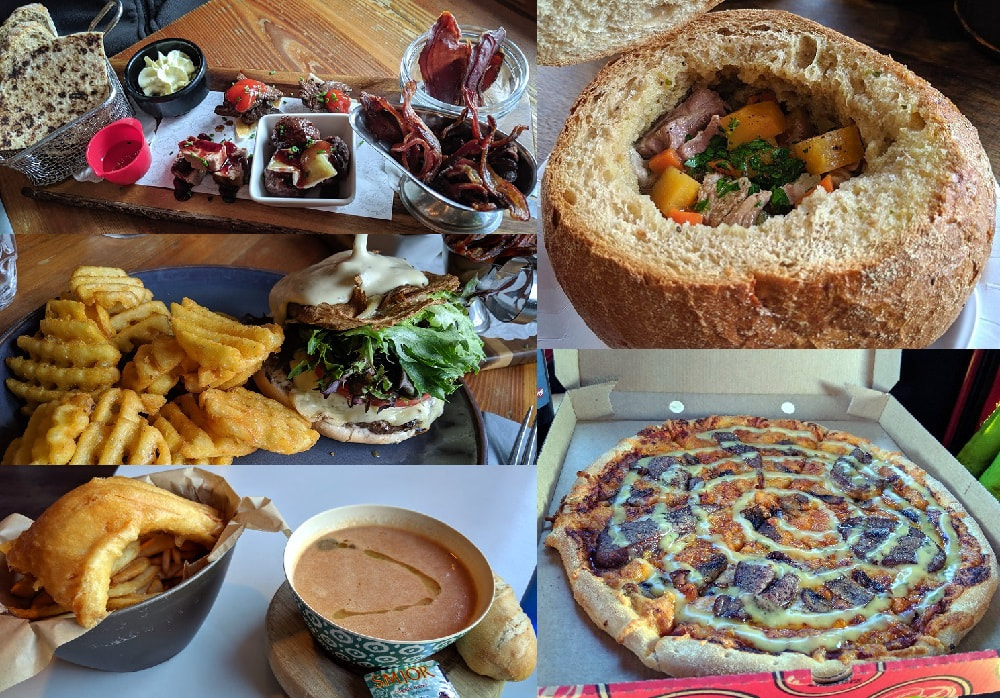 Íslenski Barinn, Reykjavík - This place has a casual feel with a slightly upscale menu. You can go with a simple beef burger here, a more controversial horse burger, or a traditional roast lamb. We ordered a sampler appetizer plate as a fun way to try a few local specialties and one burger for lunch, which came to about 45 USD. The food was decent and the waiter did a very nice job of explaining the dishes. You can find a full menu with prices at their website.
Vogar Daddi's Pizza, Myvatn - We ordered lamb pizza with garlicky mushrooms topped with bearnaise sauce, one of their specials, for about 29 USD (before camping coupons). There were beautiful pieces of nicely cooked lamb and tasty bits of mushrooms, but the crust and sauce were a bit lacking. The restaurant was very casual with mostly tourists, but a few locals. You can find a full menu with prices at their website.
Akureyri Fish and Chips - This place had a casual cozy feel to it with lots of fishing related decor. We had fish soup and fish n chips, for about 28 USD. The fish was excellent, probably the best I've had. Buttery and moist inside, while crispy and light on the outside. I couldn't try the soup because of my shellfish allergy, but my husband said it was pretty good. It had chunks of fish, shrimp, and mussels in a creamy broth. The fries were fries. You can find a full menu with prices here.
Icelandic Street Food, Reykjavík - This place was very casual and is known for its free seconds and desserts. We got a lamb soup bread bowl for about 17.75 USD. The soup had nice tender lamb and lots of chunks of root vegetables in a sourdough bowl. For seconds you just go up and ask (it is expected so don't be shy). I would say the refill bit is a bit of a gimmick, because both bowls are quite small, so you are really just getting one regular bowl in two servings, with the semi-awkward refill. They had water pitchers and trays of mini cake squares and chocolate coated macaroons that were self-serve. They don't list prices, but you can see their menu at their website.
---
What was the best thing you ate in Iceland?
Please share in the comments below!
---
More?
Read about the delicious Food of Malaysia,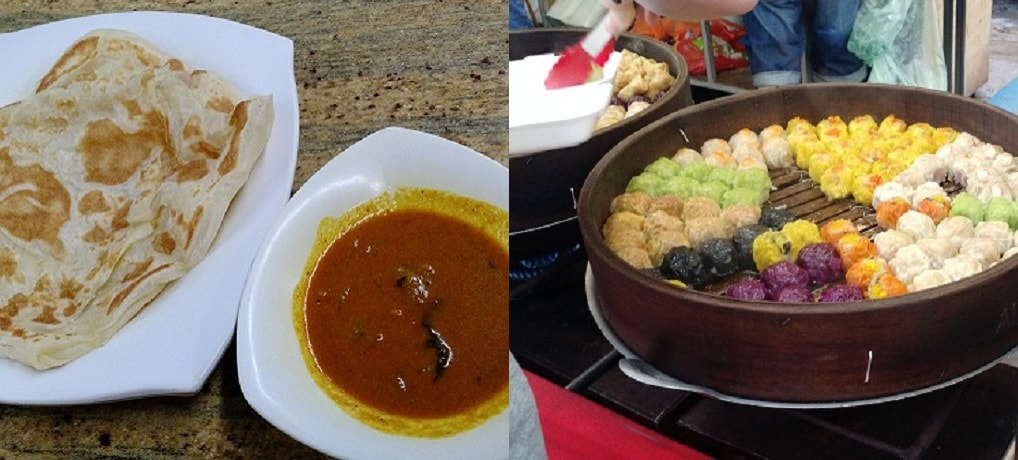 Or the amazing Peruvian Food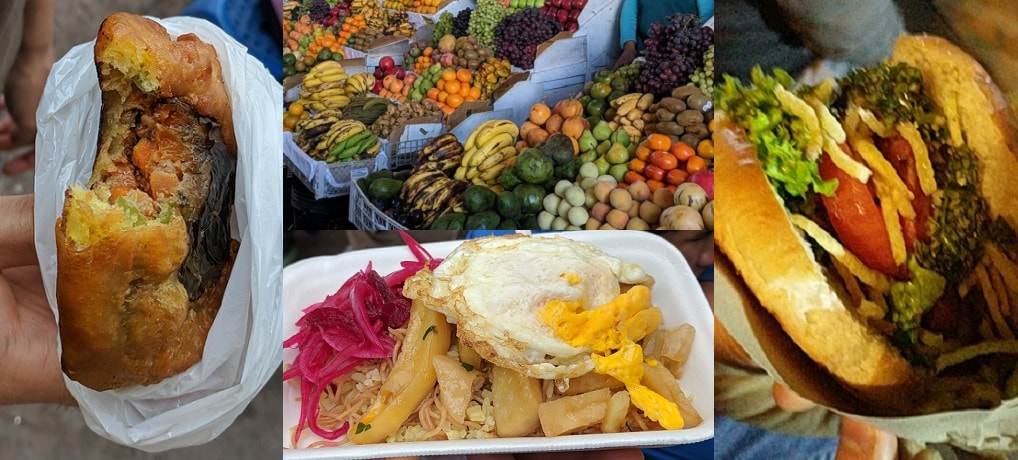 And the melting pot of Hong Kong Food