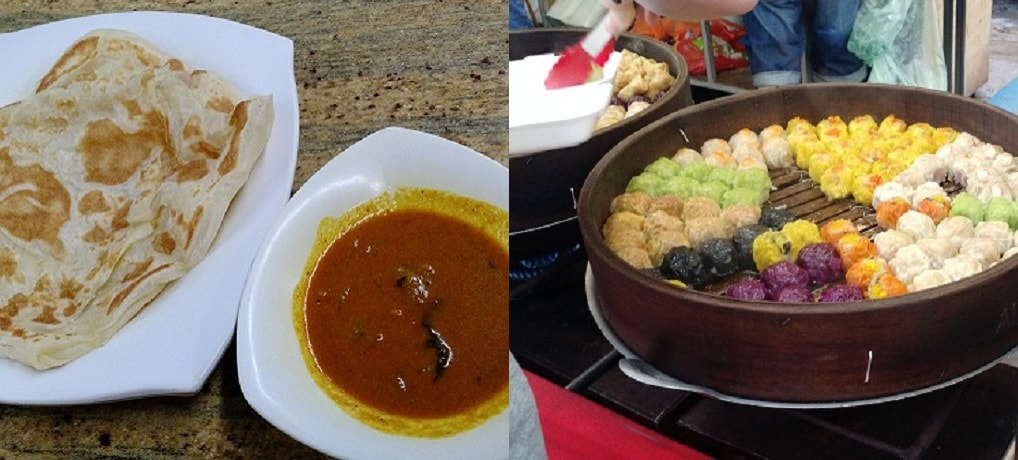 Street food in Kuala Lumpur is very inexpensive and has incredible variety. Once we left the city the food was still good, but tended to consist of fried chicken and rice or noodles. All of the food in this article is from Kaula Lumpur.
We probably should have taken more precautions, but since this trip was planned less than a month in advance we only had out basic US shots, like tetanus and hepatitis. We visited Thailand, Singapore, and Malaysia and did not get sick, but you should make sure to check with your doctor, the CDC, or at least google to see what is recommended for the areas. At the time we traveled the water in Malaysia was supposed to be safe to drink. We did drink it, but only in the city. We also avoided all salads and berries.
Roti
You can find roti everywhere but there is a lot of variety. Roti just means bread so it can be any kind. Roti canai or roti prata (what they call it in Singapore) is a simple but tasty flaky unleavened bread that is usually served with one or more curry sauce. The roti can be filled with onion, egg, cheese, or other things or served plain. It can be folded in squares or a spiral (my favorite). It is a lot of fun to watch it being made.
They make it look much easier than it actually is to make, but we have successfully made it at home using Grace Teo's
roti recipe
and
curry recipe
. The secret to the dough is kneading it enough and letting it rest at least an hour. In Kuala Lumpur you should be able to order roti for about $1-$2. We sampled several:
Valentine's served roti and naan with three curies with different flavors and spice levels, mild, medium, and hot. Supposedly the best in the city but a bit out of the way to get to. The roti was good but the naan was even better. Good teh (tea made with milk) as well. :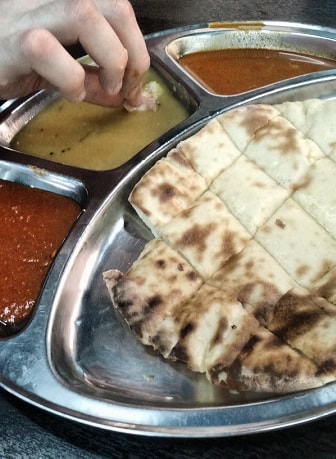 Yusoof dan Zakhir's roti was very good but the curries we just ok. The location was very convenient, in the central market.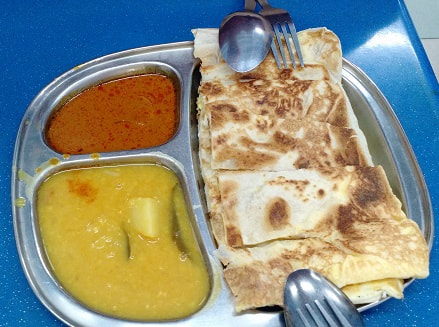 JMT was our favorite roti in Kuala Lumpur! We dropped in this place in Little India just because it smelled good and were not disappointed. We got roti cani and a coconut shake drink and it was great. The curry was some of the best and the drink was nice and refreshing with the heat.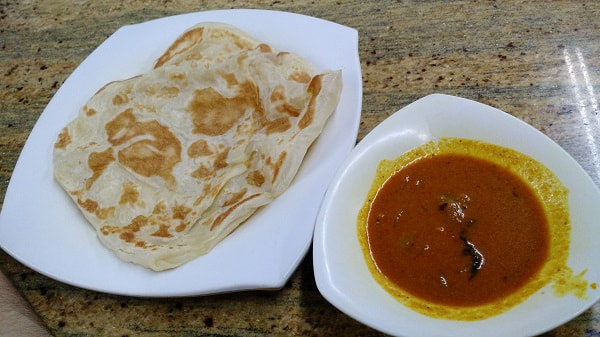 ---
Street Food
There are many market streets throughout the city. They tend to have loose themes. Some focus on produce, some have more sit down places (these tend to have people running around with menus trying to drag you back to their place), and each has it's primary ethnicity. The prices vary greatly but if you are used to US prices they are all a bargain. Most of the vendors are friendly and speak some English, but if not you can always get by with pointing. See my Kuala Lumpur post for a description of a few of the markets.
Fruit
There were so many fruits we had never seen before and many that don't make it back to the Asian stores in the states. We tried: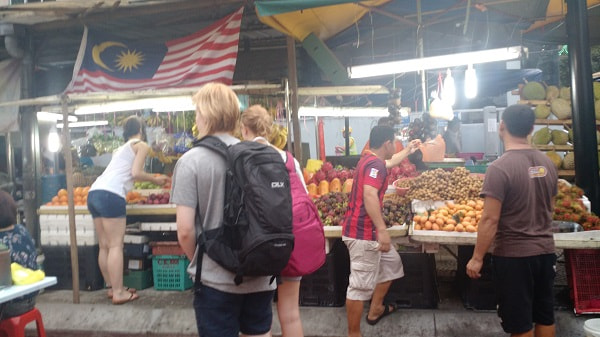 Jack fruit - similar to mango texture but a little bland, usually sold in chunks

Water apple - crisp skin with a foamy flesh, floral but a little bland

Mangosteen - My new favorite fruit! Tastes something like a mix of a mango and a strawberry, sweet but tart and tangy. The skin permanently stains most anything it comes in contact with (often banned from hotels) and is used in dyes. Inside are several bright white orbs that are about the texture of grapes without skin. The largest has a seed. Most places sold them for about 1-2 ringet (about .25-.50 USD) and would open them for you if you asked and only got one or two. They used to be illegal to import to the US but although the ban has been lifted we have yet to find any.

Durian - We didn't have quite enough courage to try this large spiked fruit that smells very strongly, some say like gym socks, but we did try the ice cream, which wasn't terrible but we couldn't get over the smell enough to finish it. In the markets that sell it the entire place smells like it. They are banned on all public transit and most hotels. Maybe it is an acquired taste or something you have to grow up with. I brought some durian candies back and no one in my office could handle them, except a guy from Indonesia who gobbled them up.
Breakfast
Was a fun treat and a bit of an adventure. After one terrible and expensive hotel breakfast we knew there had to be better options. We figured the locals must have it figured out and they sure did. The vendors would showed up right across from our hotel in the Central Market with their food early in the morning. It was less than a dollar for your pick of any of the tasty and filling meals. Each vendor each had a few things to pick from with a couple different sauces. We observed a little, then each of us picked a vendor and basically just ordered whatever the person in front of us got by pointing.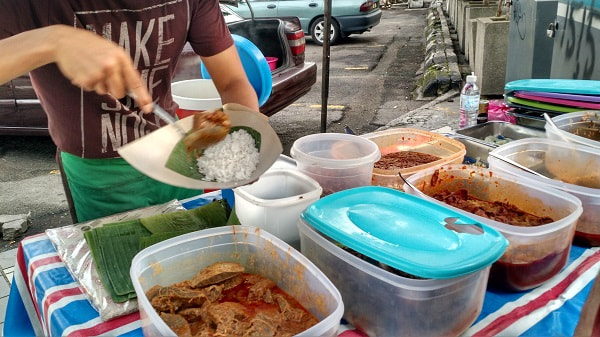 This is some kind of noodle with greens, a savory sauce and an egg cut up on top. The noodles were a lot of fun. Kinda shaped like bean sprouts, soft but slightly chewy in the middle.
This was some kind of beef and rice with a little spice kick to it, wrapped in a banana leaf.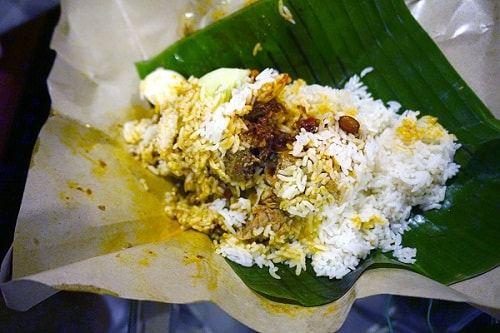 We also got this semi-sweet sticky ball filled with toasted coconut with breakfast one day.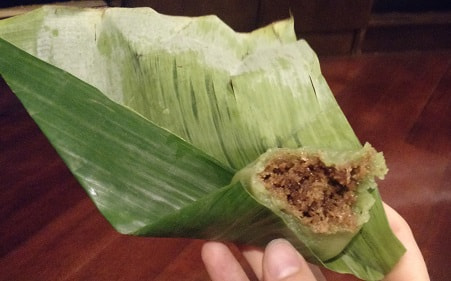 Snacks - Just a few of many
Bakkwa - A dried meat jerky sold by weight. It was not tough and chewy like most jerky in the states. It was kind of fluffy, like finely shredded meat that had not been compressed. It is one of the more expensive snacks and is usually a traditional holiday treat. There are all different flavors. The one we had was smokey and slightly sweet.

Steamed Peanuts - Lots of vendors sell paper cones of hot steamed nuts in their shells. The nuts are much milder in flavor than the roasted ones we are accustomed to and slightly soft. They are strangely addictive.

We didn't try any of these deep fired duck parts, but of course they are always options too. A few of people were walking around chewing on a head, neck or foot.

Meals
Dim Sum - Just about any variety you can imagine and many we've never seen before. Many places have self serve baskets and you can grab a nice variety for just 1-3 US dollars. There were flavors like curry, chinese wine, charcoal sesame, purple yam, seaweed and more. Of the ones we sampled, the flavors from one to the next were all distinct and delicious. One of our favorites was the charcoal sesame. It was sweet but slightly smokey, with a light fluffy dought and a creamy center.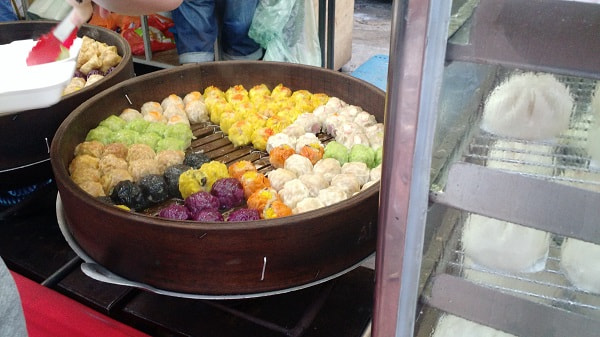 Satay - Just about anything you can put on a stick was available to be grilled up to order and served with dipping sauces.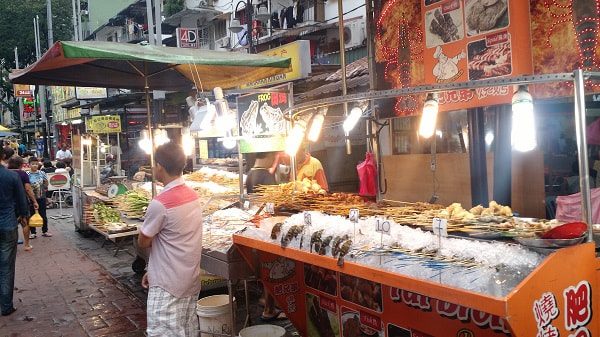 Shawarma - There were many little spots where you could get a shwarma wrap for about 1.5 USD. The chicken slowly roasts on a spit and when you order they shave some off and make a wrap with your choice of topping and an optional spicy sauce. Arab Shawarma was was near our hotel and good enough that we ate it twice, but they may be closed for construction now.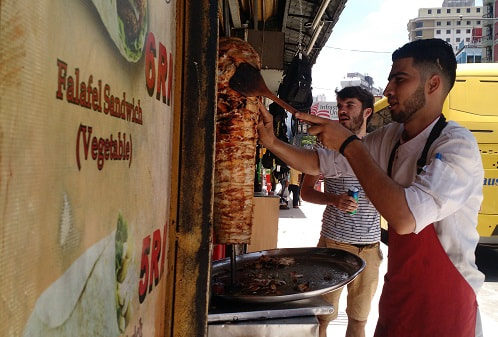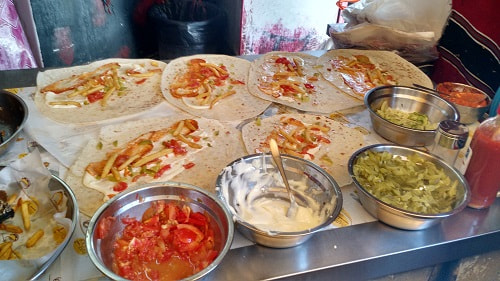 Sweets
Fresh fruit juices and shakes - We actually didn't try any of these but they were everywhere.

Rice Rolls - Putu Bambu, a street vendor in the covered outdoor section of the Central Market, sold these little rice flour coconut rolls flavored with pandan that were delicious. While we were trying to decide if we wanted to try them another couple of women came over trying to buy one instead of a pack and we ended up splitting a pack with them and eating it there together. They are quite hot and you have to eat them with a spoon. They are drizzled with a sweet sugar cane syrup that tastes a bit like brown sugar. The texture of the gooey syrup with the fluffy rice and coconut strands is strange but nice.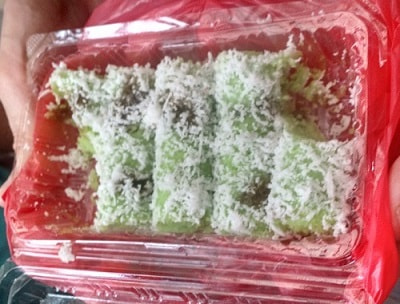 Assorted pastries - There were all kinds of sweet pastries that were different from any we have ever seen. Many were fried. We got a few to try. One had a sweetened green bean filling, another had a meat mixture, and the third beans.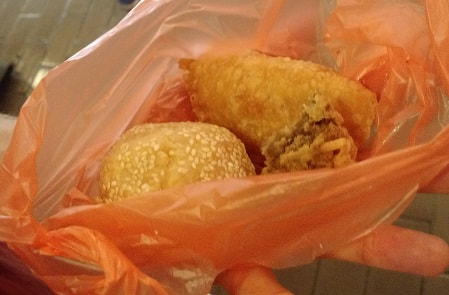 ---
Fancy Dining
Hemisphere Restaurant was fancy dining with ok food but a great view. Walking to this place and getting in was confusing and there was tons of construction. We had to enter through the parking garage. Definitely the kind of place that expects you to arrive by car. The staff were more than willing to take as many pictures as we wanted. We did not have reservations but got there early and we were there just long enough to catch the sunset and see the lights come on. It was magical.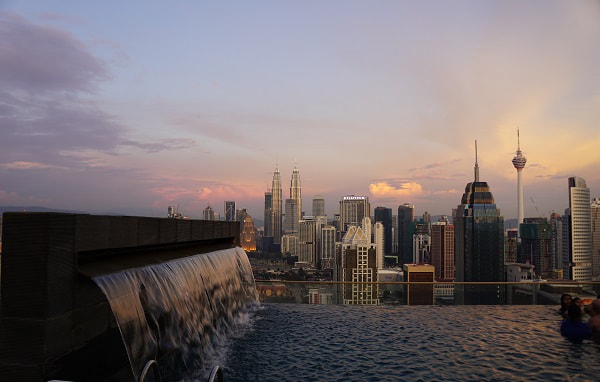 They let us go out and have a look at the pool while we waited for our food. Bathrooms are out there too.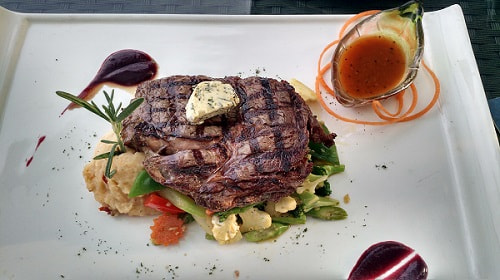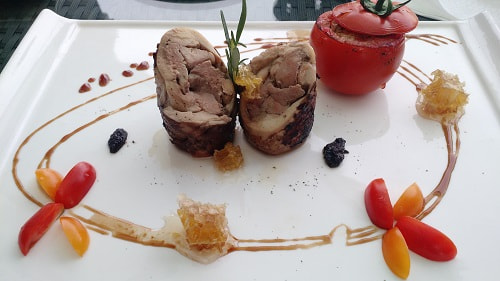 Food was beautiful to look at but not amazing. It was expensive for Malaysia but inexpensive for a place like this in the USA. We had much better on the trip for much less. Entrees were about $25 and up. We ordered a steak and a duo of chicken and duck with honey comb, heirloom tomatoes and sauces. The steak portion was fine. The chicken dish was small. Go for the experience, not the food.
---
More?
Check out our full South East Asia Trip Itinerary.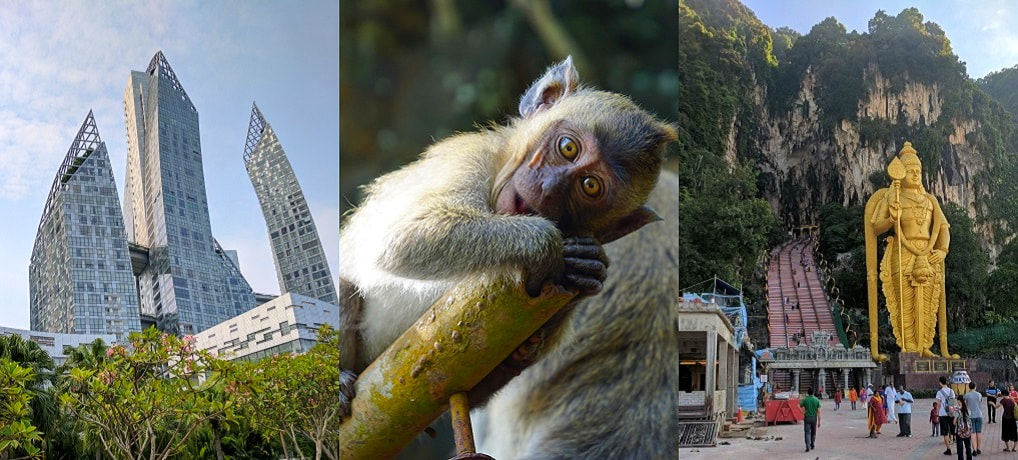 Or our full Hong Kong & Vietnam Trip Itinerary.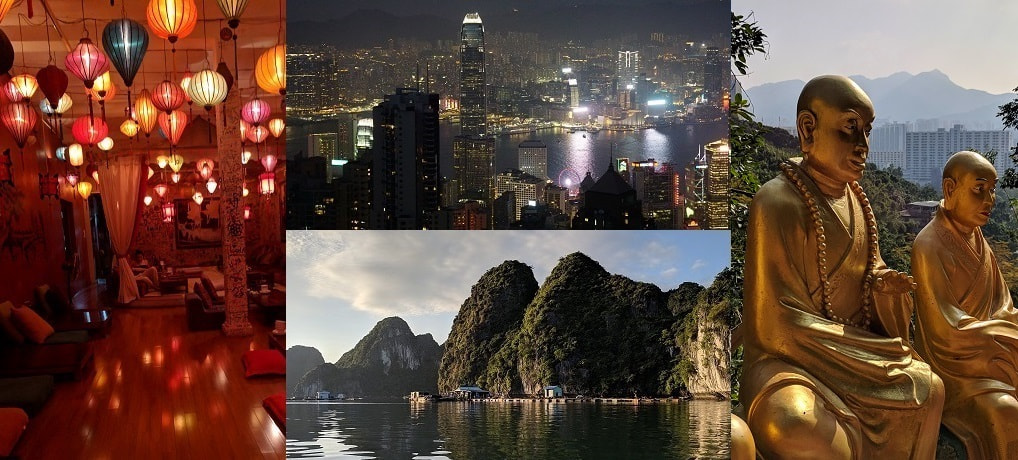 Explore the flavors of Vietnamese Food,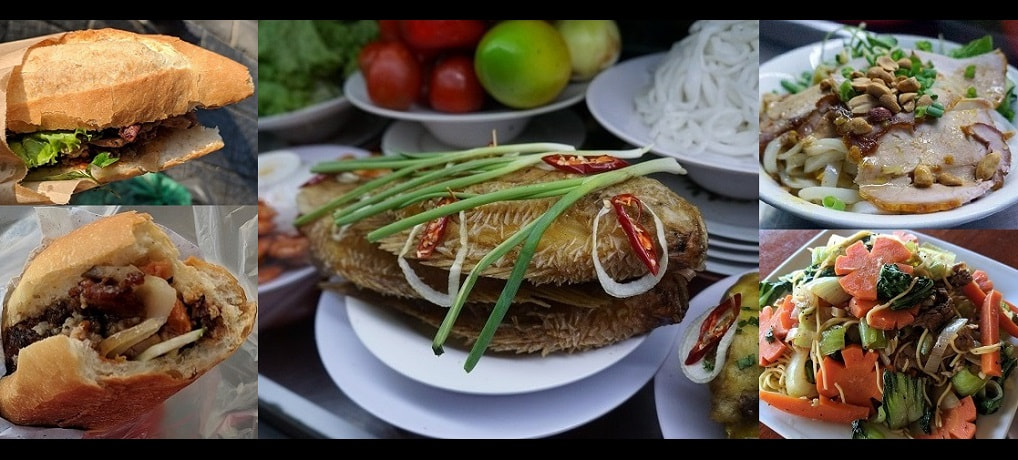 Or the melting pot of Hong Kong Food