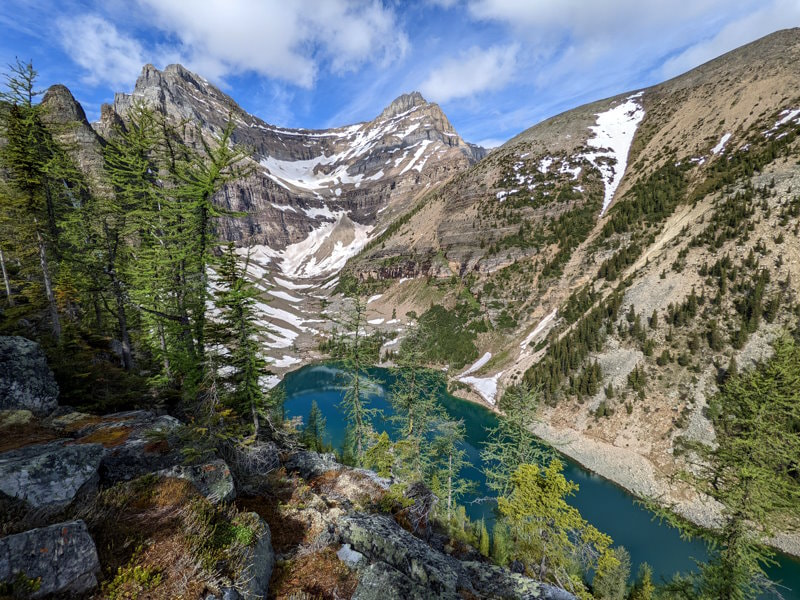 First off, this is absolutely not the way to see these parks! That said, this was an amazing trip and an incredible way to spend a week! We live within driving distance (although quite a long drive) so we decided to make a big loop to get a taste of each.
People come from all over the world to visit Banff and a good number visit Jasper, but very few give them all a shot. We live in the Washington mountains, but the mountains of the Canadian Rockies are mountains on a different level. Now we can't wait to go back! This was our one week tasting journey. We traveled with our pup, so all of our activities were dog friendly and he had a blast too.
Canadian National Park Trip Map:
---
Itinerary
Day 1 - Revelstoke National Park
Morning - Drove to Revelstoke
Afternoon - Explored Revelstoke (sadly limited by snow)
Evening - Explored Town of Relevstoke
Stayed at a hotel in the Town of Revelstoke
Day 2 - Canadian Glacier National Park & Yoho National Park
Morning/Early Afternoon - Drove to Glacier and did a moderate hike
Late Afternoon/Evening - Visited & hiked at Emerald Lake in Yoho
Camped near the Town of Banff
Day 3 - Banff Town & National Park
Explored the Town of Banff
Drove the south end of the Bow River Scenic Parkway
Hiked Johnston Canyon, Banff
Stayed in a hotel near Johnston Canyon, Banff
Day 4 - Banff National Park & Jasper National Park
Drove the south end of the Icefield Parkway up to Jasper
Many stops for sightseeing, hiking, and kayaking
Stayed in a hotel in beautiful Canmore
Day 5 - Banff National Park
Hiked at Lake Louise, Banff
Stayed in a hotel in Canmore
Day 6 - Kootenay National Park
Scenic drive through Kootenay
Many stops for sightseeing and hiking
Stayed in Radium Hot Springs
Day 7
Resources - Useful links and trip planning tools
---
---
---
Mount Revelstoke National Park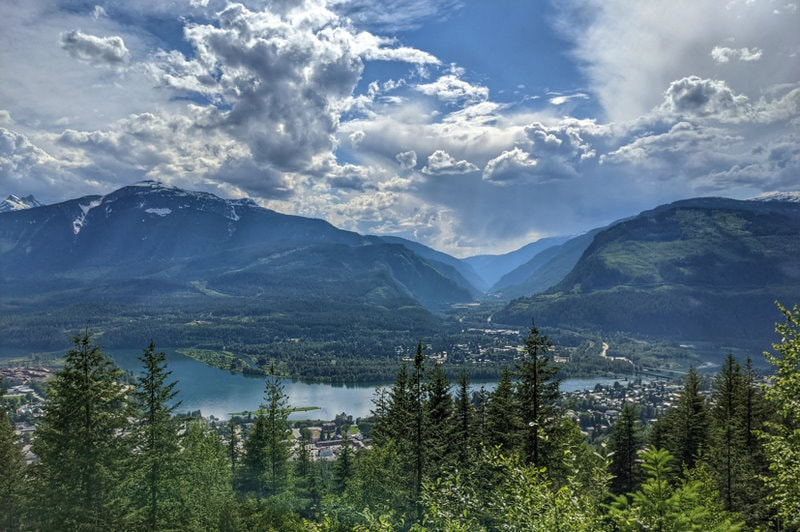 Dog friendly (mostly, no dogs at the summit area trails)
Not too busy
Broken Bridge Trail: 1.8 km (1.1 miles), 100 m (330 ft) elevation gain, shaded
For this first park we were here on a beautiful sunny day. The snow was heavy this year, so the summit road was still closed. The first couple miles of park road were open, allowing access to a couple of lookout points and short trails, so we got to see something, but not really a fair sample.
We stayed the night in the cozy town of Revelstoke, just outside the park. It was a nice place to walk around and had a good selection of food for it's size.
Broken Bridge Trail: This was one of the few trails that was open. It was a nice shaded out and back trail with one semi narrow section with a bit of a drop on one side. The turn around point is the broken bridge with a pretty waterfall. Along the way you get a few peek-a-boo views of the mountains.
---
Canadian Glacier National Park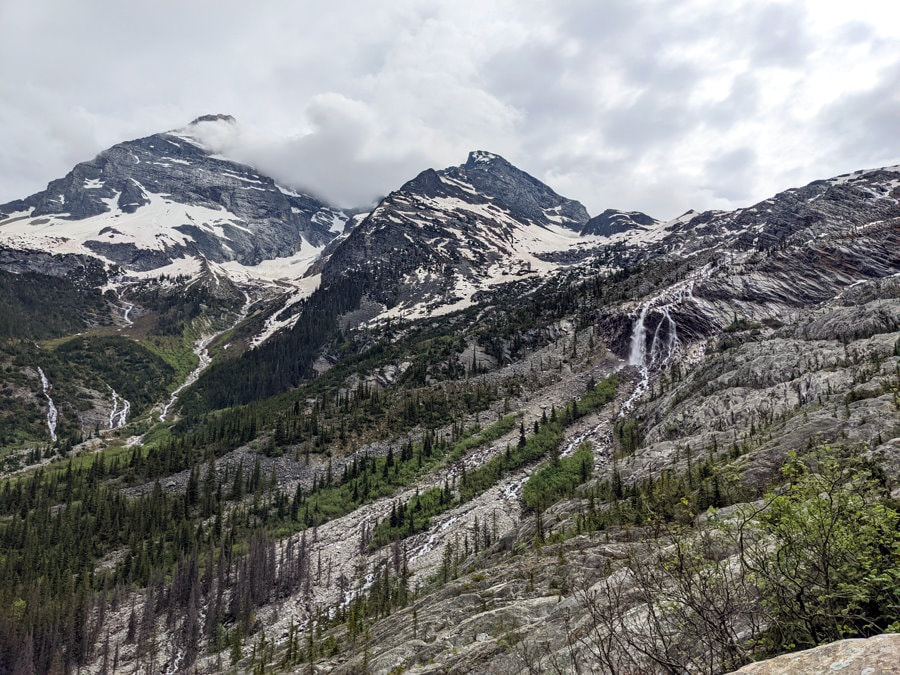 Dog friendly (mostly)
Not too busy
Great Glacier Trail: 8 km (5 miles), 300 m (1000 ft) elevation gain
This park was stunning to drive through and hike in! I really wish we had more time here and definitely need to go back. The dive was framed by beautiful mountains with waterfalls everywhere. If you skip to 1:50 in the video above you can see a snippet of the drive.
Great Glacier Trail: This was an out and back trail and from beginning to end it was incredible! There were great views right from the parking lot and they came and went as we walked, but they just kept getting better! There was only one other car in the parking lot when we got there so we saw almost no one on our way in (although people often hike from the campground instead), but plenty of people on our way out. This trail packs a stunning waterfall, an icy glacier, a rushing river, cool rock formations, a small historical area, and majestic mountains, all into one hike, with only moderate elevation gain.
Hiking poles and waterproof shoes will make the mud and water crossing much more comfortable and you might want to consider adding bear spray to your basic hiking kit.
---
Yoho National Park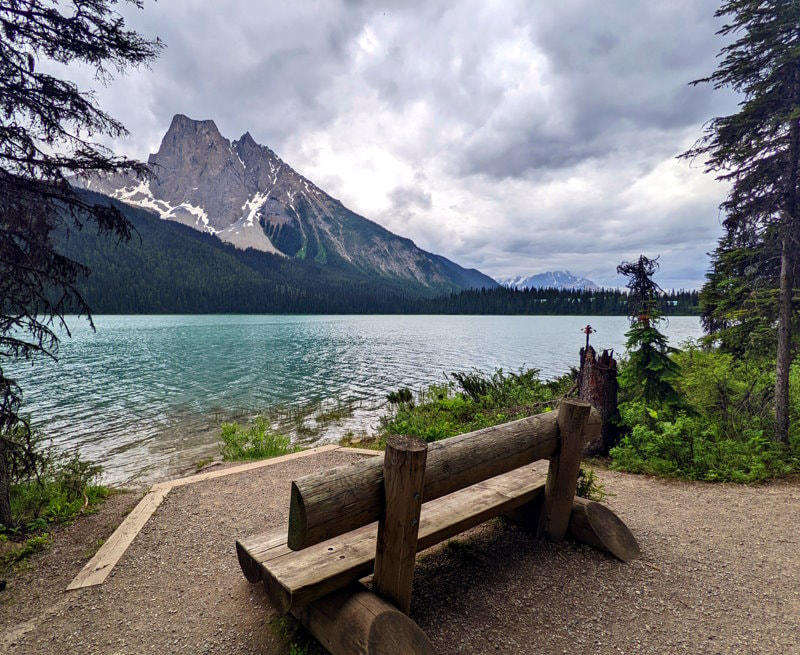 Dog Friendly
Moderately busy
Emerald Lake Loop: 5.1 km (3.2 miles), 120 m (400 ft) elevation gain
And here we found the crowds… Luckily there seemed to be a lot of parking but depending upon when you arrive it could be quite a walk. We arrived in the afternoon and were able to snag one of the recently vacated spots that was not too far out. There seemed to be a constant flow of tour buses but many of them were only stopping long enough for people to go to the water, snap a photo, and hop back on. As soon as we got away from the parking area the crowds quickly fell away.
Emerald Lake Loop: This is the main trail around the lake and it has a few side trails branching off of it. Going clockwise the first half was very well developed. It starts out paved and then transitions to gravel. Around the halfway point it transitions to dirt and gets a bit more primitive in some sections (wet/muddy with broken or non-existent boardwalks). The developed side was beautiful, with limited trees making for nice views of the lake and mountains, while the undeveloped side was more tree covered with only intermittent views.
At the far tip of the lake we crossed a wet area where we felt like we could feel a slight hum the water below the ground seeping through below our feet. It was like the swampy area around the edge of a pond, except the water was moving. There were lots of little orchids around this area and some had cool twisty petals.
If you are going to venture on the less developed side of the lake I would highly recommend hiking poles and waterproof shoes.
---
Banff National Park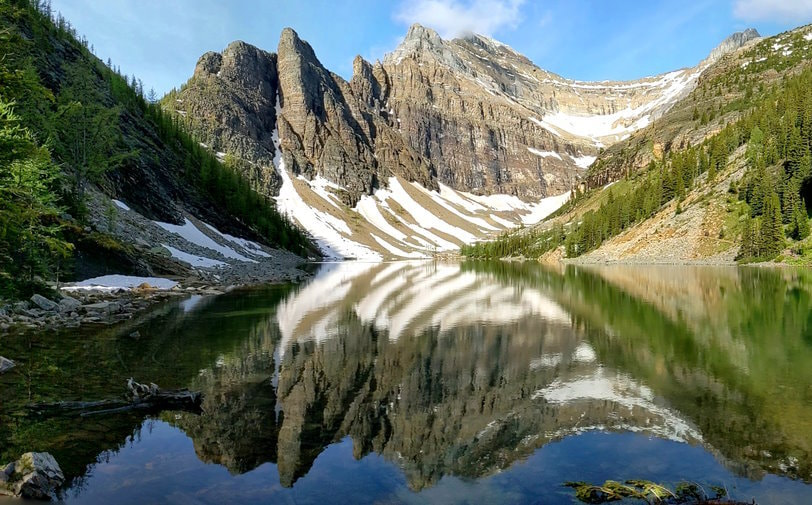 Dog friendly (mostly)
Extremely busy at Lake Louise & Johnston Canyon
Johnston Canyon: 5.3 km (3.3 miles), 260 m (860 ft) elevation gain
Icefield Parkway: Best day of the trip - See Icefield Parkway Article
Lake Louise Hike: Lake Agnes to Big Bee Hive to Plain of 6 Glaciers Tea House: 17.5 km (10.9 miles), 950 m (3110 ft) elevation gain (tack another 1.5 mile or so on for the glacier viewpoint)
Explore Banff Town
Banff is world renown, so with that comes a different level of crowds and a different kind of tourist. It was stunning, but we had trouble with parking and traffic everywhere, except the Icefield Parkway. Even arriving at Lake Louise at 6:10 AM, parking was already full. There are shuttles and busses for some of these places and they are strongly recommended.
Johnston Canyon: I would skip this one unless it is early or a non-busy day. We explored this canyon on a drizzly afternoon, but apparently everyone else had this idea too. The sign said there were 100 free parking spots, but when we arrived there was a long line of gridlocked cars stuck in the parking lot with nowhere to go. There was no good way to bail, so we reluctantly joined them. Luckily, our hotel was nearby so we were able to park there instead.
The canyon was beautiful and the walkways were incredible, however, we had a hard time enjoying it with the masses of people. Much of it was only one person or so wide with two way traffic. Things like puddles quickly turned into traffic jams with non-hikers stopped pondering how or whether to proceed. We didn't even make it to some of the observation areas for some of the lower waterfalls because they were so choked with people.
Rain gear and waterproof shoes are highly recommended here!
Icefield Parkway: Much less crowded! We got parking almost everywhere without trouble. This was the best day of our trip and included one of my favorite hikes and kayaking! See Icefield Parkway Article. You can find a video for another great hike that we did on our return trip here.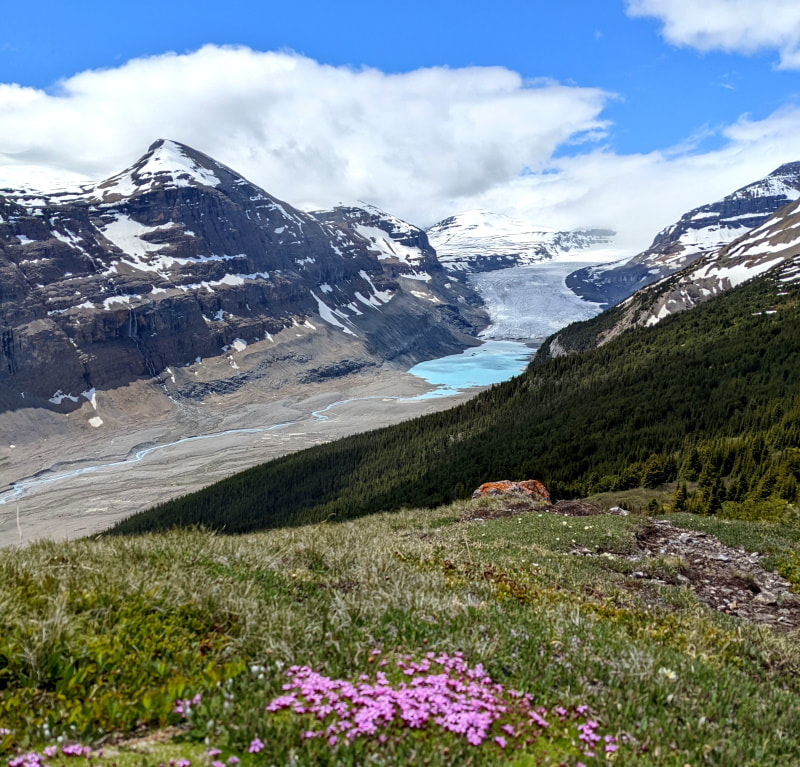 Lake Louise Hike: This day had a bit of a rough start with the parking situation, but lucky for us many people were just here for sunrise and were on their way out, opening up some spots. As we approached the lake we saw a mob of people, but oddly they were just congregated right at the tip of the lake, while just 100 feet down there were very few people by comparison. We sipped tea by the lake and watched the early morning light shift, before hitting the trail.
The trail had a steady flow of people, but it was reasonable throughout, with the exception of the tea houses and the bathrooms. The tea houses sell drinks, snacks, and lunches and had incredibly long lines with many things sold out. The bathroom had faster moving, but also very long lines. Lake Agnes was one of the prettiest lakes I have ever seen and another highlight of the trip. The view keeps changing as you hike around it and climb up the steep path on the other side. From the top of Big Bee Hive you can get one more peek at it.
Heading out towards the Plain of 6 Glaciers you get to see where Lake Louise comes from and much of the water trickling in was so heavy with glacier dust that it almost looked like milk. When we reached the Tea House we could see a few of the glaciers, with cute names like "Death Trap," and hear them creaking. We even heard a small avalanche.
This hike isn't crazy, but I would recommend hiking poles and your day trip basics. Bears are sometimes seen around here, so bear spray might be good to have.
Banff Town: Banff town is in a really beautiful location and has plenty to look at on a misty day. The grand Fairmont hotel looks like a castle and its public areas are open to the public, so we spent a little time exploring. It has some great views! It is also home to a popular hot spring and spa. We really enjoyed walking along the Bow River Trail that cuts through town. One section had a collection of local art on display, including some quotes from famous people and kids.
---
Jasper National Park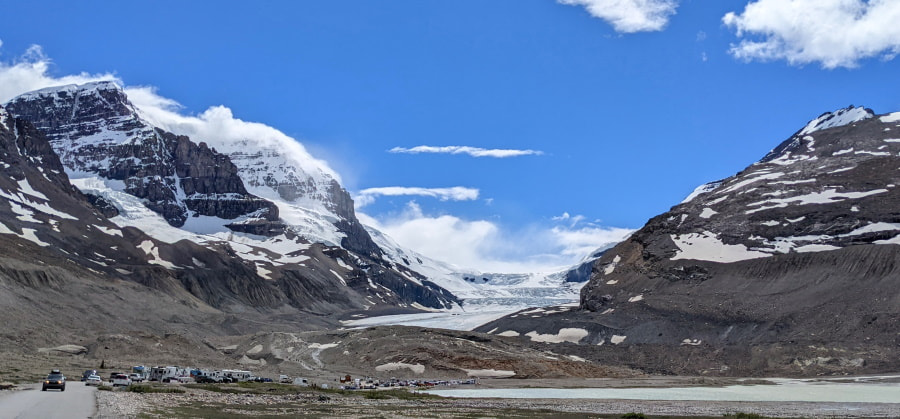 Dog friendly (mostly)
Athabasca Glacier & Icefield
Of all the parks this was the one we saw the least of, but what we saw was stunning. We hiked Parker Ridge, right on the border of the two parks and that was one of my favorite hikes of the trip, then we crossed over into Jasper and gazed at the Athabasca Glacier for a while.
Athabasca Glacier: We planned on doing the short "Toe of the Glacier" hike, but when we got there the parking was full and it looked very busy so we opted to hang out in the car instead. It was still fantastic! We relaxed and had a snack while watching the clouds swirl and the light shift across the glacier. Using my telephoto lense as binoculars, we could see guided groups and their big snow vehicles up on the glacier.
---
Kootaney National Park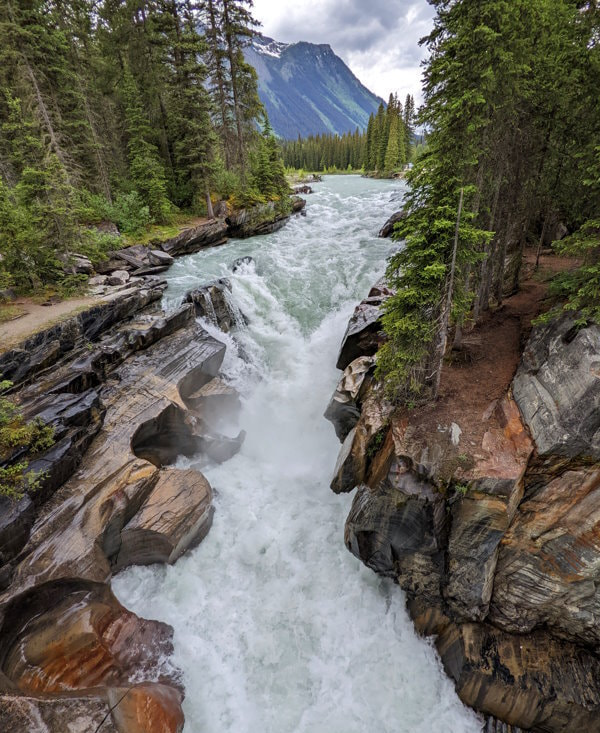 Dog friendly
Not too busy
Marble Canyon Walk/Hike
Numa Creek Waterfall: Viewpoint stop with short accessible trail
Kootenay Viewpoint: Roadside viewpoint, visible from car (photo above)
Bonus: Radium Goats
We had a bigger hike planned for this day, but by this point in our trip both we and our pup were getting a bit worn out, so we opted for some lighter sightseeing. This park still had a fair amount of visitors, but felt empty after Banff. Most of our stops had limited parking but there were plenty of spots open. We made our way down route 93 and stopped whenever we saw something interesting.
Marble Canyon: This place was incredibly well done. There were little bridges crisscrossing the canyon, usually with trails on both sides, and informational signs along the journey that semi-sequentially explain the geology of how what you are seeing was created. Sadly, someone vandalized the rock samples on the one that explained the different layers, but all the rest were intact and very well thought out.
The canyon and the water below was also stunning. It felt impossibly deep and had ice blue water rushing through the many waterfalls. The trail was a bit wet in a few places, so good shoes are recommended and you might want a rain jacket for the spray.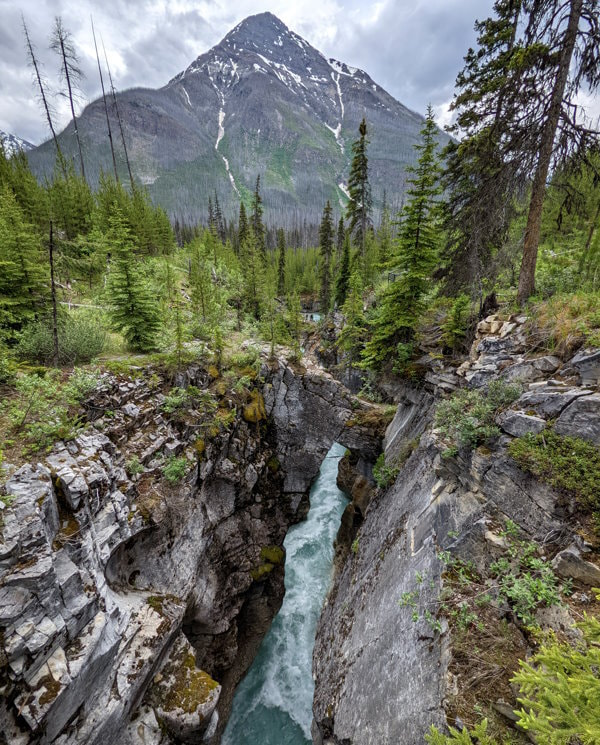 Radium Sheep: The town of Radium Hot Springs lies just beyond the park boundary and the big traffic circle in the middle sports a pair of giant bighorn sheep horns. You can often spot these sheep grazing around town or right on the side of the highway. There are several viewpoints overlooking the valley that are great places to stop and see them.
---
Resources
Day Trip Basics - Good to have on any hike
Weather:
Mountain Weather - Great for specific areas, just make sure you select the right elevation.
Trail Conditions:
Passes & Reservations:
Which pass to buy - This work for all the nationalparks, not just Banff.
Park Reservations - Includes shuttles and camping.
---
Have a question or did I miss one of your favorites?
Please ask and share your experiences in the comments below.
---
Product Links: I am not sponsored by any of the products I link to. If you choose to make a purchase from one of the links of a product I listed or any other item a small percentage will go back to me to fund this website, at no additional cost to you. The products I link to are either ones I have used or similar if those are not available. Thank you for your support.
---
More?
For the best day of this amazing trip check out our experience on the Icefield Parkway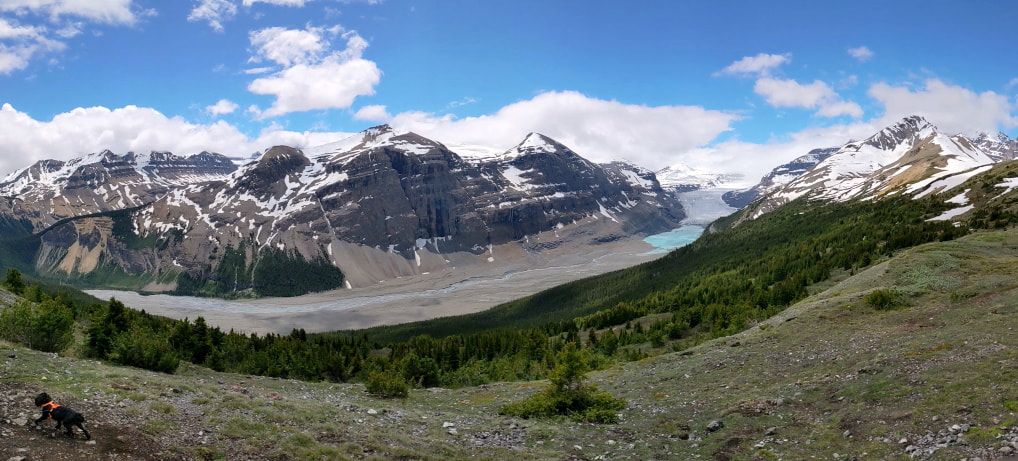 For more of Iceland see my full Trip Itinerary & Travel Budget.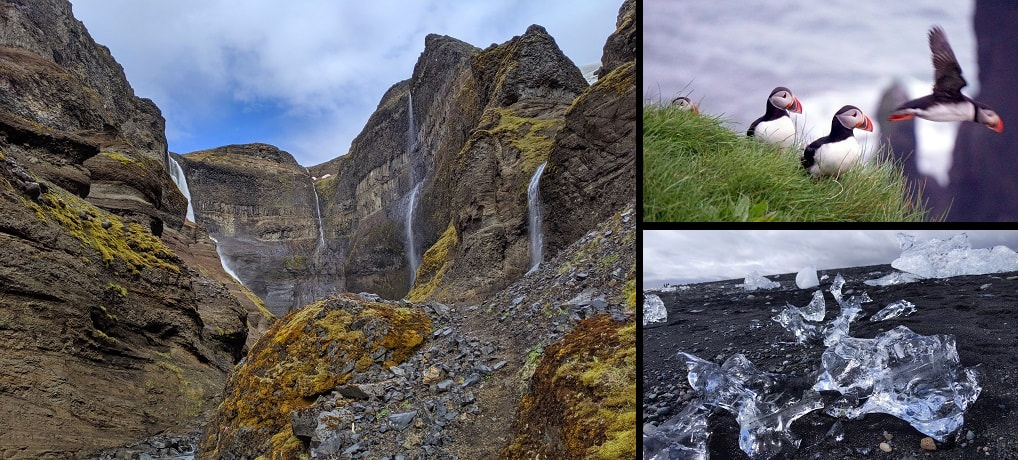 Washington Highlights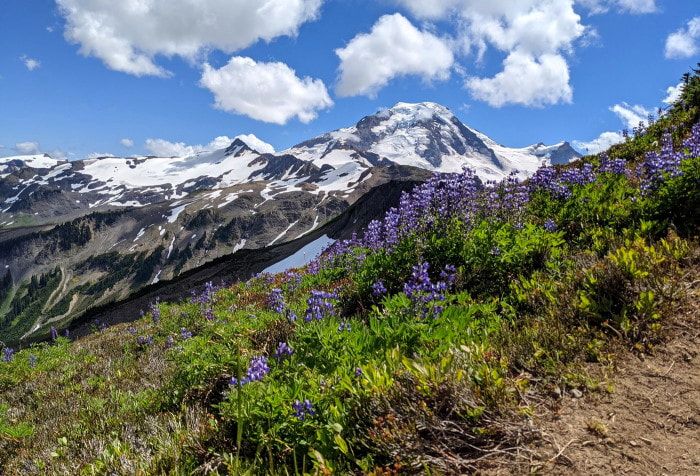 Check out our full Peru Trip Itinerary.