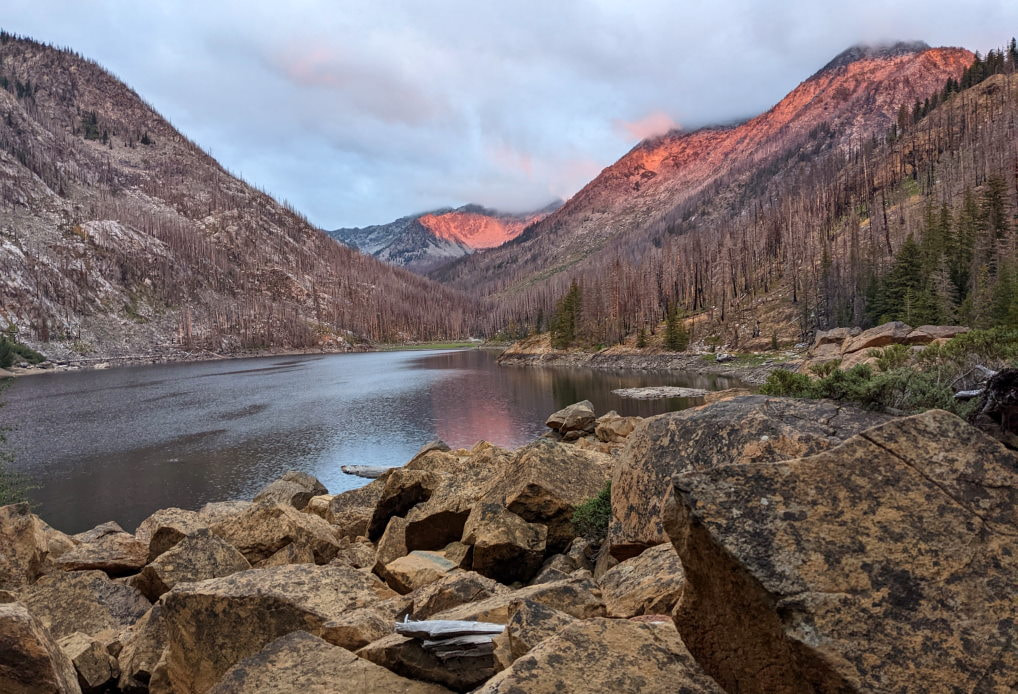 The Enchantments is a wildly popular hiking area and camping permits are difficult to get for most zones. The Eightmile Caroline Zone seems to be a bit of the ugly duckling. As the least loved area it is the easiest to get permits for and the best if you are looking to avoid the crowds.
Just because it is the least loved doesn't mean it isn't stunning. The Eightmile Caroline Zone offers views of a glacier, jagged mountain peaks, clear alpine lakes, vibrant meadows, and a couple optional mountain scrambles if you wish to challenge yourself. This is not a beginner hike, but there are many options for moderate to hard day hikes, weekend outings, and several-day adventures. A permit is needed for overnight trips, so a little planning is required.
Adventure Guide
---
Trail Details
Hazards:
Road/Parking
The road to the trailhead was bumpy, but nice and wide and mostly pothole free, so any car should be able to make it fine. The bit right by the bridge was the worst part. If you get a permit it comes with an overnight parking pass; otherwise, overnight parking is not allowed.
There is a pit toilet and a picnic table. You can see a little of the Colchuck Glacier right from the parking area!
Town of Leavenworth (German Town) Details
This is the closest town to the trailhead and where you will probably want to get any last minute provisions and/or your post hike meal. It is a small town with a population of 2,500 residents, as of 2020. Dining options are plentiful and there is great cell phone coverage.
Love it or hate it, this town is busy with tourists year round. The town boasts German heritage and attractions which some find charming. Even chains style their signs and buildings to match the German theme. There are a couple public restrooms with regular toilets and sinks. The most reliable parking is on the edges of town and require walking in. There is also paid parking that often fills up in the heart of the town.
Trail Reports & Weather
WTA - Eightmile Lake Trail Summary & Trip Reports
WTA - Lake Caroline Trail Summary & Trip Reports
WTA - Windy Pass Trail Summary & Trip Reports
WTA - Cashmere Mountain Trail Summary & Trip Reports
Weather Note: Eightmile Lake and Lake Caroline sit at 4700 feet and 6200 feet respectively, between Cashmere Peak and Eightmile Mountain. Windy Pass is near Cashmere at 7200 feet.
Mountain Forecast - Cashmere Peak Weather
Mountain Forecast - Eightmile Mountain Weather
---
How To & Options
Windy Pass is a popular goal and following the ridge part way to Cashmere is also supposed to be nice. Cashmere Mountain is another great end point, but requires some advanced scrambling and a little expertise.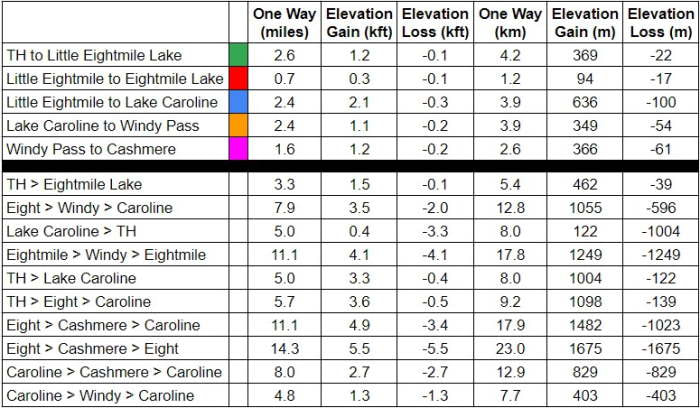 With the exception of the trail from Windy Pass to Cashmere, there are lots of places to filter water, so you don't need to cary much.
Step #1: Get a Permit
You will need a permit to stay overnight. They are available through a lottery system, then any unclaimed ones are released on a specific day and can be purchased online. They usually sell out. There are a limited number of walk-up permits as well.
*The two frustrating things with permits is that as of 2022 they are non-refundable within 20 days regardless of conditions and you must start on your start date, or forfeit your permit, even if you paid for a week.
Step #2: Pick your Route
There are nearly infinite options but these are a few of the most popular for backpacking.
Option #1: Eightmile Lake Base Camp
This gives you a great variety of campsites and only a short distance to carry your pack. The drawback is you have a lot further to go if you want to go to explore Windy Pass and beyond, but you will be able to travel light.
Option #2: Lake Caroline Base Camp
This requires some significant elevation gain and traversing a narrow trail with a heavy pack, but may buy you more solitude on a weekend and gets you closer to Windy Pass.
Option #3: Camp at Eightmile Lake and Lake Caroline
This was our original plan so we could hike in after work and split up the elevation gain. This would make for a relaxed 2 night trip with the miles and elevation gain split between a couple moderate days. We opted not to in part because of the hassle and effort of moving camp and in part because the temperature was supposed to drop to freezing at higher elevations.
Option #4: Through hike to Trout Creek with multiple camps
If you have multiple vehicles, a bicycle, or a ride you can split this into a multi day through hike or even try to do it all in one very long day.
Extra Adventurous Option: Hike Eightmile Mountain or the unnamed red peak above Lake Caroline
There is no official trail up either of these peaks, but some people scramble up them for a little exploring. Route finding and expertise highly recommended.
WTA - Eightmile Mountain Trail Summary & Trip Reports
WTA - Red Peak above Lake Caroline Report
---
Campsites & Amenities
Little Eightmile Lake: The view isn't as good here, but this is the closest campsite to the trailhead so if you really don't want to walk any further, this is an option. It only has one or two campsites and they are more exposed to the elements and less private than Eightmile Lake. There is adequate water access in the lake or nearby stream.
Eightmile Lake: Beautiful lake with lots of campsites. There are plenty of trees for hanging food, but we had to hunt a bit to find suitable ones. As of 2022 the trail to the end of the lake was closed. Partway down the lake, near the second toilet trail, is the largest group site. It is exposed to the wind and isn't totally flat, but it has a great view of the lake and easy water access. The lake routinely gets a bit windy at night and we were surprised by the amount of airplane traffic, but overall it is was very peaceful.
This is the campsite we picked. It is right by the tip of the lake and can accommodate 2-3 tents. The trees and boulders help cut a lot of the wind but you still have a great view, you just have to get out of your tent and stand up to see it.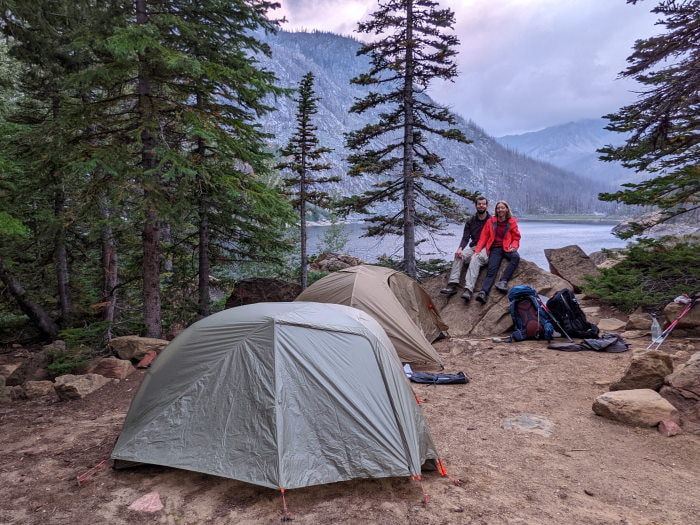 GPS Coordinates: 47.52151, -120.85916
There is plenty of water access at the "beach" at the tip of the lake as well as partway down.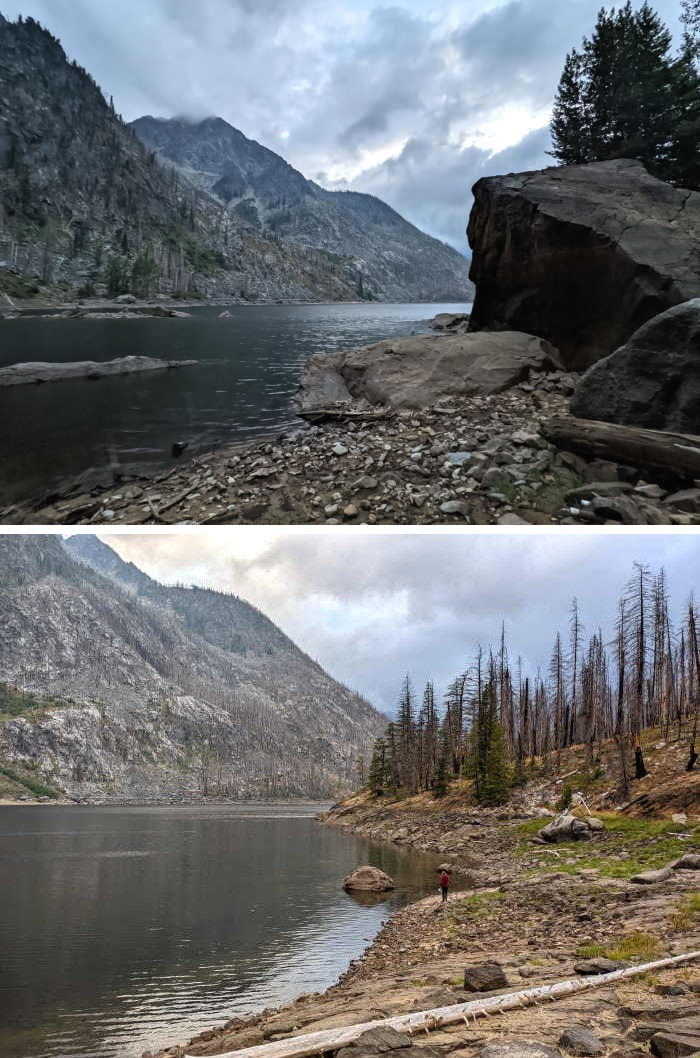 There are two marked fairly nice private toilet boxes, both up hills opposite the lake.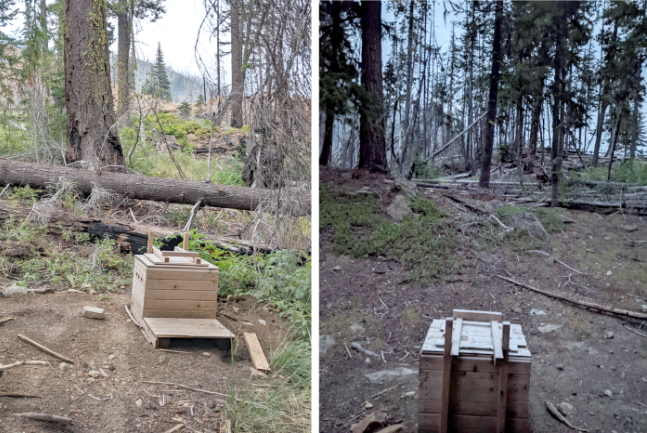 Lake Caroline: Most of the campsites were heavily tree covered so you don't get much of a view, but it also helps with the wind.
This looked like the best group site, with plenty of room for at least 3 tents. There were even some log "benches." It has a hint of a view of the mountains and a great view of the mountains just minutes away.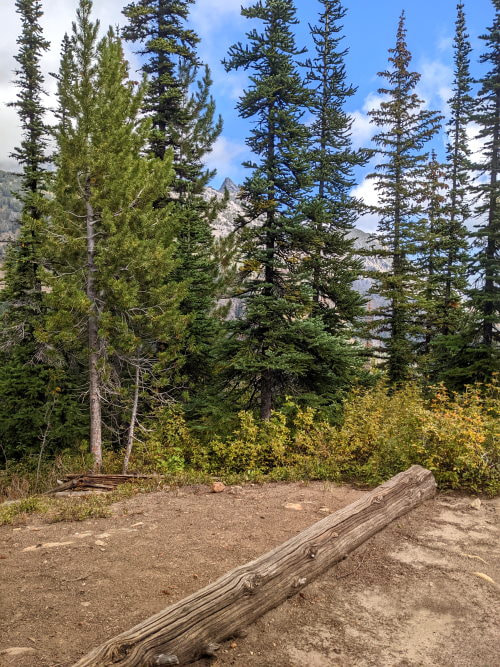 GPS Coordinates: 47.54024, -120.86247
There is a small area with water access at the lake edge.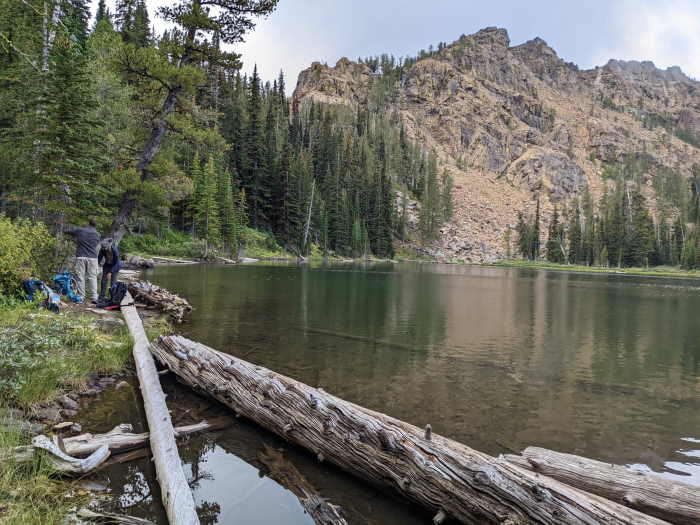 There is a fairly nice private toilet box up hill opposite the lake.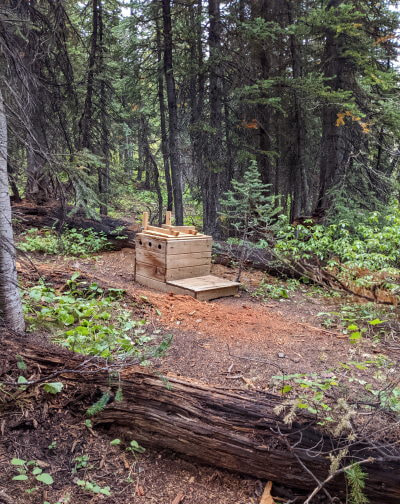 Little Lake Caroline: There looks to be a horse camp near this one. We saw a sign with a horse shoe on it but did not investigate.
---
Our Adventure:
This backpacking trip was a little smokey and a little shorter than intended, but overall an awesome experience!
Day 1: Trailhead to Eightmile Lake
Due to my work schedule and one of the passes closing due to the Bolt Creek Fire we got a late start and didn't make it to the trailhead until 5PM. We all do moderate to hard hikes on a weekly basis, but not with heavy packs, so we weren't sure what kind of time we would be making. With the sun already dipping close to the mountains we felt a bit of urgency to get to camp quickly, but also were prepared to setup in the dark if needed. We took bets on our pace and set off toward Eightmile Lake.
The trail abruptly warmed up our muscles, with a steep climb right at the beginning. After sitting in a car for a few hours this was a bit of a rough start, but it soon relented and flattened out for a bit.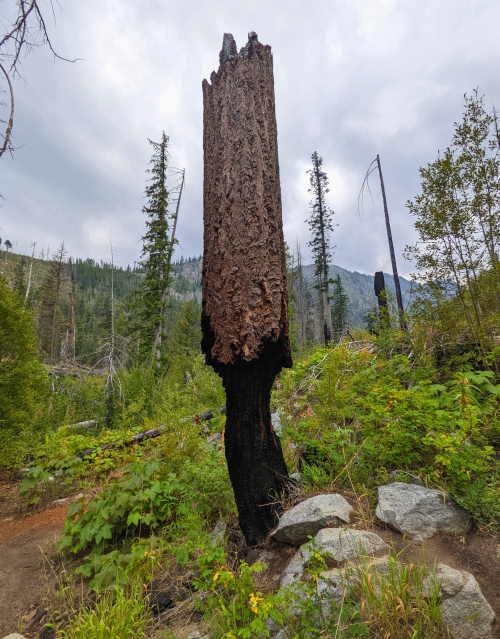 As it flattened we also passed into the burn zone. A lot of people describe this as the ugly section, but this time of year I find it beautiful! The charred trees turn the landscape into a unique sculpture garden accented by new growth and wild flowers. The fireweed was particularly striking, with its combination of purple blossoms and pods bursting with feathered seeds waiting to take flight.
There were several water crossings and all were doable without getting your feet wet, but some took more care than others. The largest one had a sturdy but well worn two log bridge, with some areas where you could see and possibly step between the logs.
On the final steep climb to Little Eightmile Lake we overtook another group, the only one we saw on the trial that night. They were carrying heavy packs overflowing with hunting and fishing gear, so this was not a fair contest, but we were elated by the knowledge that we would not be the last ones to reach the lake that night.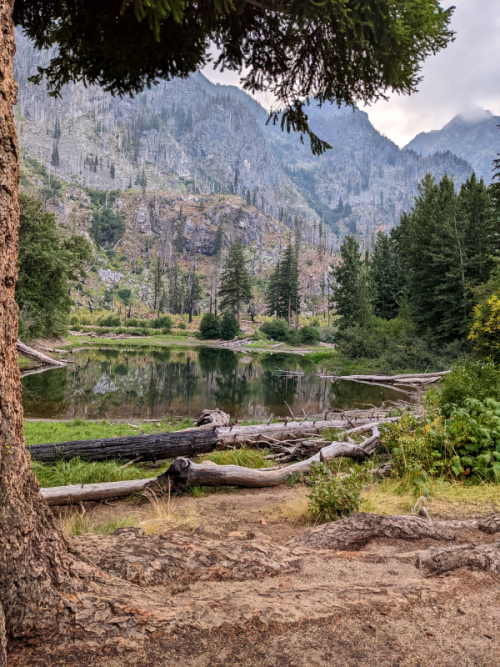 We took a quick look at Little Eightmile Lake and hurried on. Soon we reached the Eightmile Lake basin and dropped our packs. We had completed the 3.3 miles and 1400 foot climb in just 1.5 hours, blowing away all of our estimates! We still had over an hour of sunlight to setup camp!
We scouted out the lake for the best spot to setup camp and found it to be completely empty, besides us. We went down to the lake to get some water and an overconfident step onto a rock ended with an undignified wobble and both of my feet in the water. Luckily the waterproofing on my boots kept it out.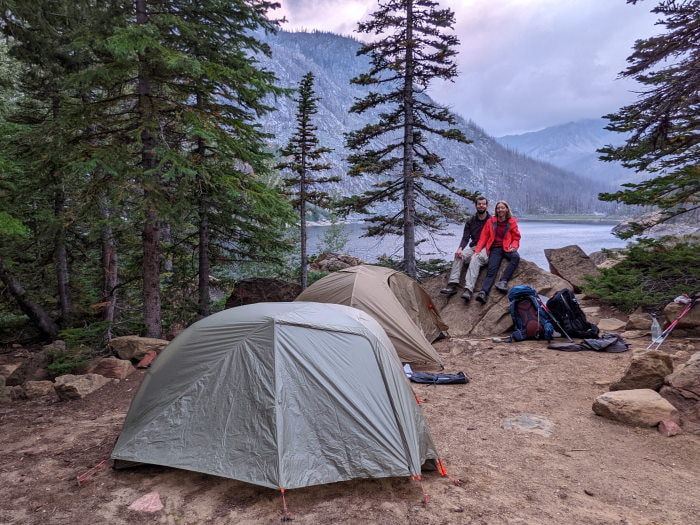 After camp was setup I decided to explore the beach at the start of the lake. I was enjoying the beauty and sound of the water, when something yellow caught my eye. I scrambled up a little hill and found a medium size CAT tractor sitting there! Apparently it was helicoptered in for an emergency and the cost to remove it is just too much… Source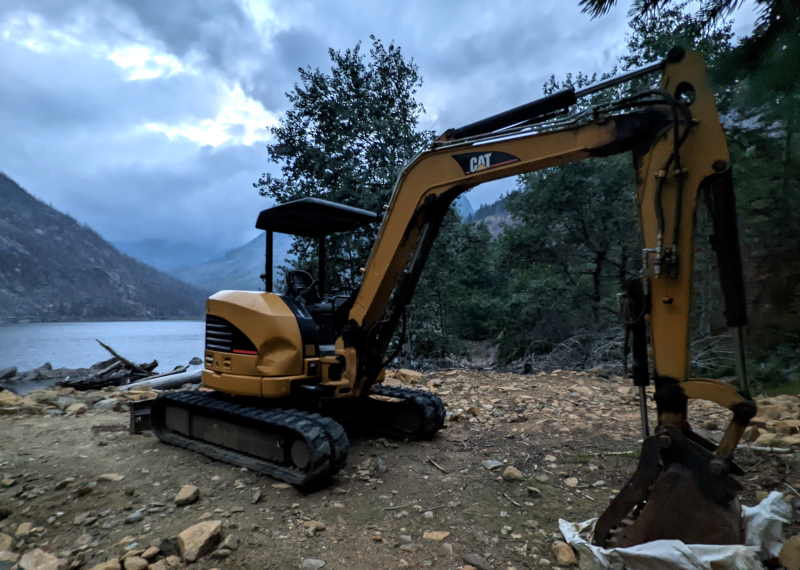 Darkness fell and with the cloudy sky it was quite complete. We stowed our food and crawled into our tents for the night. Tired and cozy I quickly fell asleep. Some time later I woke to someone lightly touching my head. My husband was sound asleep next to me and everything outside was quiet. Maybe I had just imagined it? As I started to drift off it happened again, and then once more. I went from the hazy in between start to suddenly wide awake. Just then it happened again and I silently laughed at myself. It was the breeze pushing the tent fabric ever so lightly against my head. I slid down a bit, relaxed, and slept deeply.
Day 2 / Stage 1: Eightmile Lake to Lake Caroline
We woke up to this incredible sunrise! There were at least one or two other campers on the lake, but we never heard so much as a whisper. If we hadn't seen their tent and light we would have sworn that we had the place to ourselves. It was incredibly peaceful.
After breakfast and a warm cup of tea enjoying the view, we packed up some snacks and headed up to Lake Caroline and Windy Pass. After retracing our steps to Little Eightmile Lake we started the steep climb to Lake Caroline. One of the hunting parties was already camped out on the hillside with their scopes.
The way up was steep and narrow until we reached the end of the burn area, around 6,000 feet. There were a couple small and one large tree fall to climb over. It looked like the fire had left the slope vulnerable to the erosion and bushy growth that were now trying to retake the path. However, the lack of trees also cleared spectacular views in all directions. We could look down on Eightmile Lake and the valley we had hiked up and as we rose the Enchantment Peaks crept into view.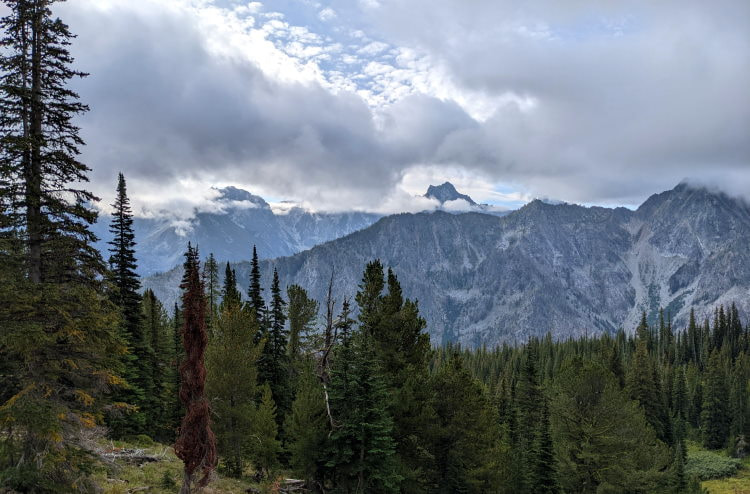 After the crest, we were surprised to find that the overgrown path transformed back onto a well worn groomed trail. We wandered along, passing in and out of the trees. Occasionally birds flushed, startled by our presence, and we encountered one group of grouse running through the underbrush.
The drop down to Lake Caroline was a steep but pleasant soft pine trail. We got little glimpses of the lake between the evergreen boughs and the light scent of sap lingered here and there. Large pine cones were scattered about with purple inner scales. It was gloomy and quite chilly by the lake so we just took a quick look, grabbed some water, and moved on.
Day 2 / Stage 2: Lake Caroline to Windy Pass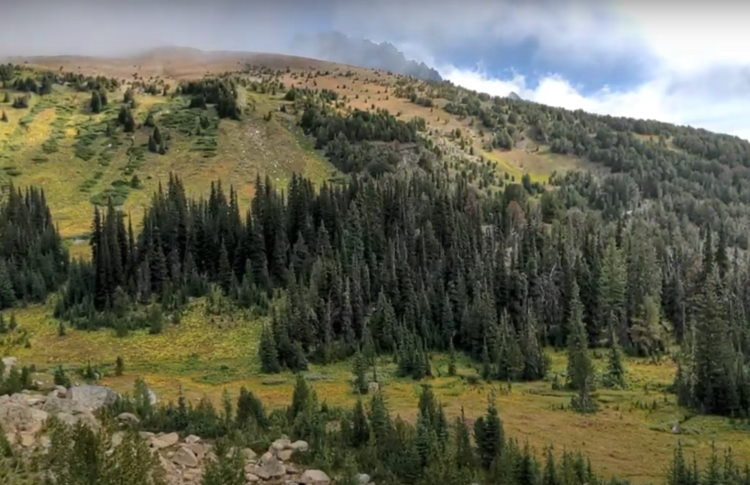 Just beyond Little Caroline Lake the landscape transformed again and this was my favorite section. The trees gave way to rocky meadows with streams trickling through them. The meadow plants were vibrant fall colors of yellow, orange, and red.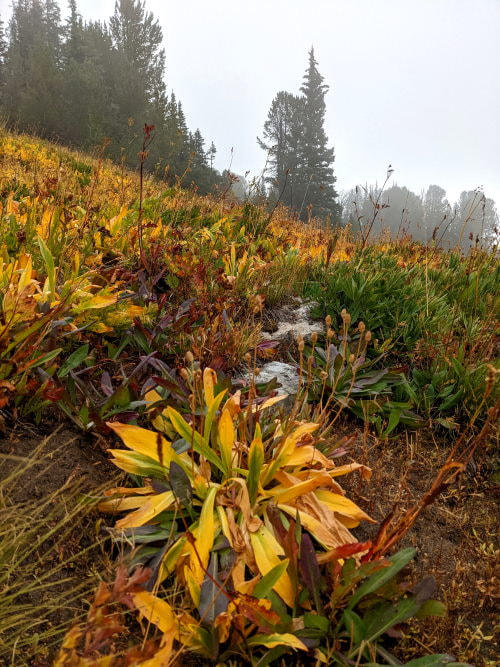 The jagged rock of Cashmere Mountain loomed in the background, with swirling mist adding to its presence, at once both alluring and foreboding. The pikas and chipmunks scampered about the meadow, observing us with cautious curiosity. Again, we were the only ones there.
As we started the final climb to the pass we caught the smell of smoke, first faint and then steadily stronger, until I was struggling to breath. It wasn't until now that we realized that some of those magical clouds we had been seeing weren't just clouds. A mixture of clouds and smoke was being pushed up and over the pass that we were trying to reach. We decided that we were almost there so we might as well continue, so I pulled on a mask and soldiered on. I'm not going to say the KN-95 mask made it all better, but it definitely helped.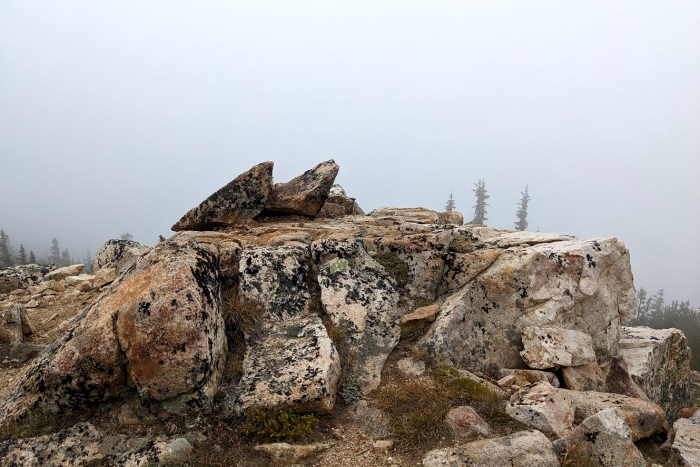 The pass had some pretty lichens on the rock, but no hint of what lay beyond. Even Cashmere and the valley below were completely obscured. With nothing to see and bad air rushing around us we opted to make this our turn around point. A bit of a letdown, but still an achievement and a beautiful hike to get here. I guess we will just have to come back!
Day 2 / Stage 3: Windy Pass to Eightmile Lake
As we dropped down from the pass we dipped below the smoke and the air immediately began to clear! We retraced our steps across the lovely meadow and just above Little Caroline Lake we saw our first hiker of the day and the only person we saw above Eightmile Lake!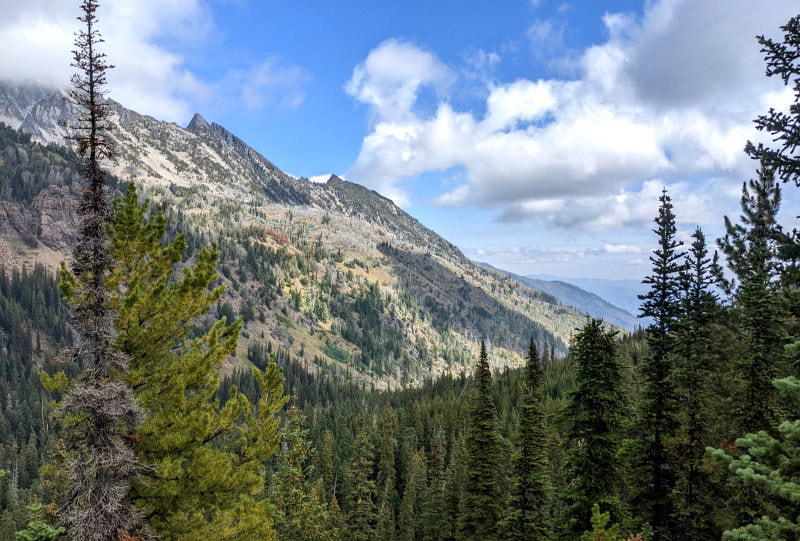 The hike down was just as beautiful as the way up and flew by. We found ourselves back at camp just a little after 2PM with nothing to do but relax!
Eightmile Lake to Trailhead
Well relaxing by a beautiful alpine lake is many people's idea of paradise and I thoroughly enjoy it. However, just as alluring is the sound of real food and being home in our own beds snuggling with our pups. We took a little time down by the lake and then packed up our camp. As we left the sun even decided to come out.
On the way down the trail had one last treat for us! As we neared the bottom Colchuck Glacier emerged from the clouds!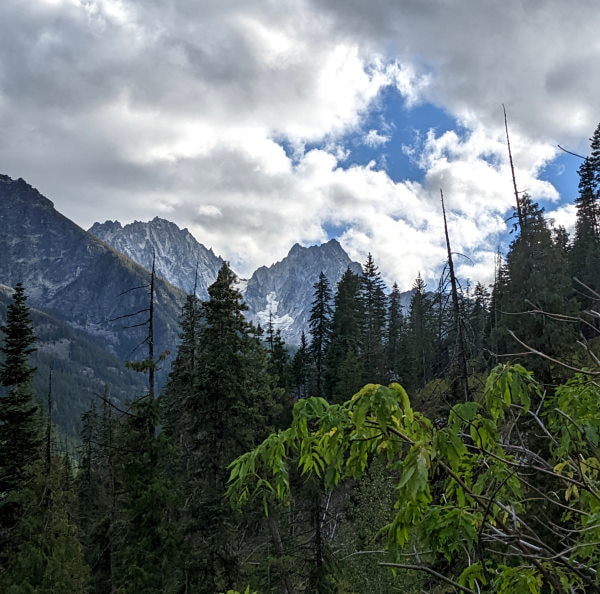 ---
What to Bring?
---
What is your favorite weekend trip?
Please share in the comments below!
---
Product Links: I am not sponsored by any of the products I link to. If you choose to make a purchase from one of the links of a product I listed or any other item a small percentage will go back to me to fund this website, at no additional cost to you. The products I link to are either ones I have used or similar if those are not available. Thank you for your support.
---
More?
Stay the night in a fire lookout at Park Butte - Washington State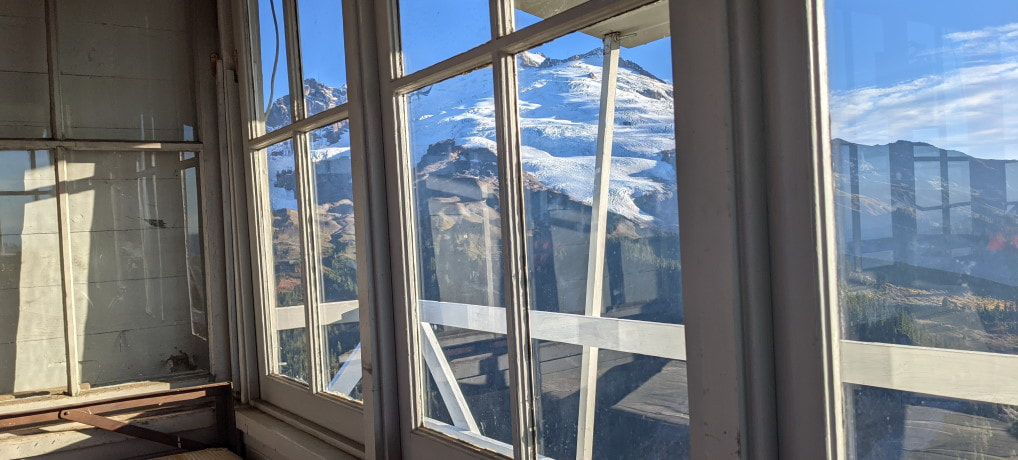 Check out more incredible Washington Hikes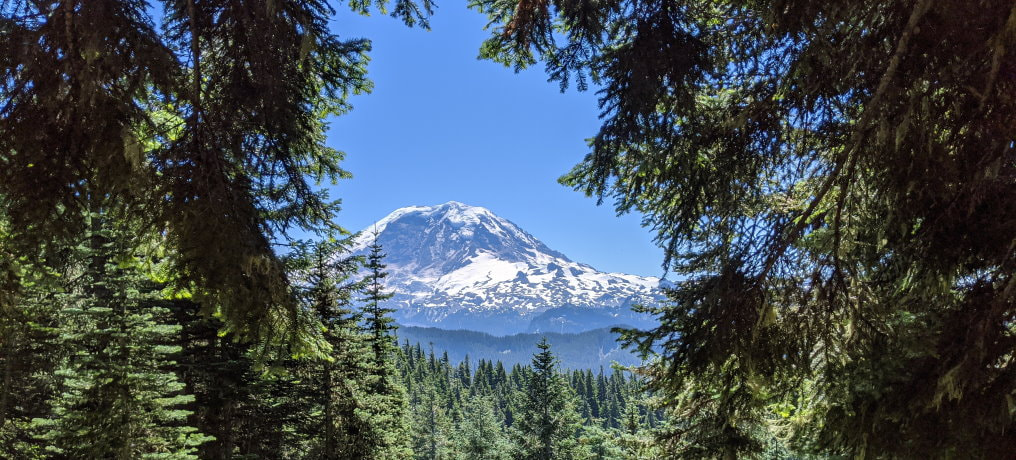 Experience the flowers in Southern California