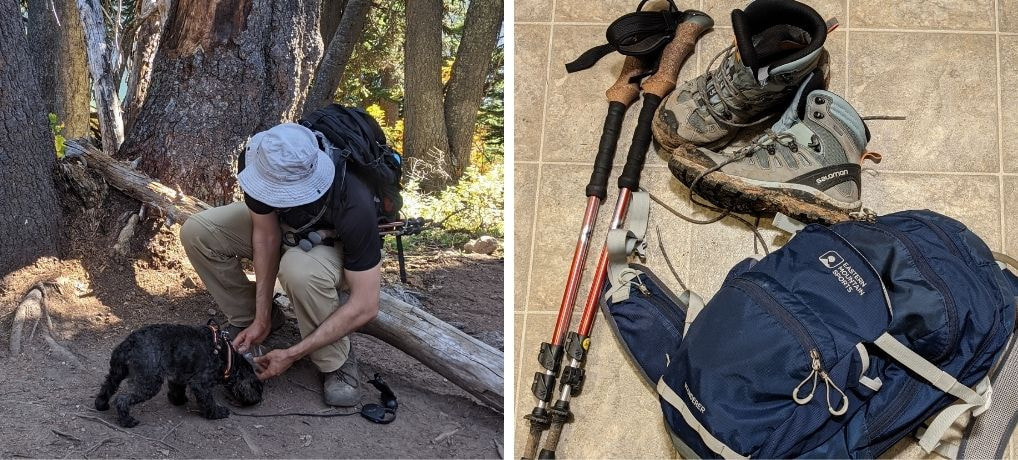 The right supplies and gear can make all the difference between an enjoyable outing, a miserable slog, or even a dangerous situation. I'm one of those people who always agonizes over what I forgot so I feel better when I have a list. This list can vary a lot based on the weather conditions and what kind of hiking you are doing, but this is a list of what I usually wear, carry for me, and bring along for my dog.
In my Pack
All of these can be important, but these top 5 are my essentials that I never leave without:
Hydration: Water is heavy but it is better to have extra than to run out. I prefer a hydration pack for drinking on the go, but they can make it tricky to know when you are running out and my water froze in the tube once on a hike that was colder than expected. Hard bottles work well, but I also really like the Platypus because they are super light weight and versatile. I always carry a water treatment tablet in my first aid kit just in case I run our.
I often carry a Sawyer Filter because it is super compact and light. It works well but is a little time consuming and it can be hard to fill the bag. A water bottle or using a large ziploc bag scoop water to fill the bladders can make it a bit easier.
Food: People bring all kinds of things on the trail and you can get as creative as you want. I usually just keep it simple with some carbs, protein, and salt. These keep up my energy, replenish my muscles, and help me stay hydrated. This is another thing where you want to bring a little extra just in case, because running out of fuel is miserable.
Carbs - My go-to is sweet potato (weird but works and I can share a little with my pup) as a good source of complex carbs and potassium. Sometimes I bring fresh fruit, dried fruit, oatmeal cookies, or bars.

Protein - Nuts and/or dried meats are light weight and calorie dense, perfect trail food. Bars also work well, but can be rough on the stomach so be sure you have tried them out before.

Salt - Salt helps you remember to drink and helps your body retain moisture. At home I eat unsalted nuts, but I make sure I have salted on the trail and most dried meats are packed with salt.
Light: You never want to be stuck on a trail in the dark so always bring a small light just in case. Phone lights aren't amazing and batteries tend to die at the worst times so don't rely on them. A flashlight will work but a good headlamp is ideal. Remember the batteries.
Heat: An emergency blanket and a couple hand warmers are small and helpful for warding off hypothermia and frostbite. I have never had to use it, but I bring the emergency blanket even in the summer because it weighs next to nothing and temperatures can drop quickly at night. If someone gets injured you could be waiting quite some time for help.
First Aid: This can be anything from a huge kit to a handful of bandages. I keep water treatment tablets, aspirin, an assortment of bandages, alcohol wipes, antibiotic ointment, bug bite/sting ointment, antihistamine, moleskin cut to different sizes, and blister bandages (big and small). All these fit in a little pouch that fits in my hand. All the ointments, bandages, and tablets are in individually wrapped packets so I just carry one or two of each and replenish anything I use before the next outing.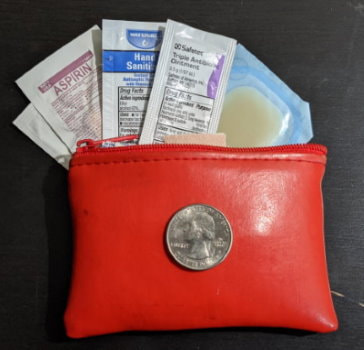 More good items to have but may not be required for every situation:
Maps: Paper or electronic usually are fine for day hikes, just make sure you have enough battery and download them ahead of time if you are going digital. I usually put my phone in airplane mode when I'm hiking to avoid it sucking extra battery trying to find cell service that isn't there.
Hand Sanitizer: You can cary the little blister packs but I like to have a tiny bottle that hangs from my shoulder for easy access.
Mini Carbineers: I hang these clips off the outside of my pack and they are great for clipping things on for easy access or extra layers as you shed them to keep your hands free.
Repair: I keep a few feet of duct tape and some twine for repairs in a pinch. They are lightweight, tiny, and you just never know. The duct tape can be rolled on itself and just coil a little twine around that. I actually used an empty dog bag roll for my tape.
Knife/Tool: I usually cary a small multi tool and a nail clip and I have had both come in handy, particularly the pliers on my multi tool. I have had zipper pulls come off and metal clips open up.
Ziploc Bags: I always carry a couple sizes in case I need to protect something from unexpected rain, want something for trash, or to collect some wild berries to enjoy.
Sun Protection: I always carry some sunscreen and chap stick with sunscreen in it. I also carry sunglasses regardless of the weather and often bring a sun hat (this particular one works well, but is useless in the wind).
Bug Repellant: You don't always need it but I like picaridin bug spray.
Toilet Paper: Depending upon where you are going you may be allowed to bury waste or you may have to pack it out. If you are burying it biodegradable toilet paper is a good idea. You can often improvise with a stick, but you may also want a small shovel.
Fire: This is actually something I don't carry but probably should for an emergency. There are a range of options from waterproof matches, lighters, fire starter bricks, etc that can be lightweight and small.
Extra Socks: Just an extra pair because I really hate wet feet!
Micro Spikes: If you are going out anywhere that may have snow or ice I highly recommend carrying these. I've done plenty without them and it only takes one fall to ruin a day or even a week. We both have Kahtoola Microspikes and they make an incredible difference. They slip right over your shoes and are pretty comfortable, just make sure your shoes have solid toes and heels so they don't dig into your feet.
Seat: No, I don't mean you need to bring a chair, but you might consider something to sit on, especially on damp and cold days. Often I use my waterproof pants but I have seen people carry small foam mats and even plastic mailers for this purpose.
Clothing/Gear
Feet:
Shoes: We each have boots (his/hers) and shoes (his/hers) and pick one depending upon the adventure. I usually pick the boots if I am expecting snow, high water, or terrain like sand that would get debris in my shoes and go with shoes for most everything else.

Socks: I regulate temperature primarily with socks. There are many good options out there, but I prefer SmartWool PhD because they are thicker on the heal and ball of your foot, but thinner in the middle to allow your feet to breath. They come in many different weights.

Preventative: I love Body Glide for preventing blister and chafing. You can use it just about anywhere and I have found it to be very helpful, especially in hot weather.
Legs:
Pants: I have friends who hike in everything from basketball shorts to jeans, but I really prefer stretchy hiking pants(hers/his). Workout pants can work well too, but make sure they aren't the kind of material that snags easily or they can get ruined in a hurry.

Rain Pants: I often cary these as a water and windproof extra layer. It is nice to have them to slip on or sit on when you stop for lunch to avoid dampness and in the winter they enable me to slide down snow banks without worries of getting wet. You can layer them with hiking pants and thermals to get "insulated pants" without adding another piece of gear. On a couple trails we have turned a steep section of trail with a deep footpath through the snow into a human luge run.

Thermals: I wear a pair under my light hiking pants on cold days. The only problem is, if you overheat they aren't an easy layer to remove so I definitely recommend some that are at least moisture wicking.
Body:
Shirt: I usually go with a light, long sleeve (because I burn easily), moisture wicking base layer (hers/his) year round. Anything breathable, other than cotton (because it gets smelly), works.

Outer Layers: Varies greatly but I always carry a light packable rain jacket that can double as a wind breaker. In cool weather I bring a packable down jacket, sometimes a fleece, and a thermal shirt for really cold days.
Hands: I like to wear liner gloves year round when I am using poles because they keep my hands from chaffing and the worst sunburn I've ever had on my hands was on the back around where the pole strap goes. For cooler weather I bring a pair of warmer ones that I can put over them if I need it.
Pack: You can hike with just about anything and many people just use canvas bags or school backpacks, but a proper hiking pack will generally be more comfortable. Backpacks come in many varieties and not all packs fit all body types, so I would recommend trying them. Some shops let you load them up with weights, which isn't going to tell you how it will feel at the end of the day, but gives you a much better idea. When I get a pack for day hiking I look for:
20 -40 liter
Padded hip belt (to take the weight off your shoulders)
External pocket, at least one (to quickly stash things)
Hydration pack compatible prefered
Vented or suspended back panel prefered to keep you cool, especially if you will be hiking in the heat
Also make sure you have a rain cover to keep your gear dry since not all bags include them.
Hiking Poles: In recent years it seems that hiking poles have gone from a stigmatized item to a cool gear that show that you are a real hiker. We used them for the first time on our trek in Peru and are now hooked. They give you so much more stability and power and turn hiking into a full body workout. Instead of letting your lower body take all the punishment they distribute the load and have saved me from countless painful slips and turned ankles. I trust Black Diamond Standard Poles and own Black Diamond Cork Grip Poles, although folding ones fit into luggage better if you plan to travel with them. If you are unfamiliar with using them REI has a really nice guide.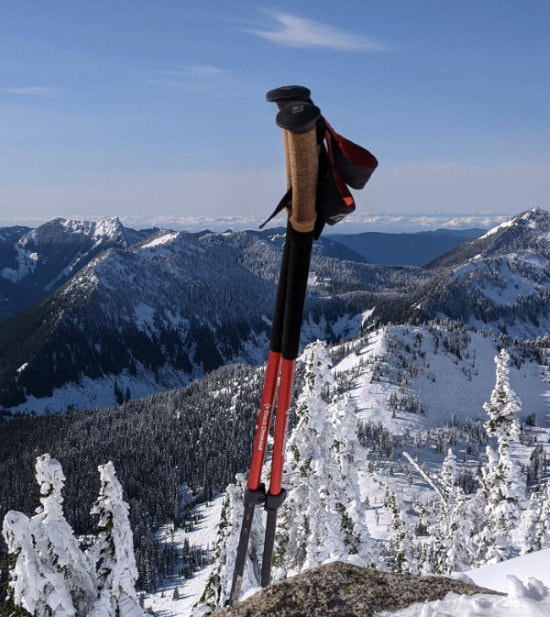 Thermos: A thermos is not something I typically bring, but on cold days it can be really nice to sip warm tea or soup on a mountain top.
Doggie Supplies
Before you take your dog out consider their limits. Some can only do short hikes, some melt in the heat, and some freeze in the cold. I fully believe in hiking with my dog, but occasionally it is better for him to be home.
Food: Pups need energy too! I usually pack a day's worth plus a little extra for long hikes. If your dog doesn't eat well on outings you can add a topper. My pup finds the Instinct Mixers irresistible.
Water: There are many options, but I love this bottle because the bowl is attached and you can put whatever water they don't drink back inside. I used to have to bring at least double the water that my dog actually needed because much of it would get wasted when he was done drinking. If your dog is prone to dehydration you can add a finely crumbled mixer or a tiny bit of low sodium chicken bullion in to encourage them. Watch which way you point this when you push the button. It can get pressurized from elevation changes and spray water.
Treats: My dog loves hiking, but for those that need a little encouragement or if you want to make sure they associate the trail with good times, treats can help.
Dog Bags: No one likes dog poop on the trail! Don't leave home without dog waste bags.
Dog Pests: Check the area you will be in for things like ticks, fleas, and heartworm carrying mosquitos. Make sure your dog is up to date on their vaccines and has some protection like a flea/tick collar.
Jacket: I'm not into dressing up animals, but depending upon the pet sometimes they need it. My dog gets cold in a hurry if he gets wet, so we have a rain jacket for cool days and a warmer jacket for cold days to keep him comfortable. We also have some tiny boots (which he doesn't love but tolerates) for those extra cold days when the snow clumps up on his feet.
Doggie Warmth: For cool hiking days our pup is fine on the trail as long as we keep moving. When we stop for lunch he tends to cool off in a hurry. We can hold him in our jackets but he is often filthy and damp, so wrapping him in a travel towel or doggie sleeping bag works much better.
Doggie Emergency Plan: Things happen and we have been caught in bad weather and had to put our dog in our backpack and carry him out (luckily he is small enough for this). There isn't always a perfect plan, but it is at least something to consider and think about before going out. Many forms of dog carriers do exist.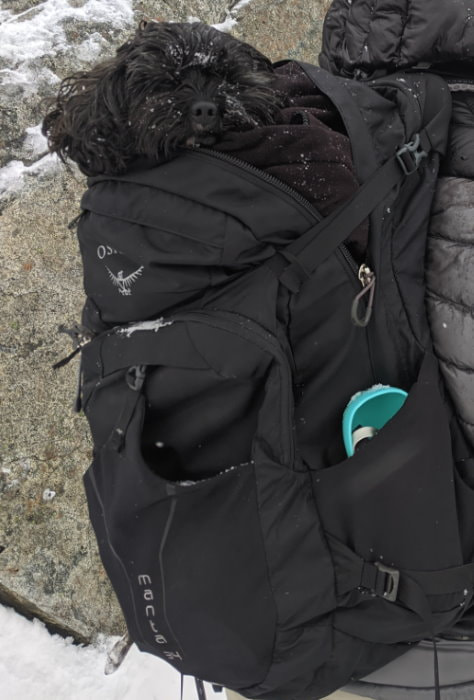 Back in the Car
Passes: Do you need a permit or day pass for the park you are going to?
Towels: For the pup and me.
Thermos: Full of a hot or cold drink depending upon the weather.
Slip on Shoes: It always feels good to take your boots off after a long hike and I like to let my feet breath a little too.
Baby Wipes: To freshen up a bit.
Extra Food & Water: I always have some waiting in the car but I try to make sure the food is nothing too smelly that might attract critters. Sometimes I bring a camp stove and tea.
Charging Cords
Clean Socks & Shirt: Sometimes these can make you feel much fresher, especially on a hot or wet day.
Data Storage: If I'm on a trip I like to bring this so I can back up all the photos from my phone and/or camera. This one works with Androids with type C USB and lets you copy to a SD card or USB stick.
---
Is there anything you would add? What do you bring hiking?
Please share in the comments below!
---
Product Links: I am not sponsored by any of the products I link to. If you choose to make a purchase from one of the links of a product I listed or any other item a small percentage will go back to me to fund this website, at no additional cost to you. The products I link to are either ones I have used or similar if those are not available. Thank you for your support.
---
More?
Check out some Rochester Gems while you are in the area!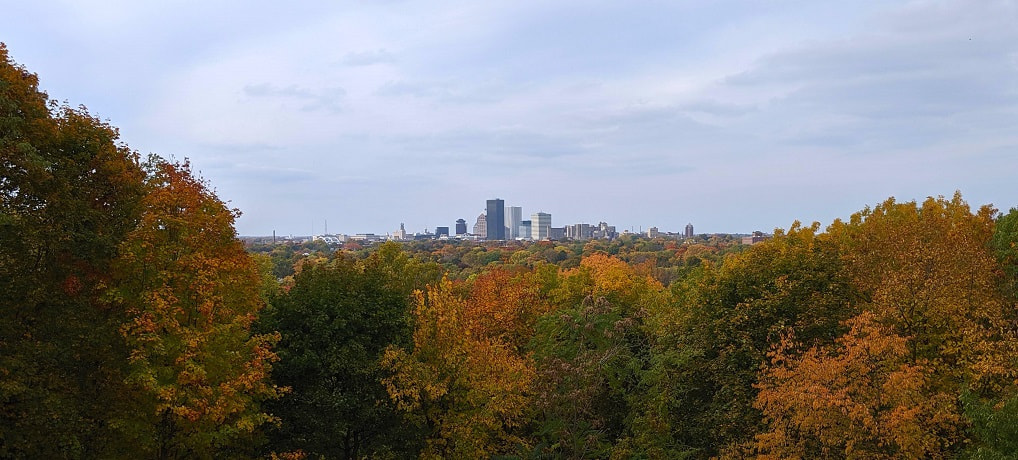 See our full Big Bend Trip Itinerary.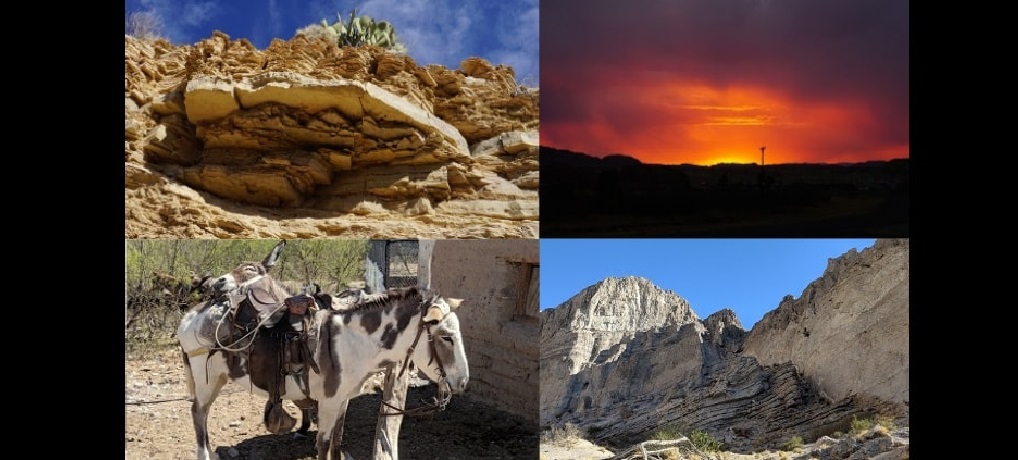 Experience the flowers in Southern California