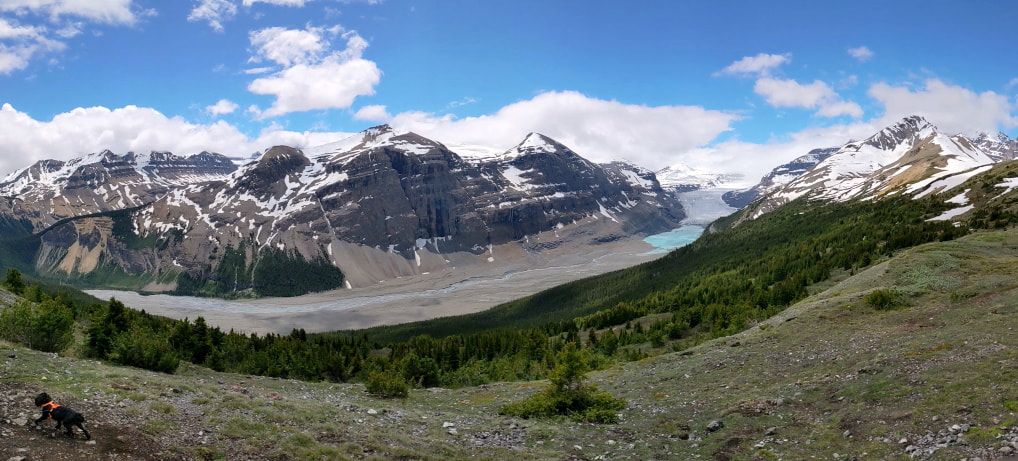 The Icefield Parkway has infinite options and enough variety to suit most nature lovers. From hardcore climbing and mountaineering to stunning roadside lookouts and gentle turquoise lake paddling, it has it all! Everything on this itinerary is also dog friendly too!
I live in Washington and I am used to the long drives down rough dirt roads, to reach trailheads that are still packed, despite the difficulty of getting there. By contrast the Icefield Parkway is a smooth paved road with lines down the middle, but somehow it still feels remote. We were there on Tuesday July 5th (July 4th is an American holiday) and there were people everywhere we stopped, but not huge crowds most places. It didn't take much to find a little solitude.
After driving over 12 hours to get to the park, we had had enough road time and considered skipping the Icefield Parkway, as it would be another long day of driving. However, a friendly lady we met camping told us that this was the best part of the trip and not to be missed. She was absolutely right!
You need a couple of days to really even start to do this area justice, so we opted for a short version. We went up through Banff Nation Park to the Athabasca Glacier, right on the edge of Jasper National Park, and back. This made the roundtrip driving time from Banff Town about 4 hours, which left plenty of time for exploring.
You cover a lot of ground on this drive, so the weather is likely to vary along the way. If you have the option, a sunny day is really best to get to experience the views.
Icefield Map:
See Jasper National Park for our full trip itinerary and overview video. I have a couple of videos in the works for this trip and more articles so check back or subscribe to our newsletter or Facebook page to make sure you don't miss anything.
---
Bow Lake & Crowfoot Glacier - Viewpoints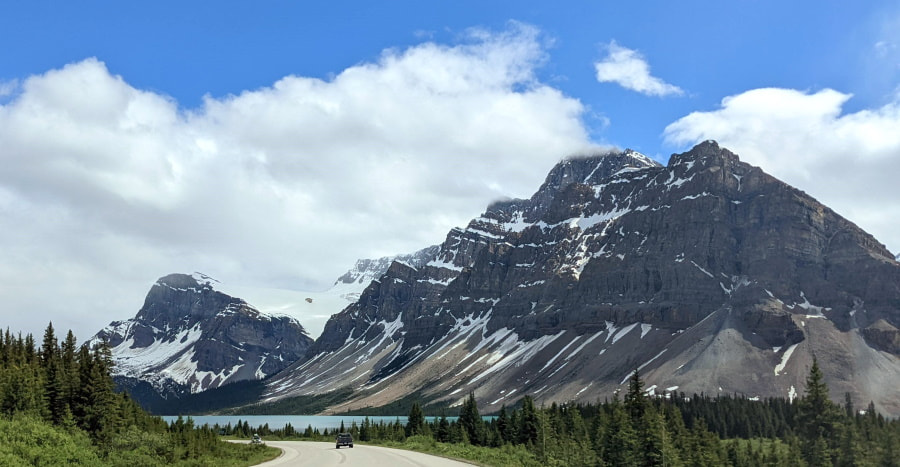 The dark sweeping mountains and beautifully striped moraines around this lake contrast the blue water, making a striking pairing! This was the most beautiful of the fully accessible lakes that we saw and you don't even have to get out of you car to see it if you don't want to. The Crowfoot Glacier hovers above the lake slowly adding to its content and providing some of the sediment that reflect the beautiful blue color.
---
Bow Lake Access - Viewpoint, Kayak Launch, & Hiking Access
Not visible from the road
Pit toilets
Cafe in the lodge
Easy trail options
Water access with self issue boating permits
10 minute - 1.5 hour stop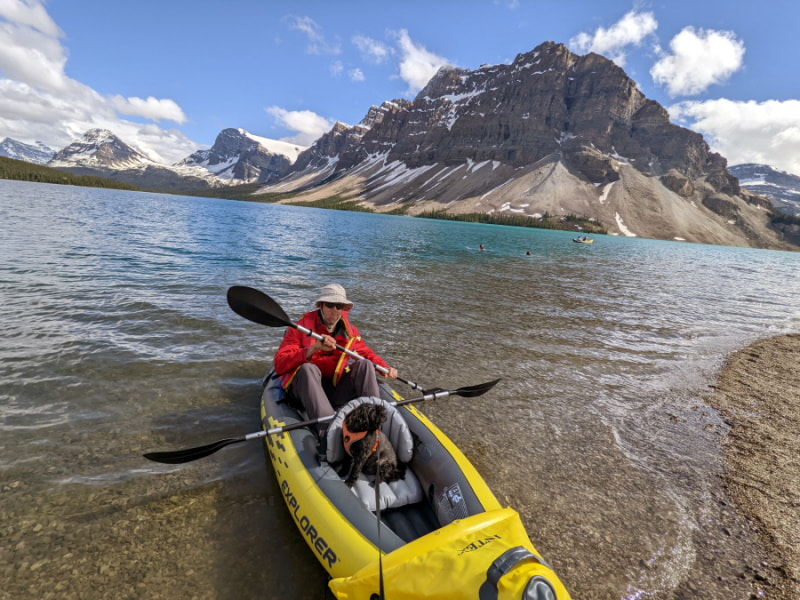 The large gravel parking lot gets busy, but most people don't venture beyond the lodge, bridge, and the beach viewpoints. There is a trail around part of the lake with glacier views and waterfalls.
The trail down to the boat launch beach is short but narrow and the two way traffic can be a bit of a pain when carrying a boat, if you time it wrong. Paddling on Bow Lake quickly transports you to a peaceful oasis of earth, air, and water, with the reflections blurring the lines between them. It is magical and you are likely to be one of only a few out there.
Boating Logistics: If you wish to kayak or canoe here you have to bring your own boat. You can rent one in town or bring an inflatable one. We found the inflatable kayaks to be comparable in price to renting and gave us much more flexibility with our schedule. If you are coming from outside the country, read the self-issue permit info carefully, because your boat has to have been dry for a longer period of time to prevent invasive species.
Path to kayak & canoe launch area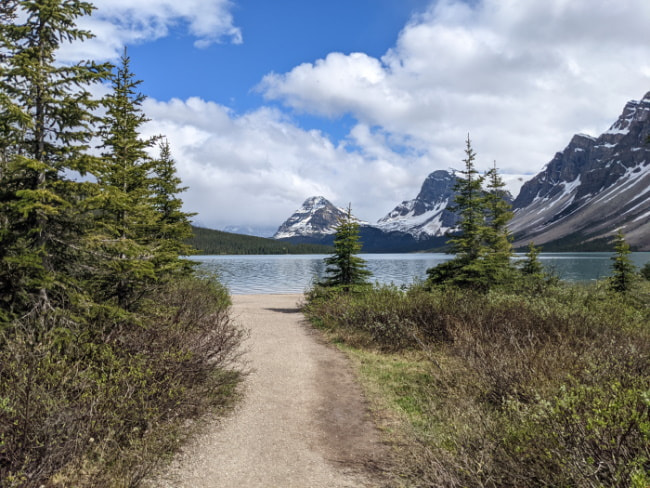 ---
Peyto Lake - Easy Viewpoint Walk or Hike
Not visible from the road
Pit toilets
Relatively easy trail to viewpoint
20 minutes - 40 minutes for viewpoint
Longer Lake Access Trail Option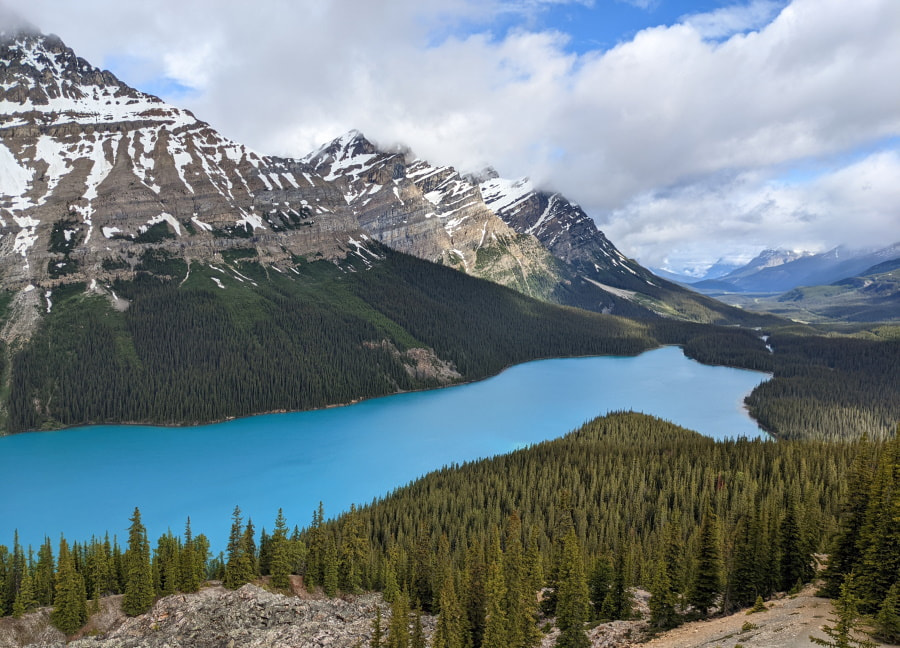 This stunning blue lake is one of the most popular spots on the Icefield Parkway so I would recommend coming early. The viewing area is relatively small. We got here around 9:30 AM and there weren't a ton of people. The trail to the viewpoint is paved and goes up and down a small but steep hill.
Dog Tip: Parts of the viewing platform has a metal grid style decking that many dogs don't like walking on.
Walking Tip: The upper parking is closer to the viewpoint, but is reserved for handicap, busses, and oversized vehicles only. If you don't qualify for any of those, but have someone who might have trouble with the walk, you might want to drop them off up there before parking.
Boating Tip: It is possible to paddle here with an inflatable kayak or canoe, but you will have to be capable of hiking with it with some elevation gain/loss.
---
Waterfowl Lake - Viewpoint
Visible from the road
Water access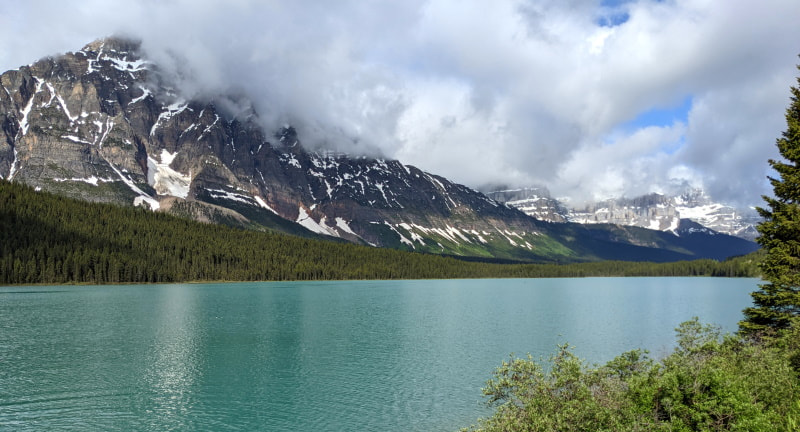 You can see this turquoise lake right from the comfort of your car or get out for a stretch and a photo. There is fairly easy water access here and some people were swimming. It would be a pretty easy place to drop a kayak or canoe in too. There are no self-issue permits here so it might be a good idea to grab one at Bow Lake or another permit area if you plan to paddle. See more about permits at Parks Canada. If you bring a boat, be sure to read the permit info ahead of time because there are restrictions on when it was last in the water.
Bonus: Cirque Lake - If you want another moderate hike option and want to get closer to the mountains you see, you can give this lake a try. This is also a good option if you are looking to escape the crowds a bit. We were the only people there when we went. Check out this video for details.
---
Mistaya Canyon - Easy Hike Trailhead
Not visible from the road
Pit toilet
Relatively easy trail
20 minutes - 1 hour stop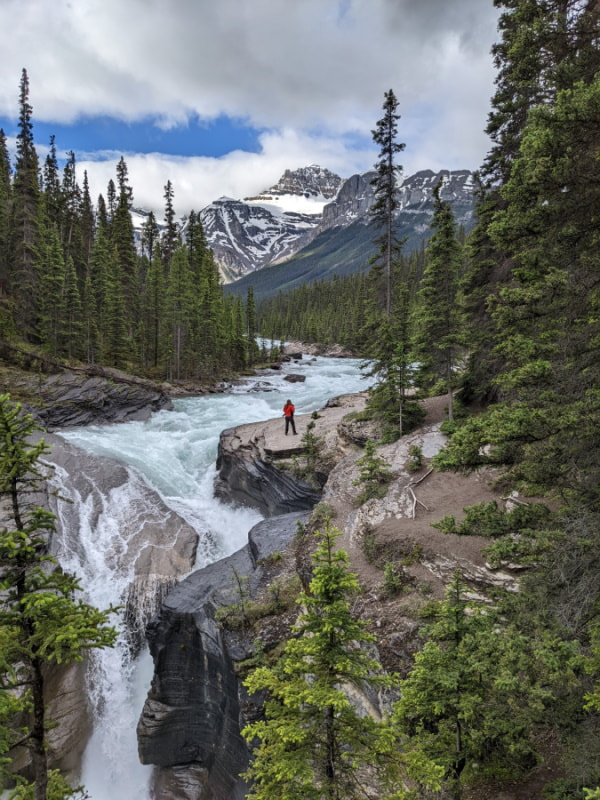 This beautiful view of the unique canyon and falls is from the bridge. To get there you need to take the gravel trail going downhill, just ¼ mile from the parking area. If you want to explore a little more you can extend this into a 1 mile (1.6 km) out and back along the river. When you are on the bridge don't forget to look between your feet! The canyon and water rushes below you as well.
---
Howse Pass - Viewpoint & Picnic Area
Viewpoint not visible from the road
Pit toilet
Flat viewpoint loop path (less than .2 mile/.35 km)
Picnic tables with a view
10 minute stop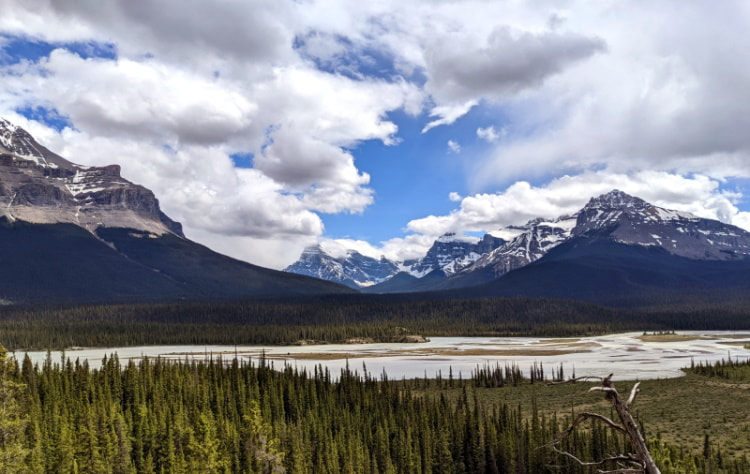 This one was a nice little surprise. We had hit most of the stops in this area on the way up, so on the way back when we saw this sign we were ready for a stretch break. The parking area was empty, so we weren't expecting much, but just down the little path, hiding behind the trees, was a gorgeous panoramic view!
---
Weeping Wall Waterfalls - Viewpoint
Visible from the road
Pit toilet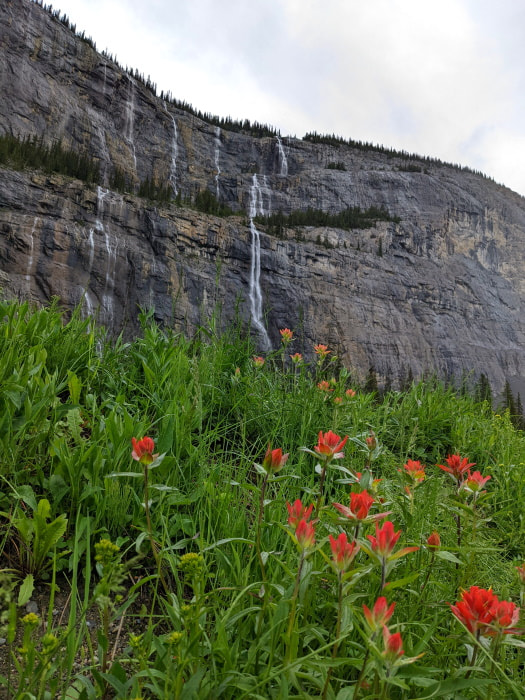 If you are trying to figure out how big this is, look at the trees on the shelf a little over halfway up. Yes, this is that big! We were there on a misty morning and there were dozens of waterfalls rushing down the cliff, all right on the edge of the road. This is one of the few viewpoints that should be spectacular regardless of the weather.
---
The Big Bend - Viewpoint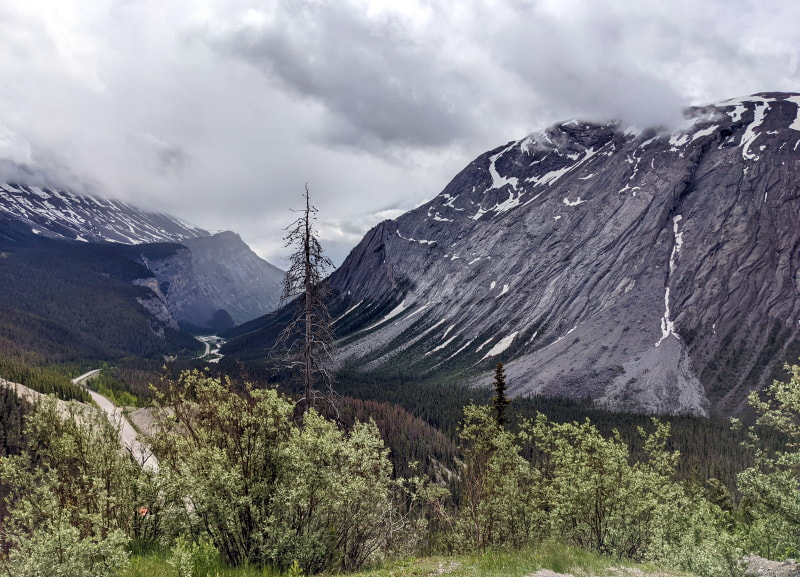 You can technically see this one from the car, or even from the road as you drive through, but you really need to get out and take a minute up by the edge to take it all in.
---
Parker Ridge - Viewpoint & Trailhead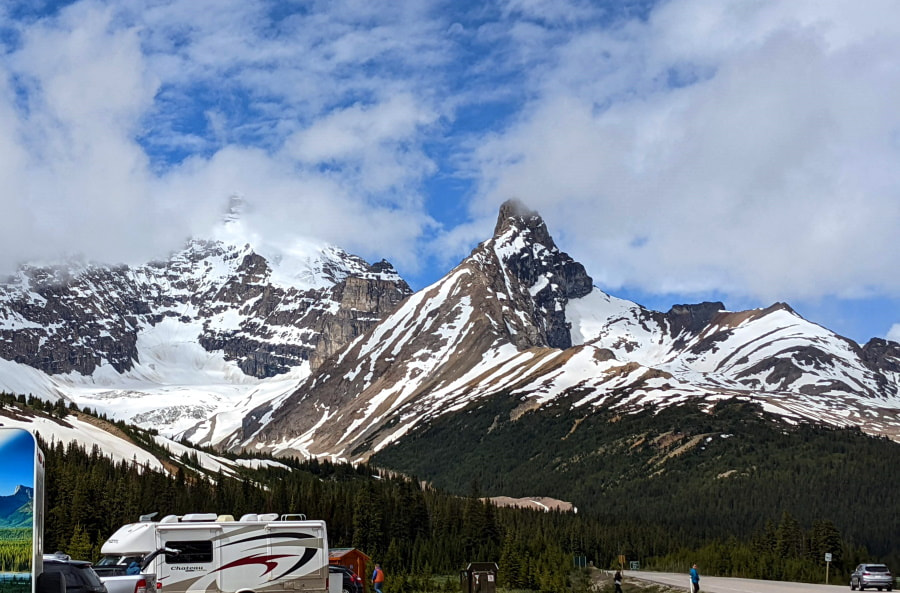 Visible from the road (pictured above) but much better from the trail
Pit toilet
Moderate hike (could be snow)
Views of a glaciers, waterfalls, a canyon, a lake, wildflowers, and mountains
4 miles (6.5 km), 1100 ft (335 m) elevation gain
2-3 hour stop
This was my favorite stop and favorite hike of our trip but you really need nice weather for this one. The hike up to the ridge had amazing views throughout. It was a steady uphill climb with a decent bit of mud and snow. At the top of the ridge you have a decision, turn right to get closer to the mountains or left to view the Saskatchewan Glacier. There is no bad choice here, but if you only do one, I would go left.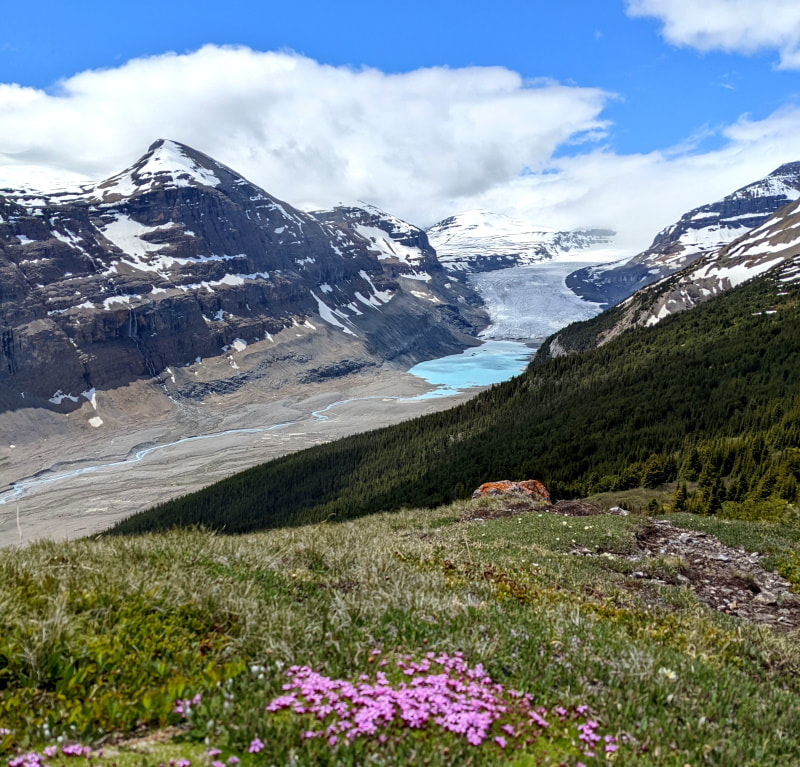 What to bring:
Hiking shoes - preferably waterproof
Water & a snack
Sun protection - The sun on the ridge can be intense, especially with the snow. I would wear sunscreen, chap stick with sunscreen in it, sunglasses, and sun hat.
Hiking Poles - Nice to have, especially in the snow
Microspikes - Might be necessary if there is snow and ice
The Basics - Good to have on any hike
---
Athabasca Glacier - Viewpoint & Trailhead
Visible from the road
Pit toilet
Dinning options near the visitor center
Many tour options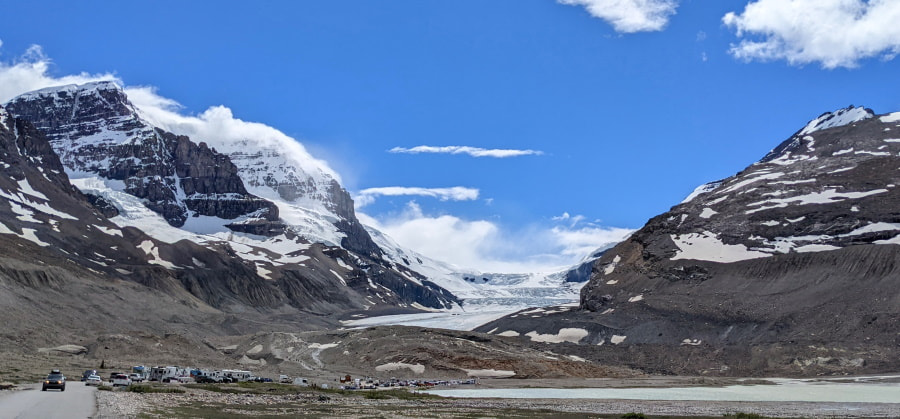 We had limited time and it was crowded, so we just checked out the viewpoint. From the viewpoint you had a great panoramic view. You could feel the power of the glacier and watch the mist rise off of its surface. If you want to explore more you can do the short Toe of the Glacier Hike or take a tour onto the glacier itself. They often sell out so be sure to book one online or in Banff ahead of time.
---
Stutfield Glacier - Viewpoint
Visible from the road
Pit toilet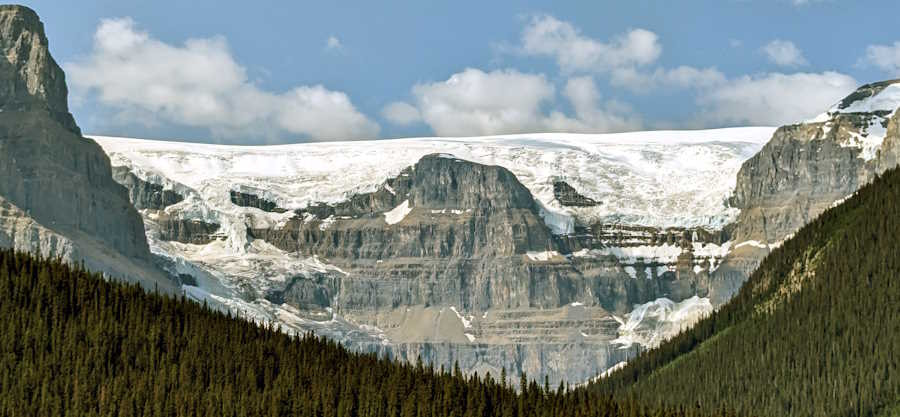 If you are up for one more glacier, continue just 10 minutes down the road for a quieter and more pristine viewpoint. We didn't see this spot until our second trip and thought it was a shame that we hadn't continued just a little further on our previous visit. It actually wasn't even on our radar and we flew right by, then had to turn around and go back to check it out.
---
Bonus - Bow Valley Parkway - Scenic Drive
Visible from the road
Frequent wildlife
If you are looking for a change of scenery on the way there or back try out the Bow Valley Parkway. You can drive all or part of the parkway and it does not add any distance, just time because it has a slower speed limit. It is a pretty area and was the one place on this trip that we saw a bear. It was a black one and we saw it from a comfortable distance in the safety of our car.
---
Have a question or did I miss one of your favorites?
Please ask and share your experiences in the comments below.
---
Product Links: I am not sponsored by any of the products I link to. If you choose to make a purchase from one of the links of a product I listed or any other item a small percentage will go back to me to fund this website, at no additional cost to you. The products I link to are either ones I have used or similar if those are not available. Thank you for your support.
---
More?
6 Canadian National Parks in 1 Week Itinerary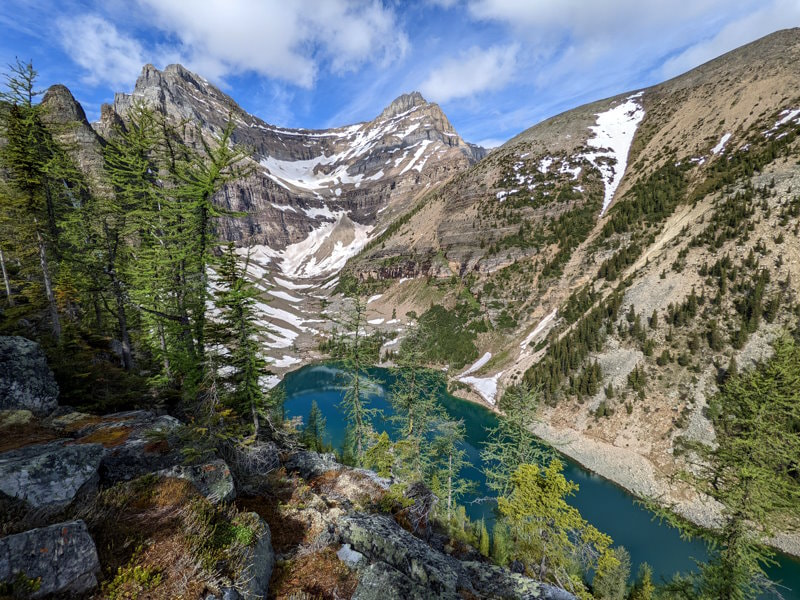 Check out some incredible Washington Hikes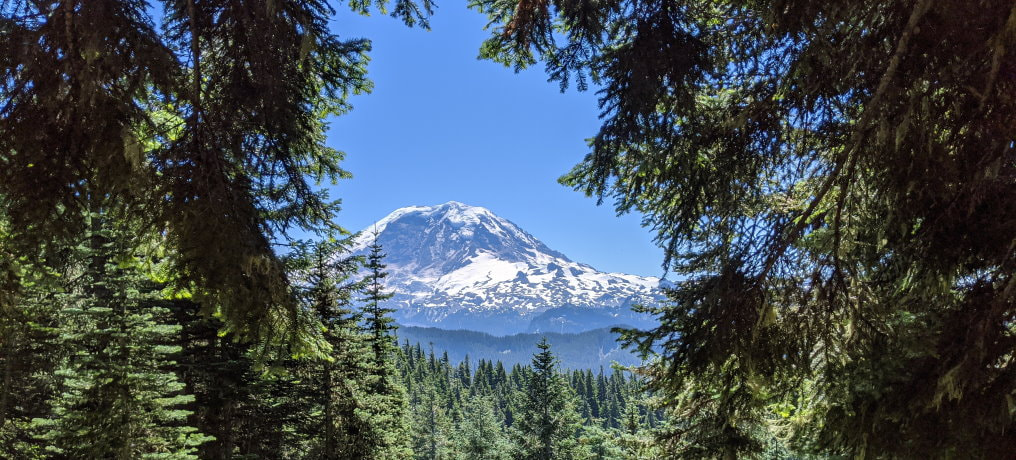 Iceland see our full Trip Itinerary & Travel Budget.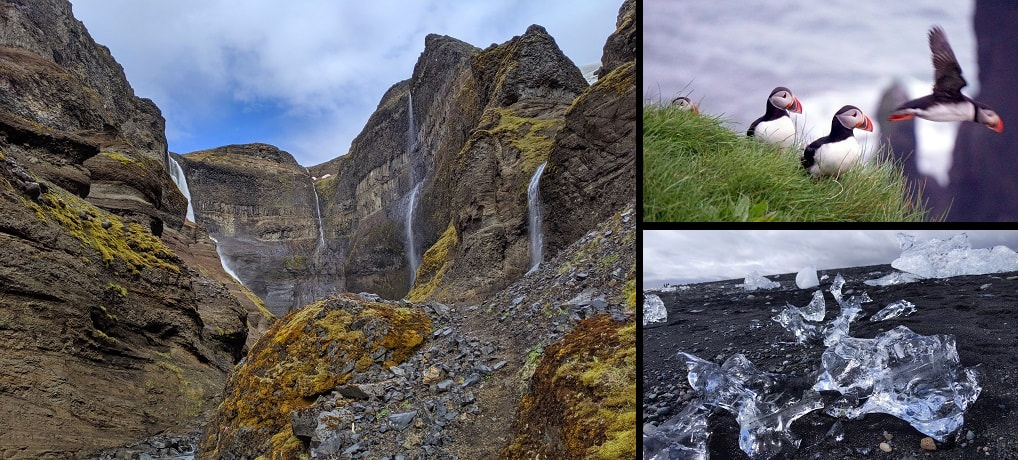 Check out our full Peru Trip Itinerary.