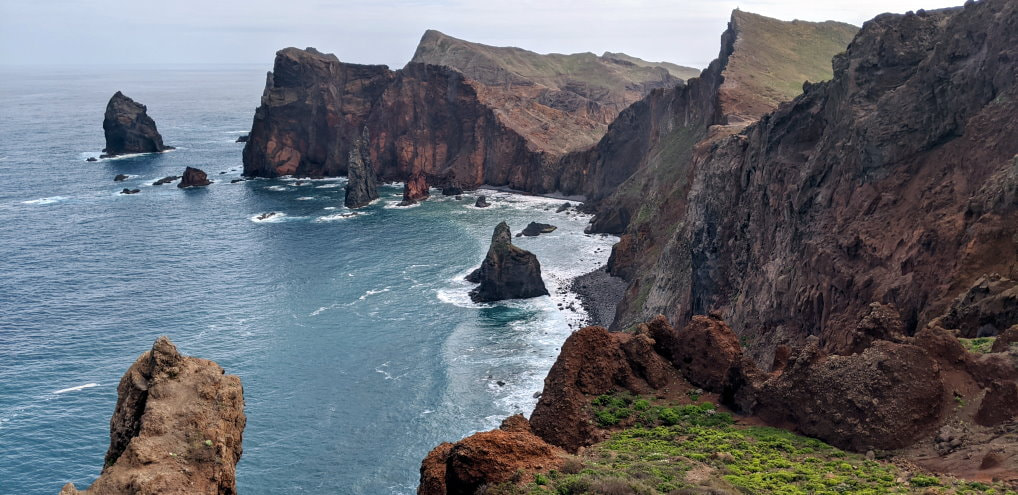 If you are looking for a beach vacation you are probably in the wrong place, but if an adventure is your idea of a good time you have arrived! This island is about as close to Africa as it is to Europe and is full of places to explore, with a quaint town offering tasty treats and a hot meal just around the corner.
When I picture my perfect seascape, dramatic cliffs and roaring waves come to mind. This rocky island has plenty of that kind of stunning scenery, all connected by a great network of roads.
---
Contents:
---
Road Trip Around the Island
One of my favorite things about this island is that it is small enough to see the full island while staying at one home base. Trying out a town or two is a great option too, but is not mandatory. We picked Funchal because it was Carnaval when we visited and it is fairly centrally located.
4 Tips for Driving Around Madeira
Check out the video for an idea of what it is like and to gauge your comfort level.
Choice of Vehicle: Get a vehicle with enough power, the hills are steep! I think a manual transmission is ideal so you can engine brake to avoid overheating your brakes when going downhill, but only if you are comfortable driving stick because you will have some serious hill starts. An electric vehicle with regenerative breaking would also be a nice option. We rented a scooter and traded it in for a bigger motorcycle within half a day.

Rules of the Road: People are generally courteous and follow the traffic signals. Drive carefully because animals like sheep and goats occasionally wander out on the roads. We encountered some and got chased by a couple loose dogs too.

Weather: Be prepared! The island is mountainous so the temperature and weather can change dramatically within minutes. We saw thick fog, crazy winds in the tunnels and elevated roadways, plenty of sunshine and rain, sometimes at the same time.

Roads: The infrastructure on Madeira was very impressive! Signage was great. They have tons of tunnels cut through the mountains and fast elevated highways connecting most of the towns around the coast. Most of the roads are in great condition. When you get into the towns there were a few narrow cobblestone roads, but they were spacious by European standards. In the mountains winding roads with hairpin turns were not uncommon, but most of them felt pretty safe as long as you take it easy.
Magical Stops & Routes
This map only shows what we felt were the best of the stops around the island.
I have some viewpoints in blue and some in grey. The grey are ones where manmade things were the primary attraction and blue where nature is the primary attraction. Orange hiking figures denote hikes and yellow walking figures denote spots that I would consider more of a walk than a hike.
The driving routes show the day trips that we took from our home base in Funchal. These were all very full days and even pacing ourselves we still were getting back right around dark.
East Point Loop
Crashing waves and stunning cliffs, this was my favorite day and included my favorite hike!
We got up early and beat the crowds to Ponta de São Lourenço and had a fabulous hike there. See below for details.
After our hike we grabbed a quick lunch and continued on towards Porto da Cruz. At Miradouro da Portela we were treated to a lovely view, enhanced by a couple paragliders swirling above it all. This overlook is on a popular bus route and a couple of vendors were setup there with a collection of trinkets and exotic fruits. Our departure was made a bit more exciting by a couple dogs that didn't seem to appreciate motorcycles.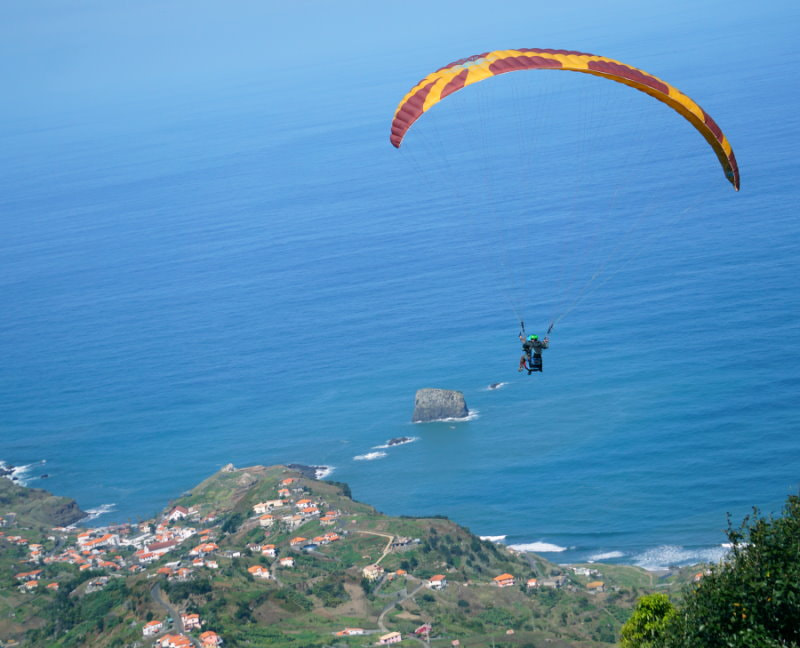 Down in Porto da Cruz we were hoping to watch the surfers. They weren't out today, but we got lucky with timing and got a different kind of surprise show. There is a walkway along the coast and when the conditions are right the waves crash into an alcove and shoots a spout of sea water up in the air! It is right around 32.775462, -16.826668. We heard something as we rounded the corner but were not expecting it in the least until it shot up right in front of us, making us jump and then laugh. We stuck around for a bit hoping for the fickle ocean to do it again and we got some snapshots of moderate ones, but nothing compared to that first surprise.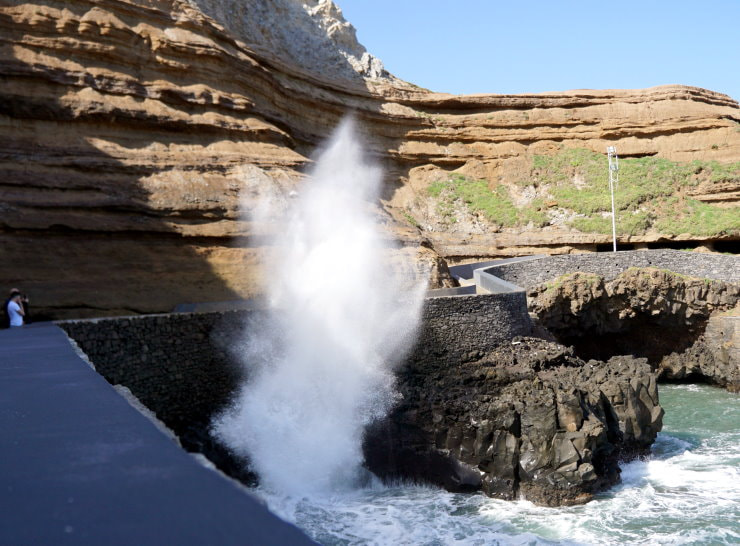 We stopped at many more lookouts along the coast, each stunning in their own special way. My favorites are marked on the map. At Miradouro do Cabo Aéreo we enjoyed a little shade and watched the lizards skitter around, always just out of reach. As we reached Miradouro da Roça the sun dipped behind the mountains creating a dreamy glow.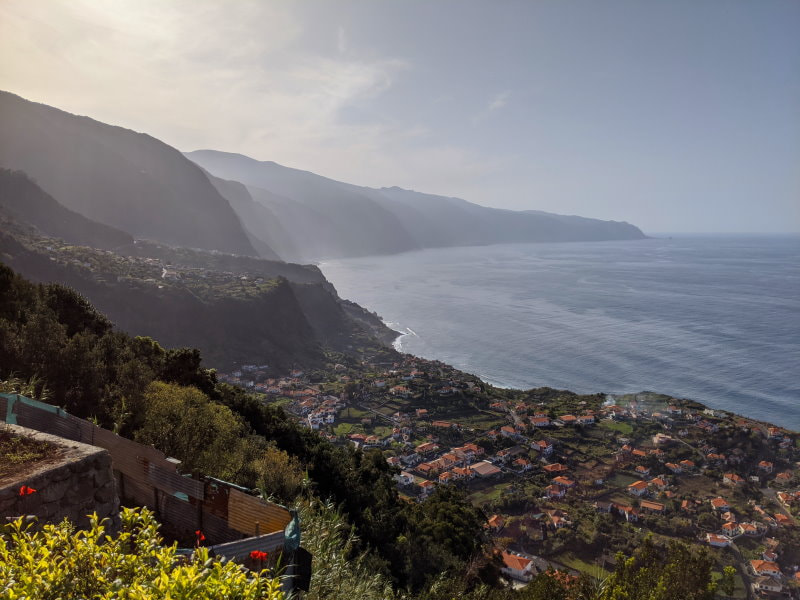 It was magical but we didn't want to be driving the mountain pass in the dark so we made a hasty return to Funchal. It turns out that a good potion of the pass (VE4) is cut under the mountains so it wouldn't have mattered if it was dark or not.
Northwest Loop
This day was the most adventurous in terms of driving, with foggy mountain roads and hairpin switchbacks. The views were spectacular!
We headed out west on the highway and the coast was beautiful. As we turned North and started heading inland and up, the landscape transformed into misty yellow. It was the last week of February and the yellow flowers on the mountainside were in full bloom. The combination of the flowers in the sunlight with wispy fog floating through made for a dreamy atmosphere. From the lookouts it was hard to tell where the clouds ended and the ocean began.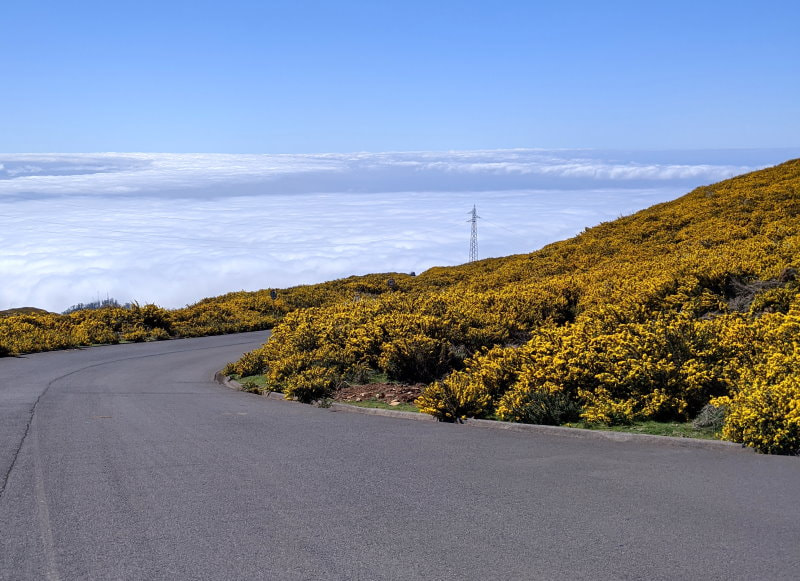 We hiked around the Levada das 25 Fontes, part of the island's expansive water system. See below for details.
After the hike we crossed over the mid-western section of the island on one of the inner roads. We saw almost no other vehicles until we reached the coast.
The viewpoint Miradouro da Santinha over Porto Moniz was one of my favorites! The town looks stunning from above with the sea surf swirling around it. It is somewhat hypnotic to watch. The view makes it hard to keep your eyes on the road, but that is especially important here, as the mountain descent is quite steep and twisty.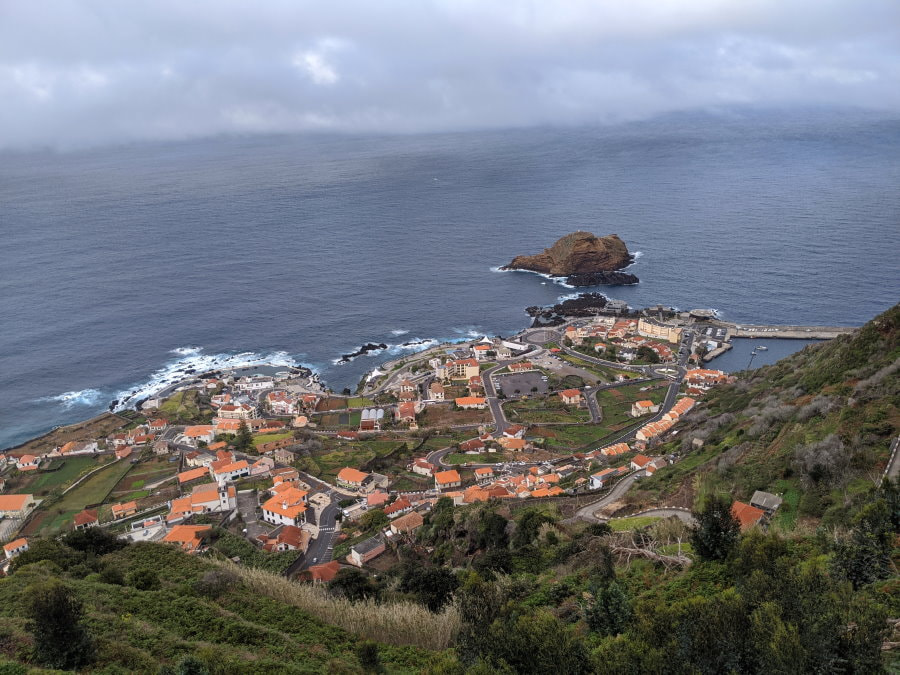 This side of the island was noticeably cooler and had more of a lush tropical feel of a place that sees a lot of water, while the south was a bit more arid. Porto Moniz is small, but felt like a nice place to spend a night. The coast was a unique blend of natural and manmade beauty including natural-styled salt water pools that get sprayed by the waves as the tides come and go. The perimeter of the town is composed of lots of black jagged rock formations and a bizarre raised concrete helipad.
Mirador Ilheus da Ribeira da Janela was another unique stop. This area area has a a couple prominent sea stacks. They stand as somewhat ominous looking sentinels guarding the beach. You can walk down and see them from the beach or climb some stairs to a little cave with an overlook.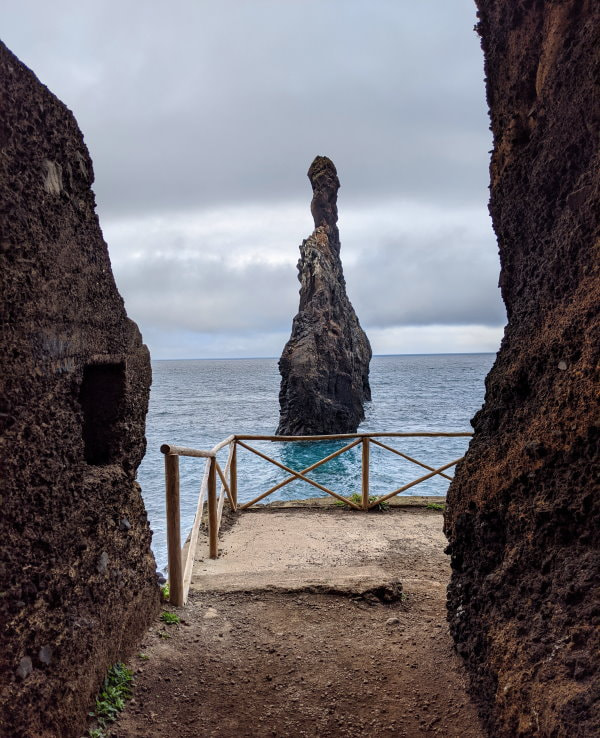 The coastal highway stretches on and had a much more relaxed feel than the one on the south side of the island. It dipped in and out of occasional tunnels and was a pretty smooth pleasant ride, aside from a couple surprise waterfalls that splashed the highway and occasional water showering the tunnel opening. I highly recommend some rain gear regardless of the weather.
Miradouro do Véu da Noiva was our last dramatic stop on this side. This iconic waterfall gracefully slips down the towering cliffs and into the sea below. It has a trail leading to it along the cliffs but it was closed when we were there due to frequent washouts and it might remain that way.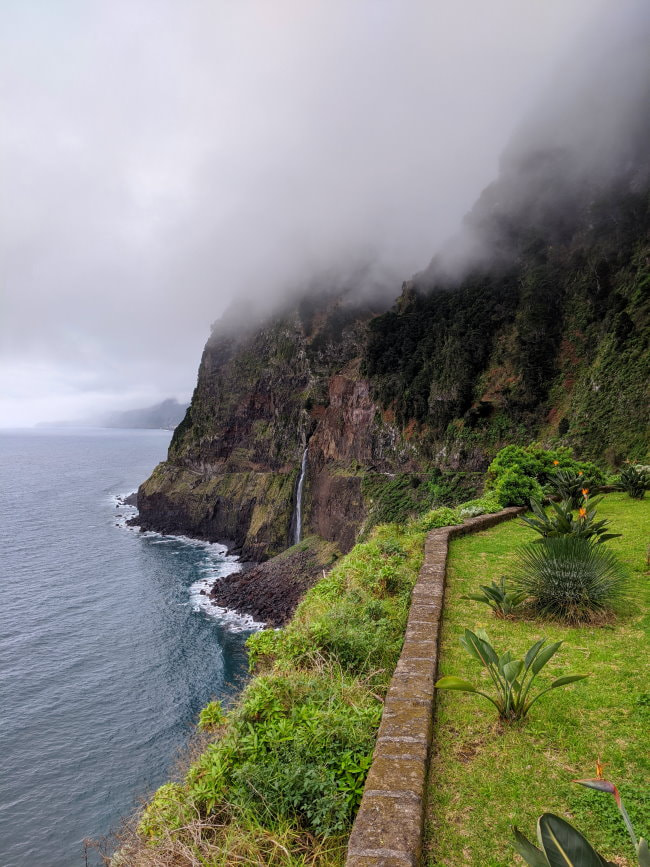 Southwest Coast
This day included ocean views, cute towns, some delicious "home cooked" Portuguese food, and mist.
Jardin do Mar is a colorful little town on the coast with a small maze of narrow intricately cobbled walkways. Once you find your way through, there is a highly manicured promenade paved with more of the mosaic like cobbles and lined with palm trees. As you follow this beyond the edge of town it slowly melts into more of an industrial breakwater and then fades completely into a rugged natural rocky beach. The beach stones were that perfect size and shape that made them tricky to walk on, somewhat akin to a ball pit, but less forgiving. If you pick your way across them to the water edge you can watch the crabs scuttle around and we saw a spear fisherman heading out into the surf.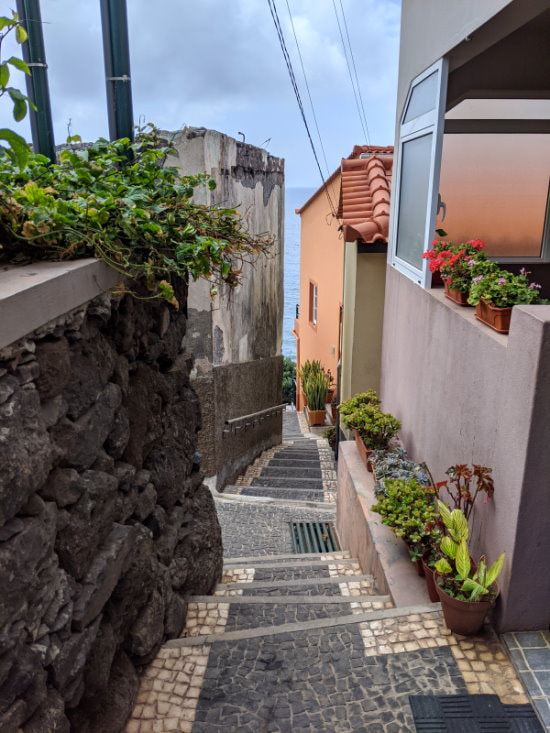 We had an amazing lunch at a Portuguese home style restaurant, Restaurante Casa Bettencourt. This was one of our favorite meals of the trip and by far the best value. For 12.50 euros each (less on weekdays) we got way more food than we could possibly want, Portuguese wine, coffee, and an after dinner drink. The place was packed with mostly locals and we were lucky to get a seat. See more on the food below. I have not been compensated in any way by this restaurant.
After that heavy meal we took a nice stroll on a Levada (another piece of Madeira's waterways) nearby to walk off the wine before continuing along the coast.
We intended on going farther, to Miradouro do Teleférico das Achadas da Cruz and take the cable car, but some weather rolled in, so we made the westmost tip of the island our final stop. Farol da Ponta do Pargo was beautiful, even with the thick fog. We stayed and watched the clouds roll in off the ocean for a bit. They would rush in and blanket everything. One moment the cliffs would be clear and the next moment you would not be able to see more than a few meters in any direction. It made me wonder how far the clouds had traveled unimpeded before striking this wall of rock. Perhaps they had crossed the entire ocean to settle here.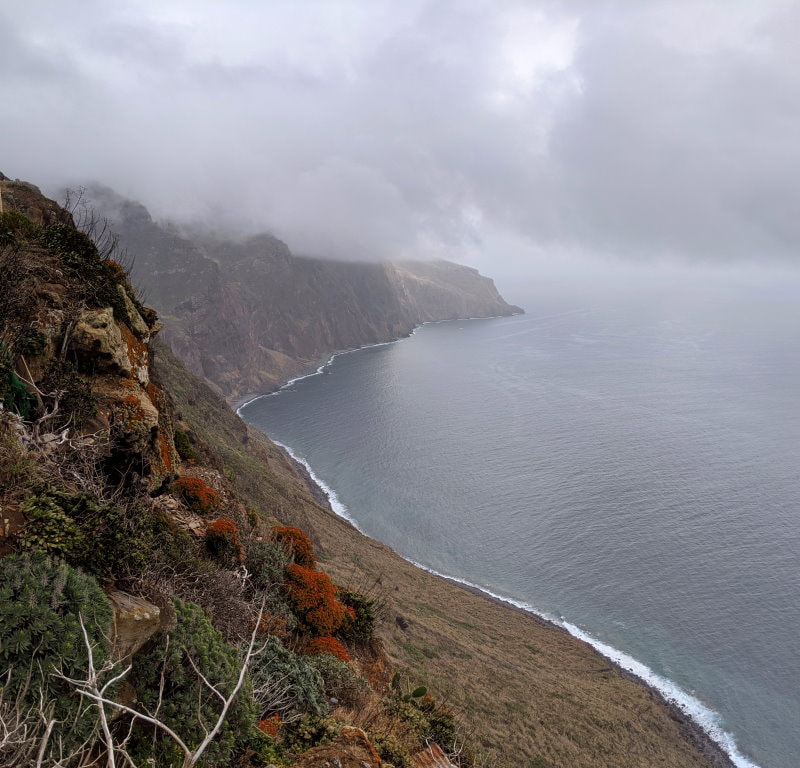 ---
Hiking
All of the hiking trails that we experienced on Madeira had good signage and were easy to follow. They are often narrow and all are at your own risk, but most were well maintained and we were very impressed. These are listed hardest to easiest.
Pico do Arieiro to Pico Ruivo - Exhilarating Mountain Views
This is a one of a kind thrilling hike for those who love to get right up to the cliff edge and look down. This trail requires a moderate level of fitness, but is not technical and most of the trail has ropes around the edges and a lot of the trail is actually paved with cobbles. If you are not up for the heights this is still a nice place to drive up to and watch the sunrise.
Trail Notes:
Hard Trail with Climbing and Ladders
Option 1: 6.7 miles round trip with 2700 ft elevation gain map
Option 2: 5.7 miles one way with 3870 ft elevation gain (need a ride/tour if going 1-way) map
Option Infinity: There are nearly limitless other options and you can easily turn this into a 20 mile hike if you want, but the two above are the most common
Check the weather before heading up - Mountain Forecast or Madeira Webcams
Free parking with pay bathrooms and snack shop
Trails take a lot of maintenance and area is subject to frequent closures, check Visit Madeira
Hazards:
Weather - storms can roll in quickly
Severe drops
Slippery trail when wet
Sun exposure
Crowds
The Experience:
We waited several days for a good day to come up here. There was a storm in the Sahara Desert that was blowing sand all the way from Africa and turning the sky orange early in the week! It finally cleared and we went for it. I was so tired at the end of this day that I nearly fell asleep on the back of the motorcycle.
This was a beautiful day above the clouds and sunrise up here is incredible! We left Funchal a little before dawn to catch the sunrise at the peak, however the roads take a little extra time to navigate in the dark and we pulled up just moments after the sun. It was still lovely!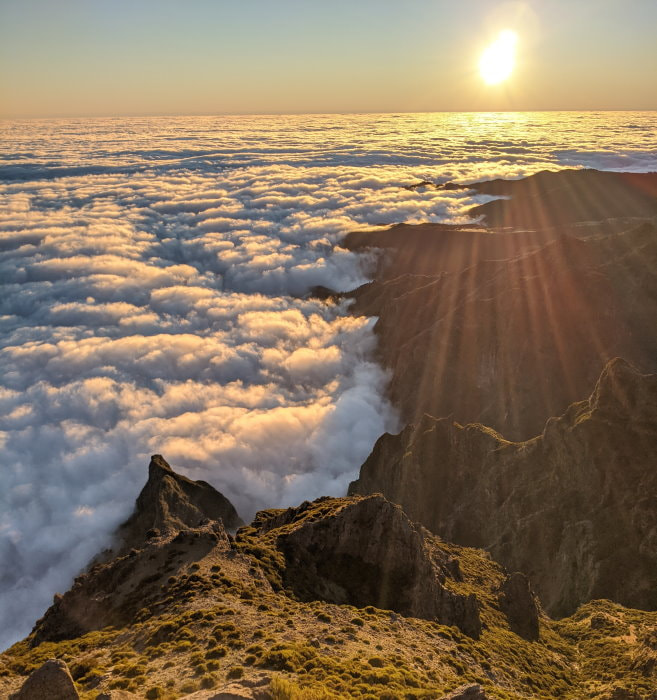 The trail was impeccably done, with seemingly infinite stone stairs, cobbled walkways, tunnels, ladders, and mostly tasteful rope stanchions marking the danger zones. It snaked its way around, over and through the stoney spires and is truly a marvel.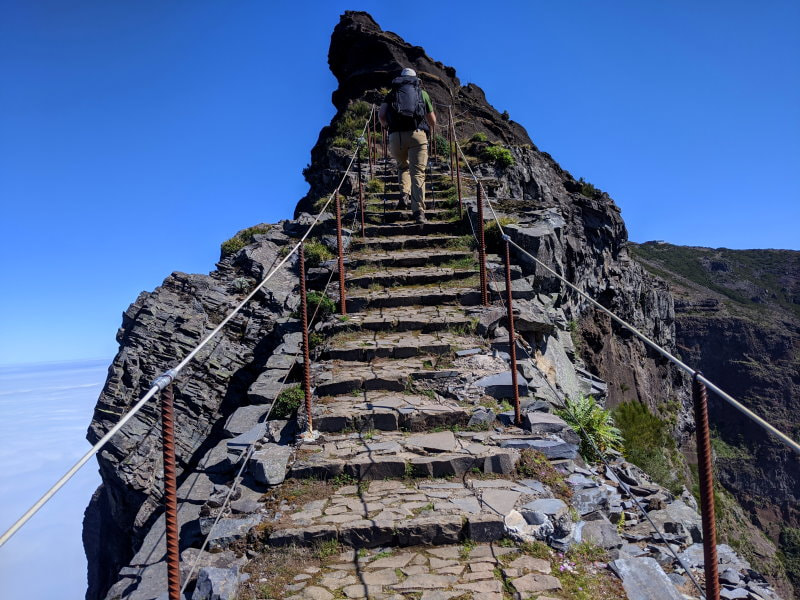 There are a couple places where it passes over narrow ridges and in one spot is only a few feet wide with a drop of hundreds of feet on both sides. Some places the path is a C shape cut into the cliff side with the wall arching up over your head to give you a safe place to walk without fear of rockfalls from above. On one of these sections there was some erosion of the floor and we had to carefully edge around it.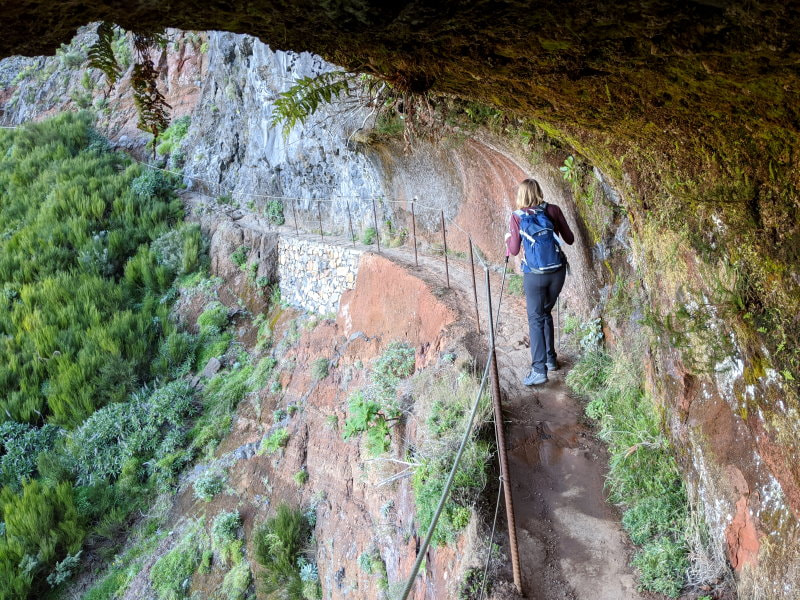 This was hike was a little tricky to photograph with all of the glare and shadows, but it is spectacular. We met plenty of friendly hikers including a man who had been trekking in Nepal on the same trail we did. There were plenty of "friendly" birds too, so keep an eye on your snacks. There was even one partridge walking along the side of the trail with the hikers.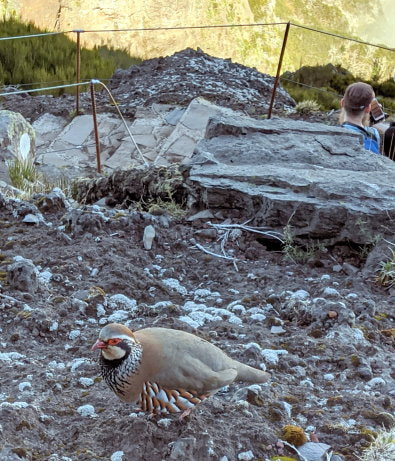 It is a bit surreal to spend a day walking above the clouds. They do get clear days from time to time, but more often than not this area is above or in the clouds. Do yourself a favor and bring plenty of sun protection and water. Most of the trees were burnt in a fire, leaving their ghostly branches, but no shade and the last stretch in particular can be brutal when the sun is beating down on it.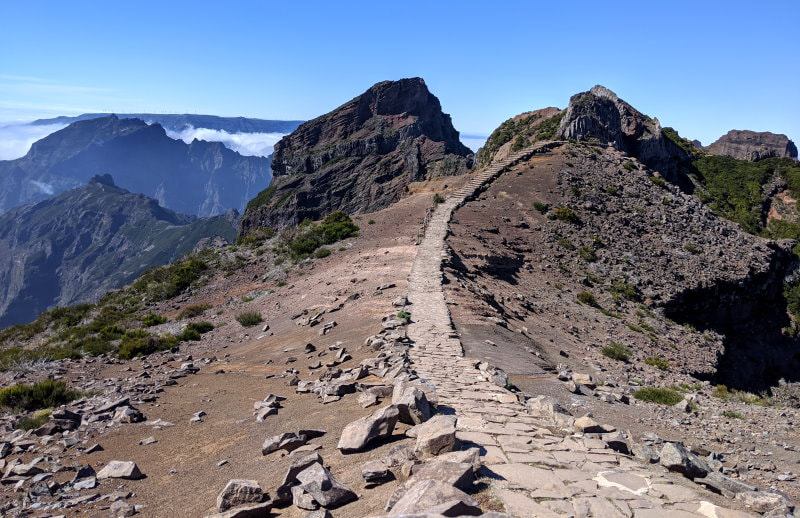 Drones were allowed and despite the crowds we were able to find some places that were isolated enough not to be a bother, but we had a little trouble with the cliffs. Our drone uses a combination of wifi and GPS. The cliffs did a great job of blocking the signals and on our second flight it lost signal at a bad time, flew into the cliff, and plummeted to the ground right at the edge. It survived, but needed some work before it could fly again.
What to pack:
Footwear: You definitely want something comfortable with decent traction for this trail. We wore waterproof trail runners (his/hers).

Water - I prefer a pack with a hydration bladder so I can drink easily. If you prefer a water bottle I really like the Platypus for travel because they are super light weight and versatile.

Lunch & Snacks

Sun Protection: I always carry some sunscreen and chap stick with sunscreen in it. I also carry sunglasses regardless of the weather and often bring a sun hat (this particular one works well, but is useless in the wind).

Hiking poles - Very helpful and recommended, especially for the way down. The consequences of a slip on this trail are pretty dire.

Rain/wind protection & a warm layer

Light for the tunnels - A flashlight or even the light on your phone will do, but a headlamp is ideal.

The Basics - My standard packing list for any hike
Ponta de São Lourenço - East Point Ocean Splendor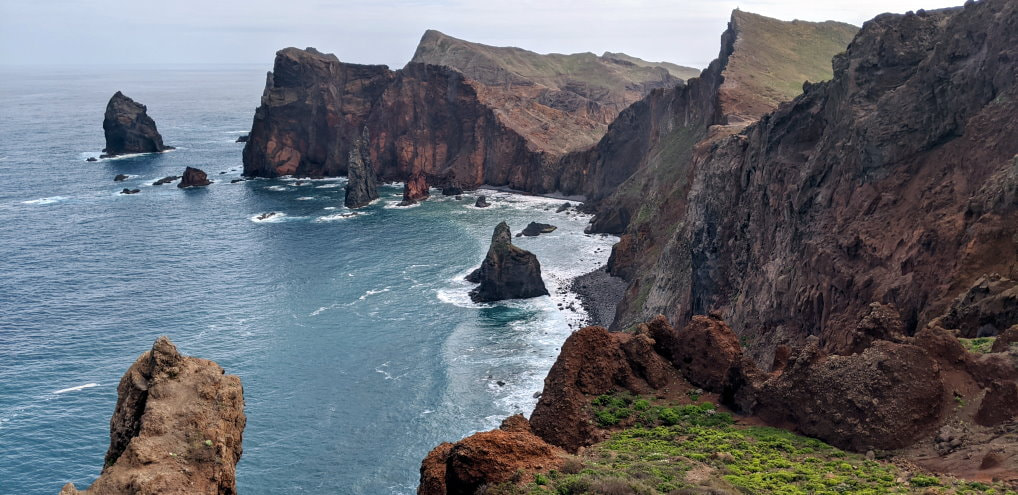 This walk features beautifully colored cliffs, rock sea stacks, and beautiful ocean, with something different around every corner. Some coves are more tumultuous with waves crashing dramatically and cascading across the rocks, while in others the water gently caresses the shore. This was my favorite outing on the island.
Trail Notes:
Moderate Trail
4.6 miles round trip with 1300 ft elevation gain map
Free parking with a toilet and sometimes food/trinket trucks
Hazards:
Narrow trails
Sun exposure
Crowds
The Experience:
This trail bobs up and down with the rolling landscape. It is mostly fairly tame, but there are a couple areas where it wanders near the edge. Nothing compared to Pico do Arieiro, but still enough to make some people uncomfortable, especially when it is crowded. There is no shade, so make sure to bring plenty of water and sun protection. We went on a Friday around 8 and missed most of the people, but by the time we got back the parking was packed with people hunting for spots.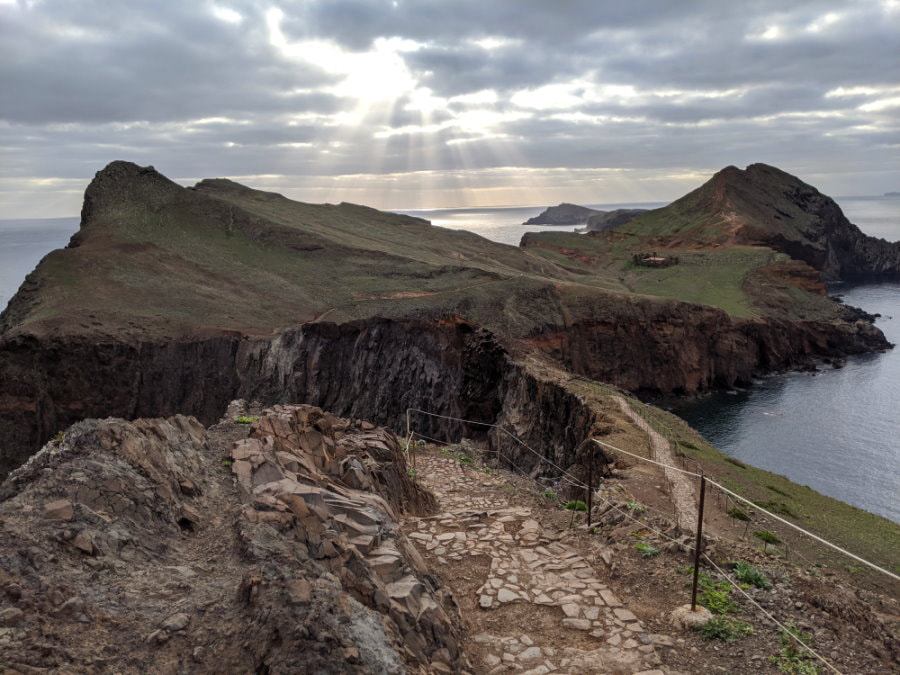 The trail twists around to many different lookouts and coves, each with something a little different. The colors were incredible! There were a couple with sea caves that created water spouts as the tides changed.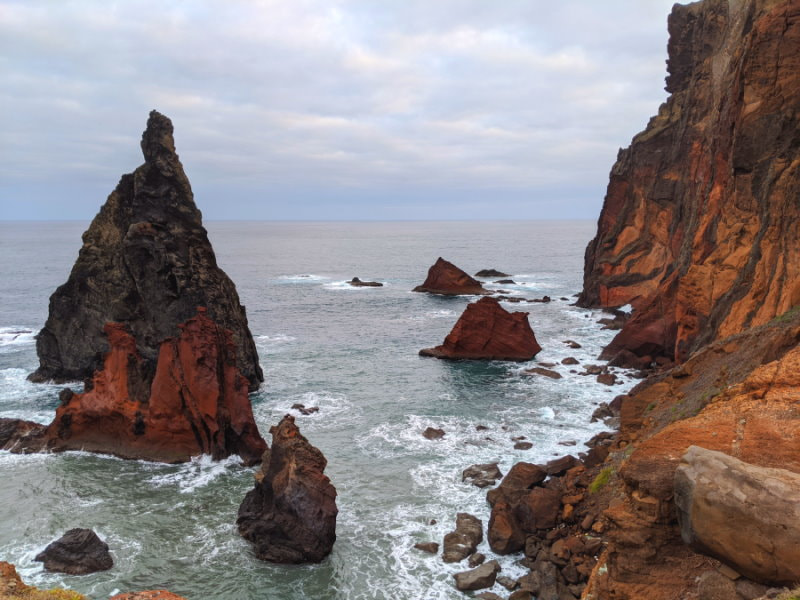 The ropes lining the trail are for safety of the hikers as well as the delicate plants clinging to the cliffs. Somehow beautiful wildflowers mange to spring up from the sparsest bits of dust.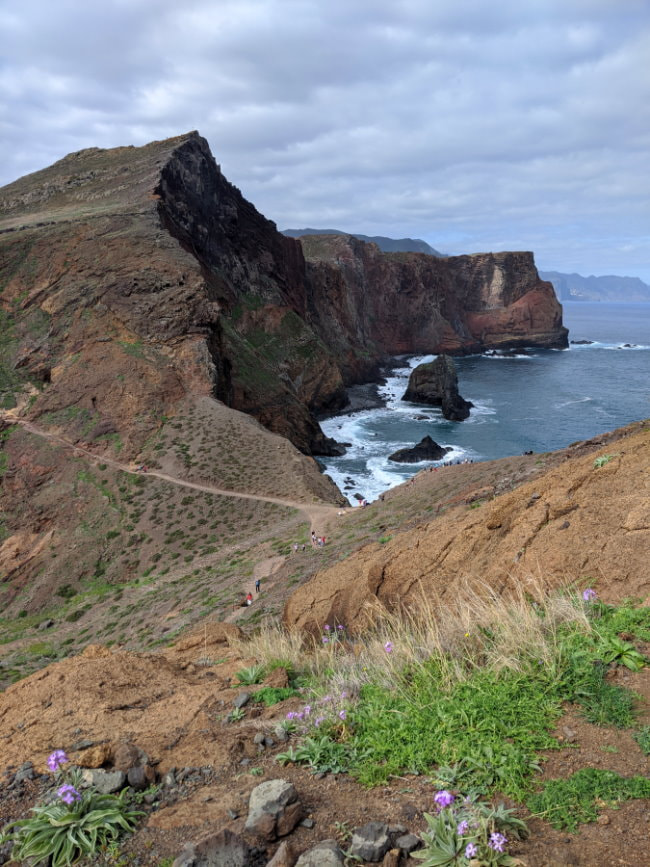 At the end of the trail the ground levels out and there are a couple of options. There is a little oasis styled cafe with tables surrounded by palm trees if you are looking for a place to relax, or you can continue on to the farthest point if you want a little more adventure. This trail is a different kind of wild and I found it a lot of fun. The ground was sandy but hard, as if frozen in place. At the top the trail was baddy battered by the elements, but had an awesome view of the island.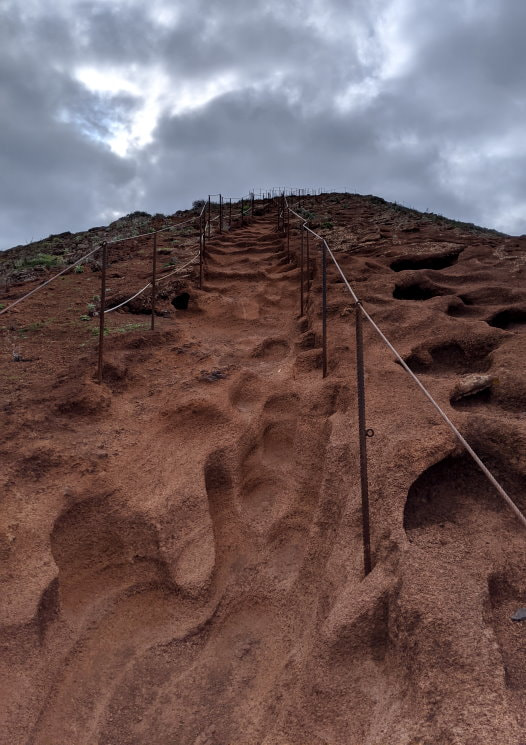 If you are going during tourist season a boat runs out to the point and back. I think it would be a shame to miss all the views from above, but a one-way trip would be a great option to see a different perspective.
What to pack:
Footwear: Comfortable shoes with some traction if it is wet would be best, but sneakers would work. We wore waterproof trail runners (his/hers).

Sun Protection: I always carry some sunscreen and chap stick with sunscreen in it. I also carry sunglasses regardless of the weather and often bring a sun hat (this particular one works well, but is useless in the wind).

Layers - It can be cool and windy out on the point

The Basics - My standard packing list for any hike
Levadas - Wonderful Waterways
If you are looking for Madeira's hidden gems these are them. While there are a few popular ones, most get very little of the attention they deserve and you never know what you will find.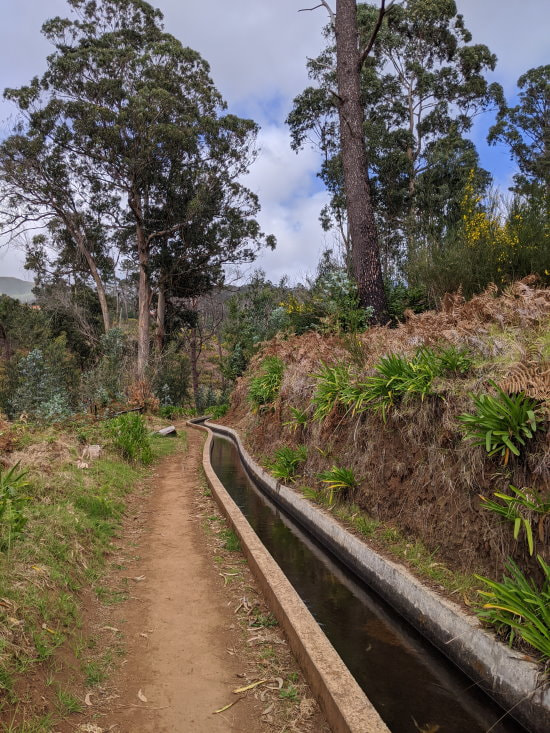 These intricate waterways were made to provide hydro power and deliver water to all of the farms and communities around the island and still do. Lucky for us they needed to be able to service them so the original maintenance trails are now a network of hiking trails open to the public. It is rare that you find an area of the island void of trails so they make a convenient walk and can even be strung together to hike all the way across the island.
Trail Notes:
Easy to Moderate Trails
Infinite options
Hazards:
Depends upon which trail, but common ones include:
Slippery trail when wet
Narrow trails
Farm animals on or blocking trails
Too many options
The Experience:
Madeira is only 35 miles long but the web of trails cover nearly 500 miles. You have nearly limitless options! The Levadas collect water in the higher wetter parts of the island and gravity feed it to the drier parts, while simultaneously producing power. The Levadas provide a unique atmosphere of the calming sound of flowing water trickling through manmade canals cutting through diverse landscapes.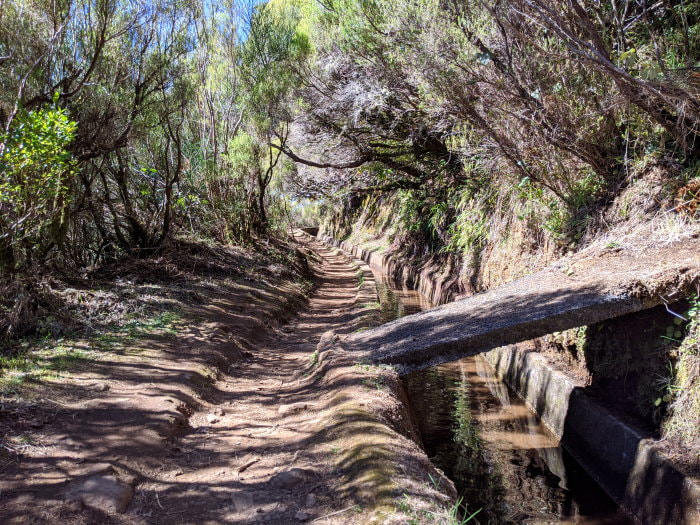 Sometimes these waterways have a rustic feel to them that seems to melt into the surroundings, while others have a manicured look of carefully planned landscaping. They have to be sloped in order to facilitate the movement of the water but usually the grade is fairly forgiving. Both of the trails we did had at least one area each with a random precipitous drop on the side of the trail. We also encountered a variety of domesticated animals, including this loose cow plodding along the trail.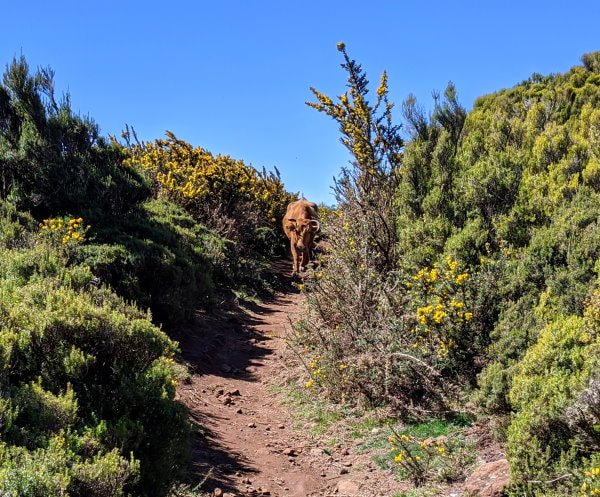 As you walk the Levadas you will occasionally come across some of the mechanisms that control the flow of the water. It was fun to try to figure these out and guess what they do.
If you want to learn a bit more about them UNESCO has a good article.
What to pack:
Footwear: Comfortable shoes with some traction if it is wet would be best, but sneakers would work. We wore waterproof trail runners (his/hers).

Bug Spray - Bugs aren't a big problem in Madeira but it is good to have some just in case, especially since there is so much water.

The Basics - My standard packing list for any hike
---
Food
Madeira had a great selection of cuisine with lots of options for both meat and seafood lovers. It was quite reasonably priced and much of it is locally sourced on the island. If you are looking for a picnic or a laid back evening they also have a great variety of cheeses. I highly recommend trying some of the aged cheese from Sao Miguel, one of the Azos Islands, especially if you appreciate sharp nutty cheeses.
6 Madeira Specialties
Picado - Meat Pieces in Gravy: This could be served as an appetizer, bar food, or a meal. It is little cubes of beef, often in a gravy or sauce, usually served with fries. It was tasty and has lots garlic, like many Madeira dishes.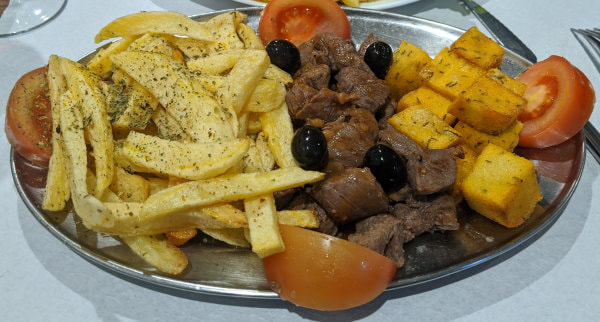 Espetada - Laurel Beef: This is cubes of beef seasoned with salt, pepper, and garlic, grilled on a bay laurel skewer, perfuming the meat. They often hang the long skewer from a hook over the table so you can slide the chunks of meat off. Madeira takes pride in it's beef and this is a star when done well.
Polvo - Octopus: Octopus was very popular on the island and sometimes made up similar to picado. I had it stewed with onions and it was quite strange to look at on the plate but delicious.
Lapas - Limpets: These are another island favorite and usually served smothered in garlic and butter. The ones I had were a little chewy and not my favorite, but I'm not a big seafood lover.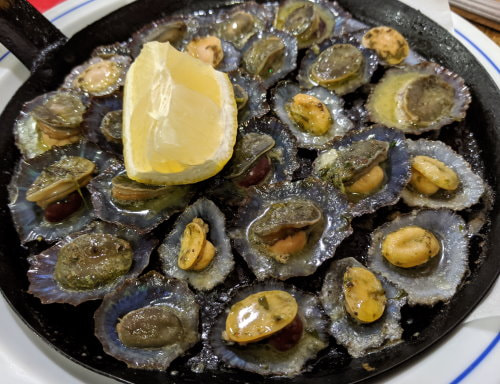 Espada Fish with Banana: This one is super weird, but something about it just works. The fish is an ugly looking one with lots of teeth, but a mild white fish flavor. The banana was lightly grilled and together with the fish and the lemon was quite nice.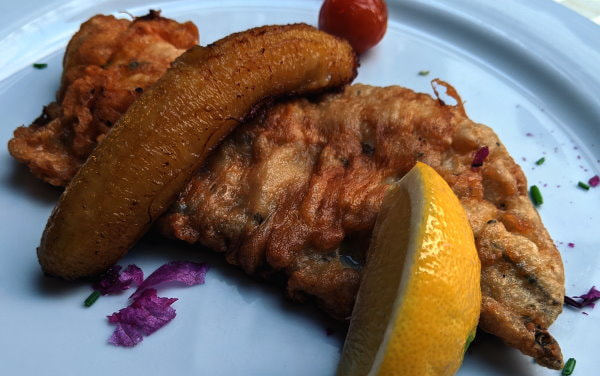 Bolo do Caco - Madeira Bread: This lovely round bread reminded us a bit of an English muffin. These are different from the Azores ones, which are slightly sweet. It is often served slathered in garlic butter, which is delicious. They are also a common platform for all manner of sandwiches, like prego (beef) or carne vinha d'alhos (pork marinated in wine). I really liked to buy some fresh ones and use them to make our own breakfast sandwiches with garlic butter, cheese, and egg.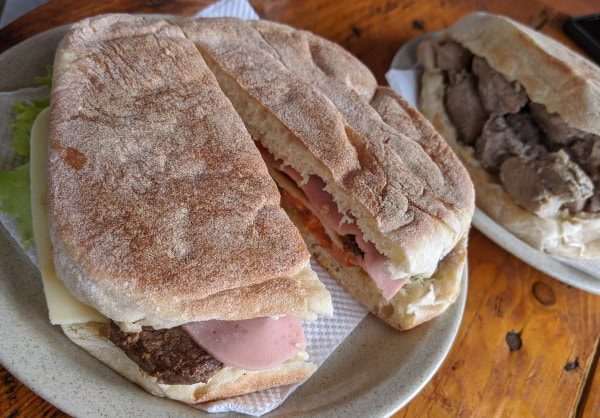 Sweets
Pastéis de Nata - Egg Tart - Rich creamy custard tarts that can be found with either a pastry crust or a flaky philo like crust. I personally prefer the pastry crust and I a could not get enough of them! If you have had Asian egg tarts, don't be fooled; these are completely different.
Bolo de Mel - Madeira Honey Cake - This reminded me a dense gingerbread. It has an almost fuggy texture and often has nuts and fruit in or on it. You can find them ranging from a personal cookie size to a full size cake. You can find them right at the grocery store (for much less than the trinket shops) and they make great gifts. We sampled a couple and each was different.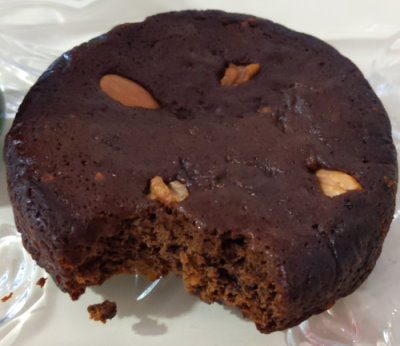 Wine
Madeira Wine - This is their famous sweet dessert wine that comes in a few varieties. It is not for me, but if you like dessert wines you will find no shortage here.
I found their numerous red wines from continental Portugal to be more my taste and the green wine was fun to try.
Home Style Fare Worth Seeking Out
There are a few places where you can find these, but we had both of these dishes for lunch at an amazing Portuguese home style restaurant, Restaurante Casa Bettencourt. This was one of our favorite meals of the trip and by far the best value. For 12.50 euros each (less on weekdays) we got way more food than we could possibly want, Portuguese wine, coffee, and an after dinner drink. The place was packed with mostly locals and we were lucky to get a seat. I have not been compensated in any way by this restaurant.

Cozido: (Right image above) This is a slow cooked dish with a variety of cuts of pork (including smoked feet), chicken, blood sausage (sounds scary, but is super savory and delicious), cabbage, potatoes, carrots, and sweet potatoes. The flavors work beautifully together and everything is fall apart tender. Nothing fancy or pretentions here, just old world flavors.
Feijoada: (Left image above) This was like a Portugese version of greens and beans. It uses several cuts of pork (including feet), linguiça sausage, plump red beans, some veggies, and greens. It was creamy, smokey, and just an all around perfect comfort food.
Unique Fruit
Monstera - Madeira Pineapple: I tried a few odd ones but this was the most noteworthy.
---
---
Logistics & Things to Know
Money?
Most places take credit card and ATMs are plentiful so just withdraw a little cash and you should be fine.
Restrooms?
Most of the towns have free public restrooms. A couple attractions have coin operated ones.
Drinking Water?
There are occationally drinking fountains and the tap water is excellent.
Where to Stay?
If you don't have a car Funchal is a great choice because it is well connected to transit and very tourist friendly. If you do have a car it is still a great option, but you really can go just about anywhere. The one town I would recommend against is Câmara De Lobos. It is a great place to visit, but has a bit of a depressed feel and smells like fish. Although it is a nice area, you might also want to avoid the area around the airport if you don't want to hear planes all the time.
Weather?
The weather changes quickly. It can and often is sunny on one side of the island and stormy on the other. Your best option is to check the weather but don't count on it and always pack a sweater and a rain coat just in case.
Madeira Airport
It is a nice small airport with a runway that makes it look like you are going to land in the sea or a mountain. They get some bad winds and weather so delayed or canceled flights are not uncommon. Try not to book an excurtion for the day you land unless it is refundable.
Cruise Ships
Funchal is a cruise port and gets busy during the day, but by night everyone gets back onboard and it is quite nice. There are cruise ship schedules that tell when boats will be docked, but we found them to be inaccurate while we were there.
---
Did you go to Madeira?
Share your experience in the comments below.
---
Product Links: I am not sponsored by any of the products I link to. If you choose to make a purchase from one of the links of a product I listed or any other item a small percentage will go back to me to fund this website, at no additional cost to you. The products I link to are either ones I have used or similar if those are not available. Thank you for your support.
---
More?
Experience Carnaval on Madeira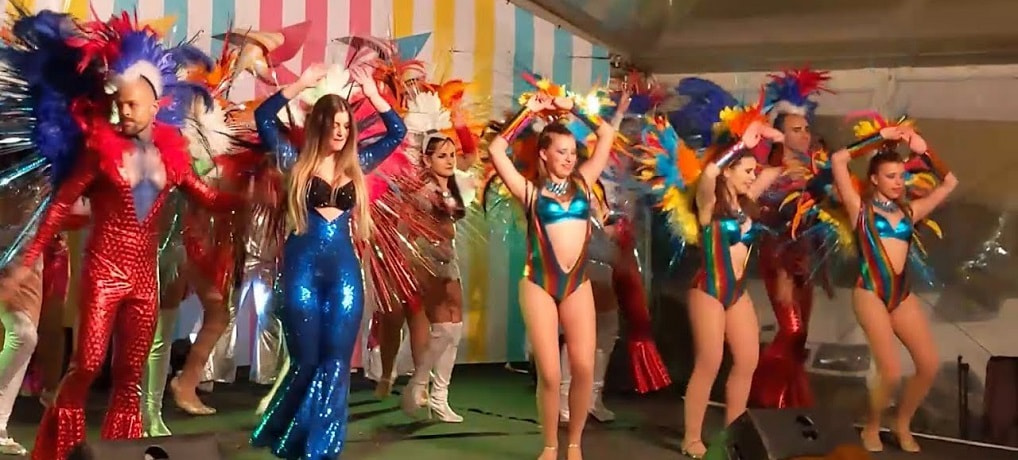 Another epic hike: Suicide Cliff in Hong Kong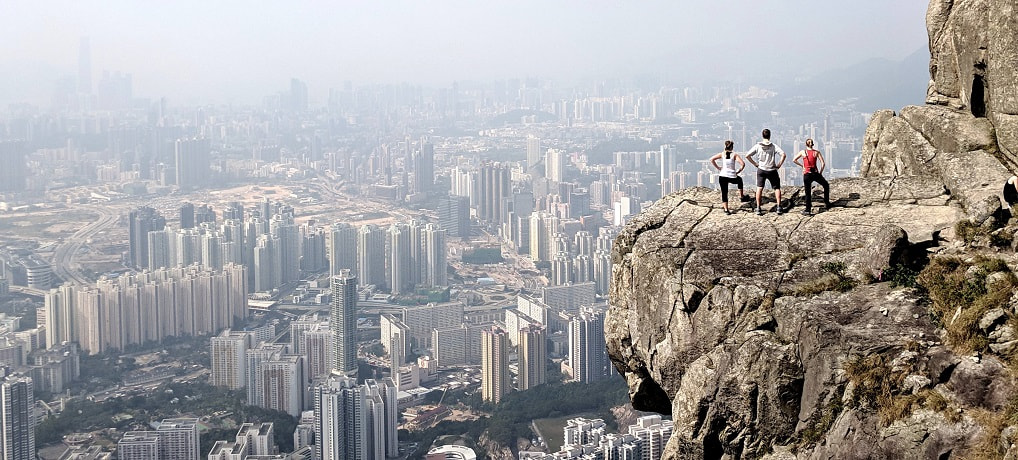 Iceland Ring Road Journey of Southern Iceland, Northern Iceland, Western Iceland, or Eastern Iceland.