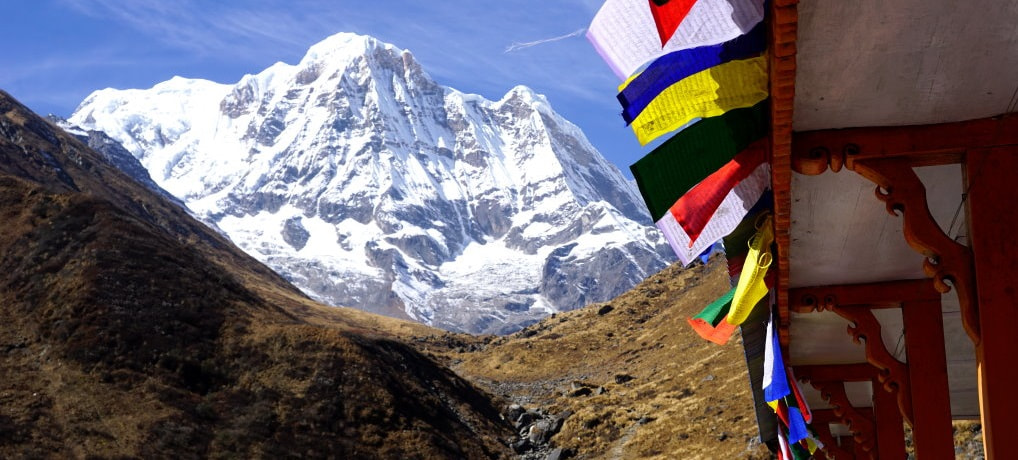 This trek combined agrarian culture and rugged wild beauty with the comfort of a bed and a hot meal at every stop. It is one of those places where you never know when you might find a chicken under the dining room table, have a child eat off your plate, or see a man carrying a grown woman in a basket supported by his forehead.
We are avid hikers and this was our second trek at high altitude. We got a package that included a guide, porter, all lodging, meals, and transportation through Alpine Ramble and were overall happy with their service. This trek can and often is done independently, but, for us, we felt that the cost of a package was worth it to take the stress and uncertainty out of the experience. Especially in high season, it is nice to know that after hiking all day you will be guaranteed a place to stay when you show up.
Overall, I think this is for the adventurous traveler who doesn't mind being a little dirty. If you go into this thinking of it as camping you will be pleasantly surprised, but if you are expecting hotels catering to tourists you might be disappointed. We ate dal bhat at least once a day for a week and loved it. It was hot, flavorful, filling, and slightly different each time. If you are looking for culture and natural beauty, this might be for you.
Towards the bottom I provided our packing list and some lessons learned for anyone thinking of taking this one on. I also included a little info on a few of the other treks like Poon Hill and Everest Base Camp.
---
Contents:
Overview:
Our Experience:
Things to Know & Planning:
---
ABC Trek Overview
Our route was a 7 day version of this trek. One of the highlights was staying the night at ABC; however, this may not be for everyone as the altitude gain on Day 4 is well beyond most recommendations for acclimatization. There are many variations of this, like spreading the trek out across more days. Many people spend the night at MBC instead of ABC. More on that below on Day 5 and see Tips for general altitude guidelines and info on mountain sickness.
All data shown below is a rough estimate based of a combination of GPS data and charts.
Day 1 - Hike Naya Pul to Ghandruk
Day 2 - Hike Ghandruk to Chhomrong
Day 3 - Hike Chhomrong to Himalaya
Day 4 - Hike Himalaya to Annapurna Base Camp
Day 5 - Hike ABC to Bamboo
Day 6 - Hike Bamboo to Jhinu (Hot Spring)
Day 7 - Hike Jhinu to Siwai, Drive to Pokhara (or Walk Jhinu to Nayapul, Rough Time: 5-6 hrs)
| Day | ~Up | ~Down | ~Distance | Rough Time |
| --- | --- | --- | --- | --- |
| 1 | 2,864 ft (873 m) | - | 6.2 miles (10 km) | 4-5 hrs |
| 2 | 2,418 ft (737 m) | 1,640 ft (500 m) | 5.6 miles (9 km) | 5-6 hrs |
| 3 | 3,675 ft (1,120 m) | 1,476 ft (450 m) | 7.1 miles (11.5 km) | 6-7 hrs |
| 4 | 4,126 ft (1,257 m) | - | 5.9 miles (9.5 km) | 5-6 hrs |
| 5 | - | 4,632 ft (1,412 m) | 8.7 miles (14 km) | 5-7 hrs |
| 6 | 1,640 ft (500 m) | 3,174 ft (967 m) | 5.6 miles (9 km) | 5-6 hrs |
| 7 | Unknown | Unknown | Unknown | 2-4 hrs |
We really enjoyed the mix of scenery on this route. Walking a day and a half back the way we had come was a bit boring, but you do notice different things each way, and the lighting changes everything.
The ABC trek takes you through many villages that are remote by many definitions, but are situated along a "people highway." This means the people there are no strangers to tourists and while the people are friendly, most interactions are business transactions. We got a big dose of culture, but it was mostly viewed, rather than experienced.
The cost of the trek was 575 USD per person (2019) and included transportation, a guide, a porter, meals on the trek, snacks, lodging (private room for two when available), sleeping bag/jacket rental, and a final dinner in Kathmandu. We had the additional costs of hot showers, charging, wifi, and hot spring entry, which came to less than 10 USD. The flight back to Kathmandu was an extra 125 USD per person.
If you are looking for some pre-trip reading, Gordon Alexander's The Nepali Flat is an entertaining book about his experience in Nepal, doing a month long trek in the Everest Region. He spares no details, including his bowel movements, giving a practical and realistic look at trekking in Nepal.
---
Temperature
The temperature was about what I expected at night, but much warmer than I anticipated during the day. The temperature swings were brutal. Most nights, except the first and last, we used our sleeping bags at night, but found ourselves peeling away layers and sweating during the day. The morning would start out cold in the shade of the mountains, but as soon as the sun crested the mountains the valleys would heat up quickly. Inversely, when the sun dipped behind the mountains (often as early as 2PM) the temperature would plummet.
I highly recommend you thoroughly research what to expect and what to pack for the season you are traveling in. We wore layers so we were prepared for just about every season. Keep in mind that most tea houses are not heated.
Here is some info* on the typical temperatures for each season:
*I do not endorse this company, I just found that they had some good info.
---
Terrain
The terrain was one of the things that surprised me the most on this trip. Most of the hiking we have done has varied between manicured trails, sometimes with a few steps at tricky sections, and rough paths that are sometimes overgrown. The main trail to ABC felt more like a people road than a trail. In fact, I felt like some sections of the trail were in better shape than many of the roads we traveled on in Nepal (even Kathmandu has some dirt roads).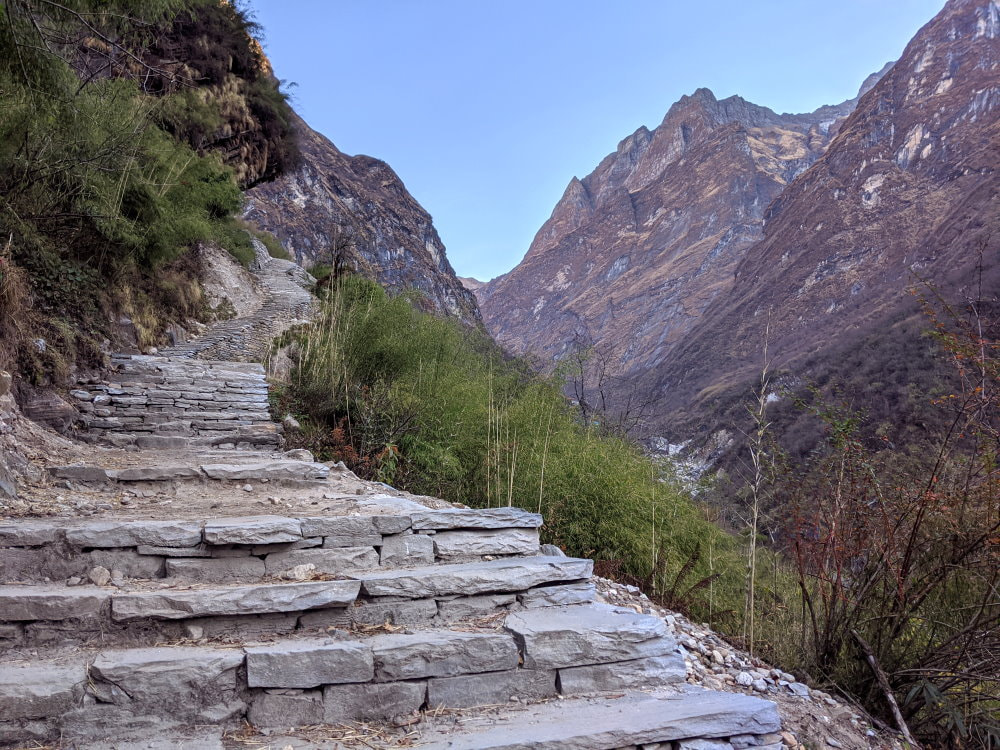 With only a few exceptions, most of the trails going up and down were made up of stone stairs. They weren't even and sometimes had loose stones, but the number of them and the work it must take to build them by hand and maintain them was remarkable.
There were plenty of sketchy bridges, a few washouts and some muddy trail sections, but overall the condition and workmanship was way beyond what I was expecting. In many ways the stairs and cobble stones were wonderful because I can only imagine the mess that the volume of hikers and donkey trains would make of dirt trails. The stairs also make getting up and down a bit easier and faster. On the downside, the stairs can be a bit intense and take a toll on your body a little differently than "normal" trails.
Bridges - There are many foot bridges and you have no choice but to cross them. Most of the large ones were steel cables with a metal decking and wire covering the sides (which also prevents you from looking down easily unless you want to). Many of these were funded by a British foundation and were rather new. Some had guide wires to help their stability, but some were a bit wobbly. Smaller bridges could be any combination of logs, sticks, bamboo, mud, and metal. There were a couple places where our guide directed us to cross through the water instead of using the bridge.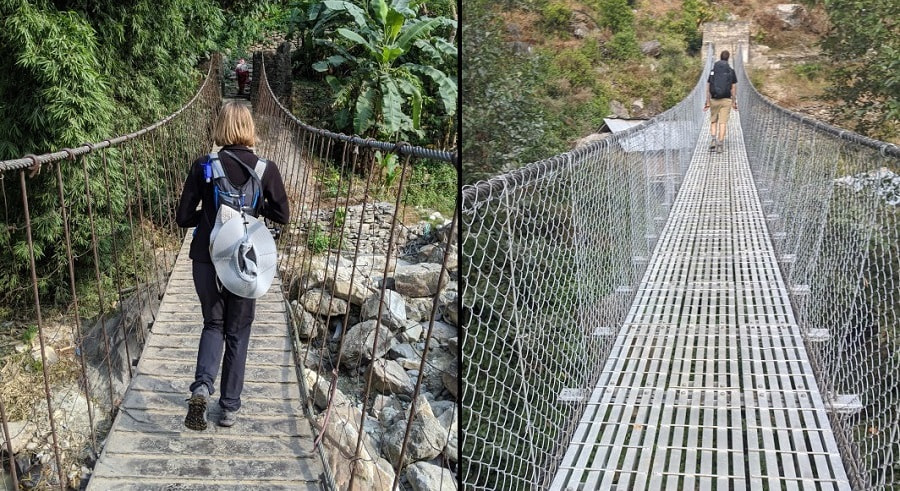 ---
Food & Drink
What impressed me most on this trek was the food!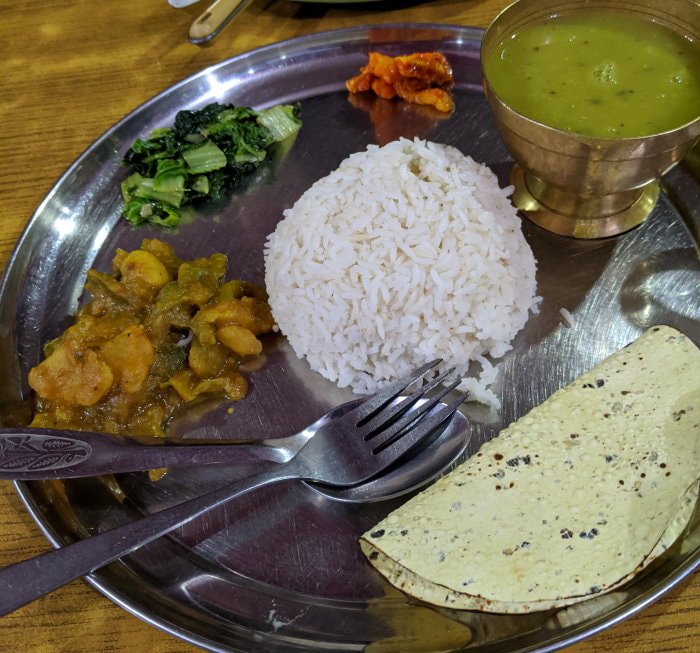 Yes, the food was a bit repetitive and no we are not talking about fancy meals, but it was so nice to have a hot meal and a delicious cup of tea three times a day! All of the teas were nice, but I couldn't get enough of the ginger lemon tea and haven't been able to replicate the flavor yet. The local food was flavorful and the portions were very generous.
Most of our meals were dal bhat, egg curry with rice, Gurung bread, or potato rosti (Nepal's take on the Swiss rosti potato pancake) and they were delicious. Egg fried rice was a popular dish among trekkers, but we found it pretty bland the couple times we tried it. While the dishes had the same names, each village had their own flair and used different veggies and seasoning. In the lower elevations it was really neat to walk through the villages and see every ingredient that goes into your meal growing nearby.
Our meals were all included with the cost of our trek, but if they weren't we still think the food was generally a good value and a good way to support the local communities. Sometimes you are required to pay more for lodging if you bring your own food.
We ate strictly vegetarian since that is generally recommended, as in most areas they do not believe in killing animals so the meat is not guaranteed to be particularly fresh. We typically try to eat the local food wherever we go, so (other than rosti) we never tried any Western style dishes ourselves, but heard mixed reviews from other travelers. There were some very interesting ones on some of the menus like tuna cheese pizza, tuna cheese lasagna, tuna cheese spring roll, and chips (french fries) with fried egg on top. Be careful ordering anything that says "mixed" because it can suposedly be a mix of just about anything, including things like canned fish.
If you want to see more pictures of the food and learn what it tastes like check out my Nepali Food Article.
Food Prices - As for the cost of food in the mountains, the prices increase the higher you go. Everywhere we went you could get a filling meal for under 800 rupees and often for under 500. For a prices of some typical dishes at each stop and an example of a full menu check out my 2019 Food & Lodging on the ABC Trek Spreadsheet. Prices change, but are fixed by the NTNC-ACAP. If some of the prices look high, think about what it takes to get the food to some of these locations. In areas like MBC and ABC every canister of cooking fuel is carried by a porter.
The hot lunches and dinners were expensive compared to Nepali prices, but generally a good value. The food was filling and the portions were generally quite large. I think I only finished one meal on my own on the trek. If you order dal bhat you generally get unlimited refills on rice, dal (lentil soup), and the vegetable curry.
Water and breakfasts were the places that I felt that things got a bit expensive and you could probably cut some cost if you need to. Bringing something like oatmeal or muesli and powdered milk would take care of breakfast.
Beverages - We brought AquaTabs to treat the tap water (available in every town and a few places along the trail) for drinking and would treat a couple liters of water each in our hydration packs before bed each night. There are many systems out there but this worked for us. We felt that it was safer and greener than boiled water at altitude (requires over 3 minutes at a rolling boil to kill everything) and didn't have any flavor. Please do not buy bottled water. In many areas it is illegal and plastic is often disposed of by burning (which releases toxic fumes).
Alcohol and soda pop should generally be avoided. Not only are they very expensive, but mild dehydration from alcohol can be dangerous in the mountains, especially at altitude, and many specialty drinks come in containers that can be environmentally damaging in the mountains with few good means of disposal. There was a burn pit at ABC with all kind of rubbish including egg shells, wrappers, bottles, and charred tin cans.
---
Lodging
No, tea houses are not hotels, but they feel pretty luxurious when you compare them to camping on the ground in a tent. They all had beds, running water, toilets, a kitchen that served hot meals, and a dining area. Generally, the accommodations get more basic the higher you go. There were a variety of rooms offered at each place we stayed but we always had a private room. Private rooms can be hard to get at the higher camps like ABC depending upon the season.
We were told that the tradition of tea houses started as a way for villagers, bringing their products to the city and supplies to their villages, to have a place to stay and eat. Traveling to the city and bringing supplies back often took several days if not weeks. The original tea houses were very basic and visitors would all sleep in one room, often the kitchen.
Since then they have steadily changed, driven by the tourism industry. Now tea houses offer full menus and rooms that are more like cabins or motels. Many of them grow their own food and the meals include fresh local produce.
Rooms/Beds: All of the places we stayed had foam mattresses that were about 3 inches thick. I found them relatively comfortable. Not the best, but better than many I have stayed on in Europe. Most places provided one pillow and blanket per person, but rooms are not heated so you will want a sleeping bag. It was common for the beds to have stains, which is another reason you might be more comfortable using your sleeping bag as a barrier. All the rooms had a light switch and a light on the ceiling, although some places didn't turn the power on until dark.
Toilets: All of the places except ABC had western style toilets and some had the choice of western or squat toilets. Many of the western toilets had seats that didn't fit properly and were attached with string or wire, but they all worked. Some of the toilets had manual knobs that you had to turn on and off to refill the tank for the next flush.
Sinks: All of the towns had a faucet that the guides, porters, and sometimes trekkers would use to wash up and brush teeth. Be careful around these as sometimes the ground is slick from the water and occasionally the water freezes overnight creating black ice. I was one of a few people who slipped on the ice at ABC.
Some places had sink basins as well. The spouts in the attached bathrooms never had sink basins. The water just went onto the floor and into a floor drain. This made the bathrooms quite wet and is the reason you will probably want sandals or waterproof shoes to keep your feet dry when using the toilet. This also made it hard to wash your hands without getting your feet wet. One day when I was brushing my teeth I decided it would be a better idea to spit into the toilet instead of on the floor. It seemed like a good idea, until the toilet water splashed back and hit me in the face.
Showers: In Ghandruk, Chhomrong, and Jhinu we had the luxury of attached bathrooms with a solar shower (only warm on a nice day if you get there early). Other towns like Bamboo have gas showers available for a fee.
Dining/Common Areas: Every tea house had common areas where everyone would eat and socialize. They also served as sleeping areas at night. These were not heated, but were often connected to the kitchens, which kept them a bit warmer. Most of the tea houses also had outdoor seating and many had incredible views.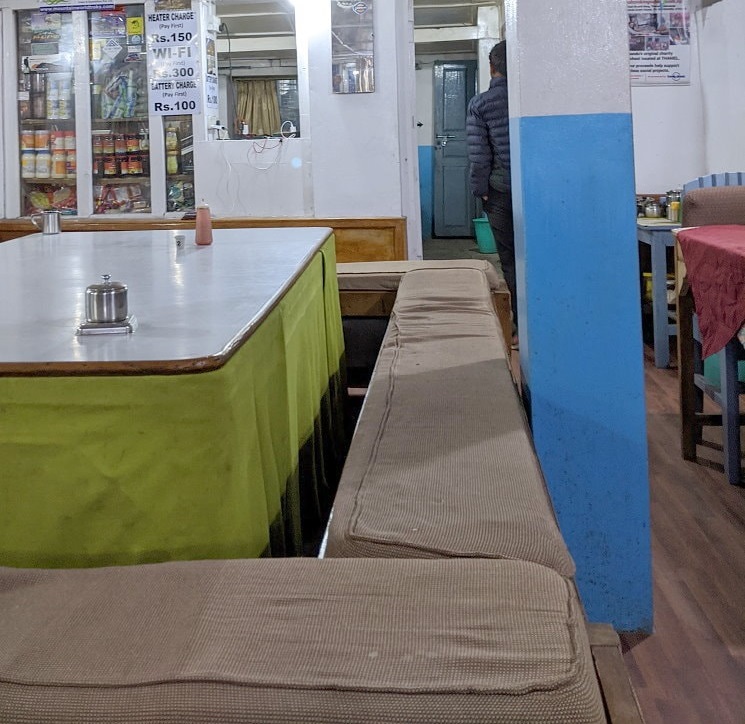 Electric & Wifi: All of the tea houses had electric lighting and charging stations in the dining room that could be used for a fee. All of the tea houses had wifi available for a fee, although it wasn't always working or working well. We actually had cell service (Google Fi) at Ghandruk, Chhomrong, and Jhinu, and our guide still had service at MBC.
Pricing: You can find pricing as of 2019 in my Food & Lodging on the ABC Trek Spreadsheet. I believe most pricing was per person. I also include extras like hot showers, wifi, and charging.
Typical Private Room Examples:
Ghandruk
Chhomrong - Incredible views from the roof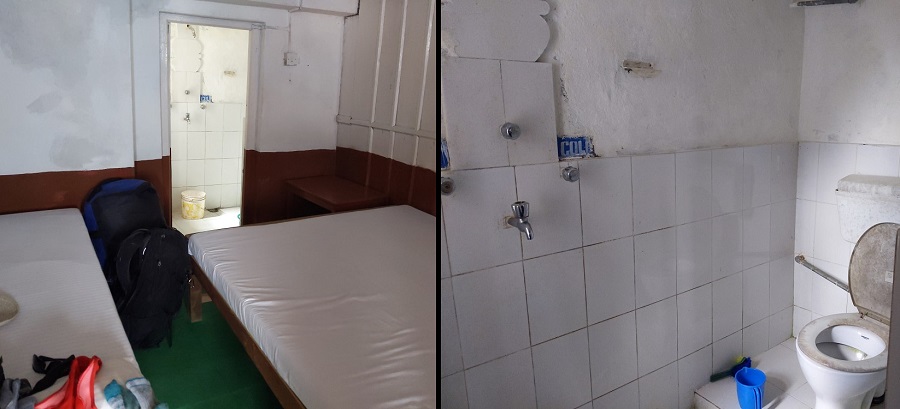 Himalaya - 5 person room and 2 person room - Nice white noise of the river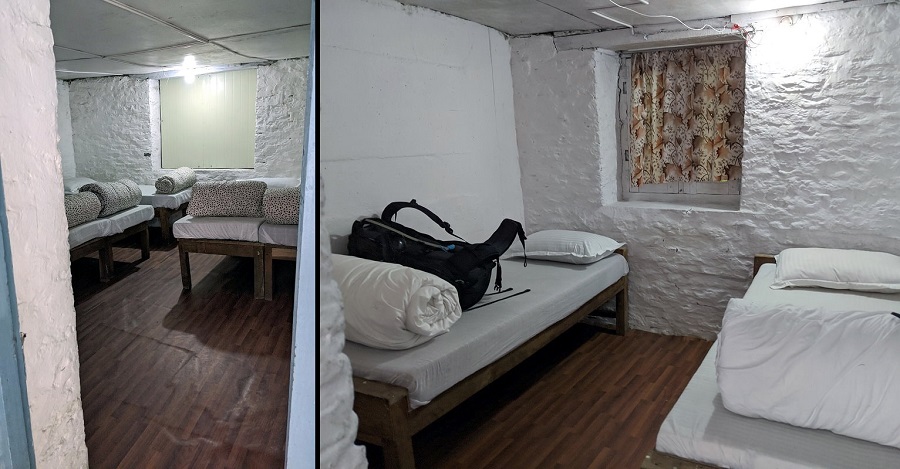 Jhinu - Incredible views from the roof and some rooms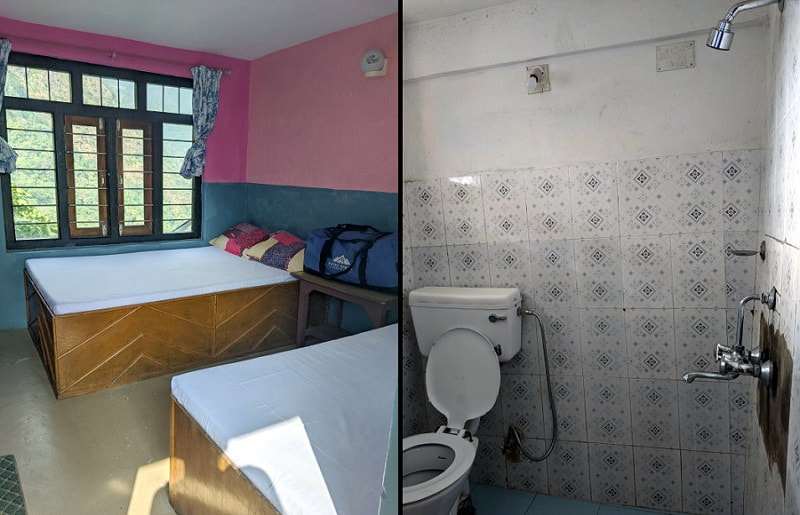 ---
Maps & Route
The approximate route we took with most of the food and lodging stops:
Some local maps: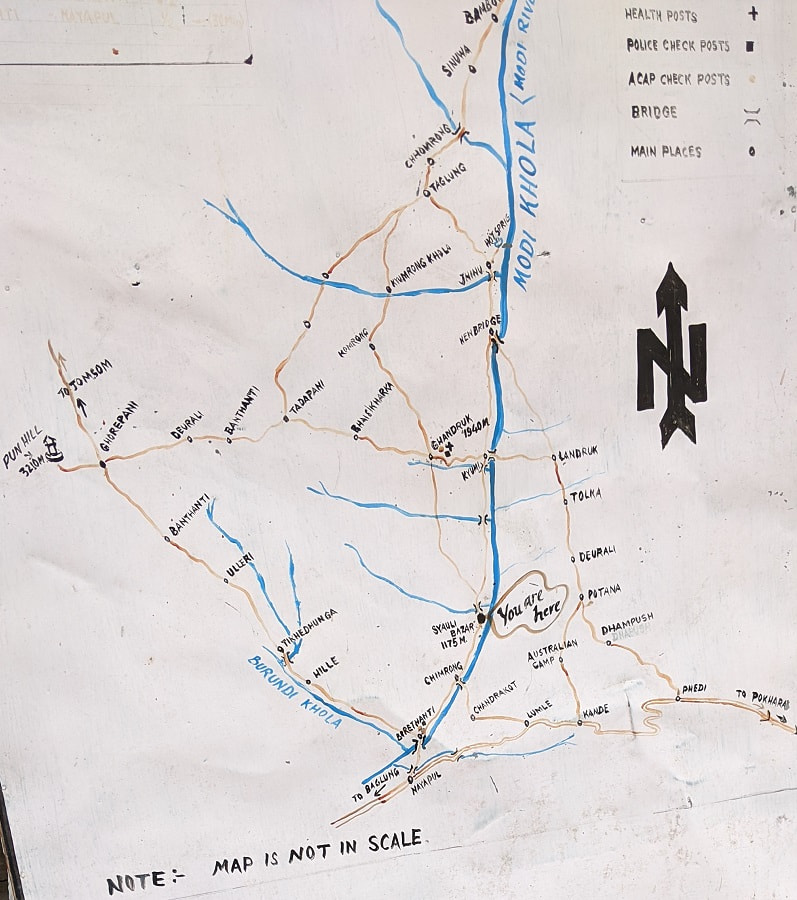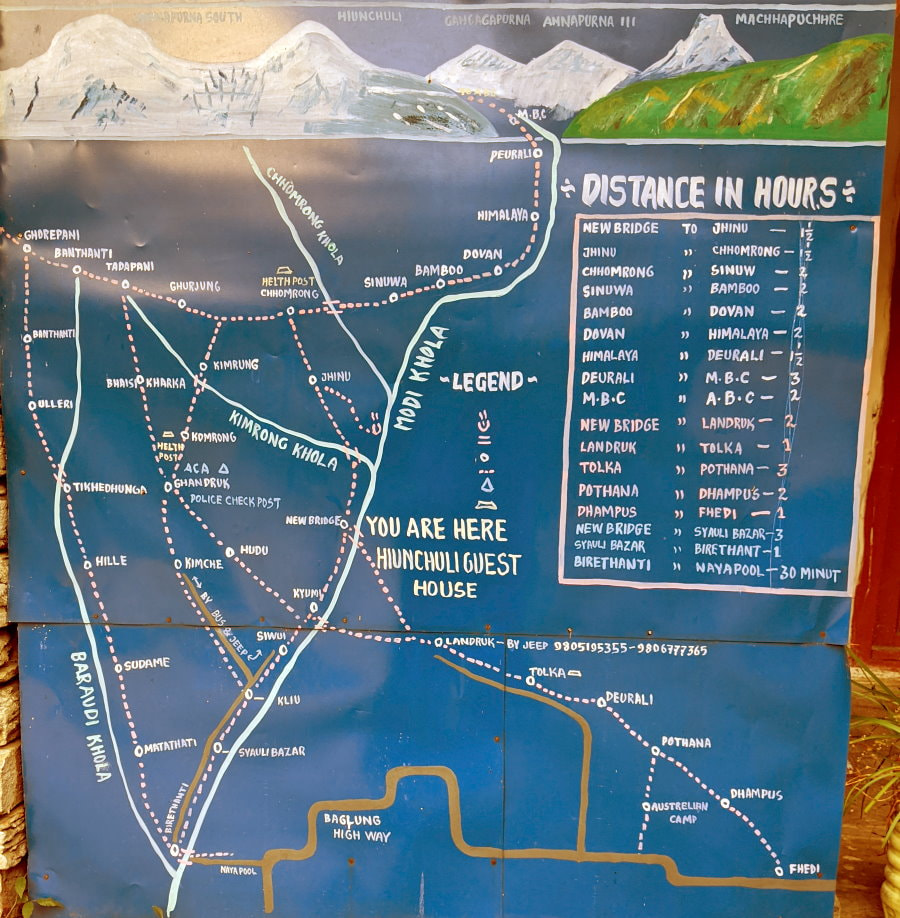 ---
Kathmandu to Pokhara
To prepare for the climb ahead we started taking Acetazolamide (often known by the brand name Diamox) to hopefully prevent altitude sickness. We had it prescribed by our doctor when we went to Peru and they had advised us to start taking it at least two full days before reaching 8,000 ft (2,438 m). This time we had it prescribed by one of the trekking pharmacies in Kathmandu. Just like when we went to Peru my hands started tingling almost immediately (a common side effect). See Tips for more on trekking pharmacies and altitude sickness.
Transportation Options as of 2019: You can get to Pokhara by tourist bus, regular bus (generally will only save you a couple USD), taxi (generally about the same cost as flying), or airplane. The tourist bus and flying are the most popular methods and we did both.
We chose to take the bus there to see a bit more of the country and fly back in the interest of time, since we only had a one day buffer between the end of our trek and our flight home. We also chose to fly back instead of flying to Pokhara so we didn't risk spoiling the views from the trail with the ones from the airplane. I have a full article: Transportation Between Kathmandu and Pokhara on our bus and airplane experience and things to know.
Pokhara: There are dozens of things to do in and around Pokhara, but we only had one evening there. We grabbed some food and went for a nice sunset stroll along the waterfront. There were lots of vendors selling pani puri, cut fruit, and other snacks.
One of the most popular activities is to take a boat out on the lake. If you want to take a boat out be sure to shop around as we saw a range of prices. Here is one companies price list as of 2019: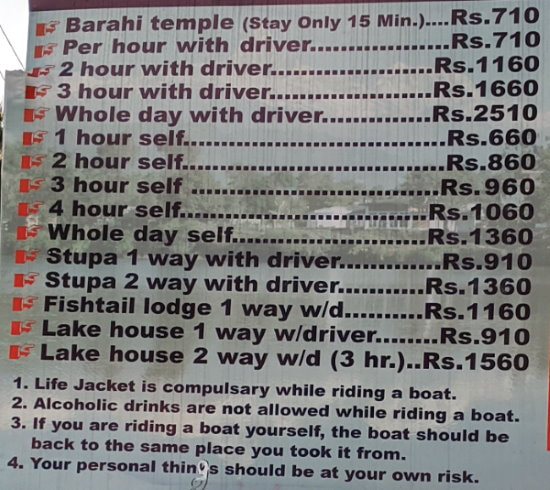 ---
Day 1 - Nayapul to Ghandruk - The Beginning
Our first day started with a 40 km drive up to Nayapul (aka Naya Pul), which took about 2 hours. This drive brought us up from 850 ft in Pokhara to the trailhead at about 3,500 ft. This drive can take as little as 1.5 hours, but often takes much more due to traffic, construction, and road conditions. We hit one standstill where a new wall was being built and traffic in both directions was blocked until they moved some stone.
Our ride was a beat up little Hyundai car that didn't seem like it was built for the terrain, but it managed. It's owner was good natured and acted as a bit of an unofficial guide, telling us a little about each of the towns we drove through.
In Nayapul our guide checked us in with the authorities. There were two different stations here and another in Chhomrong where they check for TIMS cards and permits. A board with some charts and graphs was posted outside of the second checkpoint. It included how many tourists per year on each trail and the top nationalities to visit. Annapurna Sanctuary (ABC) already saw over 14,000 trekkers in the spring of 2019 out of 45,000 that trekked in the region and the top three nationalities were Chinese, German, and Korean.
The hike to Ghandruk was one of our shorter days, but also the warmest and had a lot of elevation gain. The trail started out gentle following a dirt road through some towns. We saw a family of goats on a roof, women doing wash by hand, monkeys feasting in a farm field, and a Spider Man on a coffee shop roof.
After lunch the trail departed from the road and started climbing up through the terraces. I was on my second day of feeling nauseous and climbing did not help matters. Luckily, I had plenty of distractions to keep my mind off my stomach. Harvest was in full swing and everywhere people were hard at work. We saw the full process. Most grains would be cut and collected, beaten to release the grains, dried in the sun, then beat again to loosen the inedible husks and fanned to separate them. Almost all of this was done by hand.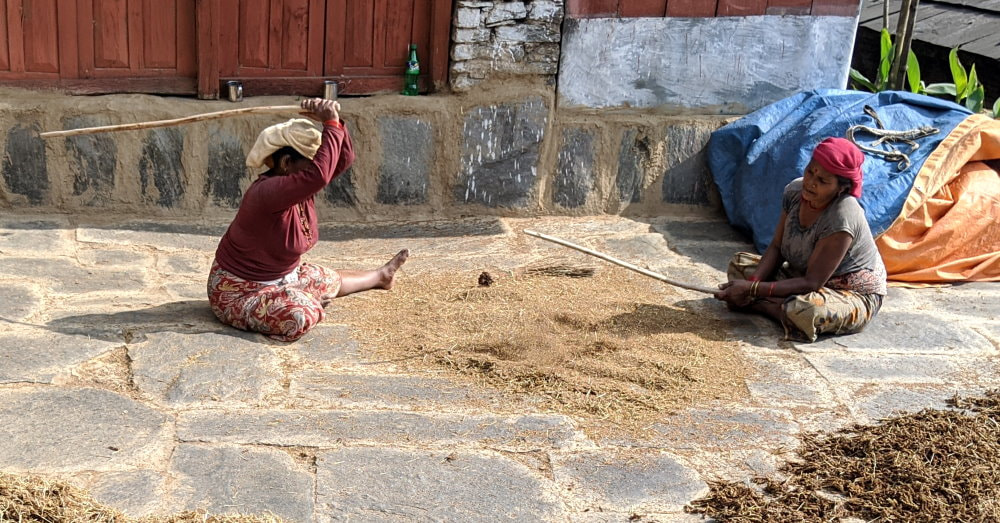 When we were taking a quick break in one of the rare shady spots, a large group of men passed us, all carrying large chunks of firewood up the mountain. We followed them all the way to Ghandruk.
When we arrived in Ghandruk we were greeted by a map, a sign reminding us that this is an "Open Defecation Free Zone," and lots more stairs. It seemed that everything in this town was a hotel or a shop and the village stretched far up the mountain. There is a small museum in this village, but we did not have time to visit (entry ~Rs.100).
Our room had an attached toilet and shower. After all that sweating I tried to take advantage of the shower, but gave up after a couple minutes and came out shivering with blue lips. It seemed that we were too late for the solar heated water and I swear the water from the cold side was warmer than the hot.
At dinner we met the only American couple we saw on this trip. We had a delicious meal of dal bhat and our first potato rosti with some nice tea (to try and warm back up after the shower). We were a bit shocked when we noticed one of the people we were eating with was drinking tap water (which is generally pumped straight from the river) while his wife was filtering boiled water, but we saw them both again the next day at breakfast doing just fine.
---
Day 2 - Ghandruk to Chhomrong - A Glimpse Through the Fog
In the morning I still felt quite nauseous (now day 3 of feeling mildly sick) and had a hard time eating my breakfast. Our morning trekking was mercifully mostly down and we even got a bit of shade near the bottom.
Like the day before, it was still cloudy, but the clouds parted for a couple minutes and we got our first glimpse of Fish Tail Mountain (aka. Machapuchare, Machhapuchchhre or Machhapuchhre), which quickly became our favorite. Its unusual shape gives it a very majestic and dramatic appearance. This mountain is considered sacred and has never been summited, in part because the government does not allow it and in part because of the difficulty of the terrain. If you want to read a little more about the debate around this mountain Honey Guide has a good article.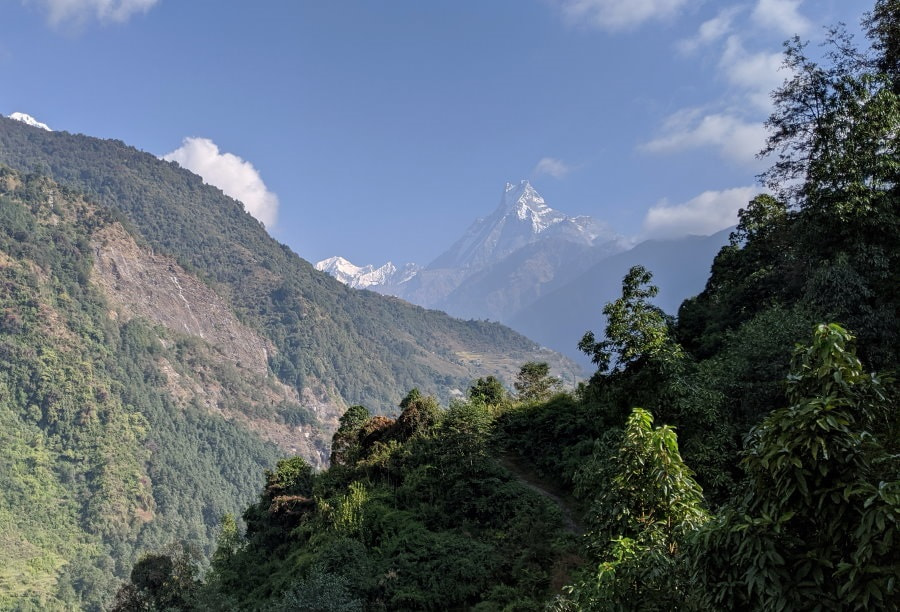 At the river the bridge appeared to have a ladder to it, which seemed a bit weird, but why not? I started walking towards it and our guide quickly corrected me. This was not a ladder, but actually the broken decking of the bridge that had fallen down. The bridge we wanted was a much smaller one off to the side. During the monsoon season this river would grow much larger and the small bridge would not work, but today it was sufficient.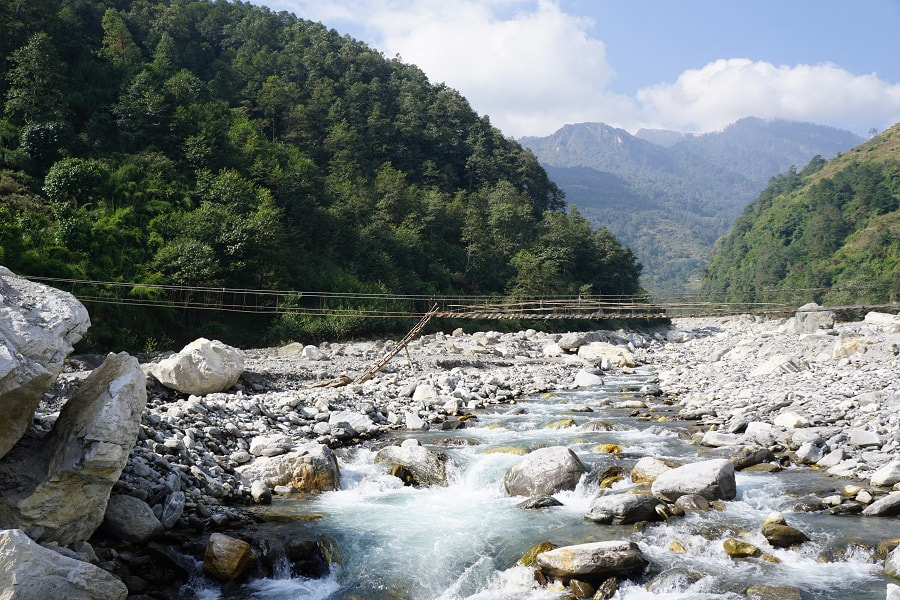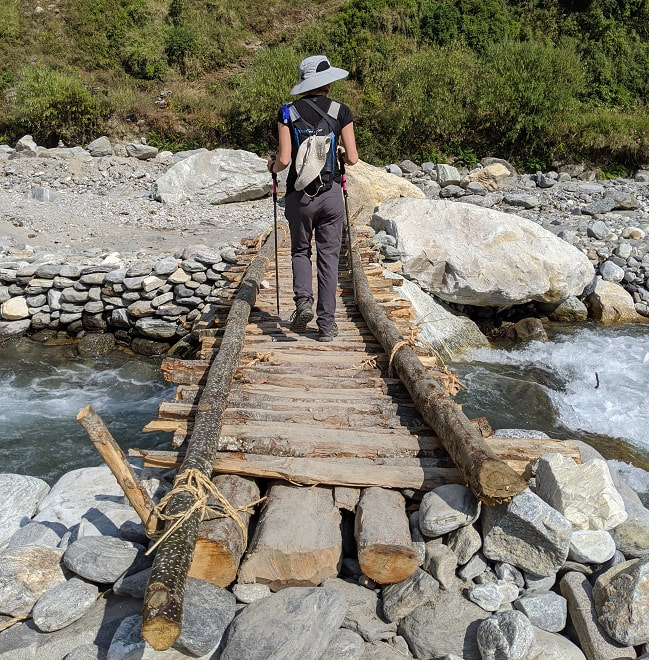 On the far side of the bridge we began to climb again. This time we still had stairs and a few farms, but it felt a bit more wild than the terraces of the previous days. It was a bit depressing to look back and see the town we had started that morning still above us. Part way up we stopped for lunch and our guide climbed out on a tree to try and get cell reception.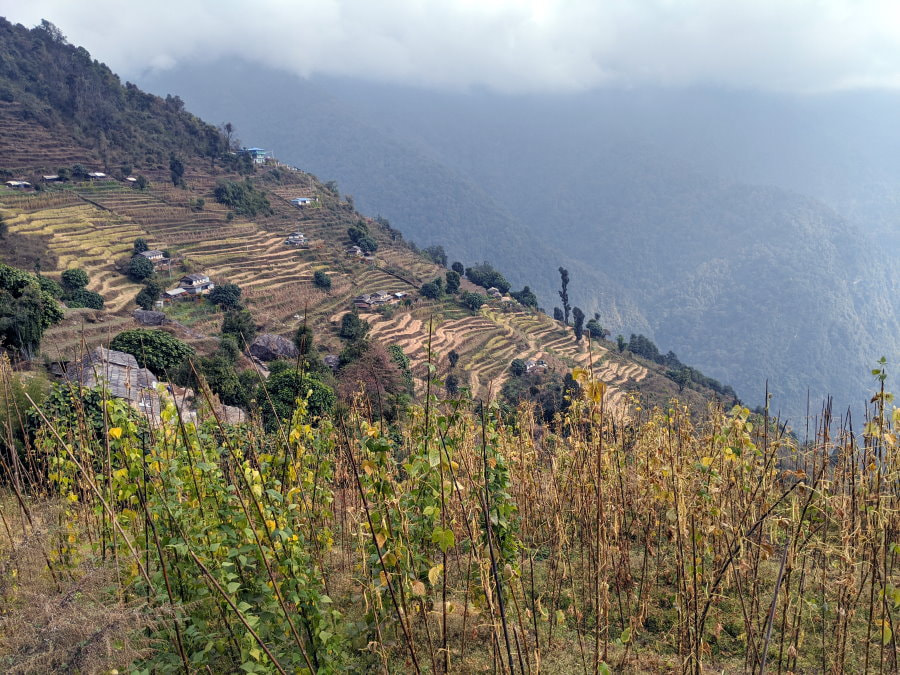 After lunch we continued up as the afternoon fog began to thicken again. We passed an elderly lady doing some trail maintenance, chipping a sharp edge off a stone step with another stone.
We made it to Chhomrong, but I was in rough shape. I had been getting worse instead of better and now I was noticing some numbness in my hands and feet. After coming this far and making it half-way, I wasn't sure if I could continue. We heard there might be warm showers today and happily took advantage of it before going to the dining area.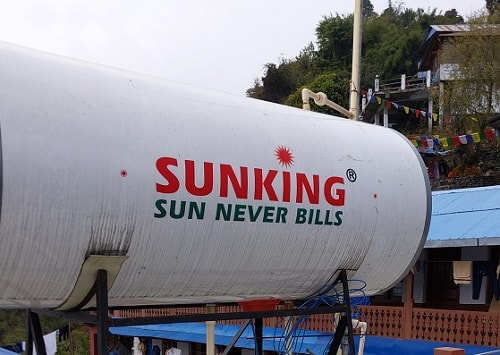 After cleaning up, we took the phone out of airplane mode to do some research and found that there was pretty good service. Neither of us are doctors or have any medical background and using Google to diagnose yourself is generally not a good idea, but in the mountains our options were pretty limited.
We didn't think it was the food or water since I was the only one with a problem, and suspected it could be the acetazolamide (altitude medication often known as Diamox), since I had started that three days ago. I had taken it on a previous trek and had experience tingling hands and feet then, but no nausea or numbness. The symptoms seemed to line up with Diamox side effects and low potassium (which could be caused by the Diamox). We debated the risk of not taking the Diamox and decided that stopping it was my best option since I could not continue and even the way back would be rough. We found a list of high potassium foods (potatoes are near the top of the list and plentiful) and asked our guide if there was anywhere to get rehydration salts nearby. Our guide was very concerned and we had a rather embarrassing conversation about diarrhea in the dining hall. Our porter went to the next town over and gifted us with a couple packets of rehydration salts and toilet paper.
We went to bed nervous about what the next day would bring, but hopeful.
---
Day 3 - Chhomrong to Himalaya - Forests & Waterfalls
We woke to another cloudy day with the mountains trying to peek through. Most of my nausea was gone, but I felt a little weak. I had a hearty breakfast of eggs, potatoes, tea, and bread with yak cheese and started off again for one of the most strenuous days yet.
We started out going back down again to cross a bridge and then spending half the morning climbing back up until we were once again level with Chhomrong, but on the other side of the valley.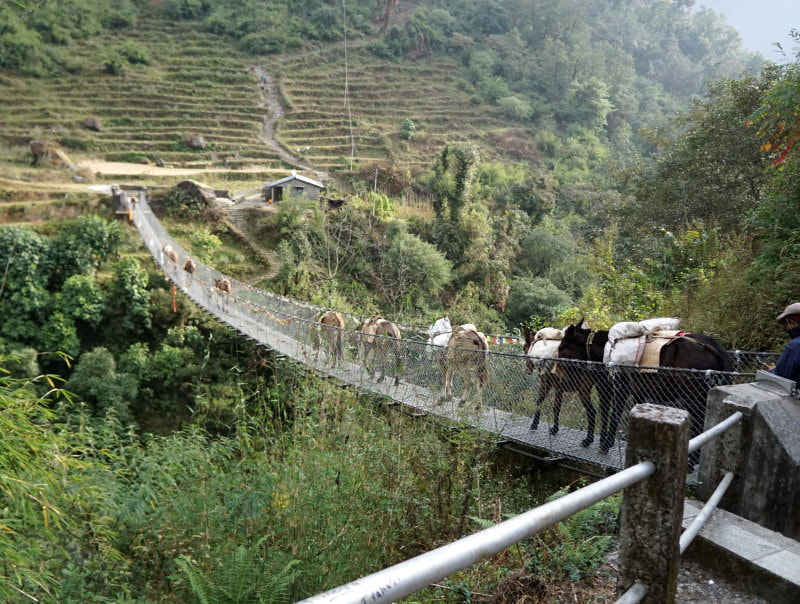 That morning the trail was bustling with donkey trains, many of them loaded up with supplies or stone. We got involuntarily cuddled by a group of them that decided where we were standing was a good place to stop. A little later I was trapped between two fences and figured if I just moved to the side it would go around me. I was partially right, it did, but I didn't seem realize it had cargo attached to it and I got knocked onto my butt. My guide came running over with a panicked look and seemed a bit confused when I got up laughing. It was a soft landing and a lesson well learned. From then on if I saw donkeys or heard the bells I found a hiding spot in a hurry. If you are faced with a donkey and don't have anywhere to go make sure to go to the inside of the trail so you don't risk being pushed off the edge.
As we moved on the donkeys disappeared and were replaced by porters. Our guide explained that the donkeys were only permitted on certain sections of the trail in the busy seasons. The porters carried everything that the towns needed including construction supplies, rolled up metal roofs, sheets of plywood, fuel tanks, and more. One man had a covered bamboo basket that startled us with baby goat sounds as it passed. Another man was carrying a small grown woman who looked like she had been hurt. These guys were incredibly strong and sure-footed.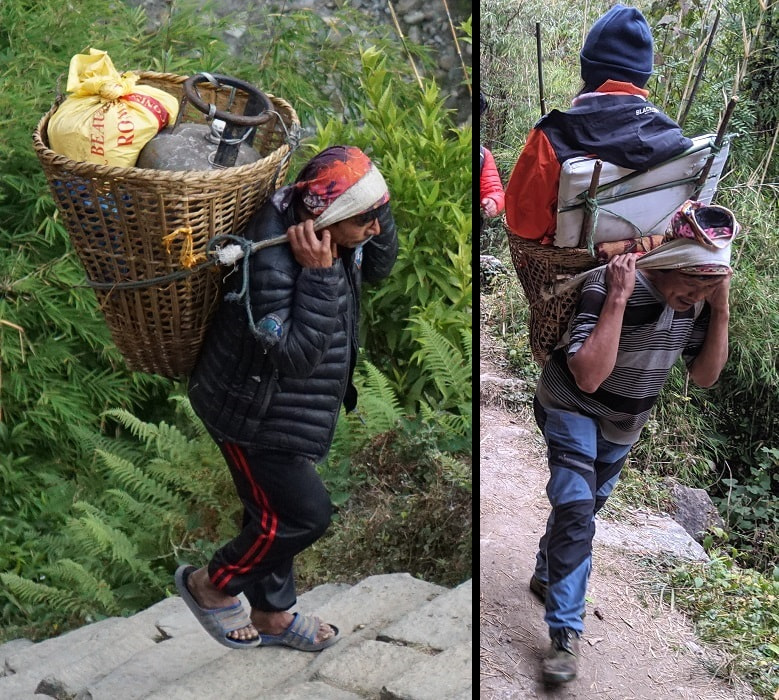 The scenery changed from terraced hills to dense rhododendron jungle, and while they blocked the views, they provided some lovely shade.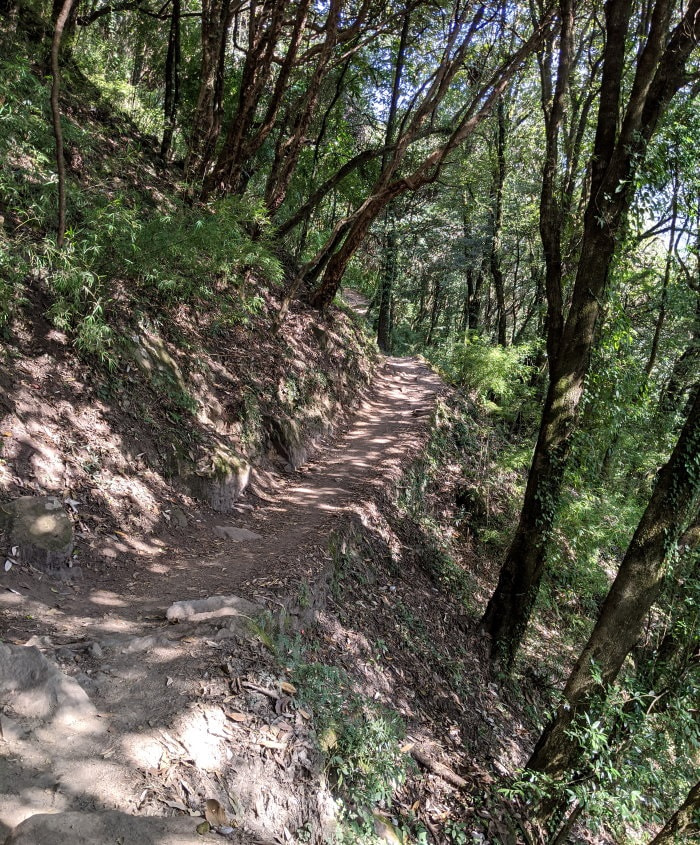 Just before lunch we finally got our first clear view of Fishtail.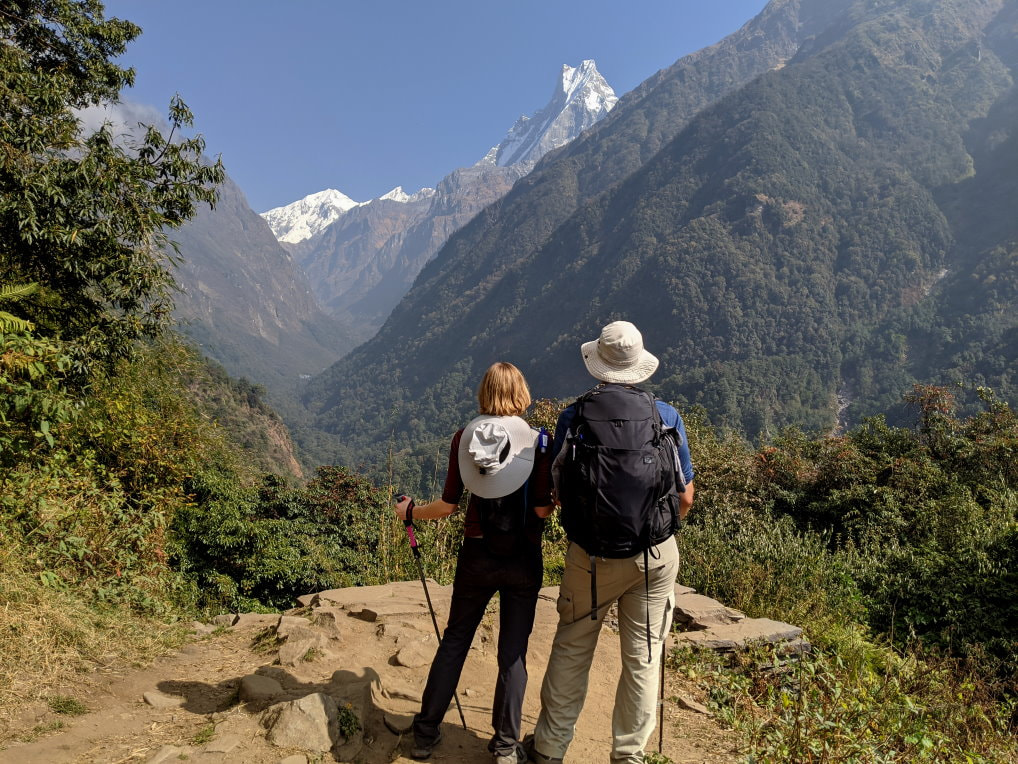 After lunch we continued through the jungle. As we were walking we heard a helicopter that sounded rather close. We walked a little faster and found it sitting on a helipad with a group of porters waiting nearby. It was quite a sight with the thick fog looming above and a backdrop of half a dozen little waterfalls trickling down the cliff face. Our guide explained that when they come in to do evacuations they often drop off supplies as well.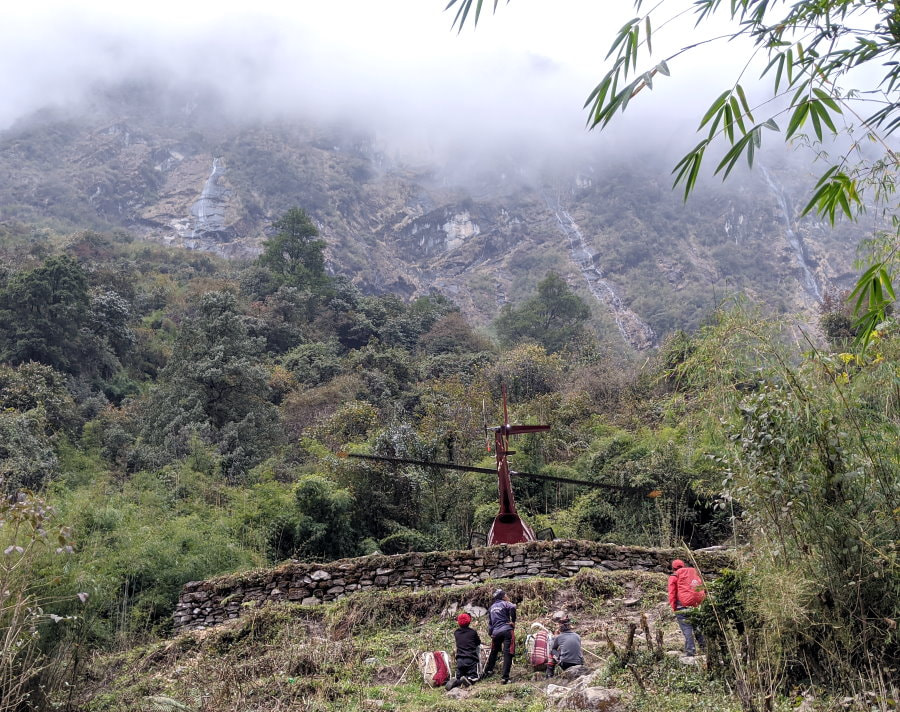 A little later on we had some more excitement when a band of grey langur monkeys decided to grace us with their presence.
Just before we reached Himalaya we got another surprise, a huge but delicate cascading waterfall. This spot is considered sacred and had lots of prayer flags and a shrine. It is hard to photograph because of all the tree cover, but is a magical place to visit. It is an interesting mix of the semi-orderly stairs and shrine alongside something that feels so wild and free, water going every direction naturally interlaced with the jungle.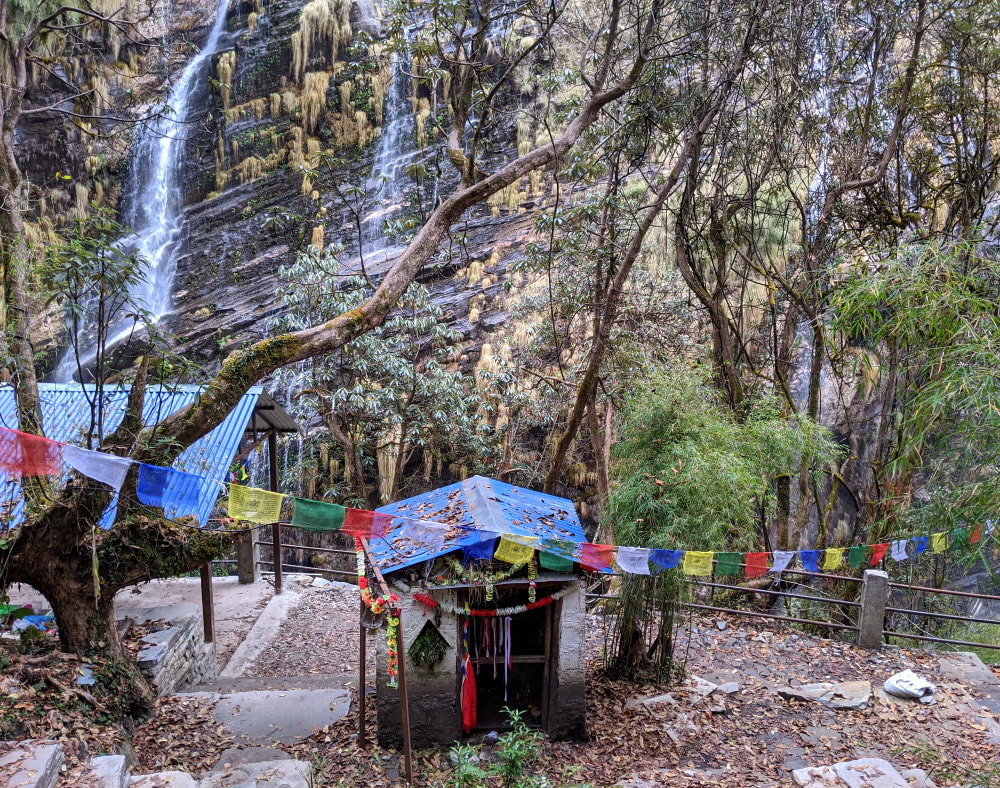 Along the final stretch to Himalaya we admired the creative rigging of the electrical lines that ran along the trail. It looked much safer than the rat nest of wires on the poles in the cities, but we wondered how often they had outages.

We fell asleep that night to the sound of the river with thick fog blanketing the town.
---
Day 4 - Himalaya to ABC - Through the Canyon to the Mountains
We woke up to clear skies (the first we had seen), ready for the day of our final climb. I was finally back to feeling pretty strong.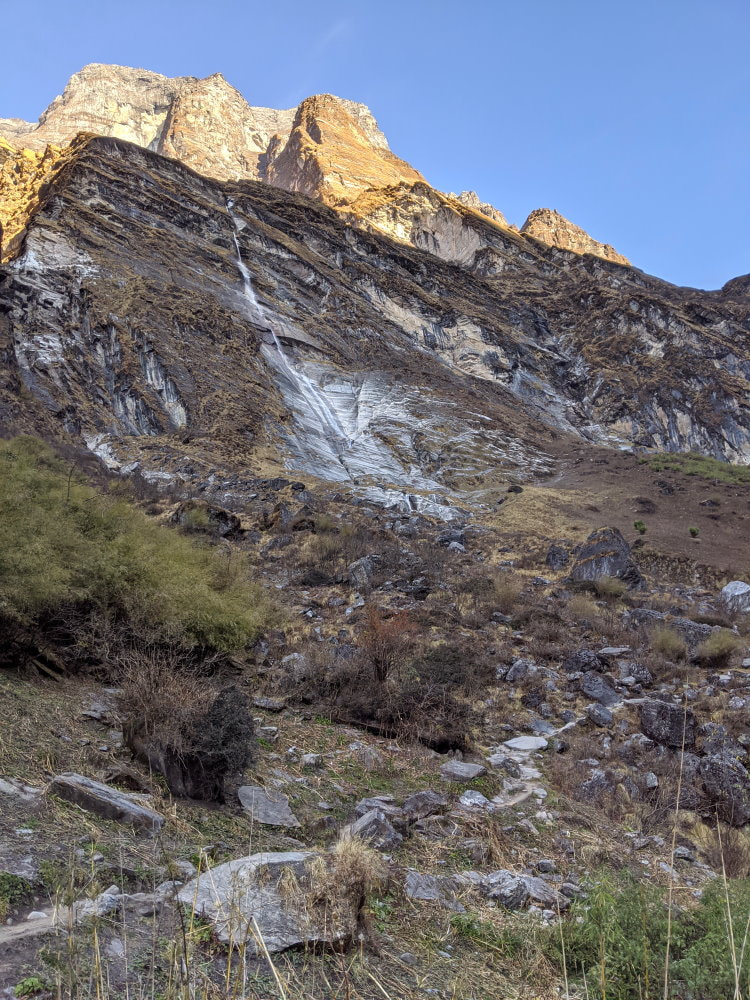 The morning's trek took us through a large canyon above the trees, with a river surging down the middle. The trail was a bit less manicured and everything felt more wild here. With the huge cliffs towering above us we could feel some of the power of this place.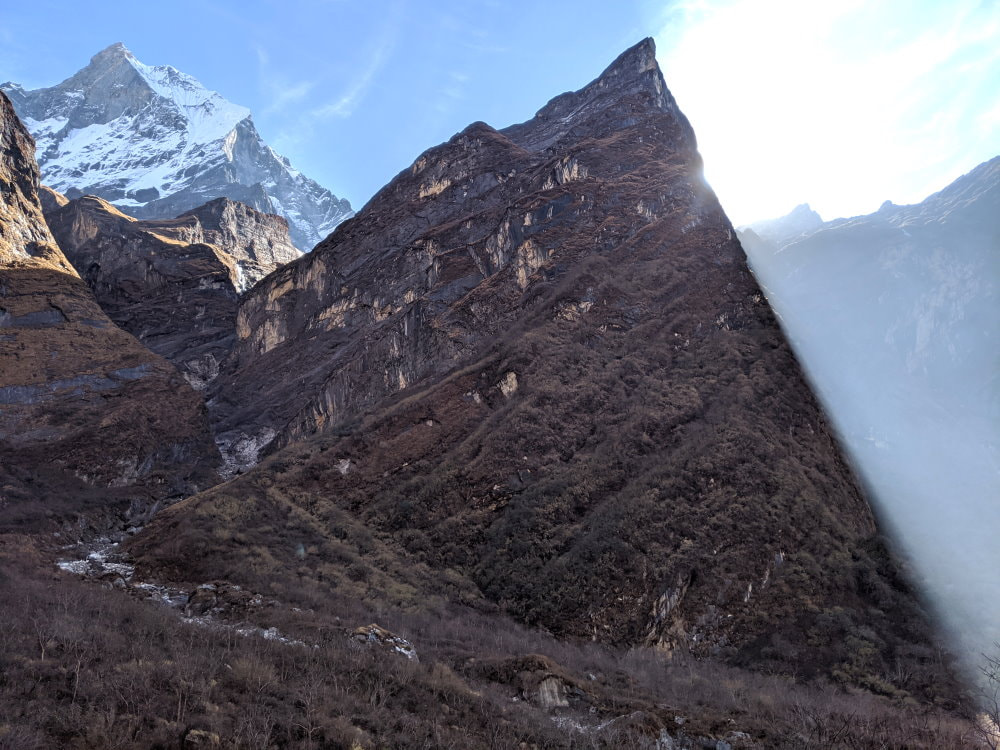 The mood was broken a little by the frequent whirring of choppers flying through the canyon. Occasionally they were lower than us. Every time we hoped they were sight seeing and not rescue.
We ate lunch at Machhapuchhre Base Camp (MBC or Fishtail Base Camp) at nearly 12,000 ft (3,650 m). Maybe it was the combination of the views and the altitude, but the rosti we had there was the best of the trip! The views were absolutely stunning and we were both wrapped in a bit of euphoria of having made it after so much uncertainty over the past few days. Sure we weren't quite to the very top yet, but even if we took all afternoon getting there, we knew we would make it to ABC.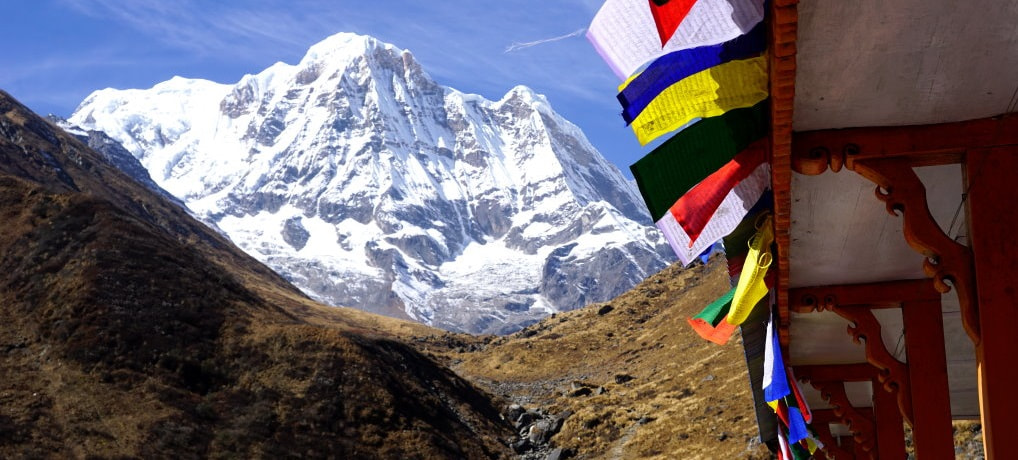 As we were finishing our lunch some thick clouds started making their way up the valley below us. With crystal clear skies above we were anticipating a perfect view at ABC, but that opportunity seemed to be quickly slipping away.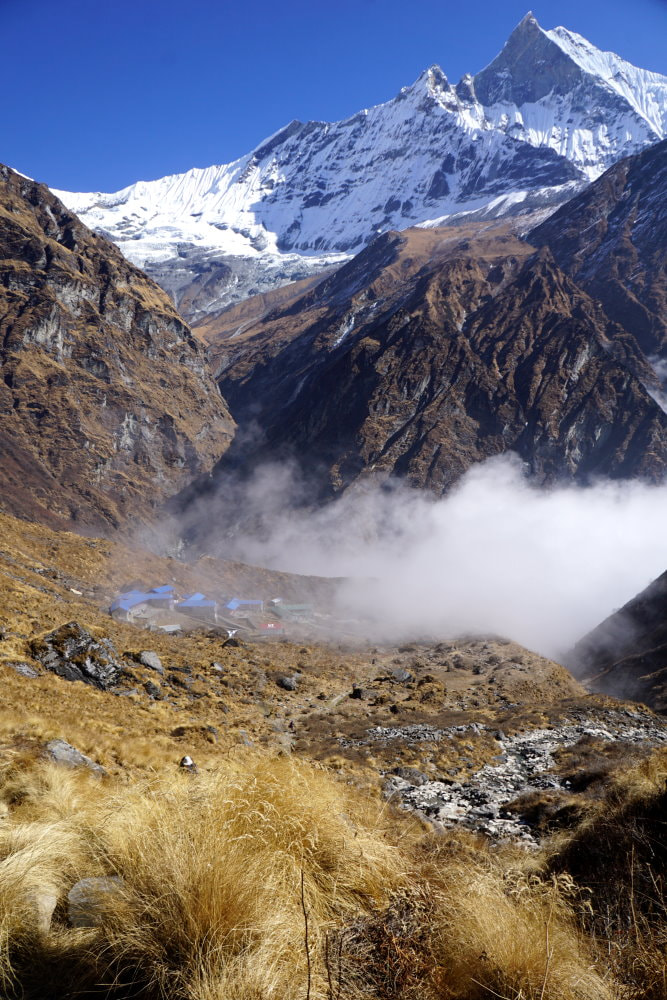 We hurriedly packed up and resumed our march up the trail, but not fast enough. I have never seen clouds move as fast as these. They quickly overwhelmed us and filled the valley, but just as quickly as they had come they disappeared.
Relieved, we continued up. While this section of trail did have a decent amount of altitude gain and, with the thin air, by rights it should have been the hardest section, it felt like the easiest so far. Maybe it was because most of the steep stairs had been replace by a gradual steady climb. We walked along a stream, through a field of golden tufts of grass.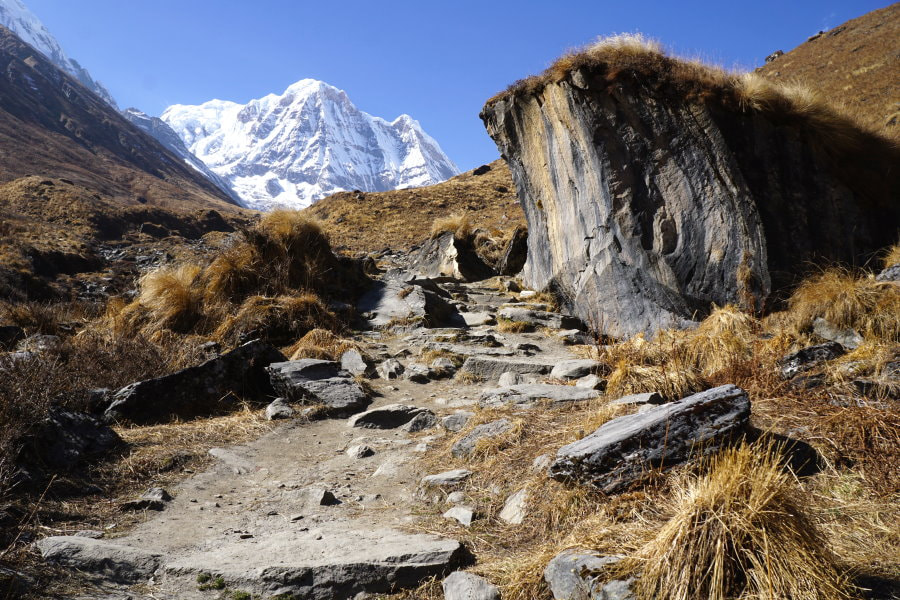 The welcome sign was a burst of color, decked out with hundreds of prayer flags, and insignias from all over the world. We traded hugs and fist bumps with each other, our porter, and guide and took a couple pictures in front of the sign. Just as we were reviewing the photos a shadow passed over us and we felt the temperature instantaneously drop. The sun had just passed behind the mountains. Our timing had been perfect.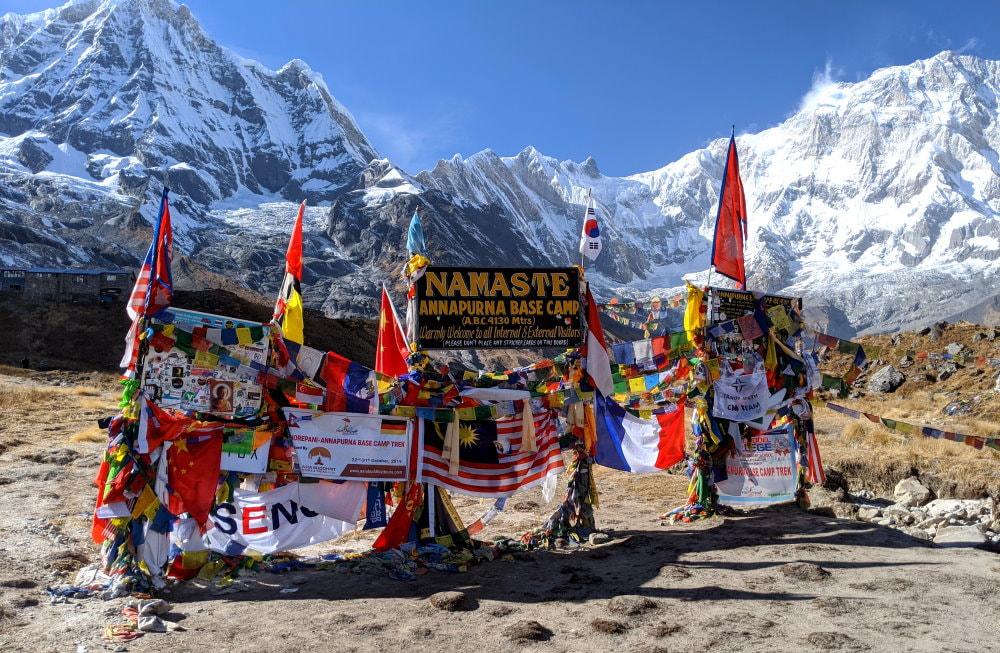 We got our room and found out that since the power was solar they didn't turn on the lights until dusk, so we headed out to explore.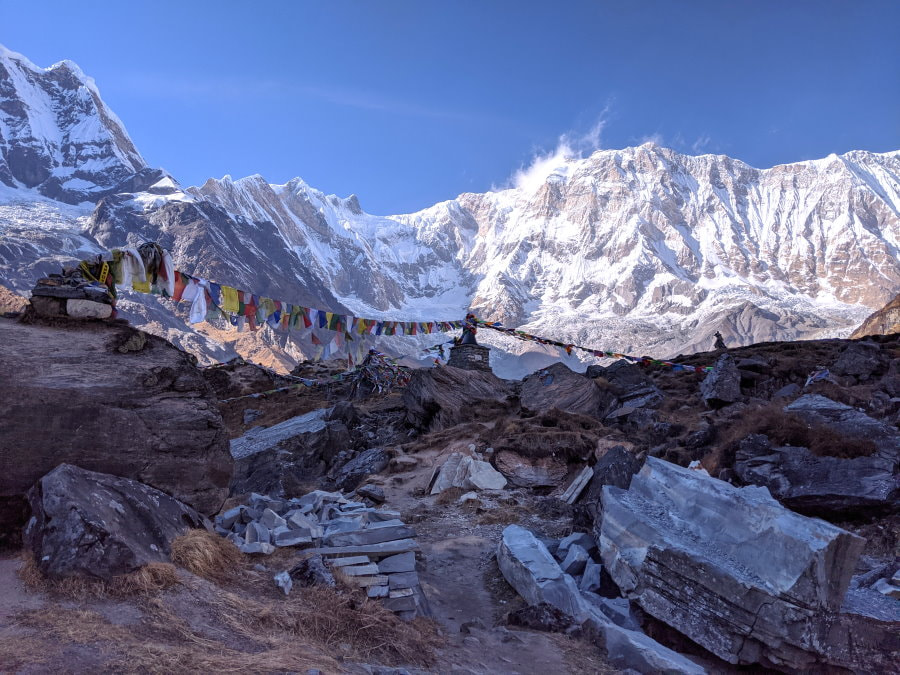 We followed one of many rough trails up to what seemed to be a central monument or shrine. When we crested the hill we found ourselves staring down into a huge crater. Annapurna glacier shifted and creaked noisily below us sitting in the void between this cliff and the mountains. The cliff we were on was part of a ridge running away from base camp, covered with countless flags and several other shrines.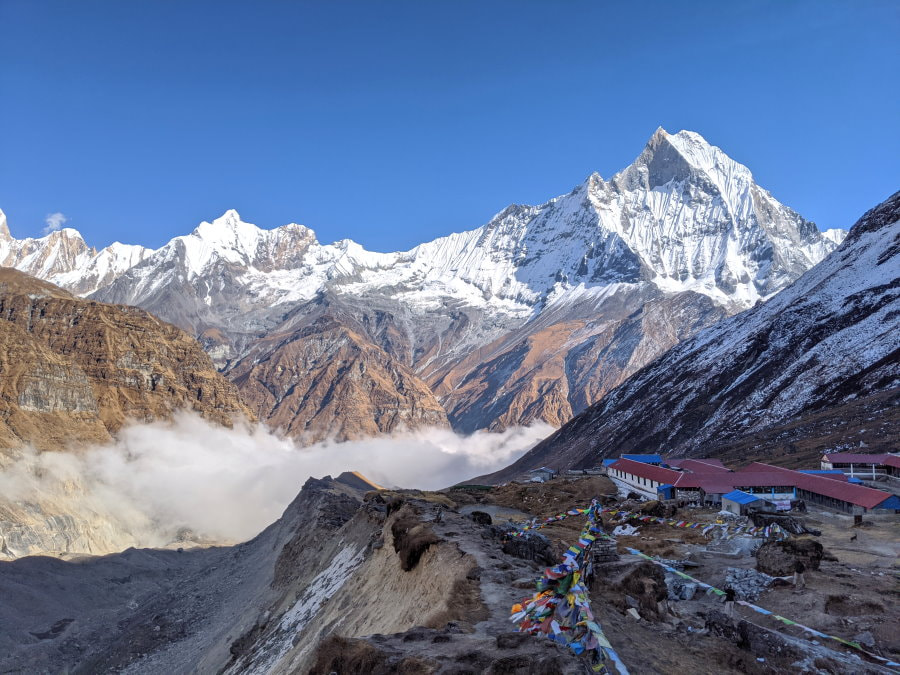 The immensity and beauty of it all made us feel tiny and powerful at the same time. Standing on that cliff edge with the glacier groaning below and the mountains towering above I felt very in touch with how fragile life is and extremely privileged to see places like this.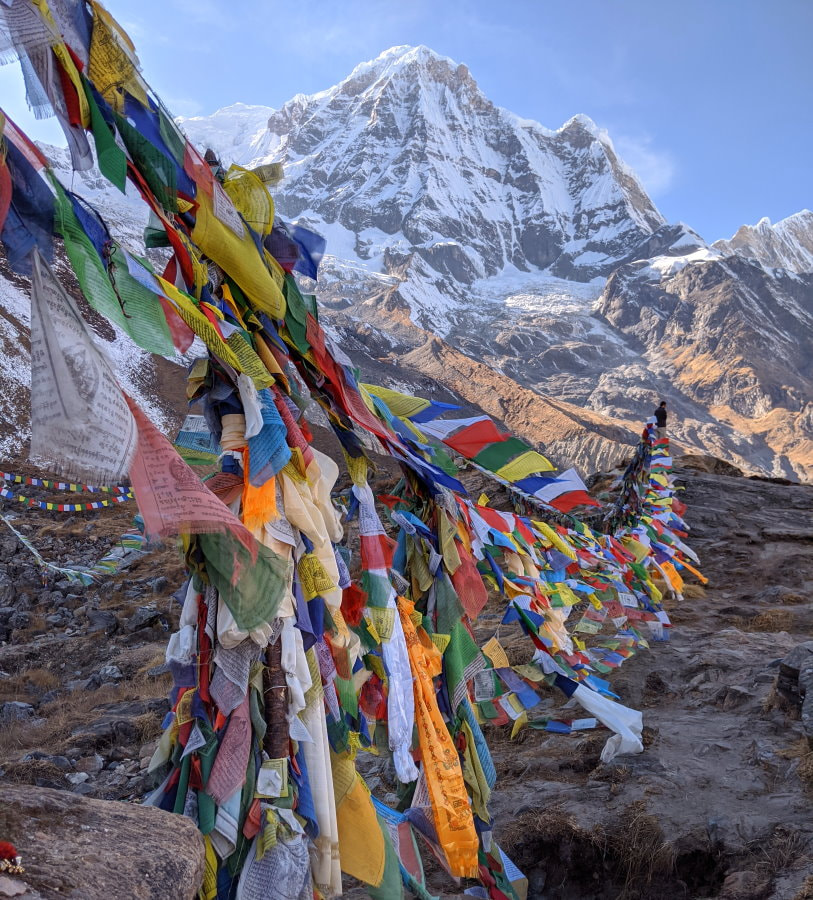 I really like the concept of the prayer flags sending good luck, peace, compassion, strength, and wisdom out into the world as they come apart thread by thread. Each flag has a mantra printed on it and is one of the colors of the five Tibetan earth elements that sustain us all: sky (blue), air (white), fire (red), water (green), and earth (yellow).
We spent some time exploring the ridge and the area around it. After days of following a trail, it was a nice change of pace to wander at our leisure and truly explore without any worry of making a wrong turn. Along the ridge the going was a bit more difficult and required a little climbing, but just to the side of the ridge the ground was mostly flat and covered with little white tufts of fluff that trembled in the breeze. Maybe some kind of seeds. The temperature continued to drop and we soon found ourselves shivering and forced to go back. It was such a drastic change from an hour ago when we weren't even wearing sweaters and now they weren't even enough.
We grabbed our down jackets and sleeping bags and headed to the dining hall. Many days we were the only English speaking trekkers in the teahouses, but tonight there was one other group on a yoga retreat so we had some good company.
After dinner we bundled up for one more outing before bed. This was the most isolated place we had ever been and we wanted to see the stars. The lodge had very little outside light which made getting around a little treacherous, but was perfect for star gazing. We didn't last very long in the bitter cold, but the sky was clear and view was spectacular.
---
Day 5 - ABC to Bamboo - Morning Magic and Thin Air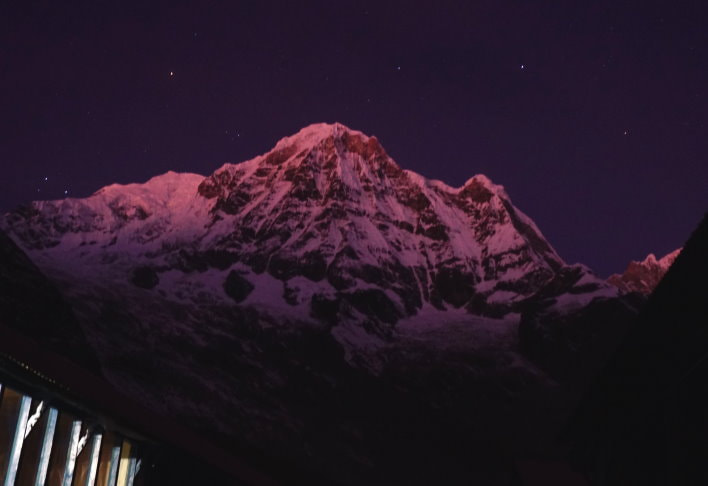 We were disturbed several times by dogs barking during the night, but finally woke to a crisp clear morning. We got up nice and early to catch the full sunrise. I would suggest checking a weather service website for when first light will be and get up a bit before that to have the full experience. The mountains and clouds start to glow purple well before the sunrise and we were very glad we got up early.
There were quite a few more people than there had been the night before and many more still coming up. Due to the altitude, many people stay the night at MBC and get up in the wee hours of the morning to hike up to ABC in the dark. We were given this option, as well as the option of hiking to ABC and back down the day before, then hiking back up in the morning for sunrise, but we chose to stay at ABC.
My husband was still taking the Diamox and feeling fine, but I was feeling a bit dizzy, similar feeling to being drunk, a common sign of mild altitude sickness from not acclimatizing properly. The cure is going back down, which was fine because we were only going to be here a couple more hours.
After the sunrise, a warm cup of tea, and some breakfast, we headed back down and I quickly started to feel better.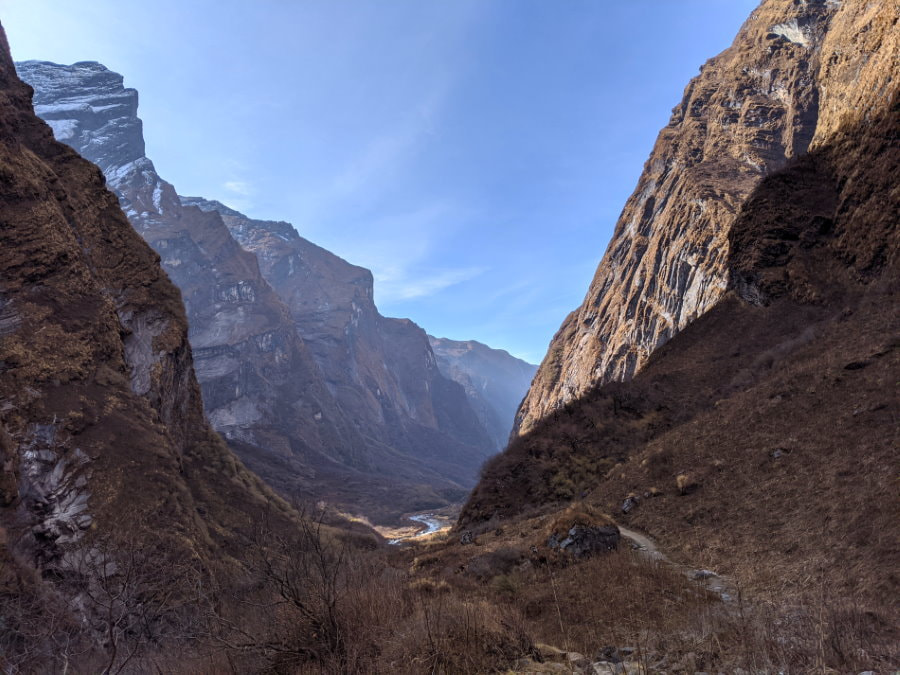 Today the way down followed the same trail we had taken up so there were less surprises, but more time to notice the details and I found myself paying more attention to the people we passed. The trail was never crowded, but we did pass and were passed by other groups from time to time. We saw people coming the other way at least every 10-15 minutes in the morning.
One of the things I really enjoyed on this trail was the sense of comradery. Many of us didn't share a common language but everyone greeted each other with "namaste," the Nepali greeting.
We passed a small glacier that forms an icy arch, with a large group of tourists gathered around it for a photo. Our guide said that some tourists had gone inside it for a photo and at least one had died when part of it collapsed on them.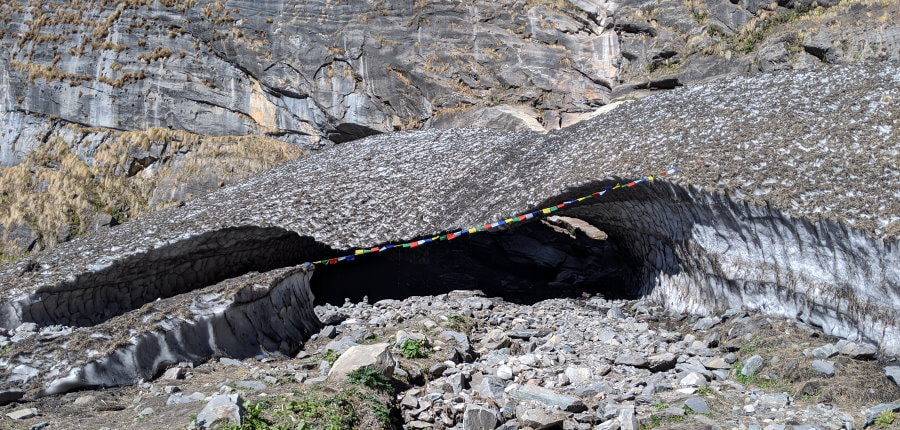 Our guide pointed out some bee hives on the rock face hundreds of feet above us that looked like giant mushrooms.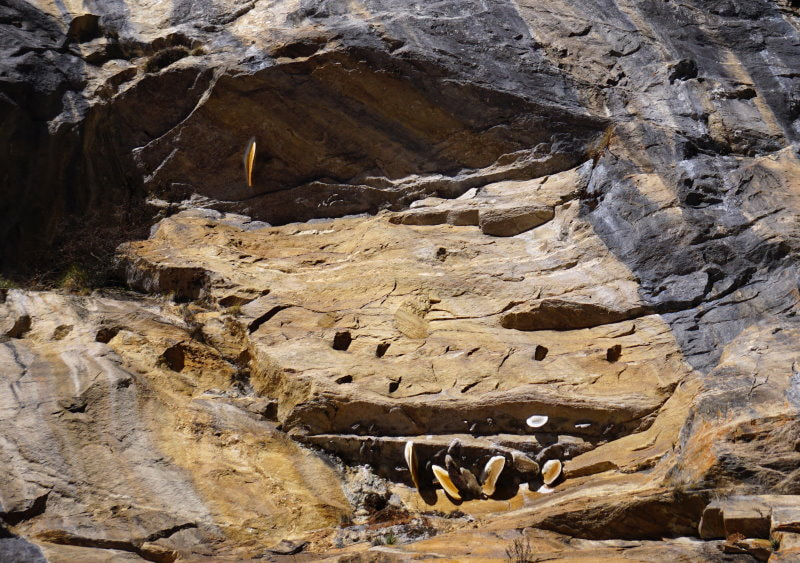 By noon we had made it back to Himalaya, the entire distance we had covered in the previous day. A couple hours later we were in Bamboo - our stop for the night - and the fog was coming back. My husband decided to get a shower before it cooled off too much and while there might still be some solar hot water left. He got out shivering. It turned out that there was a valve outside that the manager needed to turn on for the hot water.
---
Day 6 - Bamboo to Jhinu - Down to the Hot Springs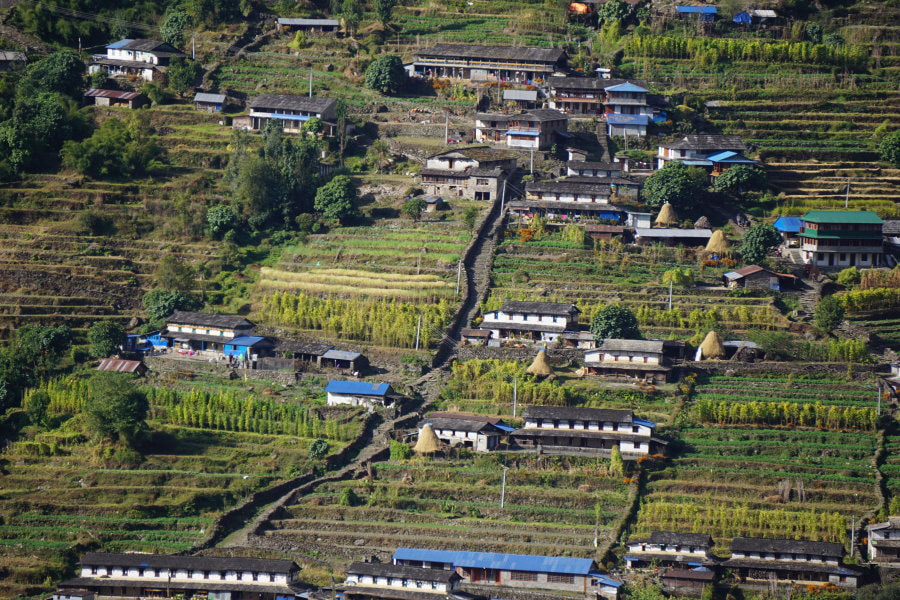 We started towards Chhomrong on another beautiful and clear day with the promise of good hot showers at the hot spring that night. With the clear weather this section looked completely different than it had before.
There seemed to be a big construction project going on because we saw lots of porters carrying materials. We saw one carrying an entire water storage tank that supposedly weighed about 60 kg! The porters below are carrying plywood sheets up those stairs. They appeared to have at least three sheets each.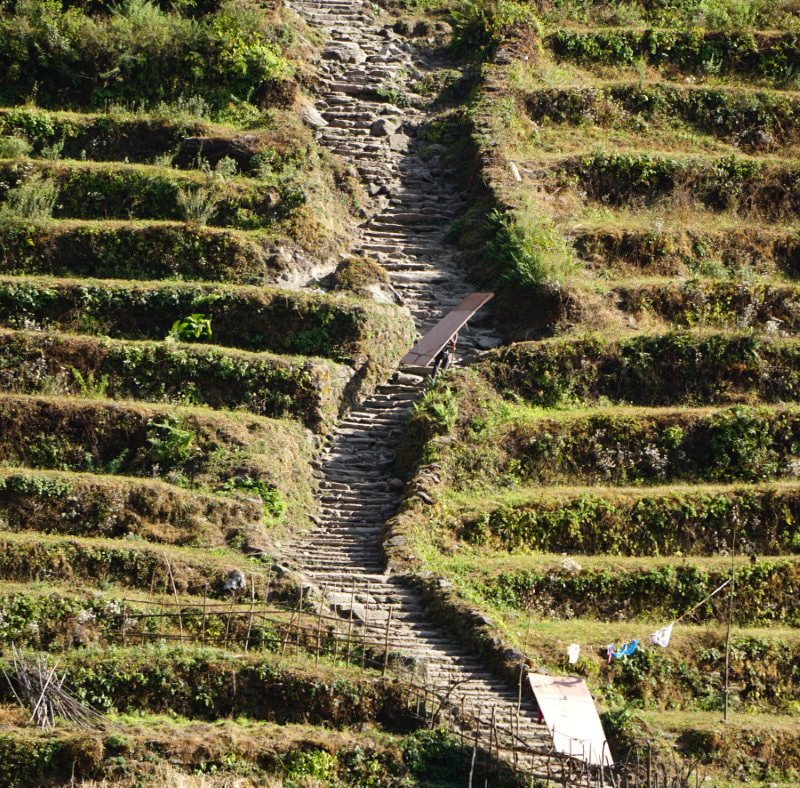 We noticed that there was a bit more litter on the trails today and much of it appeared to be snack wrappers. According to some other trekkers, all of the towns collect and burn trash the first day of the Nepali month. According to the Nepali calendar our mid-November trek had started on the 3rd of their month. Don't worry, trekking companies, hotels, and tourist services use the Gregorian/Western style calendar when making bookings.
The donkeys were back and we saw someone almost get hit in the head with a propane tank swinging from one. There were many docile - but intimidating - water buffalo on the trail.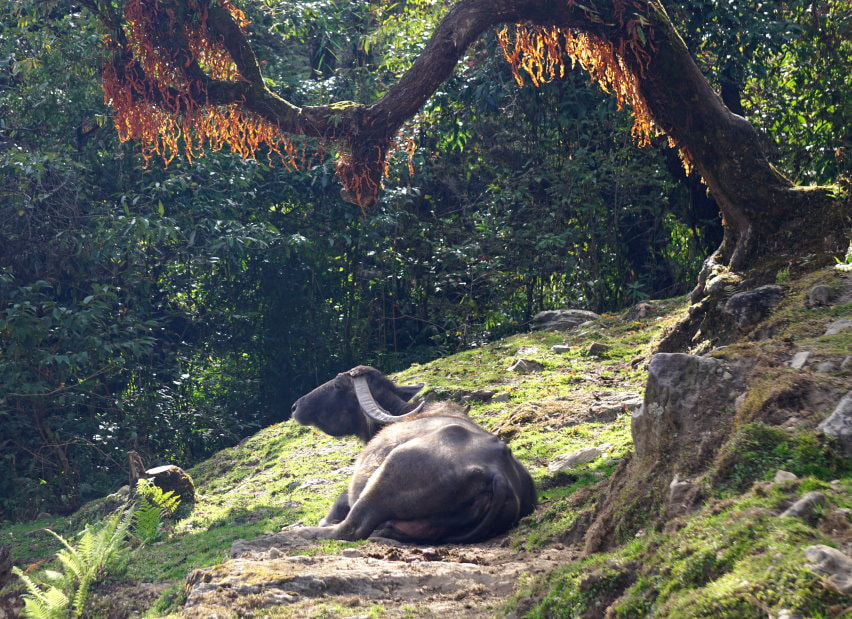 When we made the turn at Chhomrong towards Jhinu the trail was still mostly stairs but a little rougher cut. Looking down we got a peek at the bridge we would be crossing the next day, the second longest cable bridge in the country at 288m.
The tea house in Jhinu was probably the nicest we stayed at and our room had a spectacular view of the valley below. It also was clearly part of a working farm in the middle of harvest. They had all kinds of beans and produce drying on the balcony and buckets of daikon radish were being cleaned and prepped to be pickled.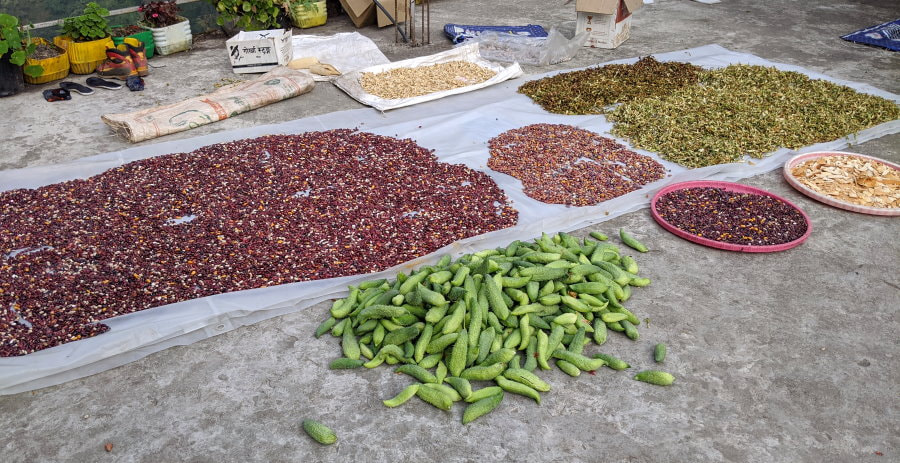 After foolishly taking a cold rinse off, we got our things and started off to the hot springs. The entry fee was taken at the top, which we joked was because most people would have given up before they made it to the bottom if they hadn't already paid, and was a very good thing because I can't even imagine getting to the bottom and realizing you don't have the right amount. The fee was Rs.100 per person for foreigners.
The walk down was about 20 minutes down lots of rough stairs. Our guide and porter nimbly strolled down them in flip flops, but we were very grateful that they advised us to put on our shoes. Our poles would have been nice to have too. We got there around three and there were less than a dozen people in the pools.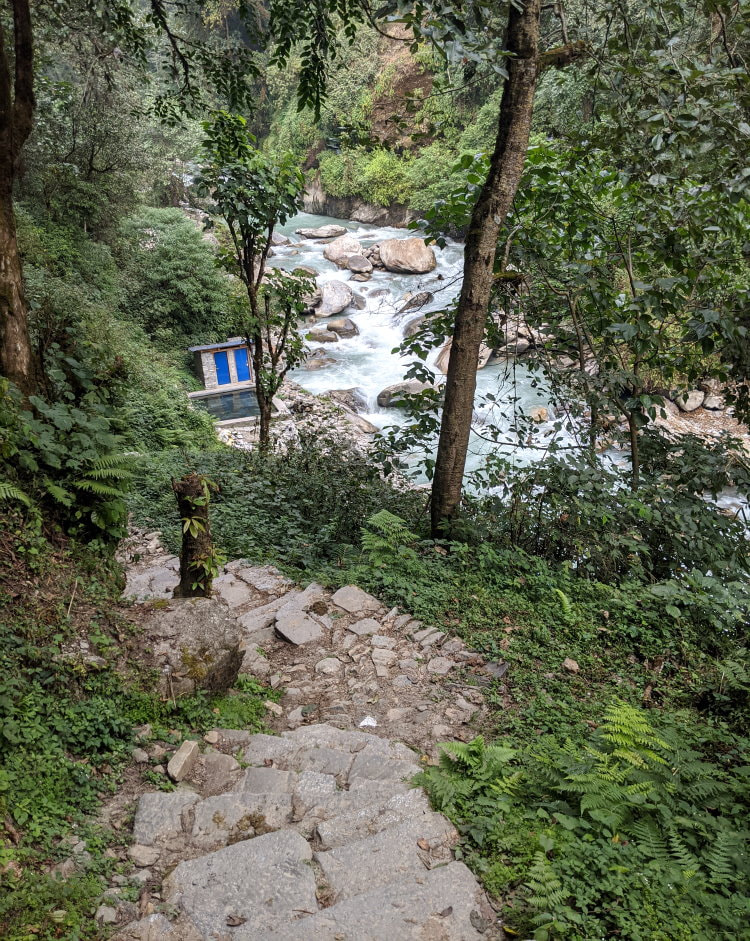 There were three different pools that ranged from hot to cool and two pipes creating a cascade of water that served as a shower. You are required to take a shower before getting in and it was the best shower I have ever had! Other than a little algae, the pools were clean, and the algae is just an excuse to get another shower when you get out. The water was lovely and felt wonderful after six days of walking.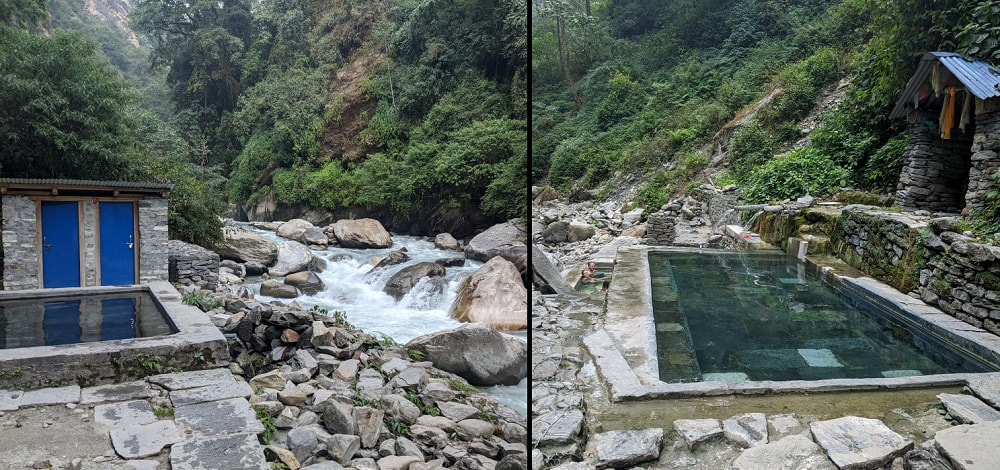 We brought our travel towels, but we didn't think to bring soap or a change of clothing down with us. I would recommend both and some sandals. There were changing rooms, but the rocks were quite rough and a little muddy between them and the pools. Soap is not allowed in the pools, but was fine in the shower area.
The hike back up was painfully slow because we were trying not to get all sweaty now that we were finally clean. At the top we were rewarded with baby goat feeding time, which if you have never seen it involves a lot of wiggling.
We had dinner with a couple of people we had met earlier on the trail. One knew a bit of Nepali and had been teaching a local boy to paint with water colors when we arrived. The little boy joined us for dinner and with an innocent yet semi-mischievous look, started helping himself to some of her noodles. We all got a kick out of it and he offered her some fresh daikon in exchange to make it a fair trade.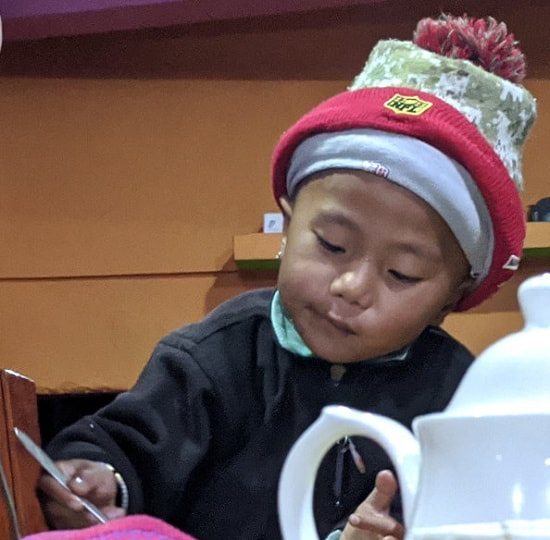 The tea house had the biggest chicken I had ever seen and while we were sitting at the table I looked down to see this chicken on the floor next to me with his head under the table. We all started laughing at how bizarre but perfectly normal it seemed here to have a chicken in the dining room. The owner noticed the chicken and with a sudden squawk he grabbed it, put it in a basket in the closest, and put another basket over its head. Bed time for the chicken and certainly a fun way to finish off our last night in a tea house.
---
Day 7 - Jhinu to Siwai and On- The Journey Back
Our final morning was a bittersweet jumble of emotions. We were relieved to be done, excited that we had made it, nervous about making our flight, and sad to be leaving this place. Each time we looked back and saw the mountains we knew that might be the last time, but we had a bit more hiking ahead of us and one very big bridge.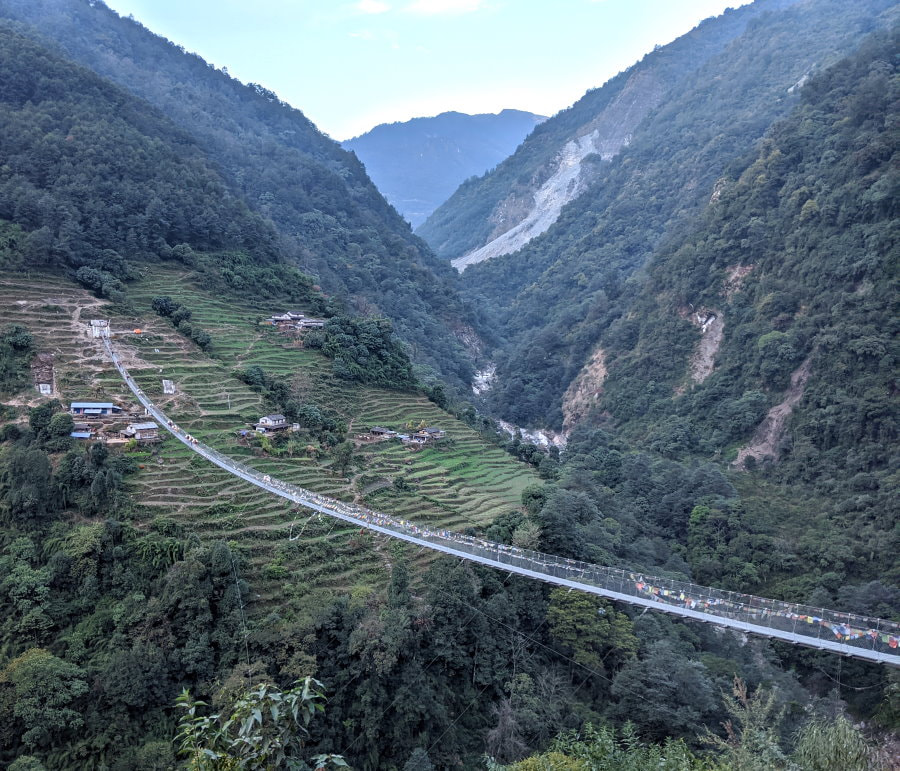 Those little specks on the far side of the bridge are donkeys. According to our guide this bridge is the second longest foot bridge in the country and before the bridge was constructed people had to travel more than an hour on a trail that was sometimes dangerous. The size of the bridge was intimidating, but the guide wires actually make this one much more stable than most of the other ones we went on. The weird part was that when you get to the halfway point it turns into an uphill climb to get back off the bridge.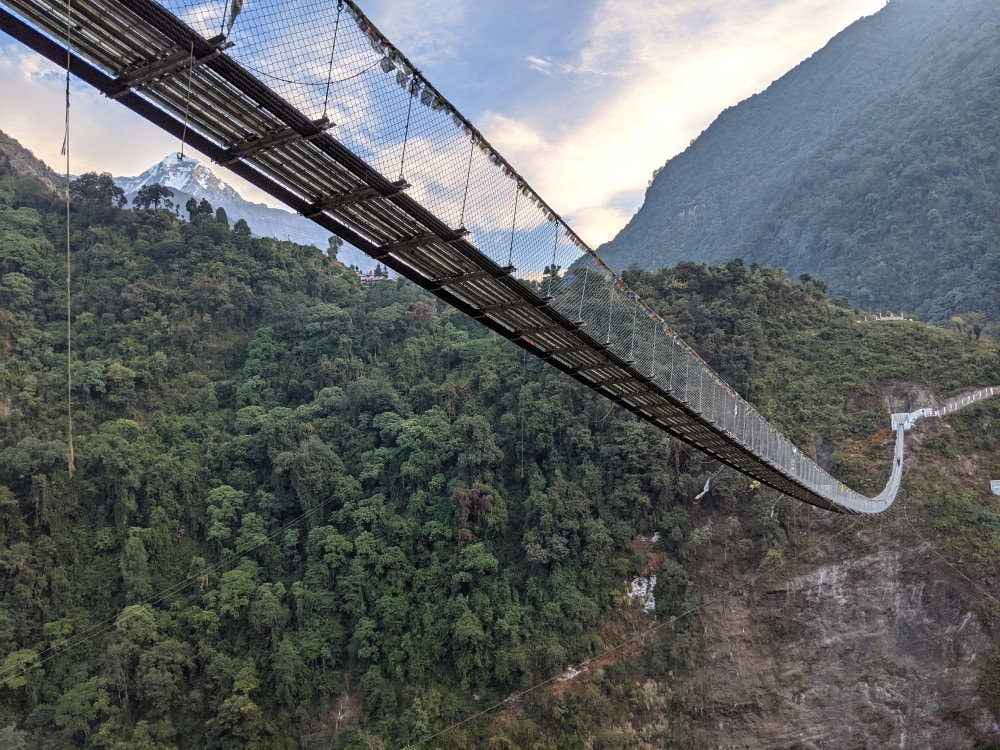 After the bridge we turned towards Siwai and the trail turned from a "road" into a real trail. It was a bit paradoxical that this area had the most remote feel fo all the areas we had walked through even though we were headed back towards civilization. We didn't see any trekkers, although we did get an early start to the day.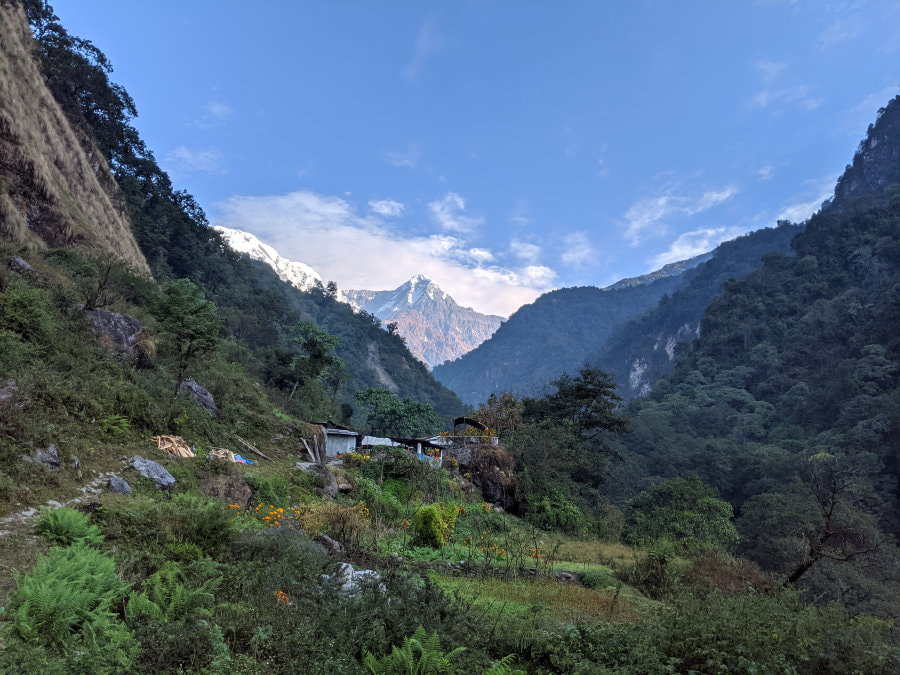 The trail followed a wild river through a couple small towns and all too soon it was over. We came to road suddenly and were greeted with our driver from the beginning and his little Hyundai. On the bumpy ride back we crossed a few streams, drove through mud, over rocks, and saw two broken down SUVs, but we made it!
It was a Monday and we saw lots of children in uniform walking to school. Our guide said that some go daily and some hike all the way to Ghandruk, stay there for the week, then come home on the weekend. We saw one group of small children on their own, climbing up a steep bank headed to school together. They looked so well behaved and independent. A school bus passed us with the phrase "wisdom is better than strength" on the front.
I had a lot of time to reflect on the experience on the ride back. The natural beauty was stunning, but I think it is the strength I saw in the Nepali people that will stay with me the most. We saw everything from beating grain to chipping stones into gravel being done by hand. People, like our porter, were sometimes smaller than me in height and build, yet they were able to carry heavy loads over long distances, day after day and make it look both grueling and easy at the same time. I sometimes think of myself as small, but they proved that size has no limitations.
---
Tips & Packing
Tips
Buy, Rent, or Bring? You may have heard that Kathmandu and Thamel have amazing prices on gear. This is true, but the quality often reflects the price. Just because everything has a brand name on it doesn't mean that anything is actually that brand. There are a few places with better quality, but it can be hard to tell. I'm not saying don't buy gear there, but just be careful about what you get. Bring your own hiking shoes and bag because those are some of the most critical items and have to be right. Jacket and sleeping bag rentals are common and many tours include them in the price.
We bought rain covers for our bags for Rs.250 each, waterproof gloves for Rs.250 each, foldable trekking poles for Rs.4000 each (risky but they lasted the trek), liner gloves for Rs.200, a pair of rain pants for Rs.1350, medium slip on sandals for Rs.250 and large for Rs.350.
Trekking Pharmacies for Trail Medication: Thamel has several trekking pharmacies that dispense trail medicines. The pharmacists generally know English and will prescribe and sell medication over the counter. Always talk to your doctor before taking medication. I am just sharing our experience and I am not a medical professional. I am not saying that these pharmacies are a good or bad idea, just an option. The medications we got were all things that our doctor had prescribed to us in the past and would have cost us at least 200 USD to get at home. The medicines were all in sealed labeled packages with expiration dates.
Pricing:
Altitude Medicine: 10 - 250 mg tablets of Zolamide brand Acetazolamide (Diamox is a commonly known brand) for Rs.150. Please check the dosage that you should be taking because I think 250 mg was too much for my size and I should have only been taking half tablets.
Antibiotics: 10 - 500 mg tablets of Ciprofloxacin for Rs.150. The pharmacist told us 20 was a full regimen and if you start taking them make sure to take all the pills even if you feel better. Cipro is known to interact with some food and medicine, so please check with your doctor and read this before taking.
Rehydration Salt: 1 - 20.5 gram packet of Relyte Oral Rehydration Salt - Citrate IP for Rs.20. Be careful as this is one of those things were taking too much can be just as dangerous as dehydration. This packet was designed for 1 L of water but the instructions were not in English.
Water treatment tablets were also sold at these pharmacies.
Bathrooms: Nepal is another one of those countries where you cannot flush toilet paper because their plumbing is not designed for it. Instead there is usually a bin to deposit it into next to the toilet. Usually, but not always because many locals don't use toilet paper. I got caught twice looking around for a trash bin. I would recommend you save some embarrassment and just bring an extra baggie with you. Keeping an extra ziploc in a bag with your toilet paper is a good way to keep track of this. Toilet paper is also usually not provided so you will always want to carry some.
Hiking Poles: We used these for the first time on our trek in Peru and are now hooked. They give you so much more stability and power. Instead of letting your lower body take all the punishment they distribute the load. There were so many times when they saved me from a painful slip or turned ankle, and after 7 days of hiking we were still feeling pretty good.
If you are unfamiliar with using them REI has a really nice guide. I prefer to use them with liner gloves on because the straps do rub a little after several days and I also found that they sometimes removed the sunscreen on the back of my hands leaving me with a very funny looking sunburn. There are a couple ways to walk with them and you will have to figure out what works best for you. You can use them together (kind of like skiing) or alternate sides opposite the leg you are stepping with.
In Peru we rented basic Black Diamond Poles which were nice despite obviously seeing a lot of use/abuse from being rented out. When we got home we purchased two pairs of Black Diamond Cork Grip Poles, which are supposed to be a bit better for use in hot climates and we love them, but found them to be a little big for our luggage on this trip so we bought some foldable ones in Thamel.
Altitude - Altitude sickness or mountain sickness can cause nausea, headaches, shortness of breath, disorientation, and in severe cases death from swelling of the brain, so it is not a joke. It generally takes a few hours at altitude before it affects people, but can last days once someone has it. The remedy is going down to a lower altitude, but this will not always immediately relieve all symptoms. The air is thinner at high altitude, so no matter what kind of shape you are in you will find hiking more strenuous than normal. If you are looking for a little more info UK National Health Services has some great guidelines and Rick Curtis of Princeton University wrote a good paper on it.
Altitude can affect anyone regardless of age and fitness level. Everyone responds differently and each time can be different. 8,000 ft (2485 m) is the point where altitude can start having an adverse effect on people, but most people don't get symptoms until over 10,000 ft (3048 m). Serious altitude sickness (or mountain sickness) generally doesn't occur until over 12,000 ft (3656 m). Annapurna Base Camp is at about 13,500 ft (4130 m). The main keys to avoiding altitude sickness are:
Stay hydrated (at least 2L of water per day)

Ascend slowly (guidelines say no more than 1,000 ft (305 m) per day but this often is not practical)

Avoid alcohol (can cause dehydration)

Medication is available as a precaution (see below)
Prescription Acetazolamide (often known by brand name Diamox) is a diuretic medication that prevents fluid retention that is a cause of altitude sickness. Some people recommend taking potassium and magnesium supplements to compensate for the electrolytes being flushed from our systems by the diuretic properties of Diamox. Tingling fingers and feet is a common side effect of Diamox, but on this trip I also experienced nausea and numbness that we believe came from taking too high a dose for my weight and I had to stop taking it.
Packing - If the weight limit is not clearly provided make sure to ask, and if you are renting gear make sure to find out what the weight of that is and take it into account. The weight restrictions are to protect the porters so please be make sure you are within the limits.
Packing List
Clothes: (I include the clothes you are wearing)
2 hiking pants (convertible are a nice option so you have shorts)
2-3 short sleeve shirts - moisture wicking, not cotton
2 long sleeve shirts - moisture wicking, not cotton
Underwear (your call as to what you are comfortable with but it is unlikely that you will want to remove enough clothing to change them at ABC)
3-5 pairs of hiking socks, one warm pair (I like SmartWool PhD best)
Packable down jacket (can be rented)
Fleece, full zip (I like ones with lots of pockets)
Gloves, liner and warm waterproof ones
Buff and snow hat (optional but good to have)
Rain jacket that is big enough to wear over the fleece
Rain pants
Bathing suit for hot spring (quick drying shorts and one of the t-shirts work well)
Shower sandals or flip flops (slides are best so you can wear socks)
Good waterproof hiking boots (I wore low cut shoes and he wore boots)
Toiletries:
Toilet paper (costs about Rs.200 and up on the trail)
Wet wipes
Bug spray (we actually didn't need this in late November but it is good to have)
Hand sanitizer
Brush or comb
Tiny bit of soap and toiletries but not much
Sunscreen & chap stick with sunscreen
Travel towel and quick drying wash cloth
Other Essentials:
Backpack, a good comfortable one with a hip belt and a rain fly that will fit some snacks, water, your down jacket, sunscreen, first aid, and any clothes you shed during the day
Head lamp or flashlight, a red light is less harsh and a nice option
Plastic bags - regular and lots of sizes of ziploc
Cash including small bills (if you are assisted be sure to have enough to tip your guide and porter for all their hard work)
Sleeping bag (can be rented)
Water hydration pack or bottles that hold at least 2L (We used hydration packs and a bottle that we could pour any remaining water in at night while we were treating the water in the packs. We also unhooked our packs from the hoses while treating the water so no untreated water would get into the hose)
First aid/medicine:
Water treatment tablets or filtration system
Any medicine you need including altitude medication if you are using it
Emergency medication like antibiotics & dehydration salts
General medicine including a pain reliever, a multi symptom cold medication, an anti-diarrheal, and an antihistamine-based sleep aide (some sleep aides cannot be taken at high altitude)
Optional:
Battery pack (to recharge phones/camera)
Waterproof phone pouch or just a ziploc bag
Small carabiners to clip things to your pack
Hard water bottle (If you are purchasing boiled water you may want a hard bottle that can take the heat)
Entertainment for nights at the tea houses, such as a Kindle
Pen and paper
Trekking poles (can be rented)
Snacks (I like lightly salted mixed nuts for protein and some kind of dried fruit for sugar)
Sleeping eye mask and ear plugs
Map & trail info
Lock for your room and your bag, door locks are provided if you have a private room but we liked to take the precaution of using our own. You may want a bag lock in case you end up in a room with people you don't know since they don't have lockers.
---
Planning - When? Guided? How Long?
When?
Winter (Mid-December, January, Mid-February) - Winters can be cold with unpredictable weather but have the benefit of less people on the trails. The freeze thaw cycles bring a higher risk of rock falls.

Spring (Mid-February, March, April, Mid-May) - Spring is one of the most popular seasons because of the mild temperatures and the wildflower blooms like the rhododendron forests. You get rising temperatures but especially long days in April and May.

Summer (Mid-May, June, July, August, Mid-September) - Summer is warm and monsoos make the trails wet and unpredictable, but much less crowded. The rains can increase the chances of landslides.

Fall/Autumn (Mid-September, October, November, Mid-December) - Mid-Fall is one of the most popular seasons because of the mild temperatures and generally clear skies. We really enjoyed this season because harvest was going on.
Guided?
This really depends upon what kind of traveler you are and what you want to get out of the experience. The trail is safe other than occasional opportunistic theft. Many people do this trek completely solo including women. The trail between Ghandruk and ABC was pretty easy and could probably easily be done without a map. Getting from Nayapul to Ghandruk and from Chhomrong to Jhinu to Nayapul had several options and wasn't as clear.
Reasons you might want a guide:
Information - Someone to tell you a bit more about the area and share stories.

Directions - There were places like the image below where it tuned out that both trails went the same way, but was is not obvious.

Safety - They should know what weather conditions to look out for and are familiar with Altitude Sickness. Our guide directed us to walk through the water instead of using the bridges in a couple places where the bridges looked fine to my eyes. The guides also talk with other guides on the trails and often know about conditions ahead.

Less stress - Someone to take care of communicating with the tea houses to make sure you have a place to stay and are taken care of.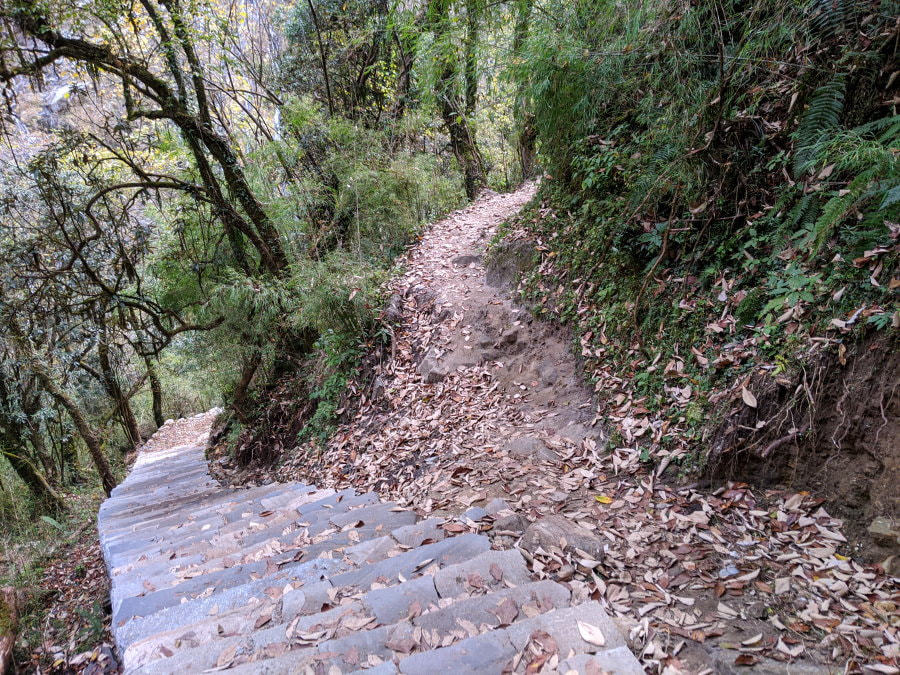 How Long?
There are many versions of this trek and a lot of it will depend upon personal preference, how much time you have, and what you can handle physically. We did one of the shortest versions. It is common to spread it out over a couple more days or combine this trek with Poon Hill for a longer loop. Taking a bit longer to properly acclimate to the altitude is always a good idea when possible.
---
Choices for Trekking in Nepal
ABC was fantastic but there are lots of other options. Here are a few of the most popular and some of the websites I used to deicide which trek was for us:
Poon Hill - Short trek (3-10 days) to Ghorepani for a panorama view of the Annapurna Mountains. Still involves some altitude hiking and is one of the most popular so it can be crowded. There are many versions of this route. Some are out and back and some are loops.
Annapurna Circuit - Longer trek (12-20 days) that takes you around the entire region. Higher elevation and more remote than ABC but still a tea house trek.
Everest Base Camp (EBC) - Longer trek (13-20 days) with colder temperatures throughout. Higher altitude and requires flying to the Everest region. Out and back trail.
Langtang - Medium trek (5-13 day) relatively close to Kathmandu. Out and back trail.
I used Nomadasaurus Trains, Planes, and Tuk Tuks, and Nepal Sanctuary Treks to help me decide what was the best fit for us.
---
When I started looking through the hundreds of trekking companies in Nepal I wanted to use a local company instead of an international corporation to try and ensure the money stayed local. I picked Alpine based off of their TripAdvisor and TourRadar reviews, their customer service, and the variety of options they offered.
The only thing I would have done differently if I were to do this again would be to find out what kind of payment was expected or book through a third party where we could pay with a credit card, since international wire transfers are expensive and carrying cash is risky.
Customer Service - The owner, Dil, was very involved and responsive throughout the entire process. I e-mailed back and forth with him and he generally replied quickly and helped me answer my many questions. He met us at the hotel our first day and went over the itinerary with us and our guide to make sure everything was clear.
Our Guide and Porter - Our guide and porter were both friendly and very attentive. They acted as waiters when we ate our meals and made sure everything was taken care of. When I wasn't feeling well our porter went off to the next town to get rehydration salts and when I stumbled on a rough section of trail our guide was right there catching my arm to steady me.
Our guide's language skills were more than adequate, but not quite conversational. He was knowledgeable about many of the local plants and animals and shared that with us.
Our porter was small but strong and incredibly steady on his feet. We would slip and slide down a hill, then turn back to see him casually walking down it in his tennis shoes.
The Company - The company was owned by Dil, who was a porter and guide himself before starting this company. Most of the full time guides and porters he employs are from his village in the Annapurna Region.
---
Have you done a trek in Nepal? What was your favorite part?
Share your experience in the comments below.
---
Product Links: I am not sponsored by any of the products I link to. If you choose to make a purchase from one of the links of a product I listed or any other item a small percentage will go back to me to fund this website, at no additional cost to you. The products I link to are either ones I have used or similar if those are not available. Thank you for your support.
---
More?
Another much shorter but still epic hike: Suicide Cliff in Hong Kong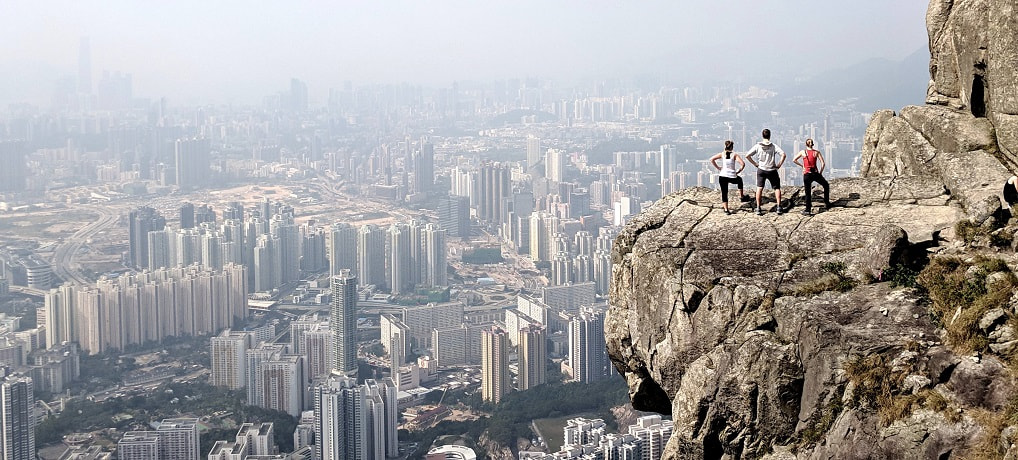 Iceland Ring Road Journey of Southern Iceland, Northern Iceland, Western Iceland, or Eastern Iceland.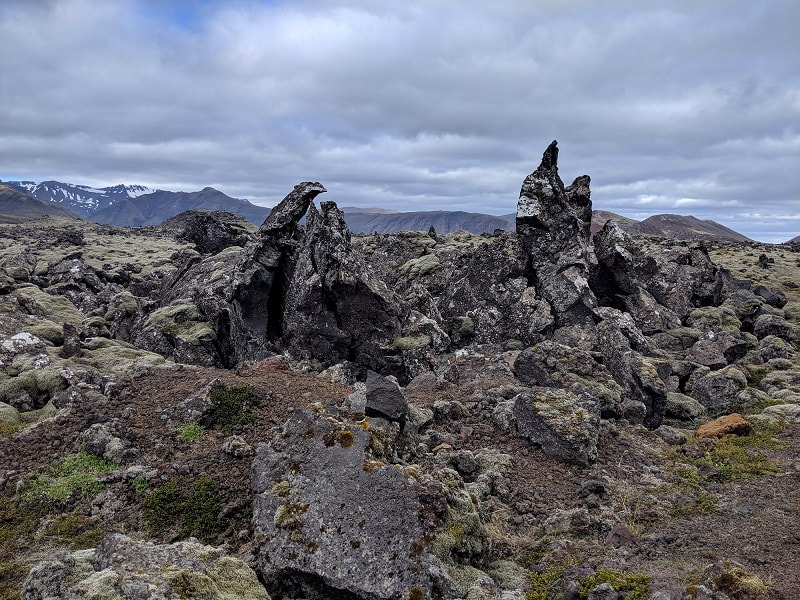 Everyone goes to Machu Picchu but getting there can be just as epic. We had an amazing experience on the Salkantay Trek