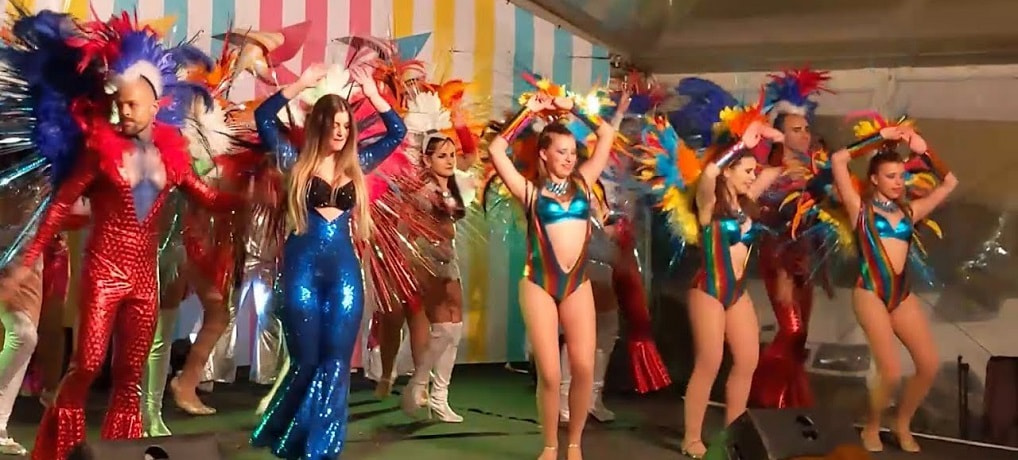 Carnaval in Madeira is a colorful combination of dance, humor, and fun, usually with an edge of the taboo. You never know if around the next corner you will run into women in feathered costumes or men in drag dancing with a pig. The festivities were spread out across a couple weeks with a live dance show every night and most of the events were free to the public.
I grew up in a Christian family and always dreaded the season of Lent, where you were expected to be extra good for 40 days, not eat meat on Fridays, and give up other things like sweets. I'm not sure if I would have dreaded it quite so much if we had festivities like Carnaval to precede it.
Around the world, other forms of Carnaval (Carnival in English) manifest as Mardi Gras, Fat Tuesday, and other celebrations to let loose before this time of denial. Carnaval is the name of the Spanish/Portuguese version and on Madeira they go all out.
We arrived just after the main event, that takes place on the Saturday before Ash Wednesday, but there was still plenty to enjoy. To my surprise, Carnaval 2020 continued well past Ash Wednesday, through the end of the week.
Every day there was a schedule of official events with different bands playing in the square, kids entertainment, and nightly dance shows. Both the Slapstick Parade and the Circus Show far surpassed our expectations and either of those on their own would have made coming during Carnaval worth it. Another fun and surprising aspect of Carnaval was seeing people out all over the island in their costumes.
*Please note that Carnaval has been canceled due to covid 19 for the 2022 season.
---
Contents:
---
Slapstick Parade (Trapalhão Parade)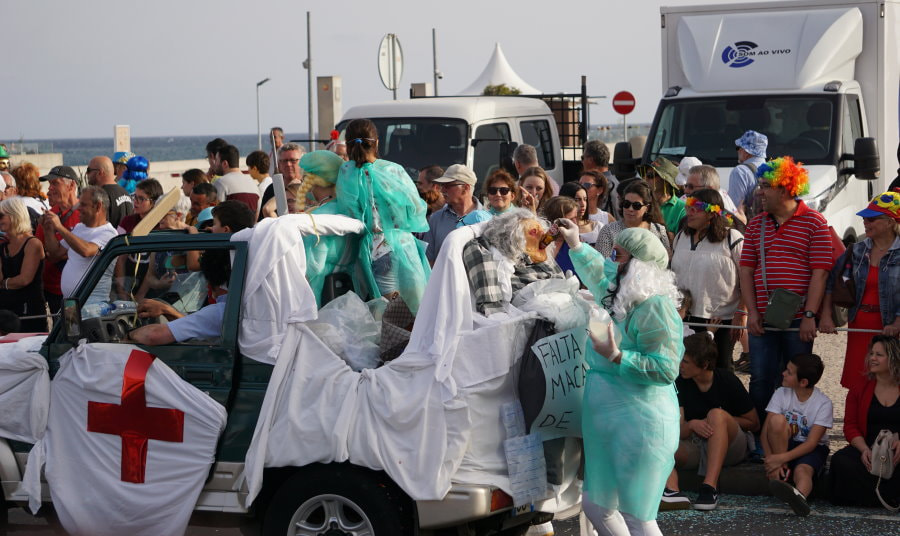 I usually find parades a bit boring, but this one was special and I didn't want it to end. Our walking tour guide described Carnaval as a time to be "naughty" and get it all out of your system before Lent. The parade certainly took this liberty and held nothing back.
In this parade nothing was sacred. The government, tourism industry, church, everyone was fair game. Participants varied from individual to large groups, including full marching bands. Some were just dressed in goofy costumes, while others had elaborate skits.
One of the most elaborate costumes was a person in a shower, in which a shower curtain with bare legs was walking around. There was a chain gang marching band all dressed as convicts, a retro disco mob, a giant slingshot flinging water balloons into the crowd, medical staff reviving a patient with Viagra, and a faux politician sitting on a toilet on the back of a float. Just like any parade, the veterans, school groups, local organizations, and companies participated, but it was anything but just any other parade.
One of our favorites was a satirical anti-meat skit, in which three guys danced around in wigs, aprons, and boxer briefs. Their aprons had fake blood on them and they carried faux knives, a rubber chicken, and towed a small rubber pig on a string. Their combination of music, appearance, and goofy dance style was just the kind of ridiculous that makes it hard not to smile, if not laugh out loud.
The parade may not run the same route every year, but in 2020 it ran right along the waterfront on Avenida Do Mar from west to east. It was fun, but crowded and hard to see over all the people. If I were to do it again I would try to get a spot on the west end, to see the marchers while they are still fresh, and the crowd appeared to be a bit thinner on the waterfront side. Don't forget a comfy pair of shoes and some sunscreen.
This parade had us smiling and laughing the whole time. My one regret was not knowing a little more Portuguese since many groups had signs and I'm sure we missed some of the jokes.
---
Dance Shows - Carnaval in the Avenues
Every night one of the bands would team up with some of the dancers from the main parade and put on a show. All of the dancers had elaborate costumes with matching head dresses that were adorned with feathers, sequins, and shiny beads. The burlesque costumes were a mix of provocative and whimsical, each group with their own style.
There were groups with themes like royalty, disco, puzzle pieces, clock gears, and many others. We loved that the groups were not just limited to school dance troupes and it seemed like if you could keep a beat and liked to dance you were welcome to participate. Watching talented dancers is nice, but watching people who are also loving the music and giving it their all is something special.
Please follow the link to view the Madeira Dance Show Video. Due to copyright restrictions it can not be shown properly here without removing the audio, which would not do this show justice.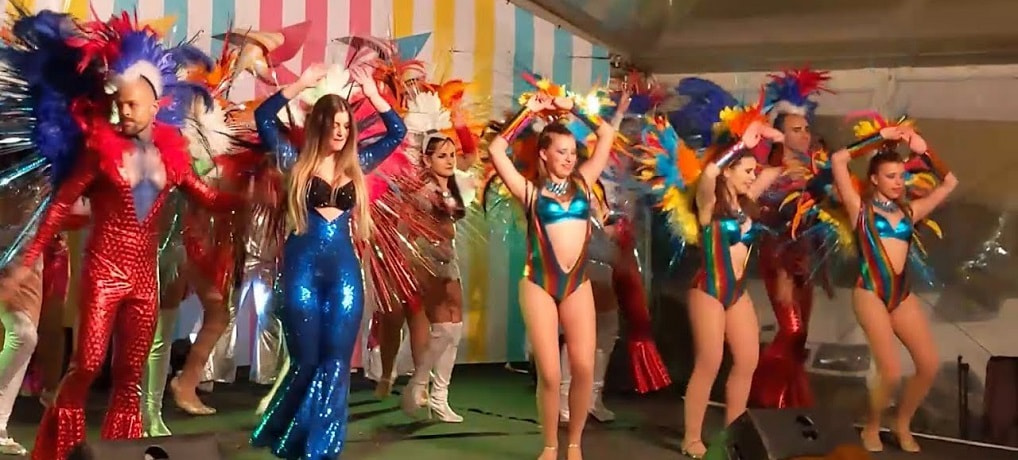 Each night was different, but on most nights a group of performers would take center stage, while other groups danced on the street on either side of the stage, then they would switch. You usually got a chance to see several different performers regardless of where you were watching from.
---
Circus Show
This show was advertised on the schedule as another of the free events and we were expecting it to be made up of local dance troupes. We were shocked by the high level professional show they put on. I would have been happy to pay for this performance. I would say more, but I think the video speaks for itself.
Please follow the link to view the Madeira Circus Show Video. Due to copyright restrictions it can not be shown properly here without removing the audio, which would not do this show justice.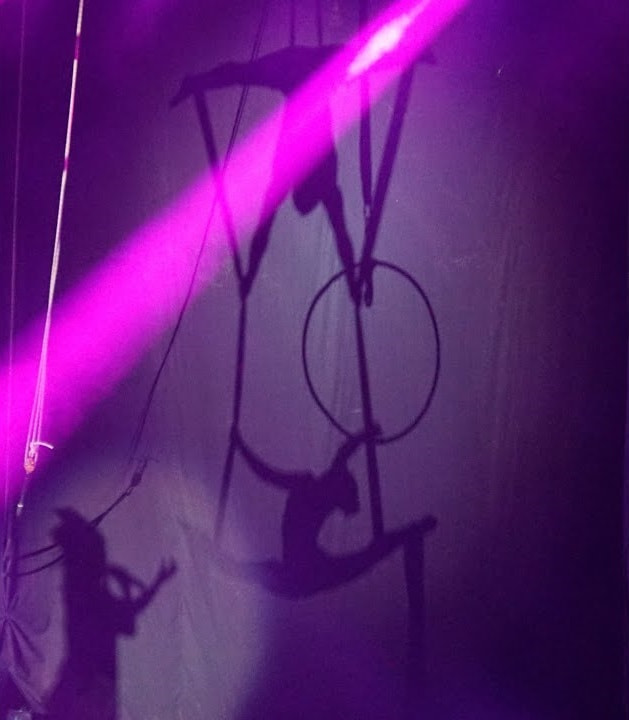 The venue was outside in the the Municipal Garden, which had big concrete steps that formed auditorium style seating. We made sure to get there nice and early to make sure we got a seat and it filled up fast. We noticed that a few people came prepared with seat cushions and blankets.
---
Logistics & Things to Know
Where to stay?
There are Carnaval events all over the island, but Funchal seems to have the most and they are very tourist friendly. We stayed in Funchal just outside the city center so we were close enough to walk back and forth to events, but far enough that it wasn't too loud. Funchal also has a good number of local buses if you don't want to walk. They do occationally close off some streets for some of the main events, so keep this in mind if you choose to stay outside Funchal or plan on leaving Funchal for some sightseeing before an event.
When are the events?
Of course every year may be a bit different, but in 2020 they held events the week before and the week of Ash Wednesday. We were able to download a full program in English from Madeira Island News.
Is this a good time to visit Madeira?
This is technically off-season, but Carnaval does attract a number of tourists and there were cruise ships in port most of the days that we were there. We reserved an AirBnB a couple weeks before we arrived and had plenty to choose from at reasonable prices. The weather is cooler than summer, and can be rainy (especially on the north side of the island), but we thought it was perfect hiking weather. You can find typical weather here.
Other things to see and do in Madeira Check out our full article on Exploring Madeira for the top attraction, hiking trail, food to try, and more.
---
What is your favorite festival? What makes it special?
Share your experience in the comments below.
---
Product Links: I am not sponsored by any of the products I link to. If you choose to make a purchase from one of the links of a product I listed or any other item a small percentage will go back to me to fund this website, at no additional cost to you. The products I link to are either ones I have used or similar if those are not available. Thank you for your support.
---
More?
Exploring Madeira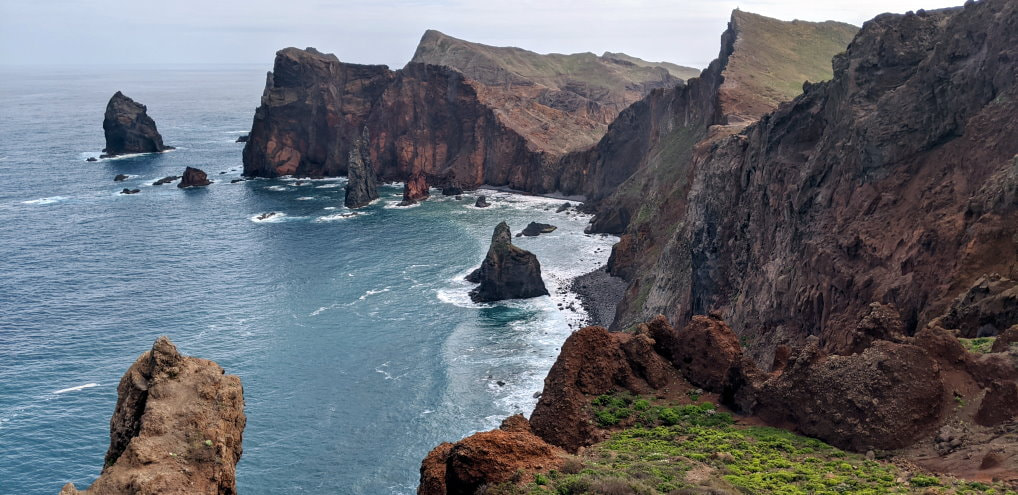 Experience a Peruvian Festival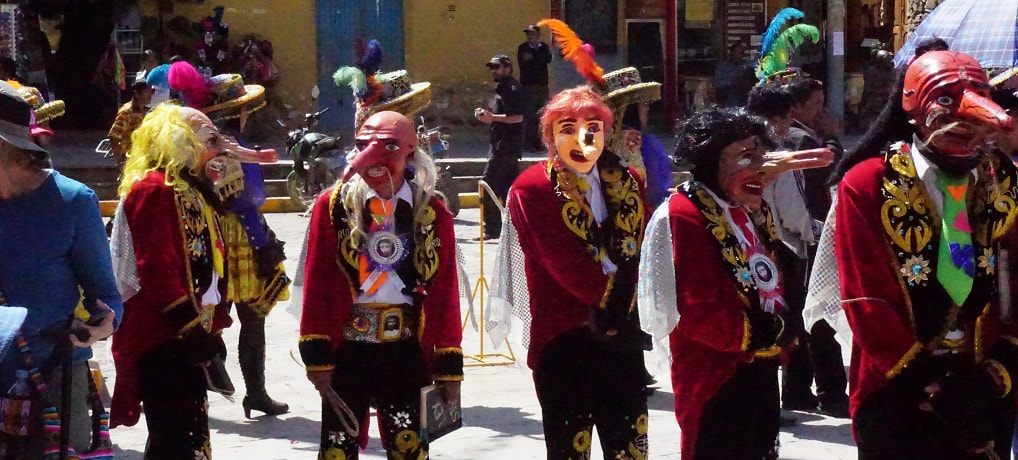 Iceland Ring Road Journey of Southern Iceland, Northern Iceland, Western Iceland, or Eastern Iceland.