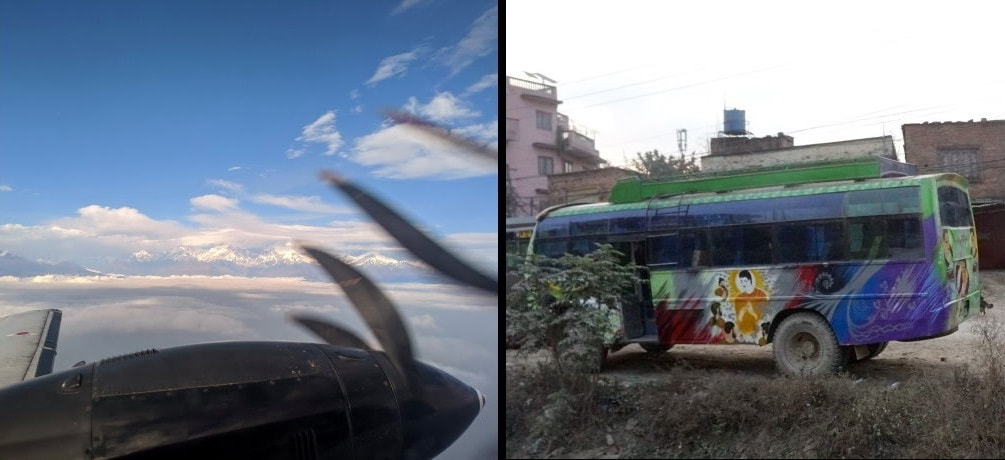 When you look at a map these two cities may not seem very far apart, but depending upon your mode of transportation, the weather, and your luck, this journey could take you anywhere from 20 minutes to an entire day or more. There are several options and each comes with its own experience. If you have the budget and the time I would recommend trying more than one.
---
Contents:
---
Options for Transportation: Should I fly or take the bus?
You can get to Pokhara by:
The tourist bus and flying are the most popular methods and we did both.
We chose to take the bus there to see a bit more of the country and fly back in the interest of time, since we only had a one day buffer between the end of our trek and our flight home. We also chose to fly after the trek instead of before so we didn't risk spoiling the views from our upcoming trek with the ones from the sky. As opposed to bus tickets, costing around 10 USD, flying usually costs tourists over 100 USD, but saved us almost a day of travel.
Remember, regardless of what form of transportation you are using, it can be a bit unpredictable so make sure you have enough time.
---
The Bus Experience & Things to Know
Buying a Bus Ticket: Our bus ticket was handled by our tour company, but when I researched it most people recommended buying the ticket through a hotel or tour company because they have arrangements with the bus companies and you may actually pay more if you try to get a ticket directly. As always, do your research or check at least two places to see what you should pay. Also have them point out on a map where you should catch the bus.
You may see some options for about 25 USD instead of 10 USD. These generally include lunch which is quite a rip off since 15 USD will buy a very very nice lunch in Nepal. Some of these may include a car to pick you up at your hotel but keep in mind that getting from the airport to Thamel should cost around 650-700 rupees (~5.75-6.20 USD).
Finding the Bus: Make sure you know where and when to meet the bus. Most leave Thamel around 7AM. As far as we could tell the buses were not clearly labeled and most people were just showing their voucher to each bus as they pulled up and the bus attendant would either shake their head yes or no.
Bus Amenities: Most tourist buses have reclining bucket seats, lights, window curtains, and air conditioning (often broken). Some have charging available (sometimes only up front) and a few advertised wifi.
Bus Ride Time: If you Google this route it will tell you the travel time is about 5 hours and 40 minutes. The buses stop for breakfast, a bathroom break, and lunch so they usually take at least 7 hours. This time can vary greatly depending on traffic and road conditions. Just getting out of Kathmandu can vary by an hour or so and one disabled vehicle on the road can back traffic up for miles. Make sure you don't have any plans that day and consider the ride part of your adventure.
Things to Bring on the Bus:
Our Tourist Bus Experience: Our bus was one of the older ones, but we were fortunate that it was mostly empty so we were able to stretch out. We have heard that sometimes they fill them past capacity, so it was nice to have the space and choice of seat. On our way out of town the attendant tried in vain to get more customers by hanging out the door and yelling the destination and occasionally getting out to try to find more customers on foot.
Leaving Kathmandu on the road to Pokhara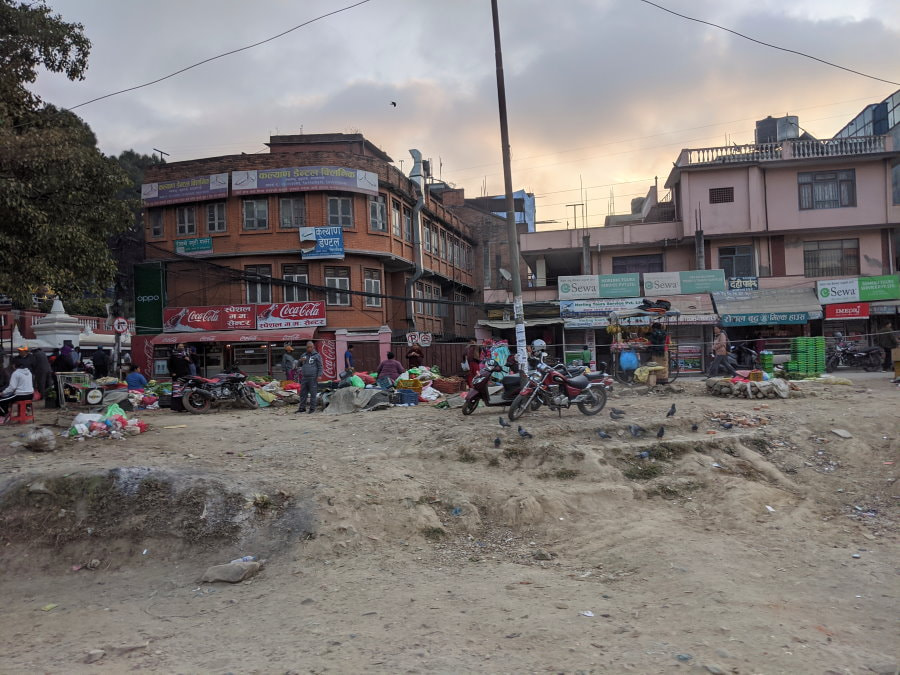 The bus had average size bucket seats with most of the padding worn away, but they reclined to almost flat. The window panes didn't have any latches so they slowly rattled open as we went, but they were easy to open and close if you wanted to take a quick photo.
This was our first full day in Nepal so everything we were seeing was fresh and new. We marveled at the elaborate decorations of many of the vehicles. Many trucks were fully painted, often with Hindu gods, occasionally with a brand like Adidas or Coke thrown in there for good measure. Many also included a variety of prayers, slogans, and phrases. Of the ones in English, we saw: Dang To Kathmandu, Mother Love, Bob Marley, Road King, Road Star, Speed Control, Good Luck, God Love, Hard Work, My First Love Is My Mother, Drive Slow Long Life, See You, I Love My Nepal, and many others. We saw one truck broken down precariously on the edge of a cliff with the ironic phrase "Oh My God Save Me" just above the window.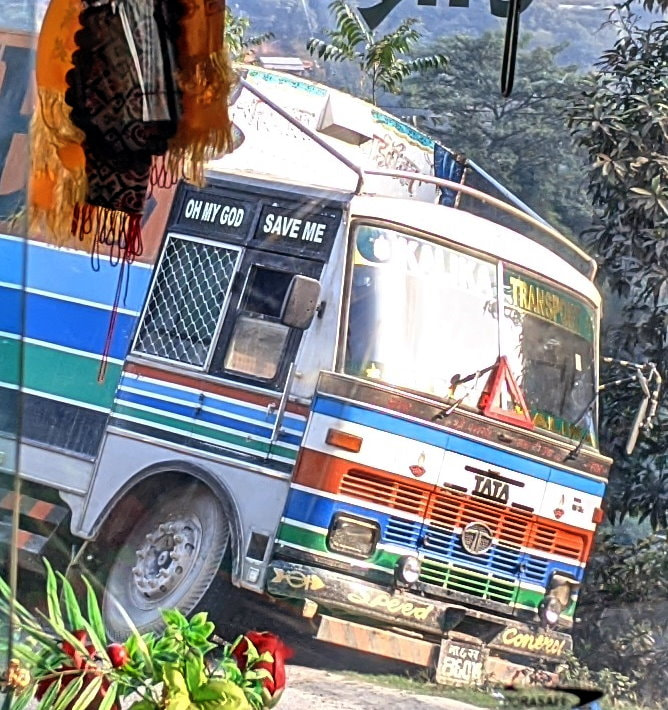 Along with broken down vehicles we saw a good number that would not legally be driving on the roads back home. Many vehicles had large cracks spanning their windshields and we saw a few with no windshields at all. When we got out at a rest stop someone pointed out that the bus were were on had no dashboard and all the wires were exposed.
Our Bus Wiring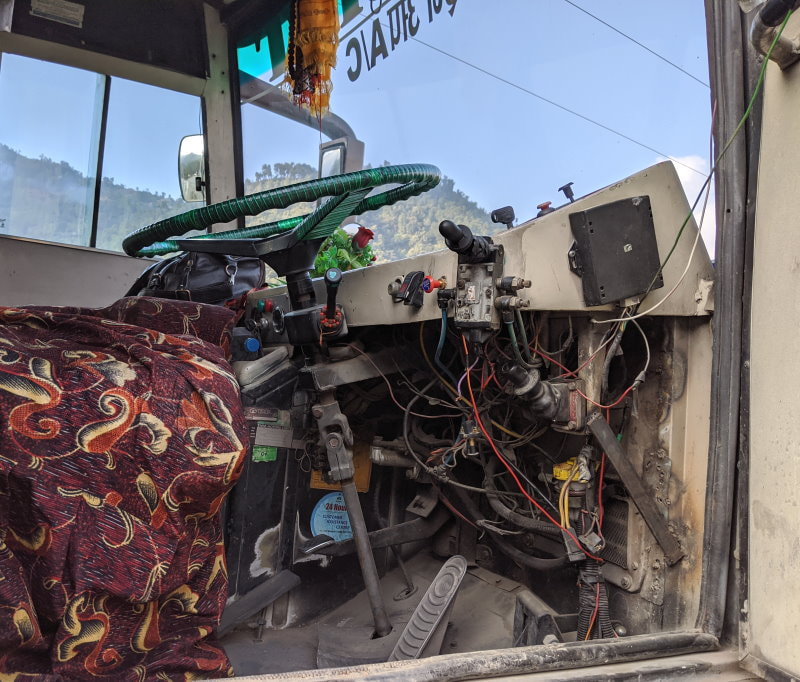 The roads leaving Kathmandu wound through the mountains. It felt pretty safe and we were never going very fast, but there were some serious drop offs. If you want to get the most of the views the right side is probably your best bet (left on the return), but if you don't want to look down the cliff stick with the opposite side (although with the switchbacks it does swap sides from time to time). The road was mostly rough pavement but occasionally dirt.
The mountains were cloudy but stunning and we had some great views of dozens of terraced farming communities. One thing that stunned me and stuck with me was the garbage piles that we saw in Kathmandu and around the fringe of many of these rural communities, often cascading into a ravine. I guess this is just what happens when you don't have central trash collection, but it was sad to see, especially in some of the more pristine looking areas. Almost all of the waste was plastic and this made us extra careful not to use any if we could avoid it.
Road to Pokhara near Lunch Stop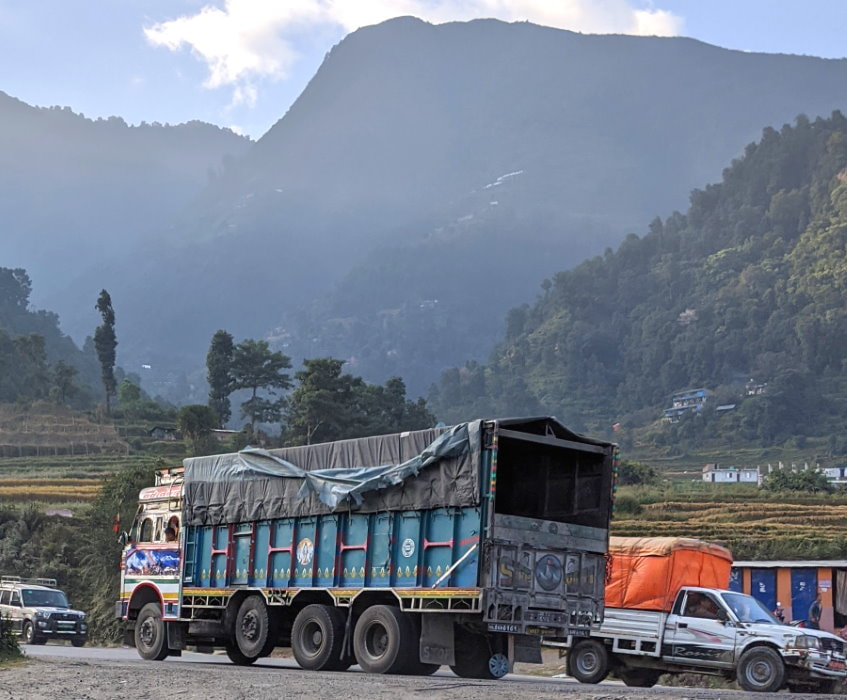 The place we stopped for lunch was a roadside stop and had two places to pick from with about a dozen options. We went first to a person and bought tickets for what we wanted, then handed our tickets over and were served. Everything was pre-cooked in big dishes. We got veggie chowmein (a bit bland but fine) and chana (garbanzos with a kick to it but a bit crunchy). A few of the options were chowmein (RS.150 ~ 1.35USD), veggie mo mo (RS.150 ~ 1.35USD), veggie burger (RS.200 ~ 1.75USD), veggie sandwich (RS.150 ~ 1.35USD), chana (RS.100 ~ 0.90USD), pasta (RS.150 ~ 1.35USD), mix (RS.350 ~ 3.10USD), and chicken lunch (RS.350 ~ 3.10USD). Different buses stop at different places and some can be rather expensive.
Most of the traffic we saw was caused by broken down vehicles and was fairly minor. A few of them had traffic police directing vehicles, while at others the vehicles were just taking turns in a somewhat orderly fashion. We noticed that drivers were very assertive about getting through, but not aggressive. I can only imagine the gridlock and angry horns that would be sounded if this was home, but here horns seemed to be more of a way of just saying "here I am," or "coming through." We got a kick out of the strange warbles of some of them.
---
The Plane Experience & Things to Know
Buying a Ticket: Our ticket was handled by our tour company. You can purchase tickets online up to a couple months ahead or right at the airport. As of 2020, ticket prices are usually between 100-130 USD for tourists and discounted for Nepali citizens.
Pokhara Airport (PKR) Amenities:
Before Security - There is a small cafe and shop upstairs and an open air balcony where anyone can watch the planes land and take off. There is wifi, but it had a password that I assume you need to make a purchase at the cafe to get. The cafe sold a variety of noodle dishes, sandwiches, rice dishes, snacks, and breakfast fare ranging from about RS.150-400. There were a couple free filtered water stations on the first floor.
Water Station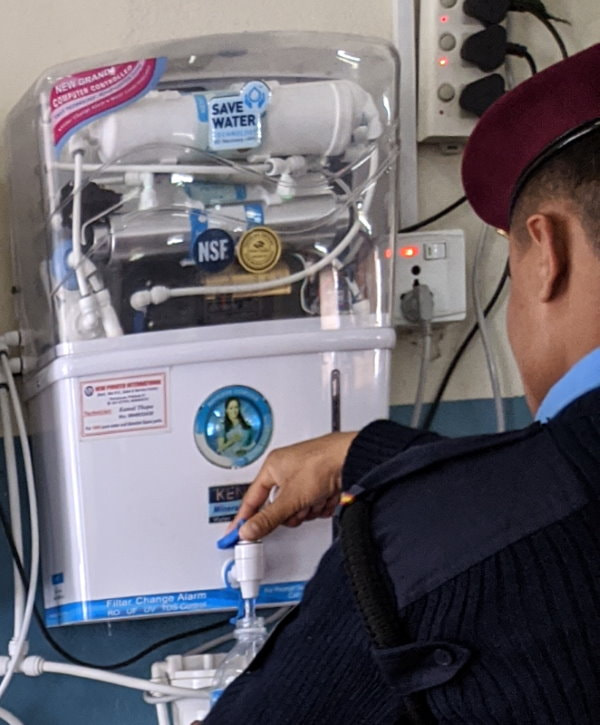 After Security - There is a gift shop with snacks, another free filtered water station, and a limited amount of seating.
Airport Check-in: Most carriers do not allow you to check-in for your flight until an hour before departure. There were a few benches near check-in and the flights would be announced when they were ready for check-in. We got in line as soon as we got there, and after standing in line for a very long time we were told to go and come back later.
Airport Security: Security wasn't bad, but a little different. Men and women are split up into two lines. You put your bag through a scanner, walk though a metal detector, and step behind a curtain for a thorough pat-down by someone of your gender.
For domestic flights they don't seem to mind bringing water through. However, they do have an interesting list of prohibited items which includes a few uncommon ones like: knitting needles, nail clips, silverware of any kind, and umbrellas.
Things to Keep in Your Carry On:
We were told by our tour company that flights are frequently delayed, but unless the weather is bad, they are rarely canceled. I would keep this in mind when you are checking your bag and make sure you have everything you need with you.
The Flight
If you want to see the mountains you are going to want to sit on the right on the flight from Kathmandu to Pokhara and the left on the flight from Pokhara to Kathmandu. Most of the planes are propeller, so farther back is more likely to give you photos free of the blades.
Our Experience Flying from Pokhara to Kathmandu:
We got to the airport a little over two hours before our flights and got in line to check-in. The screens overhead showed a list of flights, all delayed, and ours wasn't showing yet. When we made it to the front of the line they asked our flight time and said they weren't checking in for that flight yet, so we went and wandered around.
Up on the roof we watched the planes come and go. We were amazed by the efficiency! A plane would come in, speed straight over to the gate, and as soon as the passengers were off the next group was already waiting on the tarmac, along with a trolley of luggage. Those passengers would get on the plane and it would speed off to the opposite end of the runway, make a quick turn, and take off immediately.
When it was time to check in, our flight had still not appeared on the screen. At check-in they said that due to delays they were going to bump us to another "make-up" flight that was departing soon, so go straight to security. Our flight number was just a faint ink stamp on our ticket and didn't have a time or any other info.
We got through security and moved into the crowded waiting room. The new flight did not appear on any of the screens or gates and there didn't seem to be anyone to ask. Finally someone came out, started checking everyone's tickets, and told us we were next.
We were ushered out onto the tarmac, and just as we had witnessed before, boarded very efficiently.
We flew with Yeti and I have no complaints. The flight was about 20 minutes and I don't think our flight attendant ever took her seat. From the moment the last person boarded she was busily moving up and down the aisle with something different on each pass. She distributed cotton for your ears, hard candy, cups of water, and peanuts. It was incredible service for such a short flight and we even had a decent amount of legroom.
We were on the wrong side of the aisle, but the view looking through the people on the other side was still incredible. It was a cloudy day, but as soon as we got above the clouds we could see the entire Annapurna region. We passed our phone over and they graciously snapped a photo for us.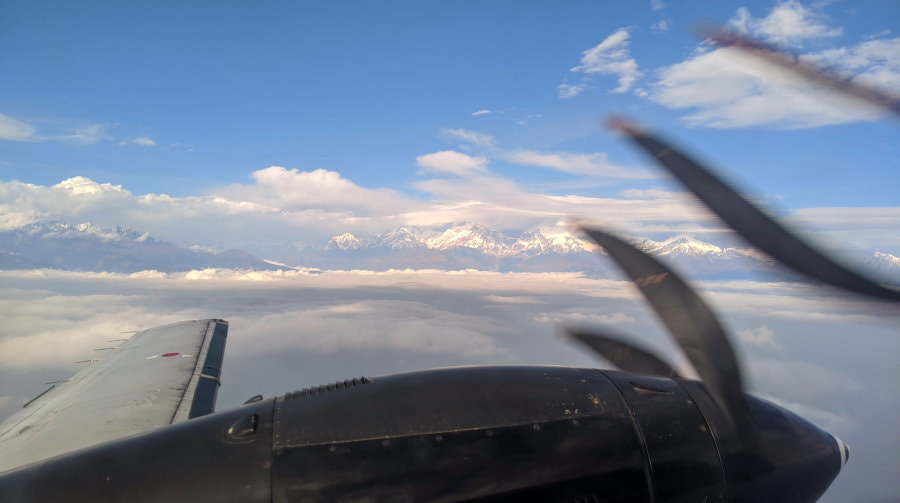 We ended up making it back to Kathmandu early instead of late.
Check out my article on Kathmandu for experiences to have there.
---
Product Links: I am not sponsored by any of the products I link to. If you choose to make a purchase from one of the links of a product I listed or any other item a small percentage will go back to me to fund this website, at no additional cost to you. The products I link to are either ones I have used or similar if those are not available. Thank you for your support.
---
More?
One of the most popular things to do in Pokhara is go on a trek. We did the Annapurna Base Camp Trek and it was fantastic!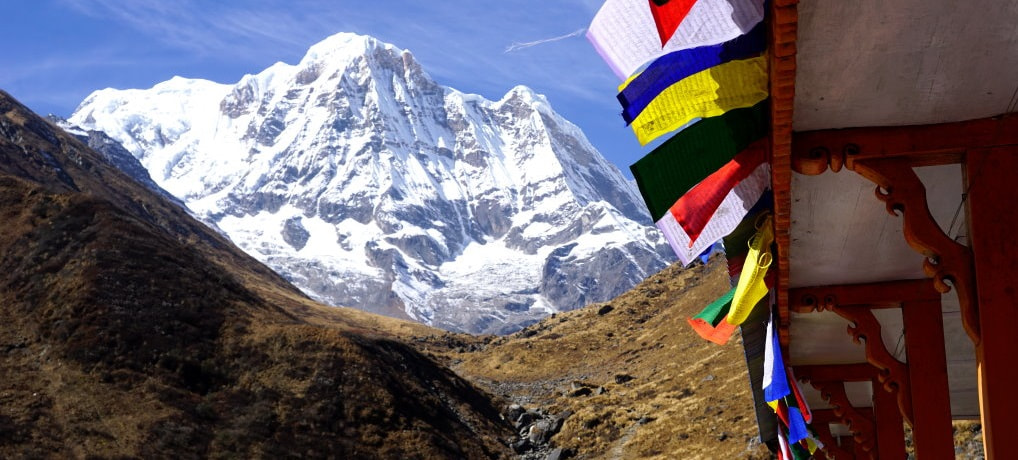 A shorter but still epic hike: Suicide Cliff in Hong Kong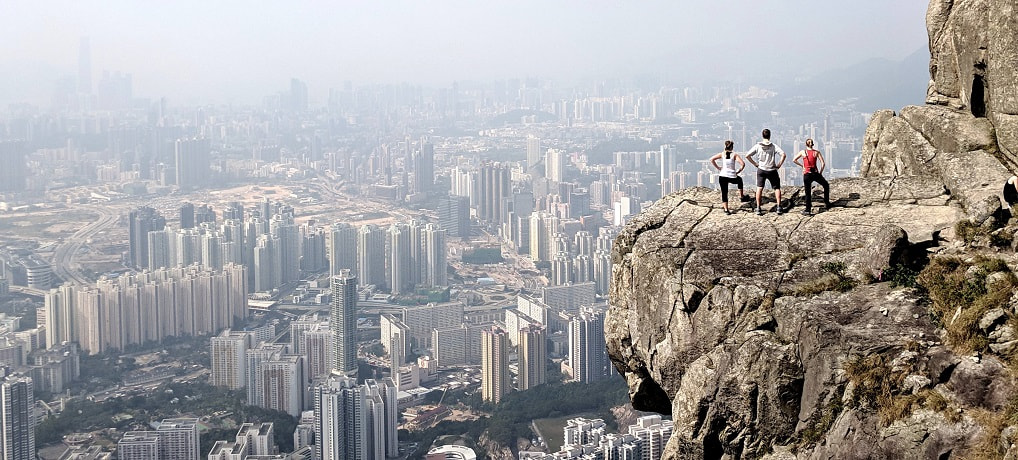 Iceland Ring Road Journey of Southern Iceland, Northern Iceland, Western Iceland, or Eastern Iceland.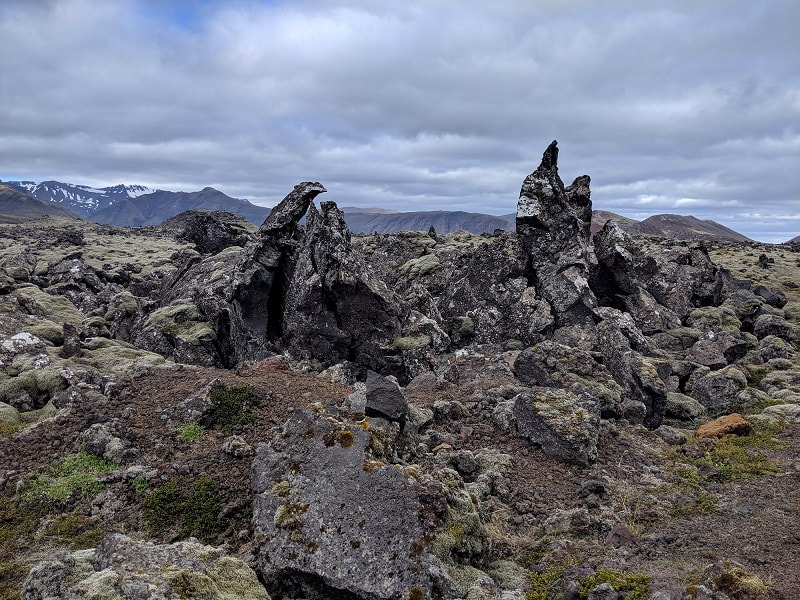 Everyone goes to Machu Picchu but getting there can be just as epic. We had an amazing experience on the Salkantay Trek