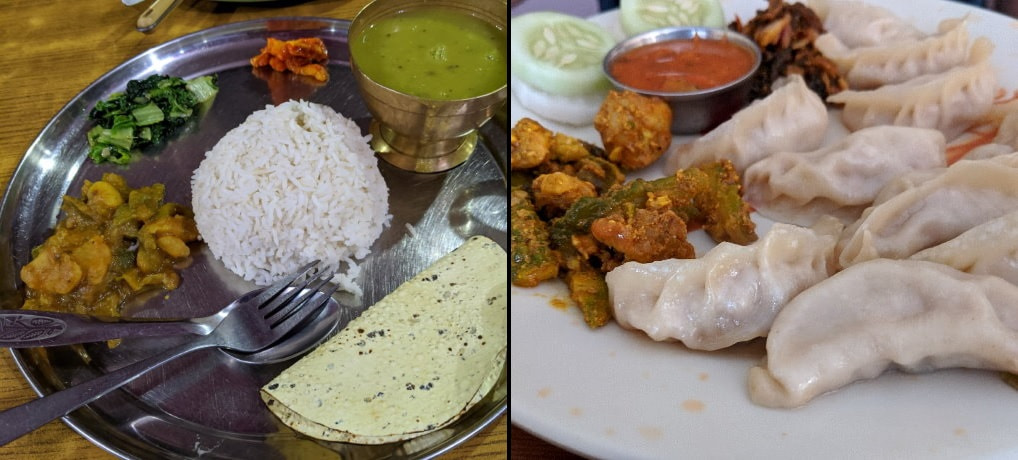 Unlike nearly every other country we have visited, Nepali food is not something we see often in restaurants. Other than reading about some common dishes, we had very little idea of what the flavors would actually be like or what to expect. This was fun because it was completely uncharted territory, but unlike trying a new restaurant we didn't necessarily have the option of just not eating if we didn't like it. This is was little intimidating since we didn't know how we would like it or how our bodies would react on the Annapurna Base Camp Trek. Our worries were completely unfounded, as we loved the food.
My perfect meal in Nepal would be ginger lemon honey tea, aloo paratha for an appetizer, and I would share a potato rosti and dal baht with someone for the entree.
On the Annapurna Base Camp Trek we adhered to a vegetarian diet and stuck mostly to local staples like dal baht. Eating meat is generally not recommended while trekking here, because in many areas they do not believe in killing animals so the meat is not guaranteed to be particularly fresh. You can find a bit more about food on the trail in the food section of my Annapurna Base Camp Trek Article, including a price list for typical meals at tea houses.
In the city we were a bit more adventurous. The most interesting thing we tried was a Newari dish with raw buffalo meat. It was weird but delicious. In Kathmandu you can find food for just about any budget. We saw main dishes at restaurants starting at less than 1.50 USD and going to over 50 USD per plate. The key to finding reasonably priced tasty food is to avoid touristy areas, but even in Thamel you can find reasonable spots. Check out my Kathmandu Article for more info and tips.
---
Breakfast
Breakfasts usually have the option of ordering a set or a la carte. Common items you can find everywhere include eggs to order, plain toast, muesli, potatoes (usually flavored with Nepali spices), porridge, and chapatti.
Chapatti - This is a thin bread that reminds me of a fluffy tortilla. They don't have a ton of flavor, but are lovely when they are fresh and warm. You could usually get it with butter, jam, honey, or fried eggs on top. You can find these as a breakfast or side in the mountains and the city.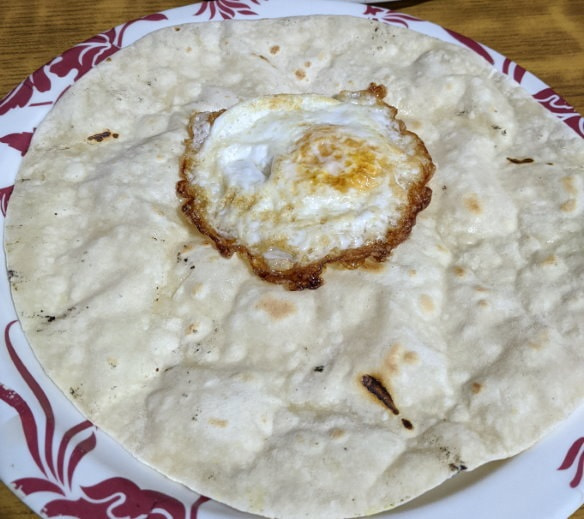 Aloo Paratha (or Alu Paratha) - This is a thin layered roti (bread) filled with a potato mixture. The potato filling has a nice onion and garlic flavor, similar to samosa filling. It is served cut into pieces, sometimes with a dipping sauce, and reminds me a bit of a Indian quesadilla. The bread is lightly crispy on the outside, soft inside, and the potato filling is nice and creamy. You can find this as a breakfast at a couple of places on the ABC trek and as a breakfast or side dish in the cities.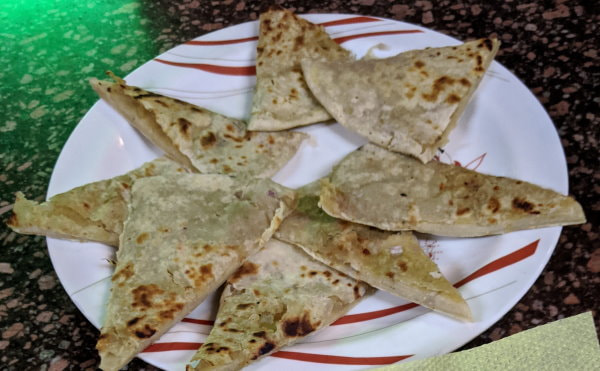 Gurung Bread - This is the bread of the Gurung people (one of the major groups of indigenous people in the Annapurna region) and was very popular on the Annapunra Base Camp Trek. It is a crispy, puffy, lightly sweet fried bread. You could usually get it with butter, jam, honey, or fried eggs on top. The bread had a nice toasty flavor. I got this most days on the trek with a fried egg.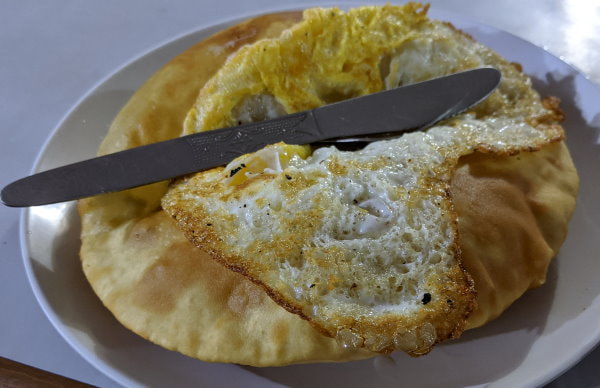 Curd - Lightly sweet with a yogurt like consistency. Nice and creamy. We saw it in the city and large towns in the mountains.

Porridge - Oat porridges are warm and comforting but generally fairly plain. If you are looking for some flavor order it with fruit. You can find this in the city and on the trail.

Muesli - Regular European style muesli was readily available in the city and the mountains and you usually got the option of hot milk or curd. I loved it with curd but never tried the hot milk option.
---
Snacks, Appetizers, & Small Meals
Many of these can be served with any meal or can often be a meal on their own. My personal favorite was Buff Shapaley.
Sel Roti - "Nepali Doughnut" This is a fried ring made with rice flour. It is lightly sweet and has a nice crunchy texture. We had them twice, once in Kathmandu and once in Nayapul (the start of the ABC trek). The one in Nayapul had a bit of a nutty flavor and the one in Kathmandu was more plain. If you like fry cakes you will enjoy these. They are most common in the city.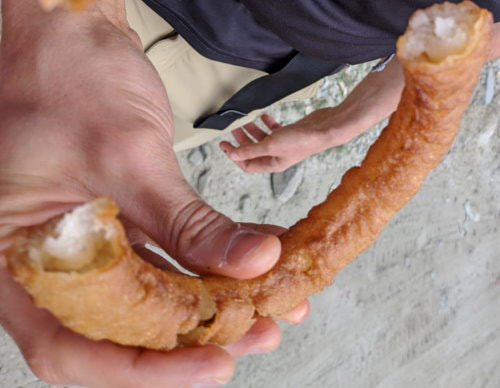 Shapaley (or sha balep) - We had a buff (buffalo) shapaley in Pokhara and it was one of my favorite things we tried. It was like an wheat empanada or Jamaican patty filled with minced buff meat mixed with lots of finely diced onion. The flavors worked very nicely together. All the other buff we had was a bit tough so this was a perfect way to have it.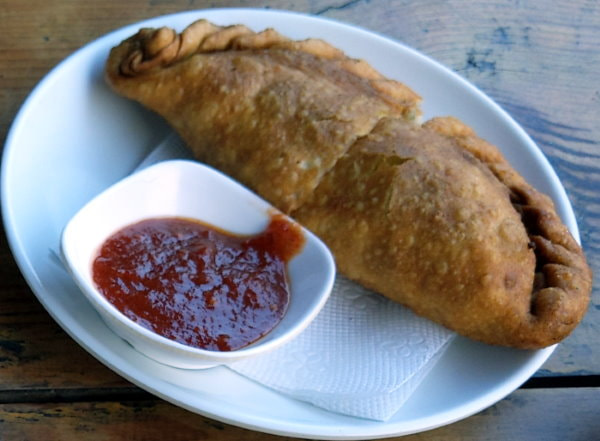 Kati Roll - This is kind of like a wrap or a pita using a thick crepe. The bread we has was moist and chewy with nice charred spots, filled with a spicy chicken and veggie mixture. These can be found in the city.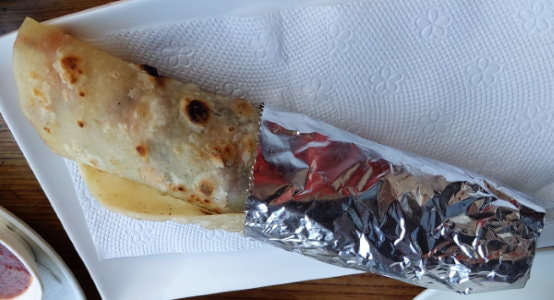 Pakora (or Pakoda) - These are deep fried battered snacks and can be just about anything, but unless it says otherwise they are typically vegetables. They are often served with a dipping sauce. Sometimes they take on a prickly appearance with crispy strands of vegetable sticking out in every direction and sometimes they are nice neat little hockey pucks. The spices in the batter are up to the cook so you never know what you are going to get, but they tend to be mild, occasionally with just a little kick. These are readily available and are fun to sample.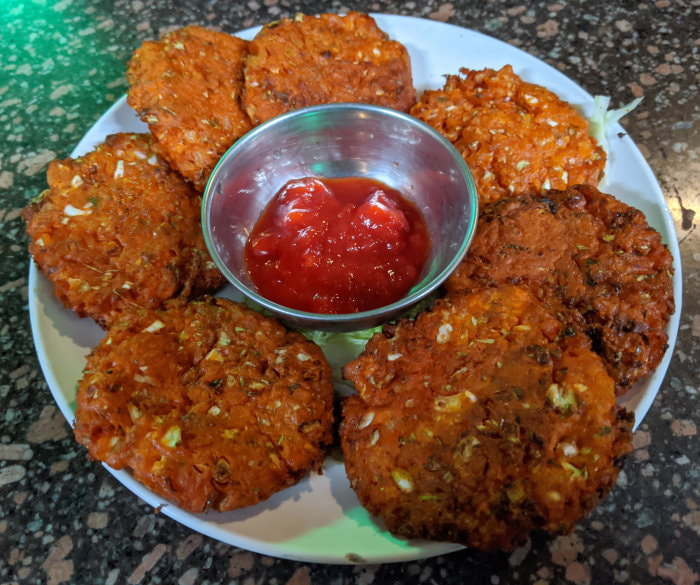 Somosa - Samosa are a personal favorite of mine because of the combination of textures. There are several variations, but the most common is a crispy fried pyramid of thin pastry with a creamy spiced potato and pea filling. You can eat them on their own, dip them in a chutney, or break them up into a curry. These were most common in the city.

Momo - Momos are one of Nepal's signature foods and can be found just about everywhere. They are dumplings with a pasta-like wheat wrapper that can be steamed of pan fried. Traditionally the filling would be vegetables or meat, but today you can find just about anything including dessert momos. Usually you would eat them with a dipping sauce but sometimes you can get them in a curry or soup. I'm probably a bit spoiled from all the dumplings I've had traveling around Asia, but I didn't think they were anything special.
Fruit - The most common fruits we saw were oranges, bananas, apples, and pomegranates. You can find all of these and more in the cities. In the mountains we saw all of them at some point. In lower elevations people were selling oranges along the trail and in higher elevations apples were the most common and were often an option in porridge. The apples were pale red and green with a texture and flavor similar to a red delicious.

Pani Puri - These are a street food that we never got a chance to try. They are bite size hollow puri puffs that have a hole poked in the top and are filled with sauces. These were very common along the lakefront in Pokhara.

Pop Corn - This was a common snack on the menu at tea houses. It usually cost Rs.200-400, which seemed a bit steep.

Corn on the Cob - We saw this being roasted over open flames on street corners all over Kathmandu.

Aloo Paratha (or Alu Paratha) - See the breakfast section for the description and photo.
---
Meals
Nepali food is heavy on starches and it is not uncommon to have bread, rice, and potatoes in the same meal. Vegetarian food is plentiful and tasty, but if you are trying to eat low carb you are out of luck.
Dal Bhat - This is the national dish and you can find it just about everywhere. Many people eat it multiple times per day. The most basic form will have the dal (lentil soup), a potato/veggie curry, and rice (bhat). Crispy flatbread, greens, spicy sauce, pickle, and/or fresh veggies often accompany it. Generally you are offered unlimited refills of the dal, rice, and curry.

The dal is a soup typically made with lentils, but can be a mix of beans, and varies between a thin broth and a gravy. It was usually a bit salty which was perfect to season the rice. The flavor reminded me a bit of chicken stock. The vegetable curry was different everywhere we went. It usually had a mild kick and at least some potato. One place even added large beans to the mix. The greens often added a bitter component.

The "proper" way to eat this dish is to mix everything together and eat it with your right hand but using a spoon is also acceptable. Taste each component first so you can mix it to your taste, as some of the spicy sauces or pickled sides can be very strong.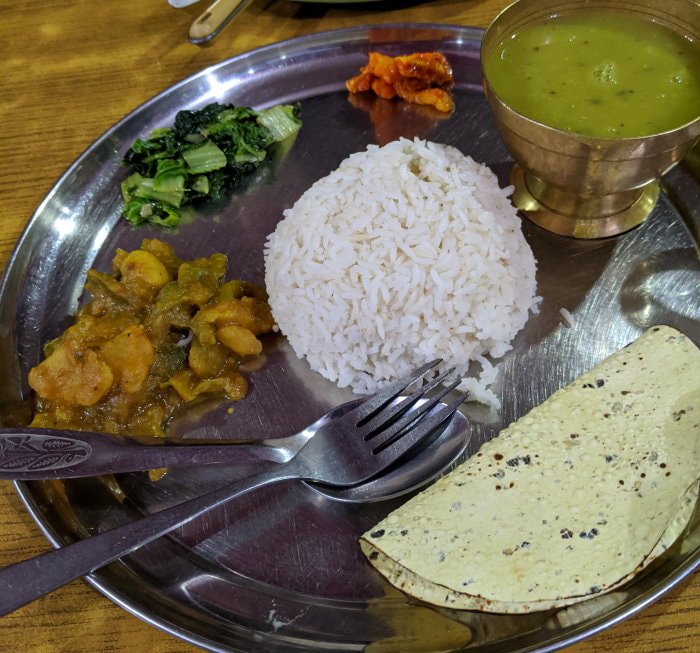 Thali - Thali means plate and can be served with everything on a large platter or in several small dishes. The idea is to compose a meal of a variety of flavors and textures that create balance. There is always rice and at least one curry, and often a bitter green, a creamy component, a fresh veggie component, and a spicy component. The set below had a chicken curry, dal, bitter greens, a spicy chutney, creamy lightly sweet curd, crispy flatbread, fresh veggies, and rice. It cost about 5 USD at a hotel restaurant in Thamel. I have no idea how one person is expected to ever finish one of these meals, but good luck. We ordered this with an appetizer and shared, but it was still too much.

The other two thali sets we had on the trip were smaller, but still a lot of food. One of them had a pork curry (probably pork belly) that just melted. Be careful when eating meat curries because they often have bone fragments.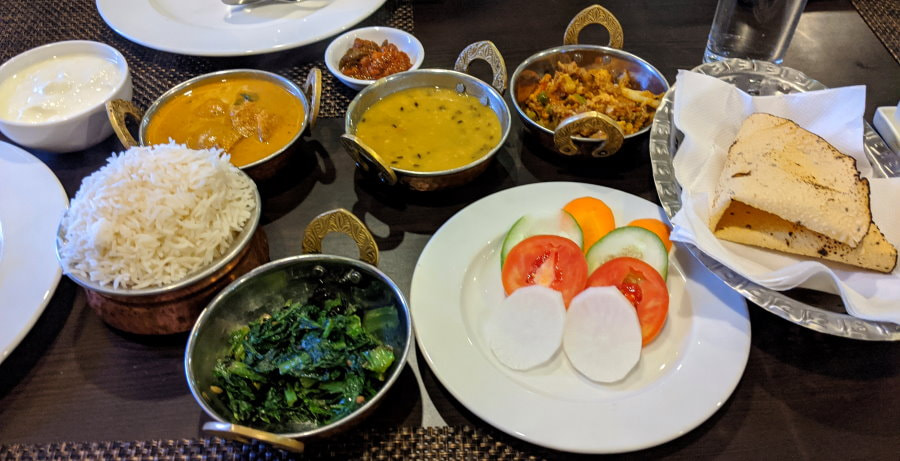 Newari Thali - This was a really fun dish to try. They offered vegetarian or non-vegetarian and we went with the more adventurous meat option. Starting at 9 o'clock and going clockwise, we had some cooked beans, charred buffalo meat, dry flattened rice (baji), spiced raw buffalo meat, a spicy bean and veggie curry, a potato curry, and crunchy roasted soy beans. The dish had a great mixture of flavors and textures. The flattened (or beaten) rice reminded me of the grains in muesli. The cooked buffalo had a nice smokey flavor but was a bit hard and chewy; however, the raw preparation had a nice smooth texture and lovely flavor. Honestly I think the raw meat was my favorite thing on this dish.

Newari is a group of people who live in the Kathmandu valley. They are known for their craftsmanship (particularly wood carving) and do not have any inhibitions about eating meat. In addition to the thali we had buff chili, bean soup, and egg curry which were all delicious. You will find their cuisine in Kathmandu adn can read more about our Newari dinning experience in my Kathmandu Article.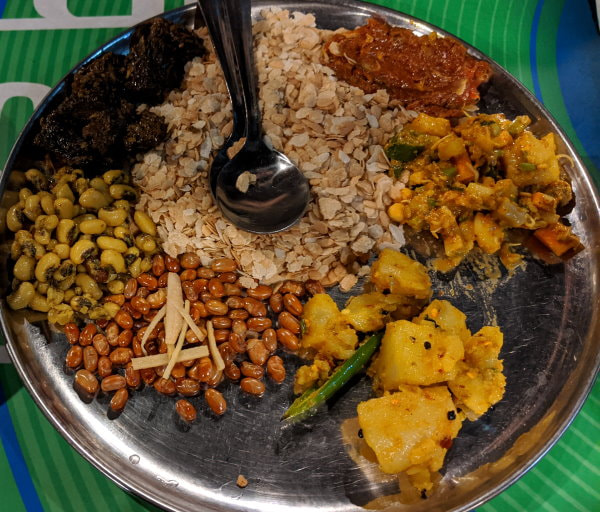 Egg Curry - Egg curries were a great source of protein in the mountains and could also be found in the city. The best one we had was at a Newari restaurant and had a rich silky creamy sauce. The flavor reminded me of butter chicken. Most of the ones we had came with rice and were a bit thinner, but still nice.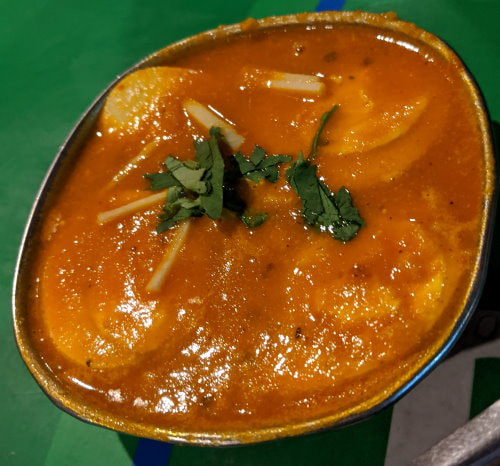 Buff - Since cows are considered sacred, water buffalo is the common red meat in Nepal and you can find it in many different preparations. We had it in a chili at a Newari restaurant and in a curry at a different place. Both had so many other flavors going on that it was hard to taste the meat, but both were rather tough and gristly. The flavor of both dishes was great, but I would lean towards ground buff. You can find buff meat in the cities.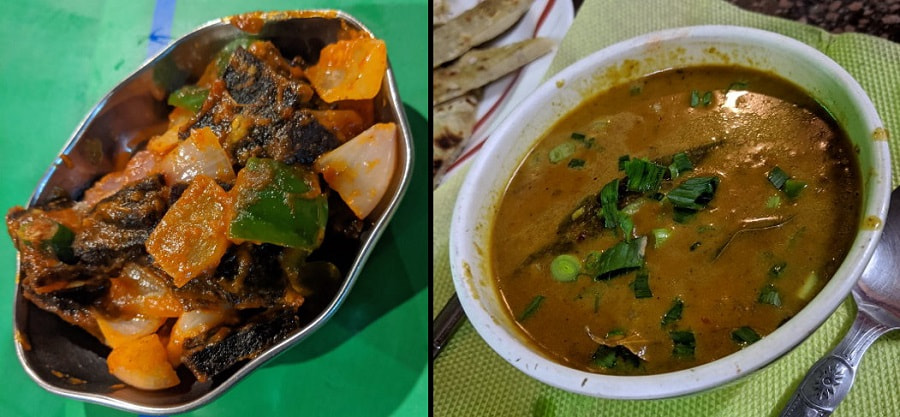 Potato Rosti - This dish is originally from Sweden, but it is available at most tea houses on the ABC trek and was one of our favorites. In Nepal they put their own twist on it by adding things like garlic, shredded cabbage, etc. Just like most of the other dishes, we never had two that were the same. They are made of a mixture of shredded potato and veggies that are pan fried until crisp. They are often available topped with cheese or a fried egg for a little protein. It is kind of like a gourmet hash brown, usually with a lot more flavor.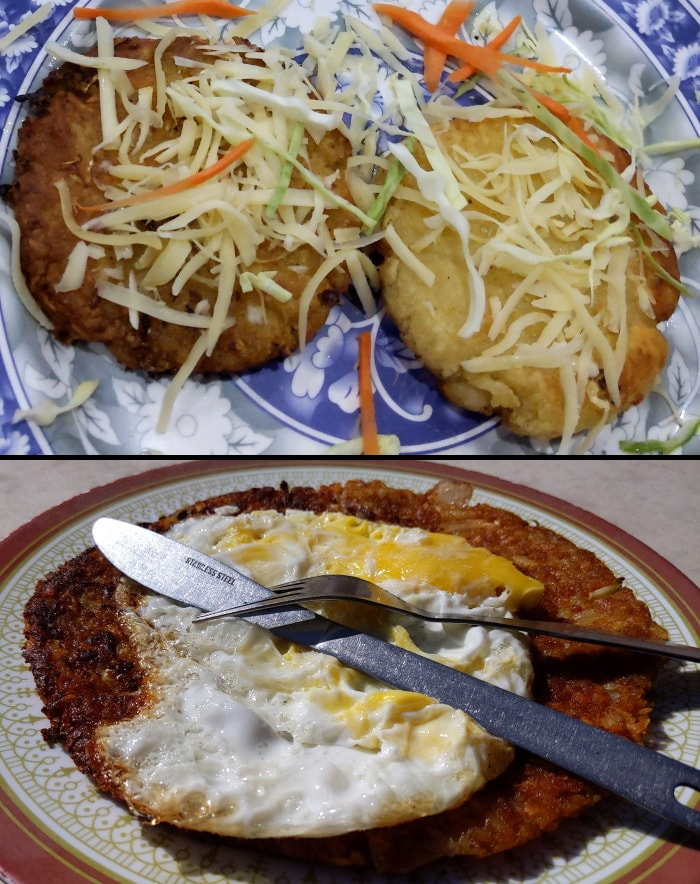 ---
Beverages
Tea would br the national drink of Nepal and they do a great job so I encourage you to indulge. As for other beverages, they seem to like their drinks warm and that often includes things like water and beer, so don't be surprised.
Tea - Tea is a staple in Nepal and part of the culture. It is usually offered at every meal and served when doing business, including meeting trekking guides. Tea is often sweetened and available in many varieties. Milk tea is a lightly sweet tea with milk and a great breakfast tea. Ginger Lemon (honey optional) was my personal favorite, a zingy soothing blend and is great any time of day. The fresh ginger is great but can be a bit unpleasant if you don't like pulpy tea. Masala tea is another sweetened tea with a warm blend of spices. It is delicious and complex but some people find the cardamom too strong.

Rice Wine (Raksi) - This is more of a liquor than a wine. It is clear and quite strong but complex. It is often served in small ceramic dishes that look like tea light holders. At fancy places they will pour it from an ornate silver pitcher held high above the cup. It is often fermented at home and can vary widely in flavor and potency.

Fruit Juices - The fruit juices were usually very sweet and I didn't care for most of them.

Coffee - Coffee is not a typical Nepali drink but is often served for tourists.
---
Desserts & Sweets
Desserts didn't seem to be a big thing in Nepal and most that we saw seemed to be expensive (4 USD for a brownie or cake slice) aimed towards tourists. We saw some dessert takes on regular foods like momos and snickers filled shapaley.
Fruit - Fruit is often served as a dessert. Our trek included dessert, which was usually apple slices and pomegranate seeds, sometimes with a snickers bar.

Lassi - This is a yogurt and fruit drink that can have other spices added. We tried a banana one and it just tasted like an overly sweet smoothie.

Sweets - Most sweet shops had pastries that looked like fry cakes and breads, but we saw a couple with an interesting array of sweets. We picked up these for Rs.100 in a dimly lit little shop. The top right one (probably soan papdi) was the most interesting and had a delicate flakey texture. Next to it was a sweet gooey nutty pastry. We think the middle one was a milk candy and was very sweet and sticky. The bottom one is kaju katli, a cashew paste sweet that has a texture somewhere between fudge and wax. All of these were a bit overly sweet and not our favorites.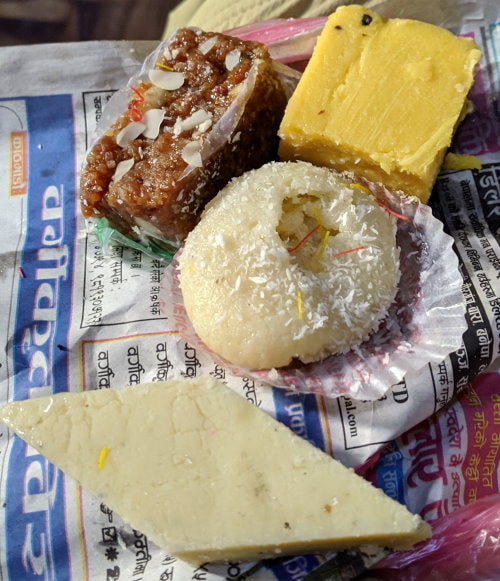 ---
If you are considering trekking and are looking for some pre-trip reading, Gordon Alexander's The Nepali Flat is an entertaining book about his experience in Nepal, doing a month long trek in the Everest Region. On his journey he sees all kinds of mountain food, from very good to very bad. He spares no details, including his bowel movements, giving a practial and realistic look at trekking in Nepal.
---
What is your favorite Nepali food?
Share it in the comments below.
---
Product Links: I am not sponsored by any of the products I link to. If you choose to make a purchase from one of the links of a product I listed or any other item a small percentage will go back to me to fund this website, at no additional cost to you. The products I link to are either ones I have used or similar if those are not available. Thank you for your support.
---
More?
Read about the delicious Food of Malaysia,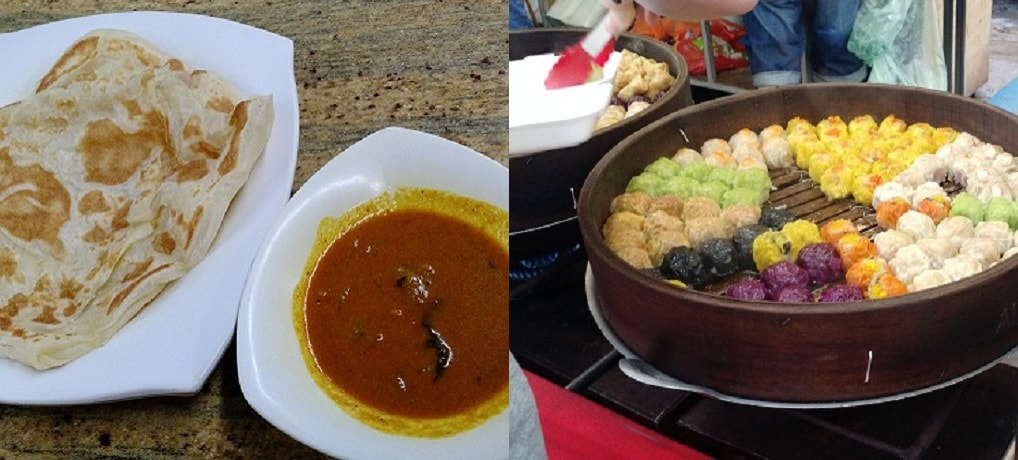 Or the amazing Peruvian Food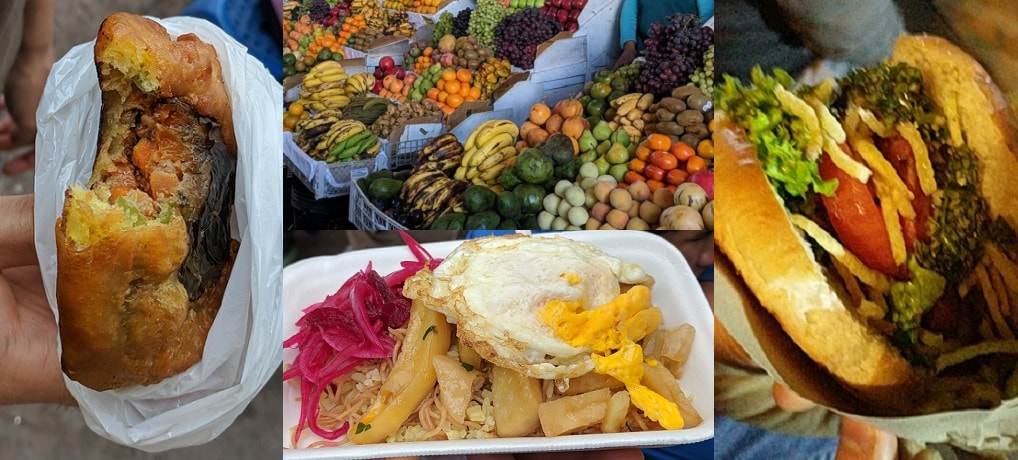 And the melting pot of Hong Kong Food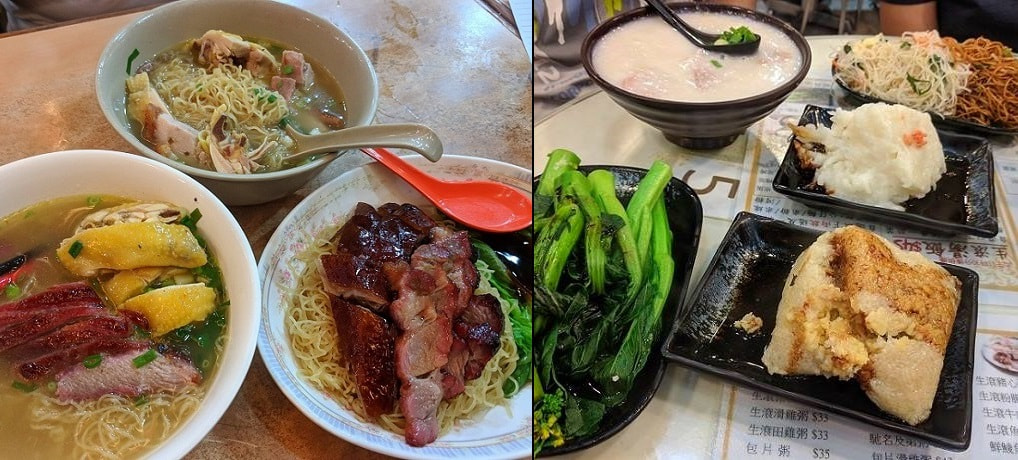 Check out our full Vietnam Trip Itinerary.