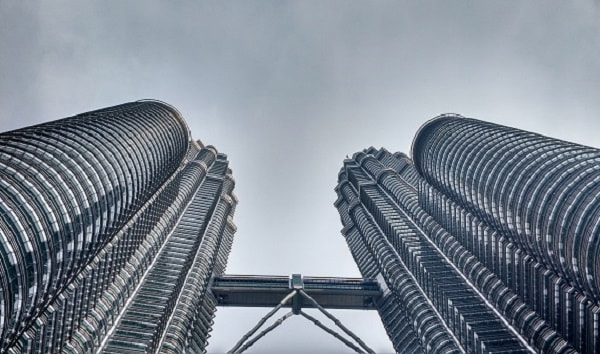 Kuala Lumpur had great food, and felt very safe, but more like a big city than Singapore and not quite as friendly. Getting around by foot was a nightmare and taxis were not guaranteed to be much better. Our Uber taxi from the airport took nearly 1.5 hours to get to our hotel (but cost less than $20). We took the express high-speed train back for about $25 for two and a 30 minute ride.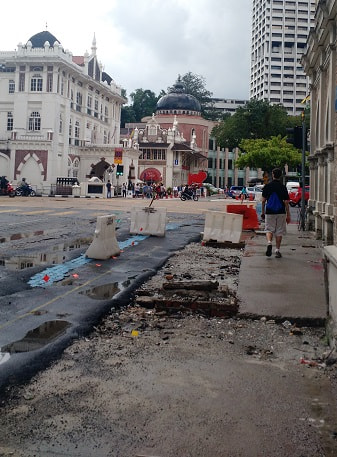 Many of the sidewalks were under construction or would just randomly end and traffic signals were just suggestions to many drivers, especially the scooters. Crossing the road was a perilous game of Frogger. There are some very nice elevated pedestrian walkways on some of the main streets, but you have to get to the. The LRT Train system is efficient, clean, and fairly inexpensive. You purchase tokens from digital kiosks and it is pretty straight forward; however, all tokens reset at midnight. The monorail uses the same system as the trains and looks fun, but it is not air conditioned. When we took it the heat was stifling inside and we couldn't wait to get off for some fresh cooler air.
Law in Malaysia is a bit complicated but very interesting. It is a majority Muslim country with three courts. They have a Civil Court for civil cases between non-Muslim or cases involving people of multiple religions, a Sharia Court for civil cases between Muslims, and a Penal Court for criminal cases. Women are not forced to cover their hair but most Muslim women do and it is culturally expected; however, they also wear makeup and we saw limitless hair covering style options and adornments. We only saw one woman on the whole trip with the full face covering with just an eye slit. Most of the women we saw were covered but dressed in cute styles, were riding motorbikes, wearing dress suits, and seemed to have very normal lives by western standards.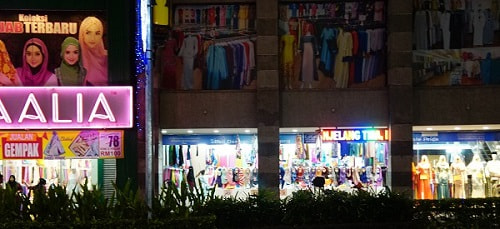 This country has been making it their mission to become a first world country and a center of excellence for manufacturing by 2020. Their economy has been growing rapidly and the government has been pouring money into education, rail, ports and infrastructure. The two official languages are Malay (which in easier than many asian languages because the pronunciation is mostly phonetic and uses the standard 26 letter latin alphabet) and English. The government is making an effort to make English education universal in schools, including bringing native speakers to teach in places like rural mountain villages on the isle of Borneo. The air quality was fine when we were there, but they are dealing with issues that many developing nations have. In this case the large farms around the city burn off their fields periodically and when they do the smoke chokes the city for a couple weeks of the year. The big questions with all this development is whether Malaysia will be another China, where the rural area are left in poverty, or whether they will benefit as well.
---
Attractions
Batu Caves - A place you must see if you are in the city for more than a day. Check out my post.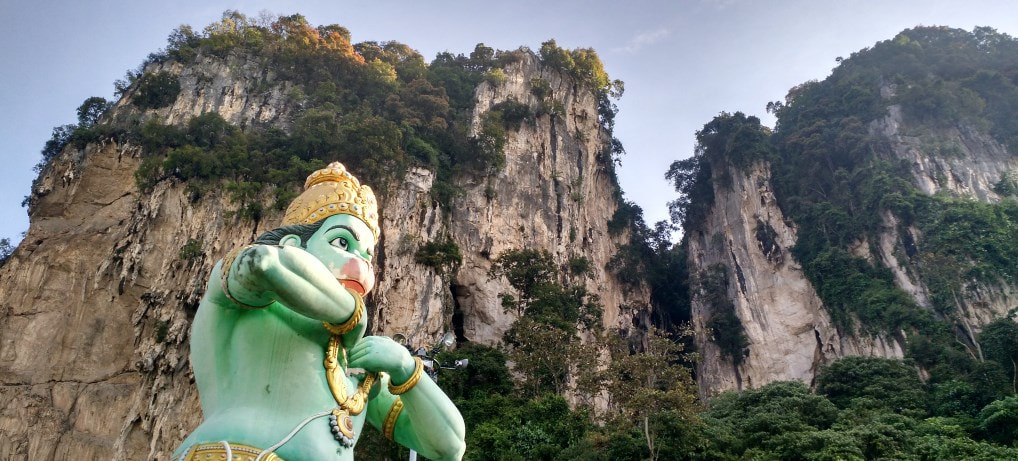 Petronas Twin Towers & Fountains - For free you can take pictures with the iconic towers (even better, with less people in the way from the median or across the street), watch the fountains, walk the beautiful park, or walk through the air conditioned shops at the base of the towers. Every night there is a water and light show at the fountains. The bridge between the buildings actually flexes to allow both buildings to sway in the wind. You can purchase tickets to go up the towers but as of 2017 this meant getting there early and standing in line.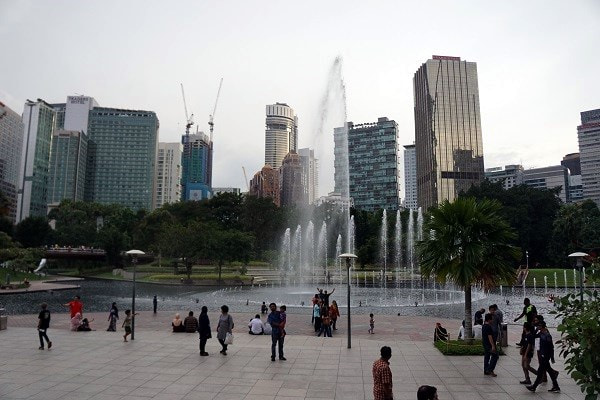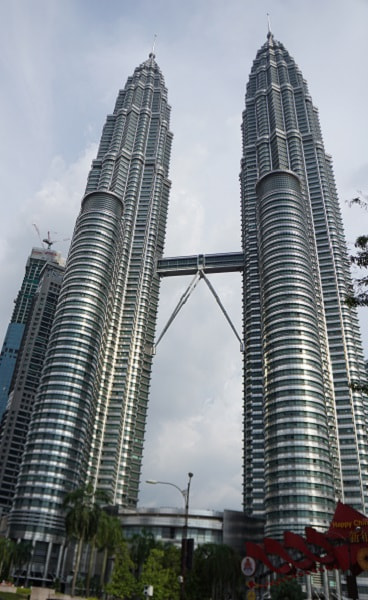 View of the city - You have a few options but all come at a price so pick the price range and experience you want.
Hemisphere Restaurant has a free view with the purchase of a meal. It has a great view of the whole city but just ok food. Check out more at the bottom of my Malaysia Food post.

Menara Tower - Great for thrill seekers. Tickets can be purchased ahead. You can purchase tickets to either look out through the glass or get harnessed up and go right out to the edge.

Heli Lounge Bar - Free view of Kuala Lumpur for the price of and expensive drink in a very hip setting.

Petronas Tower - See above
Gardens - Kuala Lumpur has many gardens and parks and most are free.
Shows - You can check out a broadway style production for a fraction of the price.
Food markets - There seem to be markets around every corner and exploring them was one of or favorite parts of this city. Most of these streets are pedestrian only and each has it's own theme and smells. Check out my food post for more on the cuisine. These are a few that we visited:
The Central Market is one of the most popular and we stayed right across the street. There is an air conditioned indoor and an outdoor section that is mostly covered by a roof. I recommend the outdoor food. The indoor section includes a few restaurants and a food court and the food is reasonable, but just mediocre. If you need some air conditioning time I would spend it walking around the shops selling trinkets and handcrafts and checking out the fish foot massage.

Jalan Petaling is one street east of the Central Market and is a bustling Chinese market. This market is also mostly protected from the frequent rains. They have lots of food and cheep trinkets.

Jalan Alor is an open air market with lots of outdoor dinning. You will likely smell this market before you see it as they sell durian here. There is lots of dim sum, other street carts, and things to see. Competition is fierce between the outdoor restaurants and they can get a little pushy trying to recruit patrons.
Mosque - The National Mosque is open to the public during non-prayer times but you will need to put on attire that they lend there.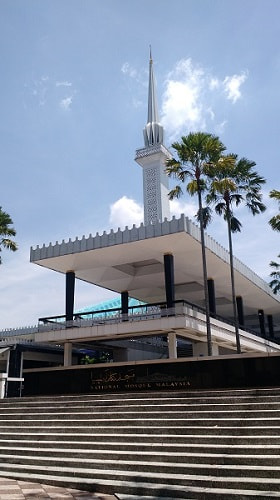 Architecture - The old, new, and the fusion of so many cultures impacts everything in this city and the buildings reflect it. Something a bit different around every corner. This is the old city hall.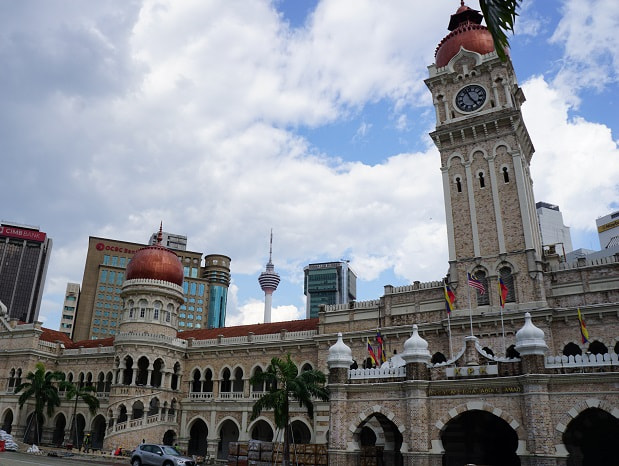 ---
Where did we stay?
We picked the Geo Hotel because it was right across from the Central Market and near one of the main train stations, as well as around the corner for the tour company we used to visit Taman Negara. We splurged on this one and go the nicest room they had. For about $50 per night we got a jacuzzi suite that was the size of an apartment and had a great view. If you stay here don't get the breakfast, it was terrible. The market across the street has much better to options.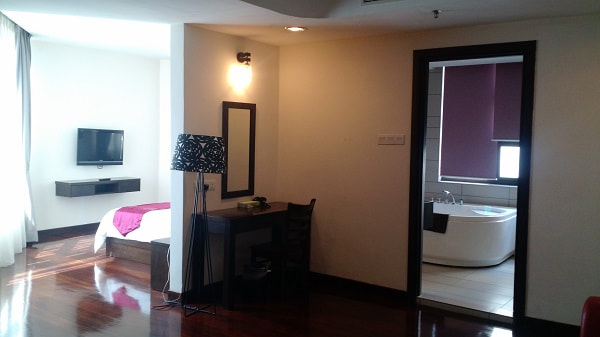 ---
More?
Check out our full South East Asia Trip Itinerary.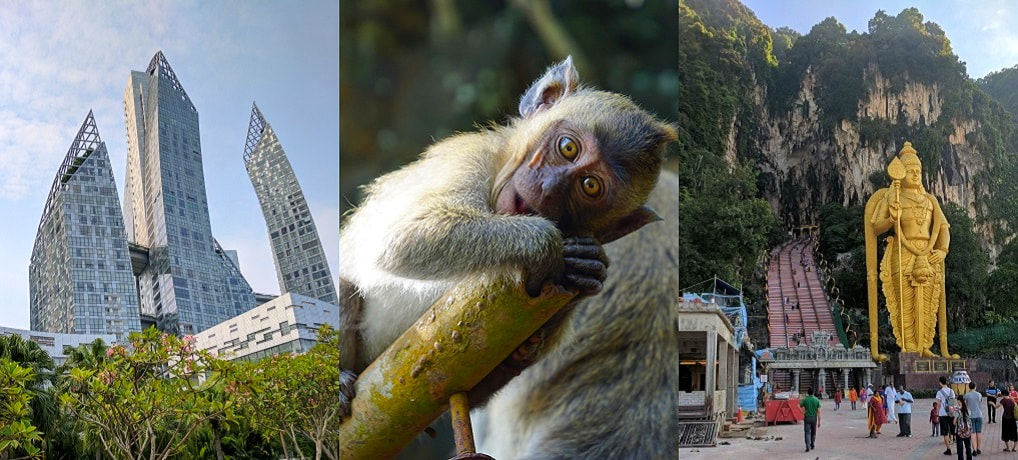 Or our full Hong Kong & Vietnam Trip Itinerary.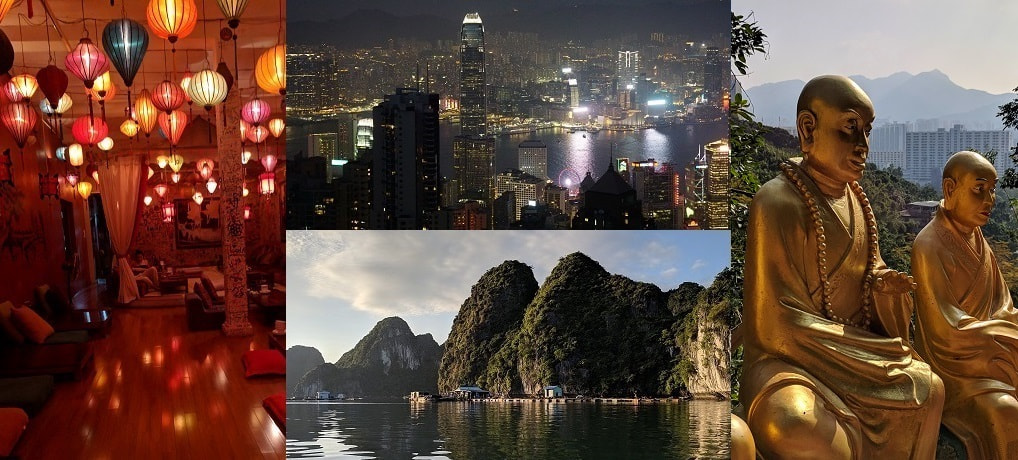 Read about the delicious Food of Malaysia,