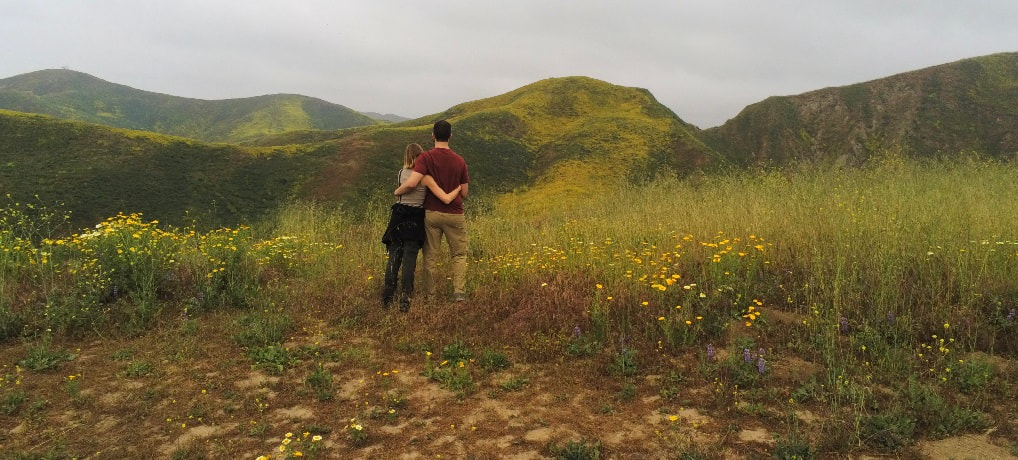 A little over a year ago much of this area was ravaged by fire, but now the rains have come and life has returned full force in a dramatic way. While these areas are often baked brown, we had the privilege to witness the hills in green and golden splendor. Walking through the hills surrounded by wildflowers that were often taller than us and watching butterflies flit about was magical.
The burnt out husks of trees were an interesting contrast, but also a sobering reminder that all this growth could become fuel for the next fire. This is a natural cycle, but it can be a deadly one. Only the Brave is a powerful movie that captures the strength of these fires and tells the story of the people who risk everything to control them.
We visited:
Santa Barbara - Rattlesnake Canyon Wilderness Area for waterfalls, flowers, and mountain views (popular for rock climbing and paragliding)

Ventura - Arroyo Verde Park for wildflowers and rolling hills

Malibu - Santa Monica Mountains National Recreation Area, Solstice Canyon for a more wildflowers, butterflies, reminders of the fire, and the ocean
We had a lot of fun, and finally got try out the new
drone
.
Drone Flying Tip: Fog = Water - The drone was fine but was very wet when it landed and made us pretty nervous.
---
Santa Barbara
Rattlesnake Canyon Wilderness Area
Hike from Skofield Park to Gibraltar Rock (Map)
There are a number of trails in this area of varying lengths and difficulties. We did the Gibraltar Rock Loop which was a moderate hike that is about 5 miles or so round trip and climbs around 1,700 feet. On nice days the area around Gibralter Rock is popular for rock climbing and paragliding. This is a gorgeous hike, but if you just want to check out the view or are into cycling you can also get there by road.
Parking - There is a large rough dirt parking lot just down the road from the trailhead at GPS Coordinates: 34.456590, -119.693234. Be careful if you have a vehicle with low ground clearance.
The Trail - The hike takes your through some wooded canyons, past a stream with a couple waterfalls, and up to the road for some incredible lookouts (on a clear day). We did this hike midday on a Saturday and while the trail wasn't crowded, there were plenty of people around. The trail isn't particularly well marked but there was always someone nearby to ask. One of the locals mentioned that they get ticks in the area, so be sure to check yourself. The park is dog friendly. Including lunch we were here for about 4 hours.
What to Bring - This trail does cross a stream a couple times and while you can balance on the rocks to keep your feet dry you may want to consider waterproof shoes. The trail is a bit steep in some sections so trail runners or hiking shoes would be best. I wore Salomons and my husband had Mizunos. Hiking poles would also be useful here, but aren't strictly necessary. There were not any facilities in the area we were in so make sure to pack food and plenty of water. We didn't see any bugs but I would bring spray just in case and sunscreen as only 50% of the trail is covered.
Our Experience -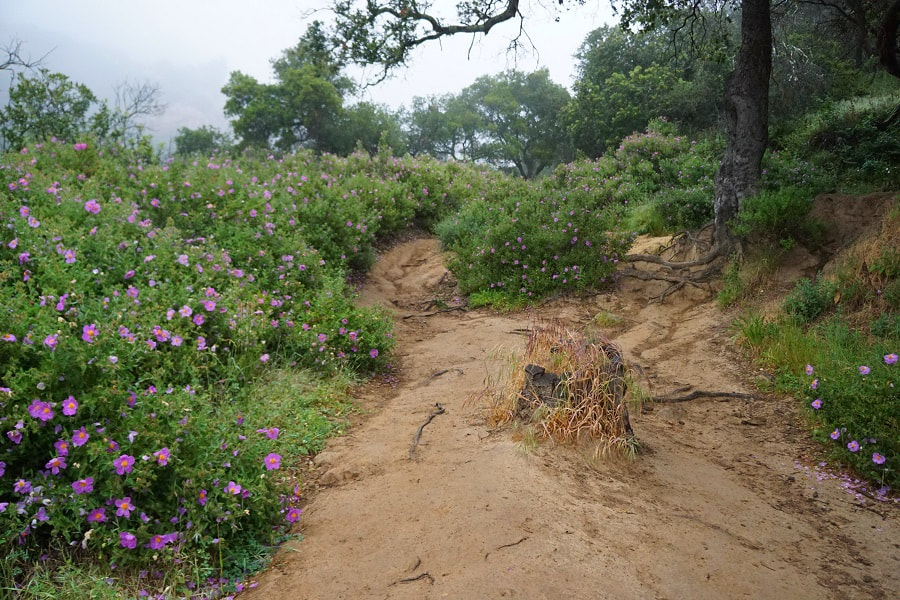 We started on this hike midmorning on a pleasantly cool foggy day. The weather said clear skies and sunny so we figured the fog would add an interesting ambience to the beginning of the hike, keep us cool for a little bit, and then burn off.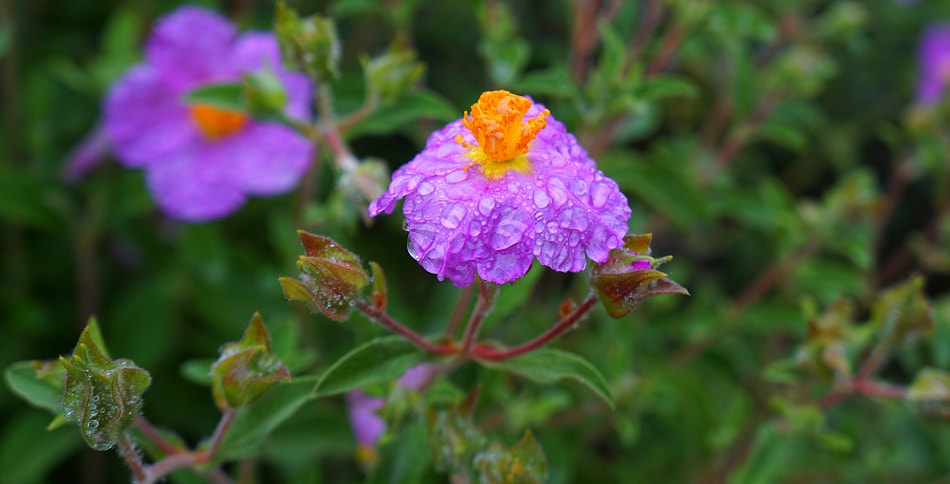 The fog certainly did add to the hike. We started off in a field of flowers, all glittering with water droplets. We chose the right fork of the loop first, which some locals later told us was the harder section that many people skip.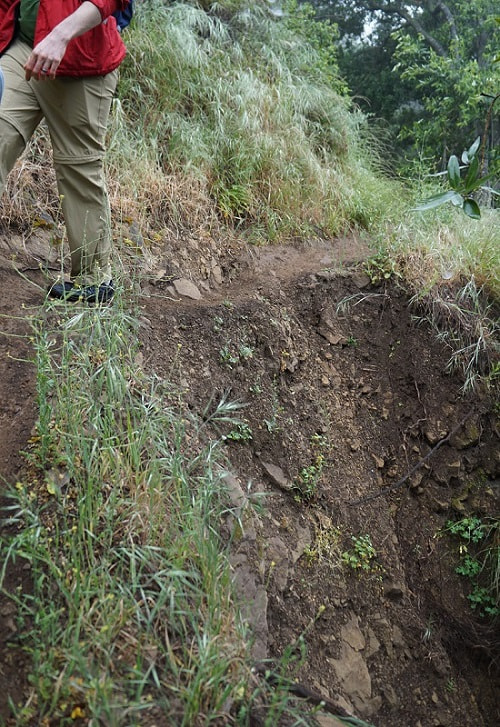 It wasn't particularly hard, but there were a few narrow and steep sections. In a couple spots bits of the trail had partially washed out.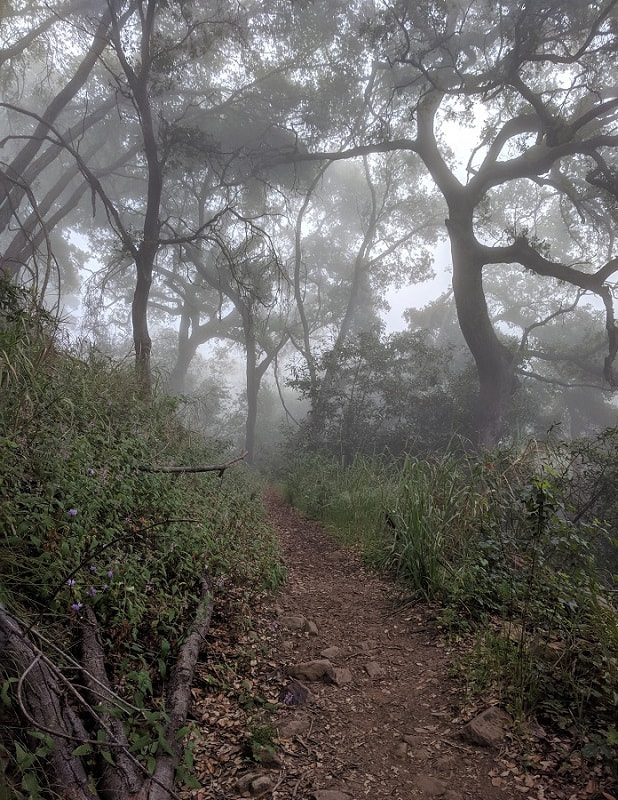 The trail climbed into a wooded area with fog clinging to the branches. We crossed a stream with some cute little waterfalls and continued up across a small meadow (about the 1.75 mile mark). From the meadow we soon climbed up above the foliage and were greeted by more fog. The trail ends abruptly at the road, with lookouts just to the left. We caught a couple fleeting glimpses of the mountain appearing out of the fog and then vanishing in a blink.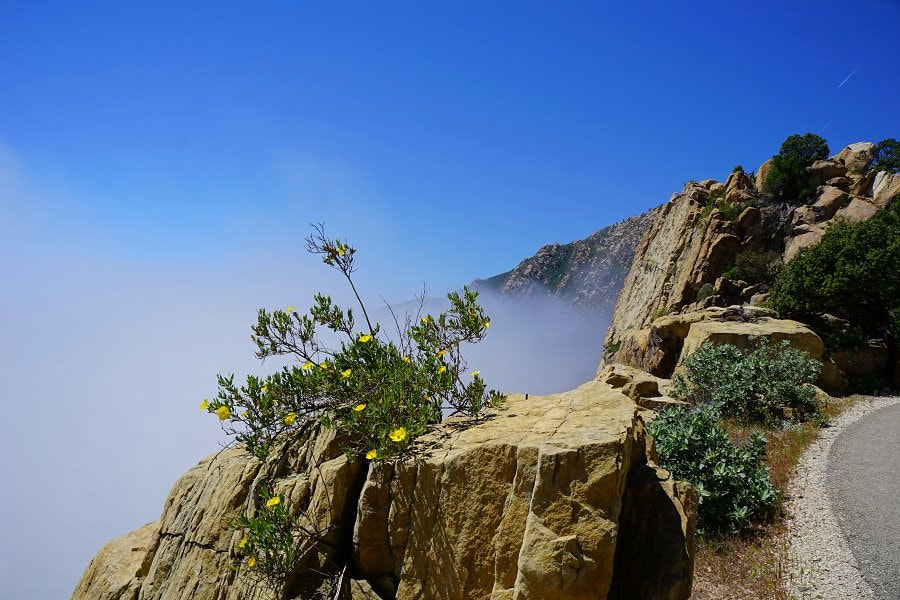 The sun was peeking through the fog so we ate our lunch in a clearing just past Gibraltar Rock, and waited for the fog to clear. While we ate we watched the fog ominously swirling along the road. We were a bit dismayed as it grew thicker while we ate instead of burning off. It was a really cool way to see the mountains that I imagine few other people get to see, but I couldn't help but wish for one clear view. Finally, we decided it wasn't going anywhere and headed back down.
No, we didn't see any rattlesnakes.
---
Ventura
Arroyo Verde Park
A small but surprising park with lots of trails zig zagging across the hilltops. Nothing is really marked, but you can see over the vegetation in most areas and there are plenty of landmarks so getting lost should not be an issue. We were there on a beautiful Sunday and there were plenty of people out taking pictures and walking, but it was far from crowded. The park also has picnic areas, a playground, a couple carved statues that survived the fire, and ball fields.
Parking - Lots of parking. There are a couple big paved lots and other smaller areas along the road. GPS Coordinates: 34.286974, -119.225802 Map
The Trails - Trails go all over the hills. Most of them have at least some fairly steep areas. One of the trails goes through some trees behind the ball fields, but most are completely exposed. The trails are a well used combination of sand, hard dirt, and gravel. Just about any comfortable footwear would work here in dry conditions.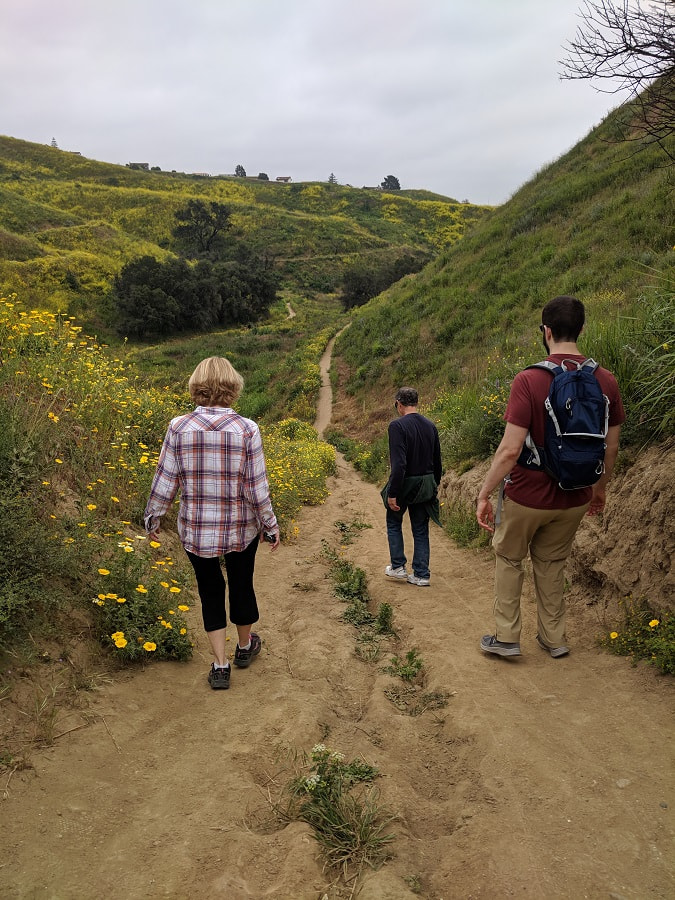 Our Experience - I went to this park just expecting a nice place to walk and was surprised by its beauty. Of the three, I felt that this park had the most impressive wildflowers.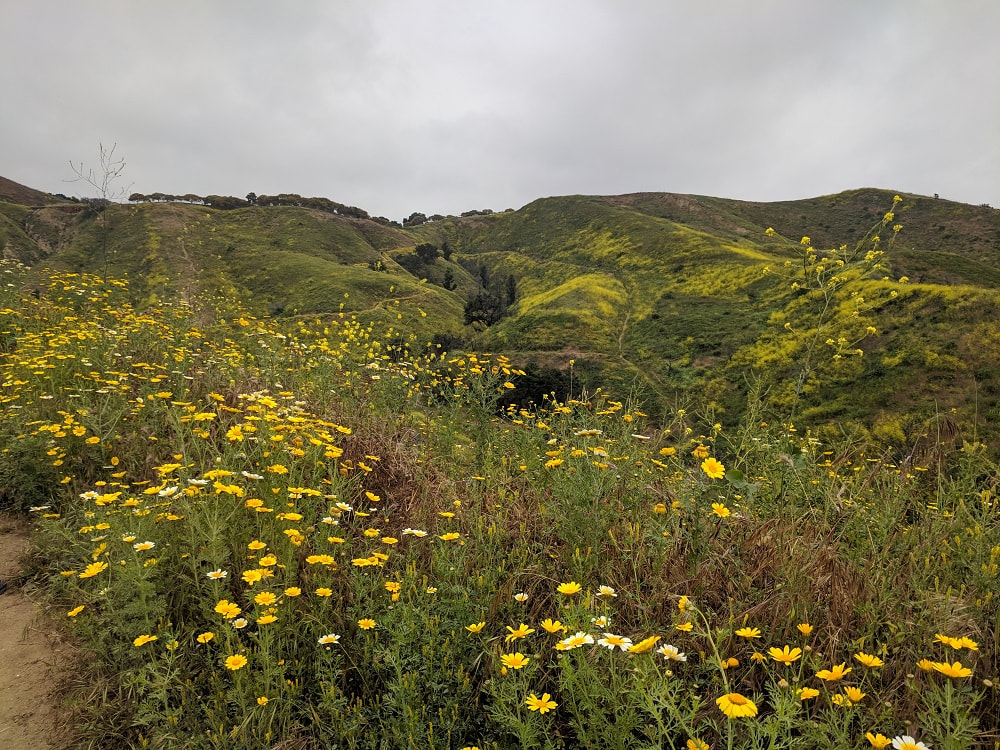 Ventura has had an exceptionally wet spring and the flowers were in full bloom. In many areas the trail was lined with flowers taller than us.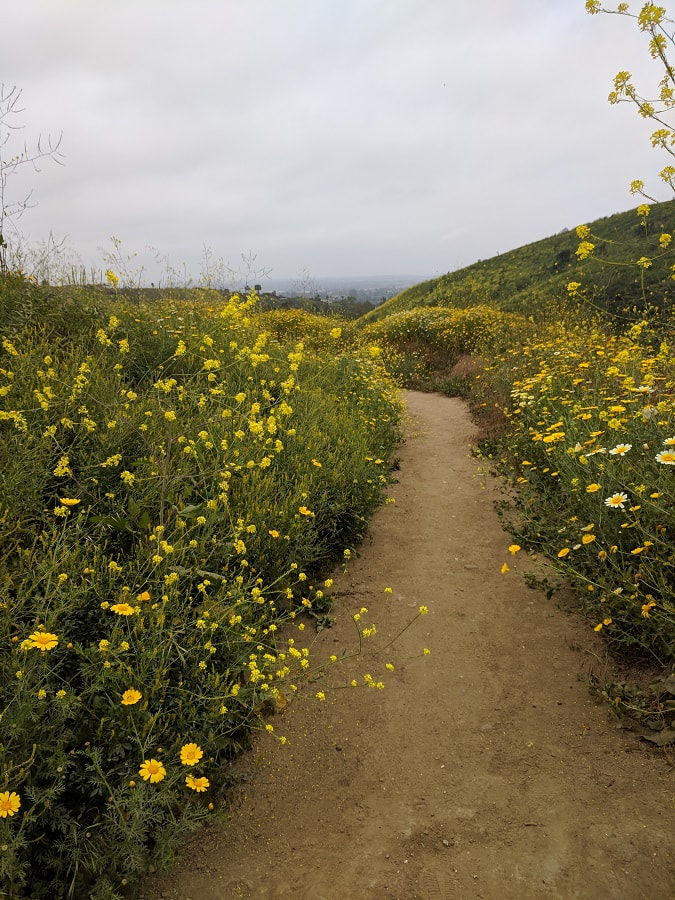 From the top of the hills you get a 360 degree view of the hills painted with wildflowers.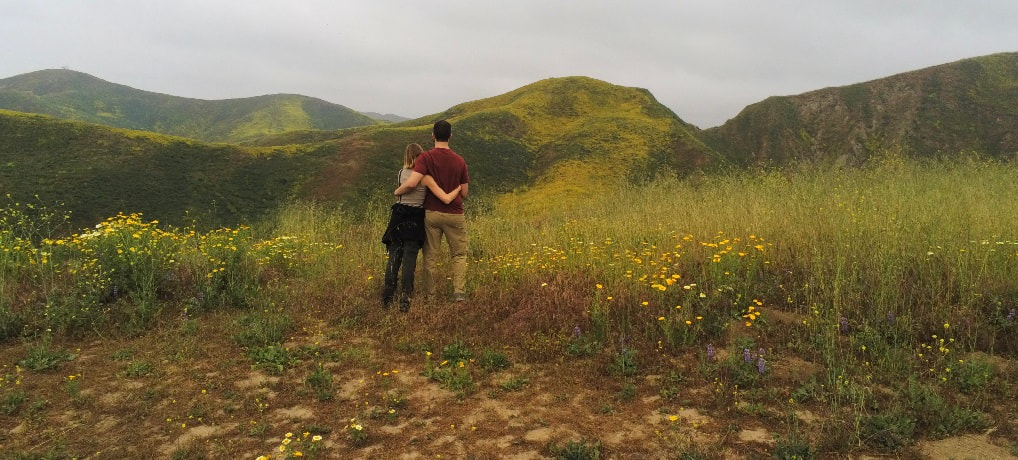 With such vibrancy it is hard to picture this entire hillside in flames just over a year ago. Some of my family was among those evacuated here, and while their house was spared, just blocks away others were not. Many have yet to be rebuilt.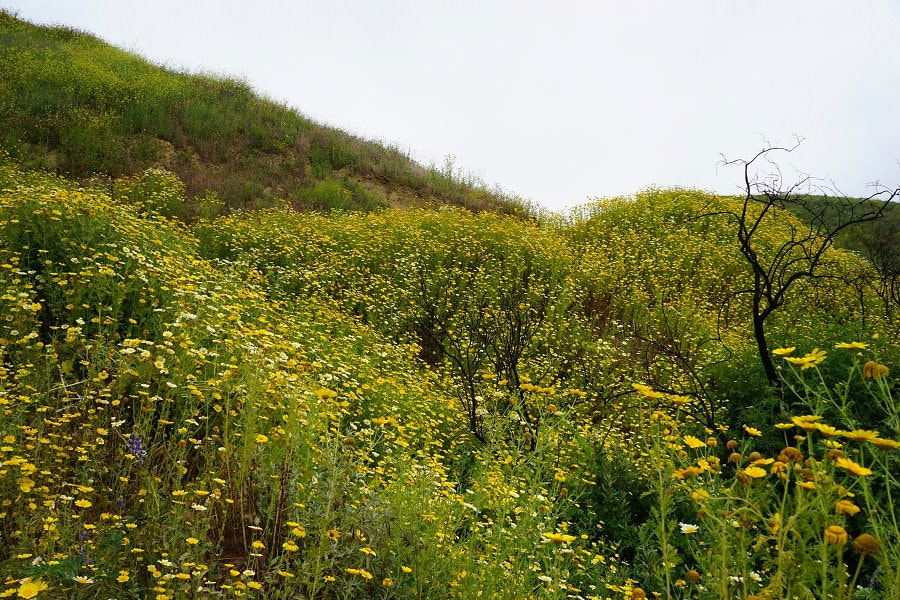 ---
Malibu
Santa Monica Mountains National Recreation Area
Solstice Canyon - Rising Sun Trail to Solstice Canyon Trail Map
National Park Services Official Trail Maps
This is a beautiful park, especially in full bloom, but the butterflies made it magical. The trail ends at the ruins of the Roberts Ranch mansion and you can get there via an easy walk on the Solstice Canyon Trail or a hike on the Rising Sun Trail. We hiked there and walked back to make a loop. The Rising Sun Trail was the highlight for me.
Parking - Small paved parking lot near the trailhead with bathrooms and maps. It often fills up. We were there midmorning on a Friday and the lot was over half full. GPS Coordinates: 34.037858, -118.747240 Map
The Trails - The loop we did was about 3 miles with 350 ft elevation gain. There was some up and down, but nothing was particularly steep. The ground was solid enough that regular sneakers should work fine in dry weather. The trails are well marked but a few of the signs were hiding out behind newly grown plants so keep an eye out for them. It took us about 1.5 hours to hike to the mansion (with lots of picture taking) and less than 1 hour to walk back along the Solstice Canyon Trail. Most of the trail is fully exposed to the sun. There were plenty of people out on the trail, but it was not crowded. We saw the body of a dead rattlesnake on the side of the parking lot, so keep alert.
Our Experience - Of the places we saw, the fire was most evident here. There were many trees where the fire had burnt right through the center and left the outside semi-intact. It was a bizarre sight. You can really feel the power here touching the charred remains and looking up through trees large enough for a person to easily fit inside.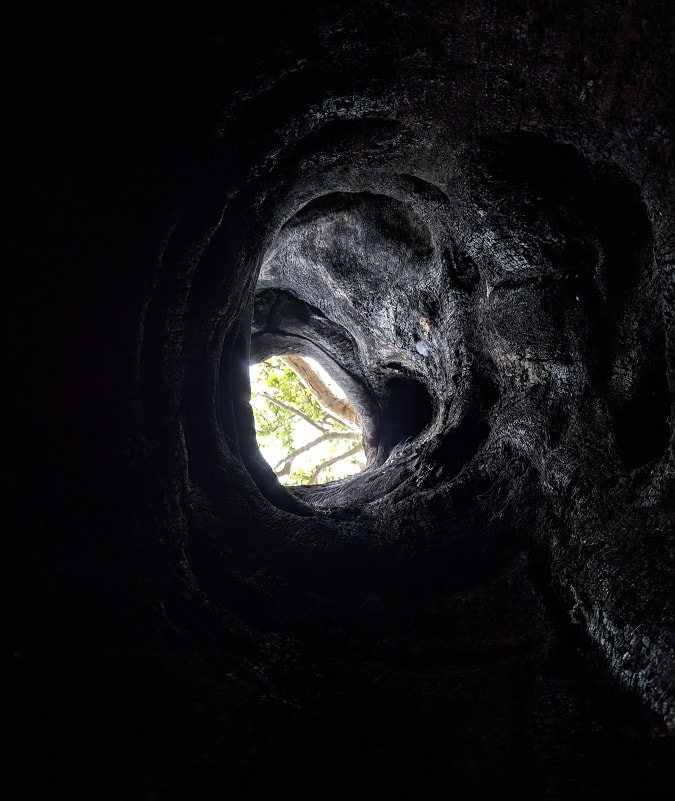 As soon as we started on the trail we were greeted by painted lady butterflies. They migrate through this area most years, but this year they are here in the thousands!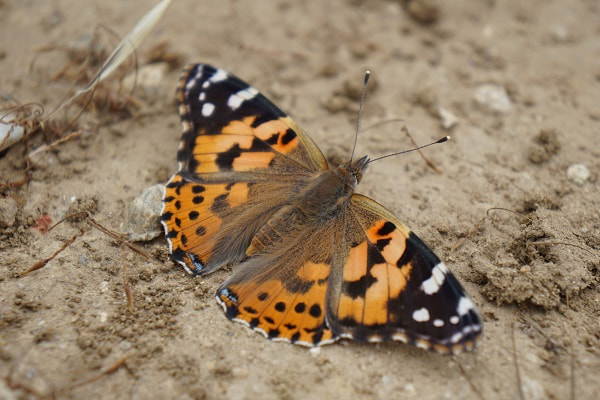 They are very skittish, but there is something dreamy about dozens of butterflies flitting around you even if you can't get very close. The flowers were alive with them and they would take flight in huge waves as we approached. I imagine that even when we were totally hidden in flowers taller than us, you could easily tell where we were by the cloud of butterflies that preceded us.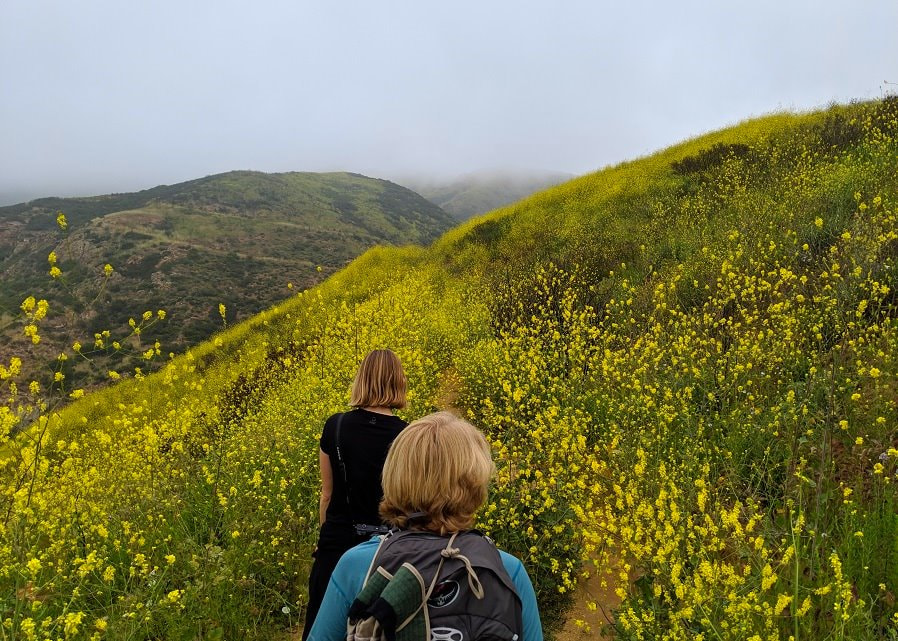 It was a bit foggy, but still stunning. We had the ocean in the distance, some lavish homes perched on the cliffs above, and flower swept mountains stretching into the fog. We passed people every so often, but for the most part we had the trail and the butterflies to ourselves.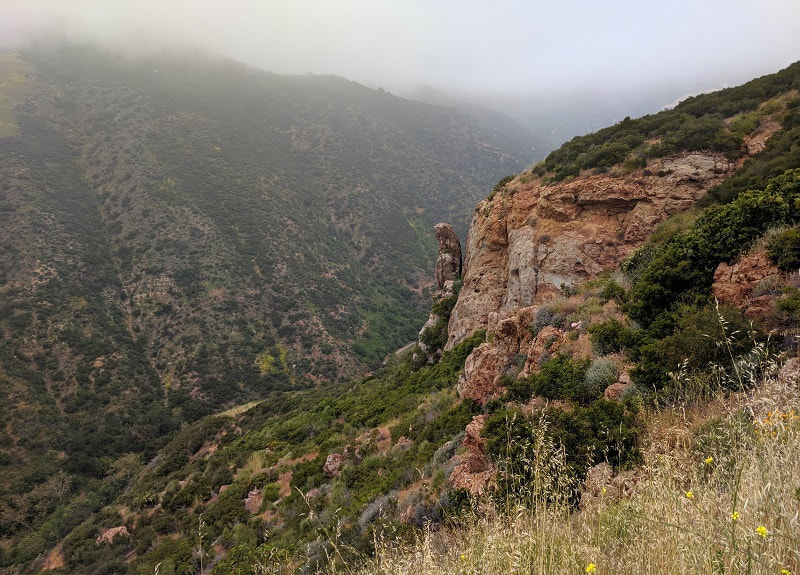 As we finally approached the Roberts Ranch is it obvious why someone would find this area appealing, but at the same time, hard to imagine how they ever found it in the first place. The house has a stream running by it and a rushing waterfall not far away. The family supposedly kept some exotic animals here and had the home surrounded by pools, like a tropical oasis. Some of the pools, a massive palm tree, and several chimneys still remain among the ruins. Paul Revere Williams - American Architect has a little more on the history and images of what it once looked like.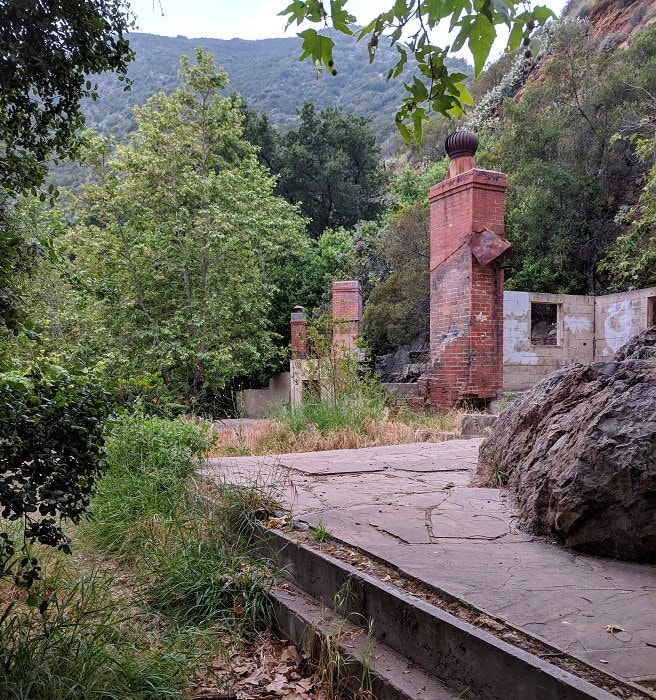 For me, the house was neat, but the Rising Sun Trail was the highlight. We walked back along the Solstice Canyon Trail, which is a flat easy walk along a stream. It is pretty, but lacks the stunning views and has a lot more people. We caught a couple glimpses of green parrots in the trees (not native to this area).
More Malibu - Leo Carrillo State Beach Map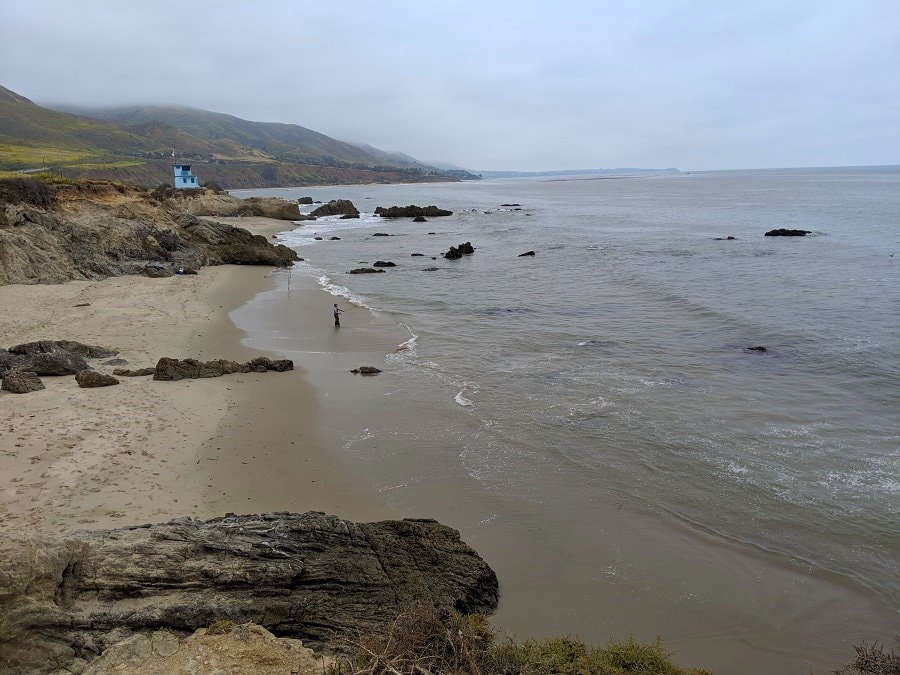 There are countless beaches along the coast, and we only stopped to visit one, but we really enjoyed this craggily bit of rock and sand just down the road from the hike. There were lots of sea birds, an arch, and a nice little trail along the cliff tops. There was some damage to the area including the stairs in a recent storm, but one set was open and mostly intact. The beach road was closed, but we were able to park on the road with dozens of other vehicles.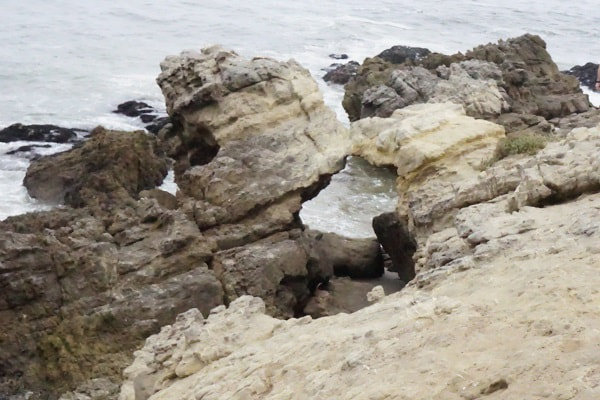 ---
Any favorite spots in this area or bloom stories? Please share in the comments below.
---
More?
See our full Big Bend Trip Itinerary.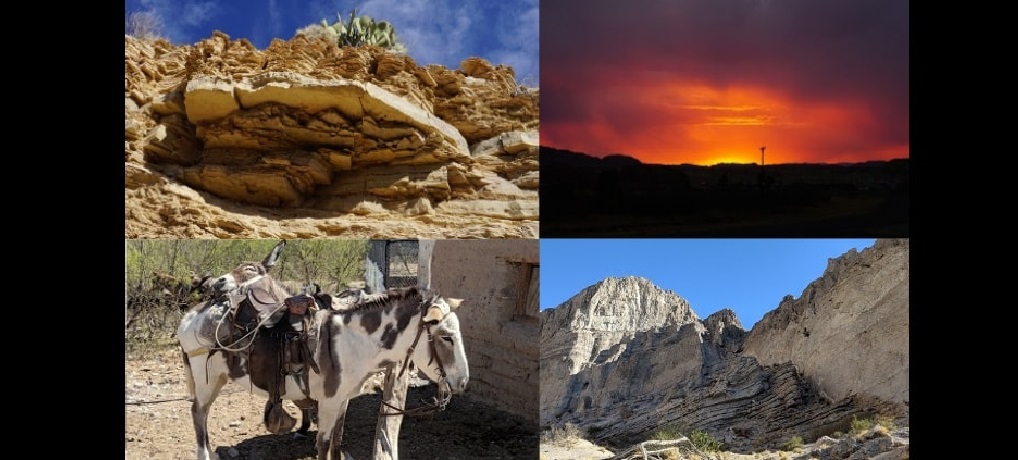 Explore Chisos South Rim & Emory Peak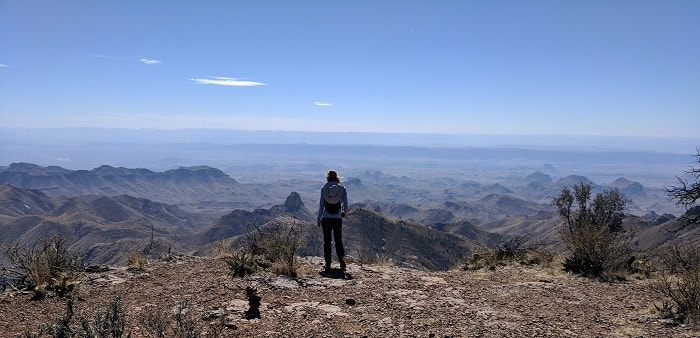 Admire Santa Elena Canyon