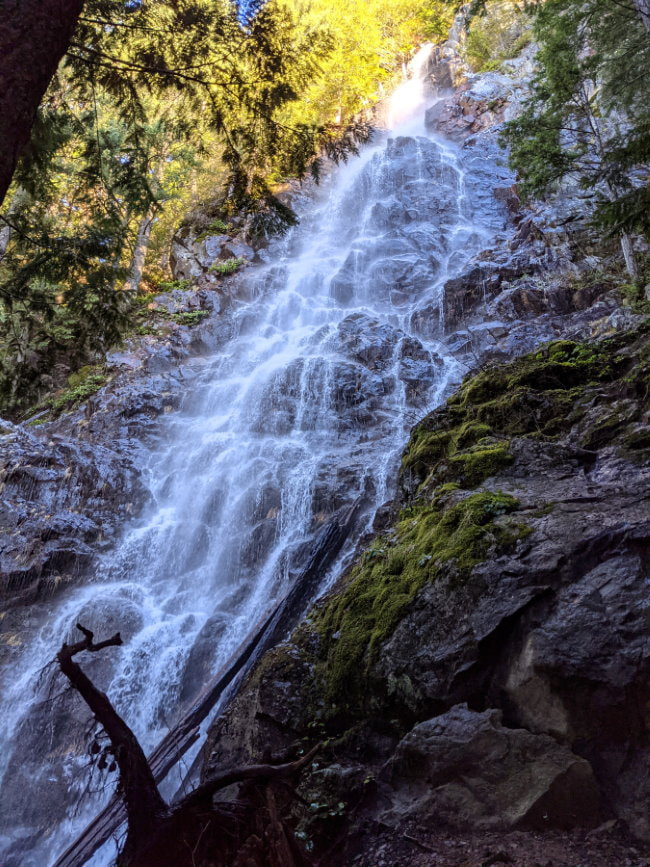 Mount Teneriffe & Teneriffe Falls
This hike is mostly tree covered, with just small glimpses here and there, so when you pop out of the trees at the top it takes your breath away. On a clear day you can see Seattle and all the way to the Olympics. There are several possible routes, with Kamikaze being the more challenging by far and in my opinion the most fun.
Trail Head: Central Cascades - I-90 Snoqualmie Pass
GPS Coordinates: 47.486613, -121.710132 Map
Trail Notes:
Moderate to Hard Trail
Easy Road
11 mile loop (Kamikaze up, Mount Teneriffe down)
4000 ft Elevation Gain
Toilets at trailhead
Dog friendly (but keep ahold of them at the top)
Best time to visit is on a clear day year round, but check snow conditions
Need a Pass - State Park (see Recreation Passes and Permits for options)
Hazards:
Over 1000 ft drop to one side at the peak
Kamikaze trail is steep and not well marked
Some rock scrambling
Road/Parking
Paved parking lot
The Experience:
Mailbox Peak seems to be the gold standard Seattleites talk about and measure each other by. If you haven't heard of it, it is known for the actual mailbox at the top and the hard climb up the old trail to get there. It is nothing compared to summiting Washington's volcanos, but it is a decent challenge close to the city that can easily be done in a day.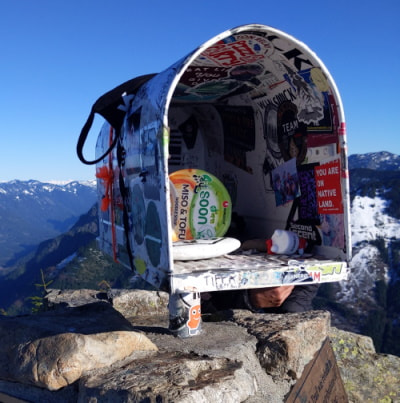 Mount Teneriffe doesn't seem to get the same notoriety and respect, but it should! I'm sure some people will disagree, but I find Teneriffe to be better than Mailbox in every way, just missing the oddity of the mailbox. The Kamikaze Trail is harder (just the name should say a lot), has more elevation gain, generally less windy at the top, has a beautiful waterfall, and is generally less crowded (sorry if writing about it spoils that last part).
Teneriffe has a surprisingly large paved parking area and decent signage; however, you might not find the old trail to the top (aka. Kamikaze) on the signs. Make sure you have your own map from an app like Gaia or AllTrails, or bring a friend who does. After the waterfall the trail can be hard to follow.
The trail up to the waterfall is not too challenging and Teneriffe Falls (aka. Kamikaze Falls) is well worth a visit even if you don't feel like taking on the peak. If you have a good pair of shoes you can climb right down to the foot of the waterfall and even cool off in it on a hot day. On a clear day I find the graceful evergreen boughs that frame it particularly striking with blue sky for a backdrop.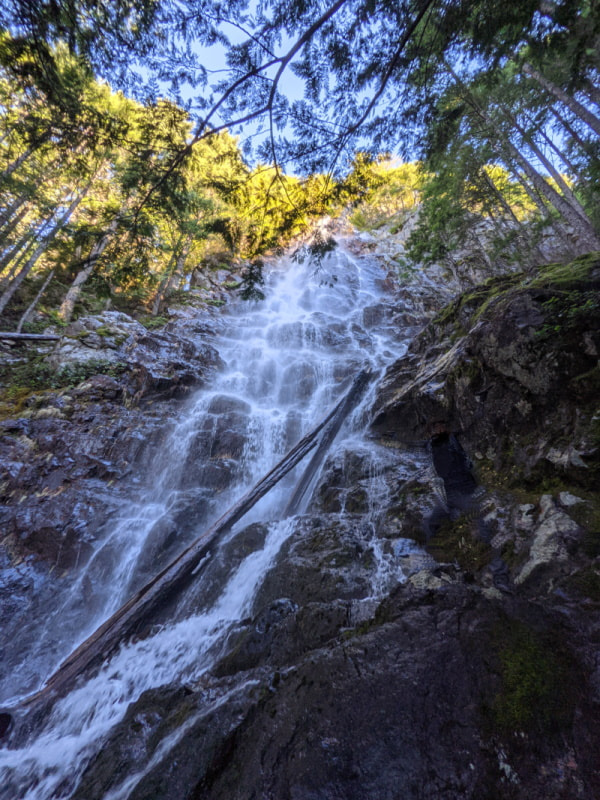 After the waterfall is where the climb really begins. It may have felt easy up to that point, but soon the switchbacks fade into rough unkept trail. The scrambling will take you over rocks, tangles of root, and narrow ridges (not dangerous or exposed). I prefer this kind of hiking to long stretches of switchbacks because each one feels like a challenge and overcoming each one delivers a small hit of dopamine blocking the burn in your legs. The tree cover shields you from the hot sun, harsh wind, and rain, and blocks the views so you can just focus on the task at hand. Most of this trail could be found without any way-finding or apps, but it was nice to have gps tracks to check that you are on course and haven't stumbled off on someone's misguided path or some creature's trail.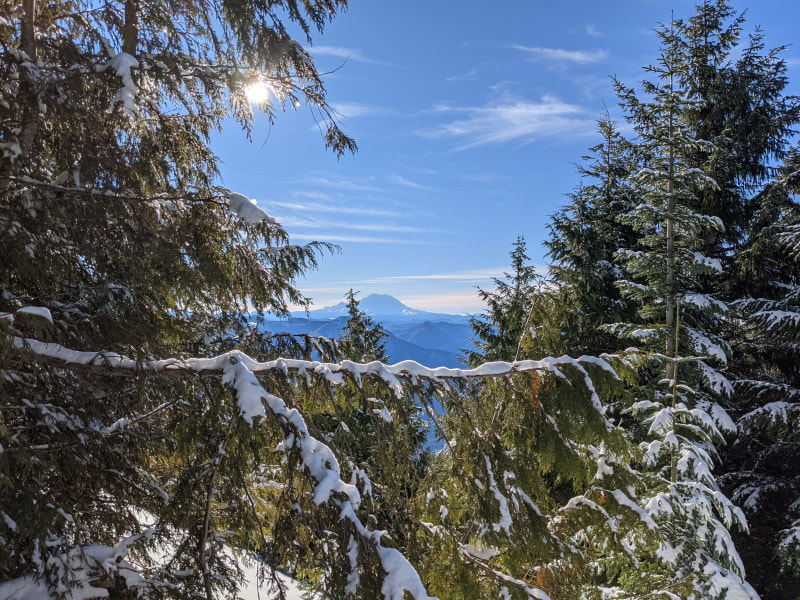 In December we didn't hit snow on the way up until almost the very top. The snow and the first views came at about the same time and made everything feel magical. It is only at the very very top where you suddenly pop above the trees, so unlike many mountains where the views slowly build, this one hits you all at once in 360 degree splendor. The view was incredible and the knife edge that is the peak itself took my breath away. The view is gorgeous, but the straight drop down the far side of the peak makes it feel so much more dramatic.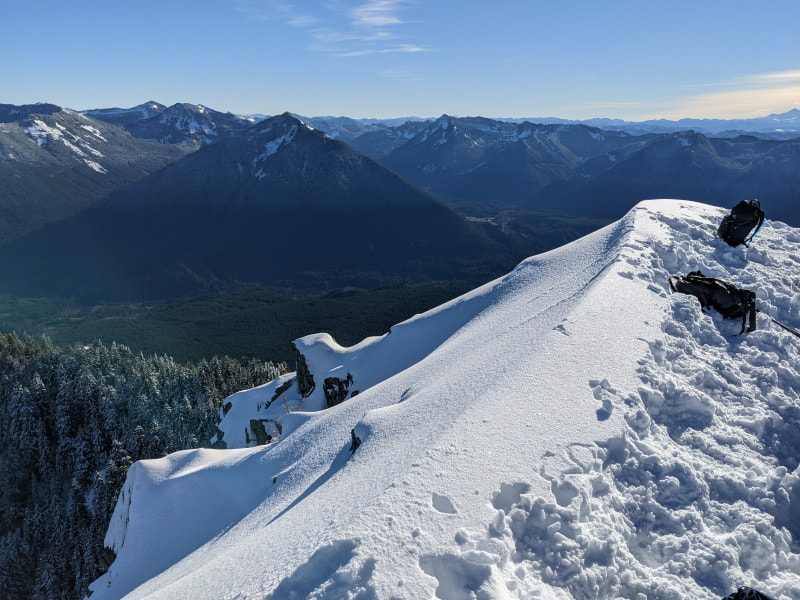 After lunch on the peak and a visit from the gray jays begging for food, we turned back. We took the new Teneriffe Trail back to avoid doing the steep scrambles in reverse. The trail is an easy gradual downhill walk and a nice time to have friends along to pass the time. The endless runways of evergreens are pretty and they are occasionally broken up by little creeks with colorful stones, but it gets a bit old. There are a couple of turns, but we found the signage to be incredible.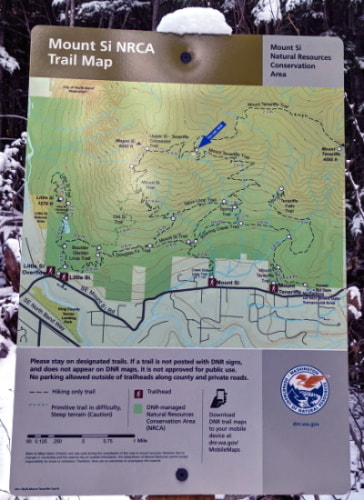 Now I am completely opposed to putting anything at the top of this mountain because then I think it would draw people, just like Mailbox, and ruin it for everyone, but I still like to think about the concept. What would be a fitting topper for this beauty? A lookout on this knife edge of a peak would certainly be dramatic, but what about something simpler? What would you put at the top? Please share in the comments below.
What to Bring?
The Basics - Good to have on any hike

Footwear: Hiking shoes, waterproof preferred for the shallow stream crossings.

Hiking poles - Very helpful and recommended, but I did have to use my hands for some of the scrambles.
More Info & Trail Reports
---
Have you visited Washington?
What was your favorite spot?
---
Product Links: I am not sponsored by any of the products I link to. If you choose to make a purchase from one of the links of a product I listed or any other item a small percentage will go back to me to fund this website, at no additional cost to you. The products I link to are either ones I have used or similar if those are not available. Thank you for your support.
---
More?
Check out more incredible Washington Hikes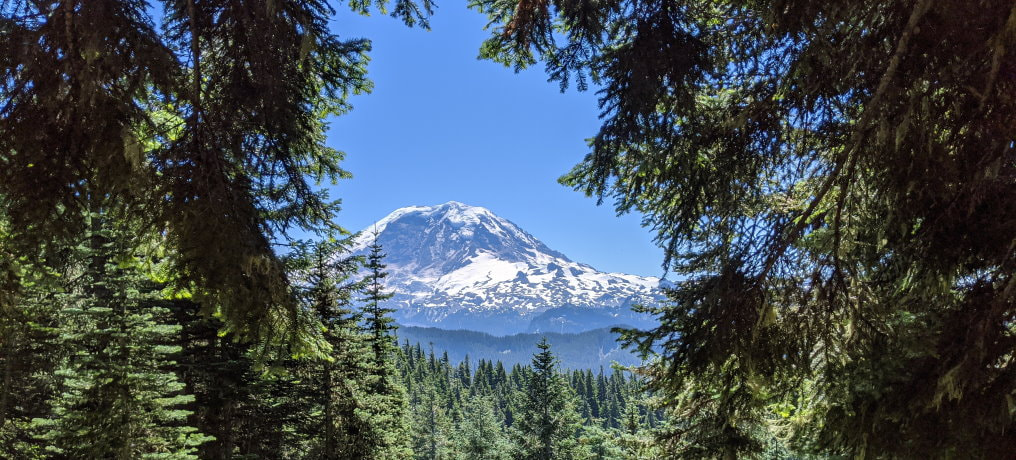 See our full Big Bend Trip Itinerary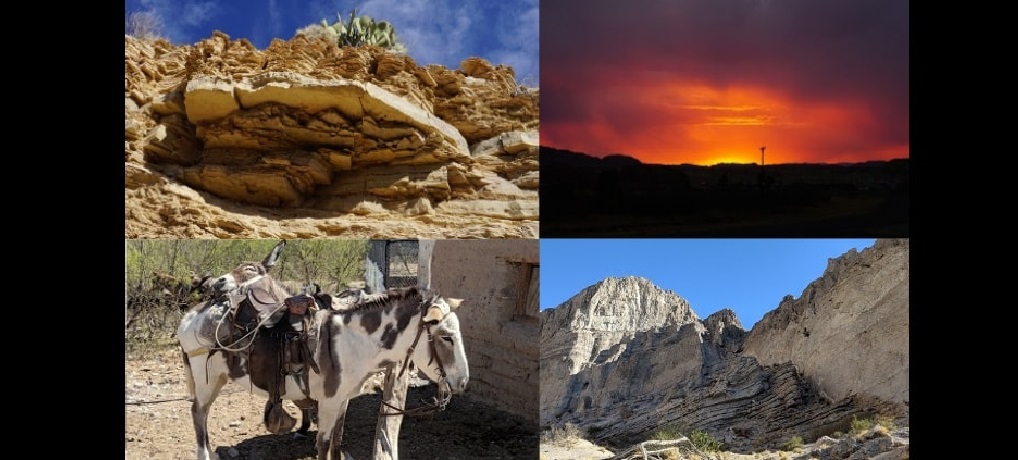 Experience the flowers in Southern California