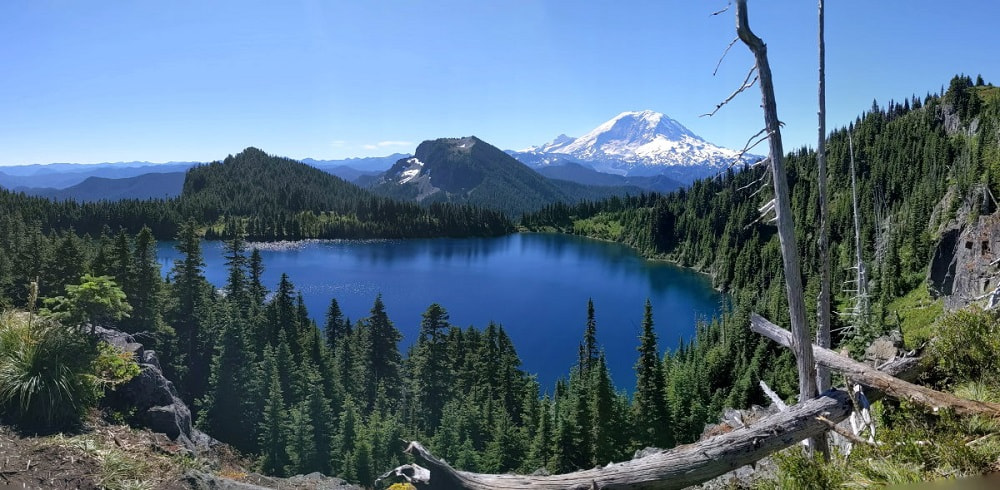 Summit Lake & Bearhead Mountain
Crystal clear water, stunning views of Mount Rainier, plentiful wildflowers, mountain summit with panoramic views, and peaceful forest trail? This hike has it all, just make sure you are prepared for what it take to get there!
Trail Head: Greater Rainier Area - Route 410 Chinook Pass
GPS Coordinates: 47.031462, -121.826950 Map
Trail Notes:
Moderate Trail
Moderate to Hard Road
Summit Lake - Roughly a 6 mile loop to go around the lake with 1300 ft elevation gain
Bearhead Mountain - 6 mile out and back with 1800 ft elevation gain
Summit Lake & Bearhead together - Roughly 11.5 miles
Dog friendly
Best time to visit is July, August, & September
Need a Pass - US Forest Services (see Recreation Passes and Permits for options)
Hazards:
Steep drop offs at viewpoints

Rough road with logging activity
You might not want to leave
Road/Parking
There is limited parking and many people stay the night at the lake so arriving early isn't always helpful. Between the main road and the trailhead you have about 6.5 miles of rough driving on a dirt road that climbs over 2500 feet. We saw all kinds of vehicles make the drive, but make sure you are ready for at least 20-40 minutes of careful driving.
This road starts out on an active logging road. It was bumpy, but pretty easy going. Since it is active you may encounter logging equipment on this road on week days. This is a popular trail and gets busy, so take your pick, crowds or big vehicles.
As you can see, after you get past the logging area some of this road looks more like a trail than a road. Unless there is some serious trimming done, your vehicle will probably get a few scratches. Ours did.
Snow can persist late in this area so be sure to check trail reports ahead of time as road conditions are constantly changing. Keep an eye out for wildlife on the road. We saw a bear cub crossing the road just after turning off Rt 410.
The Experience:
You can do these two independently or together, but I really think they compliment each other well. From Bearhead you can look down on the Summit Lake basin and I felt that made it really special.
The Summit Lake Experience:
This is definitely an adventure for a clear day. The stunning photos of this place put it pretty high up there on my list of must see places and I was not at all disappointed!
Most of the trail to the lake is a pleasant walk through the woods on a well worn trail. There is one junction at a small pond but it is marked and you should be able to tell which way to go just from the heavy use of the trail heading towards Summit Lake.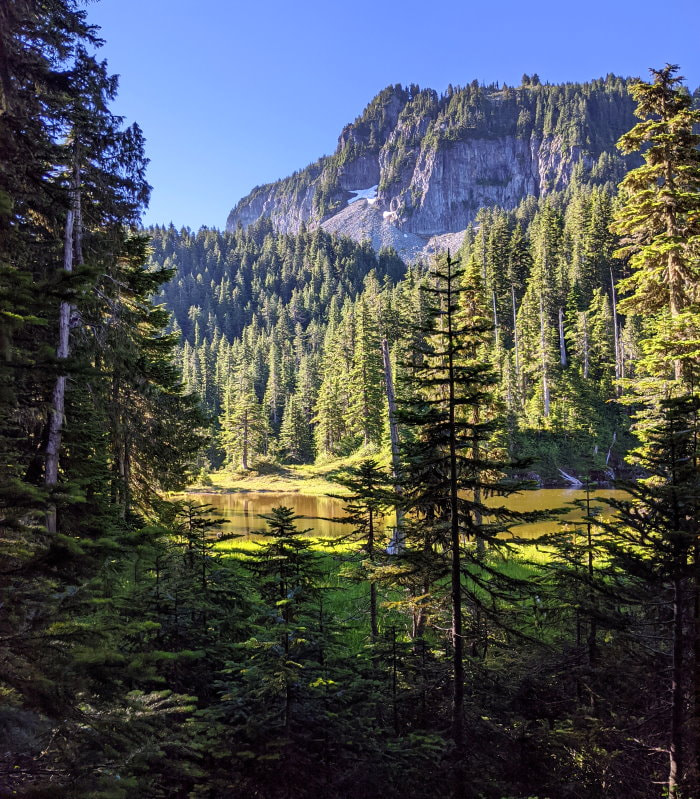 At the lake, the trail abruptly breaks out of the trees and into a small meadow, which is sometimes partially flooded. Here you have the choice of going clockwise or counterclockwise around the lake. Both trails have many offshoots, but you really can't get lost, just keep track of the lake to one side and explore. The trail on east side up to the peak is more of an established route, whereas the trail on the west feels more like a game trail.
We went counterclockwise. Soon started to hear the calls of pikas, a wild rodent that looks similar to a hamster with a distinctive call. I have heard them on many trails but only my husband and dog have actually managed to spot them.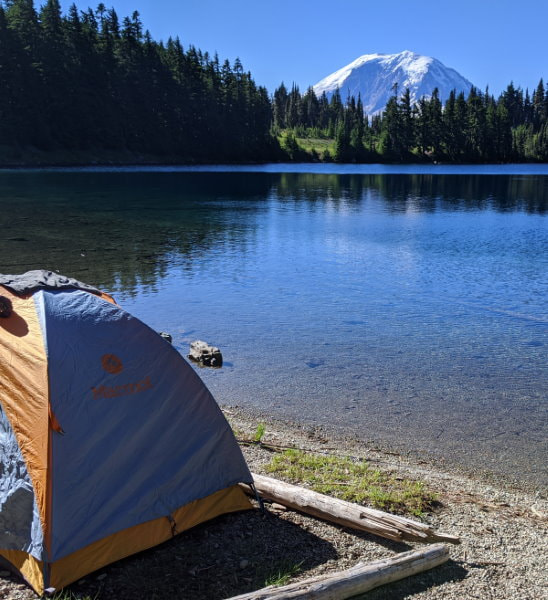 As you start to climb there is a ridge where many people camp with the lake on one side and rolling mountains stretching into the distance on the other. There are several trails down to the lake shore, but all of them involve some degree of climbing to get down. We scrambled down and found a couple intrepid campers who had earned this picturesque campsite right on the lake with Rainier peaking over the trees.
Farther up you get the true reward, the view looking down on the shimmering water with Rainier behind it. There are several lookouts and they were all in high demand.
Once you get your shot there is one more place for a spectacular view with room for everyone. The peak has a great unobstructed view of Rainier with another alpine lake below. If you don't mind the sun and people this is a great spot for lunch. If you want a quieter shady spot, there are plenty to be had on the south west side of the lake.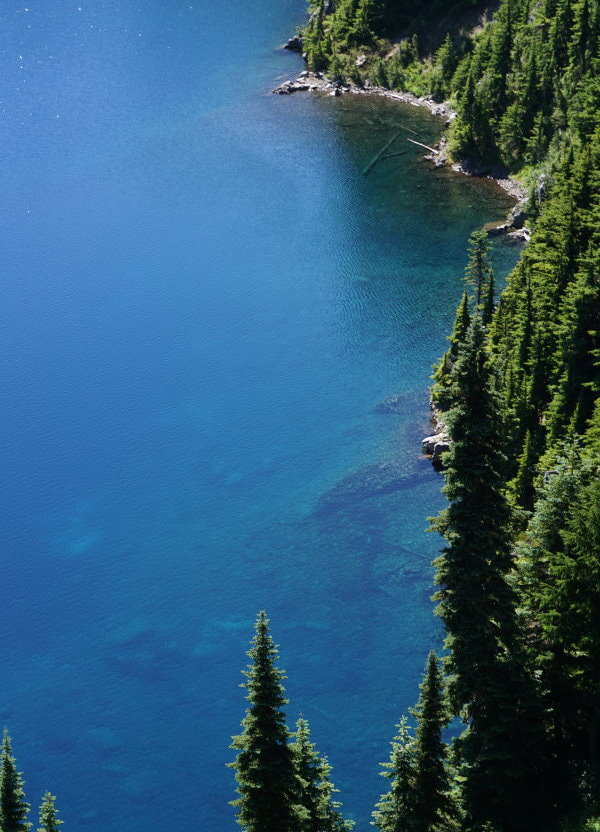 As you continue counterclockwise on the trail, Rainier sinks from view and the trail gets relatively quiet, but you still get great views of the lake. There is a little bit of easy scrambling on this side and in some areas the trail is a little overgrown. There is one spot where, depending on the water level, you can get to a small strip of rocky beach. That was our lunch spot, with our own strip of crystal clear blue water and a nice cool breeze.
The Bearhead Mountain Experience:
Back at the split in the trail we decided as long as we were here we might as well go for it, and took the fork for Bearhead Mountain. The crowds of Summit Lake immediately disappeared. We only saw a couple other hikers on this entire trail.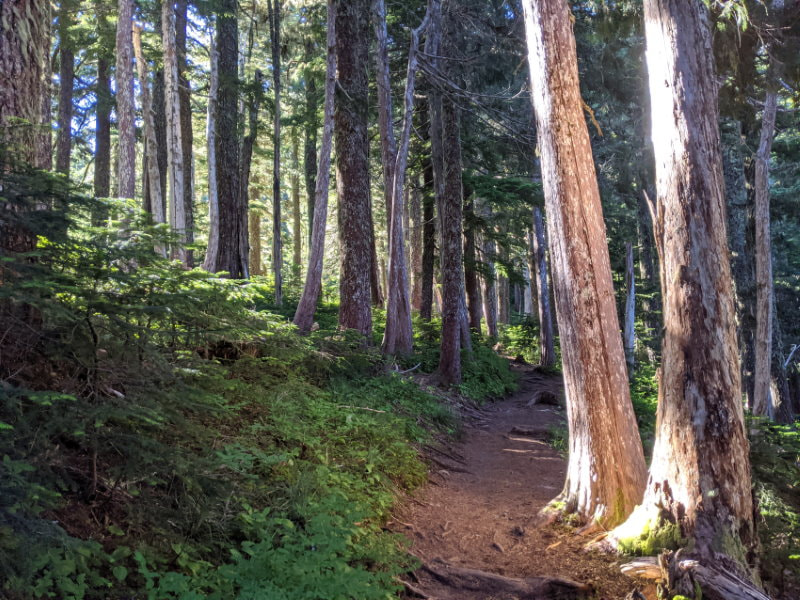 Although less popular, this trail was still well done and well maintained. The trail is cut nice and flat into the mountainside while the ground on either side of it seems almost vertical. If this were rocky instead of dense forest it would be like walking on a cliff ledge, but the huge moss covered trees make it feel oddly safe and comforting as the seemingly endless series of switchbacks gradually take you up the mountain.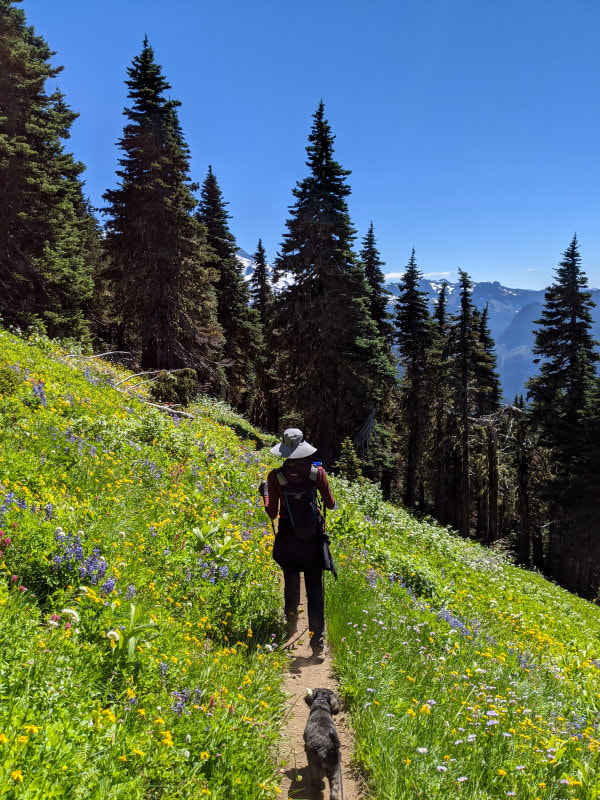 In the summer lush fields of wildflowers great you as you emerge above the trees. The mountainside was covered in Indian paintbrush, lupin, columbine, and many more. At this point you also start to get views of Rainier again. Don't get too distracted and forget to watch your step (like I did), the trail is still narrow.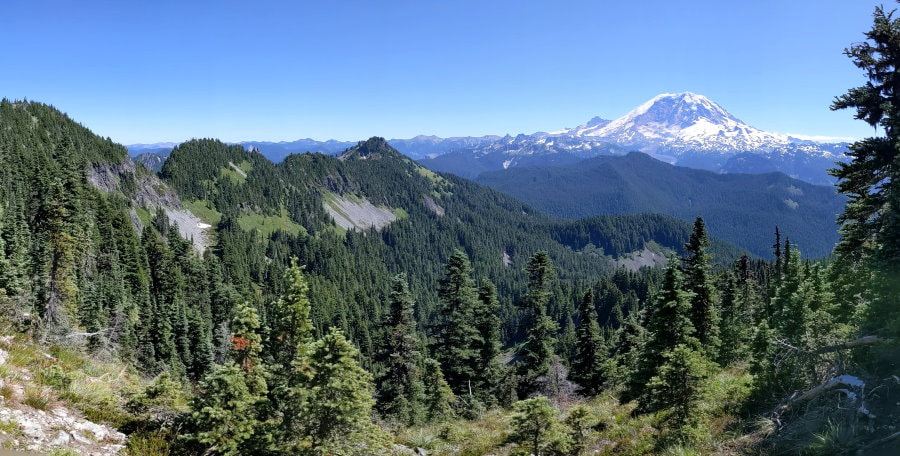 From the top on a clear day you get a great view of Rainier and can spot several other snow capped mountains in the distance. Below you can look down on Summit Lake and see just how unique it is, up in a mountaintop basin.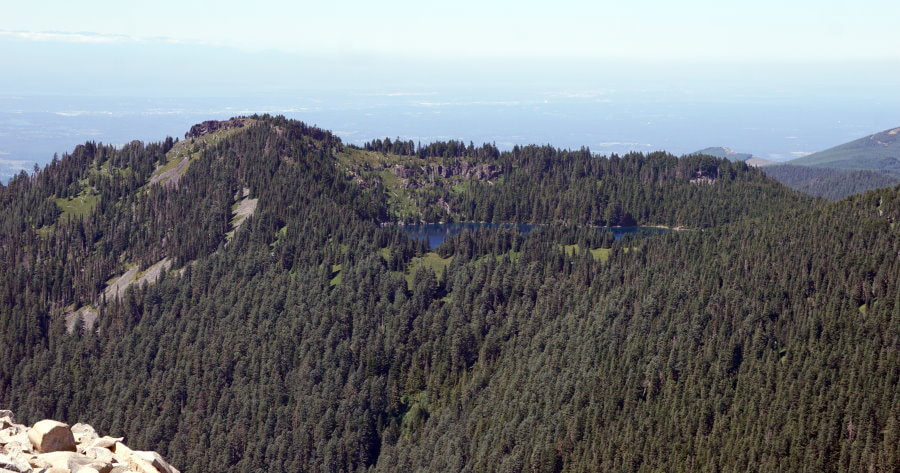 What to Bring?
The Basics - Good to have on any hike

Footwear: Any solid shoes will do.

Bug Spray - Lots of bugs but they seamed to be more interested in the flowers than the humans.
More Info & Trail Reports
Weather - You can look at some of the surrounding weather stations but there aren't any that close to this area.
---
Have you visited Washington?
What was your favorite spot?
---
Product Links: I am not sponsored by any of the products I link to. If you choose to make a purchase from one of the links of a product I listed or any other item a small percentage will go back to me to fund this website, at no additional cost to you. The products I link to are either ones I have used or similar if those are not available. Thank you for your support.
---
More?
Check out more incredible Washington Hikes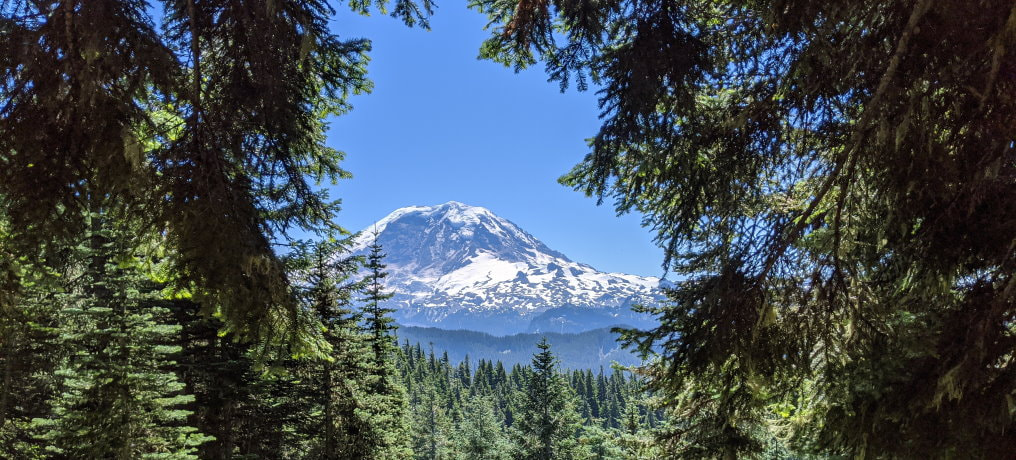 See our full Big Bend Trip Itinerary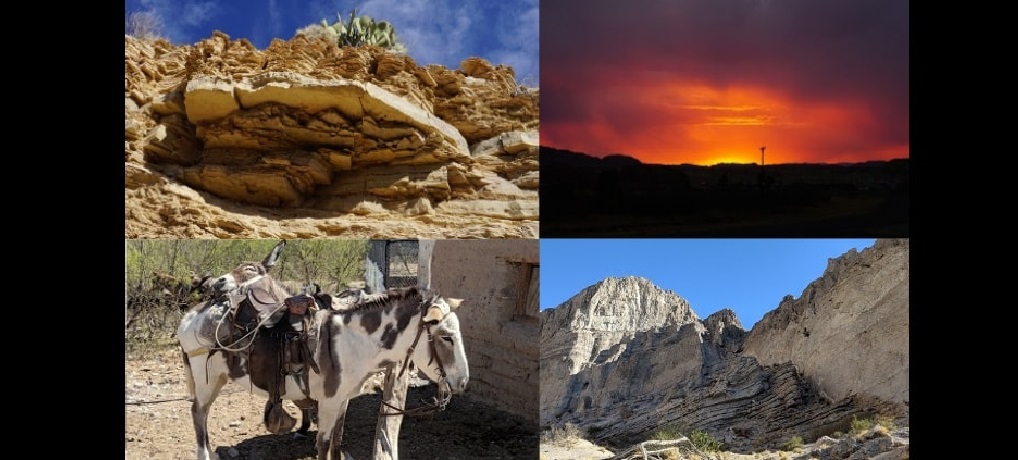 Experience the flowers in Southern California