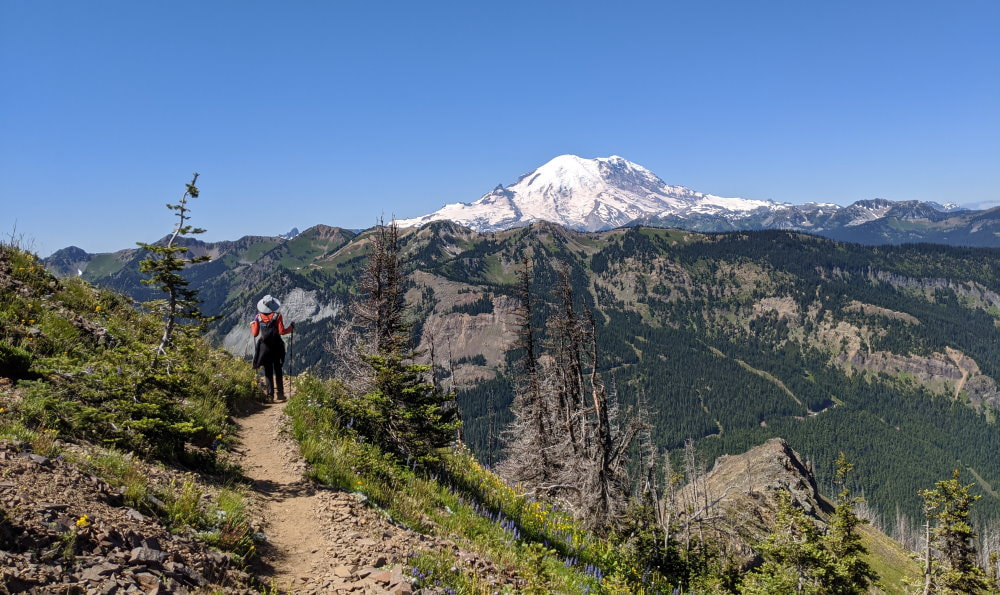 Norse Peak
Want to walk along a trail lined with wildflowers, gaze at Mount Rainier, and pass through the ghostly remains of a burnt forest? This area saw a wildfire in 2017 that cleared some spectacular views and made way for the sun to reach the ground, allowing numerous varieties of flowers to flourish.
Trail Head: Greater Rainier Area - Route 410 Chinook Pass
GPS Coordinates: 46.964386, -121.483377 Map
Trail Notes:
Moderate to Hard Trail
Easy Road - Parking is right on a paved road
10 miles out and back
2900 ft Elevation Gain
Dog friendly
Best time to visit is summer, July for the best wildflowers
Need a Pass - US Forest Services (see Recreation Passes and Permits for options)
Hazards:
Some narrow sections
Some misleading trails
Full sun for over 50% of the trail
No water
Road/Parking
The road is fully paved and there is a good amount of parking right on the side of the road, but parking is limited.
The Experience:
This hike starts out in a dense evergreen forest. Wisps of dry moss hung from the trees and waved gently in the breeze.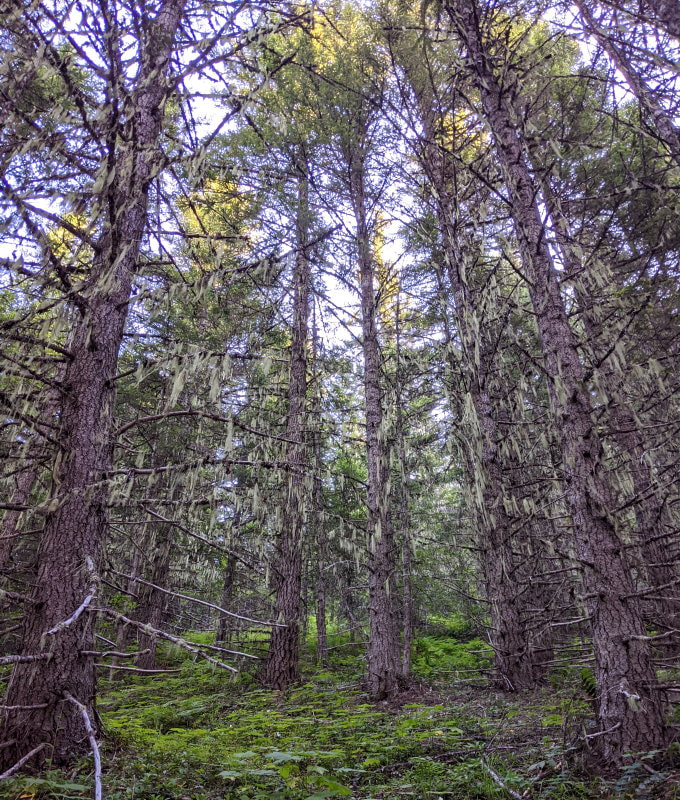 About a mile in the shade of the evergreens gives way to a burnt forrest carpeted in wildflowers.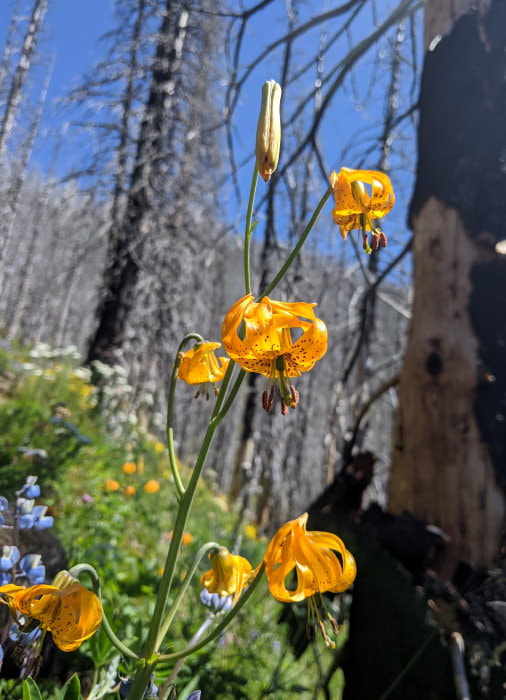 I imagine that in the past the view was concealed by the forest, but now you get intermittent mountain views for most of the hike. I think the ghostly tree husks add character to this hike and make it memorable. It is interesting to see the different paths the fire took as it burnt thought the wood. Many trees are white on the outside and hollowed out as if the fire burst out form inside them.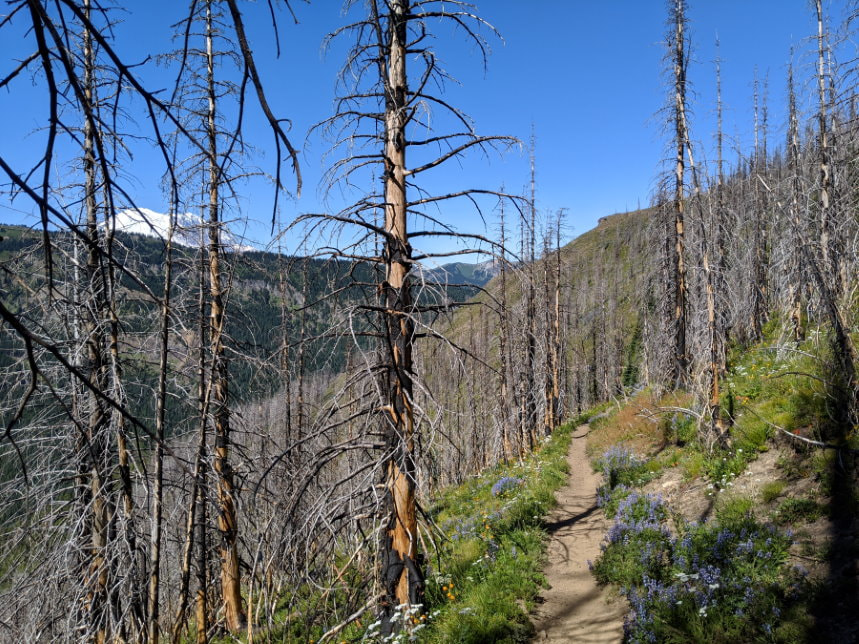 Towards the top the trees fall away and leave you with wildflowers as you walk a narrow mountain ridge.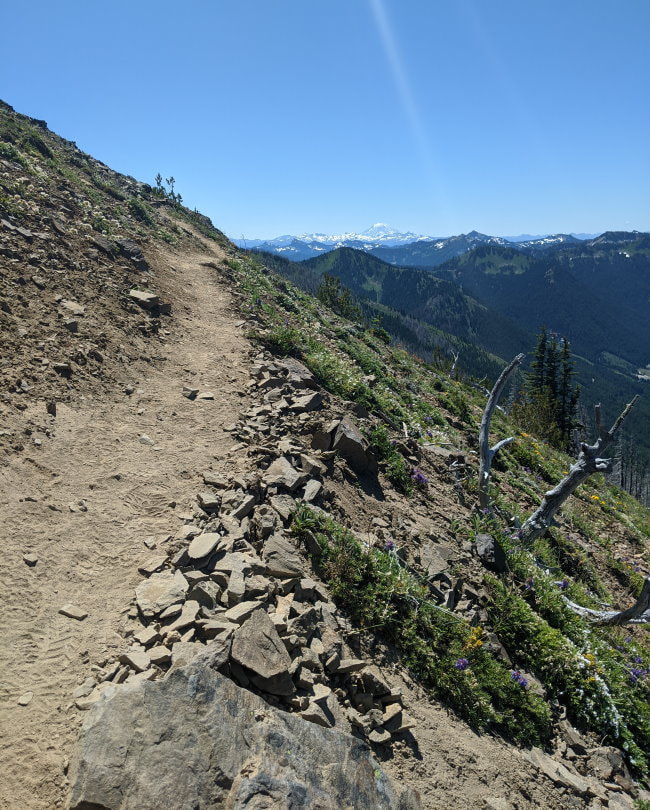 Rainier sits front and center in all her glory and on particularly clear days you can see other giants far in the distance. A dozen tiny white butterflies swirled around us as we gazed at the surroundings.
You can also look down and see the snaking path the 2017 fire took. From above it appears random, with stripes of live trees standing flanked by burnt ones on all sides.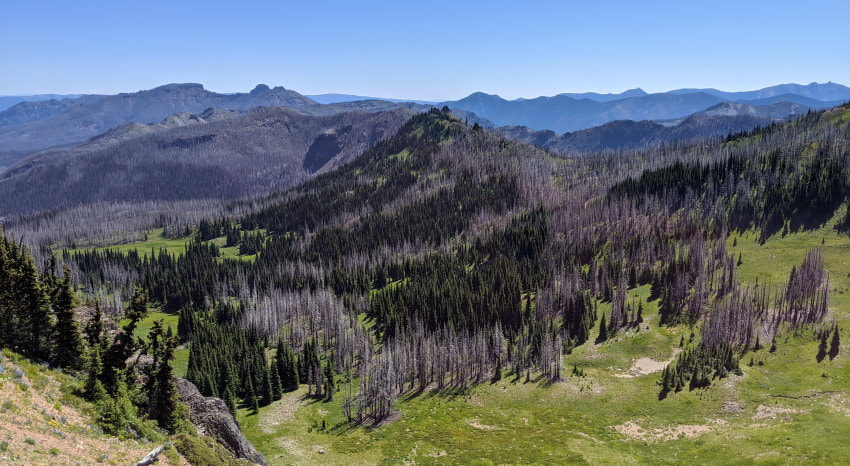 We did this one an a beautiful weekend day in July and it felt like one of those places that is well established but not fully discovered yet. There were others on the trail, but it was far from crowded and for a lot of the hike there was no one else in sight. We didn't see any wildlife, aside from squirrels and birds, but we heard an elk call on our way down and it sounded very close.
What to Bring?
The Basics - Good to have on any hike

Footwear: Any solid shoes will do.

Bug Spray - This was an odd one, we didn't have any trouble until the top where we got swarmed by flies when we settled to have out lunch. Our dog really disliked them and was jumping and grabbing them out of the air.

Map - The trail was fairly well marked, but not perfect, so a map would be a good idea. There is a new trail and an old closed one and they cross several times.
More Info & Trail Reports
Crystal Mountain Weather & Cameras - Crystal mountain is a little shorter, but should give you a general idea of the conditions.
---
Have you visited Washington?
What was your favorite spot?
---
Product Links: I am not sponsored by any of the products I link to. If you choose to make a purchase from one of the links of a product I listed or any other item a small percentage will go back to me to fund this website, at no additional cost to you. The products I link to are either ones I have used or similar if those are not available. Thank you for your support.
---
More?
Check out more incredible Washington Hikes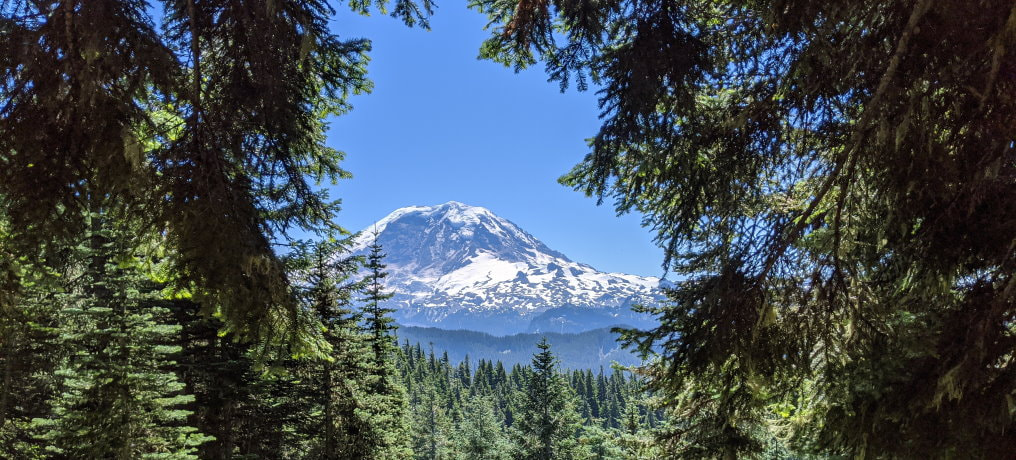 See our full Big Bend Trip Itinerary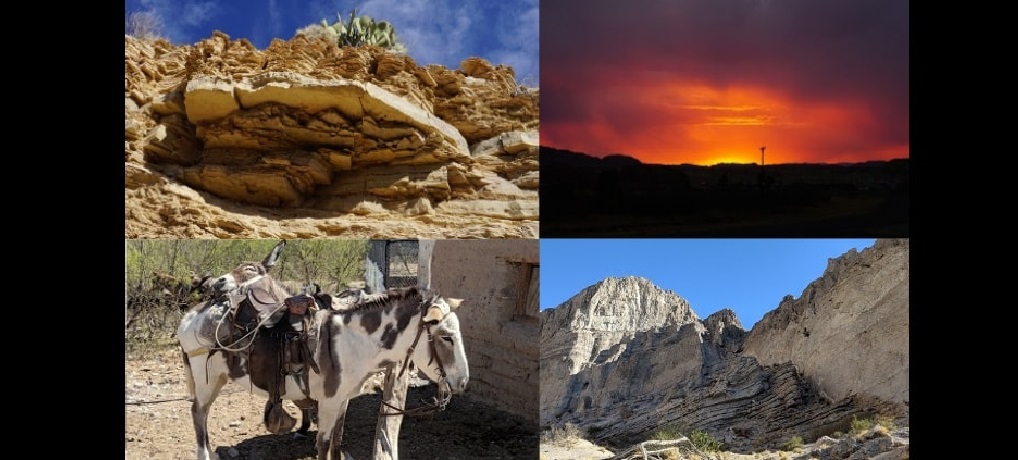 Experience the flowers in Southern California