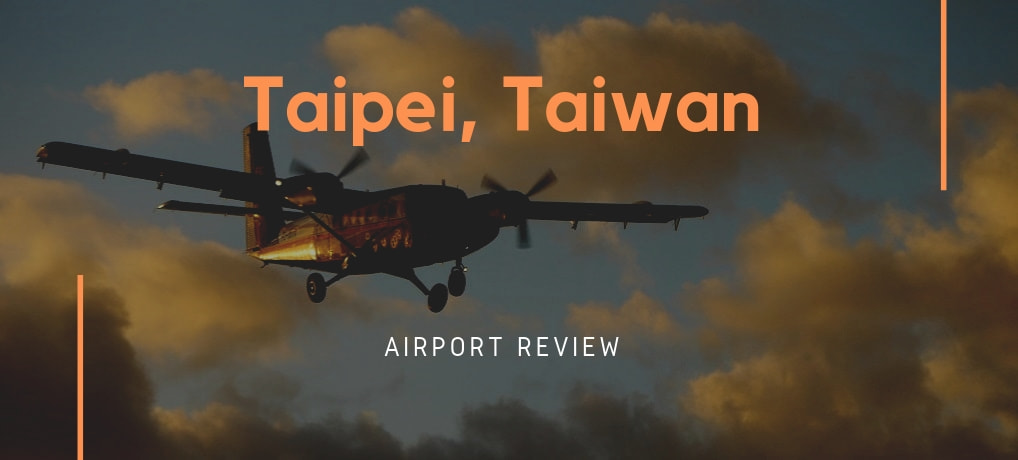 Taiwan Taoyuan International Airport (TPE) is a common airport to fly through when traveling to Asia. If I had to be stuck in an airport this one would be one of my top picks. I found it comfortable and an interesting place to walk around.
---
Overall
Wifi: Free

Ease of Navigating: Moderate layout with good maps, requires lots of walking

Food: A few choices, meals for $5-$10 USD available

Security: Simple check

Other Amenities: Large variety
---
Security Process
Many airports have their own security protocol for incoming flights and Taipei is no exception.
The process here involved an x-ray bag scanner and a metal detector. Everyone has to pass their bags through the scanner and walk through the metal detector. If you set it off, you get a pat down, otherwise you are free to go. I did notice that they were confiscating scissors, including nail scissors, that were allowed through by the TSA back in the US, so apparently they have slightly different standards.
This is what we experienced in March 2017.
---
International Terminal Amenities
Water - Free! There were hot/cold water machines scattered around the airport.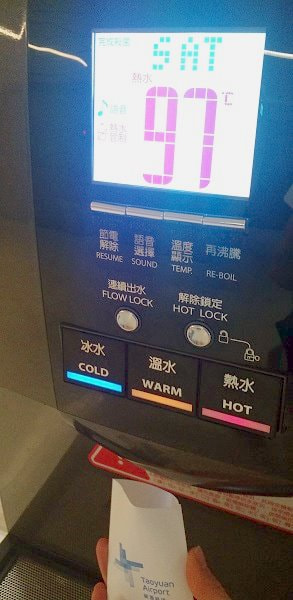 Food - There were only about 4 different places open to eat in our terminal (it was the middle of the night/early morning), but I felt that the choices were good and the prices were reasonable. One place served fast food like burgers, one had coffee and pastries, and two had Taiwan/Chinese style food. Everywhere took credit card and they were able to charge in the local currency or your home currency (generally not recommended).
Taiwan Style Food - The first place we tried had several set meal options that ranged from 180 NT$ (~5.90 USD) to 250 NT$ (~8.10). We got the ginger pork on the way there and fried pork on the way back. Both were delicious and it was lots of fun to try all the little dishes. The minced pork was our favorite and we liked it so much that we tried to replicate it when we got home. We have never had Taiwanese food before so our opinion is based on just this one experience, but for airport food we felt this was very good.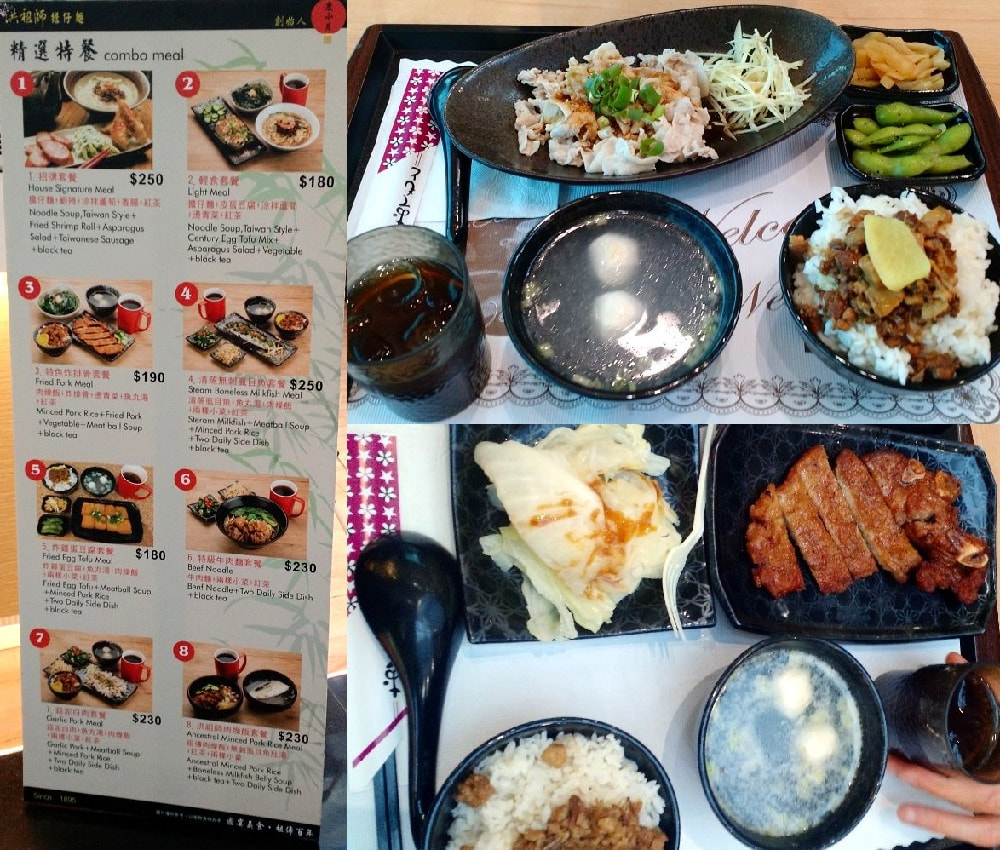 Hómee - The second place we tried had several bowl options that also came as sets. They also had prepared items in a cooler that you could eat there or purchase for take away. We had a pork bowl and it was fresh and tasty.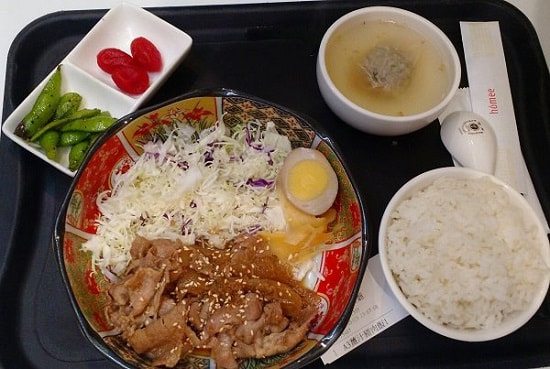 *Prices are as of March 2017
Wifi - The free wifi was relatively good if you sit down and use it, but they had it split into different zones so as we walked through the airport the phones would disconnect from one and reconnect to another a minute later.
Entertainment - We enjoyed exploring the terminal. It felt like a mall, park, and museum all in one. They alternated shops with themed lounge areas. There was a computer area with a couple video games including a car one that you could sit in. Some areas had pictures with information, museum style, and one talked about local food. There was a playground area, some quiet lounge areas, showers, prayer rooms, and a garden area with live plants on the walls and gentle music. A few of the shops were open 24 hours. Some sold fashion brands and others had souvenirs and local products.
Charging - There were charging stations scattered about and a few were locker style where you could leave your device and walk around. All were free.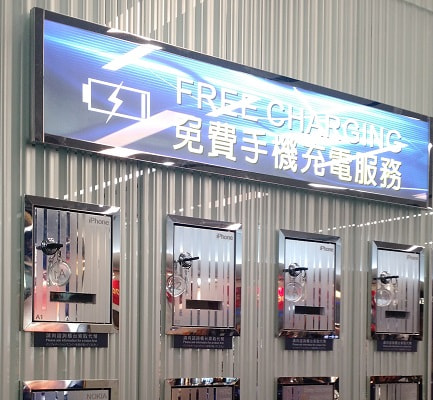 ---
Tips for Flights
These area a few things I like to have with me to make flying a little more comfortable:
Comfort Items - Consider bringing a blanket (travel towels work well), neck pillow, eye mask, or anything else that might make you more comfortable. I always bring a small bottle of lotion and chap stick because my skin gets really dry on long flights.

Water - Especially on long haul flights the tiny cups of water just don't cut it. I like to bring a reusable water bottle and fill it at the airport. I also find that drinking during take off and landing helps me a lot with the pressure changes. If you do run out of water, on most long hauls they have bottles or cups of water in the kitchen area that you can help yourself to.

Headphones - Not all flights provide them and the free ones tend to be very poor quality. I recommend noise canceling as the flights can be quite loud.

Battery Pack - And charging cables. I like to have a small battery pack just in case. I've been on a couple flights where the in-seat power didn't work and this saves you the choice of powering off your phone to make sure you have enough juice when you land.

Entertainment - Some flights have enough movies to keep you going for days, but having options is nice. I usually make sure to download a few hours of podcasts and load up my Kindle with plenty to read.

Sleep Aids - Pills can help, but sometimes work differently at altitude. I sometimes get a hypnosis recording or use the free Binaural Beats App (not affiliated) to help me relax.
---
Product Links: I am not sponsored by any of the products I link to. If you choose to make a purchase from one of the links of a product I listed or any other item a small percentage will go back to me to fund this website, at no additional cost to you. The products I link to are either ones I have used or similar if those are not available. Thank you for your support.
---
More?
Check out our full Hong Kong & Vietnam Trip Itinerary.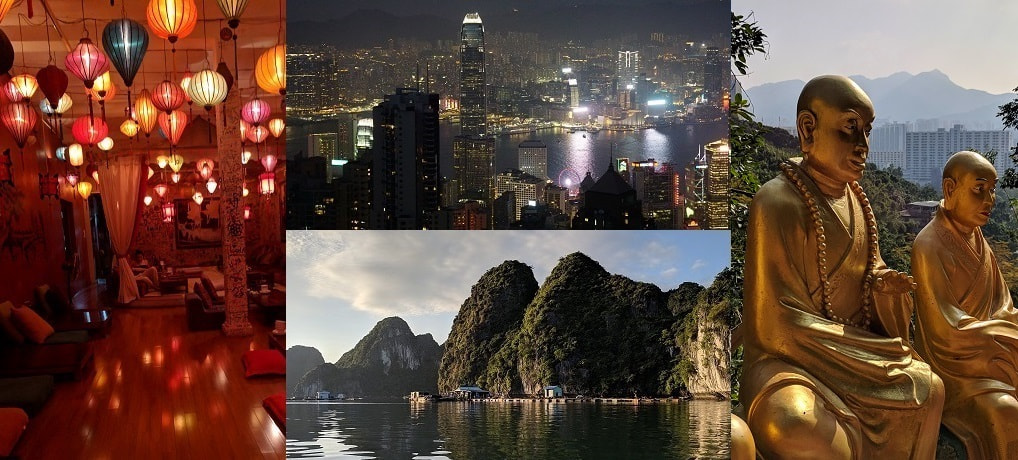 Or our full South East Asia Trip Itinerary.