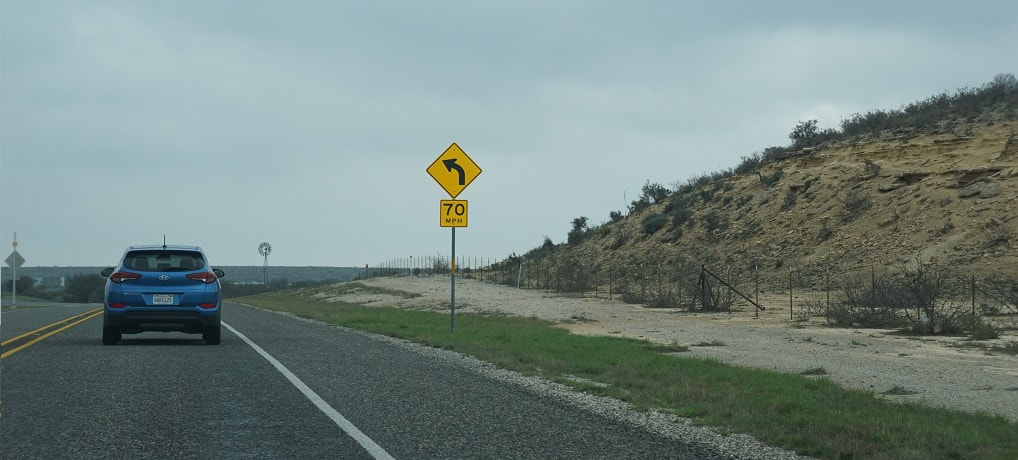 Rt 90 vs Rt 10
If you are going to drive to Big Bend from San Antonio you have a couple big choices to make, Rt 90 or Rt 10, or some other way. No matter which way you go it is a very very long drive and not the most exciting one. Rt 10 is more remote, lots of oil pumps and wind mills, straight highway with no stops, but most of the rest stops have picnic areas and bathrooms. Rt 90 is still pretty remote for much of it but passes game ranches with hides on stilts and goes through a several towns. It also has a much stronger boarder patrol presence. Expect to stop at least once for a check.
Since we were going from the airport we chose Rt 10 for the morning trip that involved rush hour traffic and Rt 90 for coming back on a Sunday afternoon since this route loops around the city and Rt 10 takes you straight away from the city.
---
Rt 10
(taking 338 down from Fort Stockton through Big Bend to Terlingua)
Our rental car was a Hyundai with only 17k miles on it and nice cushy seats. We settled in for the long ride to the national park and pulled onto the highway. Before truly leaving civilization we stopped for some groceries at a Texas version of Wegmans, HEB. We had fun looking at the different options and Texas specialties like raw tortillas, a whole fajita meat selection, and a huge selection of pork rinds, then grabbed a few provisions, and got back on the highway.
The highway was pretty at first but hour after hour got pretty monotonous. You know it is going to be a long ride when it says stay on this road for 300+ miles. We switched on and off driving a bit and both quickly changed our feelings on the quality of our new Hyundai. It had some rattles but the big flaw was the steering. There seemed to be a sticky point in the middle so the wheels never wanted to be quite straight. Probably fine as long as you didn't want to go in a straight line, but on 85 mph straight roads this was very inconvenient.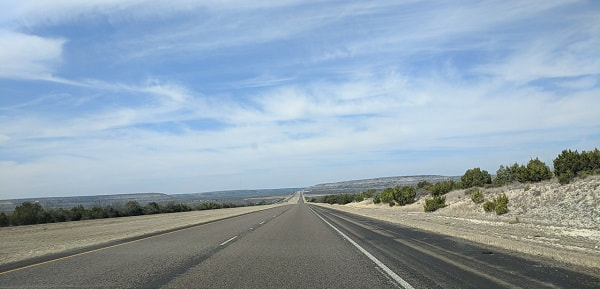 Most of the land was divided into ranches, with occasional cows, goats, or sheep. Countless miles of barbed wire. In most places everything was behind fences, but there were a couple goats here and there rebelling against their boundaries, and one little kid up on a cliff, overlooking the cars flying by on the highway. We noticed that grass wasn't greener on the other side of the fence, but on the side where the animals belonged it was totally gone. The landscape varied between rolling hills and dessert, but most everything was brown. The road changed back and forth between black, red and white asphalt at random intervals. Every now and then there would be a stretch of modern windmills or a peppering of oil pumps in the fields. Occasionally there would be an antique windmill as well, just to mix it up. We evaded one RV with multiple plastic pieces that had become loose and were dangerously blowing in the wind, making it look like some kind of battle bot.
Rt 10, hours and many many miles later, we finally arrived at the turn-off for the park and Marathon, the last gas station before the park (which also chargeD 25% more because of that). This was also the last time I had cellphone service (AT&T) for 3 days. We finally reached the park and stopped at the ranger station for some pointers before heading out on the trail to stretch our legs. We were very glad we did because he gave us some pointers and a NPS map handout that doesn't seem to be published online. We hiked Devil's Den, then drove to Terlingua. The hike was good but there isn't much to see from the road in the Persimmon's Gap area of the park, so if you aren't doing one of the hikes it is probably skippable.
---
Rt 90
(via 118)
We said goodbye to our cabin and headed back towards San Antonio. The light squall the night before had brought some water to the desert, but it seemed be giving that water back up already. Dense clouds of fog hung everywhere. This made the road a little troublesome at times (80 mph road in the fog) but made much of the landscape magical. Mountains seemed to float in the sky and tendrils of mist hung in the air.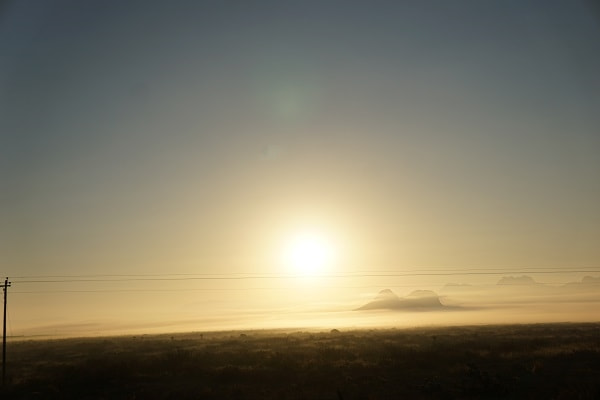 In the college town Alpine we found some gas and I finally got cellphone signal after 3 days. We passed through a couple border checkpoints unlike any I've ever seen before. We would be cruising along and come across flashing lights telling you to stop. Some would be permanent buildings spanning the highway and some just cones like a NY inspection check. At each of these they would ask us to roll down our windows and ask citizenship, then send us on our way.
Several hours later, on rt 90, we stopped at a Mexican diner for lunch and get the last seat in the place. The two of us ate for less that $10 (much less than we paid in Mexico) and the food was excellent. The closer we got to San Antonio the greener the landscape got. Fields of cows replaced desert and mountains.
---
More?
See our full Big Bend Trip Itinerary.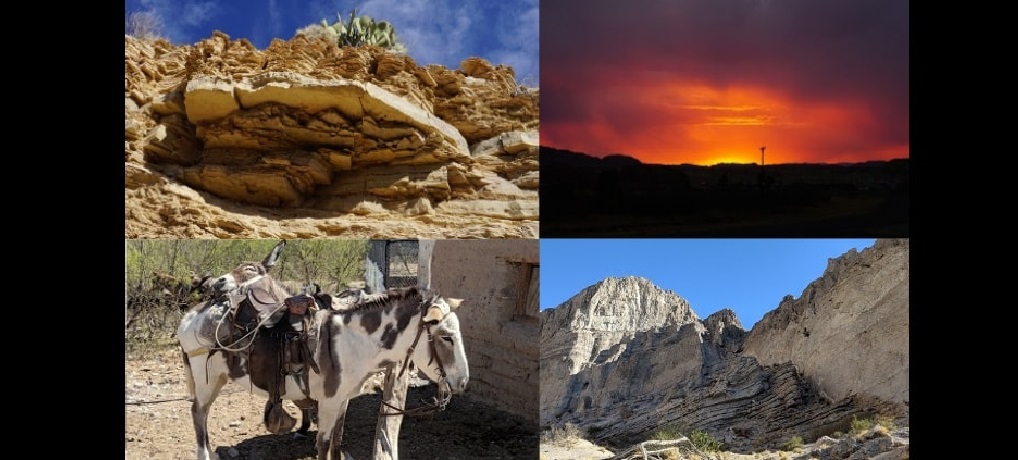 Explore Chisos South Rim & Emory Peak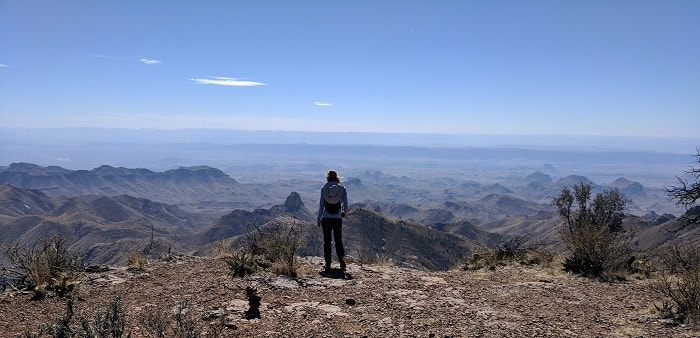 Admire Santa Elena Canyon