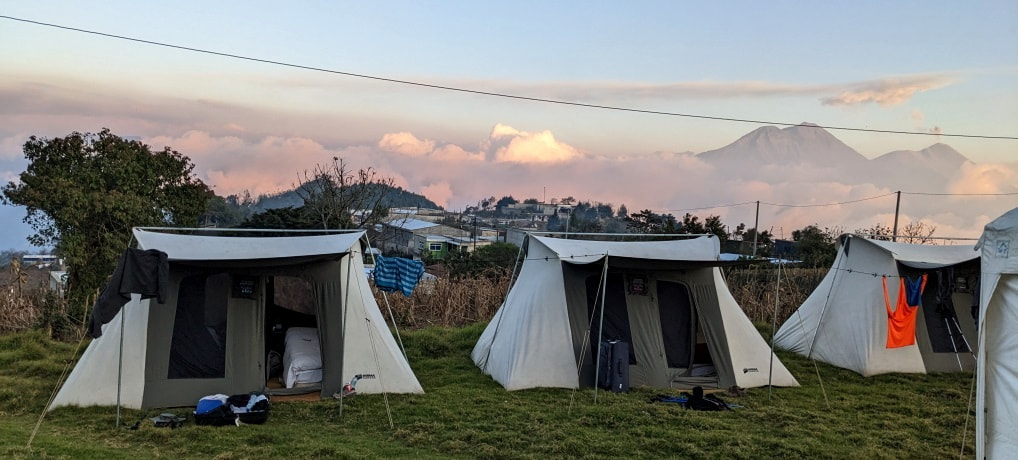 This trek combined mountainous agrarian culture and the occasional rumble of volcanic eruptions, with safari style camping and great meals. The Guatemalan Highlands is a place where you can find women dressed in vibrant traditional clothing, churches blasting music on weeknights, and people cultivating impossibly steep terrain, while lava shoots skyward in the background.
There are numerous trails and roads crisscrossing the Guatemalan Highlands, but most cross private lands and pass through local villages, so a guide that has permission from the communities is essential. We got a package that included a guide, all transportation/logistics, lodging, and meals through Trek Guatemala and were happy with their service.
We walked along paths through crop fields, along dirt roads, and occasional paved roads through towns, but also squeezed through overgrown jungle trails, waded through grass, slid down sandy slopes, and scaled steep sunbaked ridges. I think this trek is for the traveler who wants to see a slice of the true Guatemala. This area is diverse and has no shortage of natural beauty, but it is not the pristine wilderness kind. Instead, vistas are often framed by corn fields.
Towards the bottom I provided our packing list and some lessons learned for anyone thinking of taking this one on. I also included a little info on a few other hiking options.
---
Contents:
Overview:
Our Experience:
Things to Know & Planning:
---
Overview
Trek Overview
All data shown below is a rough estimate based on a combination of GPS data and charts.
Day 1 - Hike Aldea Chicazanga to Patzicía
Altitude: 7,710 ft (2,350 m) to 7,265 ft (2,215 m) - Highest Point: 8,690 ft (2,650 m)
Day 2 - Hike Patzicía to Patzún
Altitude: 7,265 ft (2,215 m) to 7,830 ft (2,390 m) - Highest Point: 7,875 ft (2,400 m)
Day 3 - Hike Patzún to Caserío Chuinimachicaj
Altitude: 7,830 ft (2,390 m) to 8,235 ft (2,510 m) - Trip Highest Point: 9,070 ft (2,765 m)
Day 4 - Hike Caserío Chuinimachicaj to San Antonio Palopó
Altitude: 8,235 ft (2,510 m) to 5,140 ft (1,565 m) - Highest Point: 8,250 ft (2,515 m)
This trek is at moderately high altitude. At these altitudes you are unlikely to experience much altitude sickness, but it is high enough for the air to be a little thinner. If you live near sea level, your body will have to work a little bit harder to get oxygen into your blood here, and this might make breathings, and consequently climbing, a little bit harder than usual.
| Day | ~Up | ~Down | ~Distance | Rough Time |
| --- | --- | --- | --- | --- |
| 1 | 1,350 ft (410 m) | 1,700 ft (520 m) | 6 miles (9.6 km) | 3-5 hrs |
| 2 | 2,760 ft (840 m) | 2,200 ft (670 m) | 6.5 miles (10.5 km) | 3-5 hrs |
| 3 | 1,600 ft (490 m) | 1,220 ft (370 m) | 8.2 miles (13.2 km) | 3-5 hrs |
| 4 | 1,470 ft (450 m) | 4,530 ft (1,380 m) | 8.0 miles (12.9 km) | 3-5 hrs |
For our 4 day adventure we clocked about 28.5 miles (46 km) and 7,200 ft (2,200 m) elevation gain. This kind of elevation gain is fairly modest if you are accustom to hiking in the mountains; however, if you live in the flatlands this could be a bit of a challenge. To put it in perspective, an average flight of stairs is about 10 ft, so this is the equivalent of climbing 720 flights of stairs and then going down many more.
Overall Map, NOT Actual Route
We really enjoyed the mix of scenery on this route. It was a nice treat that we were always moving forward and seeing something new, unlike many hikes where you have to retrace your steps on the way back.
The cost of the trek (2023) included transportation from Antigua, a guide, luggage transportation, all meals (including alcohol/soda at dinner), snacks, water, cozy safari style tents, a daily quick warm showers, a camp bathroom, and staff (supplemented daily by locals) to setup/tear down everything.
If you are looking for some pre-trip reading I, Rigoberta Menchu is a great option to learn a bit about the culture and history. She is a Nobel Peace Prize recipient who grew up in a Mayan village during Guatemala's civil war and in this book she weaves together her own personal story and that of her people. As with most wars, there are some brutal events that are hard to read about, but are part of what shaped this country.
---
Temperature
The temperature swings were brutal. Every night the wind would whip up quickly chilling us, but it would stop some time during the night and by morning the temperature was cool, but comfortable by comparison. During the day we would be quickly peel away all our layers as we climbed in the hot sun, but most days I needed to put my jacket back on when we stopped for lunch.
By day, most people were wearing shorts and t-shirts, then in the evening we traded those in for as many layers of pants and jackets as we could put on. I regretted no bringing thermals for my legs. The temperature range was upper 30s to about 80 degrees fahrenheit (~3 to 26C), but felt more extreme.
---
Terrain
When I say a bit of everything it really was, with the possible exception of water and mud, but there is probably plenty of that too in the wet season. We only had one small water crossing and that was nearly dry. Most of the terrain was loose soft dirt, but we also walked on pavement, rocks, grass, through thick brush, on dirt roads, and there was even one small scrambley section.
Of the trekking we have done this had the most undeveloped trails. Regardless of your age or abilities I would highly recommend trekking poles. We were introduced to them in our 20s and we use them on nearly every hike. They help with traction, make us faster, help turn a hike into a full body workout, and have saved us from countless injuries. In areas like this, with lots of loose dogs, they also help fend off the unfriendly ones.
---
Our Experience
Antigua Logistics - Getting Ready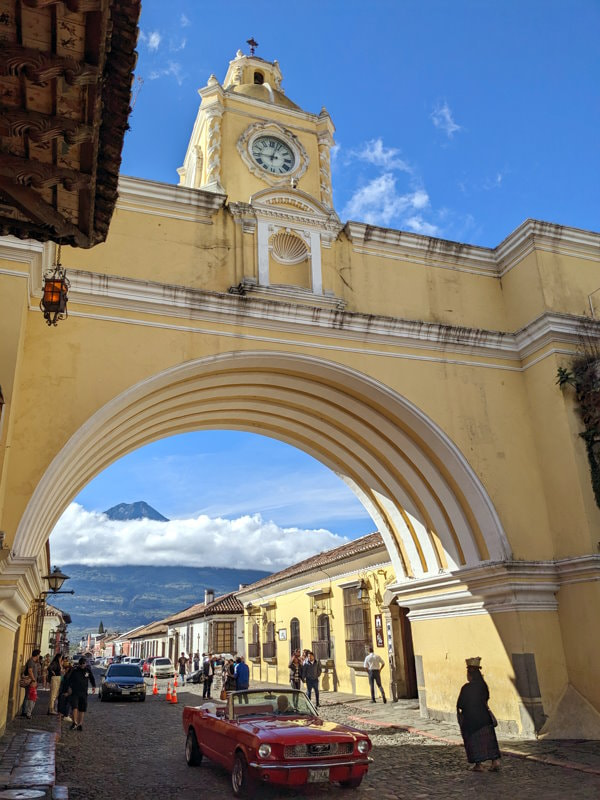 Like most people, we start this trip in Antigua. Antigua is a UNESCO Heritage site and is post card pretty, but a bit over touristic and small for my taste. There are plenty of tourist guides to this town, but here is my map of practical places to know and a couple attractions.
Getting Around - Everything is easy walking distance in this town, but the roads are cobblestone and the sidewalks are a bit irregular, so you are going to want decent shoes.
Language - Some people know a little English and people are fairly open to communicating through translation apps, but it really helps to know some Spanish. You will hear some people using Mayan dialects, but everyone we encountered knew Spanish too.
Money - USD (clean/new bills) are widely accepted, but not universally. Credit cards are also somewhat common, but not always accepted and sometimes the machines are down. There are a number of banks with ATMs and offices, but the hours were a bit unpredictable. We found people lined up waiting outside a closed bank long after its sign said it was supposed to open. Most hotels were not willing to exchange money. Change seemed to be a bit on an issue and places often requested exact change or smaller bills.
Safety - You always want to keep an eye on your phone and your wallet, but generally this is a very safe town. People will approach you to sell their trinkets and ask for money, but most weren't too pushy and quickly moved on. There are cameras everywhere and even a few emergency help buttons. I felt totally safe walking alone at night.
Water - You definitely don't want to drink the tap water here. You can find bottled water at most shops, but many hotels and pharmacies also have jugs of filtered water which is generally considered safe. There is no bottle recycling here, so limiting your use is helpful. We got some big jugs of water for our trek at the grocery store on the map.
Exploring - I encourage you to be a little bold and walk into places. Worst case you may be asked to leave. Many doorways open into beautiful courtyards with businesses inside. Hotels often have restaurants, shops, and sometimes even historical or art exhibits. Most businesses, even McDonald, are built in historical buildings that are preserved by law. A tour can help you uncover some of these secrets.
Archive of Adventures has a great article on visiting the lookout above the city and other guides.
---
Day 1 - Aldea Chicazanga to Patzicía
Our van showed up and we all piled in. It was packed to near bursting so we got to get nice and cozy while meeting our travel companions for the next few days. Our group had two guides from the Guatemala City area, an American family with their two nearly grown children, a family friend, and a retired British couple.
After escaping Antigua, our first stop was a San Simón Mayan Shrine. This is a place where people come to pray for a safe journey, a good harvest, or just about anything else. Inside, the walls are lined with thank you notes and photos, memorializing answered prayers. There are many of these temples, but in this particular one the San Simón statue is adorned with a clear plastic shroud to protect it from damage from one of the most popular offerings, a splash of alcohol. This location didn't allow it, but in many shrines people tuck a cigarette in his mouth and light it.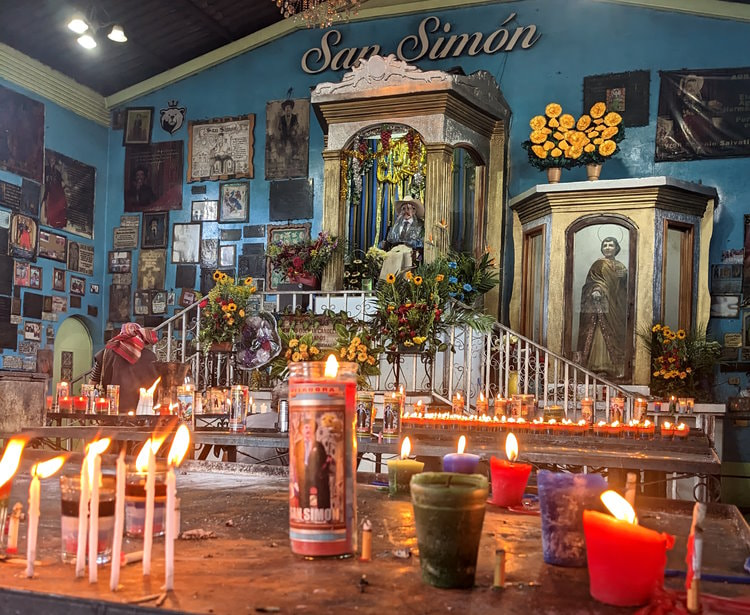 In many ways this place felt like a church inside, with quiet prayer and a plethora or candles. San Simón or Maximón is a Mayan deity who was blended into the Christian faith in Guatemala. You will often find Christian saints and even figures of Christ alongside him, but usually with him taking center stage. Unlike most Christian saints, with San Simón it is said that you can unabashedly ask for whatever you desire. Today, these shrines can be found all over North America.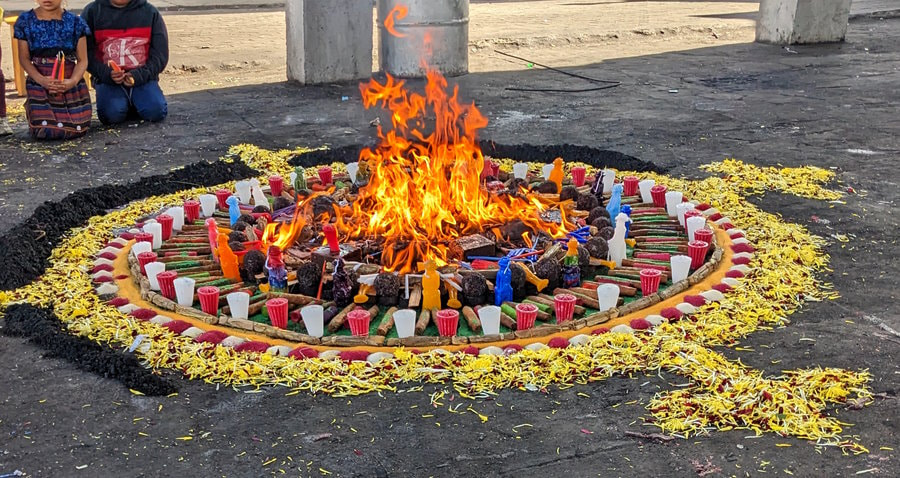 Step outside this temple and it will feel much less Christian. To one side people were lighting off fireworks and in a central covered area people were preforming beautiful ceremonies, led by village elders or shamans. They would delicately arrange flowers, candles, sugar, corn, tobacco, and other offerings in circles on the ground, then light them ablaze. As the offerings burned, the participants would come forward to add offering, like alcohol or colored candles, to the flames. The color of each candle signifies the intent. We also saw children being cleansed and blessed by an elder with lime juice.
| Color | Meaning |
| --- | --- |
| Red | Love, faith, & willpower |
| Green | Joy & prosperity |
| Blue | Work & good luck |
| Pink | Health & hope |
| Black | Help against enemies & envy |
| Brown | Help with vise & bad thoughts |
| Light Blue | Money, happiness, travel, & studies |
| Yellow | Protection for adults |
As someone who was raised Catholic, this at once felt like a strange pagan ritual and eerily familiar. It made me think of my husband's reaction to attending a Catholic service (as someone who was not brought up in that tradition) and his feeling that some of those practices seemed bizarre or cultish.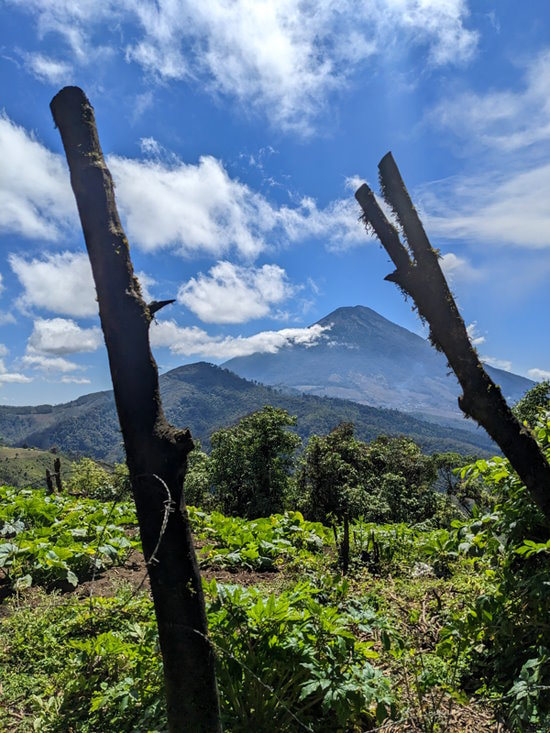 Our next stop was the start of our hiking adventure! We unfolded ourselves from the van and warmed up our limbs on a soft dirt road. We weaved our way past agricultural fields and one farmer even invited us onto his property to show off his avocado trees. Some of the dogs at other farms were not nearly as welcoming, but they were just doing their jobs and most were content to leave us alone as long as we kept moving.
As we went, our guides helped us identify the crops and pointed out interesting plants. One of the most unique was the chiranthodendron tree which yields these "demon chicken foot" flowers. Beyond its flashy flowers, the Mayans use parts of this tree for its medicinal qualities and use the leaves to cook tamales in, to give them a unique flavor. Sadly, we didn't get a chance to try any made this way.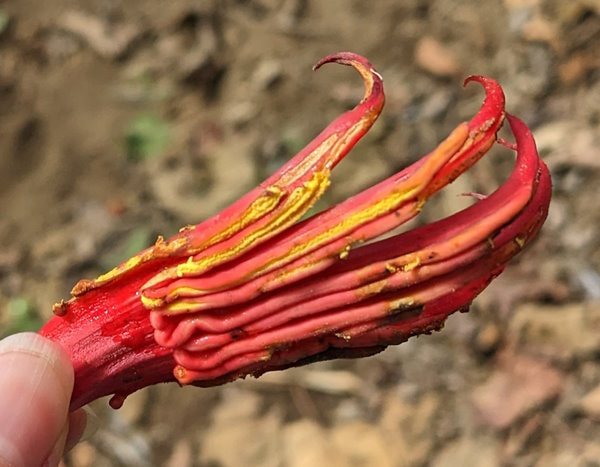 We departed the road and we got our first taste of the jungle. It was dense and as we climbed the vegetation changed rapidly. We went from dense jungle, to shrubby brush, and suddenly tall grass as we popped out on a peak, then plunged right back into the dense forest again. In the forest unseen birds called around us. One of our guides showed off his bird call skills and got some to answer back to his call. We tried, but we never were able to catch sight of them in the web of branches and vines all around us.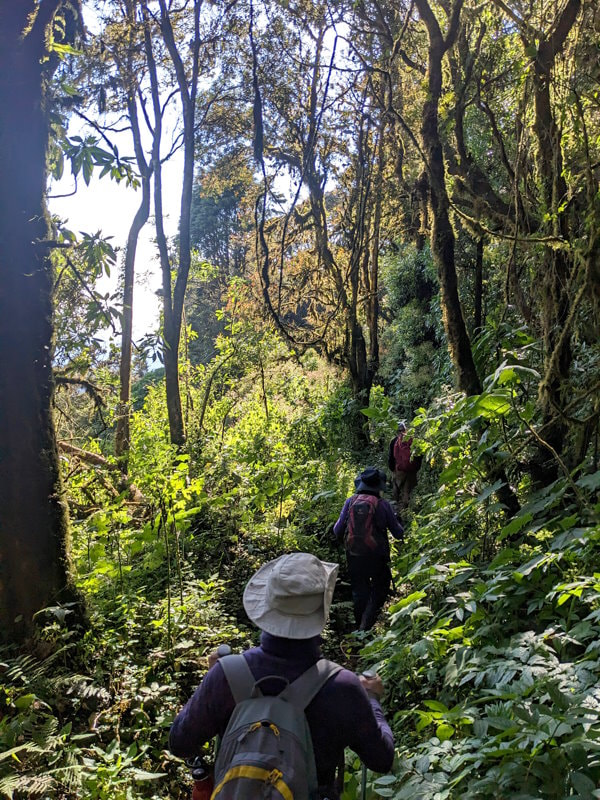 Eventually, we popped out of the jungle, onto a dirt road that led through more agricultural fields, to our camp. Our neighbors for the night were a field of cabbages, a cemetary, and Juliet, a sweet but skittish dog who came running down the hill as soon as we arrived. We had a nice view of some mountains and a little fire that we huddled around as the wind whipped up and the temperature quickly dropped.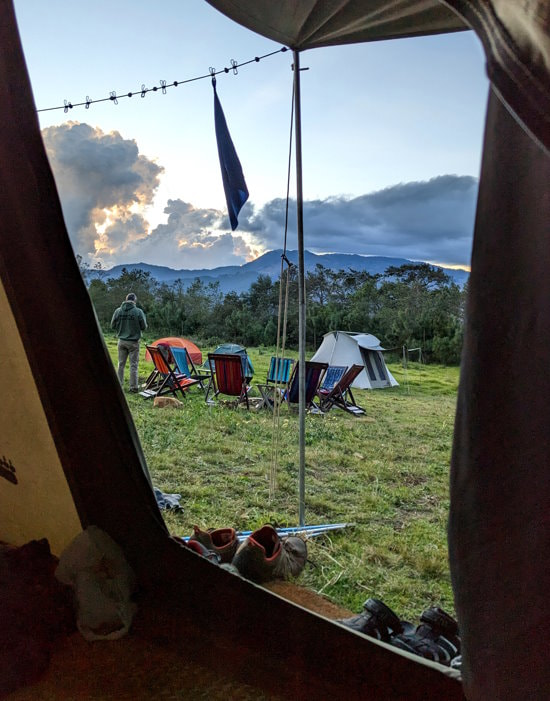 ---
Day 2 - Patzicía to Patzún
We were surprised in the morning to be awoken by the sound fo traffic! We had barely noticed the road and it had been quiet the night before, but whether it was the morning commute, or taking produce to market, it was loud now. We were pleasantly surprised that the wind had died down overnight and it felt much warmer without the biting wind.
We walked through a quiet town, then down a steep dirt road lined with coffee plants. There were other shade trees mixed in, like orange and avocado, to shelter the coffee. Everything seemed very dry compared to the forest that we saw on the previous day. It was interesting that in less than 10 miles we had seen such a variety of ecosystems.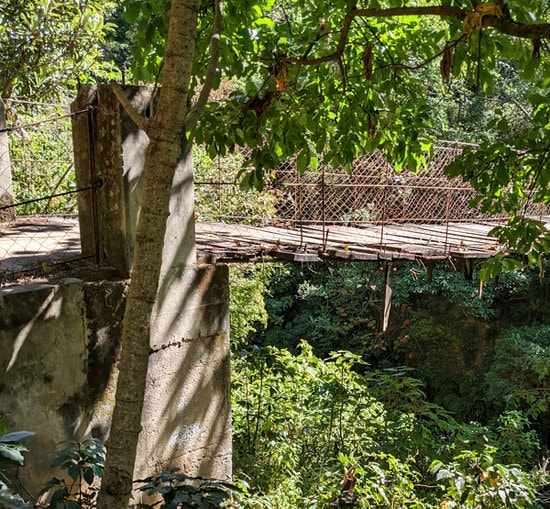 At the bottom, we crossed a little steel cable bridge with wooden planks for decking. It looked and felt nice and solid, but the planks hanging off the underside were not so confidence inspiring. It appeared that as planks wore though they would eventually split and new ones would be set in their place, while the old ones dangled from the bottom of the bridge, until they eventually failed completely. Nothing to worry about since we had nice fresh ones, but to the untrained eye potentially alarming, making for a good laugh and a story.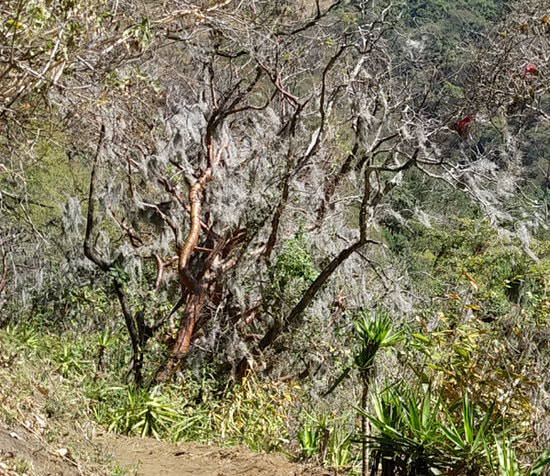 On the far side of the bridge, ghostly moss waved in the wind and the trail began to climb, slowly weaved its way up the mountain. Our guide rushed us past one fallen tree that had bees and I caught a glimpse of honey comb as we rushed by. The trail felt wild at first, but slowly transformed back to coffee as we climbed. The sun was hot on the trail and instead of avocados, these coffee plants were shaded by palms and castor trees. The coffee harvest was under way and while it was mostly adults working, there were a couple families with their kids helping too and several woman carrying infants while they worked.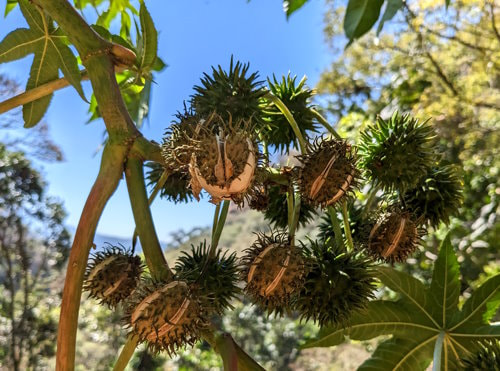 As we stopped in the shade for a break, a puppy came tumbling down the hill and landed on the trail between us. It looked like it had just been startled awake from a nap and gave a big stretch and a yawn. Our guide offered it some water, which it happily accepted along with some scratches. Then it decided that it was play time and our guides bright red bag looked like the perfect toy! He tried to deter it but it was intent on the pack, until someone offered a stick, which it lunged for and happy trotted off with.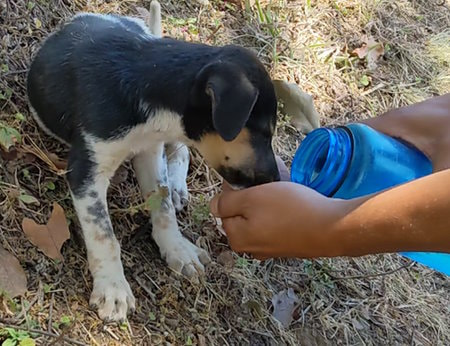 We also spotted a caterpillar that seemed to be infected by a parasite. I'll spare you the gruesome details, but it is pretty interesting. You can find more here.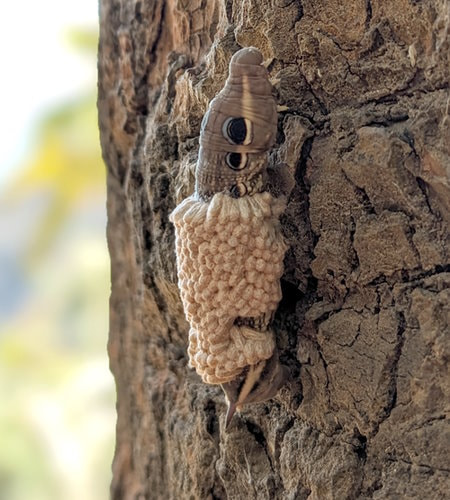 The final bit of the hill was cleared for crops, so it was quite hot with the sun beating down on us, but we found a patch of shade and a sweet cold treat at the top. We crested the hill to the sound of the classical ice cream truck music and found a guy with speaker and a full size cooler strapped to the back of his motorcycle, selling 1 scoop cones for 1 quetzal (~0.13 USD).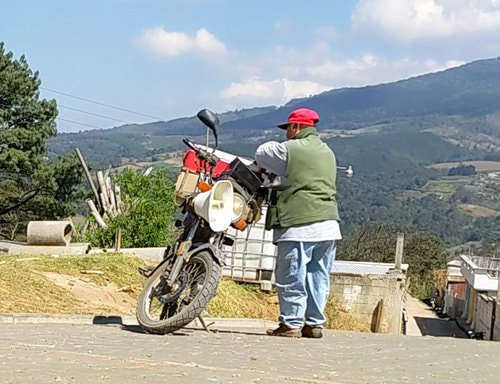 While we licked our cones our guide arranged a ride to camp for one of our group mates who was too tired to continue. Some girls peeked at us around a corner but retreated out of sight whenever we looked their way. A couple boys were a little more bold and peered at us while racing their tiny remote control car around us.
Our camp for the night was a picturesque spot overlooking a town with Fuego belching smoke and lava in the distance. Our camp dog this time was a very friendly and well behaved "Romeo."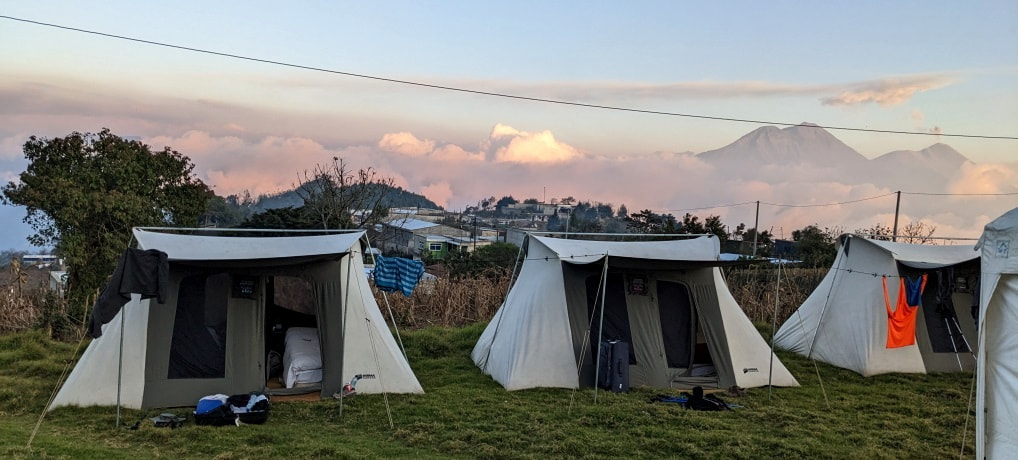 Instead of the dead, we had a very lively church for a neighbor tonight. It seamed that the prelude to evening mass here was blasting modern music through the churches speakers. This didn't seem to be unique, because other churches in town were doing the same. Whoever the disc jockey was at this church seemed a bit impatient or wanted to make sure they capitalized on every moment, because they usually abruptly cut off the end of each song to jump into the next. For the church service the music was silenced and was replaced by soft voices singing hymns, but as soon as the service was over the music resumed for a bit.

The girls and women seemed very shy, but the boys were a bit less so. A group of boys came and played in the soft grass by our tents, doing hand stands. A couple of the smaller boys were trying, but just kept toppling over, so I assisted one of them by catching one of his legs to steady him and he giggled with delight. The other boys saw this and started doing the same, which quickly evolved into boys piling onto other boys and a giggling mass of limbs tumbling around on the ground.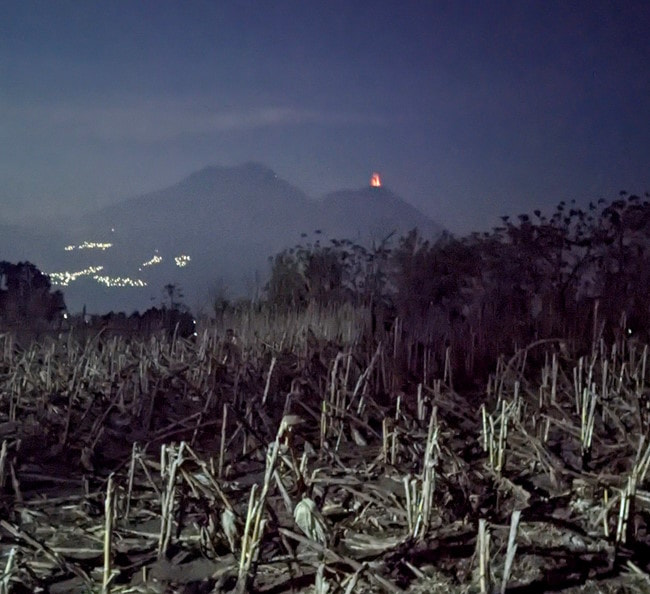 As darkness fell Fuego began to really put on a show! We could see red hot lava shoot up from the volcano! Our camp had street lights overhead so I wandered off a little way to find a darker spot to view the show from. As I gazed at the mountain I failed to notice that I was being watched. Suddenly I felt a little pinch on my leg and spun around to find the group of boys. They giggled and hastily retreated, but one circled around behind me and pinched at my pants. Apparently I had become part of their game! They circled around and tagged me a few more times as I retreated back to camp.
---
Day 3 - Patzún to Caserío Chuinimachicaj
The morning of the 3rd day was one of my favorite sections of the trek. We were in crop areas for most of it, making for an ever changing interesting landscape and unimpeded views of Fuego. We were far enough away now that we would hear and feel the rumble, long after the actual eruption. The volcano was particularly active today and we saw trails of smoke or dust slide down its flanks multiple times. From our perspective the debris seemed to move in slow motion, but I'm sure up close it was moving at terrifying speeds.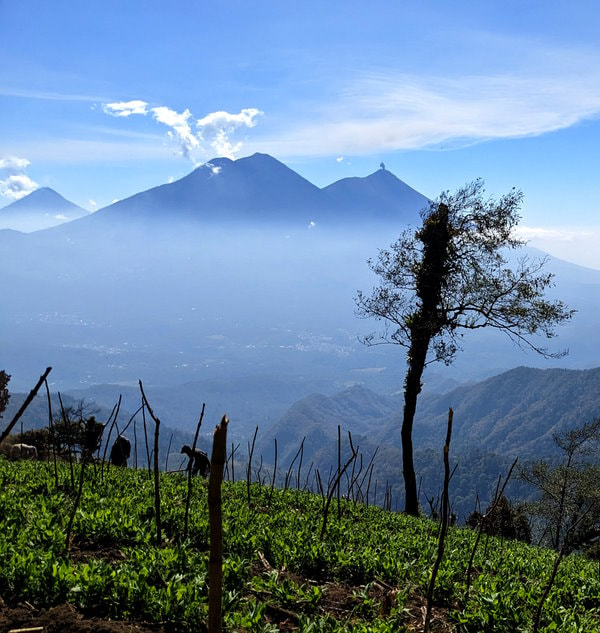 We passed through a few little patches of jungle between the crop fields. In one such section, there where two trees that had grown together and they were so large that you only had to duck slightly to walk through the "door way" between them. The bamboo in this area was wild! I have never seen any so bushy and twisty. Some seemed more like vines than bamboo.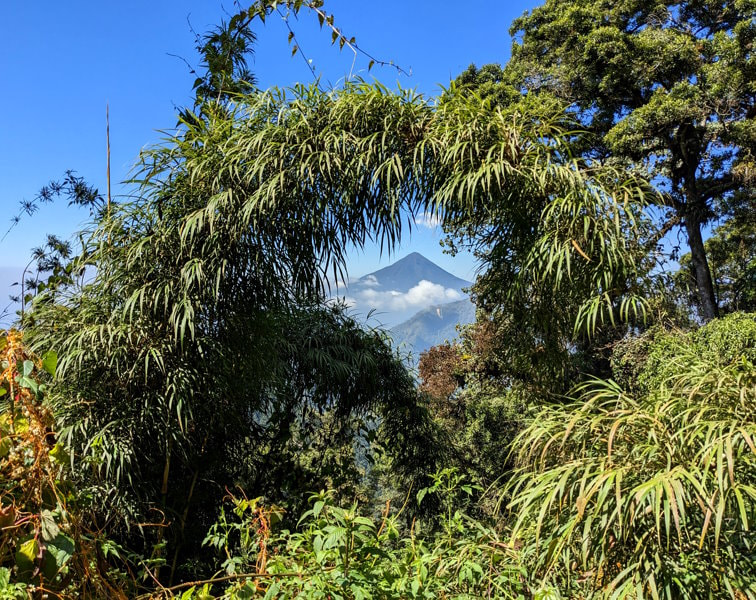 There was another crazy plant that we had seen thought the trip, but seemed particularly prolific here. It was what out guides called the string cheese plant. I believe this parasitic plant is a species of cuscuta, often know as "dodder." It is not capable of preforming photosynthesis to feed itself, like most plants, so instead it lets other plants do the work for it. Its orange color makes it looks pretty creepy and I can't help but think that it is inhibiting the photosynthesis that it is relying on in this particular instance.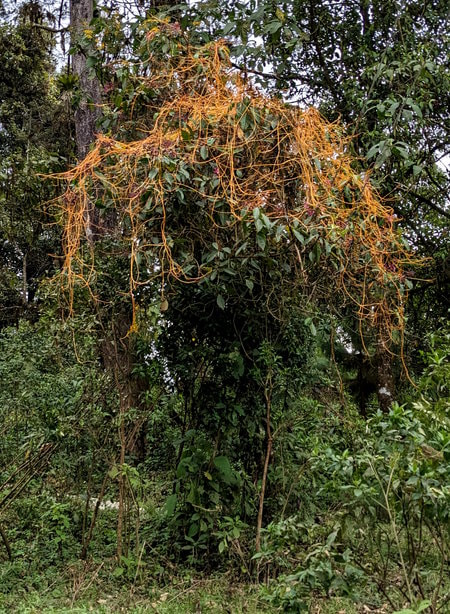 We left the fields and joined up with a dirt road for a bit. Along the road we came upon what appeared to be a community garbage pile. There were all kinds of bottles and plastic bits discarded here, slowly sinking down the hill. It was a sad reminder of how damaging these short term use forever materials can be. In decades past this pile would be primarily organic matter that would just return to the earth, so garbage collection was never necessary. Now, discarded items persist and people out here lack the means and infrastructure to do much about it.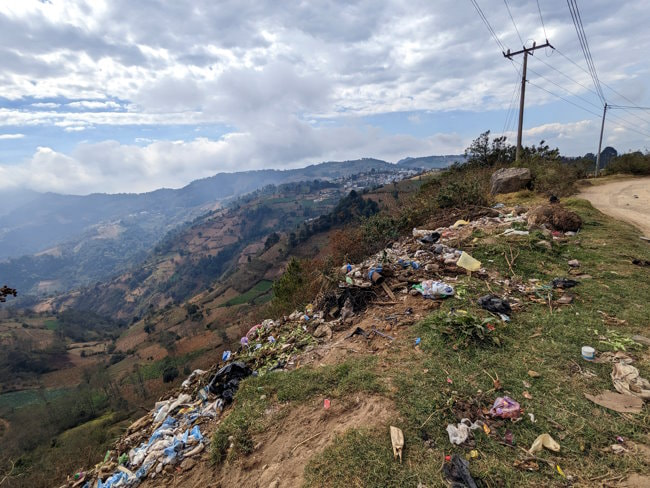 Our dirt road joined a proper road and we continued on that through town to our final camp. The smell of dirt and vegetation was replaced by diesel fumes. As we walked through the town it felt like the tables had been flipped, instead of us being the tourists, we were now the entertainment for the locals, which seemed like a pretty harmless trade to me.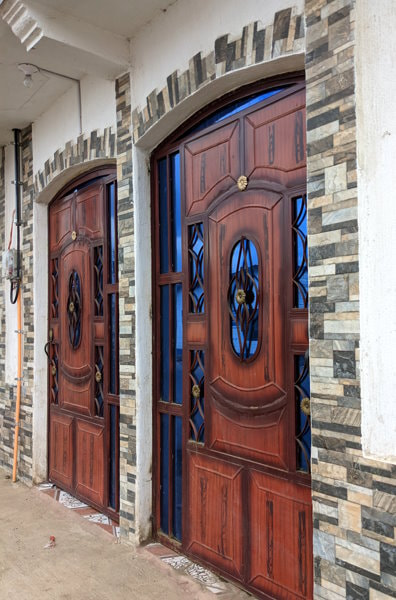 We had seen all kinds of buildings on our journey thus far, but the variety in this town felt particularly striking. There were buildings made of all kinds of things. Many buildings were a blend of sheet metal, wood paneling, mud walls, concrete block, or poured concrete, while other were fully tiled with ornate windows and doors.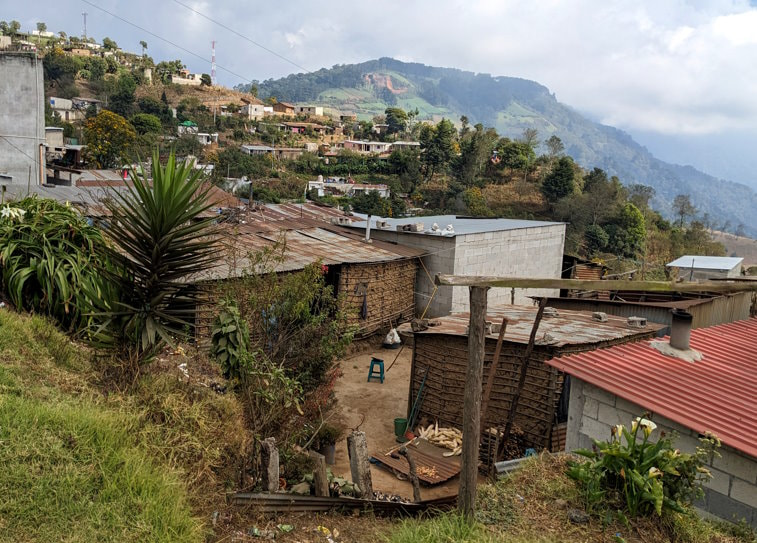 It made me wonder what would hold up best in an earthquake. I'm not sure how well I would sleep here with a concrete roof. It seemed that we were just past harvest and many had maize (corn) and beans spread out in the yards and on rooftops drying.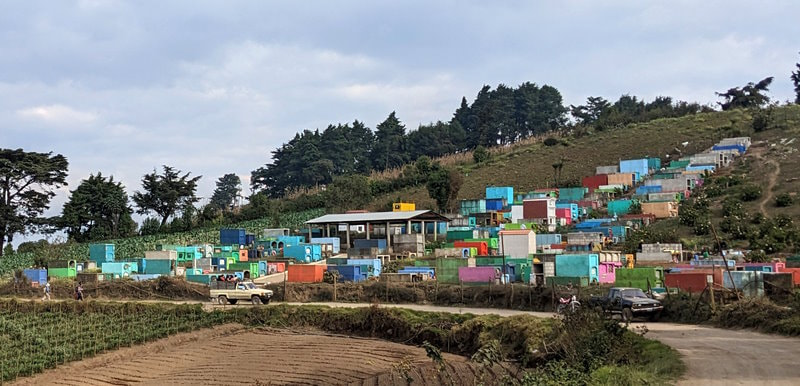 Eventually, we turned off the main road and headed up hill to our camp. Once again we had the dead for neighbors in their brightly colored tombs (much quieter than a church) and we were greeted by the camp dogs. The cemetary vaguely reminded me of a Lego set with all of its brightly colored boxes. Our camp was perched on a hill top, high enough that you could have a view one moment and be completely socked in with fog the next. The clouds cleared long enough for us to get our first glimpse of Lake Atitlán and a stunning sunset!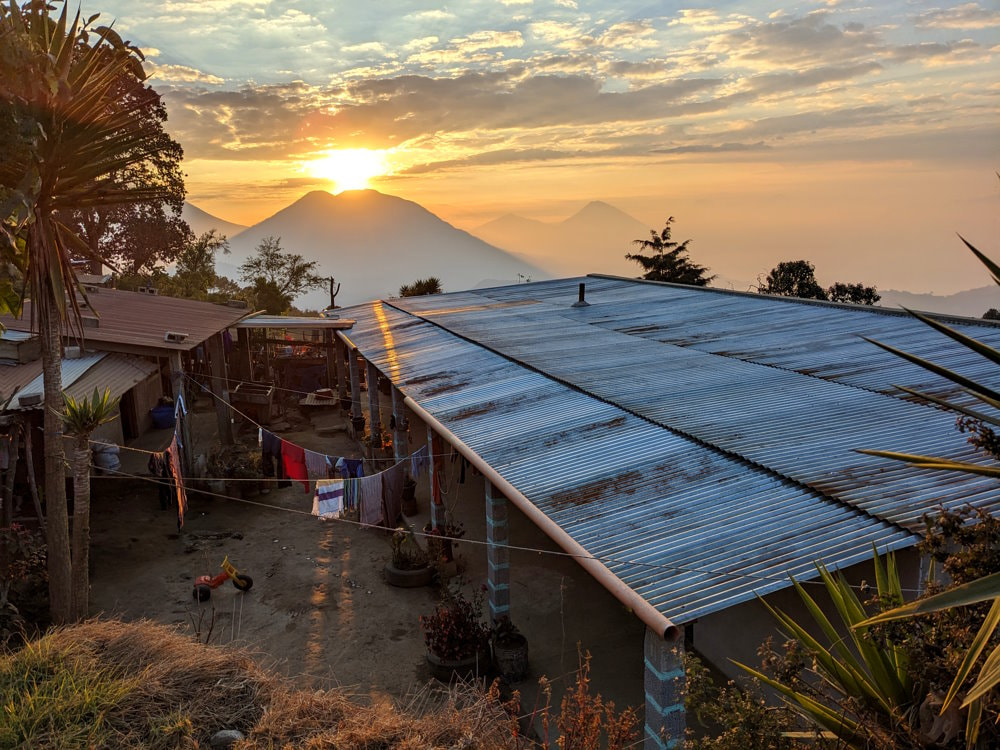 As the sun was fading we went to a local weaving collective to learn about back-strap weaving, the traditional way of making cloth in this area. This technique didn't employ a loom of any kind. It was completely done by hand with the threads stretched out in front of the weaver, one end tied to a tree or pole, and the other end around their back. They used pieces of bamboo or sticks to separate the threads for repeating patterns, but much of the detail work was done by hand with nothing but their skilled fingers.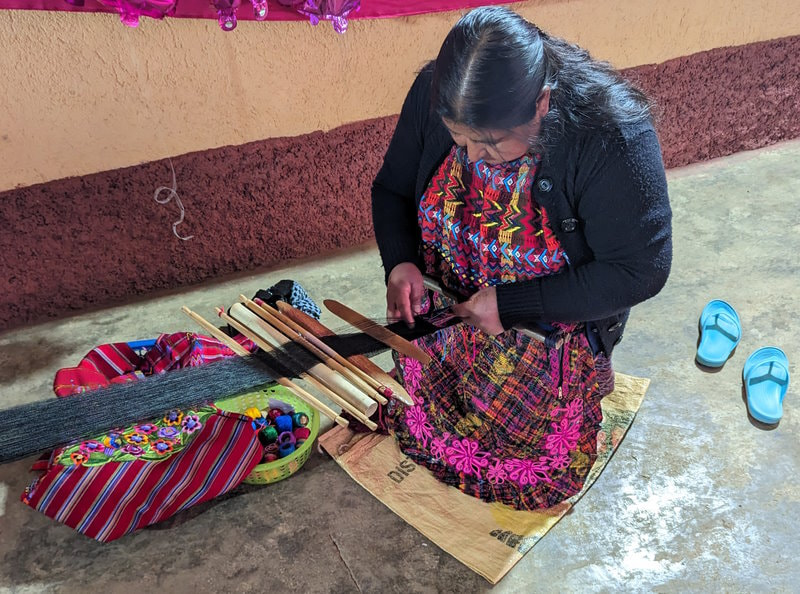 This is how all of their traditional clothing was made and women's shirts took it even one step further. After creating the cloth it would receive detailed embroidery. The final product was quite heavy. Not everyone still wears this kind of clothing, but many do, and somehow it is both intricately beautiful, and tough enough to hold up to long days in the fields. You can find a video and a little more info at the Mayan Traditions Foundation.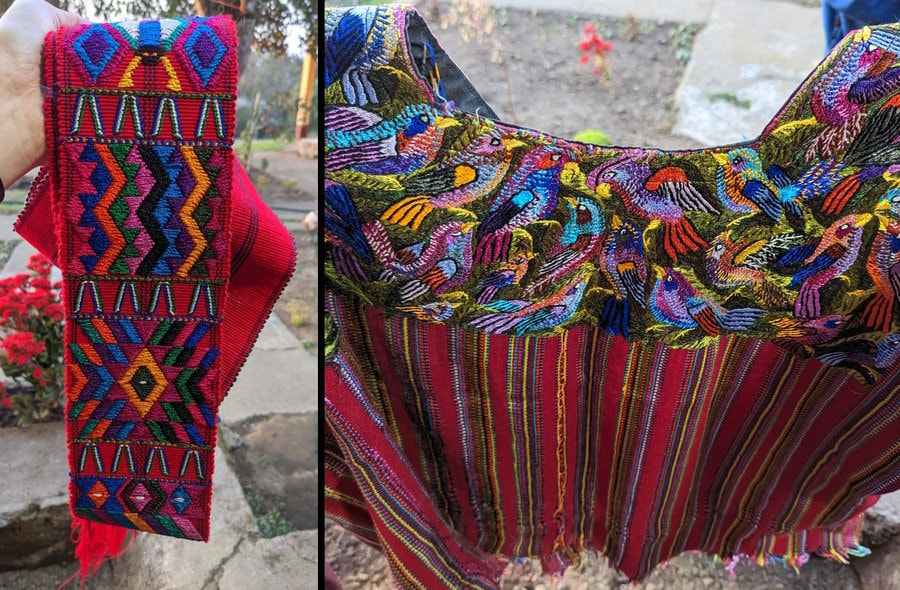 Before we could eat we had one more stop. We were "helping" make the tortillas for dinner. Our instructor had already done the hard part of making the blue masa dough, so in theory all we had to do was flatten them and put them on the stove to cook. There was no tortilla press here, it was all done by hand and some of us were a little more successful at this than others. Next to her perfectly round un-cracked ones we ended up with all kinds of shapes and a few of the people managed to get more of the dough on themselves and the floor than on the stove.
She got a good laugh and offered us a taste of some local fresh cheese for our effort. The fresh tortillas with a pinch of salt (the traditional way to eat them) were delicious, but with the cheese they were incredible! The tortillas were much thicker than the store bought kind or what you would find in a restaurant in the United States. They had a nice crisp outside, a softer inside, and a toasty flavor with just a hint of corn. This paired with the creamy tangy cheese perfectly!
Sadly, it seemed that this generosity was unscripted and she unknowingly offered us something that was not necessarily safe for our soft gringo stomachs. About 36 hours later everyone who tried the cheese got sick. It was rough but at least we all got to finish our trek before it set in.
---
Day 4 - Caserío Chuinimachicaj to San Antonio Palopó
On our final day we woke to a cloudless morning and Fuego was once again erupting in the distance. It felt exciting to be in the final stretch but also a little bitter sweet. We packed up, gazed at Fuego one last time, then turned towards the lake and started walking.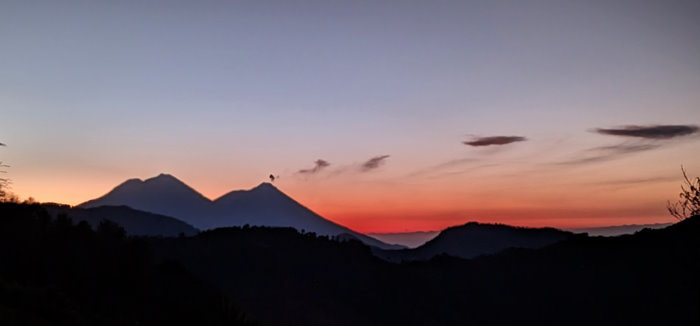 The terrain here was similar to what we had walked on the previous day, but the landscape looked more like Utah. We were walking down into a basin surrounded by steep cliff walls with talus cones left by years of erosion. Our guide explained that many people believed that this valley was haunted because in an earthquake one of the villages on the plateau above us had tumbled into the valley, killing most of its residents. With this story in mind, the giant boulders in the valley took on more of a sinister feel and we hurried on, hoping for no earthquakes during our visit.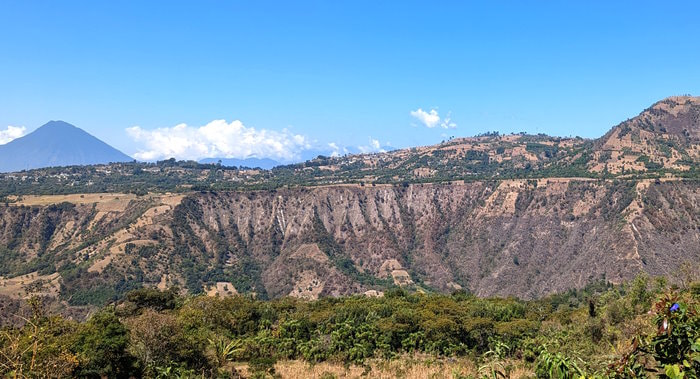 We had one last hill to climb so we made a late morning coffee stop to give us some extra energy to power over it and of course learn about what really goes into producing quality coffee. The farm we visited was a small family operation and they were very conscious of not letting anything go to waste. They had even managed to repurpose an old truck liner as a coffee berry collection bin and funnel. Don't worry, this was only where they went before washing.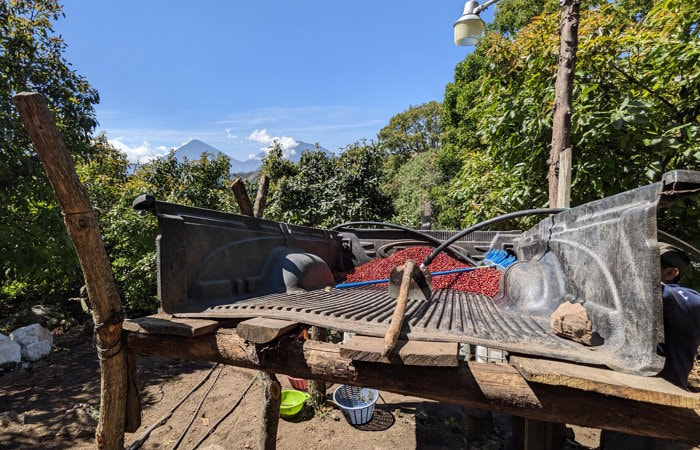 After the tour and tasting we made our way to the bridge to cross the river and start our climb. This bit of trail made me laugh because it was rough right up to the bridge, then the part right by the bridge was paved, and back to rough on the other side again. After the bridge we actually faced the most challenging part of the trail yet. It was just a short section, but it was super steep with loose soil, so we had to get ahold of some exposed roots to help pull ourselves up.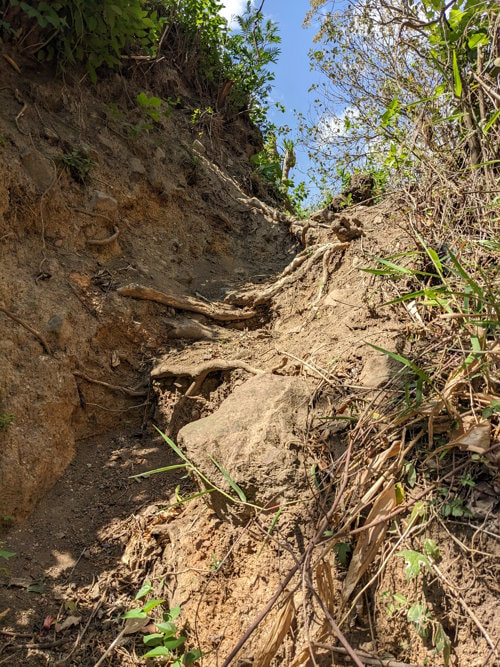 The trails here were like canyons, often narrow enough that I could nearly touch both walls with my arms stretched out and will walls taller than me, created by the steady erosion of foot traffic. One of our guides was leading the way with me behind him, when my husband alerted us of a snake. It was bright red with black and yellow bands, but somehow we had both walked right past without noticing. Now it was moving a bit so the rest of our group hurried past keeping as far away as possible. The internet confirmed our suspicion that it was most likely a venomous coral snake. Very cool seen from a distance. I'm glad the root scramble bit came before the snake because I think we would be a bit more apprehensive after the snake encounter.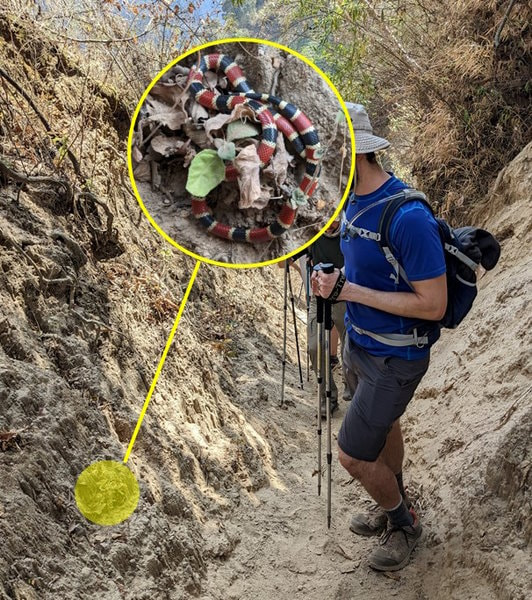 We continued up through the crop fields and some of them were so steep it was hard to imagine how they moved up and down the fields. The rows were a mix, often with squash and beans growing together, sometimes with some herbs mixed in. We have seen agriculture on terrain like this in other countries, but usually it is terraced not just perched on the slopes.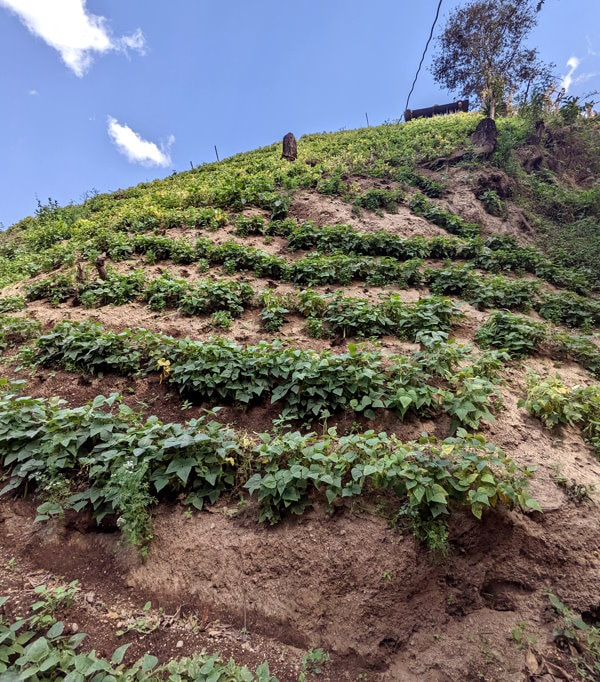 The sun was hot, but the sunken trail provided a little bit of shade as we made our way up. The climb suddenly flattened and the canyon trail melted away to reveal a flat parched landscape with buzzards soaring overhead. We could see where we had camped the previous night and the ground we had covered looked pretty impressive, but we still couldn't see the lake so we weren't quite there yet.
It was getting late in the day and our accommodations for the night required taking a boat to the other side of the lake, so our troop split in two, a fast and a leisurely paced group. We wished our trekking companions good bye and hurried on. We walked through a small town where turkeys waddled across the road in front of us and a dog greeted us from a house rooftop.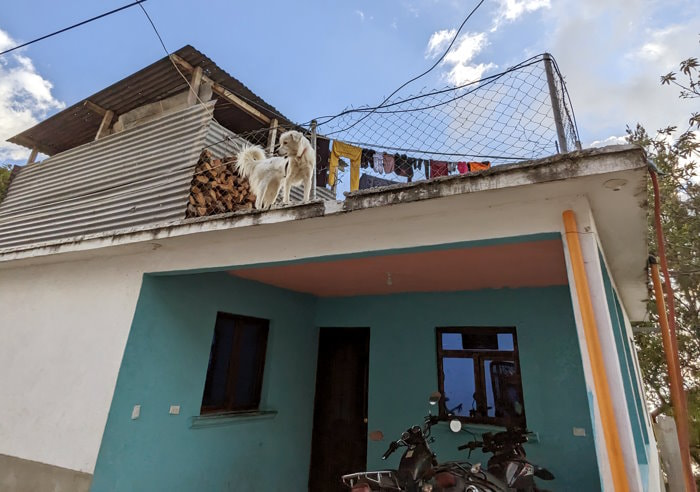 At the edge of the town the lake finally came into view and it was stunning! The light filtering through the clouds made for a dreamy vista of the lake with its many volcanoes rising up from the water's edge. As the sun dropped the clouds swirled, making for a dynamic ever changing scene. I would have loved to just find a spot to watch, but we had a boat to catch and the endless steep stairs down to the lake would be treacherous in the dark.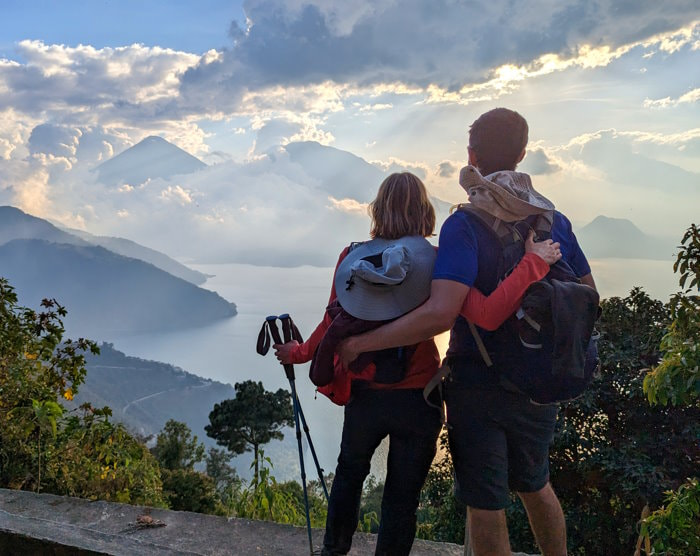 From the hillside we could see San Antonio Palopó's colorful buildings perched on the mountainside and from a distance it looked like it could be the Italian Riviera. As we neared the town, the scattered houses soon turned into a solid rows of buildings with narrow pathways between them. Our guides skillfully navigated through the maze and down to the edge of the lake.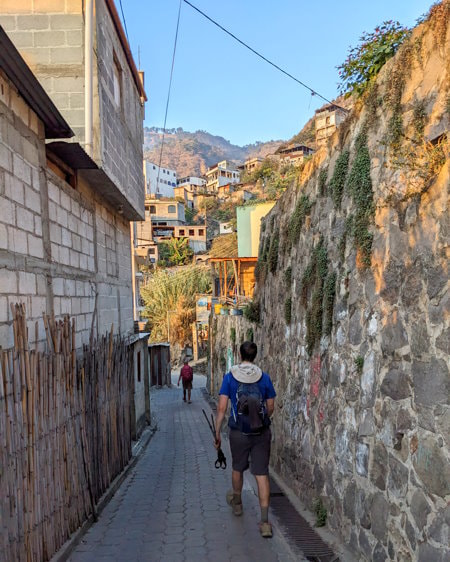 We reached the lake just as the sun dipped behind the mountains. We had done it! The trek company truck was waiting there with our luggage. They dropped us off at our boat and we glided off across the lake into the darkness, with the last of the light slowly fading.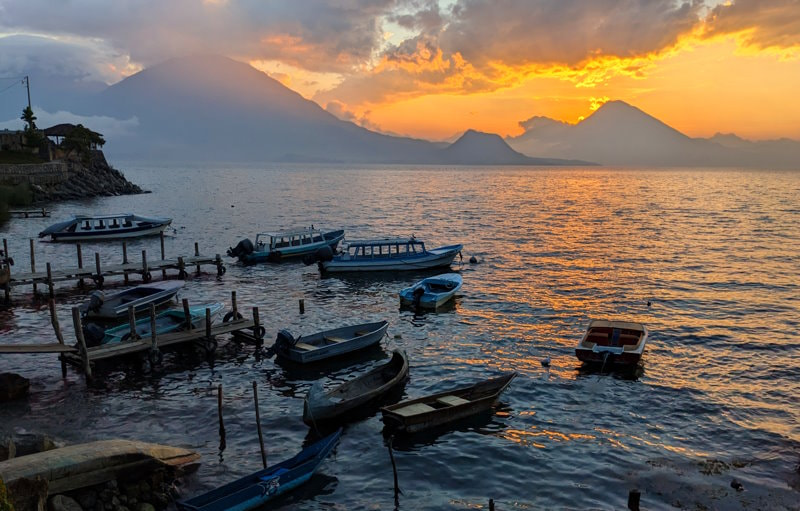 ---
Tips
Water: Make sure you carry enough. Unlike many places that we hike, a filter and water tablets are not going to do you much good here. We saw almost no flowing water and the little we saw was contaminated. You can pick up beverages in many of the town that we walked through, but some had limited options.
People: The local people were generally friendly and seamed just as curious about us as we were about them. Most of the women were quite shy and would look away and giggle if we looked their way. Most people speak a Mayan dialect and Spanish, so knowing a bit of Spanish is helpful. We often herd "gringo" as we walked through towns, which is just a casual way of saying foreigner or visitor. We were the only tourists we saw for the entirety of the trek and my understanding is that this is the only company that uses this route, so many of these places only see foreigners a few times a month at most.
These people are incredibly hard working and very tough. We saw women carrying large jugs of water on their head up steep paths with simple flat shoes. Kids were carrying wood and helping with the crops. Men hauled coffee berries that looked to be at least half their size on their backs up and down the mountains, supported by straps across their foreheads.
People seemed to have a lot of pride in their vehicles. Small Toyota trucks seemed to be the vehicle of choice and these trucks, along with the busses, and boats, were usually proudly decorated. I really enjoyed the styles of the busses.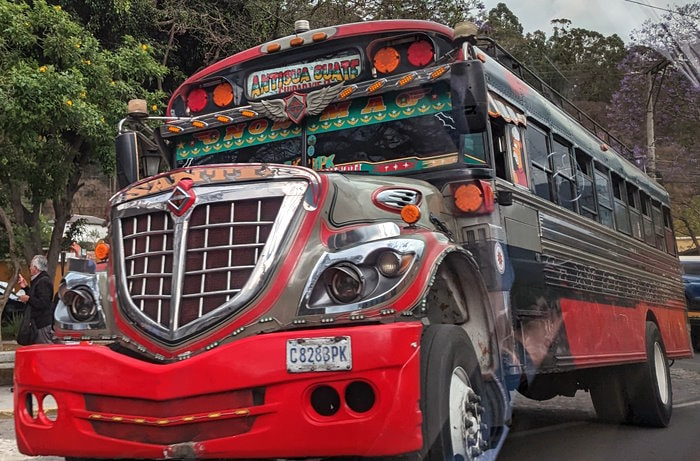 Money: We really didn't need much for the trek since everything was included, but it was good to have some small change in case you wanted to buy snacks or drinks in the towns. We also needed money to individually tip the trek team members and buy souvenirs, like coffee or weaving. Most of the handmade items at the weaving collective cost about 15-50 USD. Coffee was 10 USD per bag. At the shops the prices seemed fairly consistent, until you reach the lake. We saw 6 quetzales for small seltzer, 3Q for small water, 2.50Q for small Coke, 3.5Q for a medium coke in a glass bottle (please return them), 15Q for 3 liter Pepsi, 1Q for muffin, and 1Q for a scoop of ice cream from the ice cream motorcycle. All prices are as of 2023.
Bathrooms: There are none on the trails so you will need to find yourself a tree during the day. We did had a camp toilet at the camps.
---
Packing List
Clothes: (I include the clothes you are wearing)
2-3 short or long sleeve shirts - moisture wicking, not cotton (I like long sleave for extra sun protection) - We like hers/his
Underwear
2-3 pairs of hiking socks, one warm pair (I like SmartWool PhD best)
Packable down jacket
Fleece, full zip (I like ones with lots of pockets)
Gloves
Buff and snow hat (optional but good to have)
Rain jacket that is big enough to wear over the fleece
Sandals that you can wear at night to give you feet a break (slides are best so you can wear socks)
Toiletries:
Toilet paper (just in case)
Wet wipes (Our tour company provided these)
Bug spray (we actually didn't need this in February but it is good to have)
Hand sanitizer
Brush or comb
Tiny bit of soap and toiletries but not much
Sunscreen & chap stick with sunscreen
Travel towel and quick drying wash cloth (Our tour company provided towels but not a wash cloth)
Other Essentials:
Backpack - A good comfortable one that will fit some snacks, water, your jacket, sunscreen, and first aid
Head lamp or flashlight
Plastic bags - a couple sizes of ziploc
Cash including small bills (be sure to have enough to tip your guide and staff individually for all their hard work)
Water hydration pack or bottles that hold at least 2L - We like Hydro Pack and Platypus because they are light, they flatten, and have lifetime warranties.
First aid/medicine:
Any medicine you need
General medicine including a pain reliever, a multi symptom cold medication, an anti-diarrheal, and an antihistamine-based sleep aide (some sleep aides should not be taken at high altitude)
Optional:
Battery pack (to recharge phones/camera)
Waterproof phone pouch or just a ziploc bag
Body Glide - can be used to prevent blisters and chafing just about anywhere
Small carabiners to clip things to your pack
Entertainment for nights, such as a Kindle
Pen and paper
Snacks (I like lightly salted mixed nuts for protein and some kind of dried fruit for sugar)
Sleeping eye mask and ear plugs
---
Other Choices for Trekking/Hiking in Guatemala
This one was fun, but a lot of people opt for shorter or arguably more adventurous options, like climbing one of the volcanoes.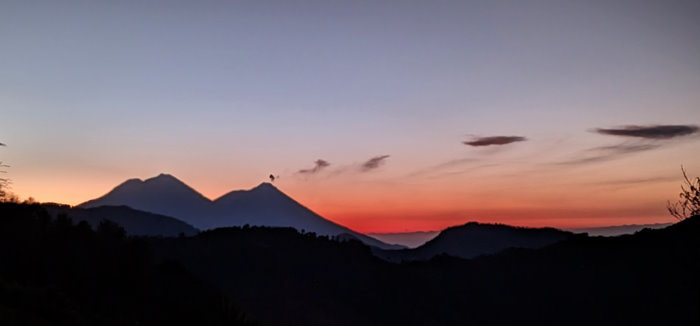 Acatenango Volcano (Volcán Acatenango) - This can be done as a day hike or an overnight experience with numerous outfitters. Summiting this volcano allows you to look right into Volcán El Fuego and see the lava, particularly at night.
Pacaya Volcano (Volcán Pacaya) - A shorter volcano hike with beautiful panoramic views.
Tajumulco Volcano (Volcán Tajumulco) - The tallest mountain in the country, so conquering this one is more challenging but comes with more bragging rights.
---
I like to use local companies that work with the communities when I can, but it is always hard to tell which are legit. I picked this company because they had a long track record on Trip Advisor of very positive reviews and many of the reviewers had lots of other reviews that looked legit. I don't have experience with any other companies to compare them to, but we were happy with the service and would recommend them. If I were to do it again I might just use them for the trek and arranging transportation instead of the 9 day experience, but it was really nice to have everything taken care of.
The Company - This company is owned by an expat from the United States who does a lot of outreach in the communities and works exclusively with locals to staff his tours. Most of the guides are private contractors and we heard a lot of good things about him from them.
Customer Service - They were fantastic at communicating through WhatsApp! When we were in Guatemala they usually replied within minutes and it was really nice to have someone there to ask about things when we were on our own. We had a little trouble with emails going through.
Our Guides & Staff - The trek guides were the best we have had. They had great personalities and were very knowledgeable about the area. They were the kind of people who were there to make sure you were safe, tried the best to make sure you were enjoying yourself, and were also the kind of people you could relax and have a real conversation with.
The staff were more peripheral, but were working hard behind the scenes to make the magic happen. There was a core group that were assisted every day by a group of locals from whatever village we were staying in. The local guide we had was not super involved and the other one didn't show.
Accommodations - The tents were very well thought out and really luxurious for a trek. The beds were the tall inflatable kind with electric pumps, but we had a bit of trouble with them deflating. 2 nights were good, but one night we swapped beds (our tent had 2) halfway though the night when we woke nearly on the ground and others had similar issues. When they were inflated, to me, the beds were more comfortable than any of the hotel beds we had.
They had lots of attention to detail and small conveniences like a mirror in each tent, wet wipes, lanterns, a night stand, a clothes line outside, and an entry mat. Each bed was fitted with a thermal reflective blanket under the sheets to help us stay warm and lovely down blankets. We also got hot water bottles every night, which made a huge difference.
Food - The food was excellent and they had a totally different menu each day. They even customized the menu slightly to accommodate different preferences, like brown rice and whole wheat pasta for one couple in our group. Usually breakfast would be tea, coffee, some variation of eggs, and a selection of other things like bread, fruit, yogurt, etc. Before we set off we would get a piece of fruit and a packaged snack for the day. Our guides would carry lunch for everyone which was pasta salad with sides two days, and customizable wraps/burritos the other two. Every night there would be some kind of fresh juice and appetizers, then a dinner (always with a nice green salad, a meat, rice, some veggie, and other sides), and then some kind of sweet dessert. One night the cook roasted some delicious eggplant and other things over the camp fire!
---
Have you done a trek? Where? What was your favorite part?
Share your experience in the comments below.
---
Product Links: I am not sponsored by any of the products I link to. If you choose to make a purchase from one of the links of a product I listed or any other item a small percentage will go back to me to fund this website, at no additional cost to you. The products I link to are either ones I have used or similar if those are not available. Thank you for your support.
---
More?
Interested in another epic trek? Check out:
Annapurna Base Camp Trek (ABC)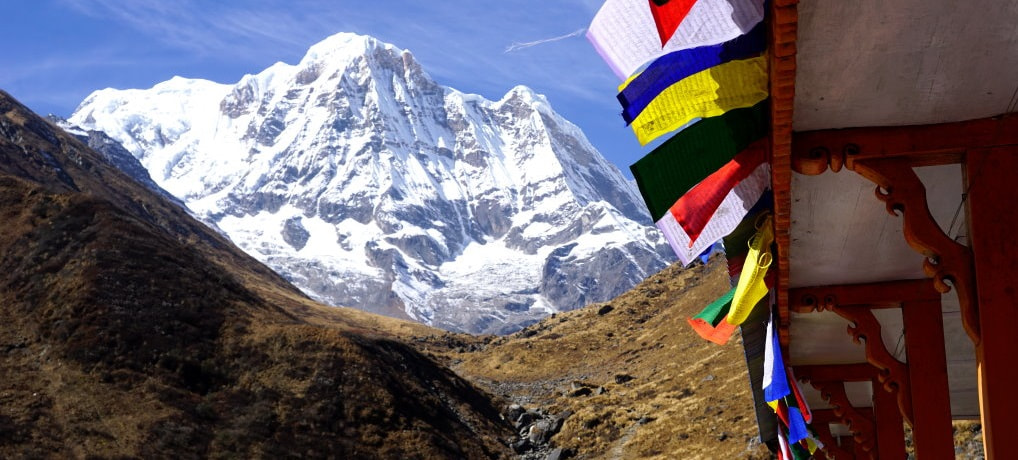 Iceland Ring Road Journey of Southern Iceland, Northern Iceland, Western Iceland, or Eastern Iceland.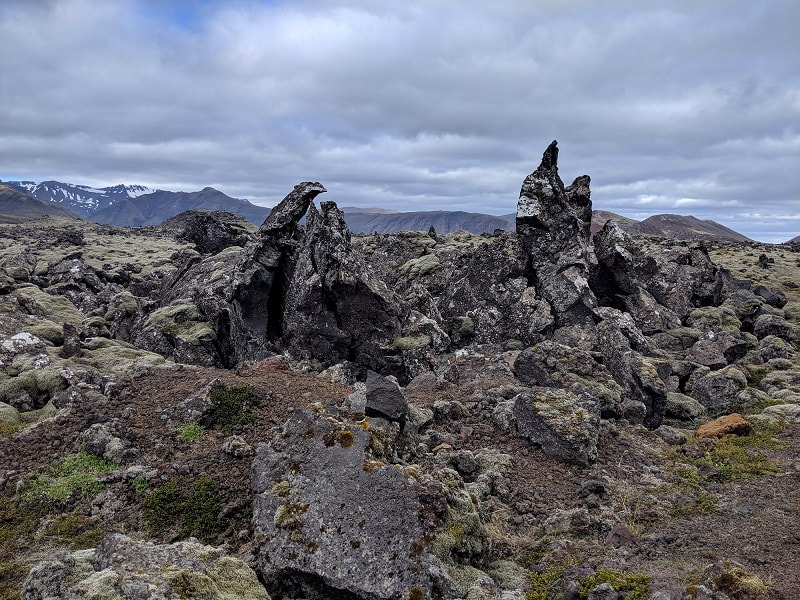 Everyone goes to Machu Picchu but getting there can be just as epic. We had an amazing experience on the Salkantay Trek