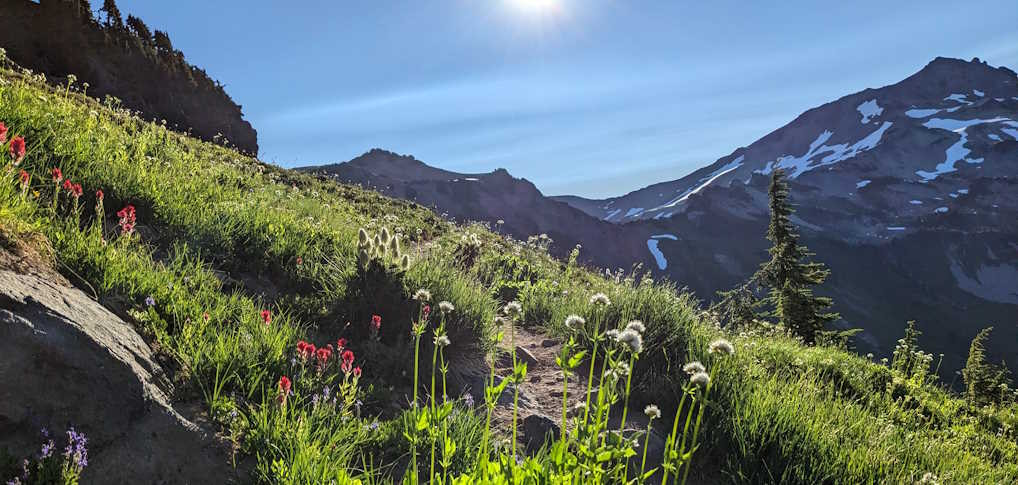 The Goat Rocks Wilderness sits between three volcanoes and in the summer it is a paradise for flower lovers. You won't have to worry about being alone on this trail, but there is enough space to find a little solitude if desired.
The map below shows our route and includes photos of many of the campsites and water sources.
This article is still in process so please stop back or subscribe to our newsletter or Facebook page to make sure you don't miss anything.
Adventure Guide
---
Trail Details
Hazards:
Road/Parking
The road to the trailhead was long, dusty, and bumpy, but nice and wide and mostly pothole free, so any car should be able to make it if they take it slow. There are several trailheads down this road and no cell service so be sure you know where you are going and have offline maps. There is a large parking lot and lots of roadside parking. It is very popular, so be prepared for some extra walking.
There is a pit toilet and a picnic table at the Berry Patch Trailhead Parking Lot.
The Snowgrass Flats Trailhead is also an option for parking.
Trail Reports, Weather, & Info
WTA - Goat Ridge Trail Summary & Trip Reports
WTA - Goat Lake Trail Summary & Trip Reports
WTA - Snowgrass Flats Trail Summary & Trip Reports
Goat Rocks Wilderness General Info
Goat Rocks Wilderness Regulations
---
How To & Options
For this one you can just show up, fill out a permit, and off you go…but where?
Out and Back (shortest): You can opt to do either end of this trail as an out and back as a shorter option. You can also create lolipop routes on either side, by doing the Goat Ridge Lookout Trail or the Snowgrass Flat High Route (more details below).
Basic Loop: The very minimum is a little over 12 miles and 2700 ft elevation gain/loss (the Gaia elevation estimate below was a little off).
Add-Ons:
The options are endless, but here are a few popular ones.
Goat Ridge Lookout: +0.5-1.0 mile and 200-300 feet
Highly recommended and could even be made into a loop for a short day hike. There are two lookout spurrs on this section and both require a little more climbing, but are well worth it in my opinion. The first one is steep and rocky, with a great view of Mount Adams and Mount Rainier, and the second one is more gradual, with nice views of the three volcanoes, Mount Rainier, Mount Adams, and Mount Saint Helens. If you want to pick just one I would go with the second.
If you are looking for a camping spot not too far from the TH there is one at each of these lookouts, but no water and just one spot at each.
Hawkeye Point: +1.4 mile and 750 feet
This was steep but spectacular with full 360 degree views of the mountains and you can even see down into Goat Lake. If you are not feeling up for the full challenge you can also get a nice view partway up here.
Snowgrass High Route: +1.5 mile and 450 feet
This option will take you on a short section of the PCT. We didn't try it but it is supposed to be nice. You could also be make this into a nice lolypop loop if you want a shorter hike. We heard rave reviews about Old Snowey Mountain too, which is a little further north on the PCT.
---
Campsites & Amenities
Campsites: This area has more campsites than just about anywhere I have been! Most of the points on the map are campsites, and those are just the ones we saw! This is a busy area, so if you are here on the weekend I would keep an open mind and budget some time before dark to find a spot, since the area you plan on could be full, but if you keep walking you are bound to find something.
Bathrooms: There are no toilets, other than at the trailhead. Catholes are allowed away from water, but some areas are quite rocky so be prepared to pack out your waste if you camp in one of these area. Goat Lake in particular had very limited options.
Signage: There were a good number of signs, but there are a lot junctions and social trail, so please bring a map or your navigation method of choice with a backup. A few of the signs were damaged or hard to read.
Wildlife: We saw tons of small critters and the marmots were particularly curious about our food. Trees are limited, so a bear-safe container is highly recommended.
Campfires: There are stone fire rings at a good number of campsites. Please burn responsibly and adhere to burn bans.
---
Our Adventure:
This one has been on my radar for a while, but we actually swapped plans last minute to try and avoid the heat. The trailhead sits at 4,500 feet and the lower elevation is tree covered on both sides of the loop, so this seemed like a good option.
More coming soon!
---
What to Bring?
---
What is your favorite weekend trip?
Please share in the comments below!
---
Product Links: I am not sponsored by any of the products I link to. If you choose to make a purchase from one of the links of a product I listed or any other item a small percentage will go back to me to fund this website, at no additional cost to you. The products I link to are either ones I have used or similar if those are not available. Thank you for your support.
---
More?
Stay the night in a fire lookout at Park Butte - Washington State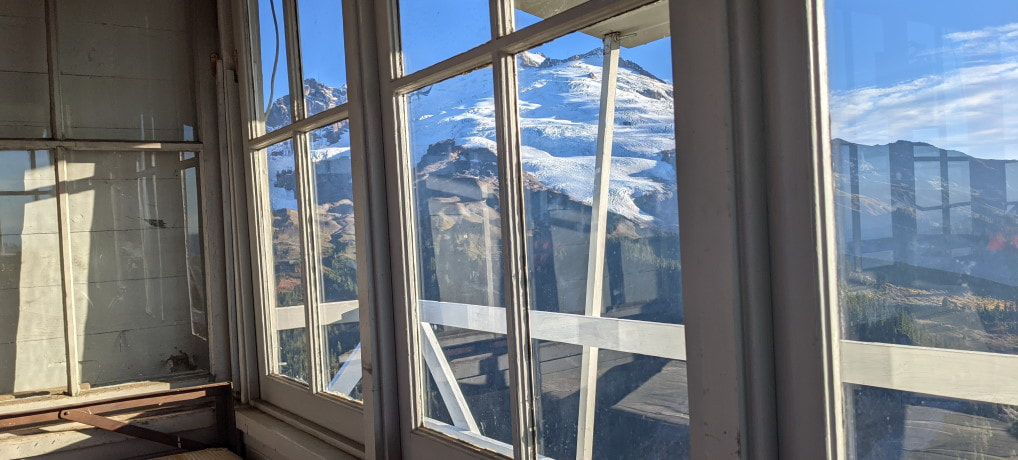 Check out more incredible Washington Hikes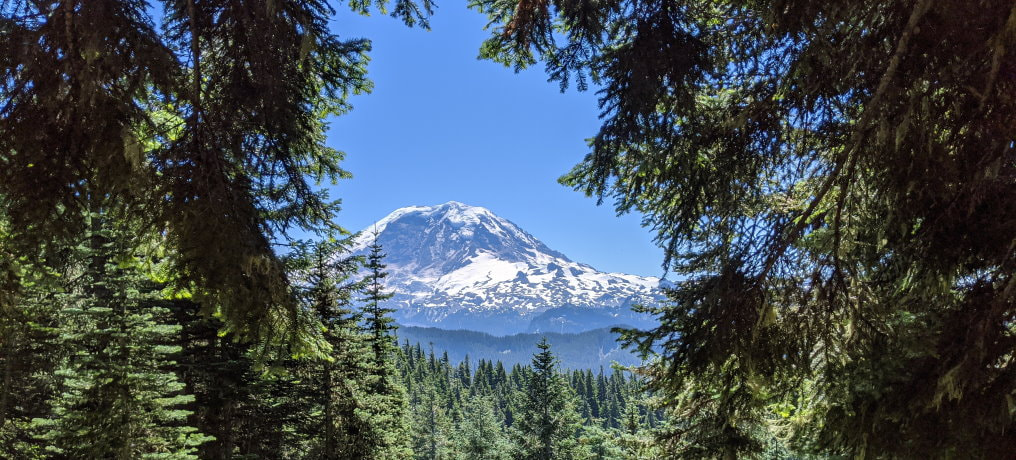 Experience the flowers in Southern California