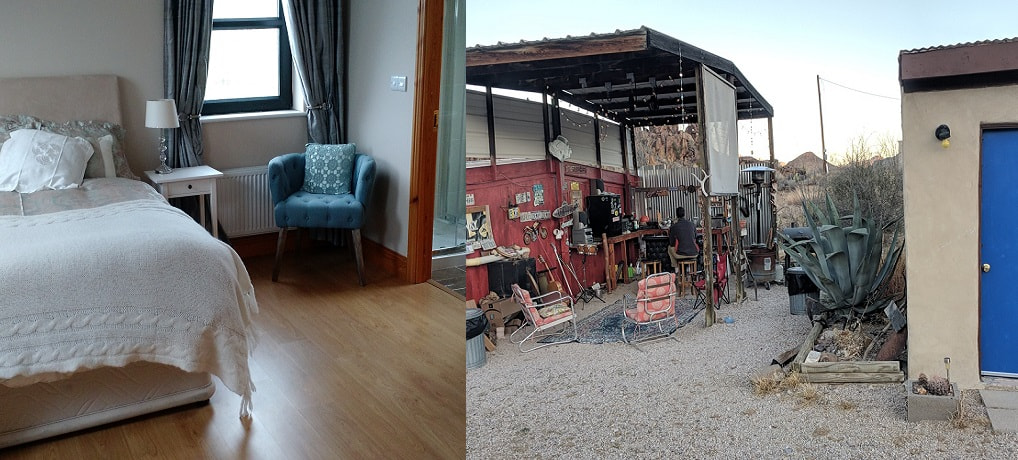 Style & Cost - Luxury, rustic, budget, personal? These are all questions you will need to ask and the answer may not always be the same. Sometimes you may want to experience the people/culture and other times you may just want a nice place to relax.
Reservations - Regardless of what I am looking for I am the kind of person who needs to know that I will show up and have somewhere safe to stay for the night. I admire people with the gall to just show up and find a place; but I know that I am the kind of person where the stress from this kind of uncertainty would ruin my experience. I like to have a flexible schedule, but not that flexible.
---
Where to Look
I use many sources depending on the country we are traveling to, but my main ones are TripAdvisor, Expedia, and AirBnB. I usually search a couple of these to get a general idea of what is available in the area. All of these host B&Bs and private guest houses, but not in all areas and they do take their cut. You may want to check if any other sites specialize in your particular area.
TripAdvisor - TripAdvisor is nice because it has lots of reviews, it compares prices with several websites, lets you easily apply filters, and has a pretty good map interface so you can pick by area.
Expedia - I do not completely agree with all of Expedia's methods but I do use them heavily. If you travel a lot you can get some rewards through them and I feel safer giving them my credit card info then trusting all of the hotel websites. As a big company, they use some of their capital to buy up rooms and airline tickets, and use this to have exclusive deals or the only rooms available. They tend to feature more of the big chain hotels, but do have private guest houses in some areas. We generally don't stay anywhere without a review.
AirBnB - They feature everything from professional B&Bs to "crash on my couch." We always stay at places that have at least several reviews. On some of our trips we have rented a room in a private home and have met some great people. Most of our experiences have been very positive, but we have had trouble meeting up with our hosts on a few occasions. The difficulty with staying in a home instead of a hotel is that these people have lives and jobs. A few times we have had to adjust our plans to get there at just the right time. Some of the places we have stayed on AirBnB have been nicer than the hotels and the connections with the people are priceless. It also feels good to know that most of your money is going directly to the people. If you are new to AirBnB you can use this link to get a discount on your first reservation.